Last updated in June 2023
We love traveling around our home country and have been on many holidays both in the south and north of Norway. While we have not traveled to the northernmost part of the country yet, we hope to be able to go there in the future.
In this blog post we share 33 tips for activities, nature and wildlife experiences, eateries, accommodations, as well as route suggestions for both car and bike rides. We hope you will enjoy these places as much as we did!
Southern Norway (Agder county)
1. Lindesnes Lighthouse
We start as far south as possible on the mainland of Norway–at Lindesnes Lighthouse. Lindesnes Lighthouse is beautiful no matter when you visit, but the real magic occurs when darkness falls, and the lantern is lit.
READ MORE: Photo Tip – The Blue Hour at Lindesnes Lighthouse
2. Rail biking on Flekkefjordbanen
In Flekkefjord it is possible to hire rail bikes and pedal the 17 kilometers from Flekkefjord to Sira. If you plan on cycling all the way, you can expect it to take at least three hours. Flekkefjordbanen has a number of tunnels that are both dark and chilly. We therefore recommend that you bring enough layers to keep warm.
3. Elgtun
Elgtun is located in Setesdal and is a visitor center with tame elks. Here you can join a guided walk and learn about the life of the elk. It is also possible to touch and feed them. We offered the elk bananas with fearful joy and were very surprised at how gently the large animals helped themselves from our hands.
Update from May 2023: Elgtun has closed, but you can visit the elks at Viltgården in Iveland. See Viltgården's webpage for further information.
READ MORE: A visit to Elgtun– Does the elk like bananas?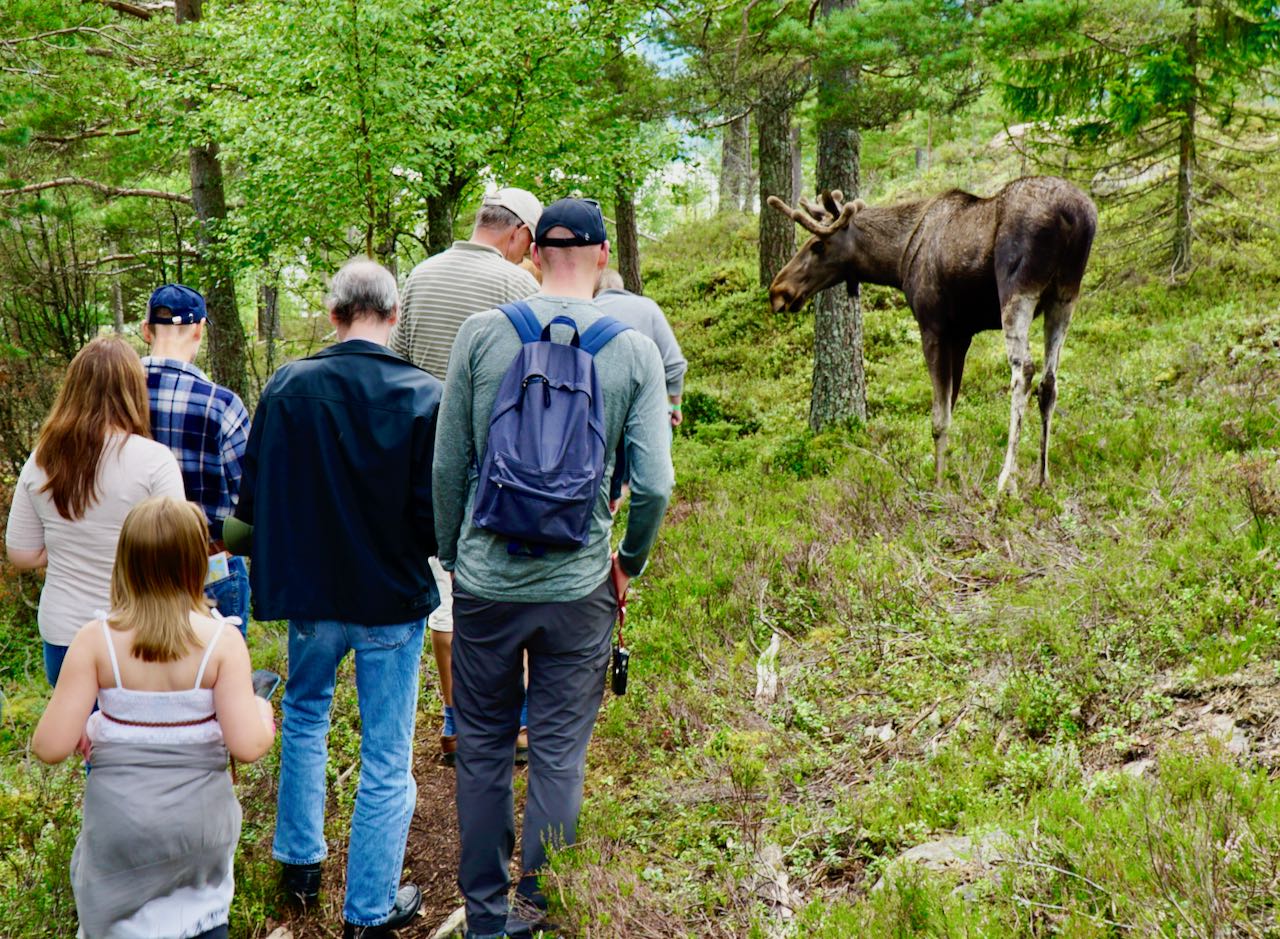 4. Nasjonalt Villakssenter – Kvåsfossen
Nasjonalt Villakssenter – Kvåsfossen (National Wild Salmon Center – Kvåsfossen) lies just over an hour's drive from Elgtun and offers yet another great nature experience. Visitors can see Norway's longest salmon ladder inside a tunnel and observe the wild salmon in their natural element through large windows. In addition, the visitor center has exhibitions and a café.
READ MORE: A Wild Salmon Encounter: Review of Nasjonalt Villakssenter – Kvåsfossen
Link to Nasjonalt Villakssenter – Kvåsfossen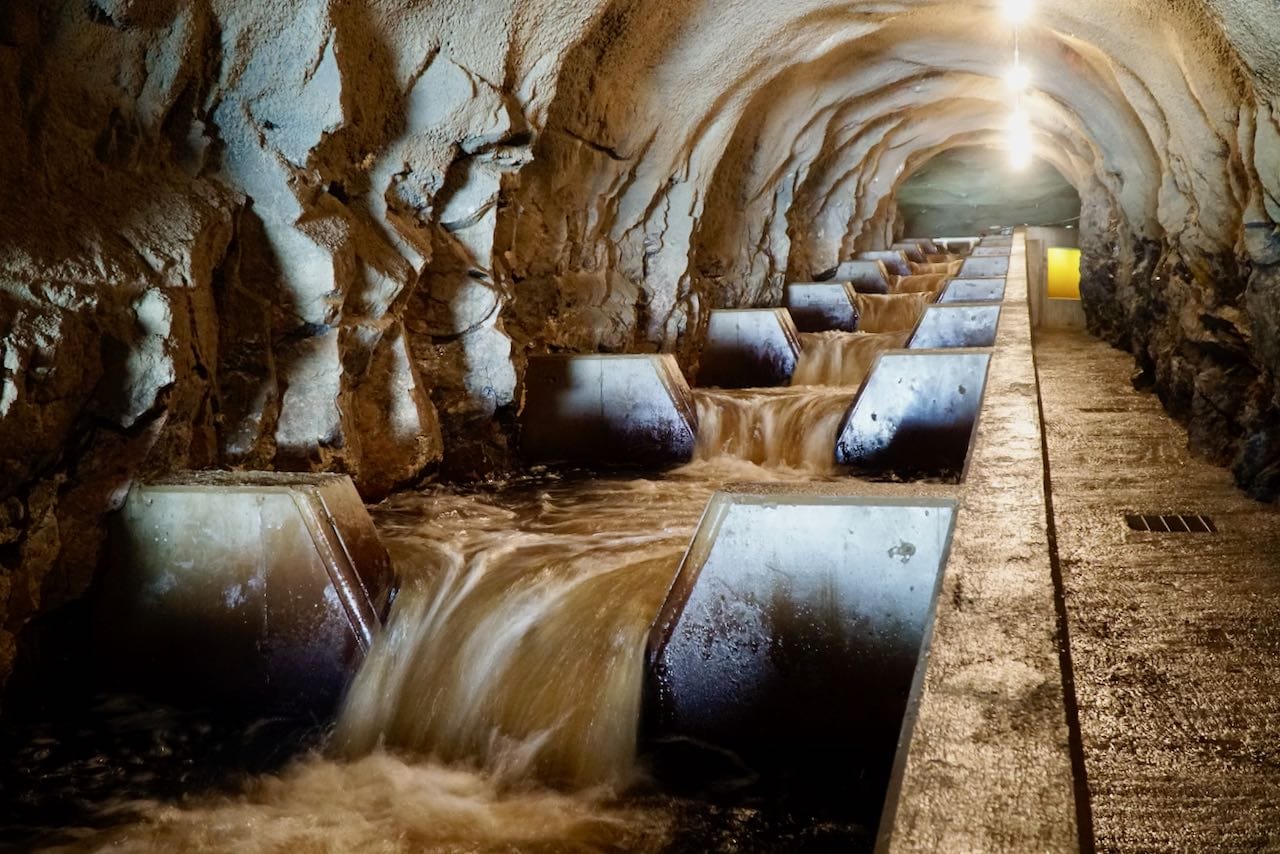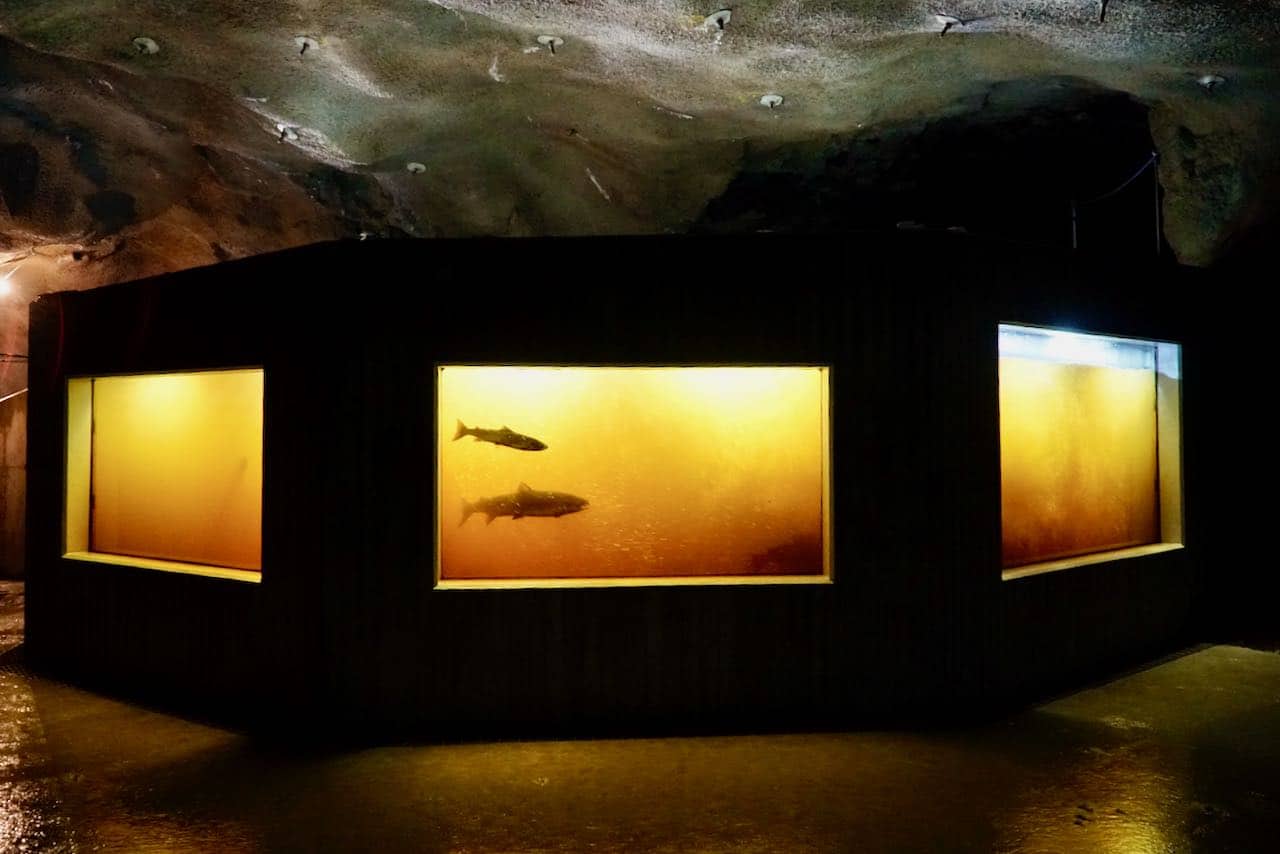 5. Sogndalstrand
Sogndalsstrand is an old trading post from the 1600s. Today, the former trading post is a popular tourist attraction that boasts a hotel, restaurant, gallery, and museum. In Sogndalstrand you can stroll around among quaint wooden houses and cozy flowery gardens. We recommend a lunch or dinner stop at Folvik café in Sogndalstrand Kulturhotell.
Link to Sogndalstrand Kulturhotell
Eastern Norway (Viken, Innlandet, Oslo, Vestfold and Telemark counties)
6. Helgøya
Helgøya Island is a true summer gem. We visited Helgøya on a sunny day in July and were so excited that we immediately wrote a blog post about this gorgeous farm-filled paradise. Helgøya has many attractions, eateries, and accommodations, and in our more detailed blog post you can see pictures of and read more about the historic garden at Hovelsrud Farm.
READ MORE: In the Middle of Lake Mjøsa – Picture Perfect Helgøya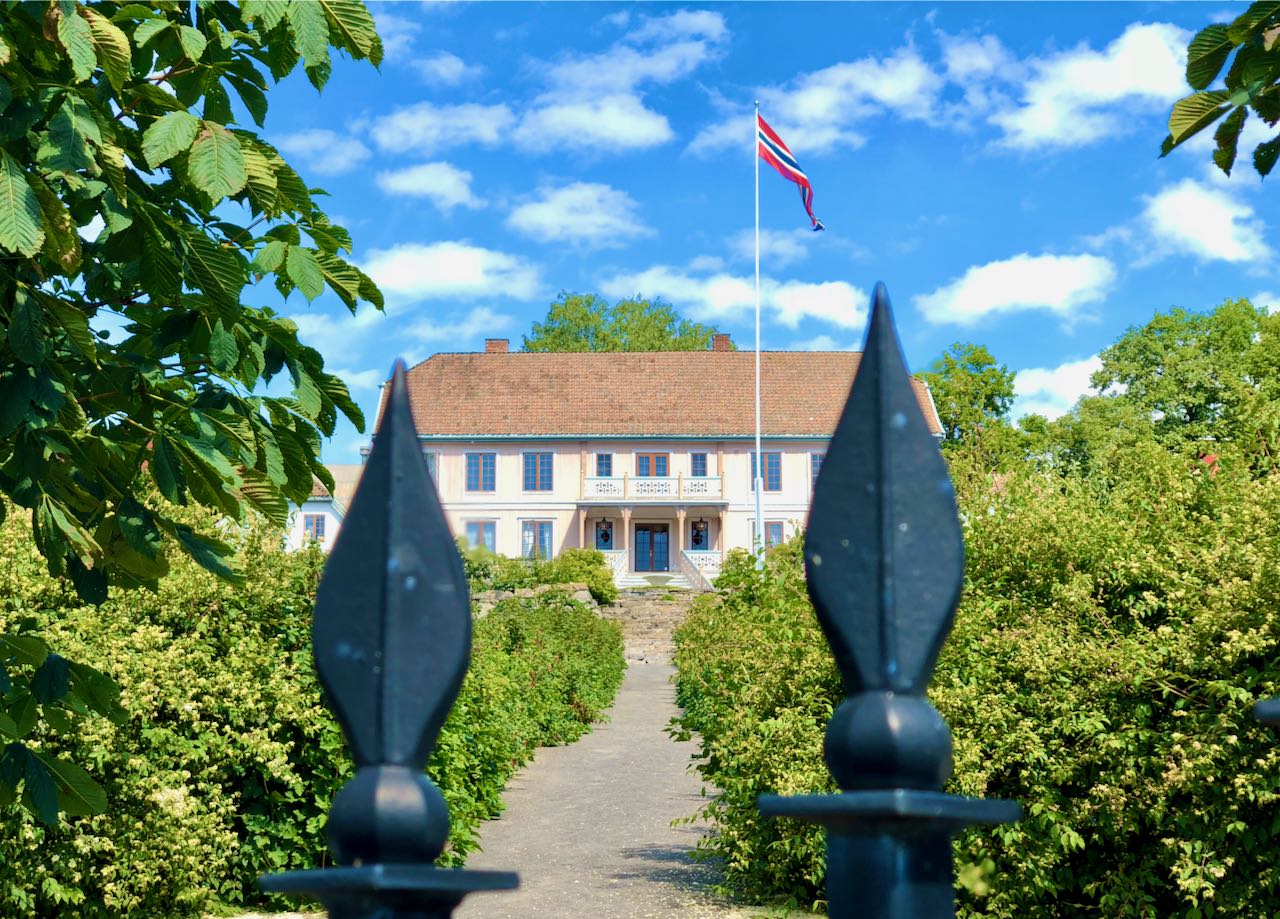 7. The Rui Farm
High in the valley of Dalen in Telemark lies the Rui farm, where the two sisters Ingerine and Gurine Schwenius used to live. They were known for leading a simple lifestyle without modern aids despite the developments in society around them, and became near celebrities after Knut Eidem wrote the book "The Rui girls who visited the king." The hike up to the Rui farm is very steep, but the great view that awaits when you arrive more than makes up for the effort.
READ MORE: Traveling Back in Time – A Visit to the Historic Rui Farm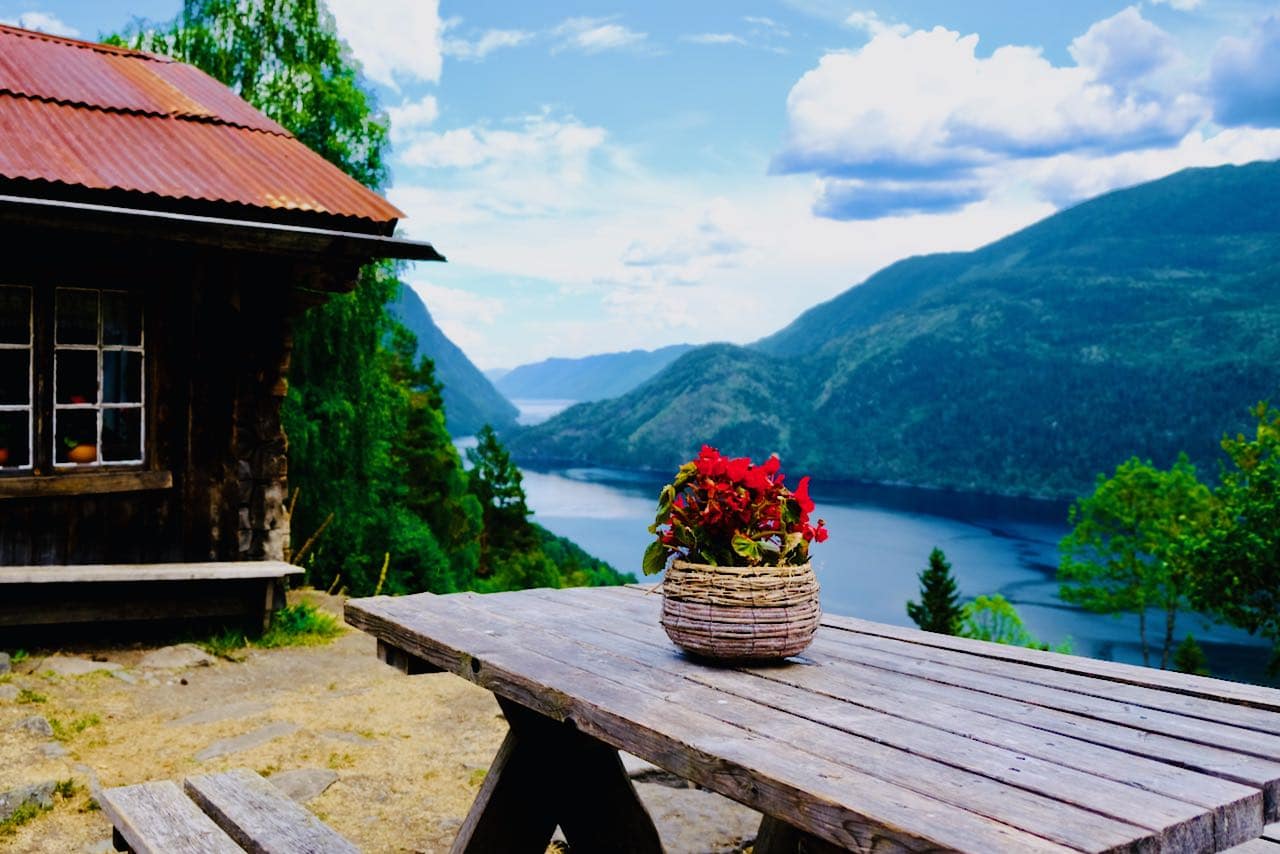 8. Ravnejuv Gorge
Ravnejuv is a gorge with a steep drop of 350 meters. What is special about the gorge is that it has an airflow going upwards. Of course, we had to test the natural forces and threw a piece of paper off the edge. Despite many attempts to throw the paper downwards, we never got rid of it: the paper came floating back up every single time! Ravnejuv Gorge is only a 20-minute drive from Dalen, and it is a 5-minute walk from the parking lot to the gorge.
9. Afternoon Tea in Oslo
Update as of 2023: Unfortunately, Theatercaféen no longer serves afternoon tea. We really hope that they will offer this again in the future!
In recent years, more and more places have added afternoon tea to their menus in our hometown of Oslo, and in our opinion the venerable Theatercaféen serves the very best version. Afternoon tea at Theatercaféen includes classic finger sandwiches, scones, and sweets, and we have always been impressed with the delicious flavors and flawless presentation. If you have a sweet tooth like us, you should definitely book a table here!
READ MORE: Review – The Best Afternoon Tea in Oslo
10. Støtvig Hotel
Støtvig Hotel lies in idyllic Larkollen, not far from Moss and a one-hour drive from Oslo. The hotel has a great spa area and is located on a beautiful sandy beach. In other words, there are opportunities to swim both indoors and outdoors. We are very fond of Støtvig Hotel and we have stayed there on several occasions.
READ MORE: Støtvig Hotel – Wellness at Larkollen
11. Tour de Dovre
We discovered the Tour de Dovre cycling route a few years ago and were amazed by this spectacular tour that allows you to experience no less than three national parks. The complete tour is 130 kilometers and with an e-bike and a regular bicycle, we covered the whole distance in one day. However, there are several places to spend the night along the way, so the trip can easily be divided into multiple stages. We were based at Toftemo Touristasjon and can highly recommend this accommodation. From Toftemo it is also possible to pick up rental bikes from Dovrefjell Adventures if you don't have your own bike. If you are looking for this summer's best bike ride, look no further than Dovre!
READ MORE: Tour de Dovre – Norway's Best Bike Ride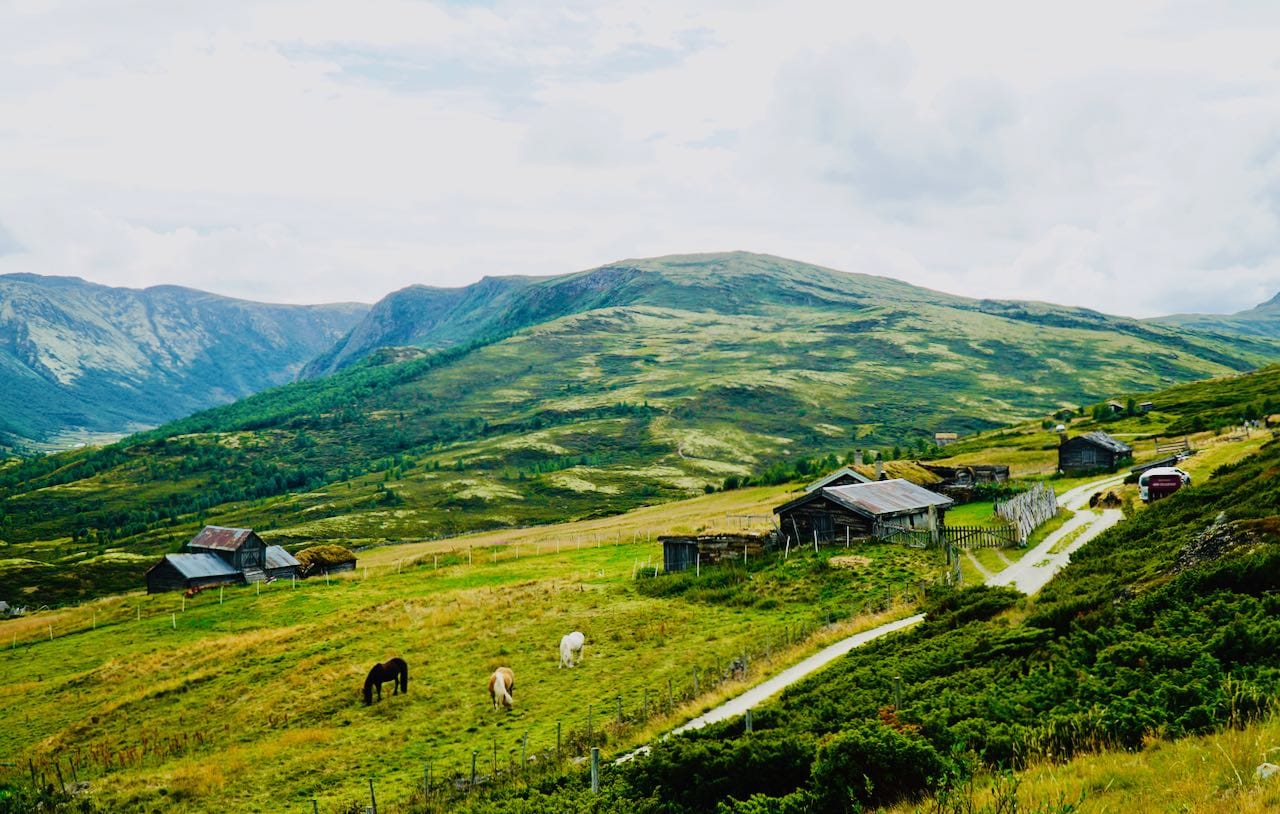 12. Elk safari on e-bikes
When we rode Tour de Dovre, we completely fell in love with the area and we therefore went back the following year as well. This time we signed up for elk safaris on electric bikes arranged by Dovrefjell Adventures. It turns out that bikes are a brilliant way to get close to wildlife, and we had a great trip where we saw both elks and lots of other four-legged creatures.
READ MORE: Searching for the King of the Forest – An Elk safari on E-bike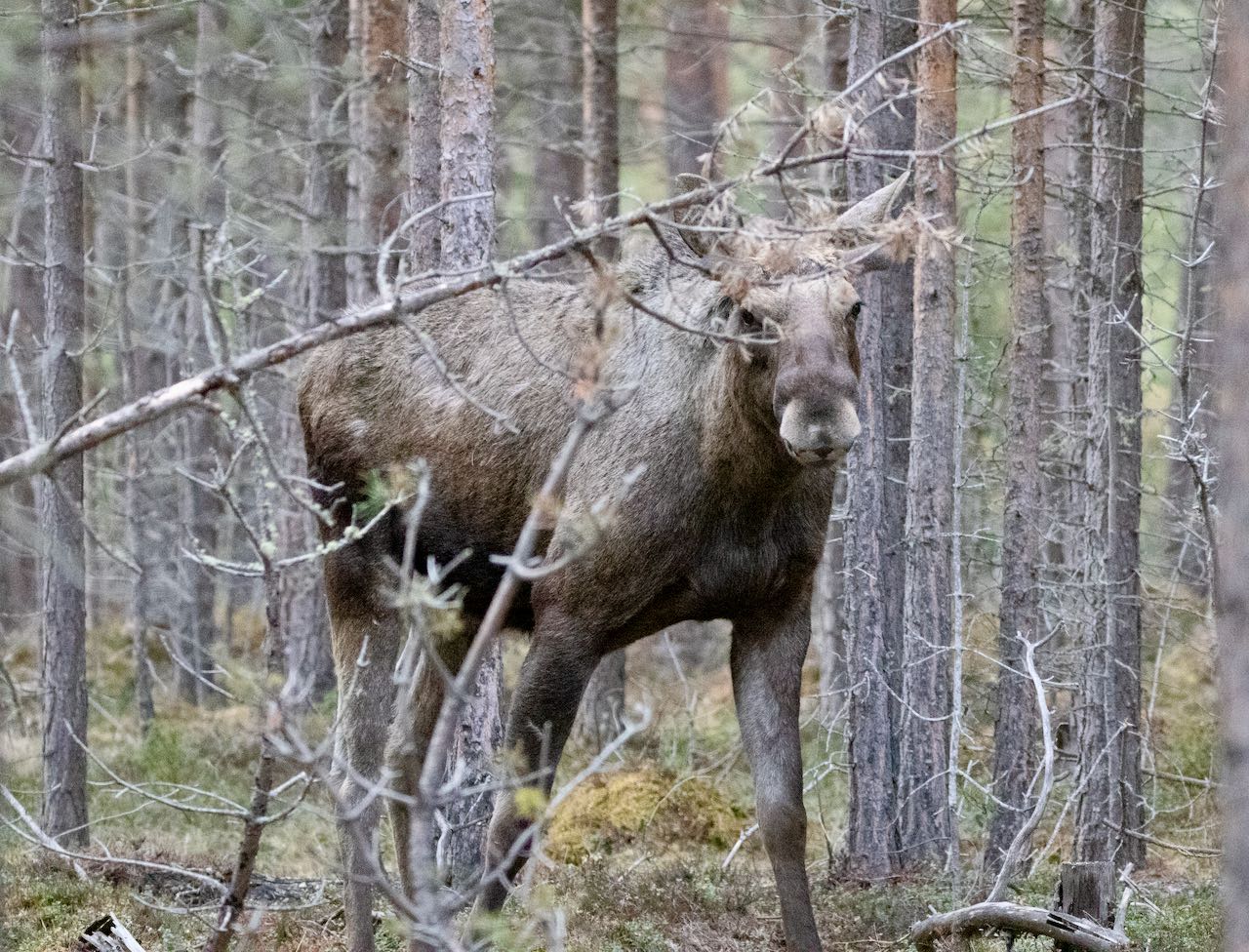 13. Killingmo Alpakka Gård (Killingmo Alpaca Farm)
Continuing with the animal theme a bit longer: at Killingmo Alpakka Gård, visitors can see, pet, and feed these curly creatures. In addition, it is possible to walk the alpacas. Unfortunately, we had not booked the alpaca walk, and therefore had to settle for just petting and feeding them during our visit. Having now seen these fuzzy animals up close, however, we would very much like to go back to Killingmo and join their "AlpacaTrip." Note that a visit to Killingmo Alpakka Gård needs to be pre-booked.
Link to Killingmo Alpakka Gård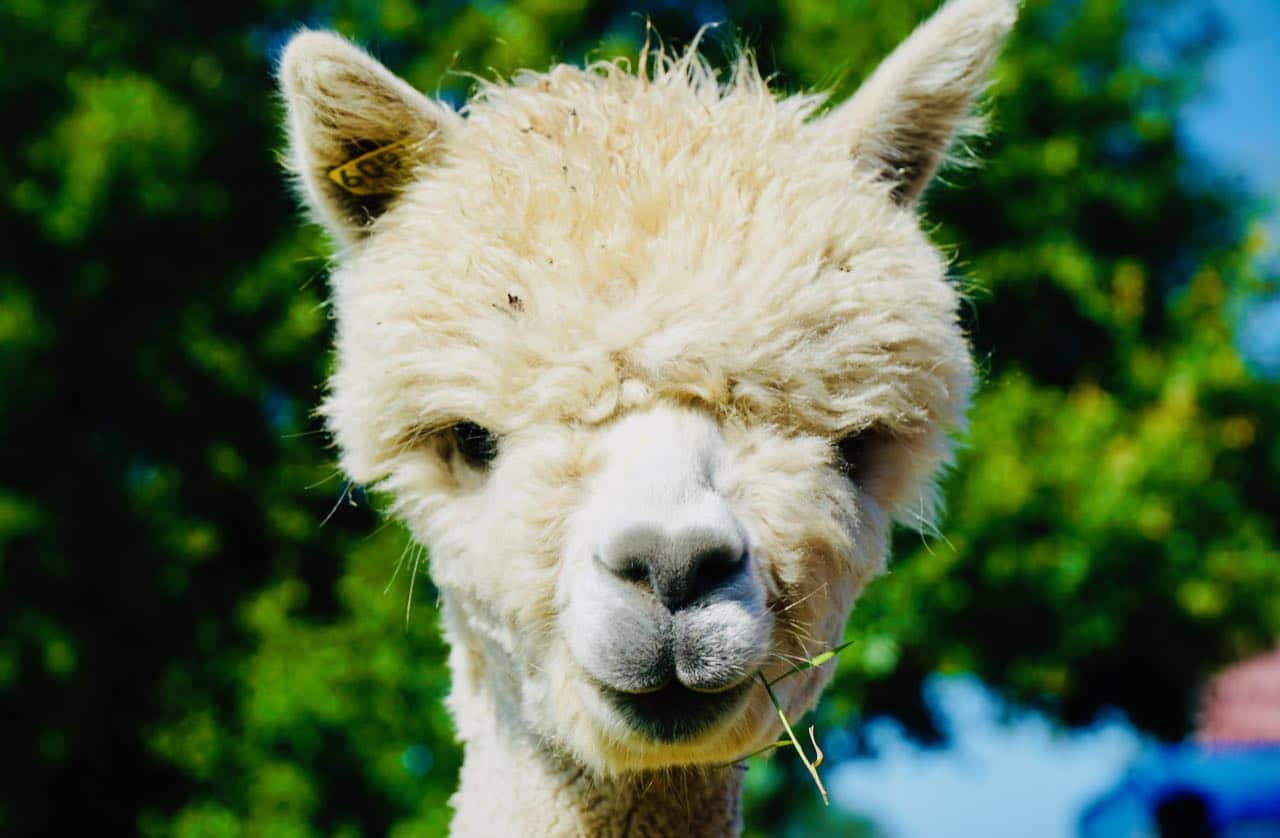 14. Glamping at Hadeland
Glamping Norge offers glamping in the lush garden of Thorbjørnrud Hotel in Hadeland. This experience is fit for the demanding camper, as the spacious tents have proper beds, duvets, and electric ovens. We combined the luxurious camping trip with a refreshing bath in Randsfjorden Lake, which is just a stone's throw away from the tents.
Glamping Norway no longer offers glamping at Thorbjørnrud Hotell, but has tents at Lystang Glamping (near Notodden) and at Sandviken Camping (near Rjukan). You can still glamp at Thorbjørnrud Hotell but you will need to book directly with the hotel.
READ MORE: Glamping in Hadeland – Glamorous Camping by Randsfjorden Lake
15. Lokstallen Røykenvik
Lokstallen Røykenvik is our favorite restaurant in Norway. Despite having eaten at Lokstallen countless times, we never get tired of the glazed pork neck which is always on the menu. The traditional rice pudding served for Christmas also makes our mouths water just at the thought of it. In the winter you can cozy up by the crackling wood stove inside, and in the summer it is lovely to sit outside in the beautiful garden with views of Randsfjorden Lake.
READ MORE: Review of Lokstallen Røykenvik – Our Favorite Restaurant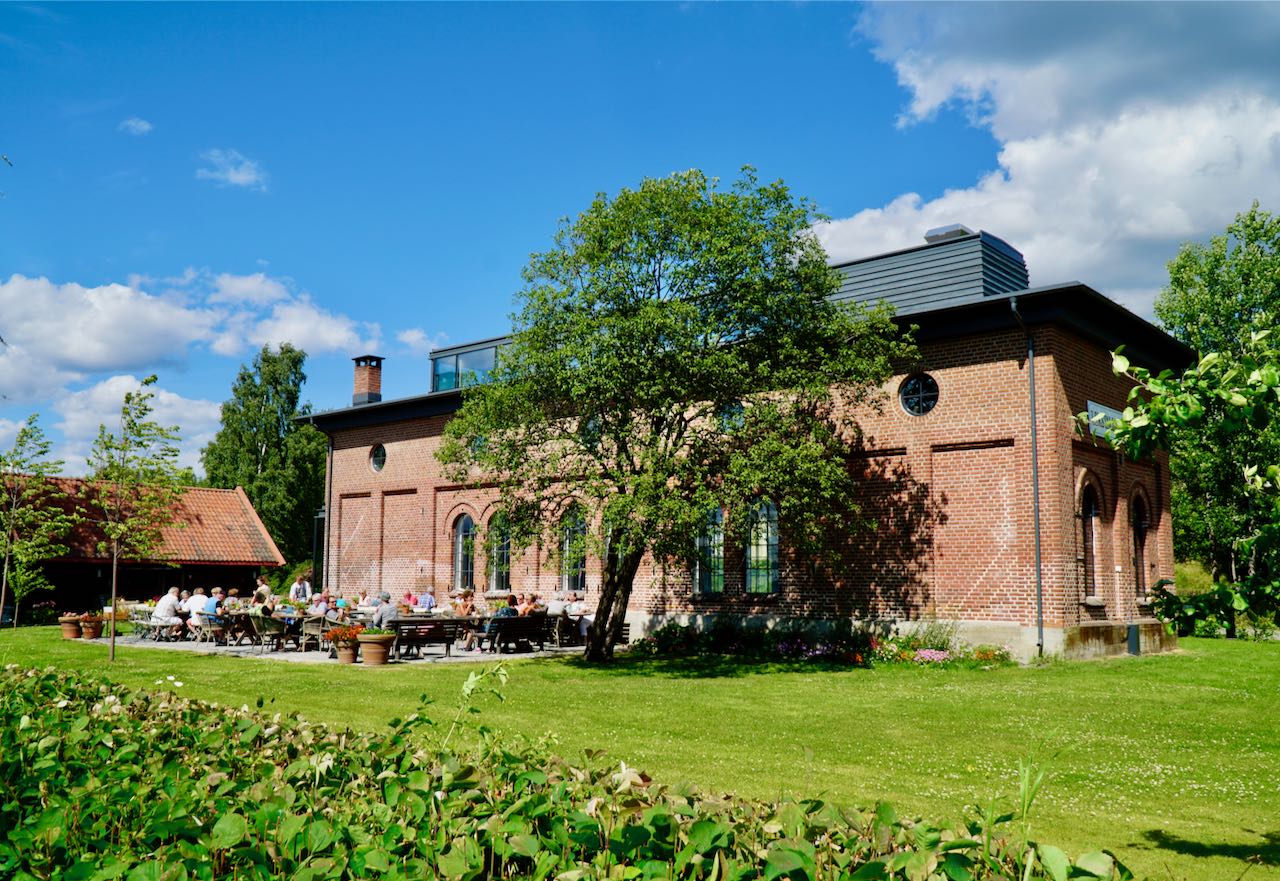 16. Jotunheimvegen
We were on a car and bike holiday when we biked Tour de Dovre. On the same trip we also found another very bicycle-friendly place: Jotunheimvegen. We drove to the parking lot where the Jontunheimvegen Road starts and pedaled the gravel road that runs along Vinstervatn Lake. Along the way we came across far more cows than cars, and the nature around us made us feel like we were cycling around in a romantic painting of Norway.
READ MORE: Itinerary for a 5-day Road Trip From Oslo, Norway Including 2 Fantastic Bike Routes
17. Madame Tveten and Asdøljuvet
Madame Tveten is a cozy farm with conference facilities in Lier outside Oslo. In the summer, guests can stay in the old buildings and visit the summer café. We combined the visit to Madame Tveten with a walk in the magical Asdøljuvet Gorge. The incredibly friendly hosts let us park our car by the farm while we went hiking and served us delicious homemade treats when we came back. We have rarely felt as welcome as we did at Madame Tveten, and we really appreciated that the yummy coffee was served with countless re-fills!
Update from May 2023: Madame Tveten is currently closed, but it is definitely worth taking the trip to visit Asdøljuvet Gorge.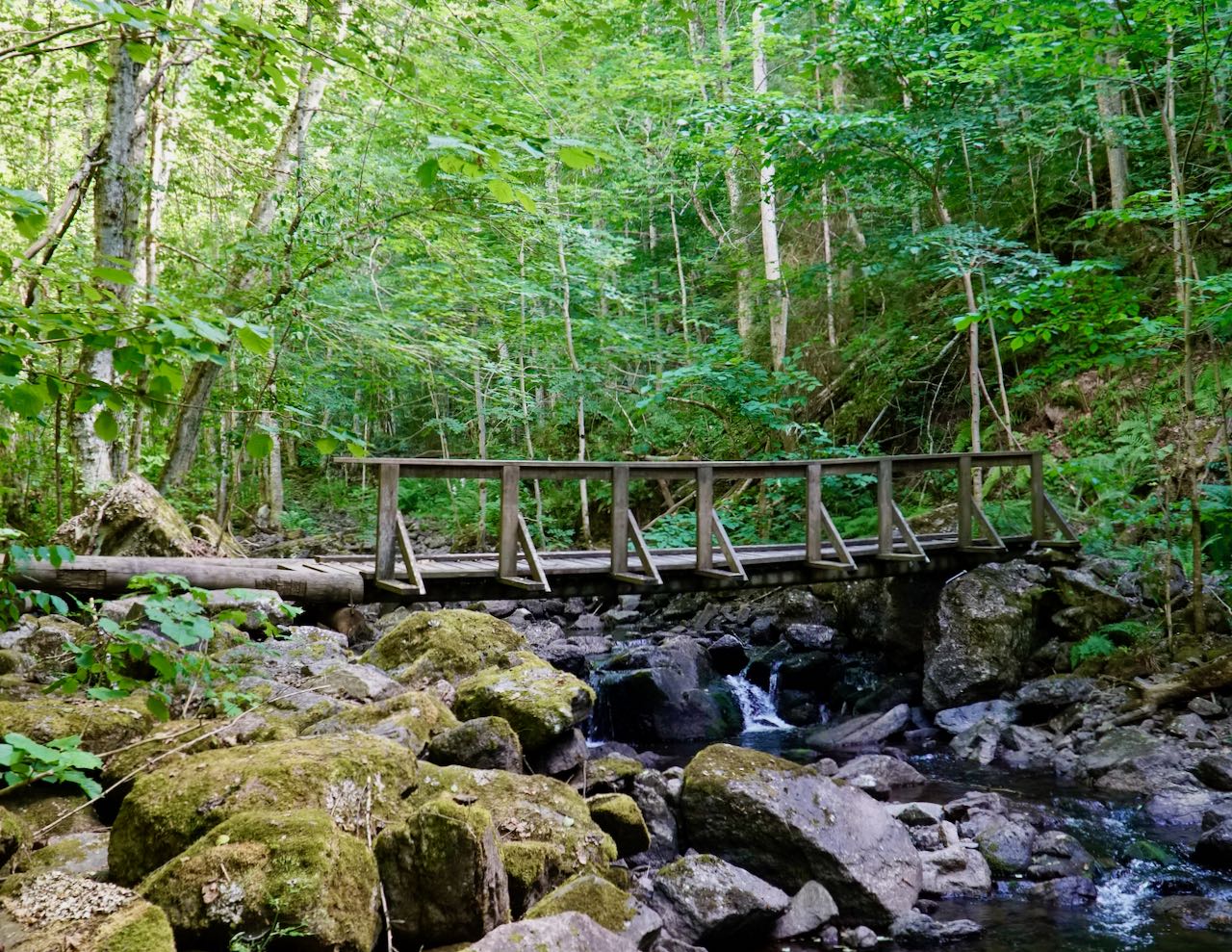 Western Norway (Møre and Romsdal, Rogaland and Vestland counties)
18. Fargegaten in Stavanger
Upper Holmegate, or Fargegaten (Color Street) as it is also called, is a street filled with houses painted in lively colors located in the city center of Stavanger. Here there are exciting niche shops and several eateries with both good food and unique interiors. The street was created in 2005 with the help of artist Craig Flannagan, and today it is a very popular tourist attraction that is well worth a visit.
19. Steindalsfossen
Steindalsfossen Waterfall in Hardanger is said to be one of Norway's most visited waterfalls. The reason for this is the walkway that runs beside and behind the waterfall, where you can admire the flow of water from all sides. The waterfall is at it largest in May-June when the snow is melting.
20. Steinstø Frukt- og Kakebu
Update as of 2023: Steinstø Frukt- og Kakebu is closed for the 2023 season.
Steinstø Frukt- and Kakebu is a seasonal café and fruit outlet that we stopped by when we were on a road trip in the Hardanger region. We wanted to taste the famous local apples, and at Steinstø we bought some delicious apple juice made locally at Steinstø Fruit Farm. We also had lunch in the little café overlooking the Hardanger Fjord and bought morels and other traditional food from the fruit sale.
Link to Steinstø Frukt- og Kakebu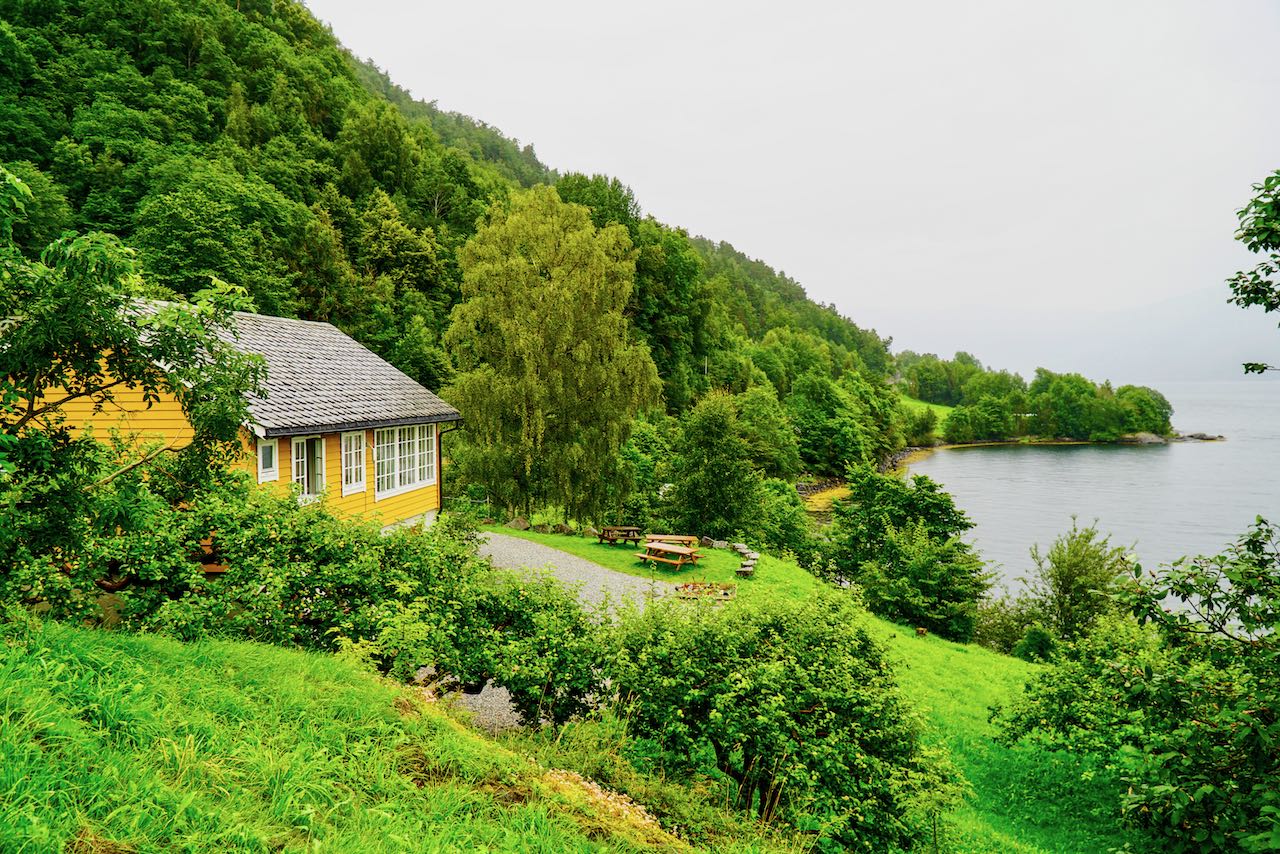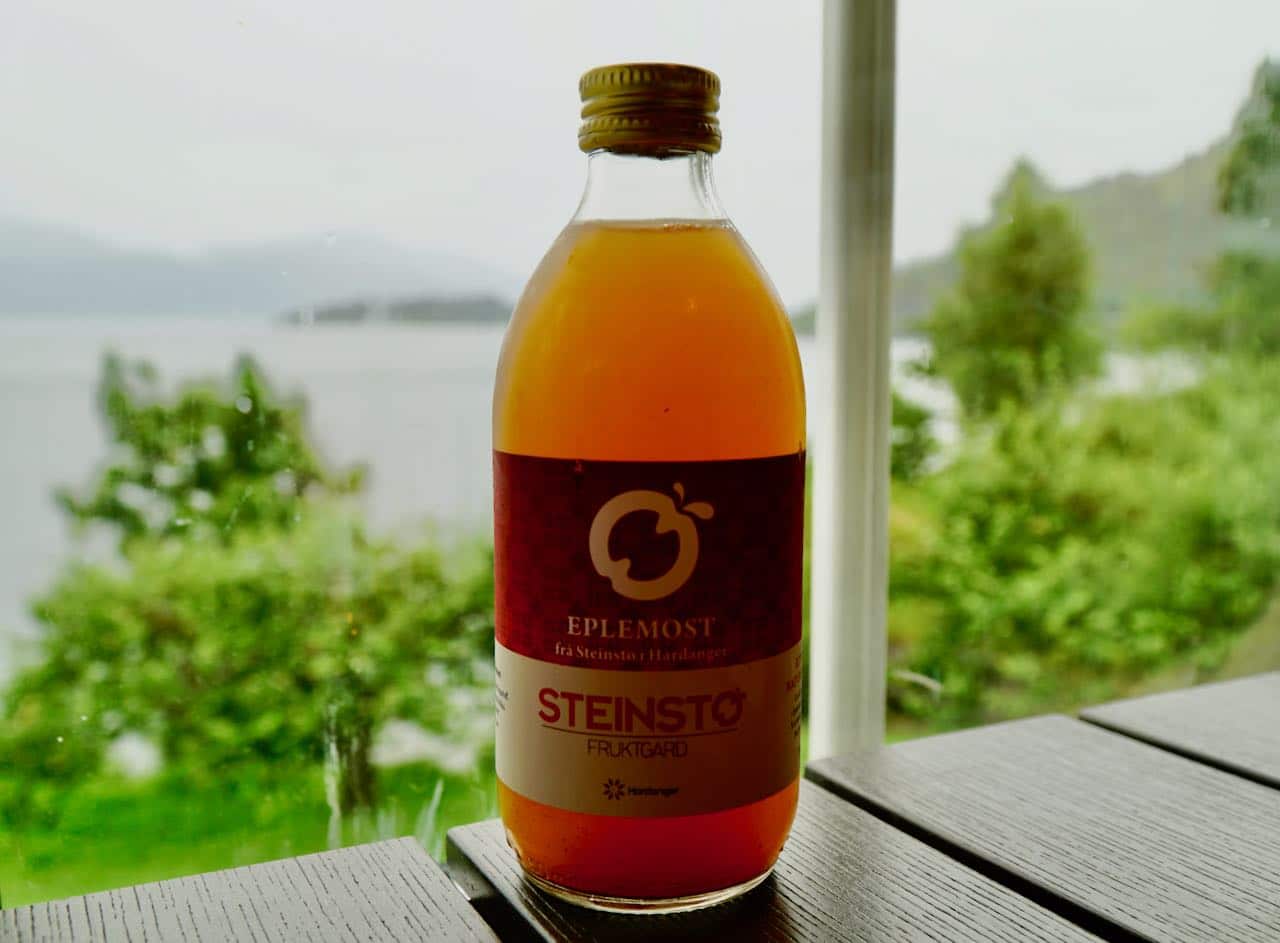 21. Valldal Fjordhotell
We really appreciate accommodations that offer good service and comfortable rooms. Valldal Fjordhotell not only delivered in these areas, but also has a fabulous location right on the beautiful Norddalsfjorden Fjord. We can still vividly remember the delicious breakfast we ate out in the garden with the reflections of the mountains in the fjord in front of us. Note that Valldal is known for its wonderful strawberries, so a taste of these is an absolute must-do in the strawberry season!
READ MORE: Review of Valldal Fjordhotell – A Great Hotel in Spectacular Surroundings
22. Trollstigen and Gudbrandsjuvet
We're merging Gudbrandsjuvet and Trollstigen in one tip, as both of these places lie along Norwegian Scenic Route Geiranger-Trollstigen. Trollstigen road has 11 harpin bends that not only make for a jaw-dropping drive, but also provide a fabulous viewpoint at the top of the road. It is also worth stopping at Gudbrandsjuvet Gorge, where platforms have been created allowing visitors to get close to the water of the fast-flowing Valldøla River.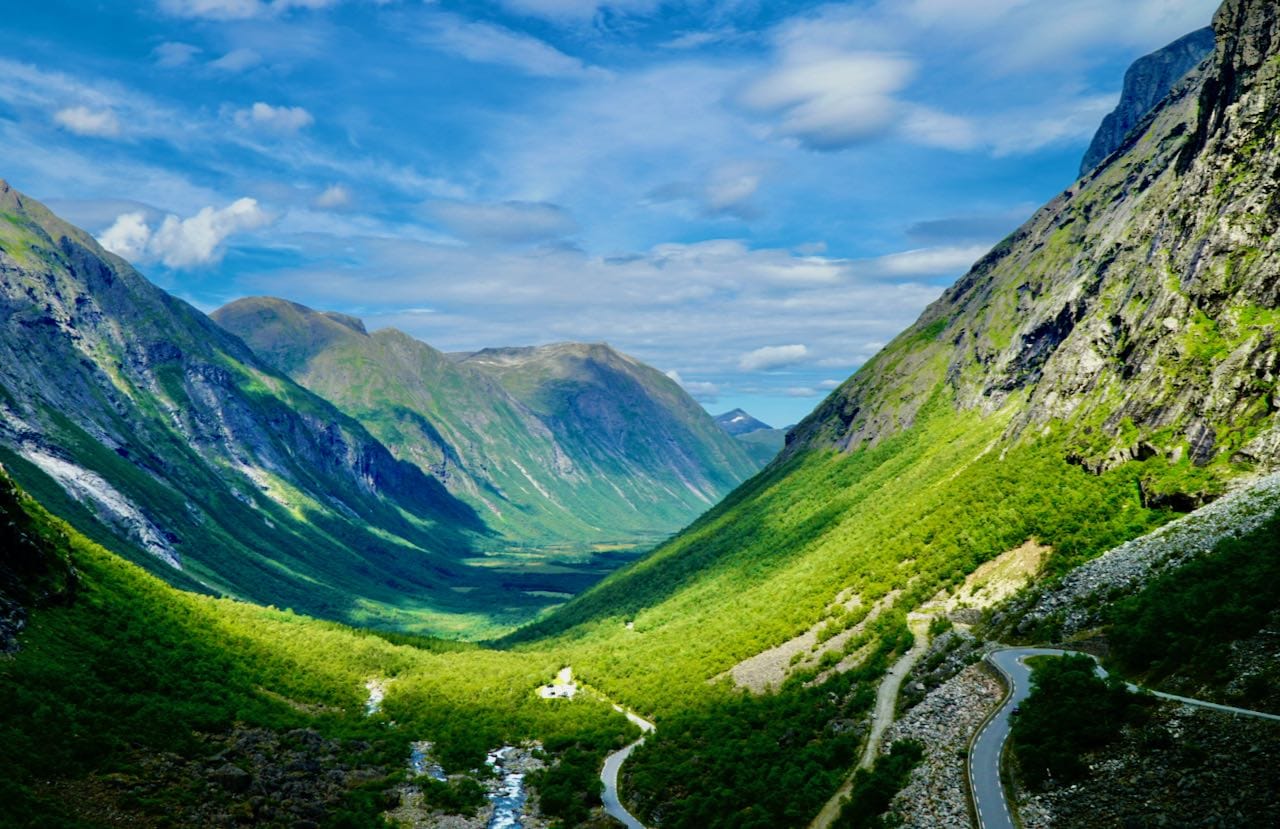 23. Orrestranda
The coast of Jæren has many beaches, and Orrestranda is one of the most scenic ones. It is also Norway's longest sandy beach stretching out over 5 kilometers. In other words, there is plenty of room to spend lazy days sunbathing and swimming. When we visited Orrestranda, it was too cold to swim, but the beach still managed to impress us with its endless sandy stretches.
Trøndelag (Trøndelag county)
24. The Golden Road at Inderøy
Inderøy is located a few kilometers south of Steinkjer. Exiting Highway E6 at either Røra or Vist, you can follow the route appropriately called "Den Gylne Omvei" (The Golden Road) around Inderøy. Without any stops, it would only be 8 minutes of extra driving time. We, however, took much longer than that, and cycled rather than drove around the peninsula. The route we chose to cycle around Inderøy was about 30 kilometers long and crossed through varied landscape with many possible stops along the way.
Our favorite stops were Gangstad Gårdsysteri (a farm shop selling cheese and dairy produce), Marens bakeri (Marens bakery), and Inderøy Landhandleri (a traditional shop with a nostalgic vibe). The Golden Route also has many other eateries and accommodations, shops, attractions, and cultural offerings.
25. Leka Island
We had never heard of Leka before stopping at the tourist office in Steinkjer to get travel tips for Trøndelag. After visiting this remarkable island, we simply cannot understand why it is not more well-known. The landscape here resembles an American national park, and we hardly believed our own eyes when we saw the nature on the west side of the island. If you are looking for an out-of-the-ordinary nature experience, Leka is definitely the place to go!
READ MORE: Leka Island – A Geological Wonder
26. Vuddu Valley
Vuddu Valley is an American diner. And a candlelight shop. And a museum. The rather unconventional mix of businesses tempted us to stop there when we were on our way home from a vacation in northern Norway. We ordered burgers in this very Instagram-friendly diner and were served a tasty meal at a reasonable price. We also browsed the shop which sold candles, soaps, gifts, and candy.
Northern Norway (Nordland, Troms and Finnmark counties)
27. Vega
Update from May 2022: In spring 2022 Vega Havhotell got new owners. The focus on gourmet food is fortunately continued with chef Jonas Møller who has previously worked with Jon Aga.
The island of Vega has activities and experiences for all tastes. For example, Vega Havhotell is not just a charming place to stay— here you can also feast on food that is worthy of a king. During our visit, head chef Jon Aga served us several dishes we are never going to forget, including baked pollock with herb and lentil butter.
A stay at Vega Havhotell could easily make you put on weight, but fortunately there are also several fun ways to burn off some calories on the island. In addition to there being great cycling conditions, exercise enthusiasts can get a real workout by climbing the Vegatrappa (Vega Stairs), which is nearly 1,400 steps up a steep mountainside. Those who prefer a flatter excursion could explore the Holandsosen Nature Reserve. This is a wetland area with great hiking opportunities. Close to the nature reserve is the Vega World Heritage Center, an exhibition of the history of the Vega Islands with details of why the island has become a World Heritage Site. As if this is not enough, Vega also has beautiful beaches.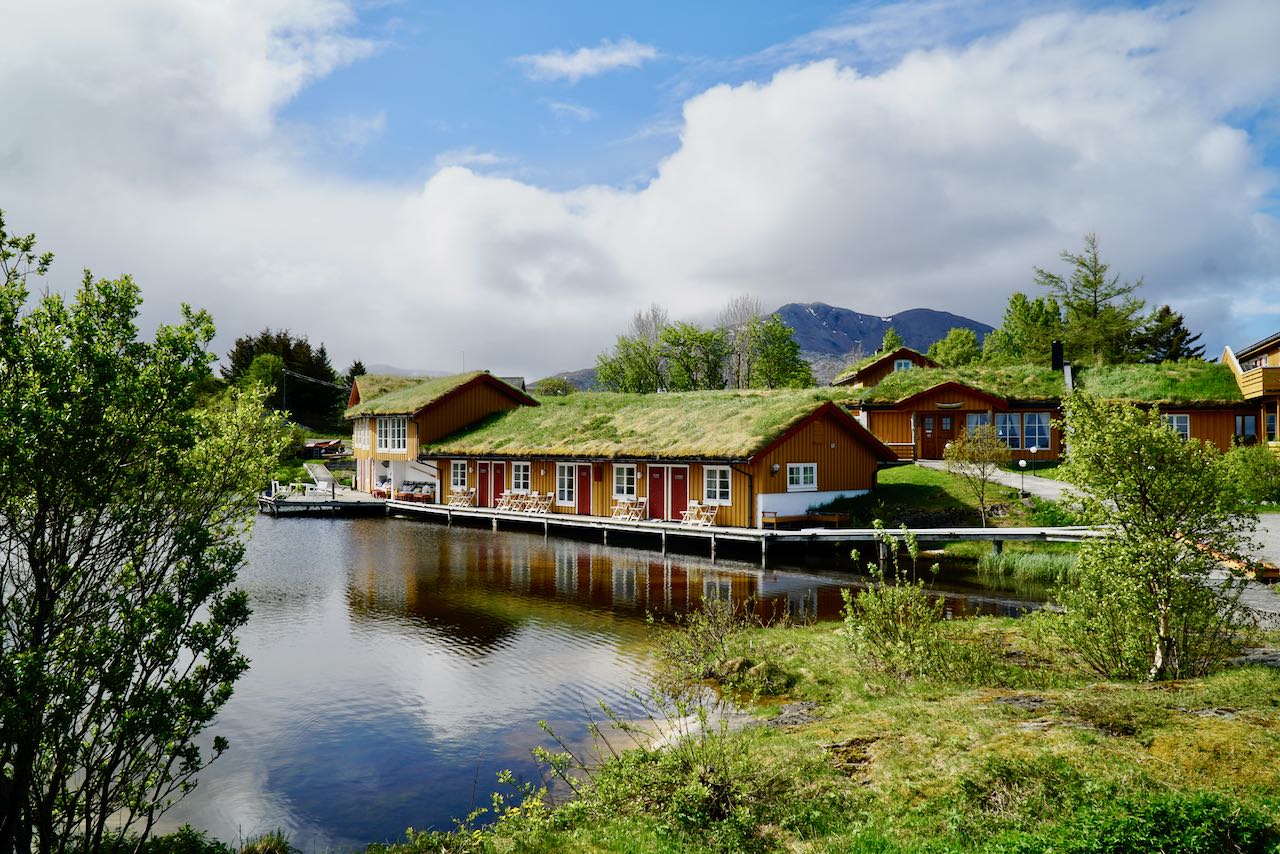 28. Herøy og Dønna
Herøy and Dønna is an area with several thousand islets and islands that are joined by a number of bridges. The very little traffic makes it a pleasure to bike here, and along the way you can enjoy the views of the spectacular mountain range The Seven Sisters. The florist ETCETERA – botaniske utskeielser m.m at Herøy is a great place to stop. You will realize even before stepping inside that this is no ordinary flower shop, and you don't even have to be interested in flowers to be fascinated by this very special place.
Link til Etcetera – botaniske utskeielser m.m
29. Svartisen Glacier
Svartisen is Norway's second largest glacier, located in a magnificent setting in Holandsfjorden in Nordland. There are several opportunities for visitors who want to see Svartisen, but we strongly recommend taking the ferry across Holandsfjorden to see the glacier up close. We visited Svartisen just a few days after the season started and were lucky enough to have the closest vantage point to the glacier all to ourselves, an impressive experience we will never forget.
READ MORE: Everything You Need to Know about Visiting the Svartisen Glacier
30. Norwegian Scenic Route Andøya
We love road trips, and in recent years we have driven many of the 18 routes that are called Norwegian Scenic Routes. These roads are picked out for the especially great experiences they offer. Along them, you can admire beautiful scenery, exciting architecture, and thought-provoking art. One of the Scenic Routes that has impressed us the most is the one that goes from Bjørnskinn in the south to Andenes in the north on the island of Andøya. This route dazzles you with dramatic mountains, white beaches, and a restroom that's quite out of the ordinary.
READ MORE: A Spectacular Drive Along Norwegian Scenic Route Andøya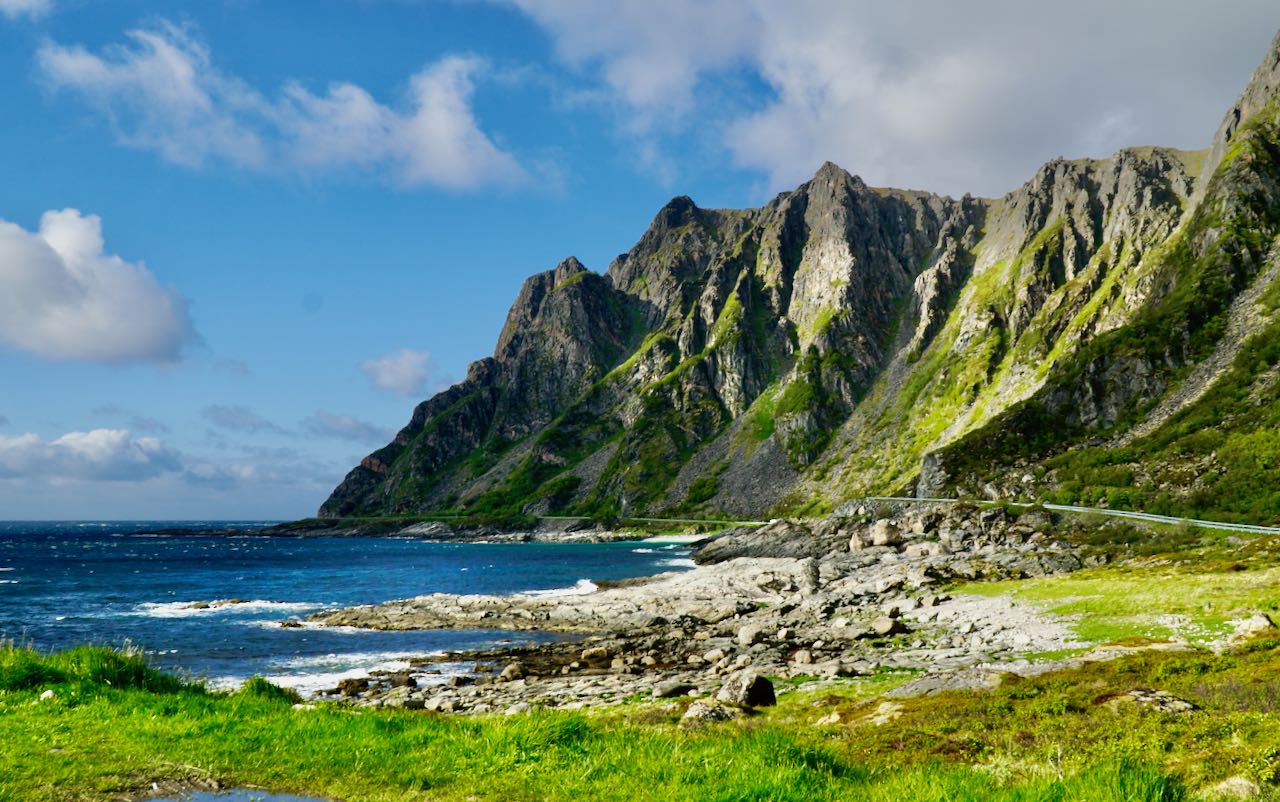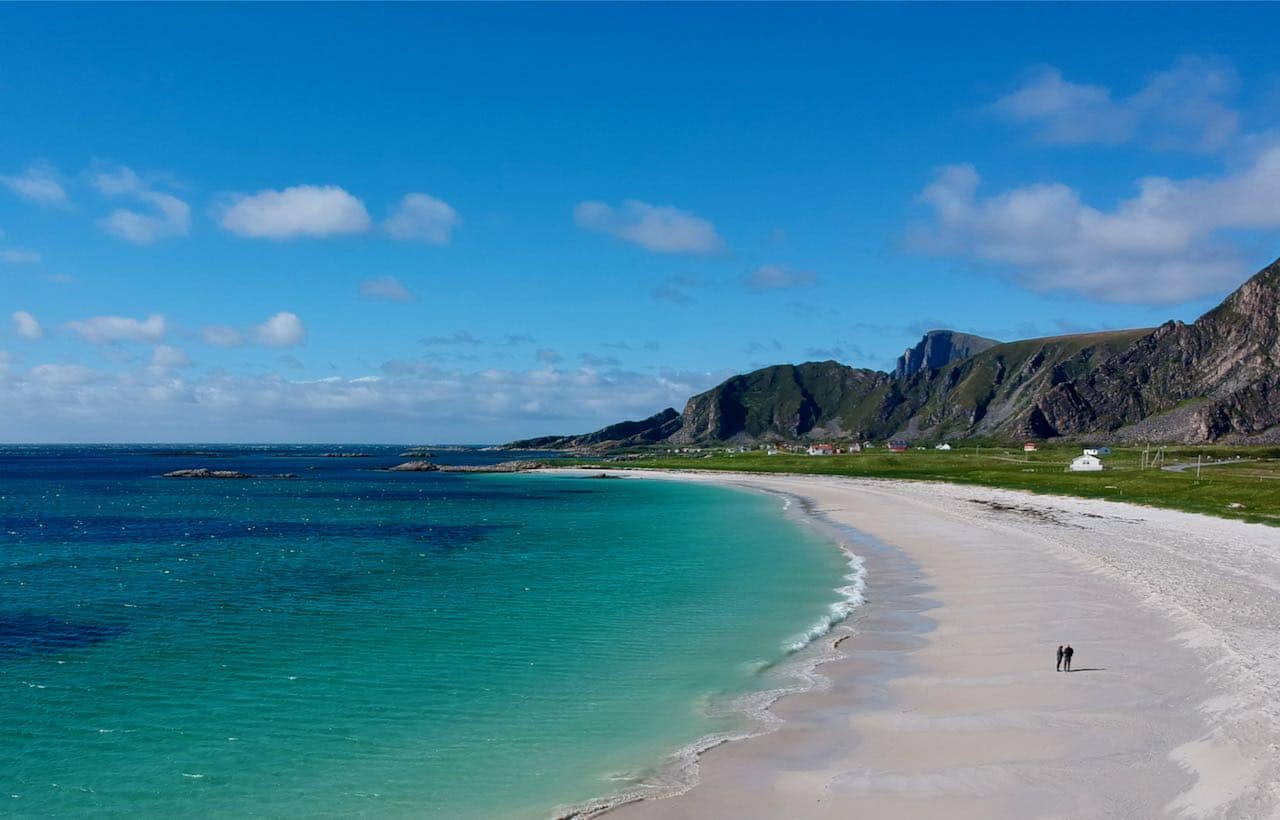 31. Snorkling in Lofoten
Lofoten is well-known as a diving destination, but even without a diving certificate you can still experience the exciting underwater world. We signed up for a snorkeling trip with Lofoten Diving, and thought it was great fun to look for fish, crabs, sea urchins, starfish, and other creatures. We were also surprised by the array of beautiful colors we saw underwater. Thanks to the drysuits we borrowed, we stayed warm despite the chilly water temperature.
32. Nusfjord
The old fishing village of Nusfjord in Lofoten provides an interesting insight into the coastal culture of Northern Norway. In Nusfjord you can find accommodation, restaurants, cafés, and a spa. We visited Nusfjord only for a day-trip and took the opportunity to try some of the delicious buns in Hansines bakeri (Hansines bakery).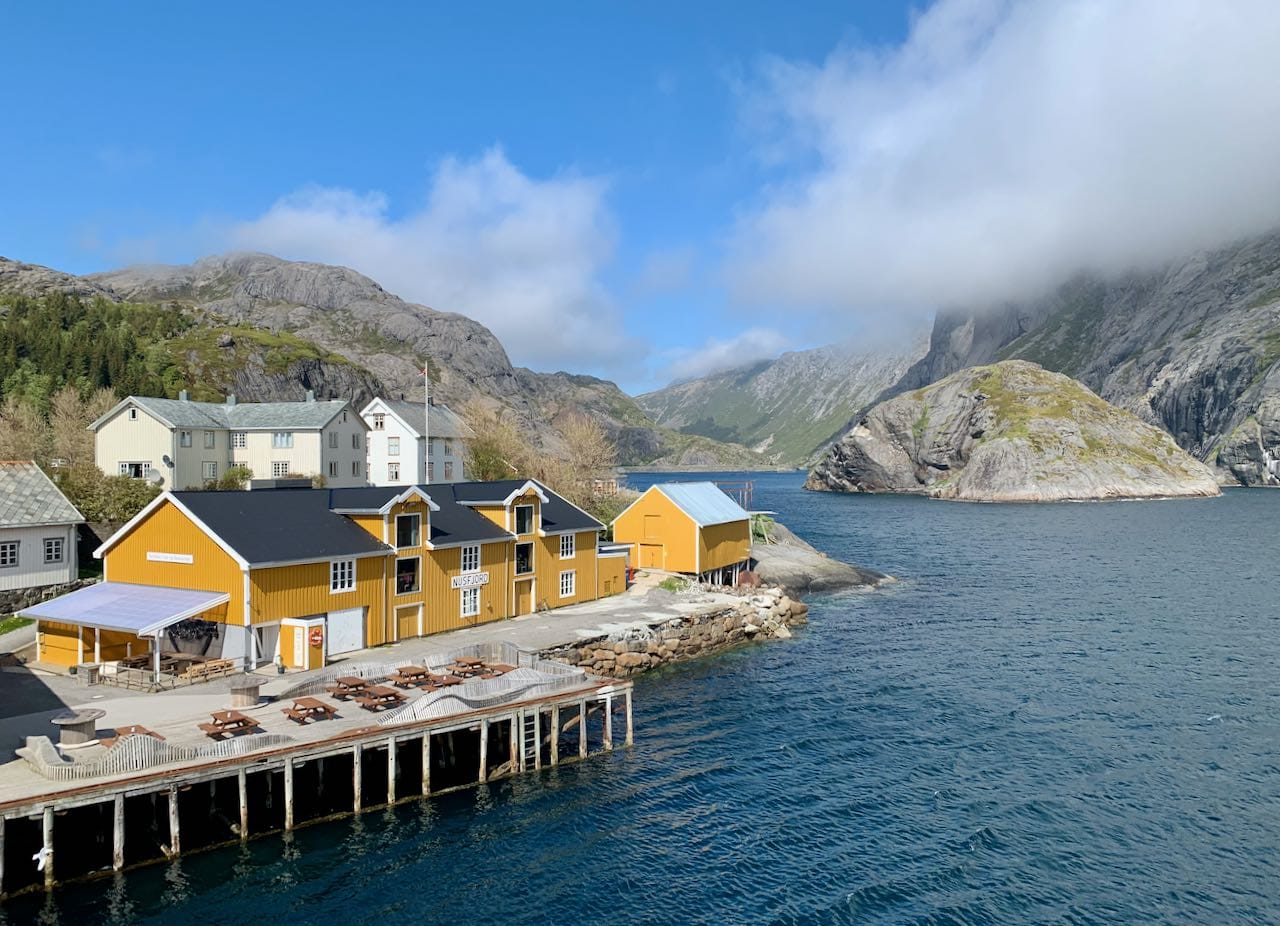 33. Kjerringøy handelssted
Another place that takes a look back in time is Kjerringøy handelssted (Kjerringøy trading post). This former trading post is located about 40 kilometers north of Bodø and is Norway's best-preserved trading post. A number of films have been recorded on Kjerringøy including the film "I am Dina." If you visit, we highly recommend going on a guided a tour of the main house!
Link to Kjerringøy handelssted
Looking for even more tips for your Norwegian holiday? HERE you will find all our blog posts about Norway.