Last updated June 2022
On our travels near and far, we are always looking for places to eat that stand out and offer an experience out of the ordinary. At restaurants like these, delicious food is a given, but the very best ones also have extraordinary service or a very special atmosphere. All this, and even more, is what we found at Lokstallen Røykenvik.
We had spent the night in a glamorous tent on Jevnaker and the day on the beach by the Randsfjord en. With no concrete plans for the next meal, we asked Google where we should go, and not long after, we were on our way to Brandbu and the restaurant Lokstallen Røykenvik. The reviews online were extremely positive, and we were excited to see what an eatery in a tiny town in Oppland county would have to offer.
As we turned into the parking area, an old locomotive garage appeared in front of us. The building was beautiful, and the location by the lake Randsfjorden was stunning. The tables were set in the charming garden and decorated with colorful flowers.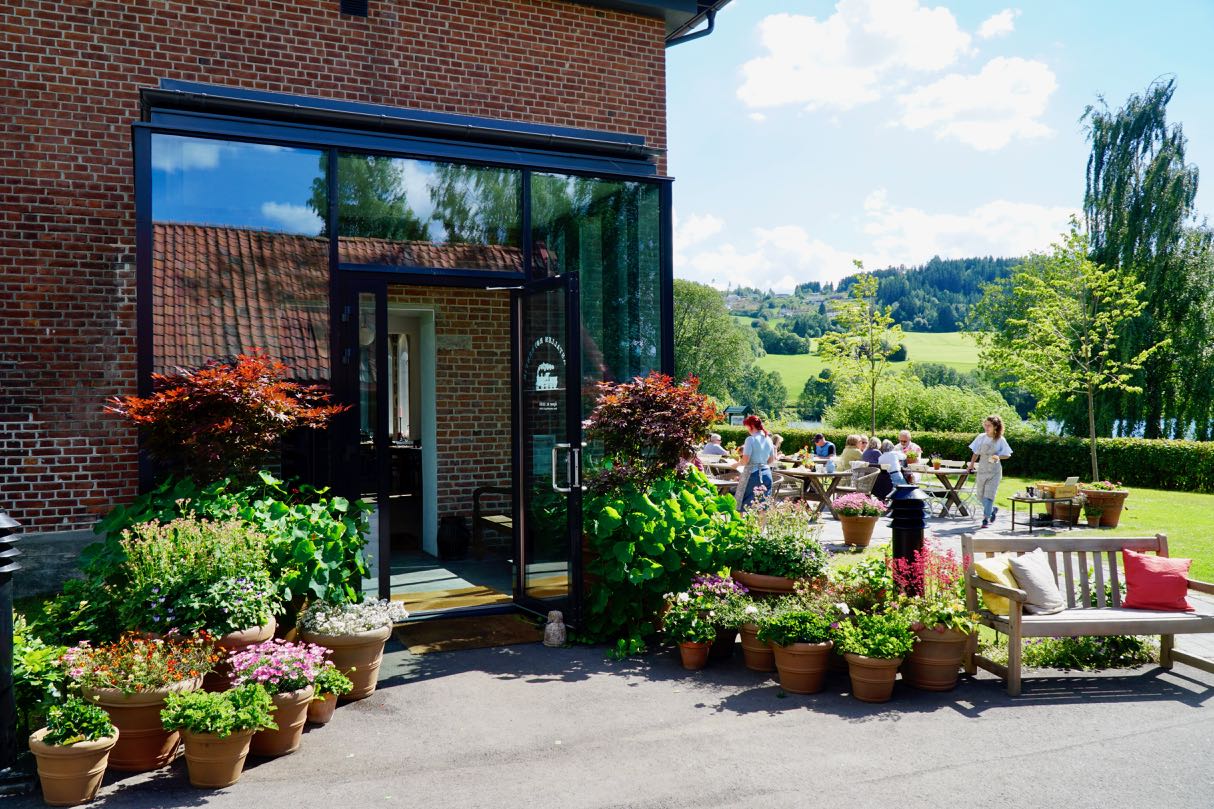 We were greeted by the waiter and instantly seated. Most tables were already taken, but despite the restaurant being busy we received excellent service throughout the entire meal.
The menu offered a selection of snacks, appetizers, and main courses. We ordered bread and aioli, chicken salad, and braised pork butt. The food arrived quickly and looked amazing. With no time to waste we dug in and concluded that the food tasted just as great as it looked.
It's hard to go wrong with bread and aioli, and we thoroughly enjoyed Lokstallen's version of this starter. Furthermore, the chicken salad had generous amounts of juicy chicken and a delicious parmesan-based dressing. Some croutons added a little crunch and finished off the dish nicely.
However, the real highlight of the meal was the pork. The incredibly tender meat was accompanied by sweet cantaloupe melon, pear, and potato, which all came together in a perfect symphony.
The food was served on beautiful plates, and the whole atmosphere was reminiscent of the French countryside. Every little detail was perfect and contributed to making this meal outstanding.
We would have loved to have dessert, but after the generous portions we simply didn't have room for more. Instead, we rounded off our visit with a tour of the interior shop located on the second floor of the restaurant. It had so many temptations and there is no doubt that the owners of Lokstallen Røykenvik have great taste in not only food but also in interior design!
Update as of June 2022: Since our first visit in 2017 we have returned to Lokstallen numerous times. Every single meal has been outstanding, and Lokstallen Røykenvik is now our favorite restaurant in Norway!
*We visited Lokstallen Røykenvik for the first time in July 2017. Lokstallen Røykenvik did not know that they could be featured on our blog, and we paid all expenses ourselves