Last updated June 2023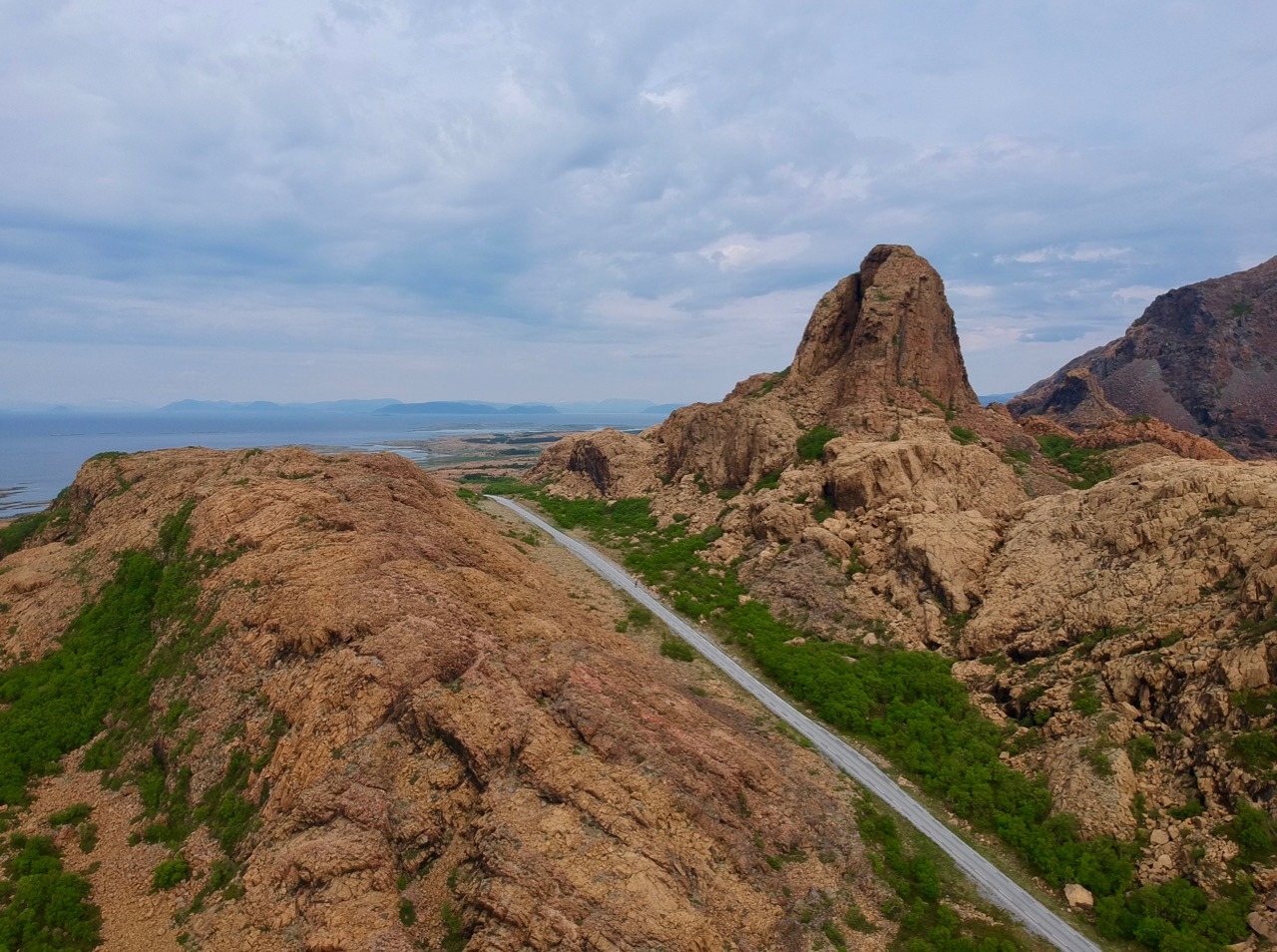 As we look around a tourist office in Steinkjer, the pictures we see of Leka make us shake our heads with wonder. Being travel enthusiasts, we devour large amounts of information about exciting destinations every single week. How can it be that we have never heard of this very special island until now?
The brochure we are leafing through has pictures that seem to have been taken on another planet. Or at least another continent. And after reading a bit, we find that this is actually the case. Geological surveys show that Leka previously belonged to America. Millions of years ago, the American and European tectonic plates were pushed together. When they moved apart again, Leka was left on the European side. This resulted in some very special geological conditions.
We think this is so interesting that we immediately decide to visit the island, which in 2019 received the status of UNESCO Global Geopark.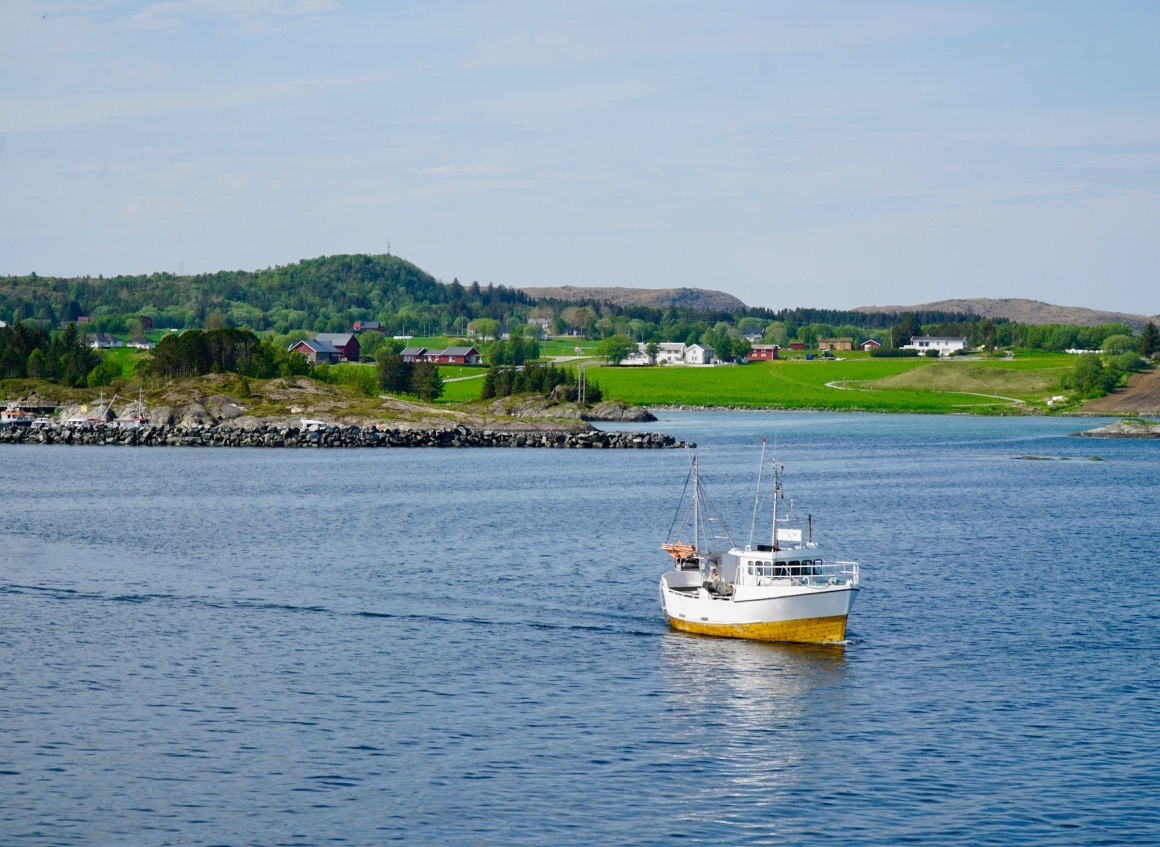 As we take a ferry to the east side of Leka, we approach a lush green agricultural landscape. However, at the moment there is little that reminds us of the pictures we saw at the tourist office.
Soon after, we park our car at our accommodation at Frøvik, grab a couple of water bottles and jump on our bikes. We have read that there are great conditions for cycling at Leka, and we look forward to exploring the island on two wheels.
The 30-kilometer-long road around the island has very little traffic. Part of the route goes through a beautiful coastal landscape with diverse bird life, and around a bend, a deer stands on the roadside. We still see no traces of any geological wonders, but we are already enjoying the bike ride to the fullest.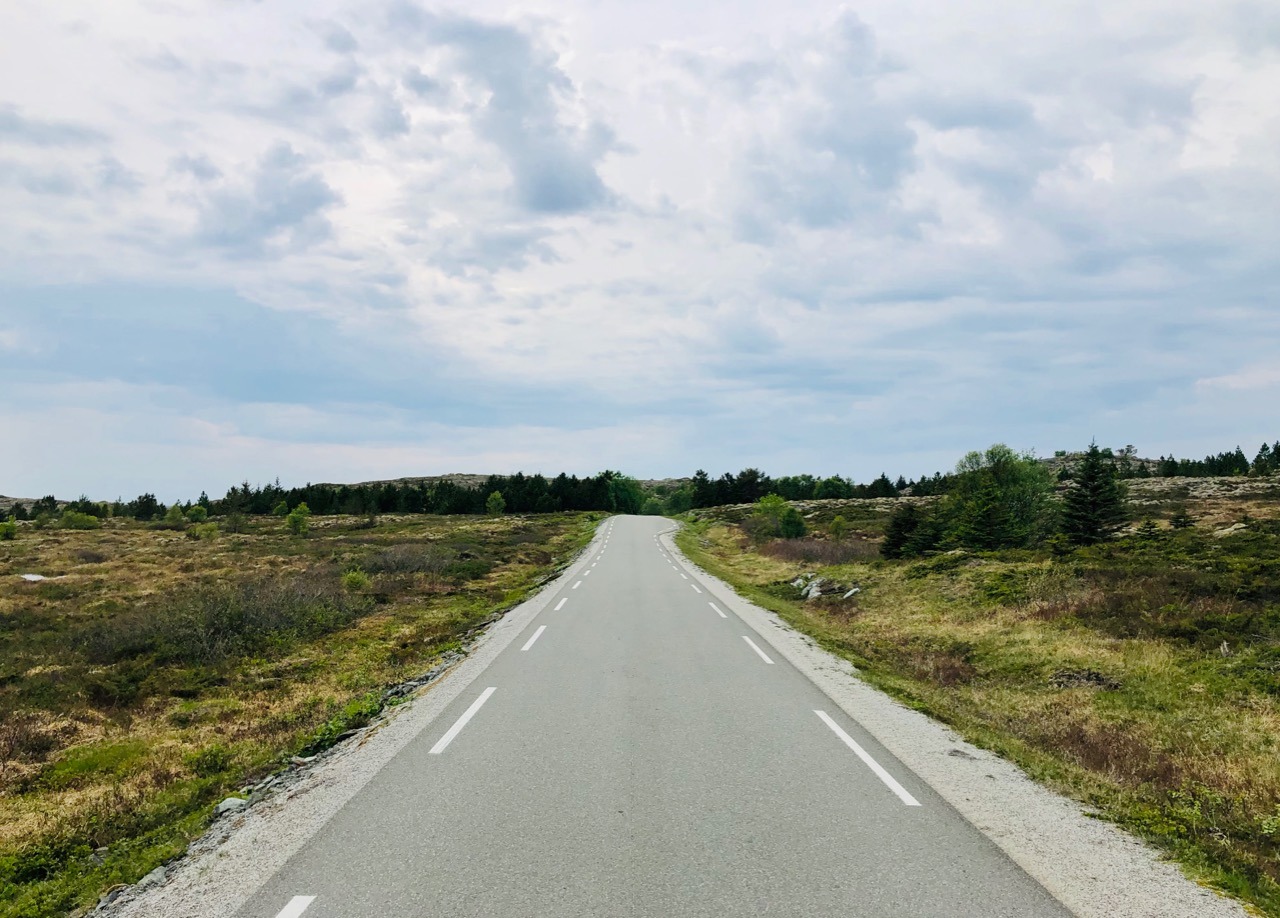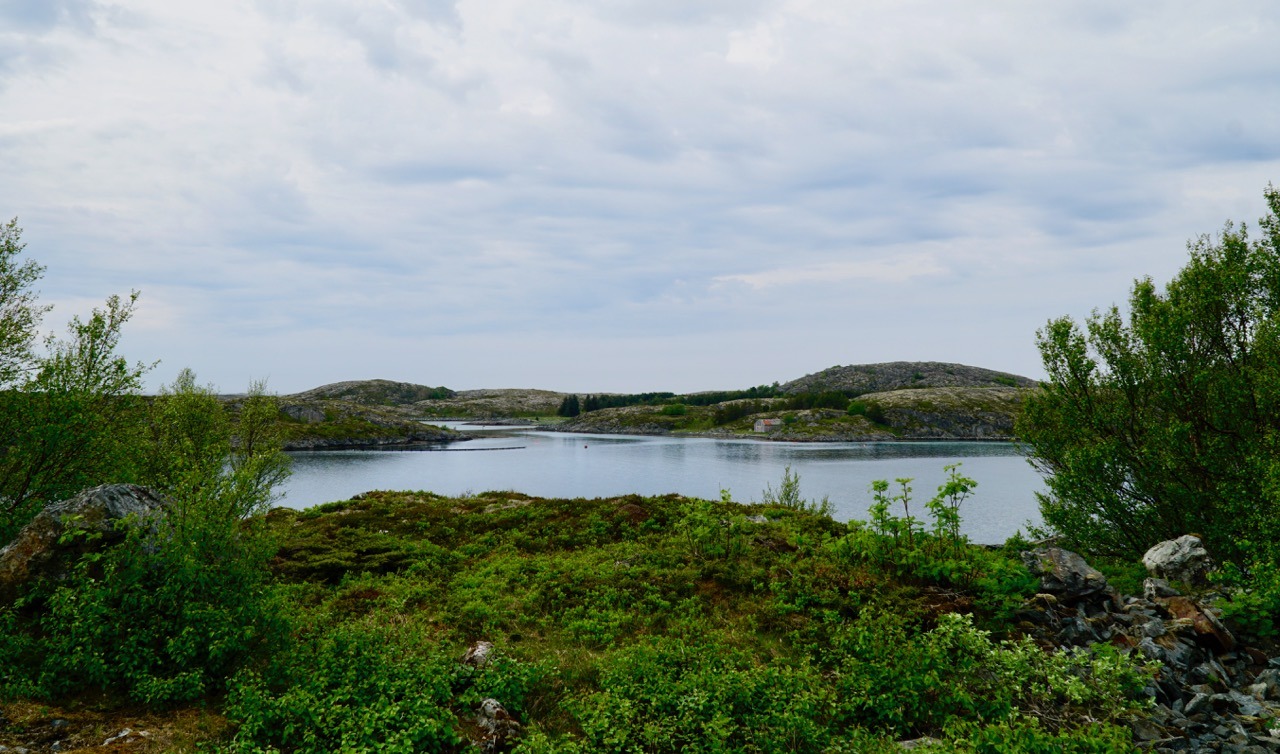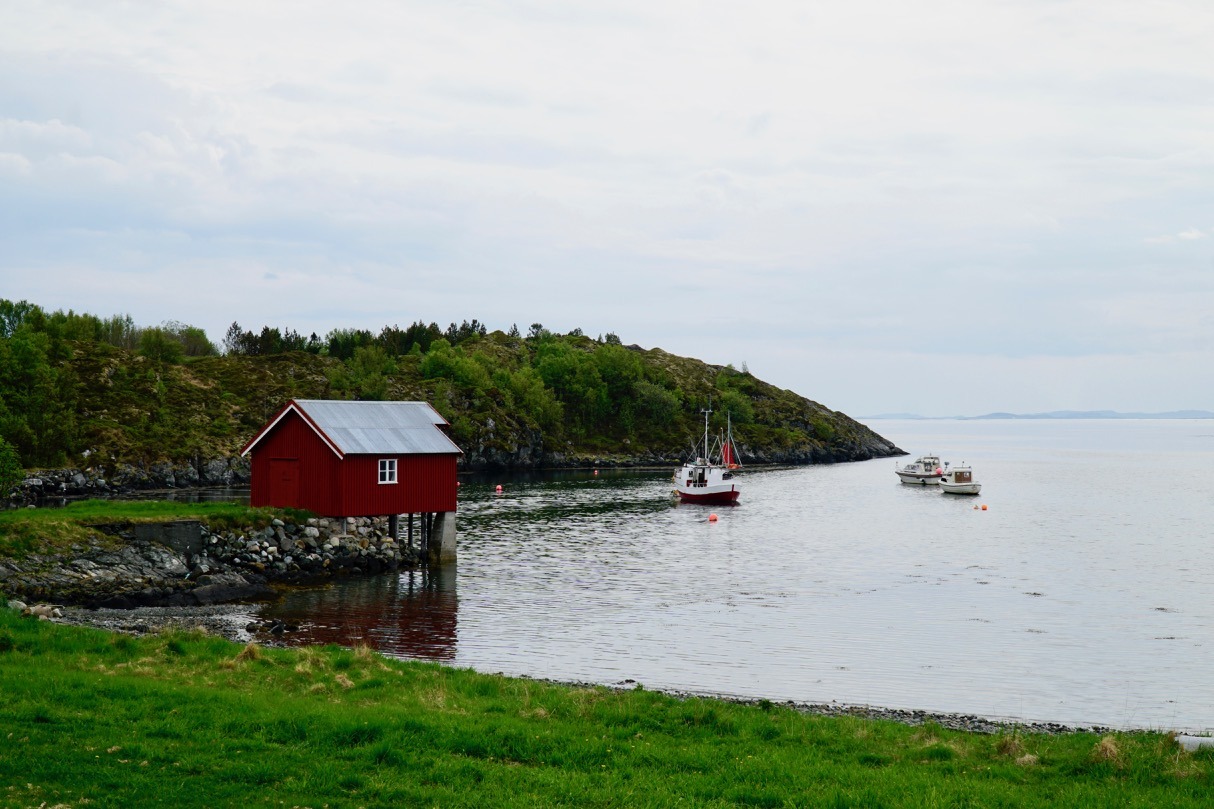 Suddenly the landscape begins to change, and we see some strange rock formations in front of us. The yellow-brown mountains are similar to pictures we have seen of American national parks, but they are completely different from anything that we have seen elsewhere in Norway.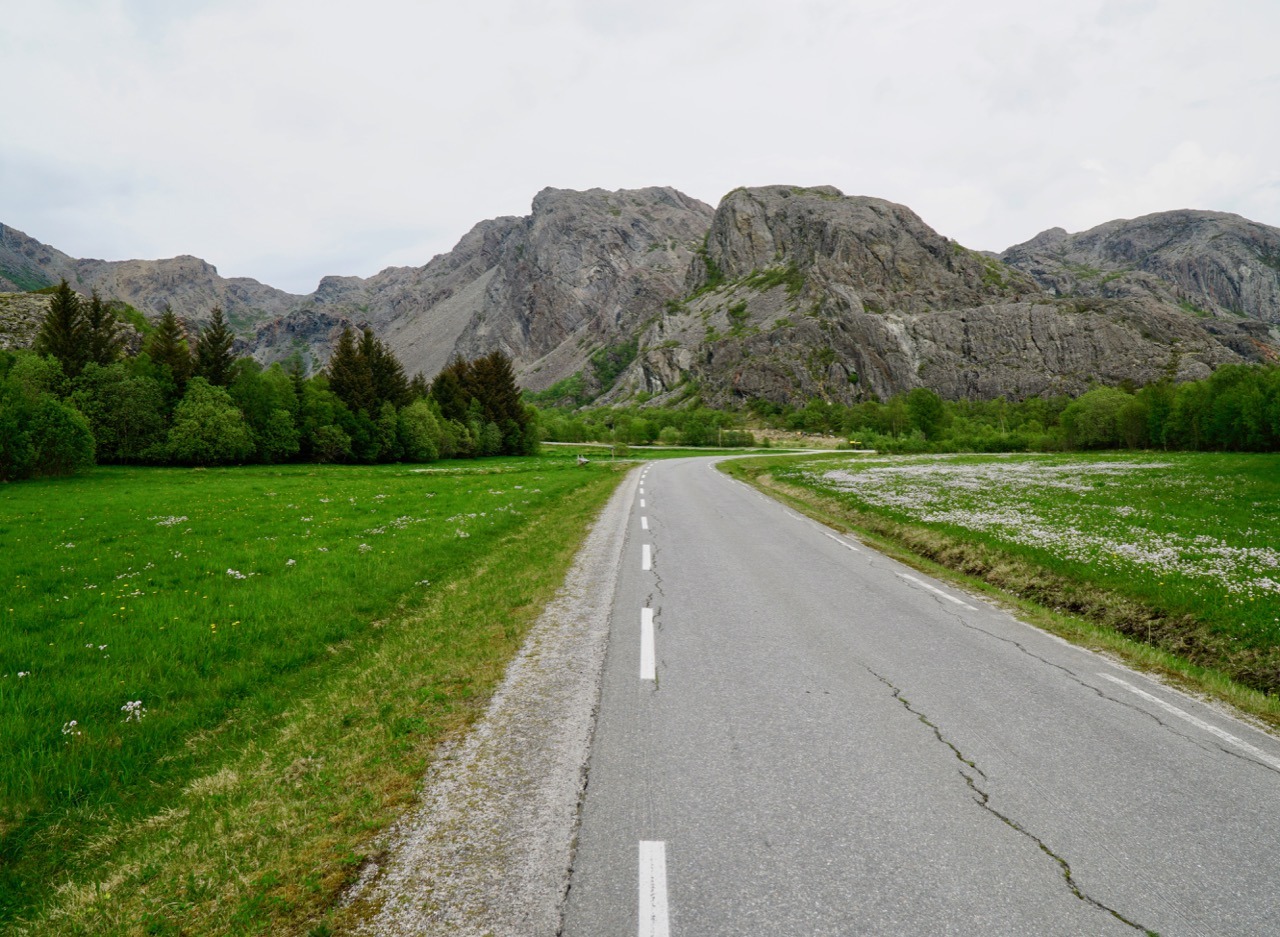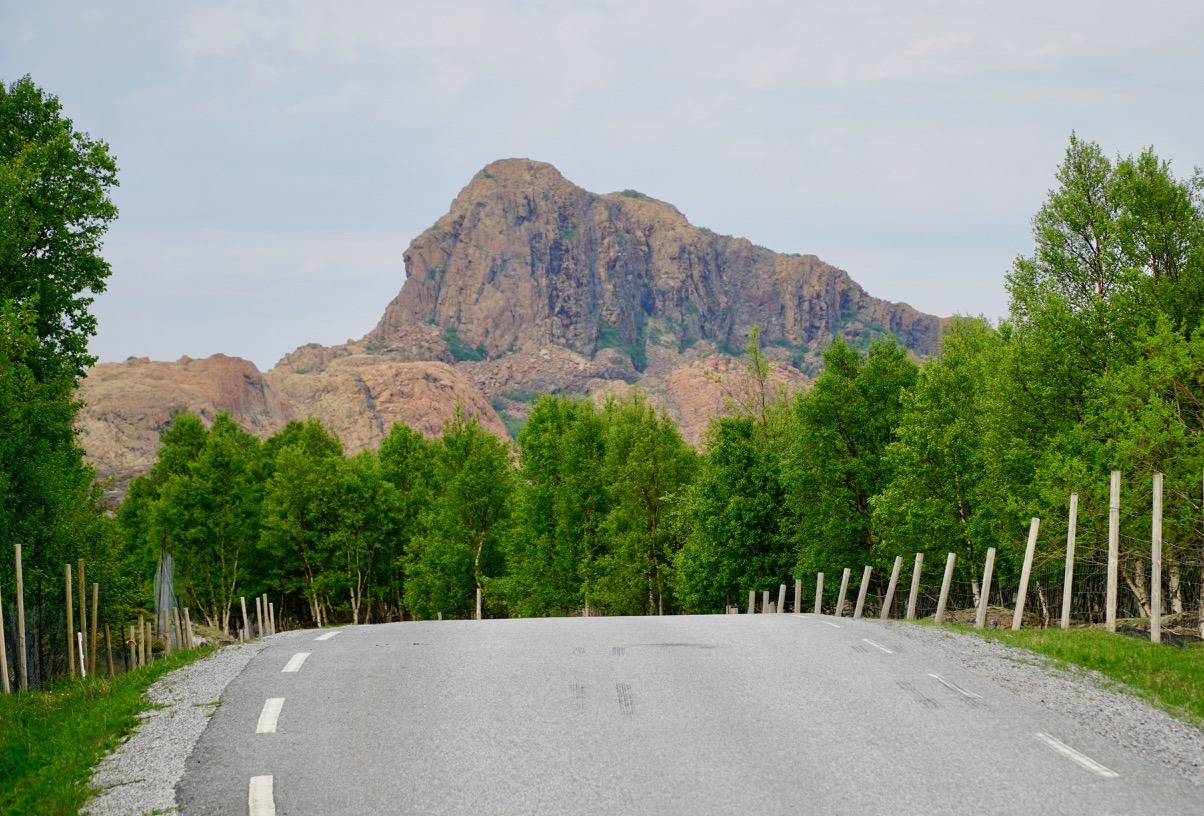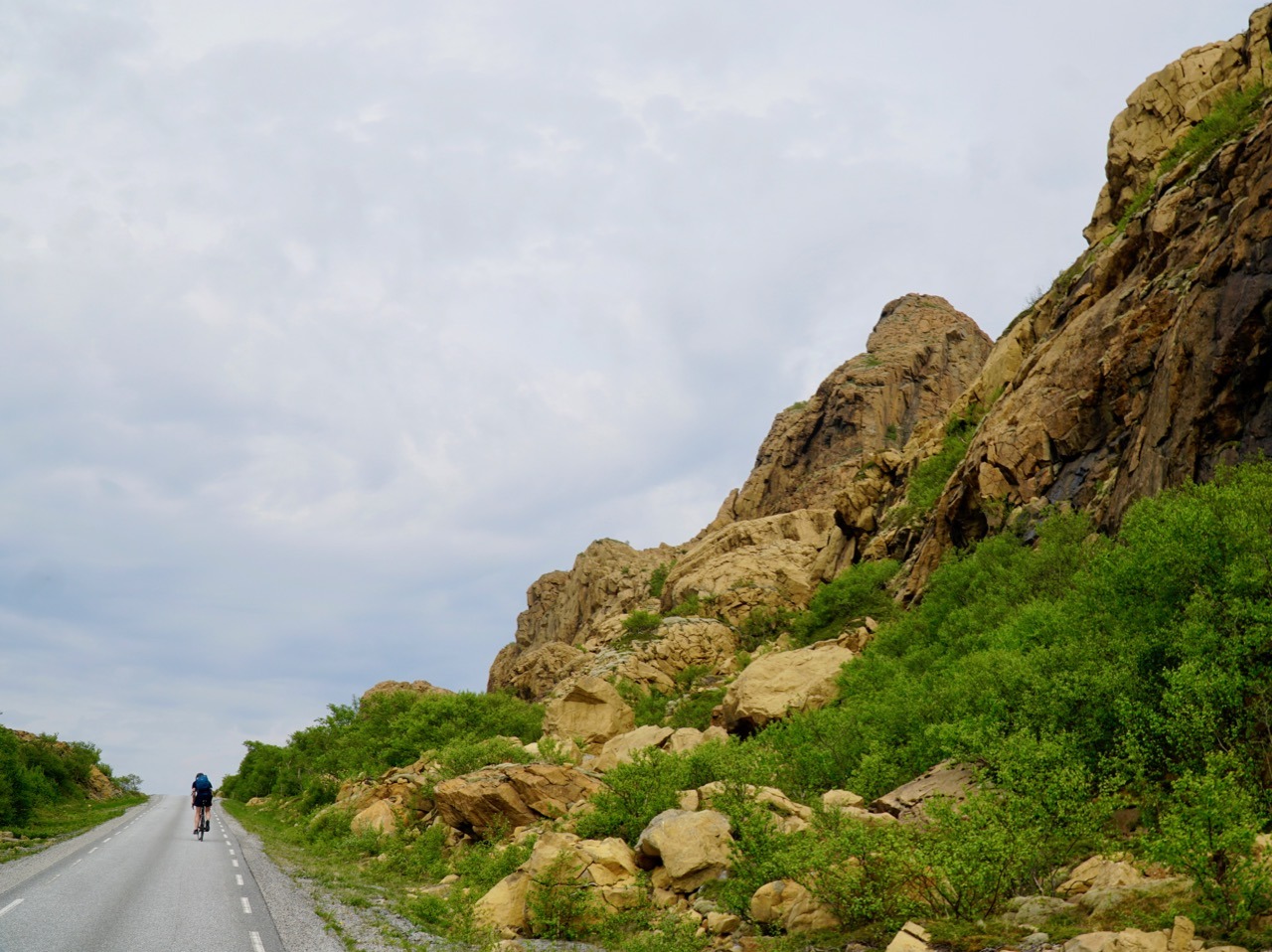 As we get closer, our excitement grows. We pass the point that is appropriately named Stein (rock) and stop frequently to take pictures. The mountains are countless shades of yellow, brown, orange, and red, and here and there, black stripes cut through the rocks.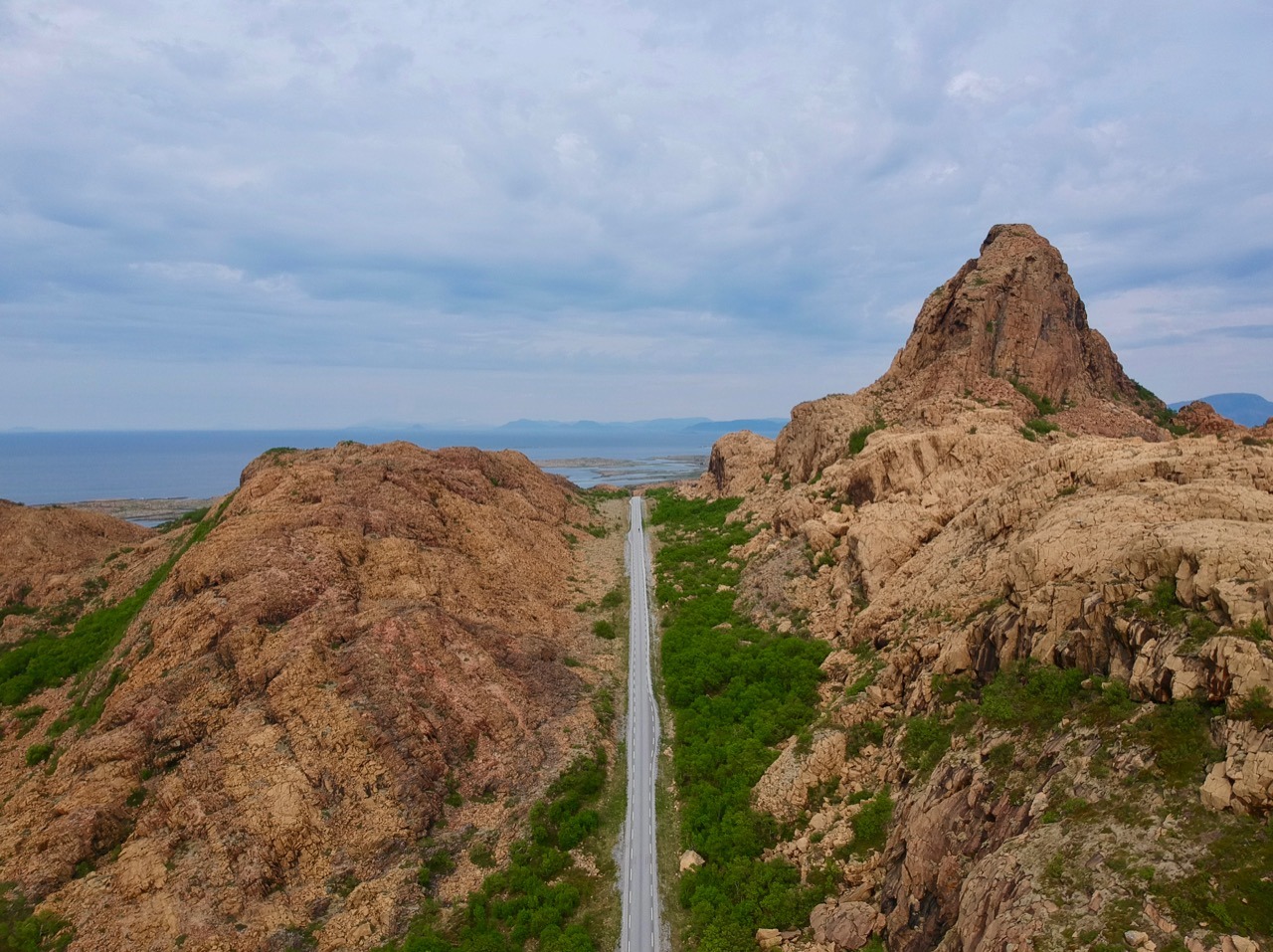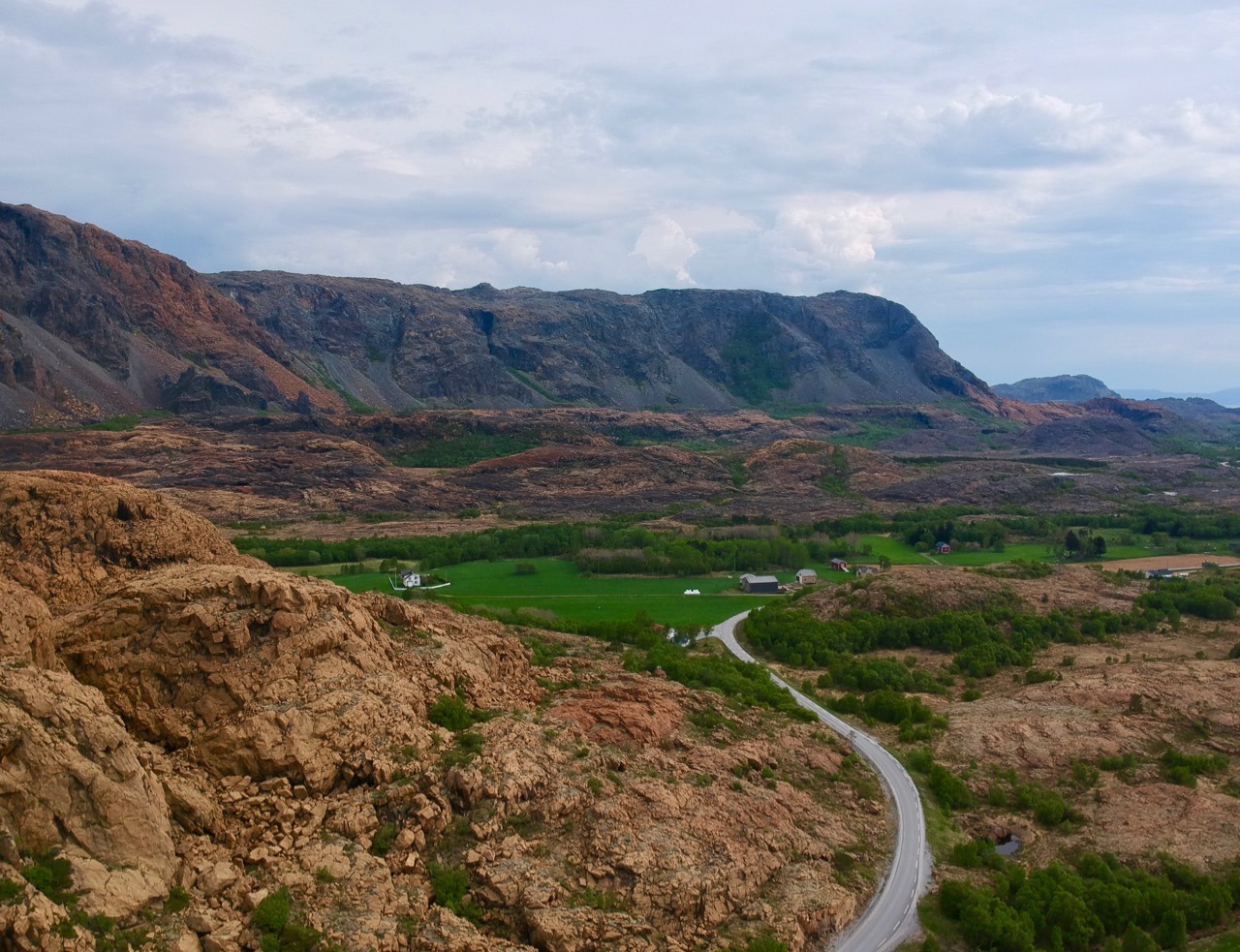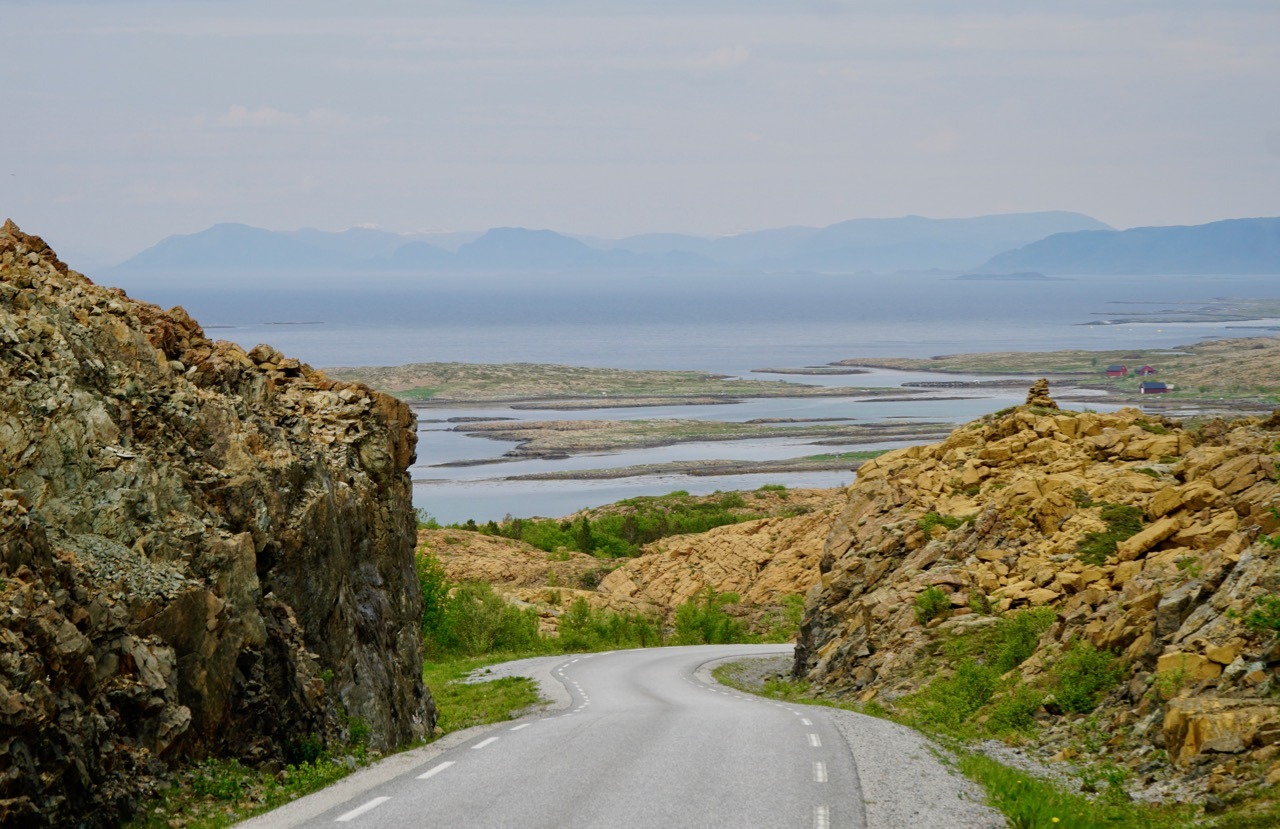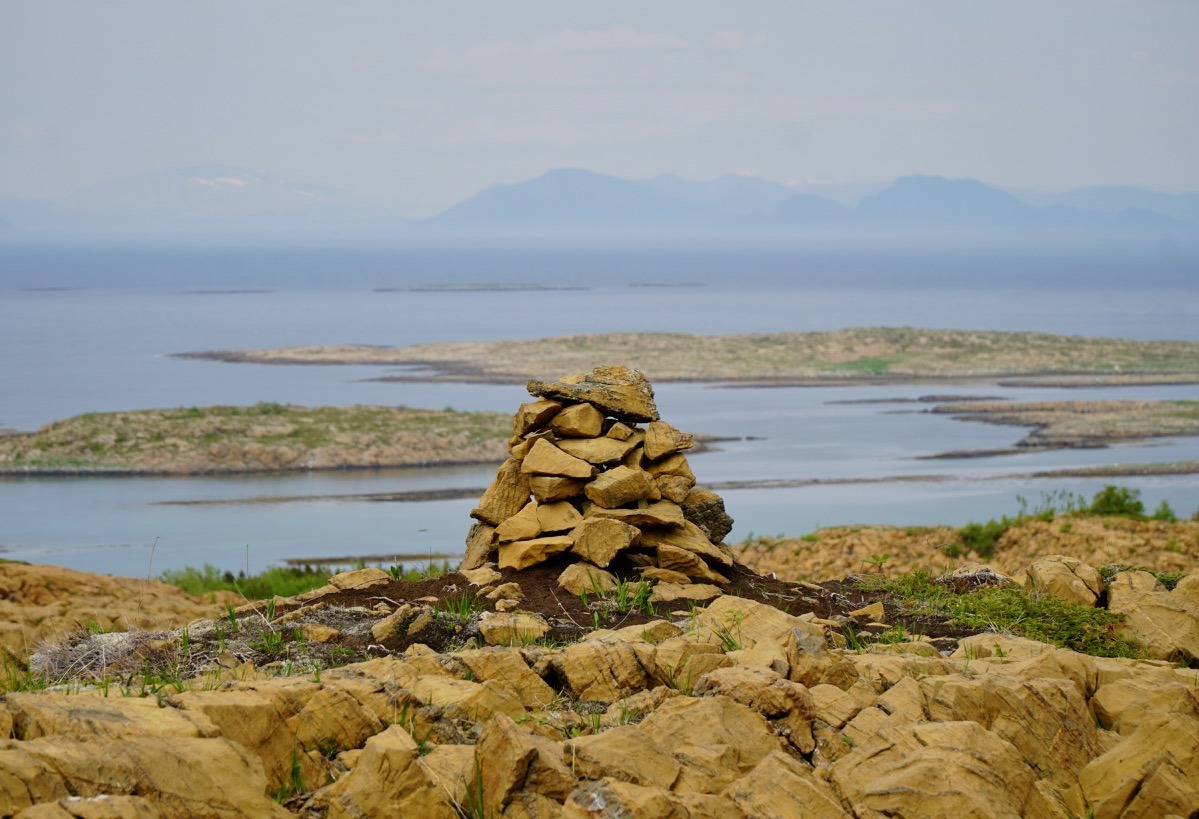 After pedaling a little further, we park our bikes and follow a marked path towards "Ørnerovet" (The Eagle Robbery). It is located about one kilometer from the road. Despite the short distance, the hike is a bit challenging due to the uneven surface — we are walking on the interior of the earth!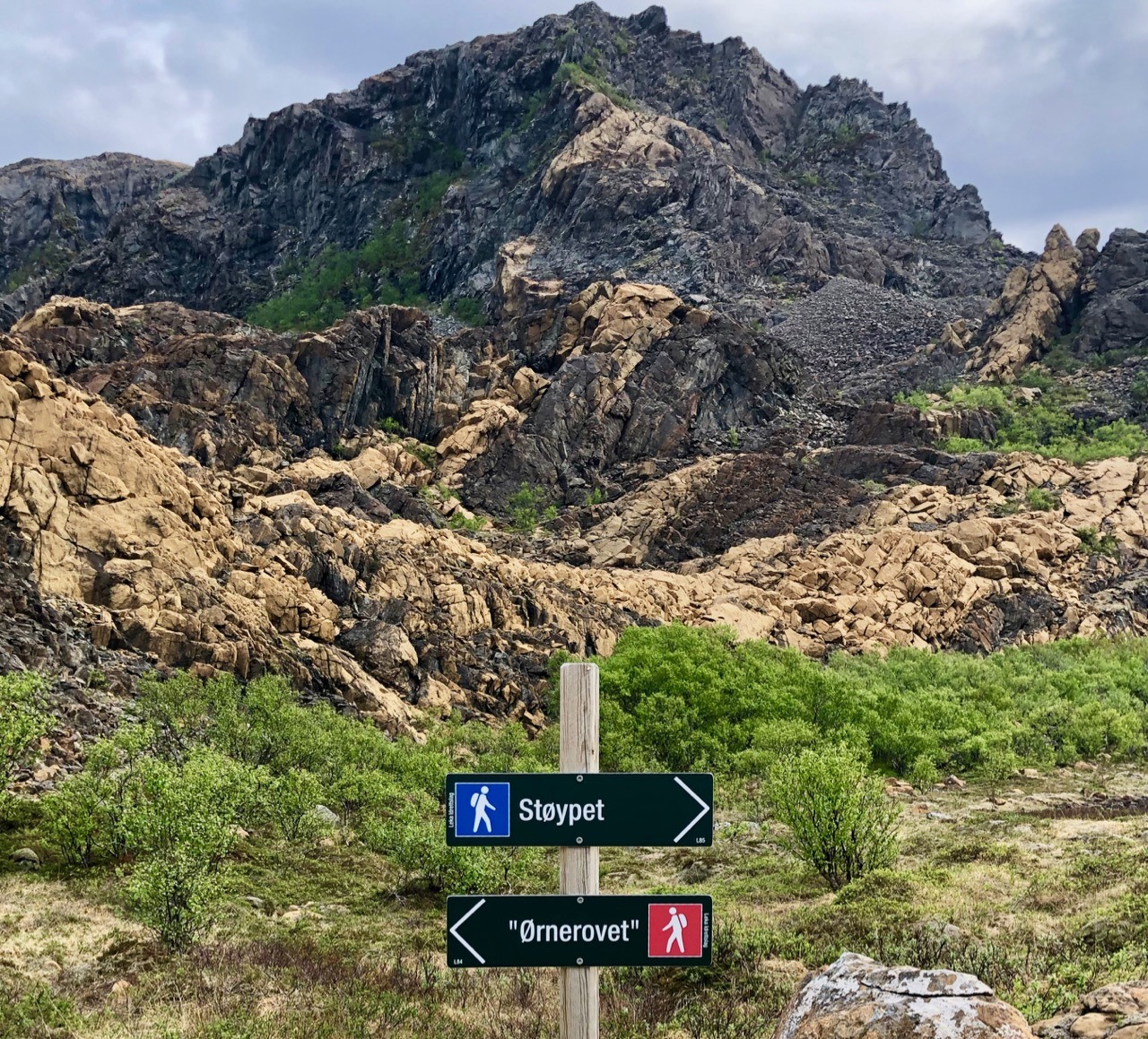 Millions of years ago, Leka was tilted to the side. This resulted in rocks from the earth's core being pressed up to the surface. Today, Leka is one of the few places in the world where you can see such rocks up close. With our eyes fixed on the ground, we make our way to Ørnerovet.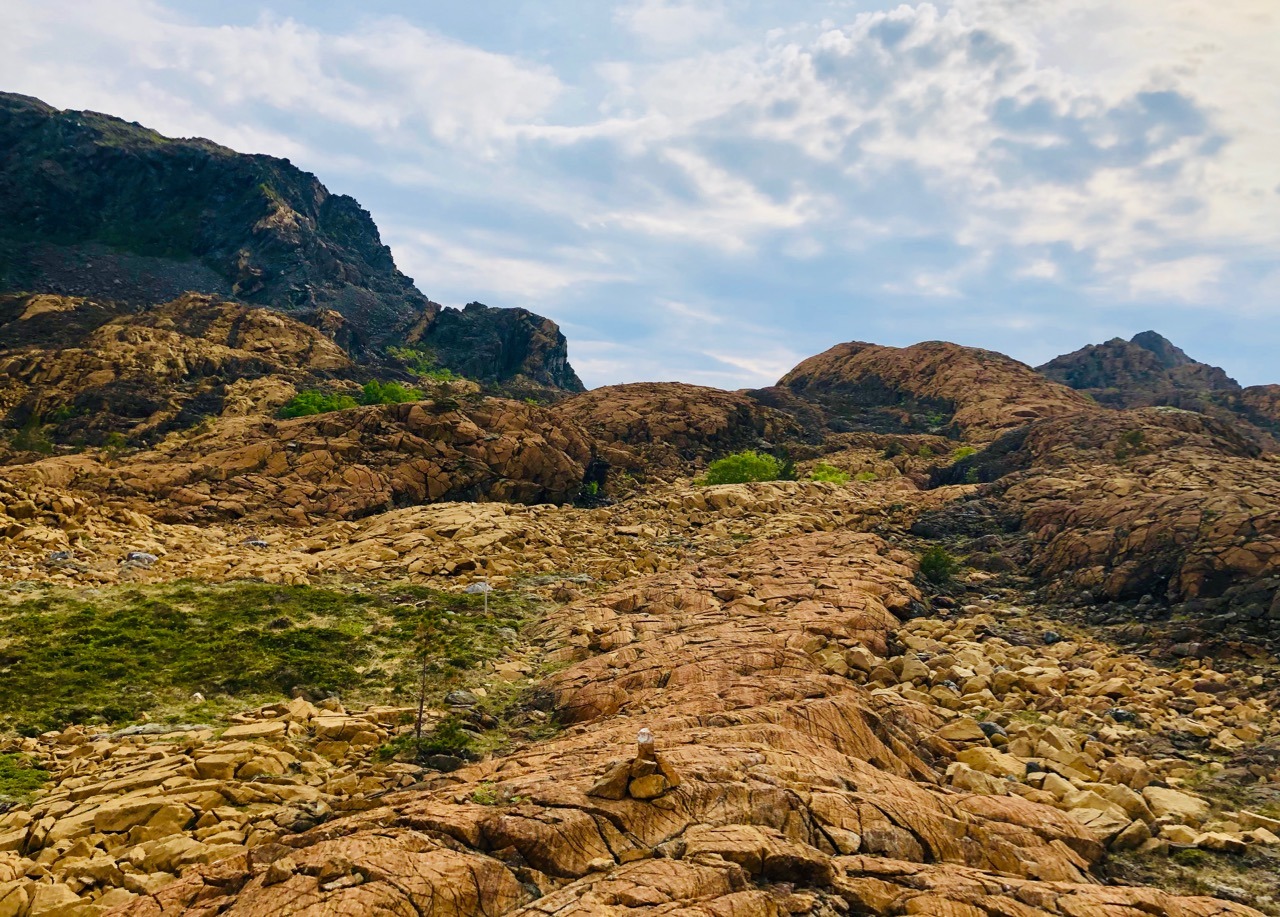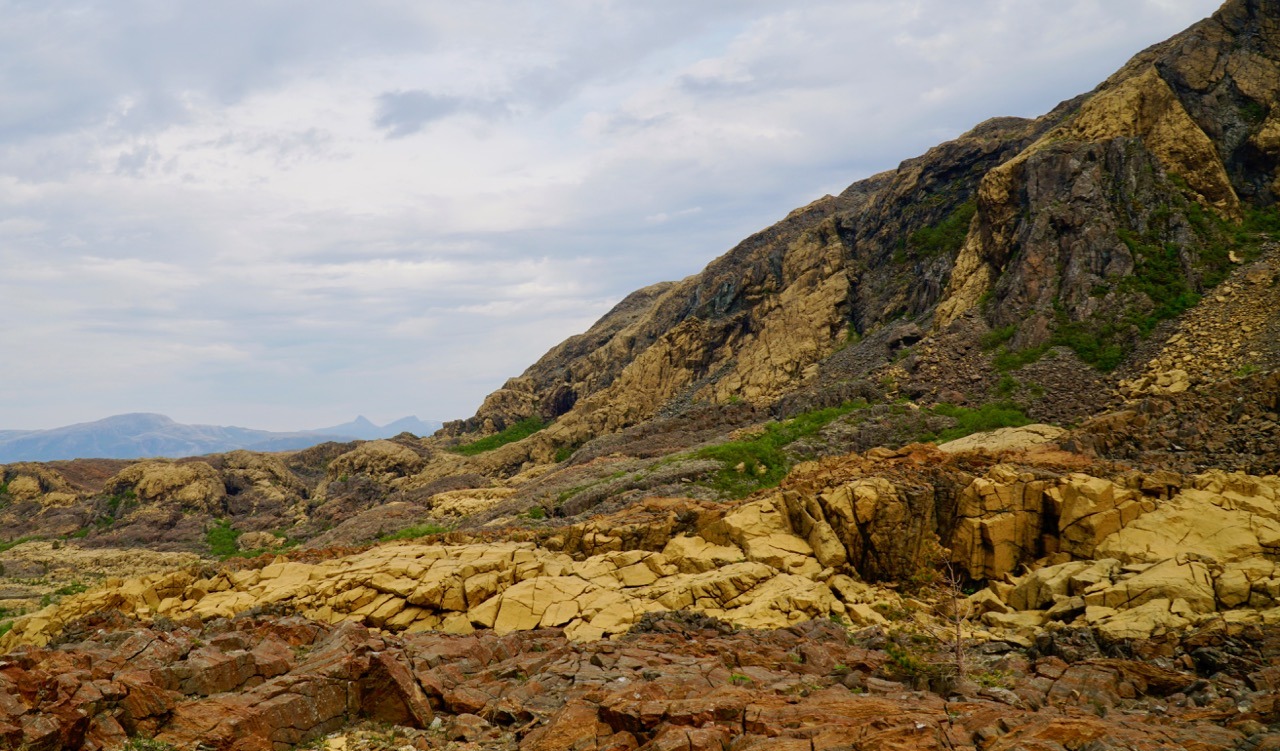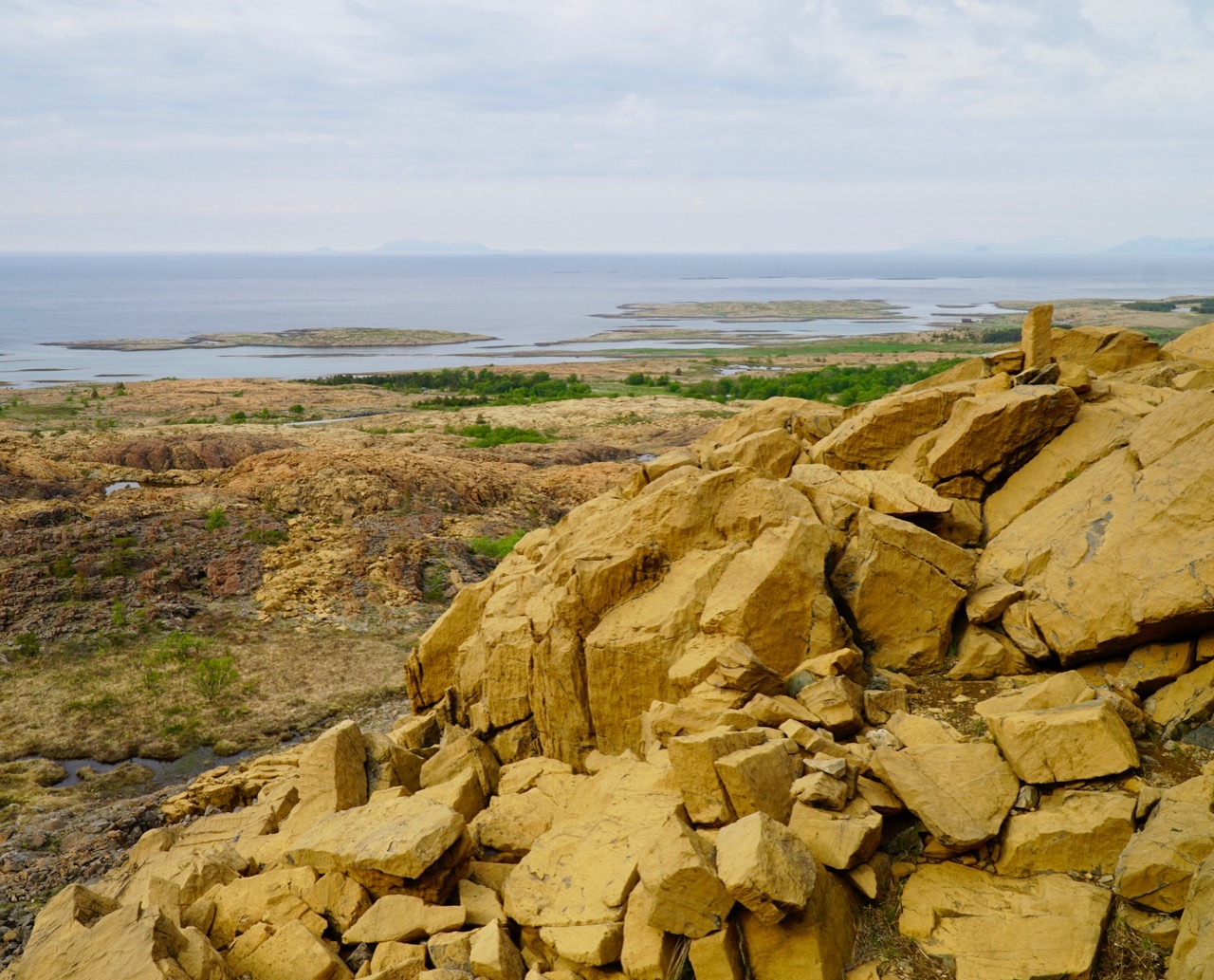 Although Leka is known for its unique geological history, there is also a very particular event that many associate with the island. Ørnerovet is named after the story of a 3-year-old girl called Svanhild who suddenly disappeared in 1932. A large search operation was launched, and Svanhild was finally found alive, high up on a mountain side. Svanhild told that she was brought up the mountain by an eagle. The incident has since then generated a great amount of discussion, and ornithologists believe that an eagle cannot possibly have carried such a large child.
We are fascinated by the story nonetheless and think of Svanhild while we make our way through the rocky terrain. When we reach Ørnerovet, a magnificent view opens up in front of us.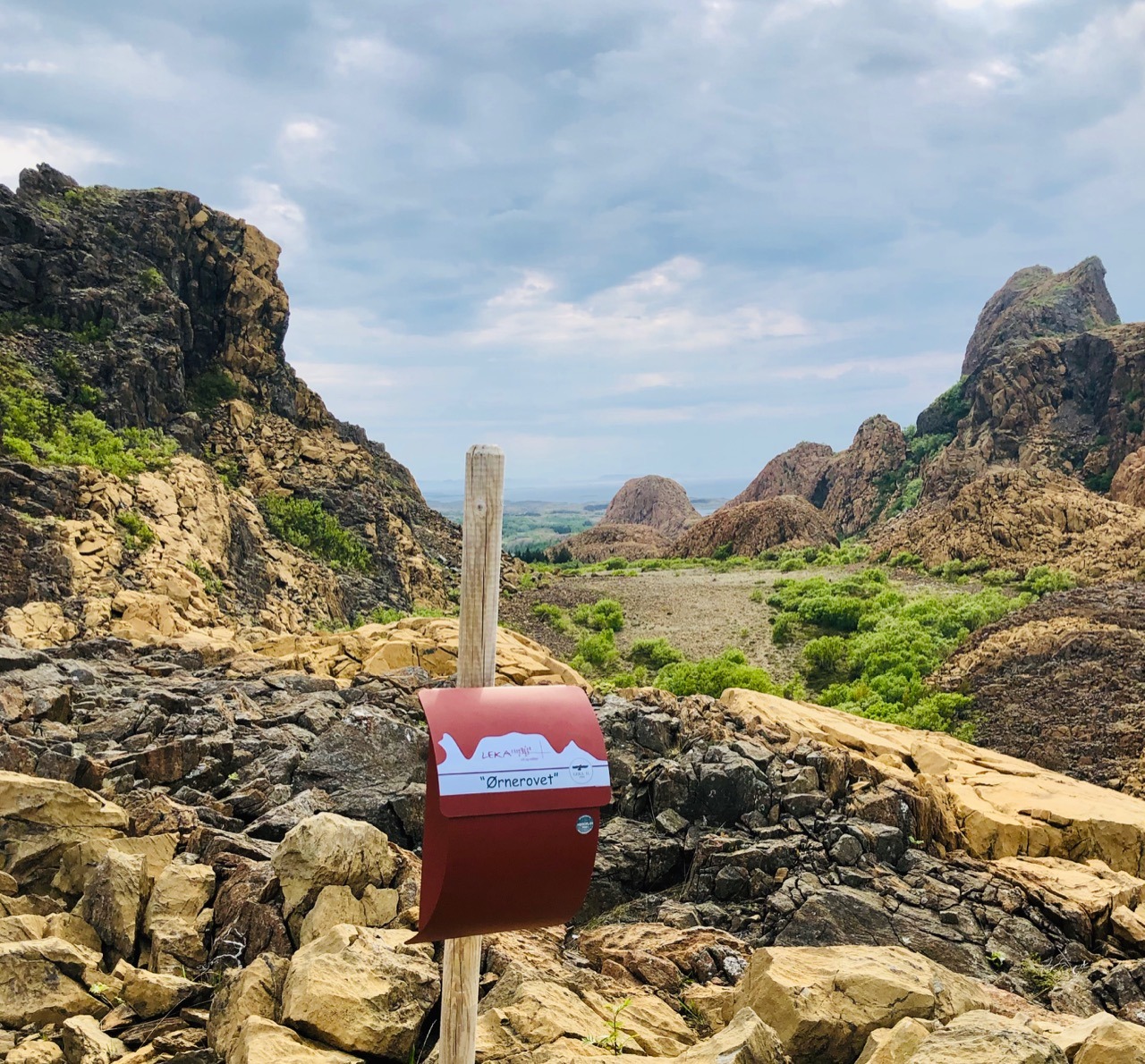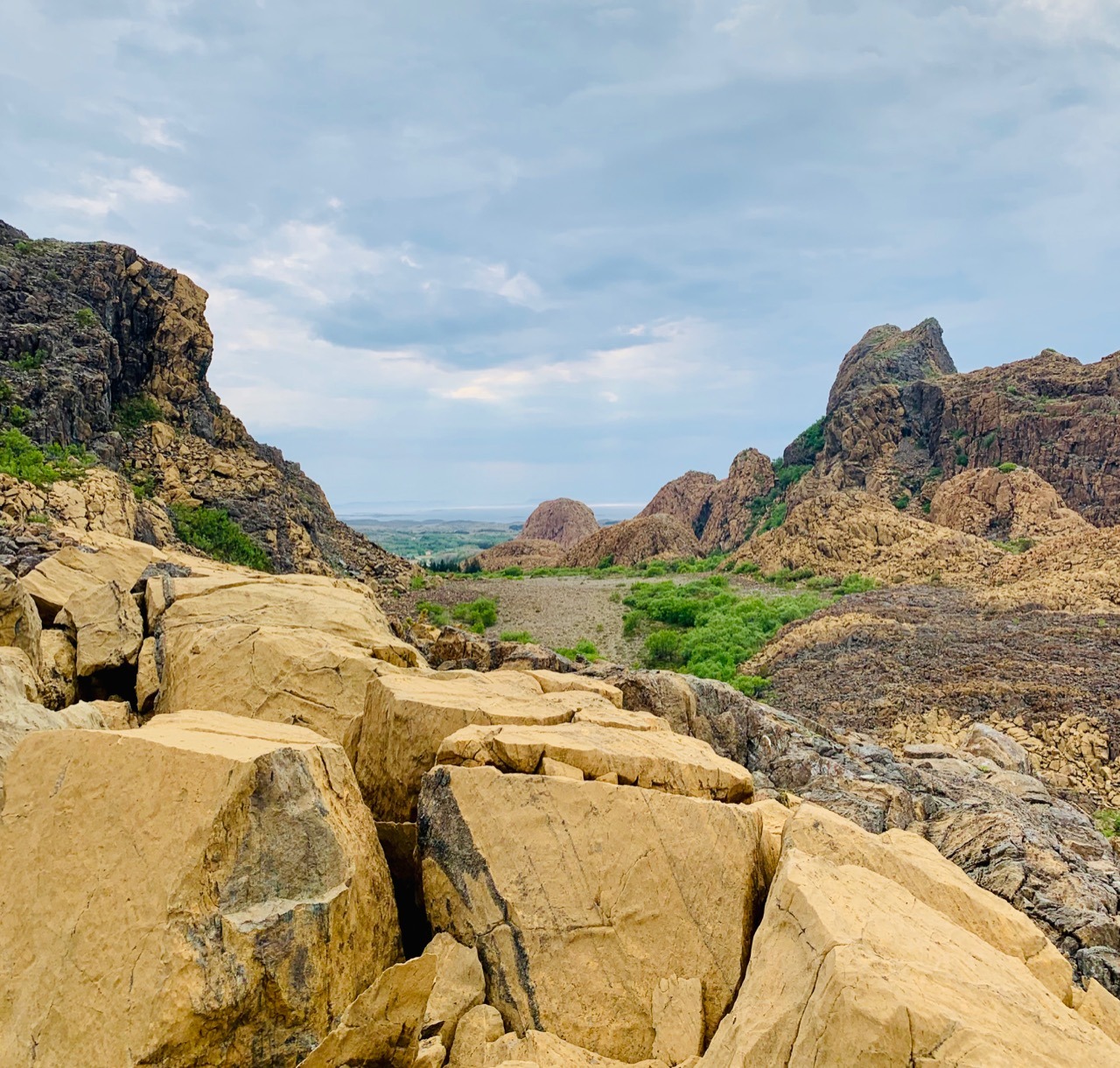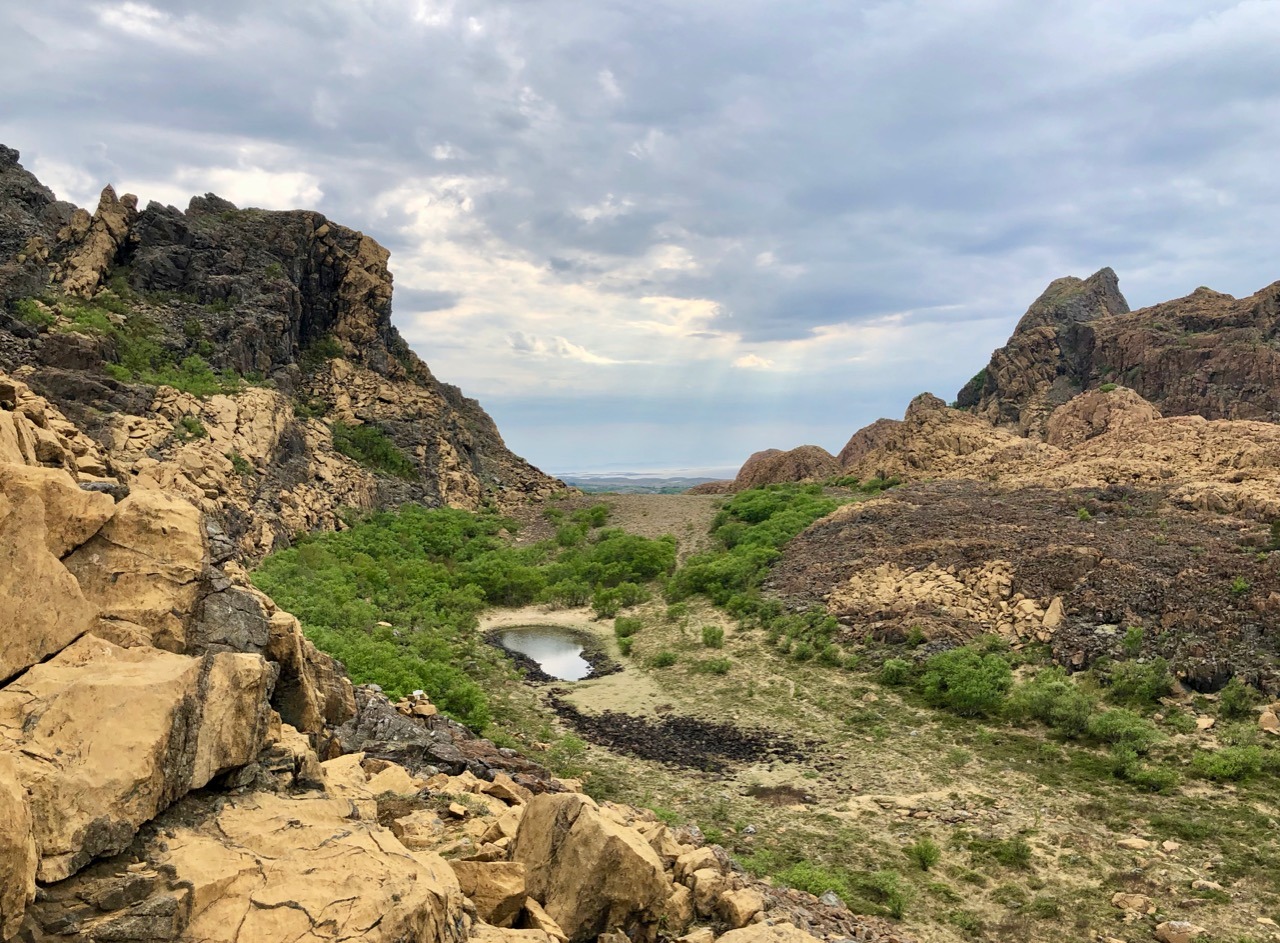 As we gaze at the most remarkable place we have seen to date in Norway, the clouds begin to look dangerously dark. We therefore start moving fast towards the bikes. The last part of the tour around Leka is a bit of a workout and we pedal hard to make it back to the house before the rain sets in. Despite the increasing soreness in our legs, we notice that the surroundings are changing again. We soon find ourselves back among green fields, and a little later we can park our bikes by our accommodation at Leka Brygge.
READ MORE: Highlights Along Kystriksveien—The Coastal Route in Norway
Practical information and tips: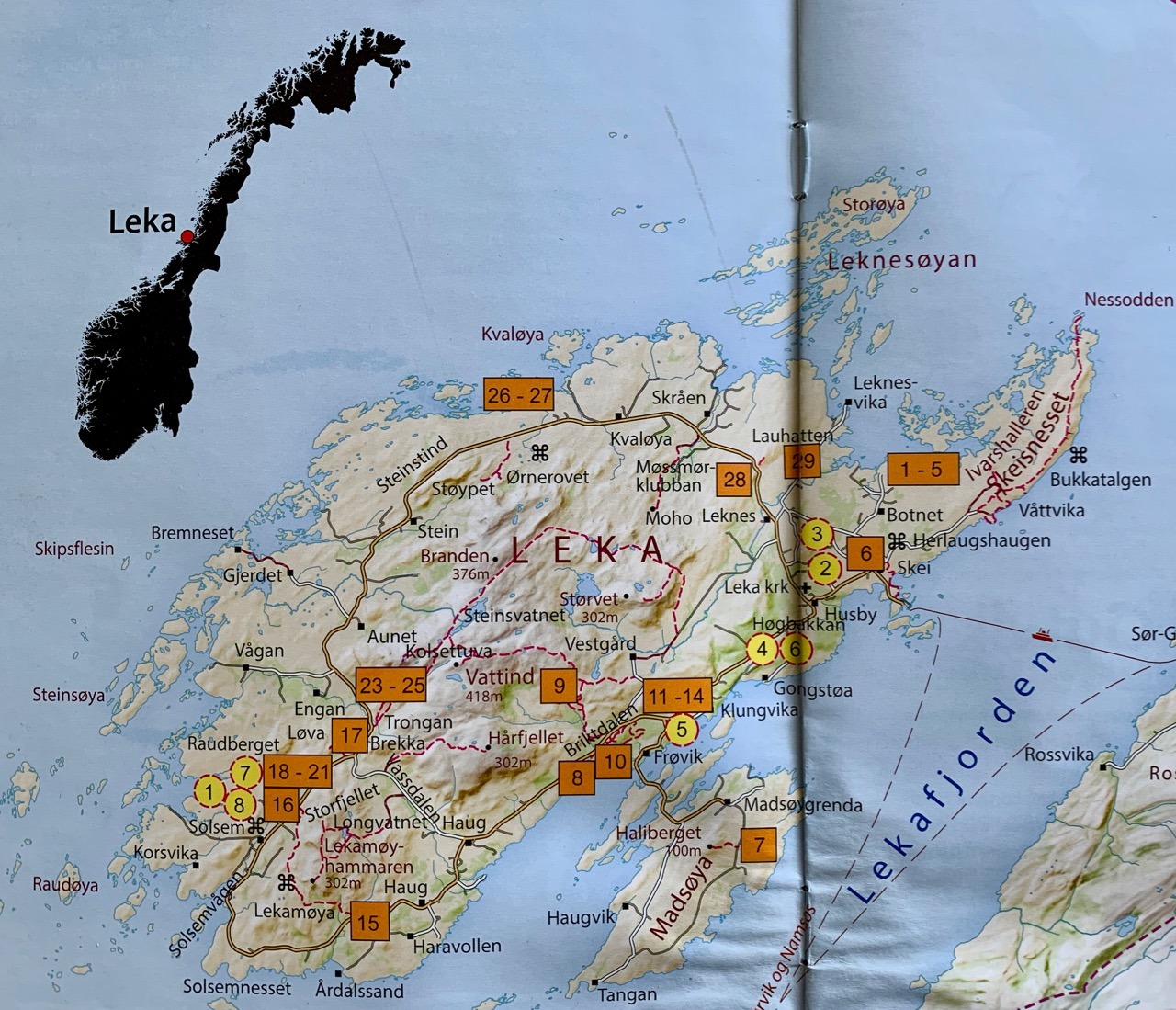 How to get to Leka Island:
Leka is located just off the northern coast in Trøndelag county. To get to Leka, there is a express boat service between Namsos – Rørvik – Leka.
There is also a car ferry from Gutvik on the mainland to Skei at Leka.
Visit Leka has created an overview of other transport options.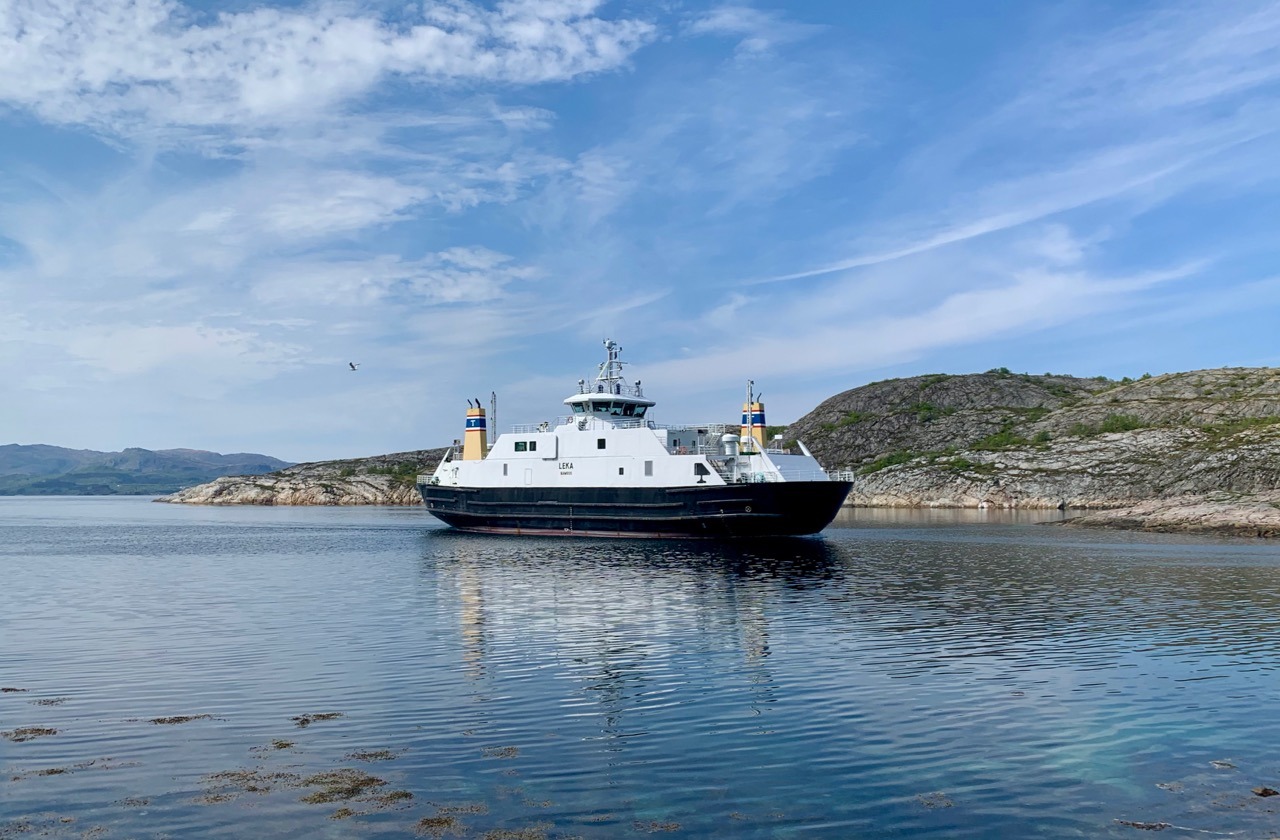 Accommodation on Leka Island:
Since Leka has somewhat limited accommodation, we recommend that you book in advance. We stayed at Leka Brygge and were very pleased with the comfortable apartment we rented there.
Eateries on Leka Island:
When we visited Leka in late May 2019, there were no open eateries on the island. We therefore shopped at the grocery store and made food ourselves. There are two grocery stores called Coop and Joker. The latter also has medical supplies and tourist information.
Update from June 2022: It now seems that there are a few eateries at Leka. See Visit Leka's webpage for more information.
Activities on Leka Island:
Leka offers a great variety of activities that we would have liked to try more of. Besides cycling and hiking, you can go fishing and kayaking, visit Leka Bygdemuseum (Leka Rural Museum) and Leka Steinsenter (Leka Geological Center), see the Herlaugshaugen viking grave or go on a guided cave tour in Solsemhula.
*We visited Leka Island in May 2019.