Svartisen is the second largest of Norway's glaciers and lies next to the stunning Holandsfjorden (Holands Fjord) in Northern Norway. Engabreen, a glacier arm of Svartisen, stretches down to almost sea level, making it one of Norway's most accessible glaciers. The nearest city is Bodø, a 2.5-hour drive away. 

When to Visit Svartisen
Svartisen can be visited between late May and late September. June, July and August see the most visitors, while May and September are considerably less busy.
We visited Svartisen in late May. This was just a few days after the season had started, and there were only a handful of other tourists.




Alternatives for How to See Svartisen
Seeing Svartisen from a distance at Braset Rest Area
There are several opportunities for visitors who want to see Svartisen glacier. The least time-consuming option is simply to stop at Braset Rest Area in Holandsvik. From there, you will see the glacier clearly, but at a long distance. We therefore strongly recommend that you take the shuttle boat from Holandsvik to Svartisen to get much closer to the glacier.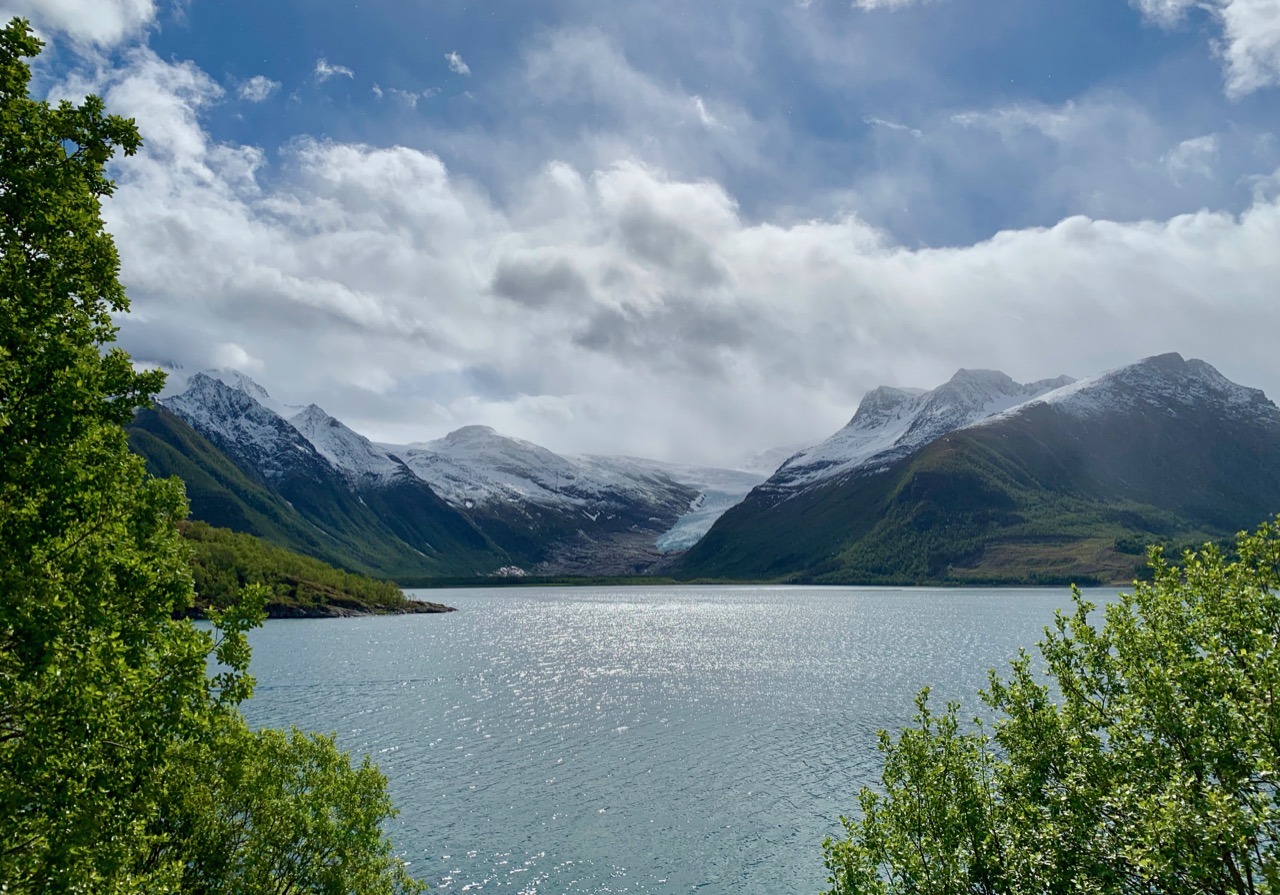 Link to Braset Rest Area on Google Maps
Seeing Svartisen closer from Brestua café
To get to Brestua café, you need to cross Holandsfjorden. Engenbreen Skyss boating company runs the shuttle boat from Holandsvik dock and there is a parking area close to the dock. The trip across the fjord takes 10-12 minutes.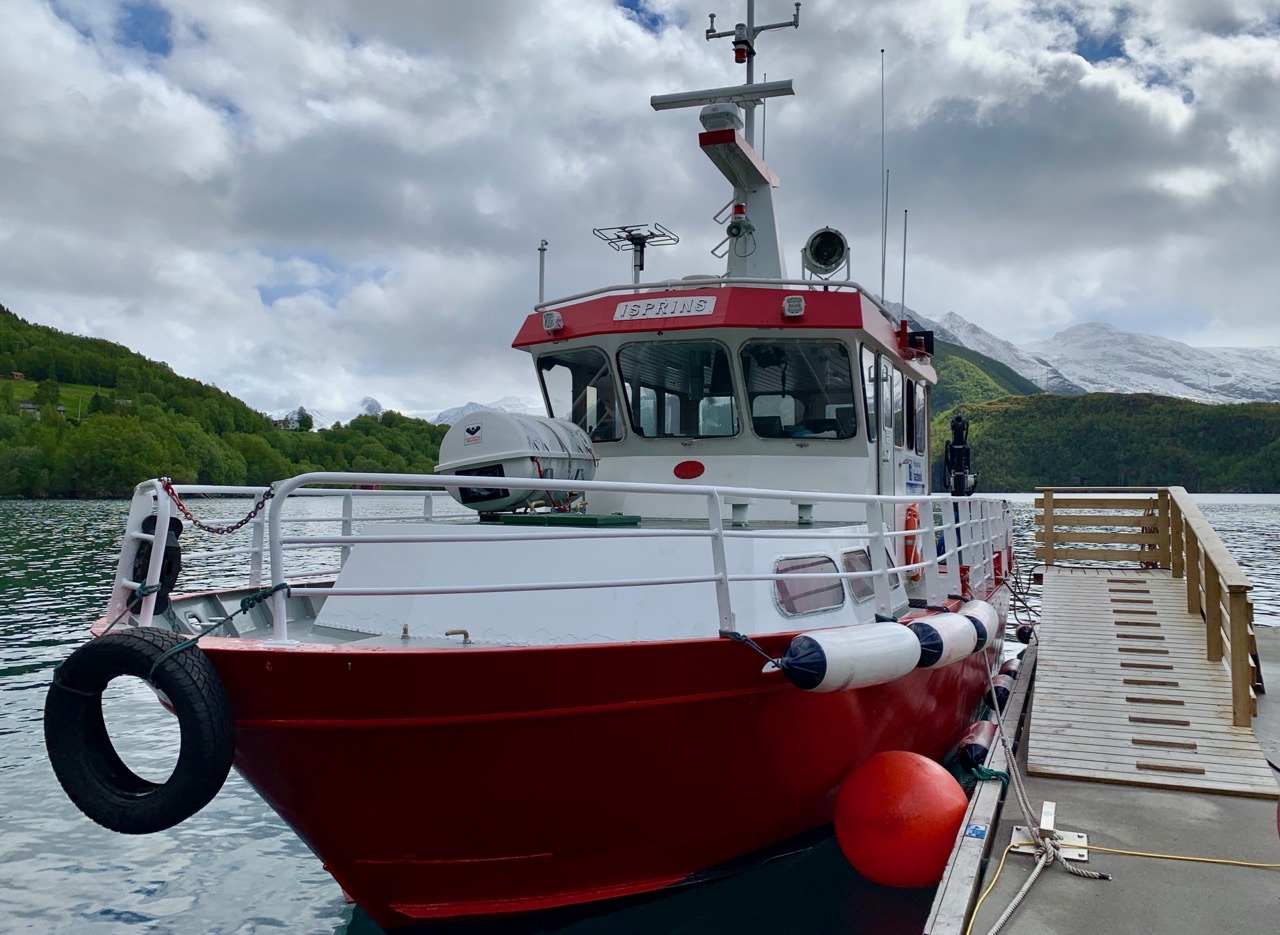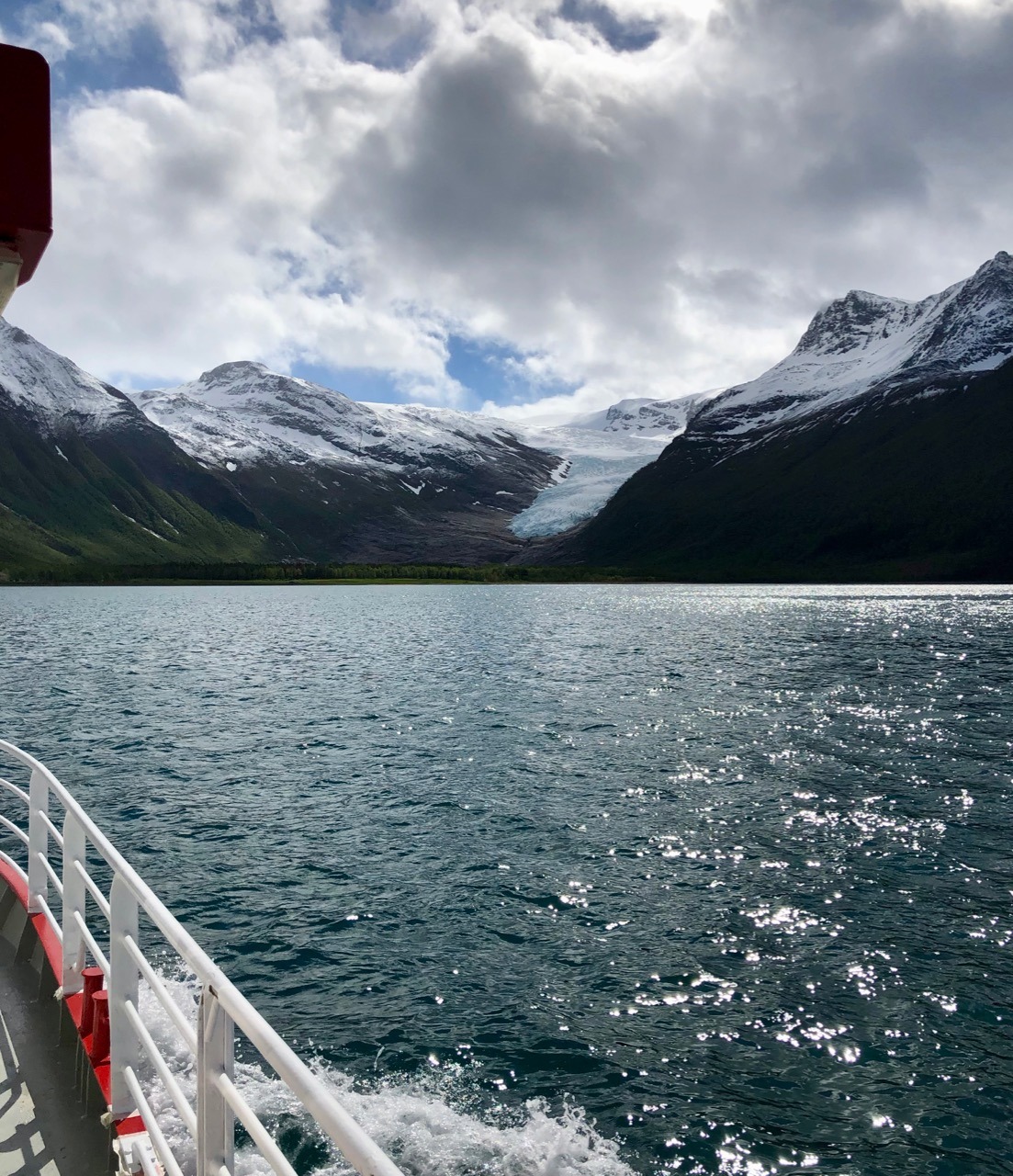 Brestua café lies about 1.4 kilometers from Svartisen dock. The way there is a wide gravel road in very good condition for both walking and biking.
Engenbreen Skyss rents out a (limited) number of bikes, which saves a lot of time, especially if you plan to get close to the glacier. You can also bring your own bike on the boat.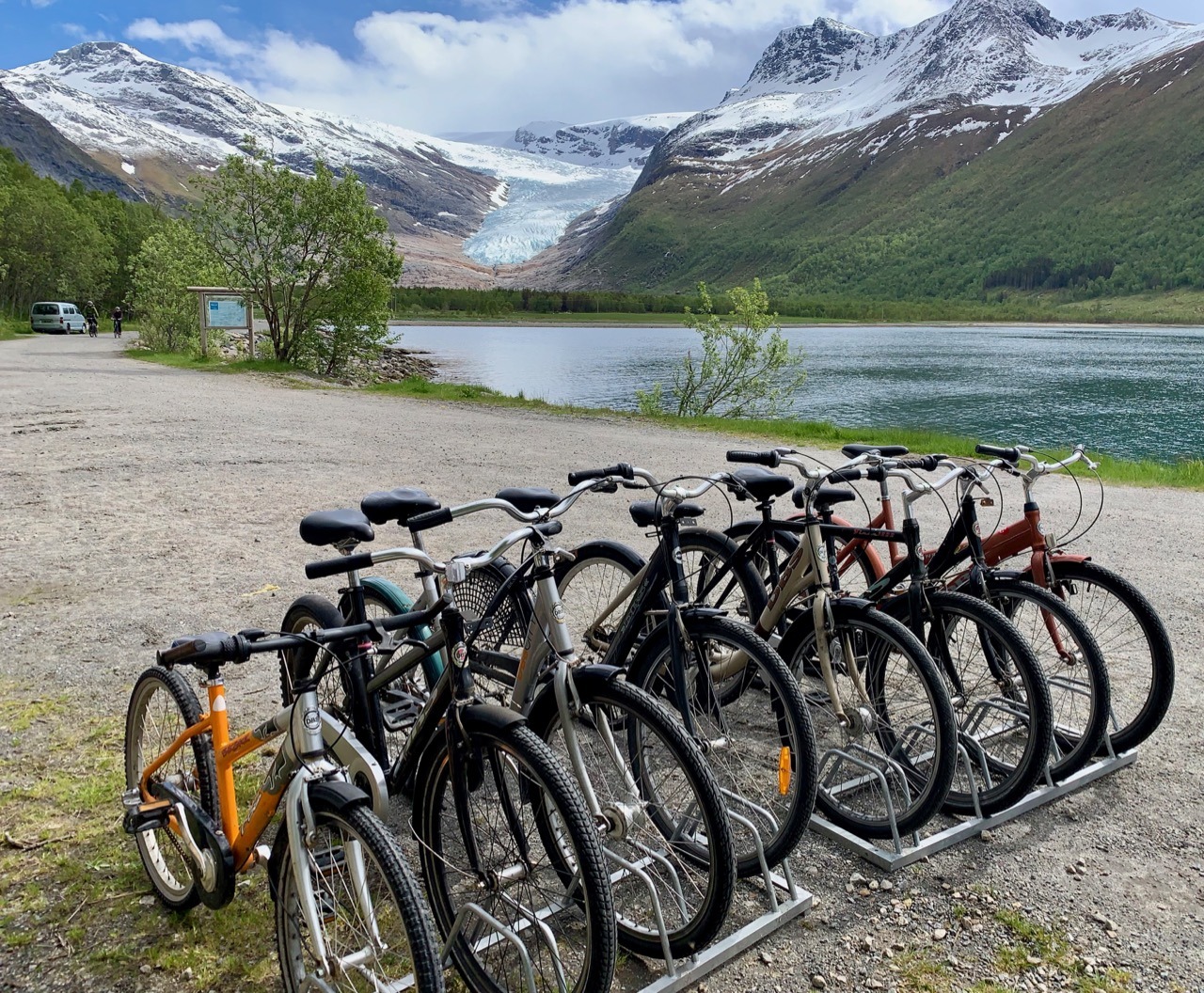 From Brestua, you have great views of the glacier and Svartisvannet, which is the name of the lake below the glacier. Many visitors choose to stop at Brestua without venturing closer to the glacier, which is a great option if you have limited time or mobility issues.
Brestua serves both snacks and dinner. We found the food to be tasty and reasonably priced.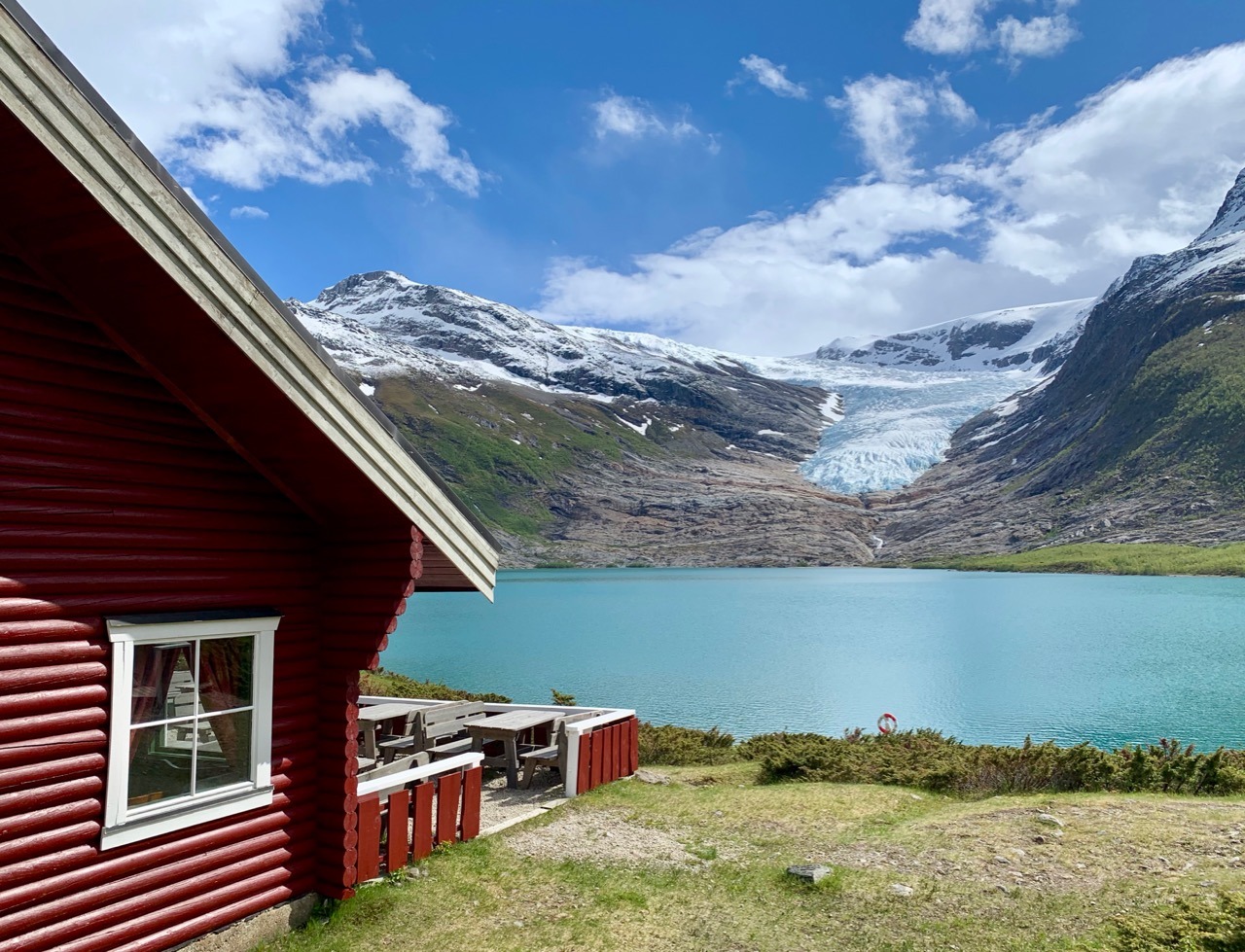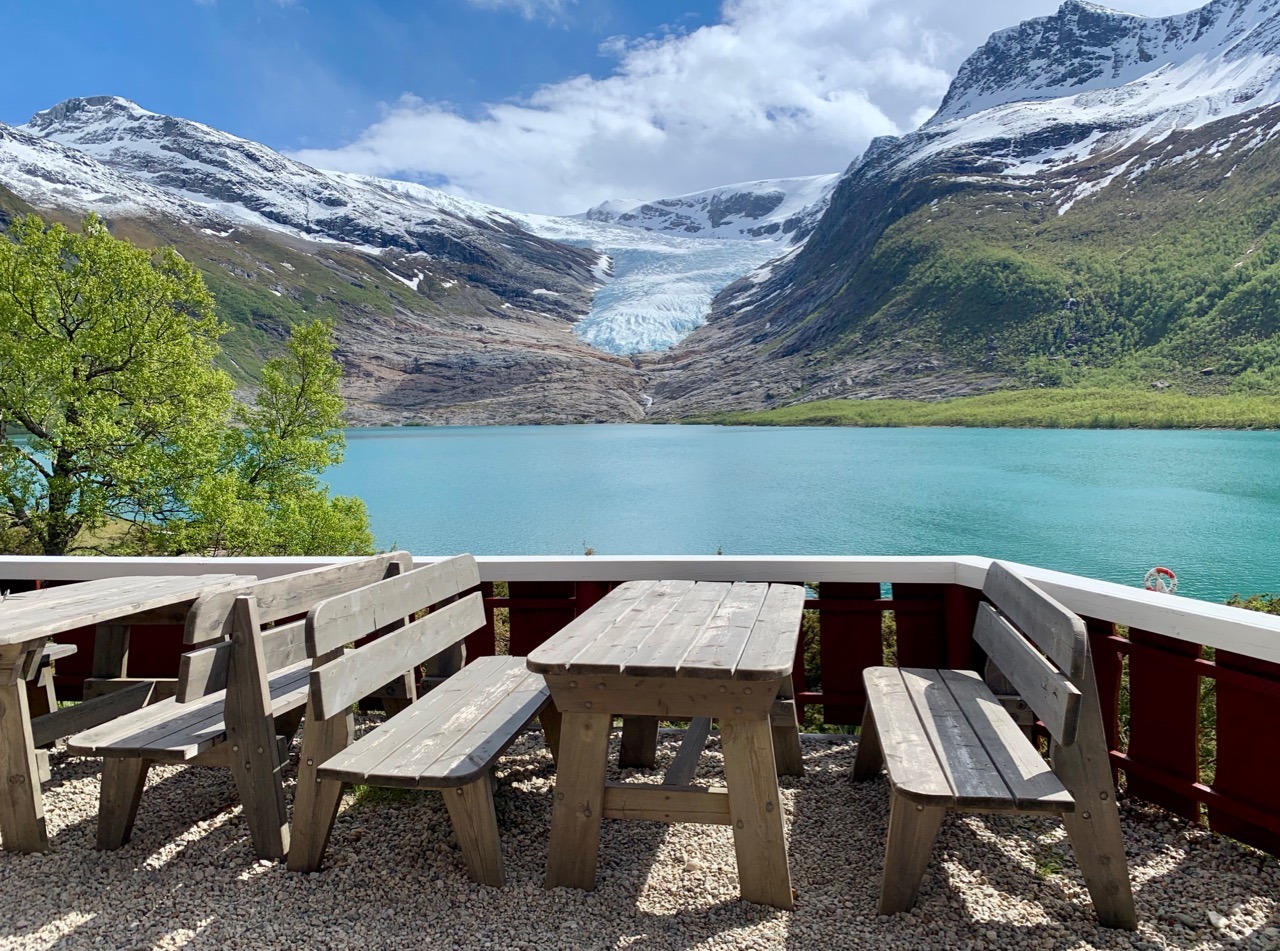 Seeing Svartisen up close (but not too close!)
To get even closer to the glacier arm, you will need to follow the gravel road for another 2 kilometers. If you have a bike, you will have to park it where the gravel roads ends.
The last part of the trek is just over 1 kilometer long. The path is well-marked and goes through rocky terrain. As this part can be slippery, shoes with good grip are recommended (we did fine in our trainers).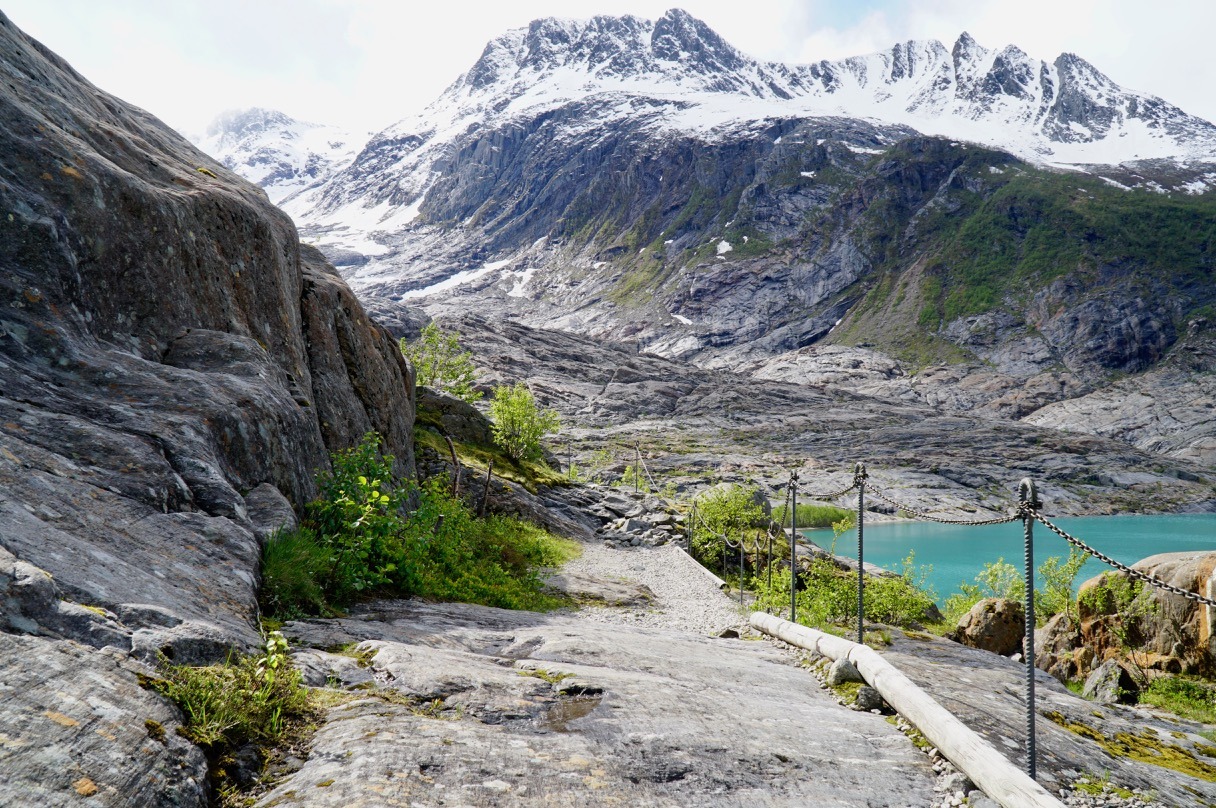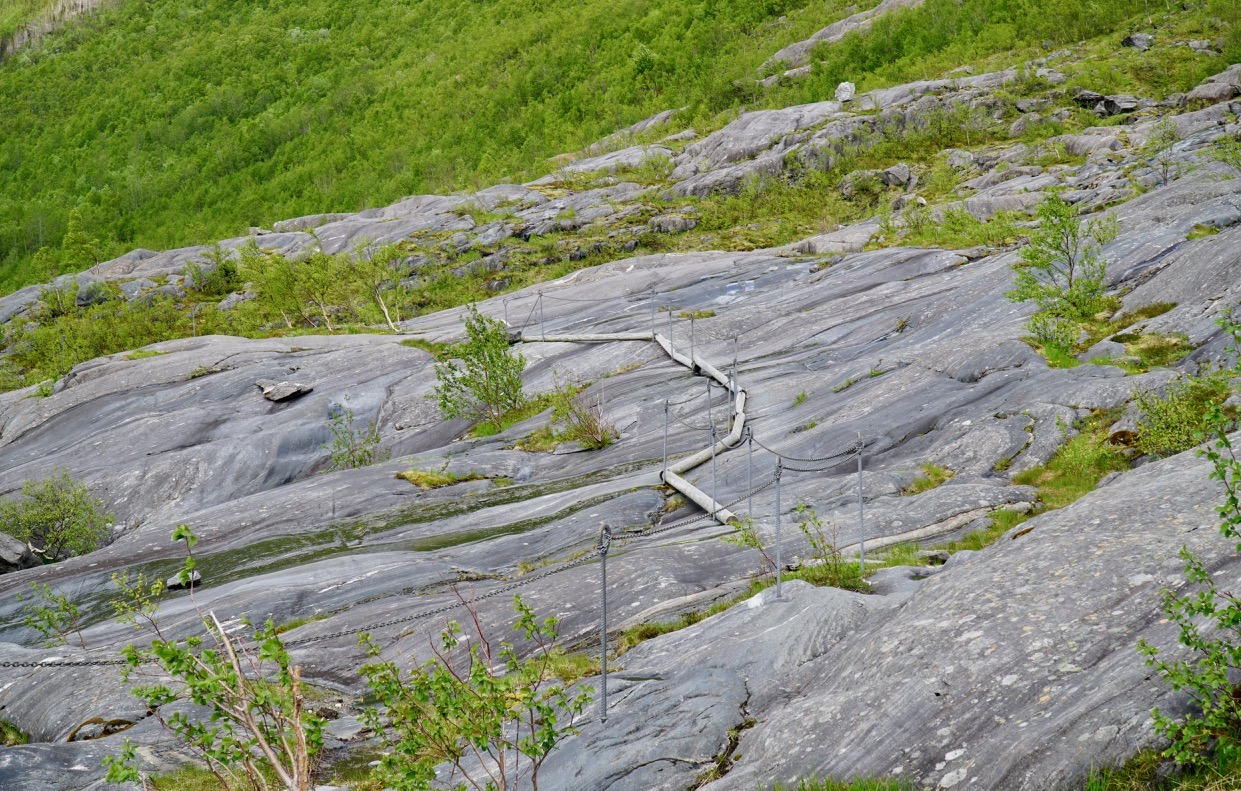 We would describe the trail as moderately challenging. One of us is slightly afraid of heights but found the path to be OK in this regard. You will, however, need to pay attention to where you step.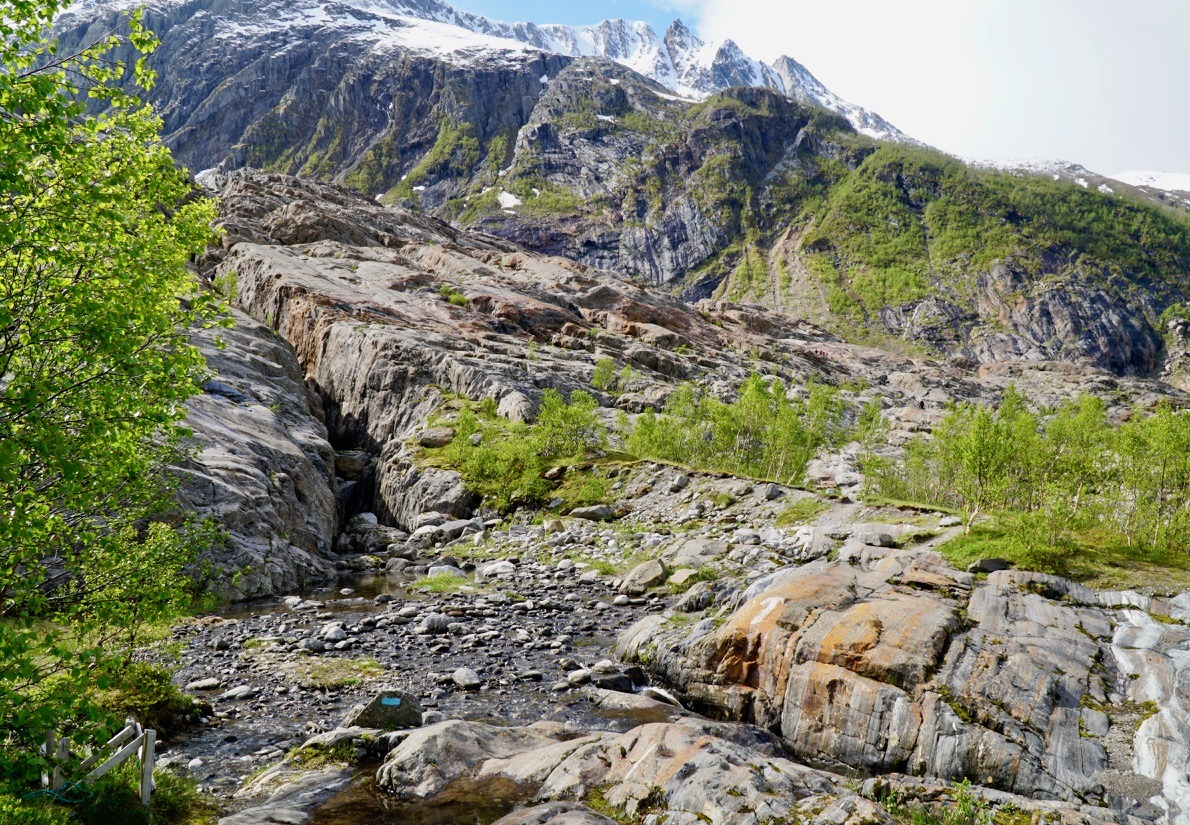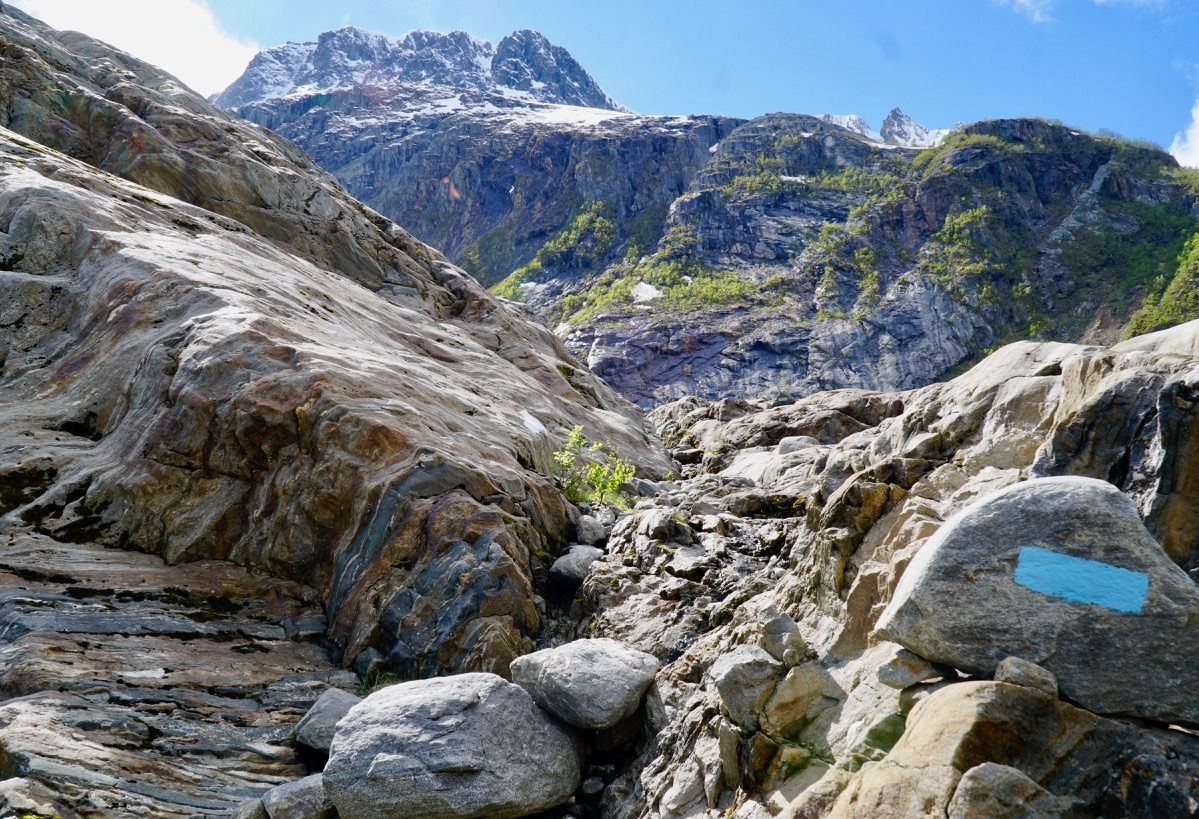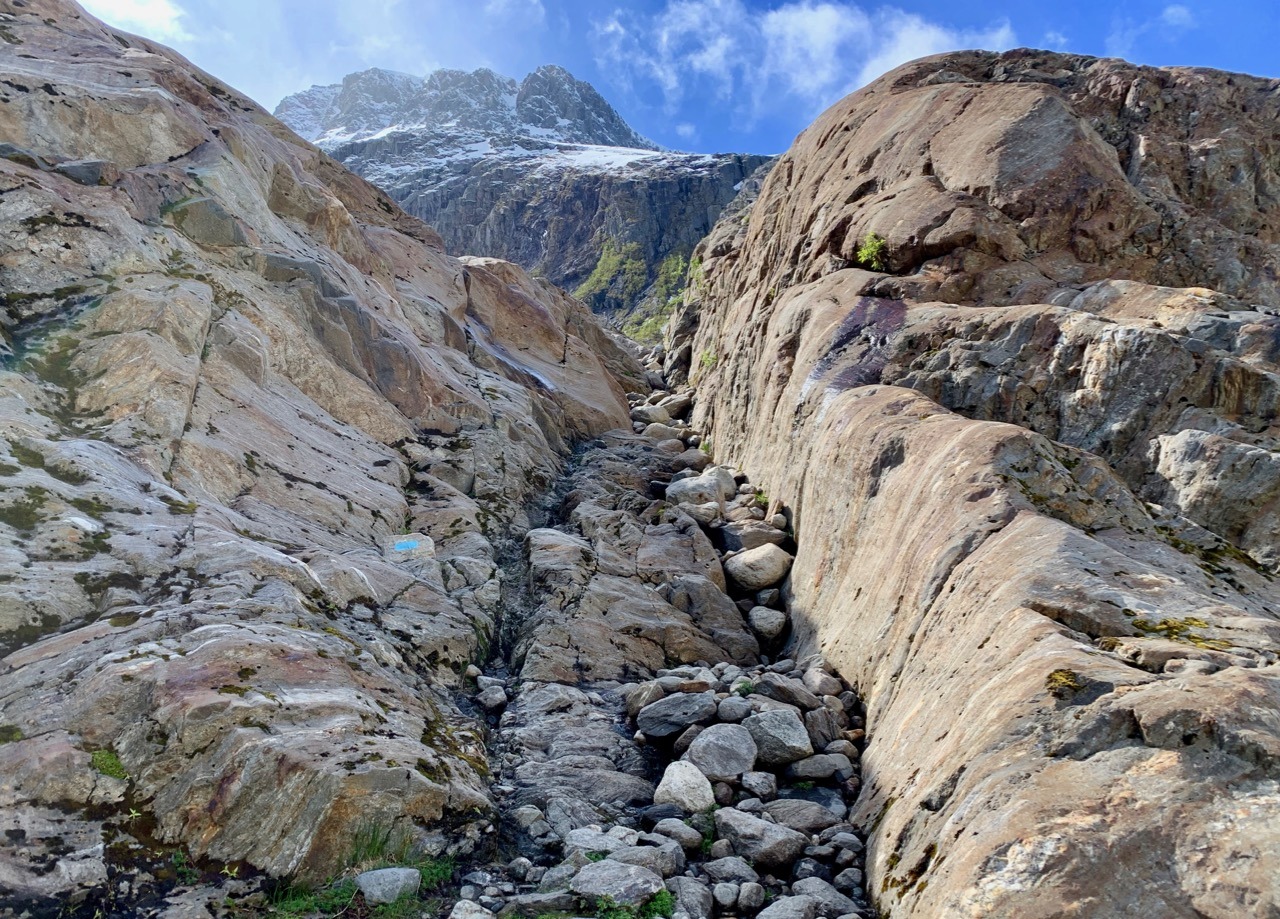 Once you reach the main viewpoint you will have superb views of the glacier from a close range. If you are able to do this hike, we highly recommend this viewing option.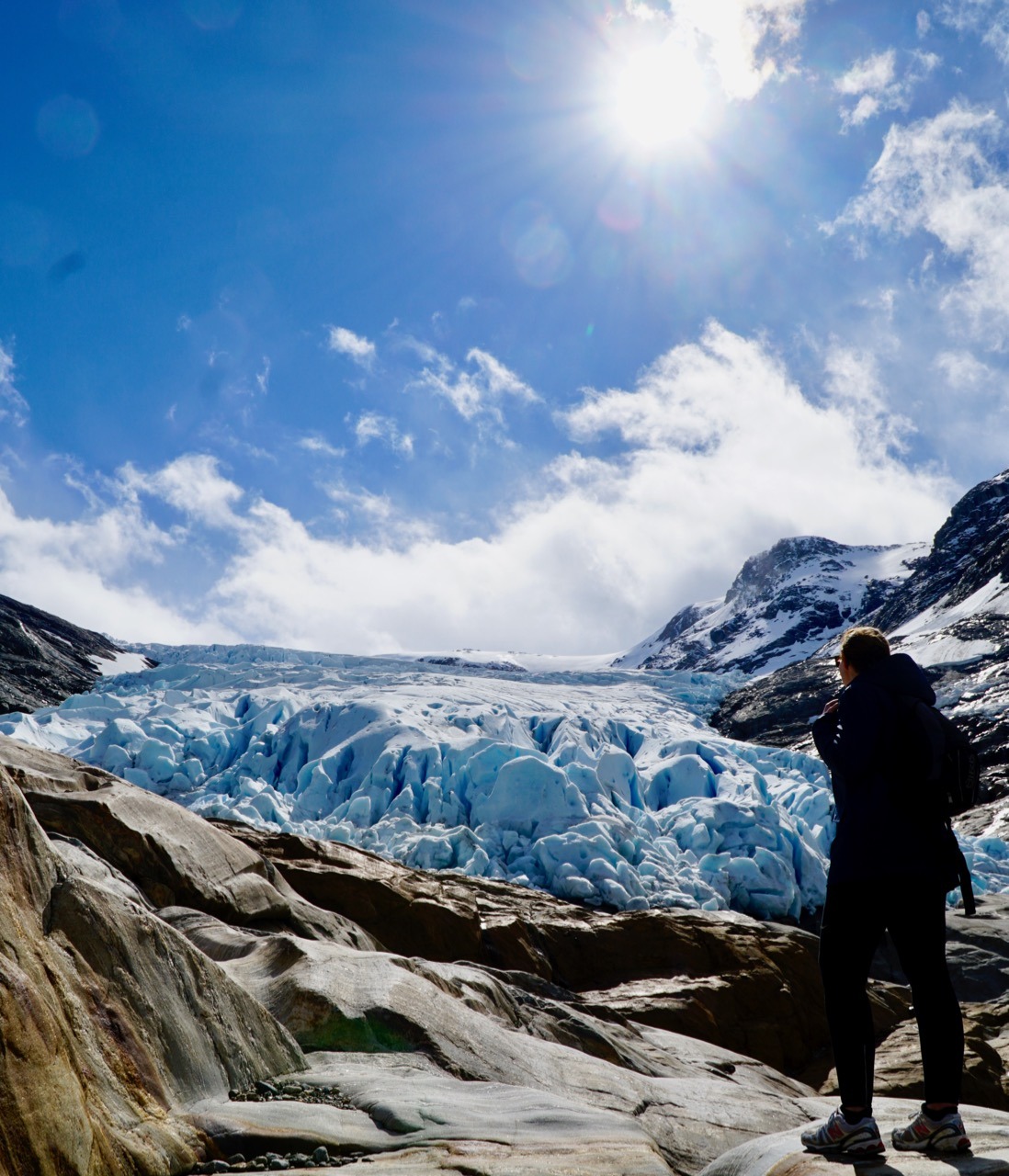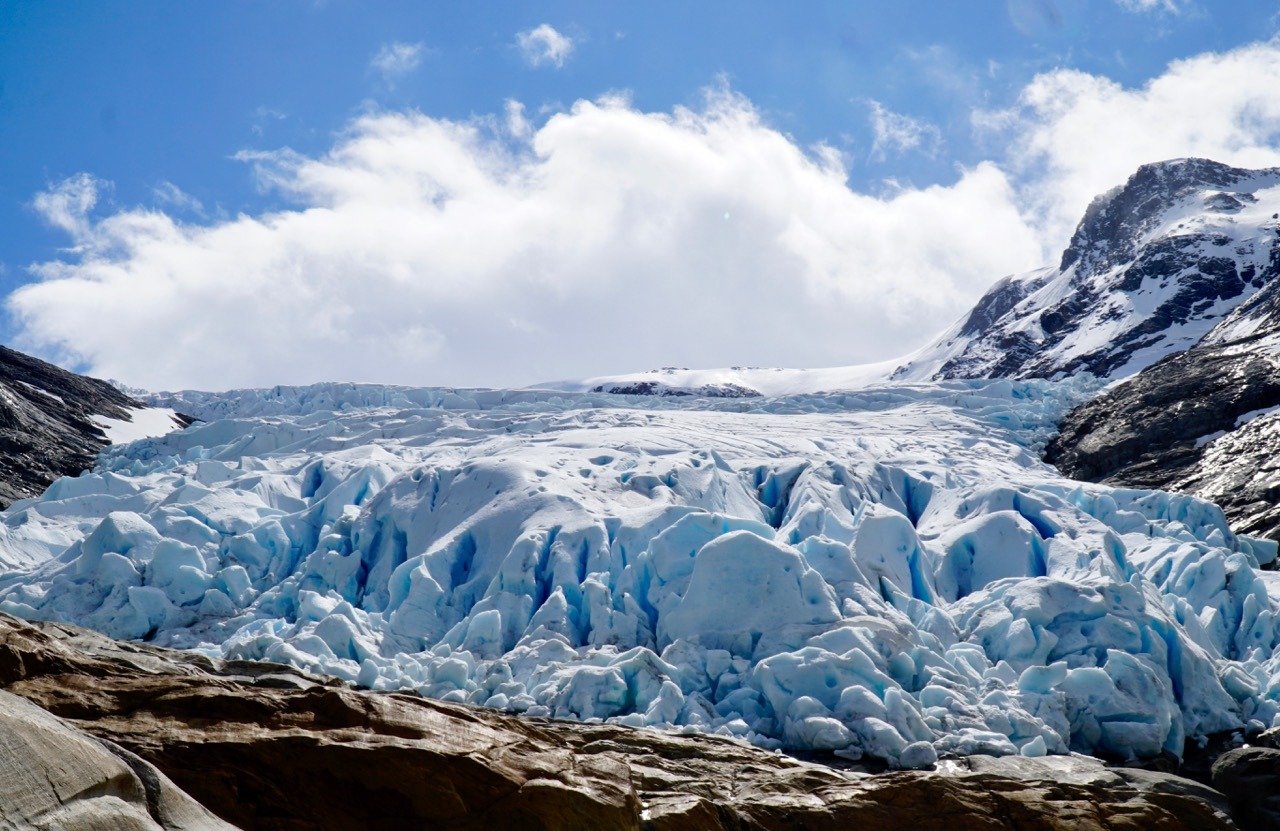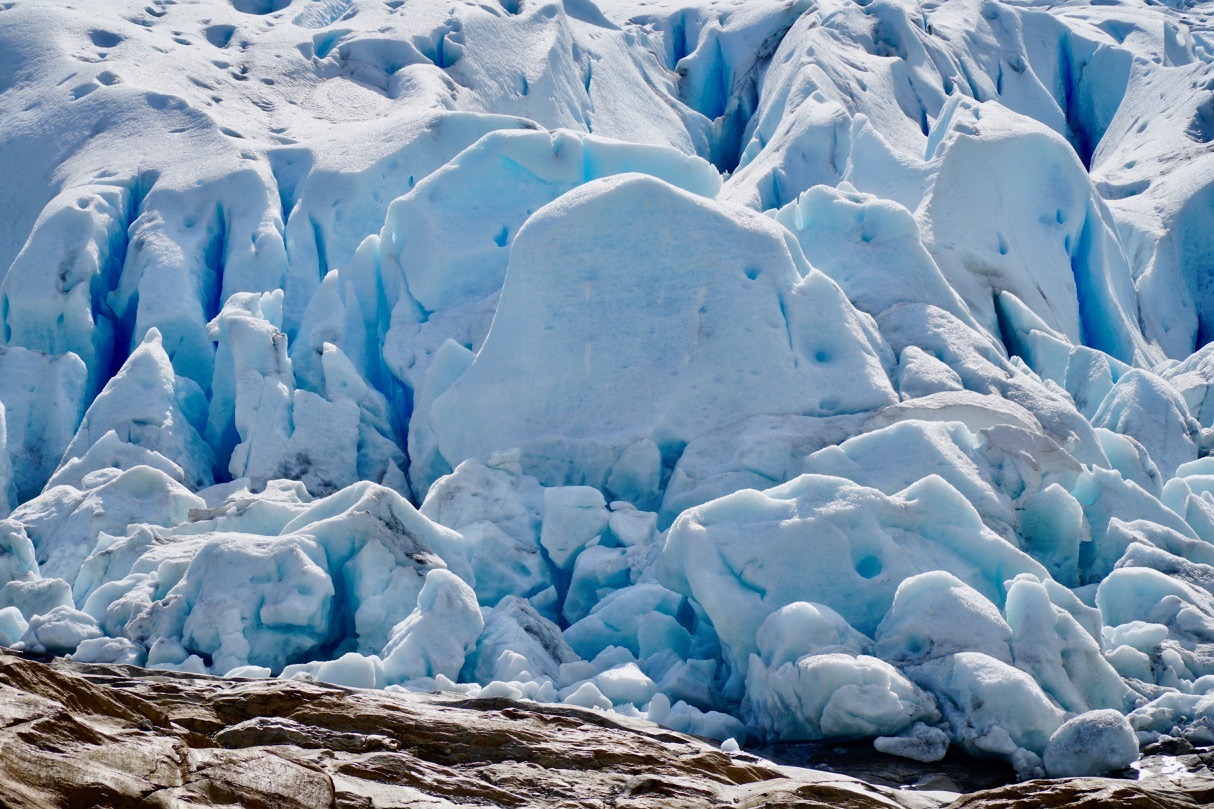 Seeing Svartisen from above – Walking on the glacier
Should you want to get the closest possible to the glacier, consider a glacier walk. We did not do this ourselves, but several companies offer glacier tours.

READ MORE: Highlights Along Kystriksveien—The Coastal Route in Norway




Practical information and tips
Using bikes, we spent a total of just over three hours at Svartisen, including a quick lunch at Brestua. We took the ferry from Holandsvik at 11 am and returned from Svartisen with the ferry at 2:15 pm. We felt this gave us enough time without having to rush.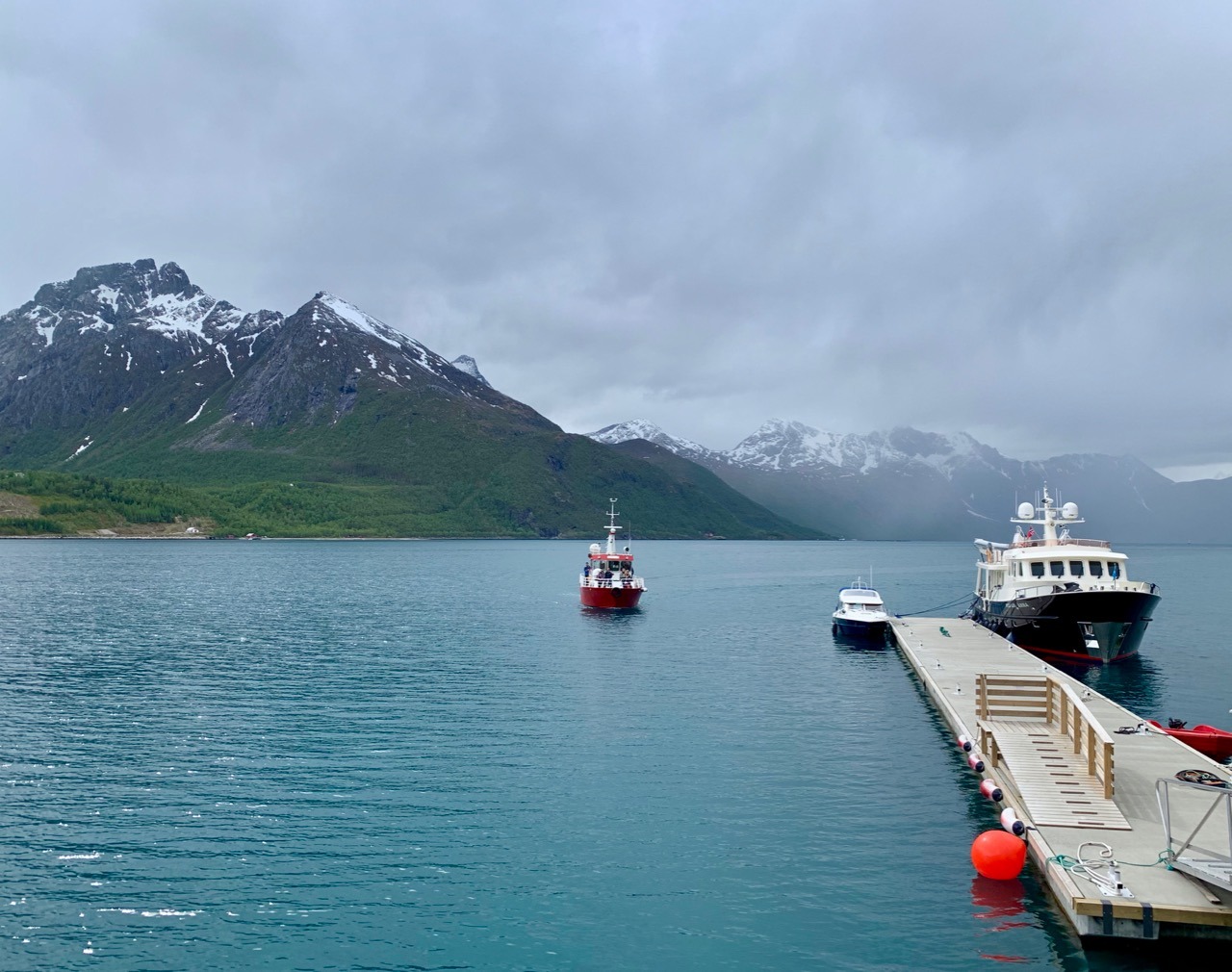 If you don't want to use bikes and intend to hike all the way up to the glacier, you should expect this to take 4-5 hours. If you are planning to stop only at Brestua, 2-3 hours will be enough.
Keep in mind that as you are in a mountainous area, the weather can change at a moment's notice. While at the viewpoint, we experienced both sunshine and rain within thirty minutes. It was also very windy at times. It is therefore advisable to bring warm clothes.
Glaciers are dangerous as they are continually moving, and parts of ice can come loose and fall down the mountain. Remember to keep at a safe distance at all times, as parts of the glacier can break off without any warning!

You might also like: