June 2018 (Last updated in August 2018)
Click here to read this article in Norwegian – Klikk her for å lese denne artikkelen på norsk
We had 10 days available to explore more of our home country Norway. As 10 days is too short to see the whole country, we decided to focus on the southern part of Norway. After hours of planning and an intense treasure hunt on the internet, we had our treasure map (read: itinerary) ready. On the trip, we wanted to see spectacular nature and wildlife, eat good food, stay in comfortable hotels and test new activities.
Our budget was mid-range by Norwegian standards. For most foreign visitors, Norway will an expensive country to visit. Expect to pay approximately 110-180 USD per night for a hotel room. Camping can be a great cost saving alternative. Eating out is pricey, so a piece of budget advice is to get your lunch and/or dinner from a grocery store. Activities and excursions vary greatly in price. The activities on this trip were either free or moderately priced. For car rental, you should budget for somewhere between 65-130 USD per day. Consider renting a moderately sized car to limit fuel consumption, as fuel prices are also high.
Below is our complete itinerary day by day. We started and ended the road trip in our home city of Oslo. Some days had a low pace, while other days were more activity-packed.
It is possible to make the itinerary both shorter and longer in duration. For a shorter road trip, we recommend that you drive back to Oslo after visiting Dalen. For a longer journey, we simply suggest that you follow our route, but that you spend more time at each destination. Having the freedom to travel slowly and improvise is one of the great advantages of a road trip. We promise you that Norway has a lot to offer.
Our 10-day road trip itinerary is suitable for almost everyone, including families with children. A couple of the hikes require a moderate degree of physical fitness but is achievable for most people.
Happy travels – we hope you enjoy Norway as much as we do!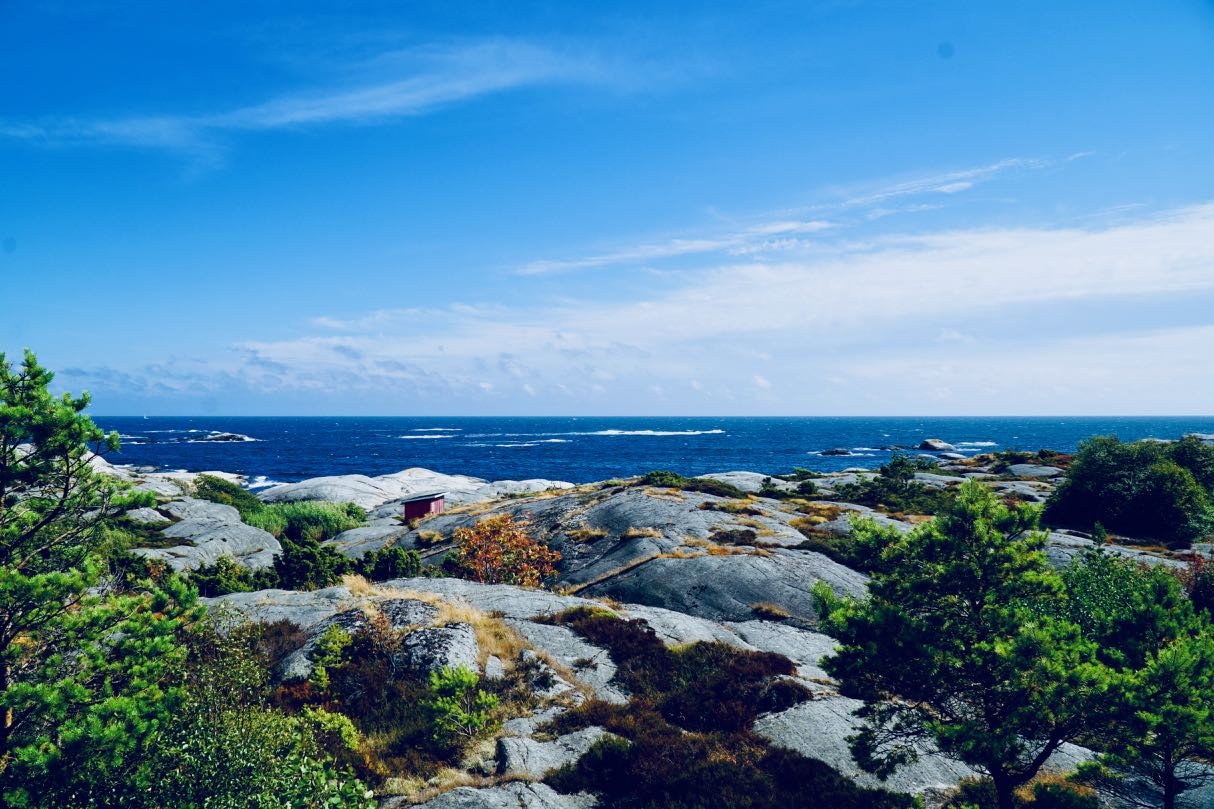 Day 1
Drive from Oslo to Kristiansand – Have lunch at Portør Pensjonat – Stay at Comfort Hotel Kristiansand
Day 2
Drive from Kristiansand to Lindesnes – Visit Lindesnes Fyr – Have lunch at Jentan på Båly – Go stand up paddling or kayaking at Spangereidkanalen – Visit Lindesnes Fyr one more time at sunset – Stay at Lindesnes Havhotell
Day 3
Drive from Lindesnes to Sola – Visit Kvåsfossen – Sørnorsk Laksesenter – Have lunch at Folvik Kafe – Explore Sogndalsstrand – Stop at Kvassheim Fyr. Visit Orrestranda – Enjoy the sunset at Solastranden – Stay at Clarion Hotel Air
Day 4
Explore Stavanger city center – Have a cup of coffee and a cupcake at Hanekam Cafe – Stay at Clarion Hotel Air
Alternative day plan: Visit Flor & Fjære
Day 5
Drive from Sola to Kvinesdal – Rail biking at Flekkefjordbanen – Have lunch or dinner at Tollboden Bakeri – Stay at The Bølgen og Moi Hotel Utsikten
Alternative activity: Visit the potholes at Brufjellet
Day 6
Drive from Kvinesdal to Hauggrend – Hike Kaldåsknipa – Feed the elks at Elgtun – Have dinner at Sølvgarden Hotell og Feriesenter – Beaversafari at Bufjordstigen – Stay at Telemark Camping & Inn
Day 7
Drive from Hauggrend to Haukelifjell – Hike to the Rui farm – Have Afternoon Tea at Dalen Hotel – Visit Ravnejuv – Stop at Mjonøy – Have dinner at Haukeliseter Fjellstue – Stay at Haukelifjell Gjestehus
Day 8
Drive from Haukelifjell to Bergen – Have lunch at Steinstø Frukt- og Kakebu – Stop at Steindalsfossen -Check-in at Hurtigruten in Bergen – Dinner at Hurtigruten – Stay at Hurtigruten for the night
Day 9
Cruise Geirangerfjorden – Have lunch at Hurtigruten – Drive from Ålesund to Valldal – Have dinner at Valldal Fjordhotell – Stay at Valldal Fjordhotell
Day 10
Drive from Valldal to Oslo – Stop at Gudbrandsjuvet – Stop at Trollstigplatået – Stop at Avdemsbue – Arrive in Oslo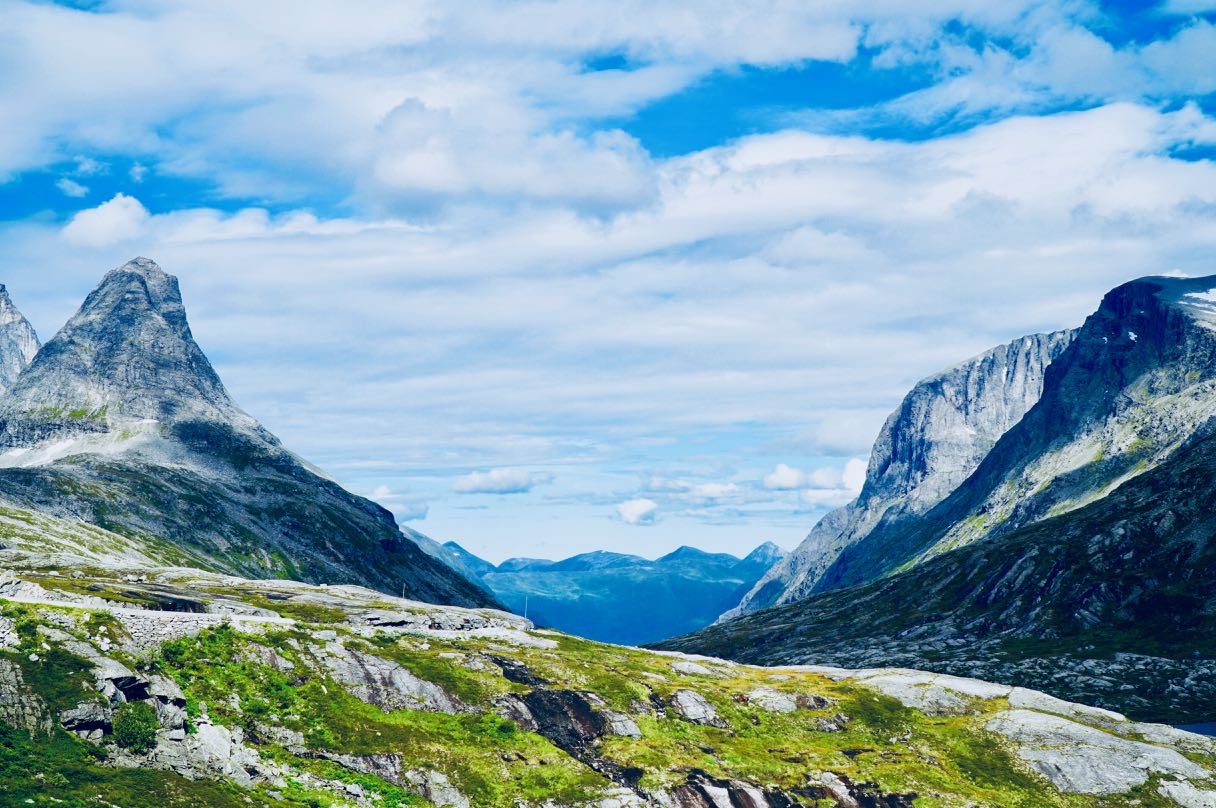 Day 1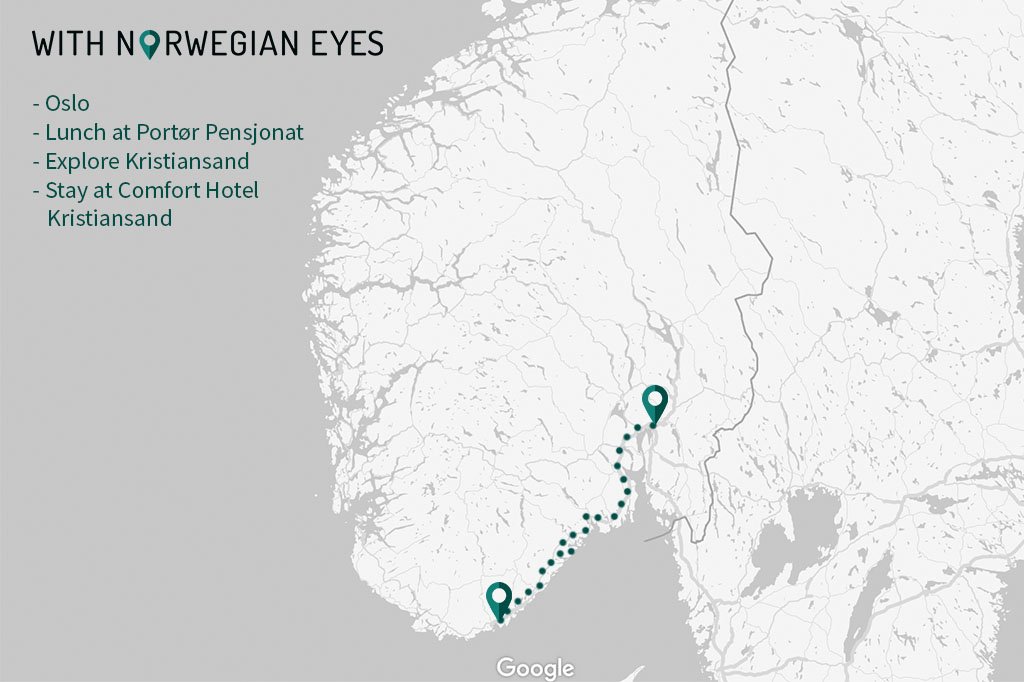 Link to driving directions in Google Maps
The first stop on our trip was at the charming and rustic Portør Pensjonat, where we had lunch.
The salad with beets and goat cheese was fresh and very tasty. The waitress told us that the vegetables were local and grown just a few kilometers away from the restaurant. Thumbs up!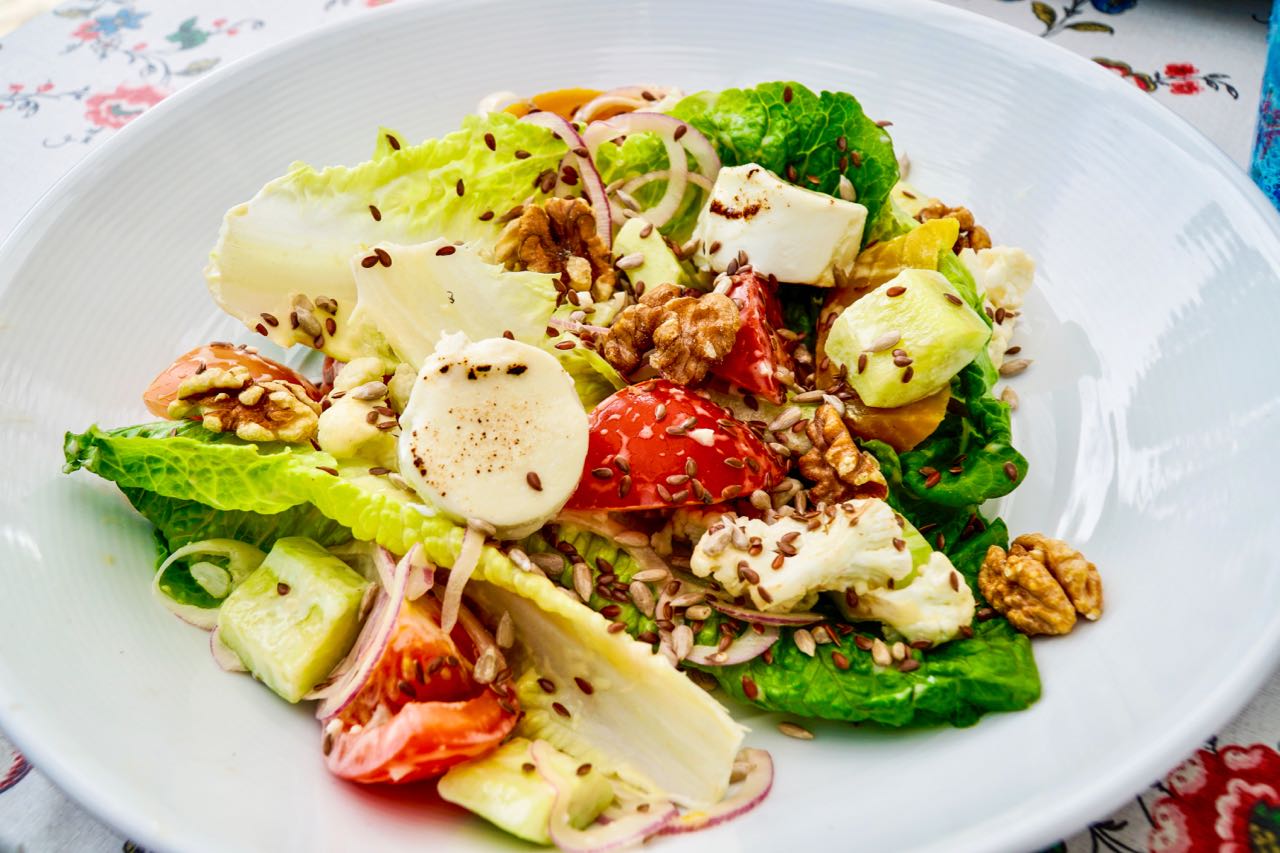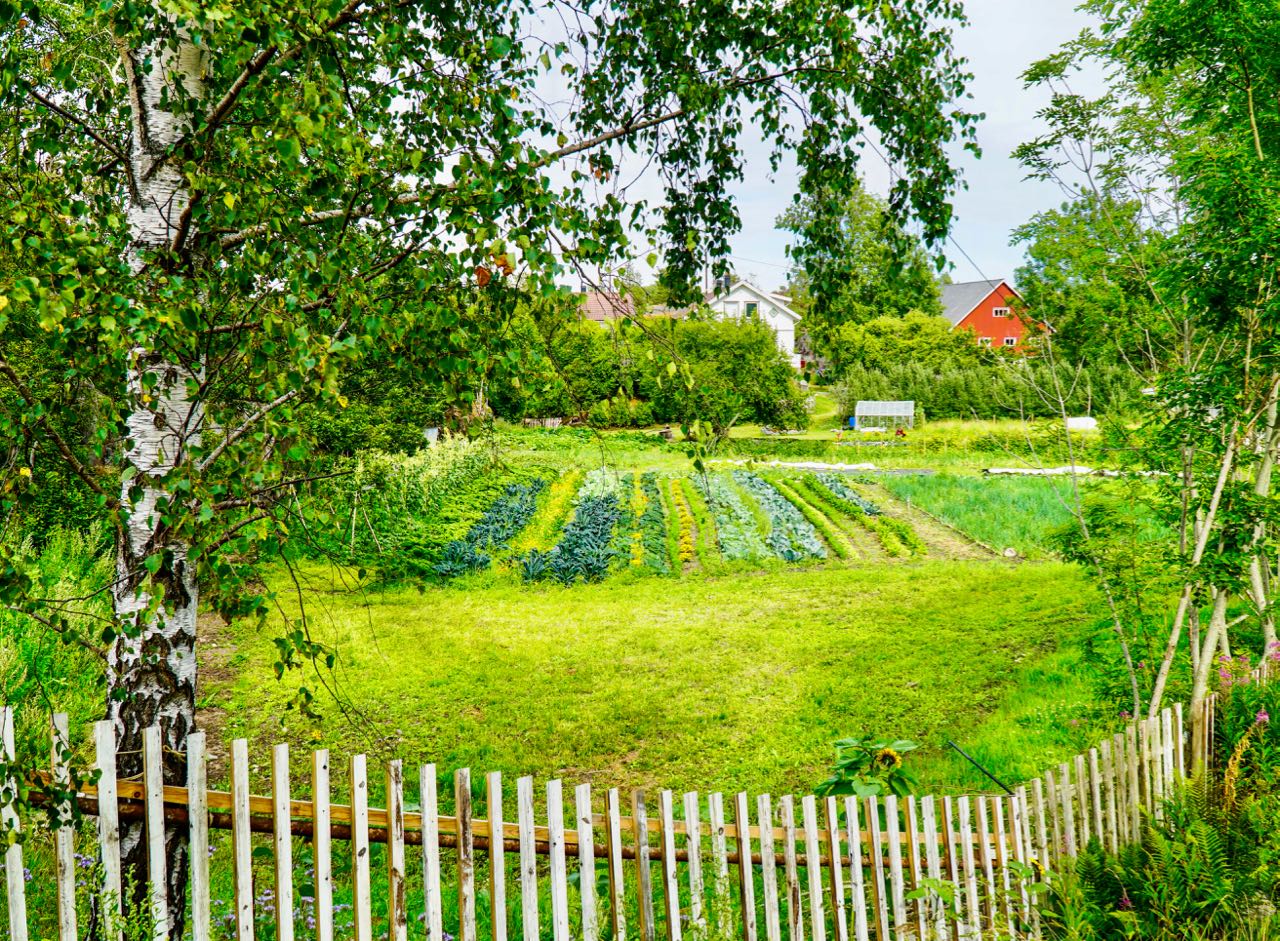 The rest of the day we spent visiting our family who lives near Kristiansand. With more time, we would have wandered around in Kristiansand's cozy streets, and visited one of the many scenic areas that are close to the city. Odderøya and Baneheia are particularly beautiful areas.
We stayed at the Comfort Hotel Kristiansand for the night. The hotel was perfectly fine and conveniently located in the center of Kristiansand. Parking facilities were also good, with a parking garage right next to the hotel.
Link to Comfort Hotel Kristiansand
Day 1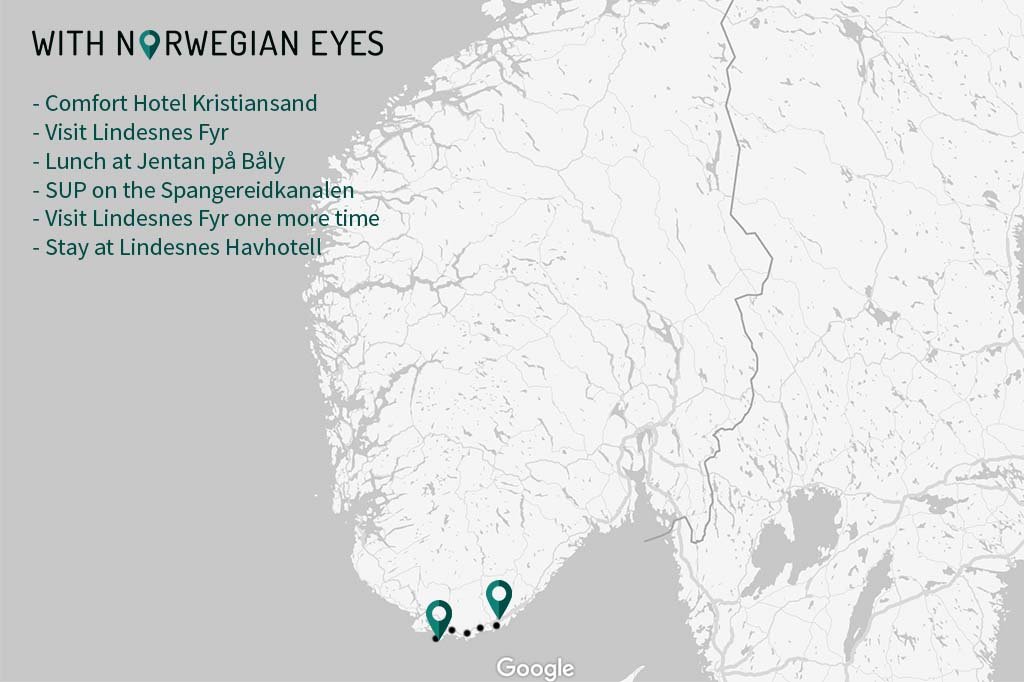 Link to driving directions in Google Maps
On day two we headed further south towards Lindesnes Fyr (Lindesnes Lighthouse). The lighthouse is located on the southernmost point of mainland Norway and is a spectacular sight. We highly recommend visiting the area both during the day and at sunset. The advantage of visiting Lindesnes Fyr within opening hours is that you can visit the museum and also go inside the lighthouse. It is, however, at dusk that a visit here becomes truly unforgettable. We therefore visited Lindesnes Fyr twice on the same day and were very happy that we did.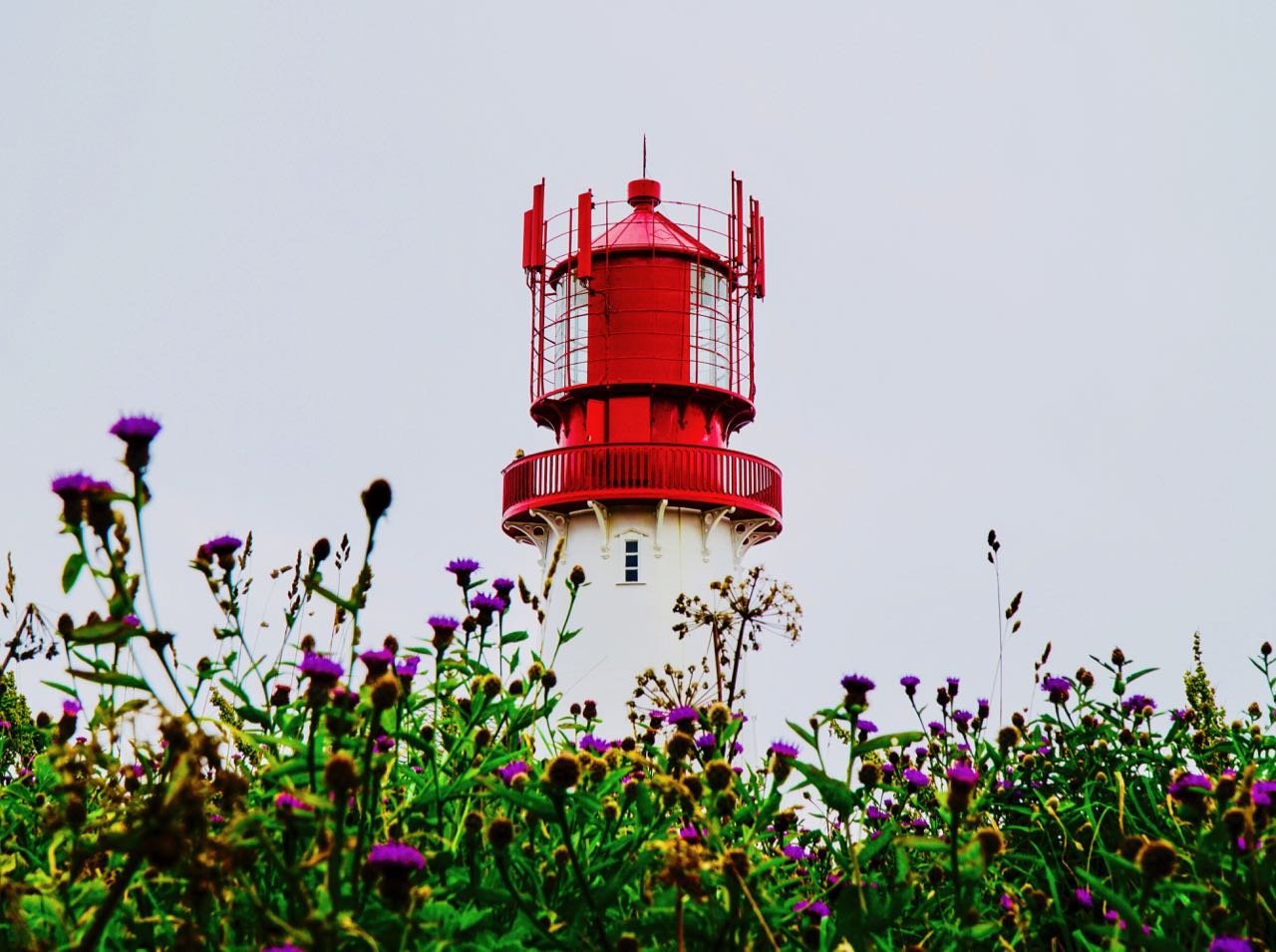 Our lunch spot for the day was Jentan på Båly (The Girls at Båly), located on the dock in Båly harbor. We took the food to go and ate it on the benches outside.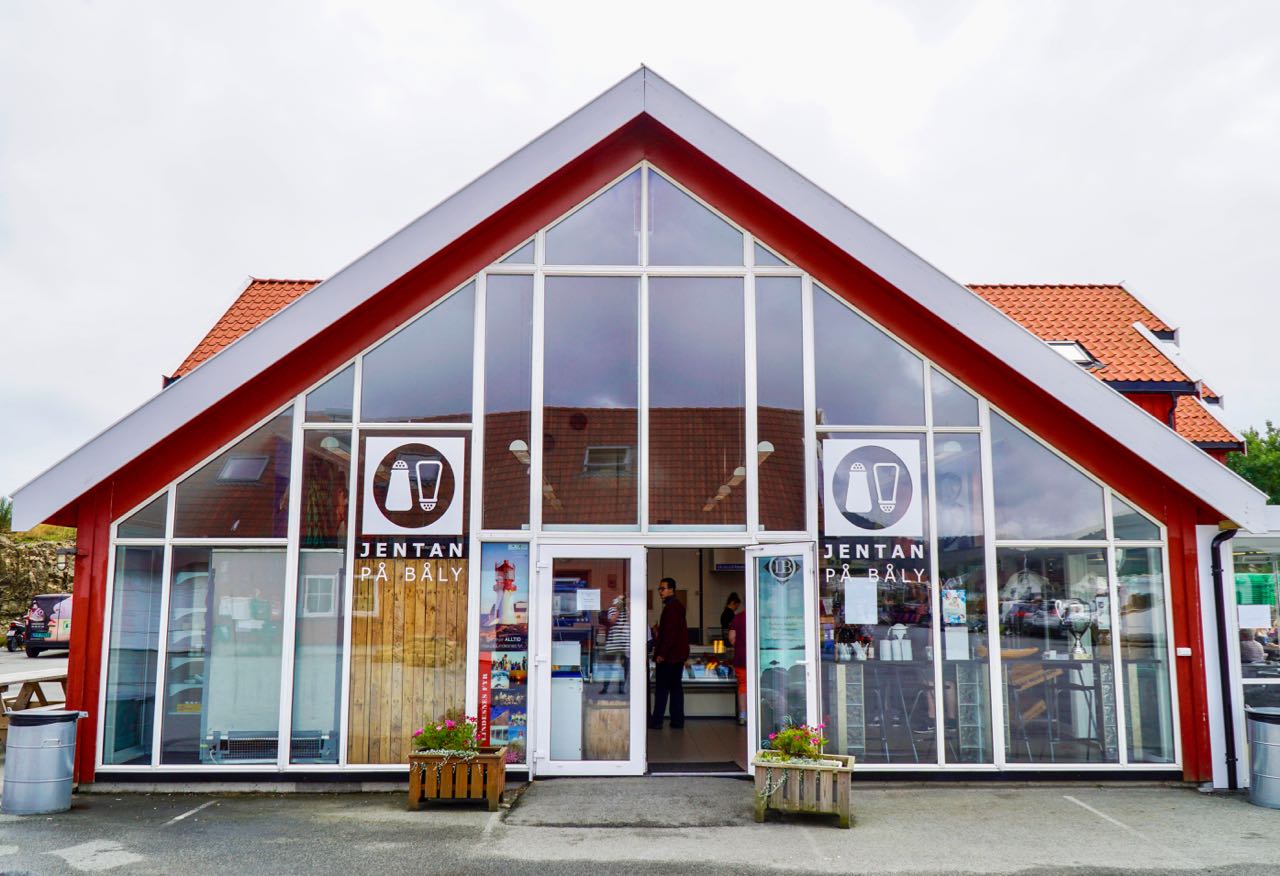 Jentan på Båly is a stone's throw away from Lindesnes Havhotell, which was our hotel for the night. The hotel had plenty of sports equipment available such as bicycles, fishing rods and kayaks. We decided to test our balance and rented stand up paddle boards. We initially had some problems finding a place to get on the paddle boards. Luckily, after some exploration, we found a perfect little sandy beach (see the Google Maps driving directions link for the exact location of the beach – the address is Bålymoen 21). From here on everything went smoothly, and we enjoyed paddling on Spangereidkanalen (Spagereid Canal).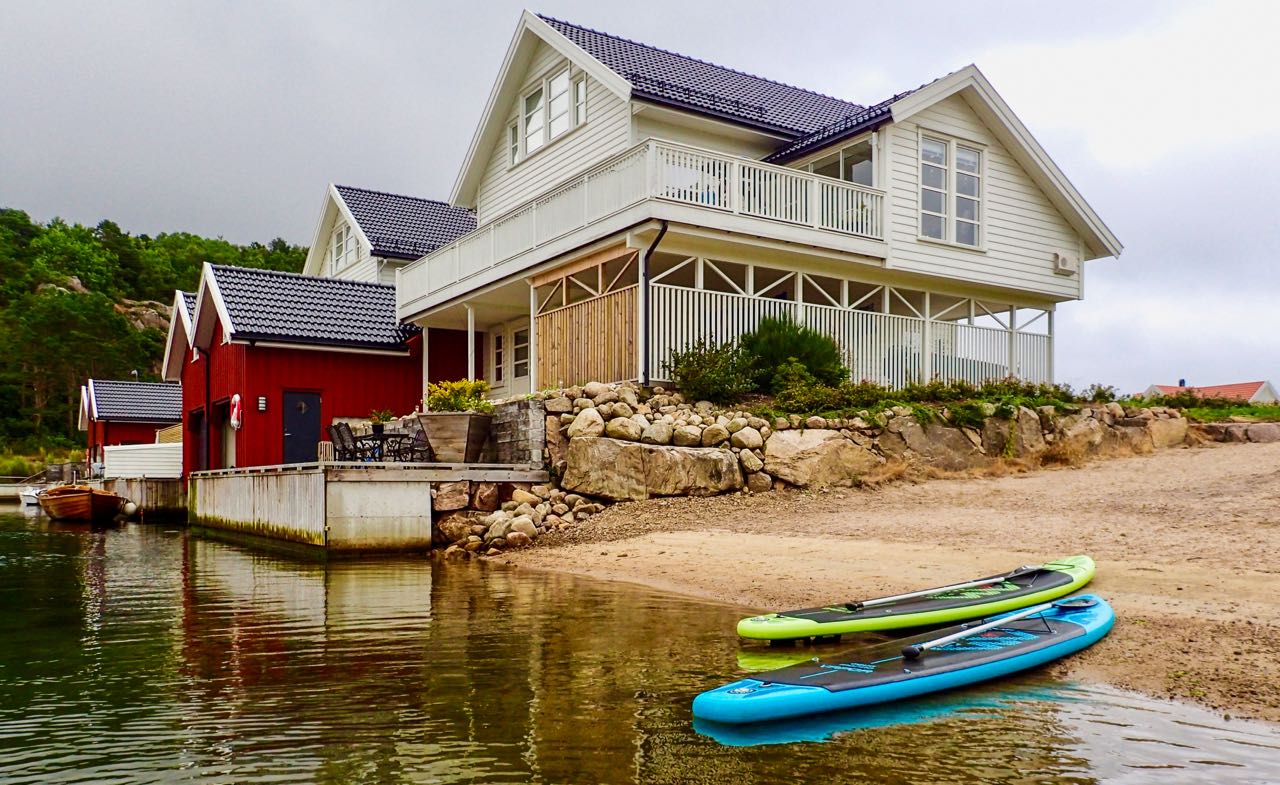 After visiting Lindesnes Fyr for the second time of the day, it was time to go to bed. Lindesnes Havhotell was another fine place to spend the night. The hotel had great staff and nice rooms, although the wellness area could use an upgrade. A nice perk is that hotel guests receive free tickets to Lindesnes Fyr.
Tip of the day: We bought the best cherries we had all summer at Spangereid Bensin & Handel (Spangereid Gas Station)!
Link to Spangereid Bensin & Handel
Day 3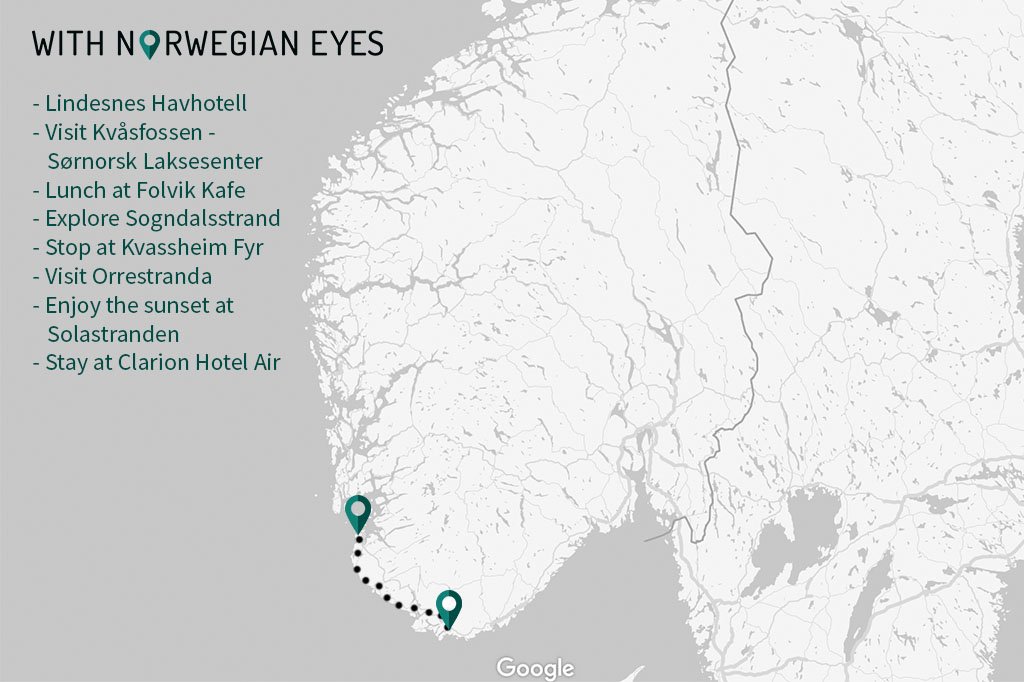 Link to driving directions in Google Maps 
Day three started great with a visit to Kvåsfossen – Sørnorsk Laksesenter (Kvåsfossen – Southern Norway Salmon Centre).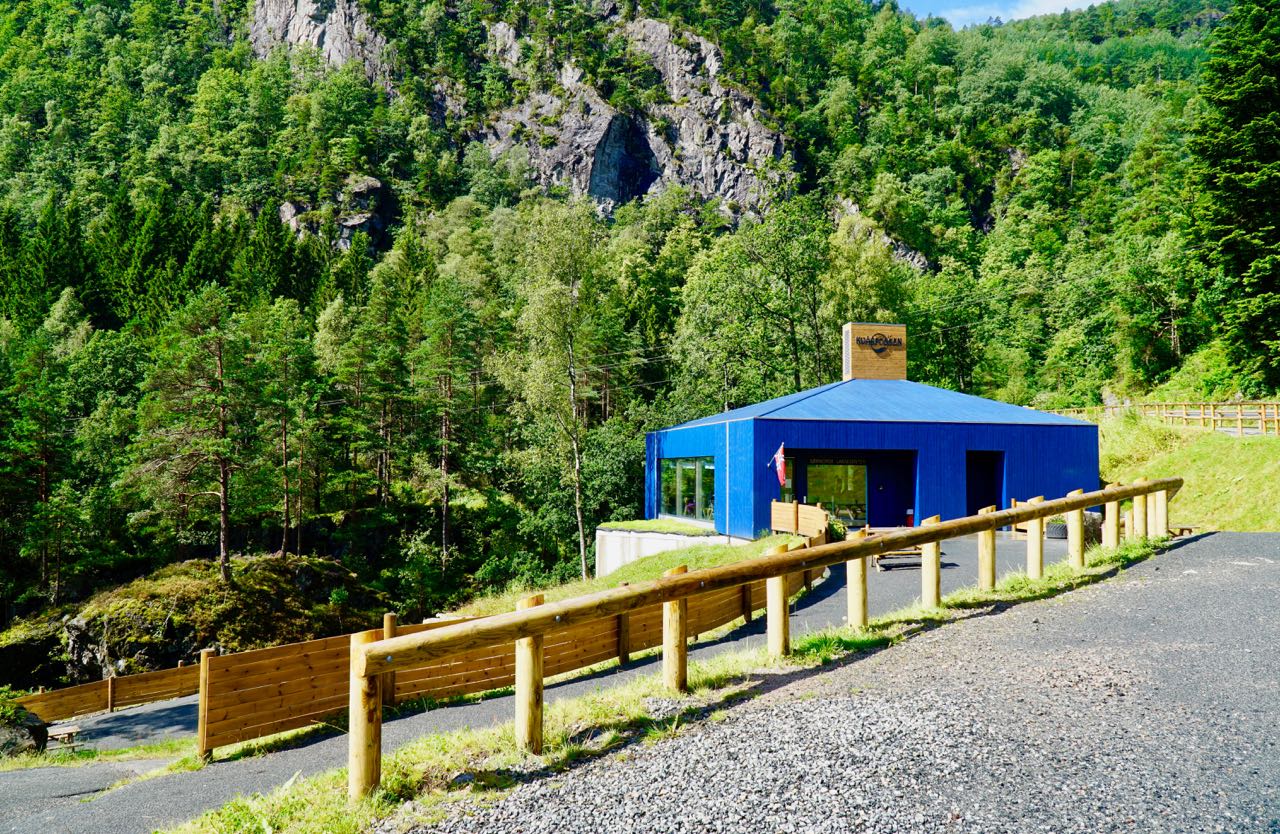 After the amazing experience at Kvåsfossen, Sogndalsstrand was our next destination. Here we had a late lunch at Folvik Kafe at Sogndalstrand Kulturhotell. The cafe served delicious food in a historic setting, and eating here is definitely recommended.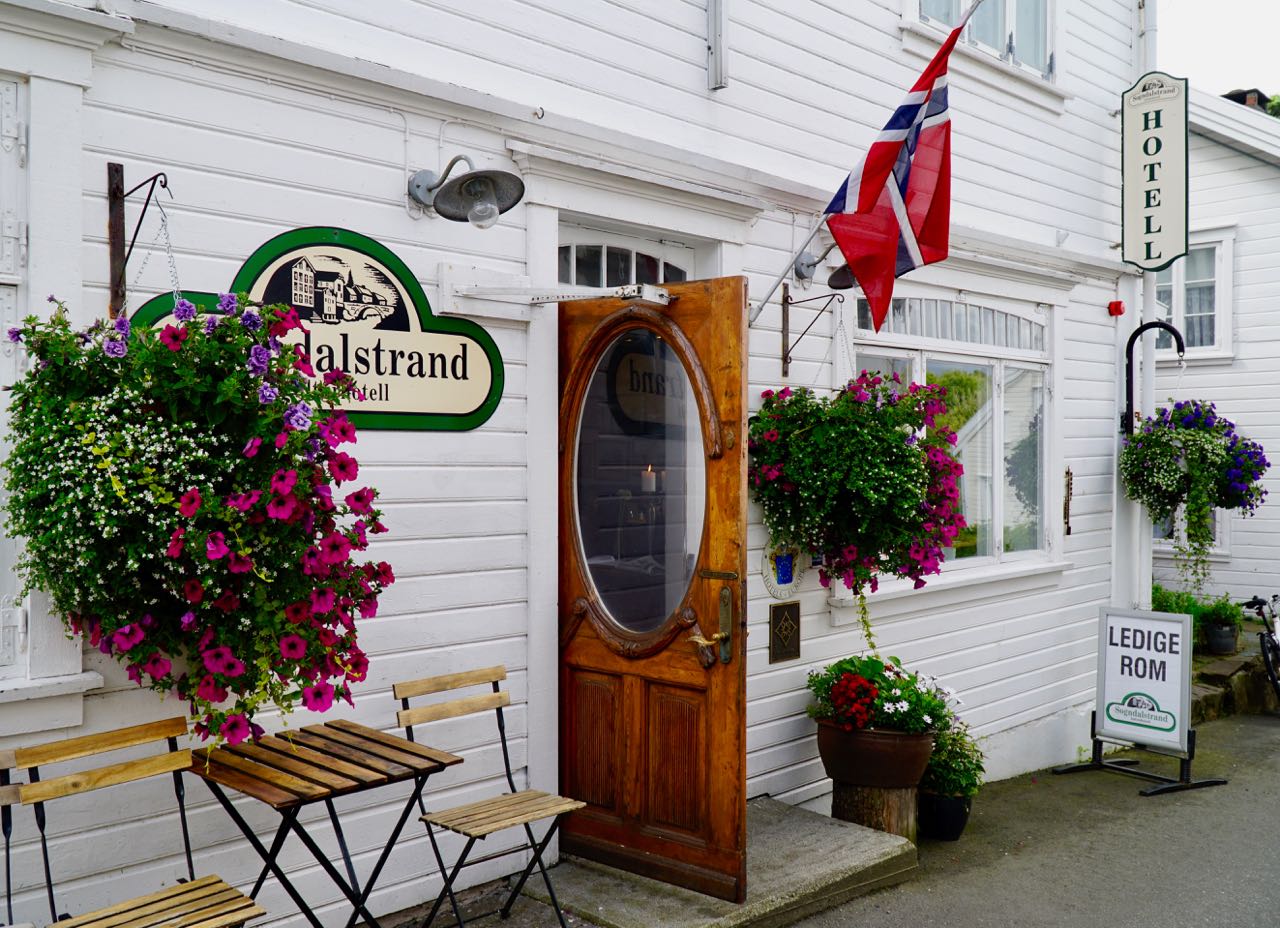 With our bellies full, we were eager to see more of Sogndalsstrand. Sogndalsstrand is an old harbor village dating back to the 17th century.  The village reached its peak in the late 19th century based on the shipping and fishing industry. During the 20th century, Sogndalstrand lost its role as a trading town, and gradually declined in population. In 1994 the last shop closed its doors in the small town. However, since early this century, the area has seen a rejuvenation and many of the old buildings have undergone restoration. Today, Sogndalstrand is a popular tourist attraction with an increasing number of visitors. The town now boasts hotels, restaurants, galleries and museums. We had a pleasant time strolling around among charming wooden houses and gorgeous gardens.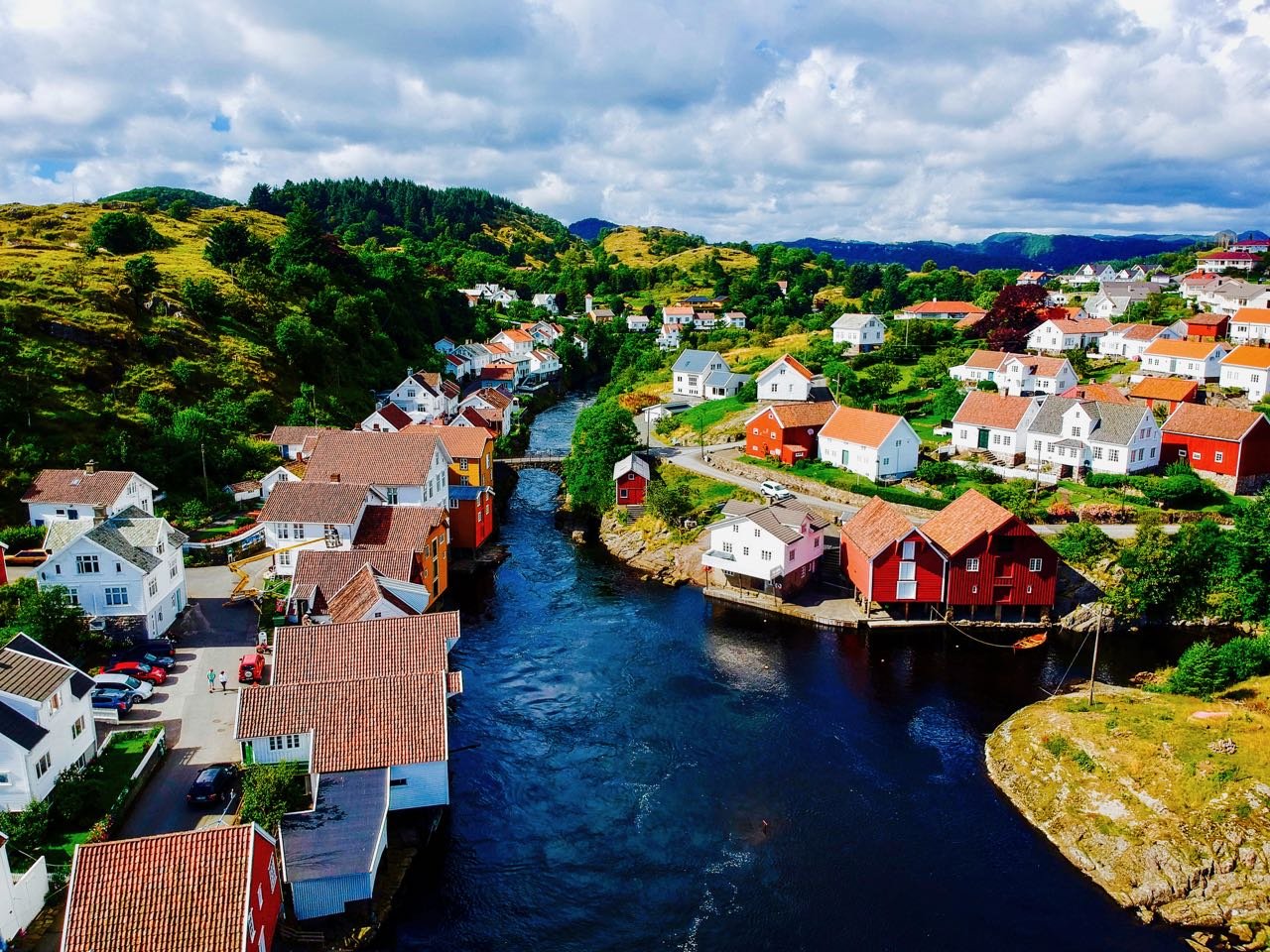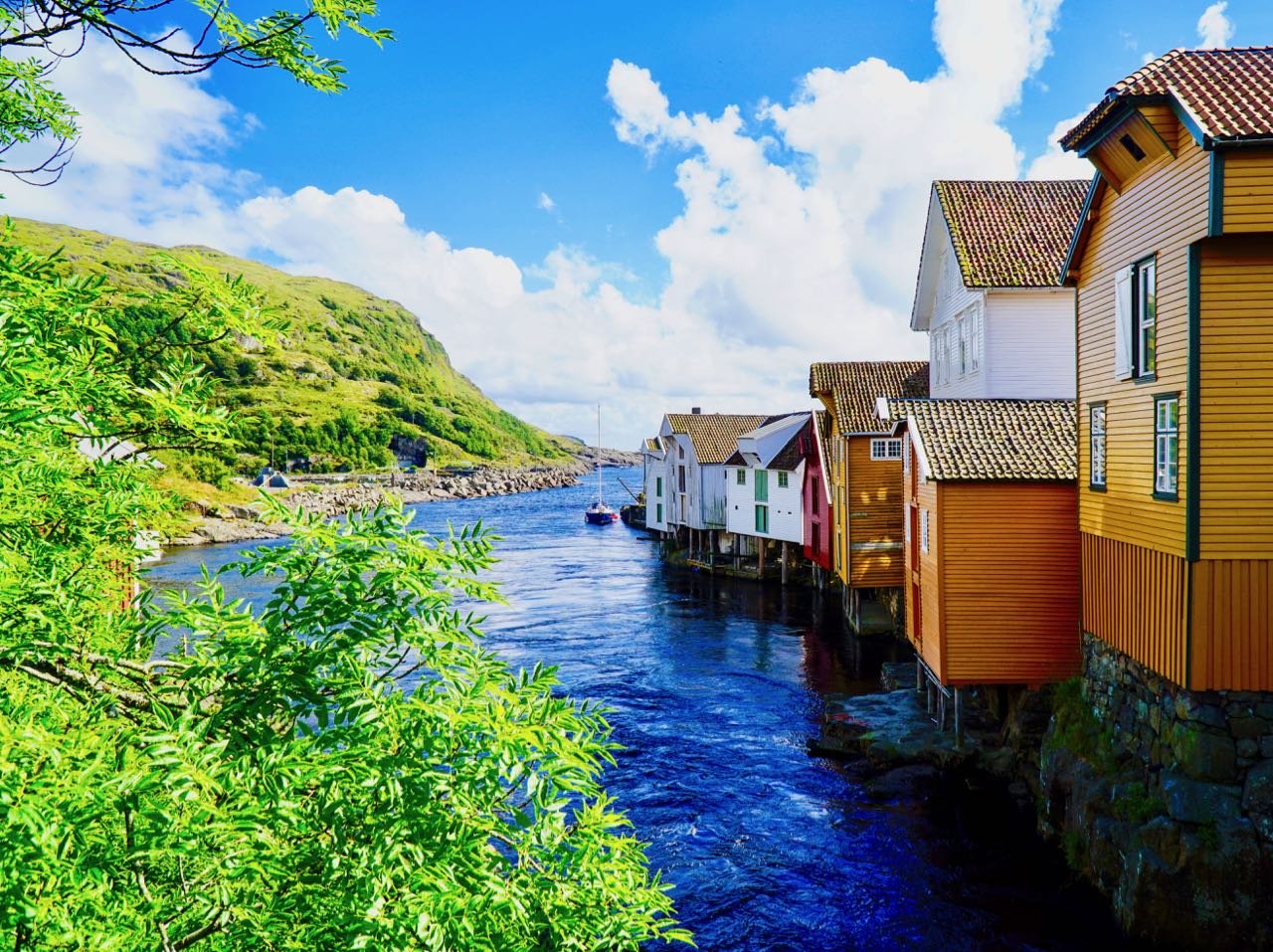 We had quite a long itinerary this day and no time to waste. We therefore got back in the car and headed for the 41-kilometer-long National Tourist Route between Ogna and Bore. The National Tourist Route turned out to be amazingly picturesque, and we would have loved to have had a lot more time to enjoy the scenic drive. The surroundings were beautiful, with the sea and rolling farmlands right next to the road. The old cultural landscape also has plenty of beaches, with both pebble and sand. Along the route, we also stopped briefly at Kvassheim Fyr (Kvassheim Lighthouse). The cafe and the museum were closed for the day, but it was still nice to have a look at the lighthouse.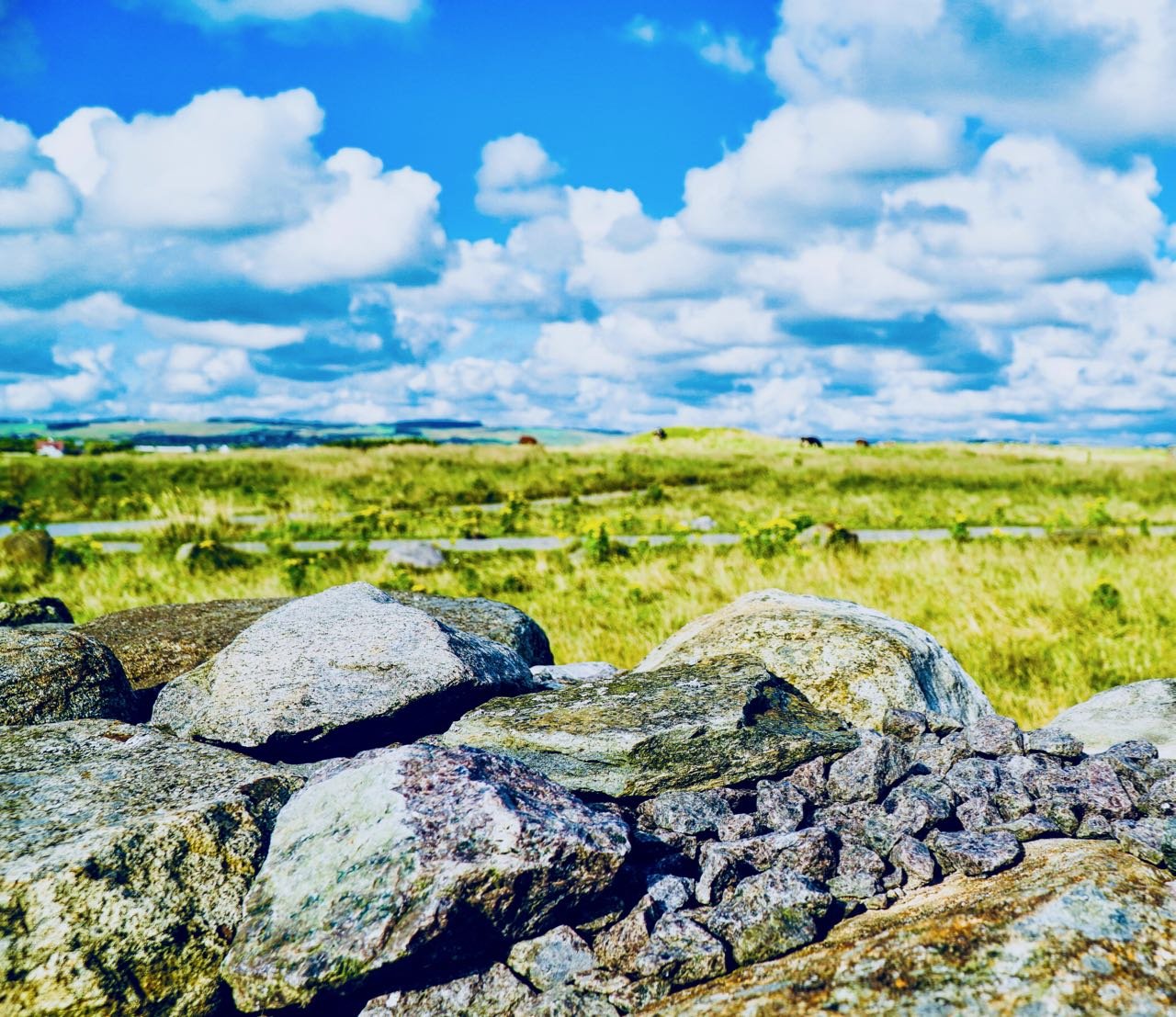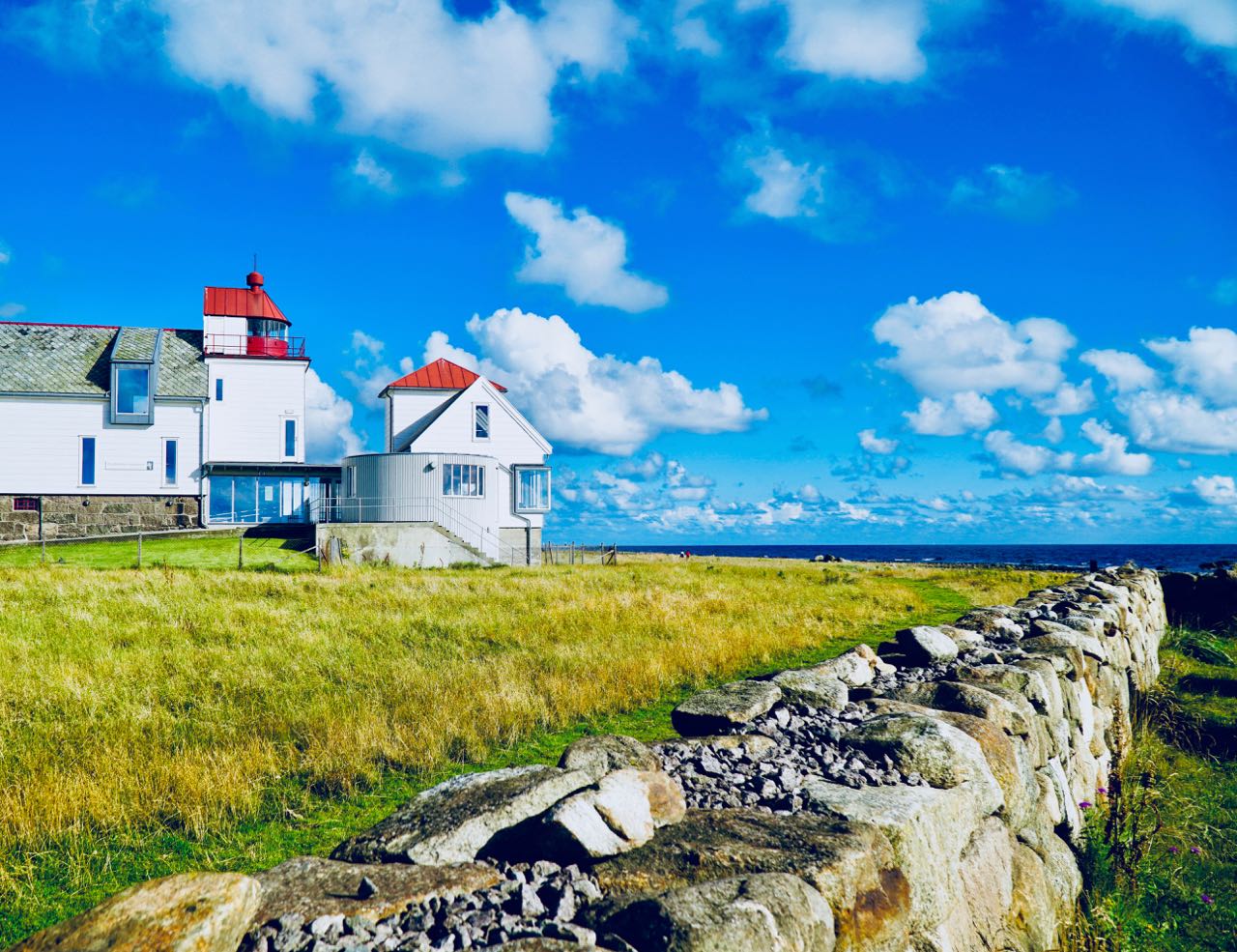 A half-hour drive further took us to Friluftshuset Orre (The Recreation Centre at Orre), where we parked our car. From here we walked for approximately five minutes to Orrestranda (Orre beach). Many hold this beach to be the most beautiful beach on the whole of Jærens coastline. Orre beach is five kilometers long and is the longest sandy beach in Norway. Here we could have easily spent hours just lounging.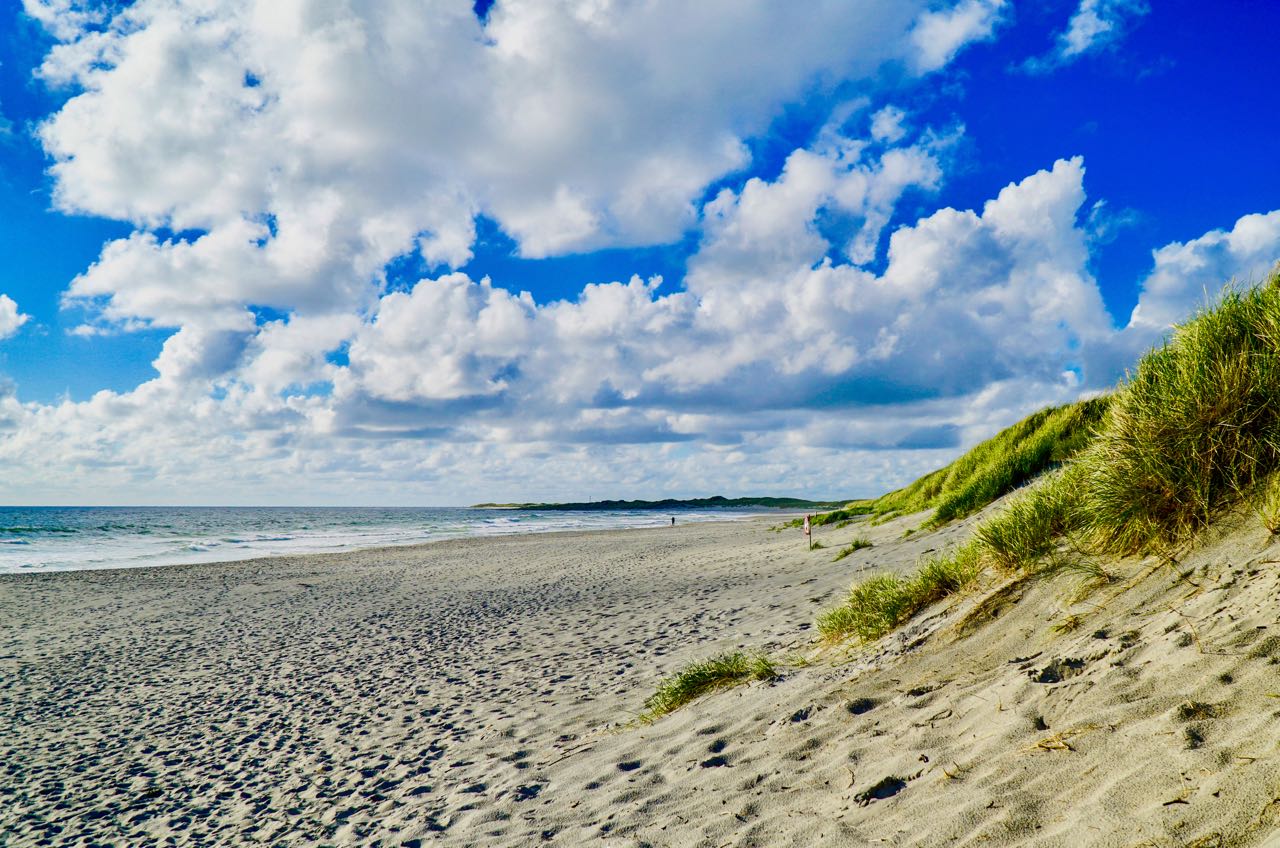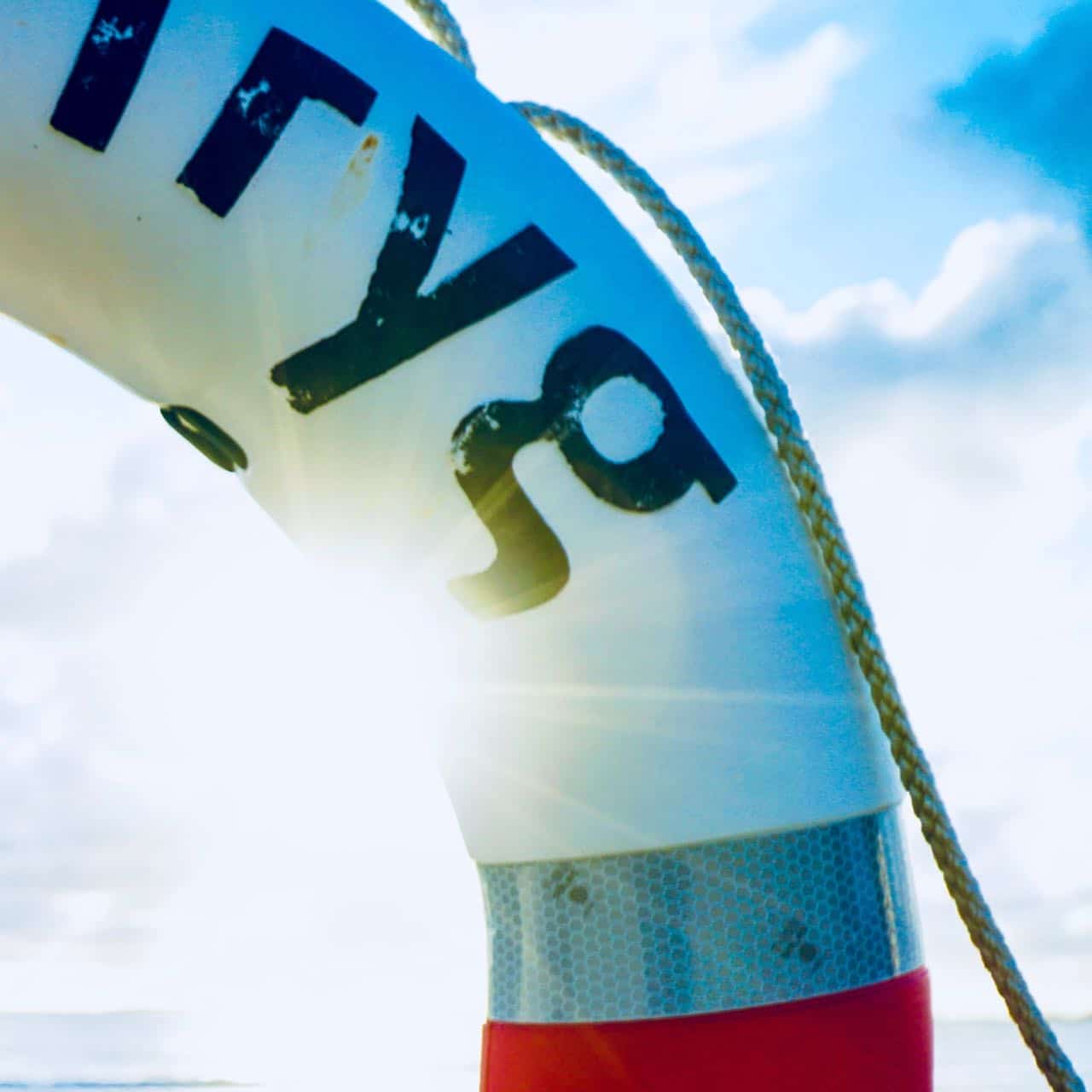 The visit to Orre beach made us crave more sand between our toes, and after checking in at Clarion Hotel Air, we went off to watch the sunset on Solastranden (Sola beach). Sola beach is located right next to Sola Airport, and the beach is very popular with both locals and tourists. We had a beautiful, but somewhat chilly, evening on Solastranden.
*If you have time, we really recommend staying one night in Sogndalsstrand Kulturhotell, as we would have loved to have had more time to spend at each place we visited this day. If you don't have one more night to spare, make sure to be at Kvåsfossen – Sørnorsk Laksesenter at opening time to make the most of the day!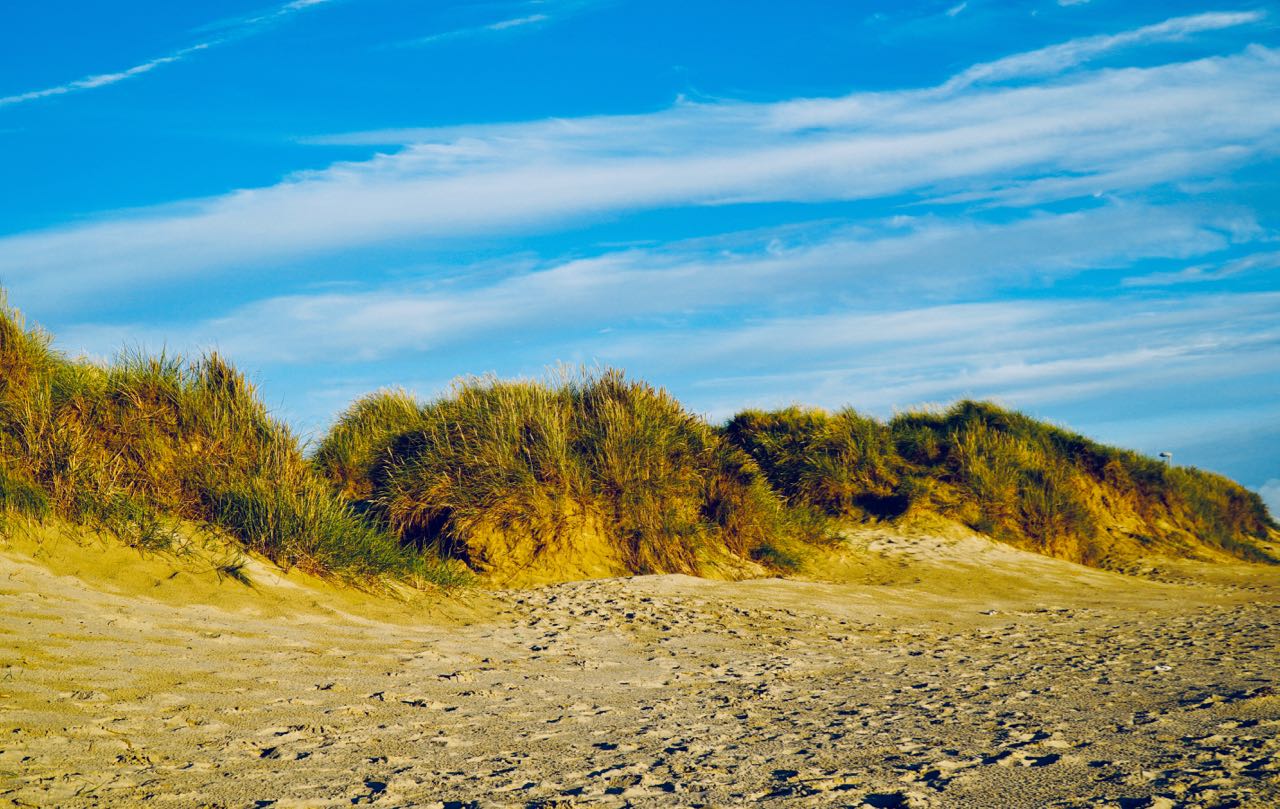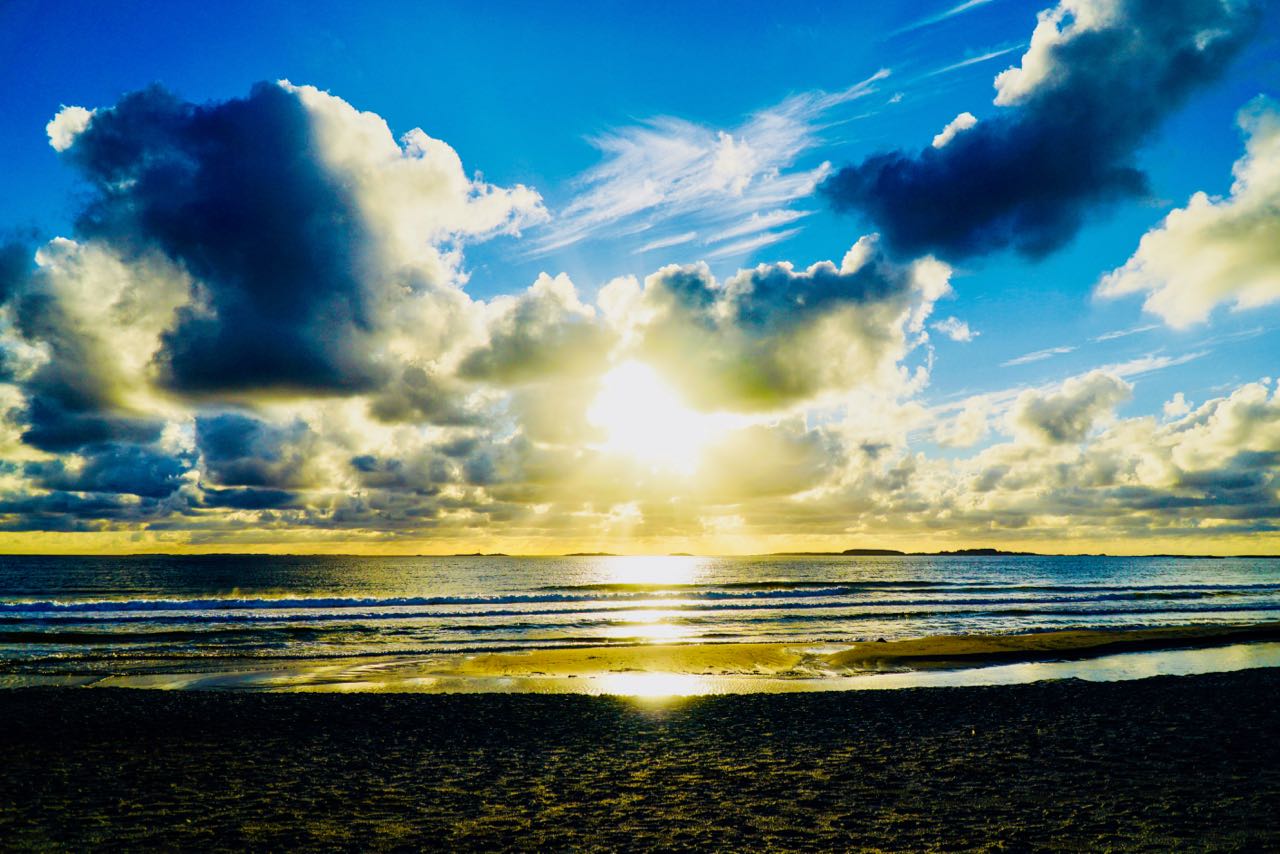 Link to Kvåsfossen – Sørnorsk Laksesenter
Link to Folvik Kafe at Sogndalsstrand Kulturhotell
Link to Norwegian Scenic Routes
Link to Visit Norway – Sola beach
Day 4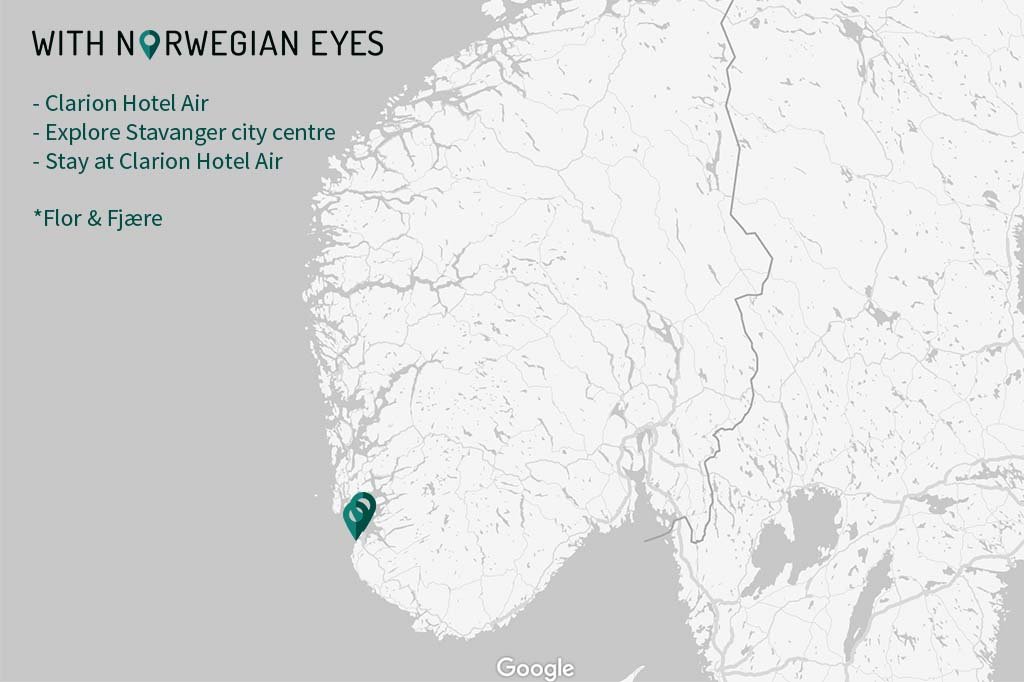 Link to driving directions in Google Maps
On day four of our road trip, we woke up to rain and gray weather over Sola and Stavanger city. We therefore discarded our original plan to visit the island of Flor & Fjære. This was a pity because the pictures we had seen were incredibly beautiful. Flor & Fjære markets itself as a crossing between a park and a restaurant, a unique concept that we had been looking forward to seeing. Instead, we spent the day wandering around Stavanger city center. One of our favorites here was Øvre Holmegate, that despite the bad weather brightened our day with its lively colors. We were especially charmed by the Hanekam retro cafe and their delicious carrot cupcakes. The cafe even had a drum kit(!) in the toilet.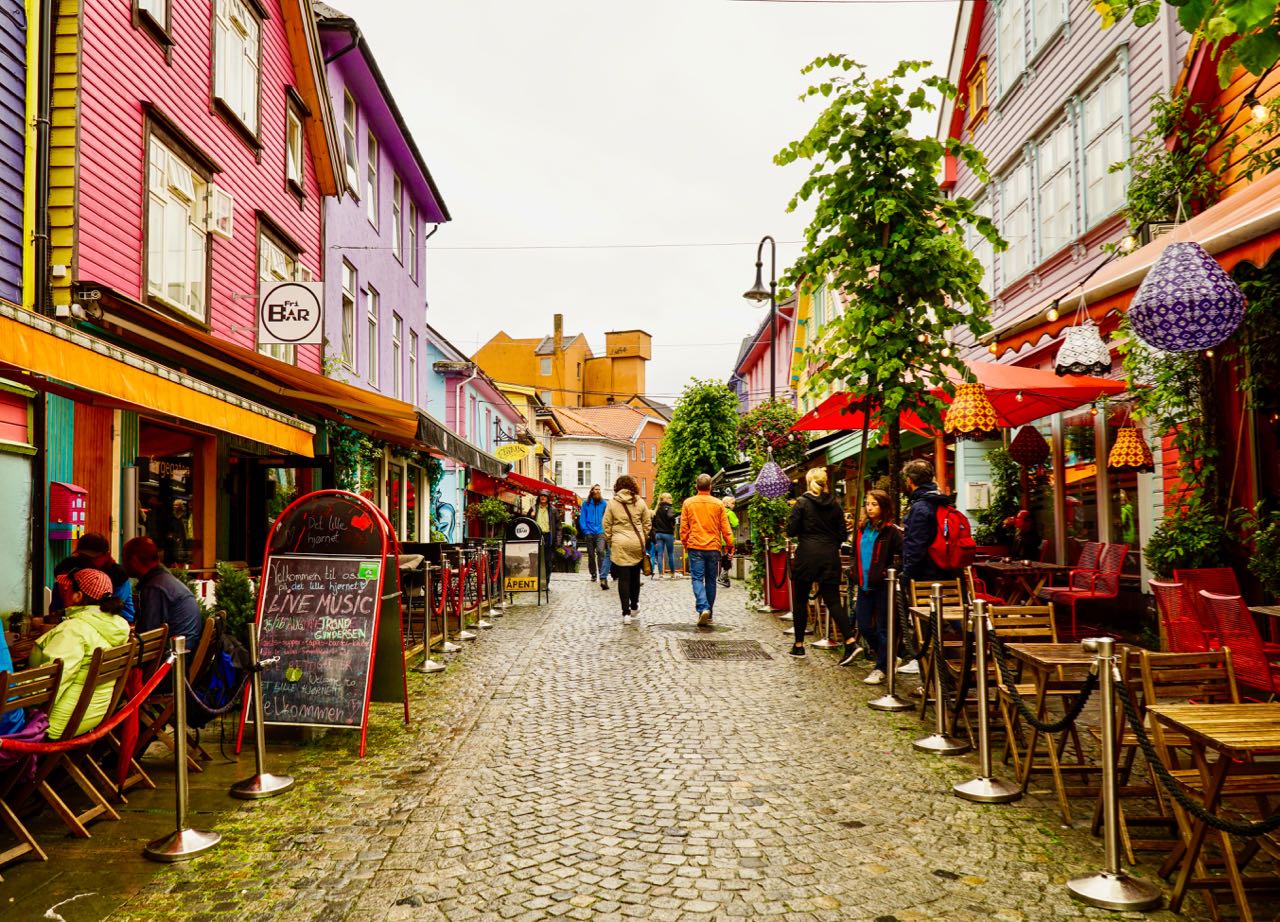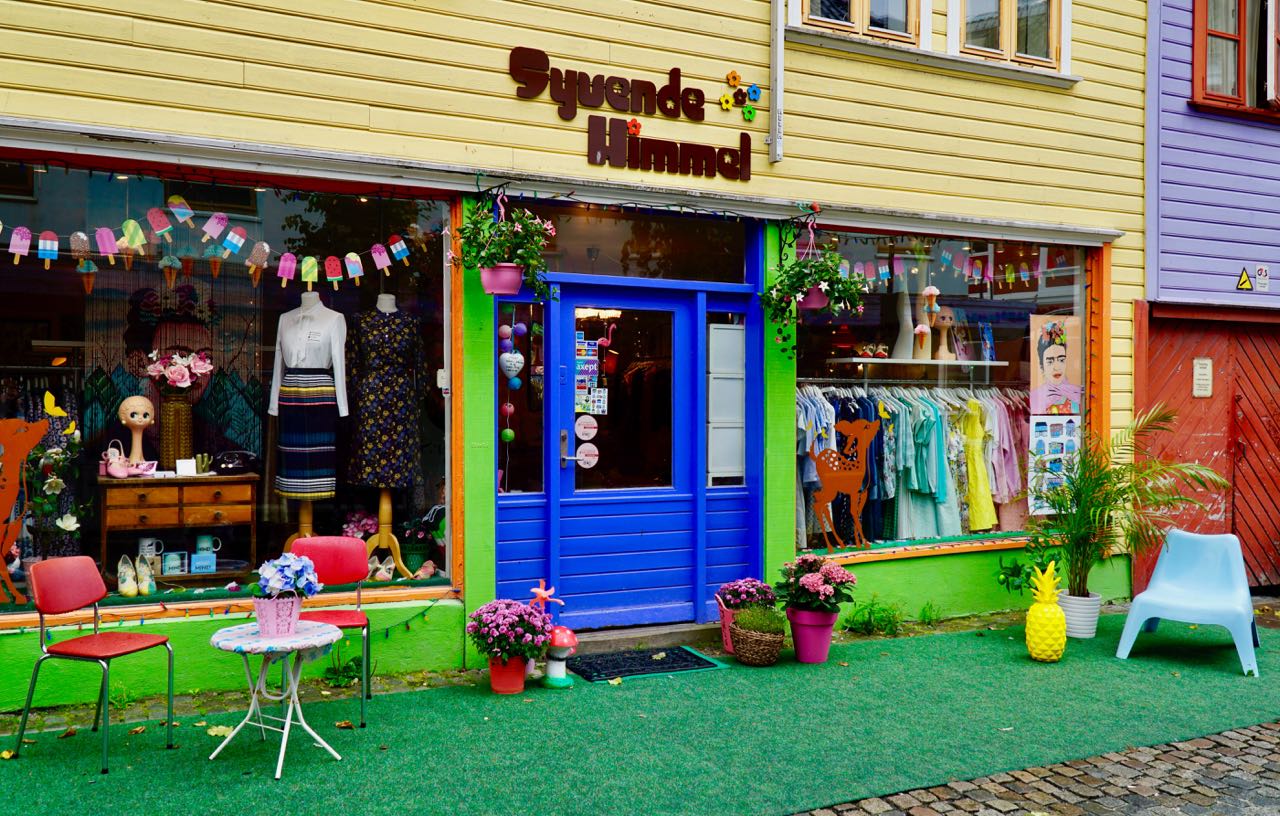 Another part of Stavanger we also liked was the old town, with its narrow and cobbled streets and white wooden houses. We took the well-kept gardens as a sign of residents taking pride in making their surroundings as pretty as possible.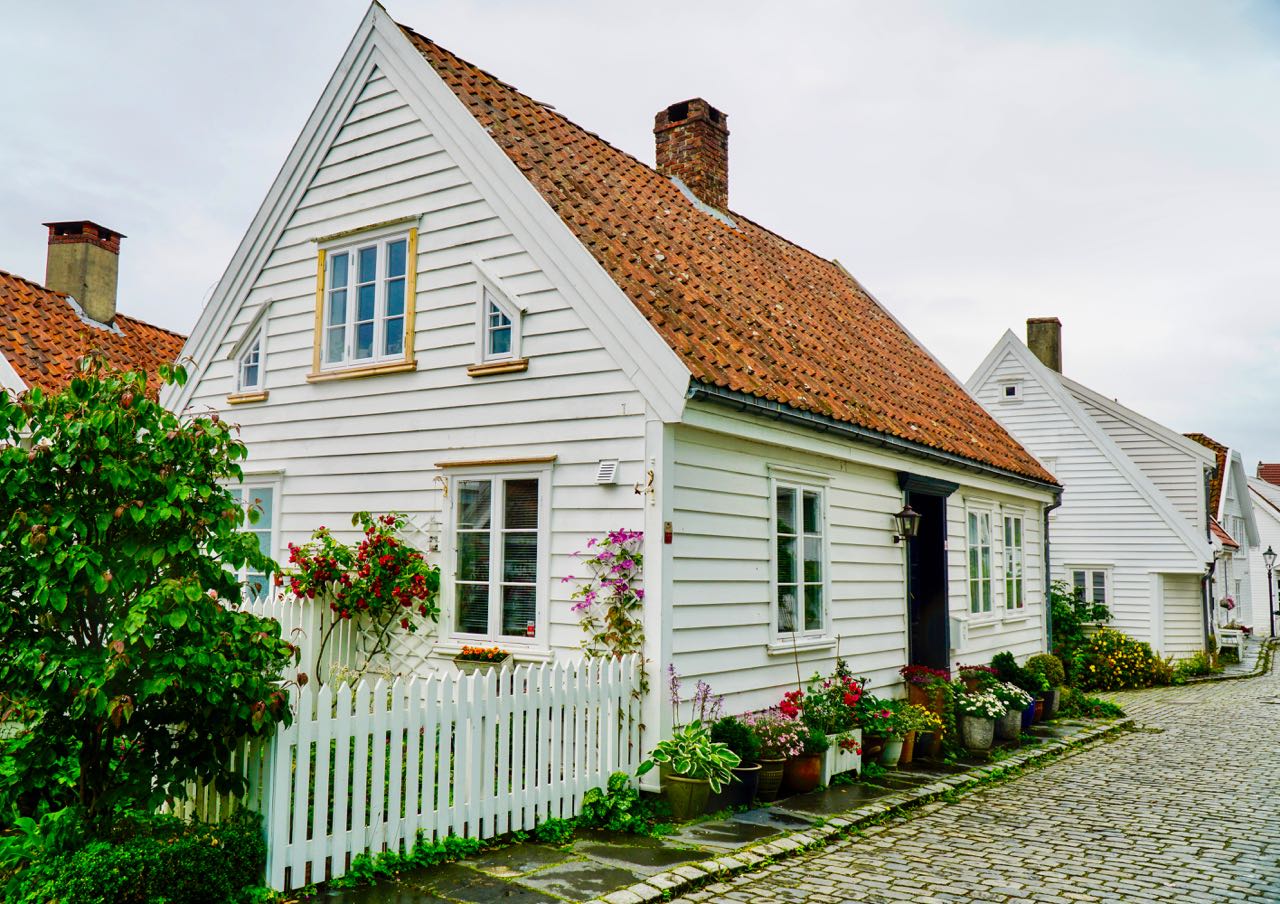 With an intensive program the day before, it was lovely to spend the evening at the very comfortable Clarion Hotel Air. The hotel was the perfect place to recharge our batteries before continuing our journey.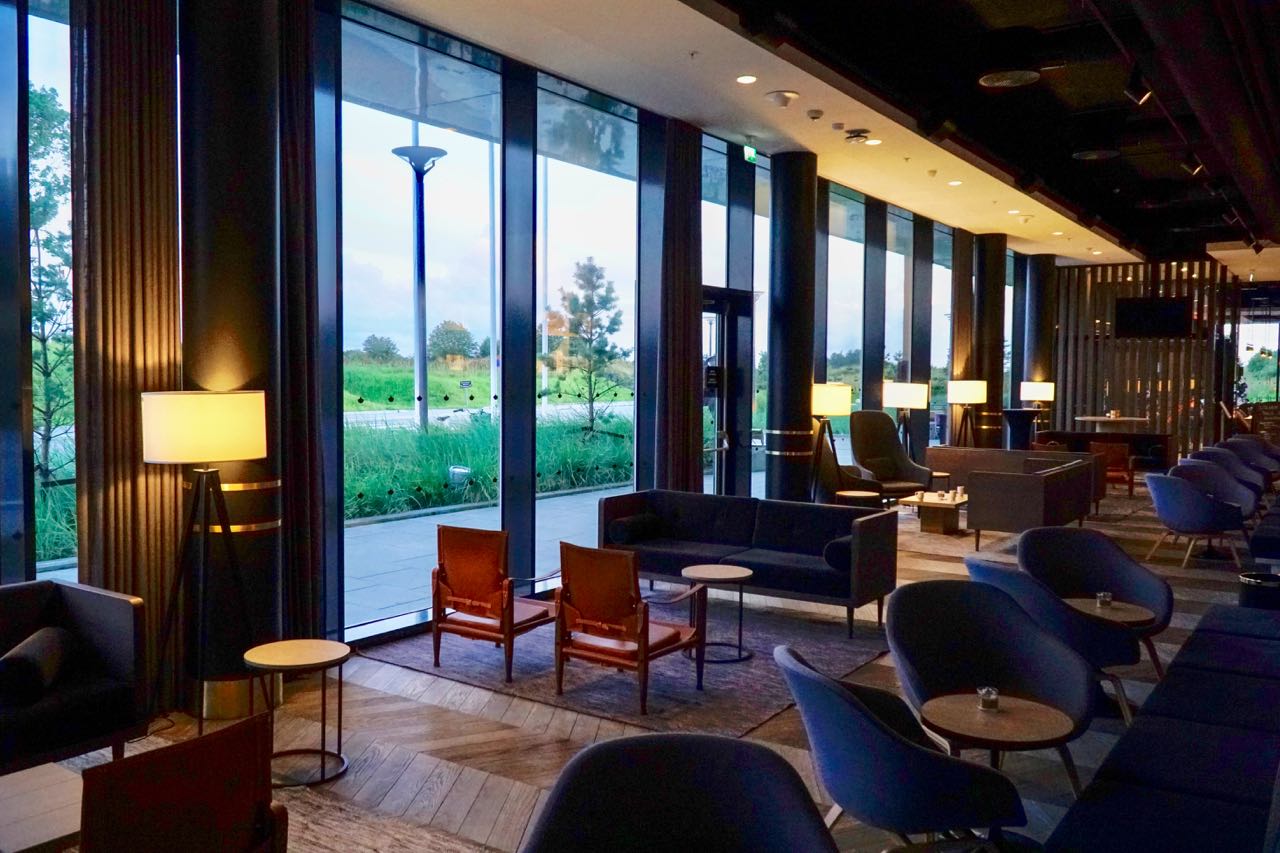 Day 5
Link to driving directions in Google Maps
The next day it was still raining, so again we had to make some changes to our plans.
Our plan A was to visit the potholes at Brufjellet. This was unfortunately not possible as the climb in the last part of the trek is dangerous during rainy weather. Instead, we went with plan B and headed to Flekkefjord, and more specifically Flekkefjordbanen (the Flekkefjord railway). Here we rented rail bikes and biked along the old railway line.
The distance between Flekkefjord and Sira (the end point) is 17 km. If you go all the way to Sira and back, you are expected to spend about three hours. We turned around half way as we were quite cold due to the rainy and brisk weather. The many tunnels along the route were extra chilly and we recommend to put on warm clothes before you head out. Additionally, you may want to bring your own headlamp as the lanterns we borrowed were not strong enough to brighten the track properly inside the tunnels.
After the rail biking, we searched for a place to warm up and have a cup of coffee. Luckily, we found Tollboden Bakeri at the port in Flekkefjord, and treated ourselves to some great tasting pastries. The stone-baked pizza also looked very tempting, but as we had other dinner plans we had to pass on the pizza.
We had booked a room at The Bølgen og Moi Hotel Utsikten for the night. The hotel has a good location in Kvinesdal and magnificent views. The rooms were perfectly fine, although the food we had in the restaurant unfortunately was rather disappointing. We therefore recommend that you have the pizza at Tollboden Bakeri instead.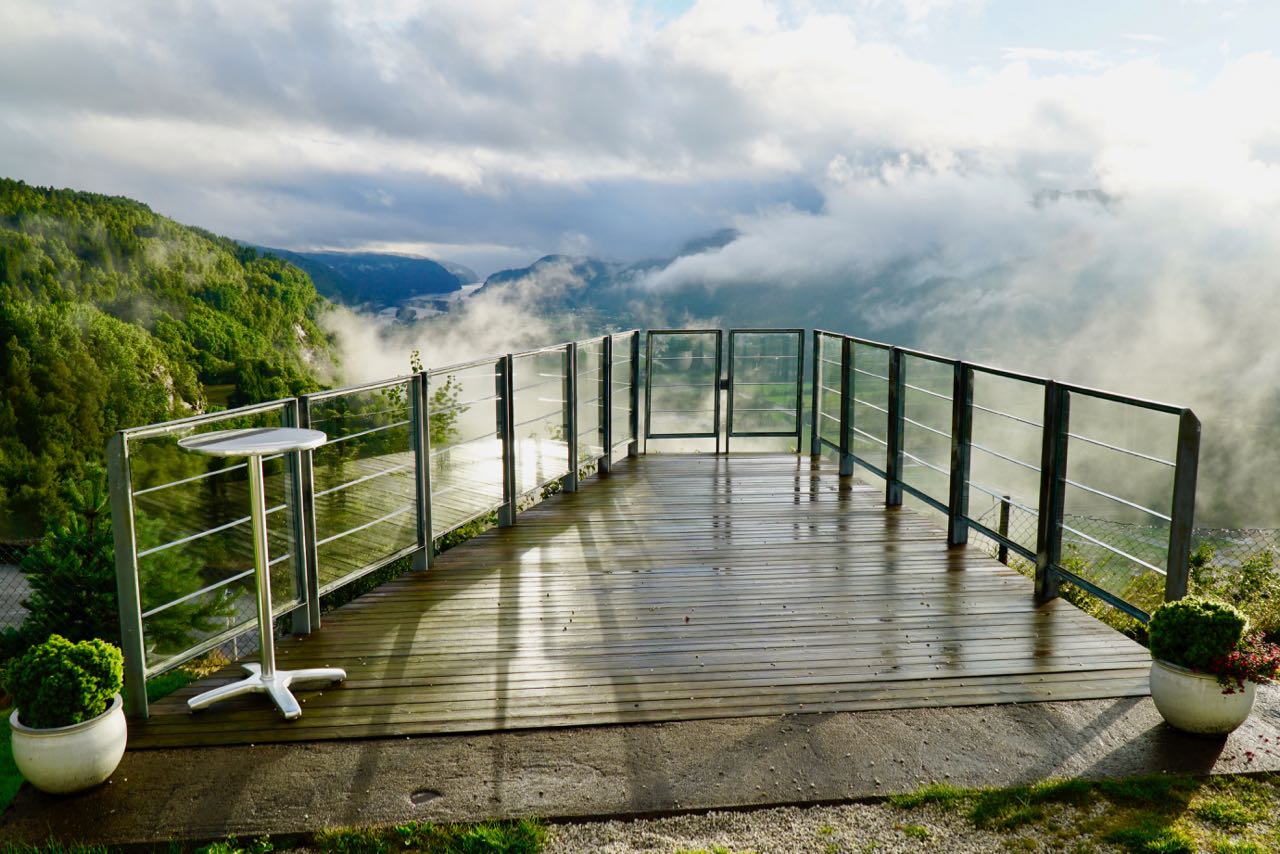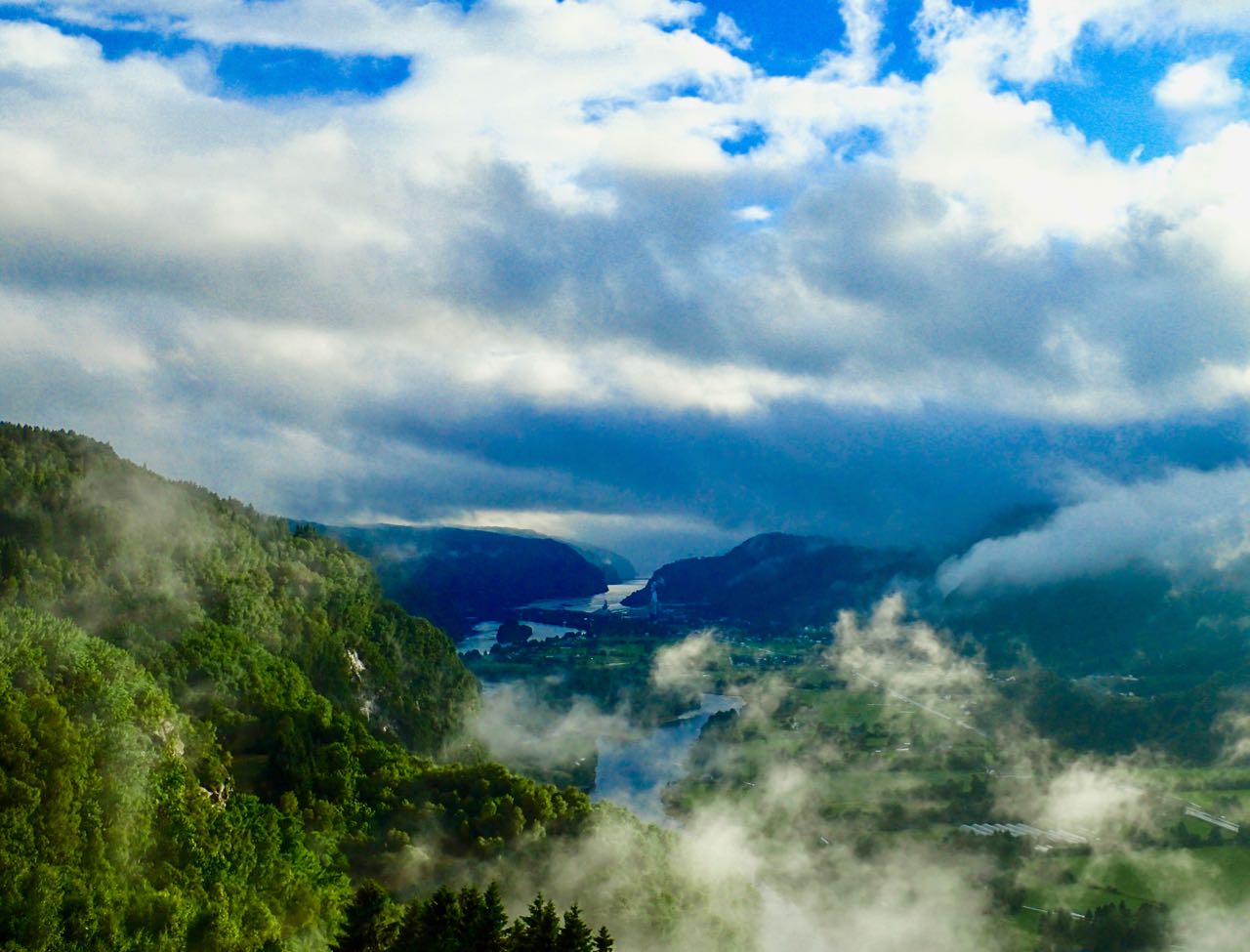 Link to Flekkefjordbanen – Rail bike rental
Link to The Bølgen og Moi Hotel Utsikten
Link to Visit Norway – The potholes at Brufjellet
Day 6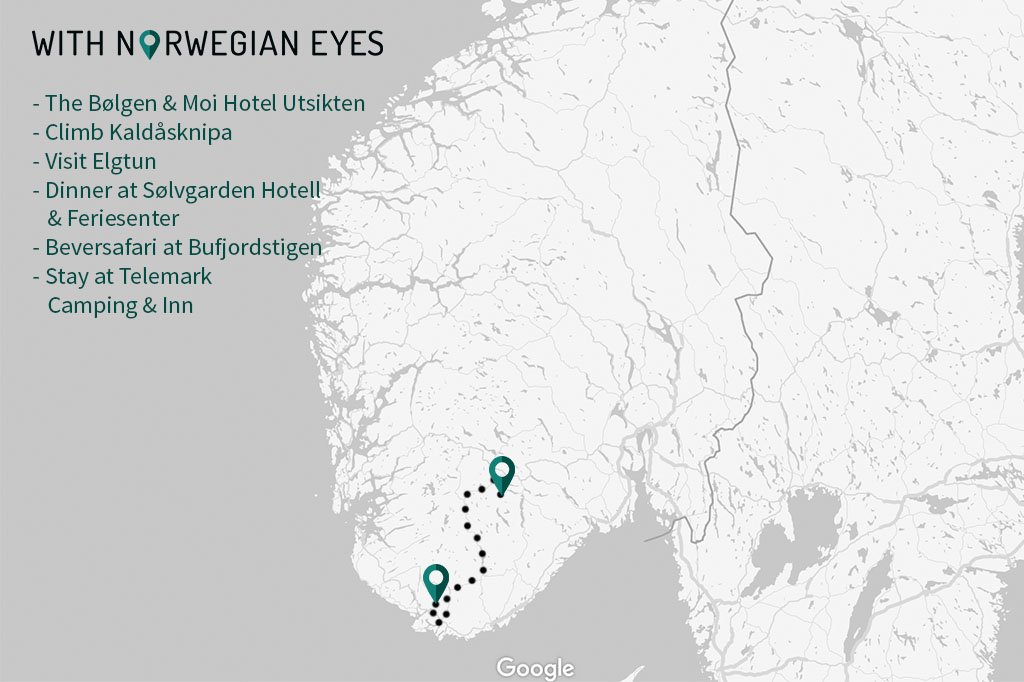 Link to driving directions in Google Maps
Kaldåsknipa is the highest point in Lyngdal at 504 meters above sea level. We still had some energy to burn off, despite the rail biking the day before, and therefore decided to go hiking. From the parking lot at Kaldåsknipa, the hike to the top is about two kilometers, and the difference in altitude is about 200 meters. The trail is a gravel road that is easy to follow. This was helpful as the weather was gray and foggy, and the visibility at times was poor. Because of the weather, we did not get the best views at the top, but when the fog lifted we got a glimpse of the impressive panorama. Despite the fog, we had a great hike to Kaldåsknipa.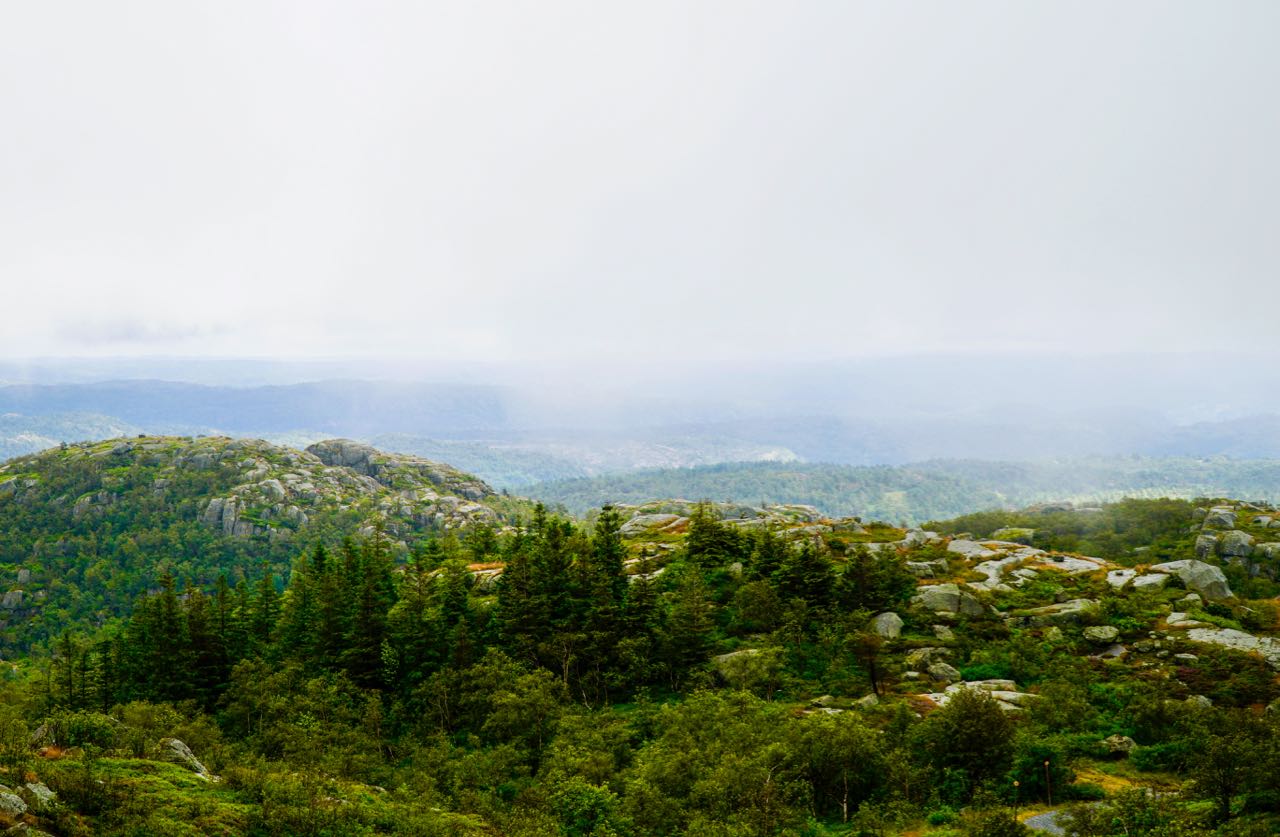 The next activity was something we had been looking forward to for a long time, and we were therefore very excited when we arrived at Elgtun in Bygland after two hours of driving. Elgtun really managed to exceed all our expectations!
The visit at Elgtun had worked up our appetite, and we were really hungry as we sat down by the table at Sølvgarden Hotell & Feriesenter. Sølvgarden is conveniently located along the road, but is far from an average truck stop. We were pleasantly surprised by the stylish interior and the tempting menu with its focus on Norwegian food. The lamb with onion sauce and root vegetables tasted delicious, and we could not have been more pleased with our meal.
After arriving at Dalen in the evening, we headed out on a new adventure – a beaver safari!
Dalen has a rich beaver population, and we were excited to see if we would meet the cute builders. The chance of seeing the beavers is best at dusk, and we therefore set out as it began to darken. Bufjordstigen is a marked hiking trail in Dalen, with good chances of spotting beavers. After following this trail for less than five minutes, we got lucky. One beaver crossed the trail in front of us, while another was bathing and swimming. We observed the swimmer for quite a while before he dived down and disappeared. This was really the perfect way to end an already wonderful day!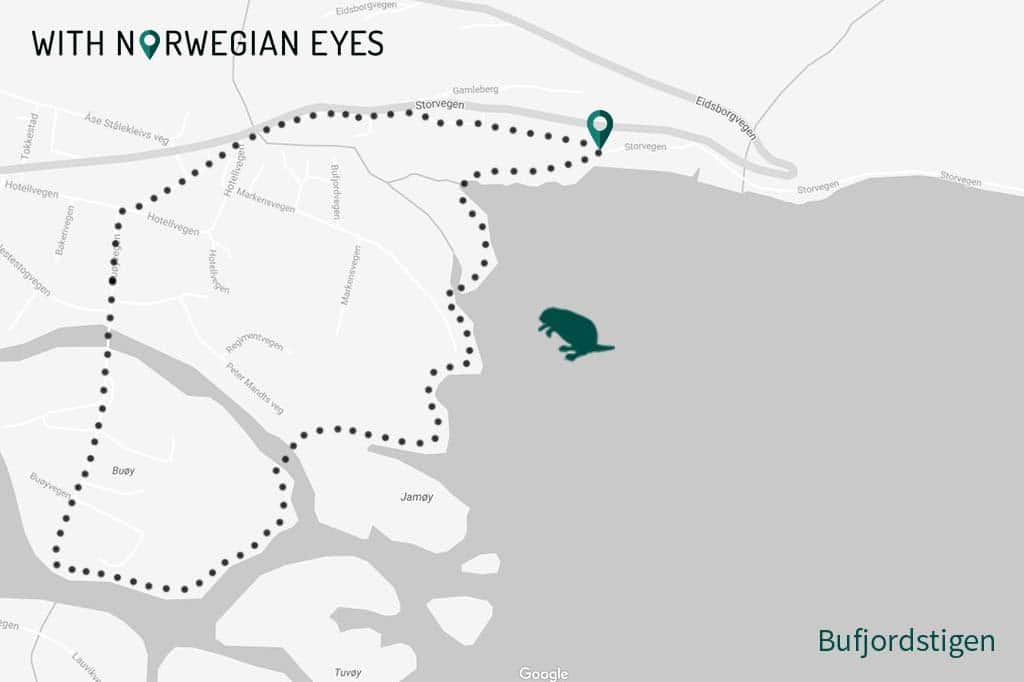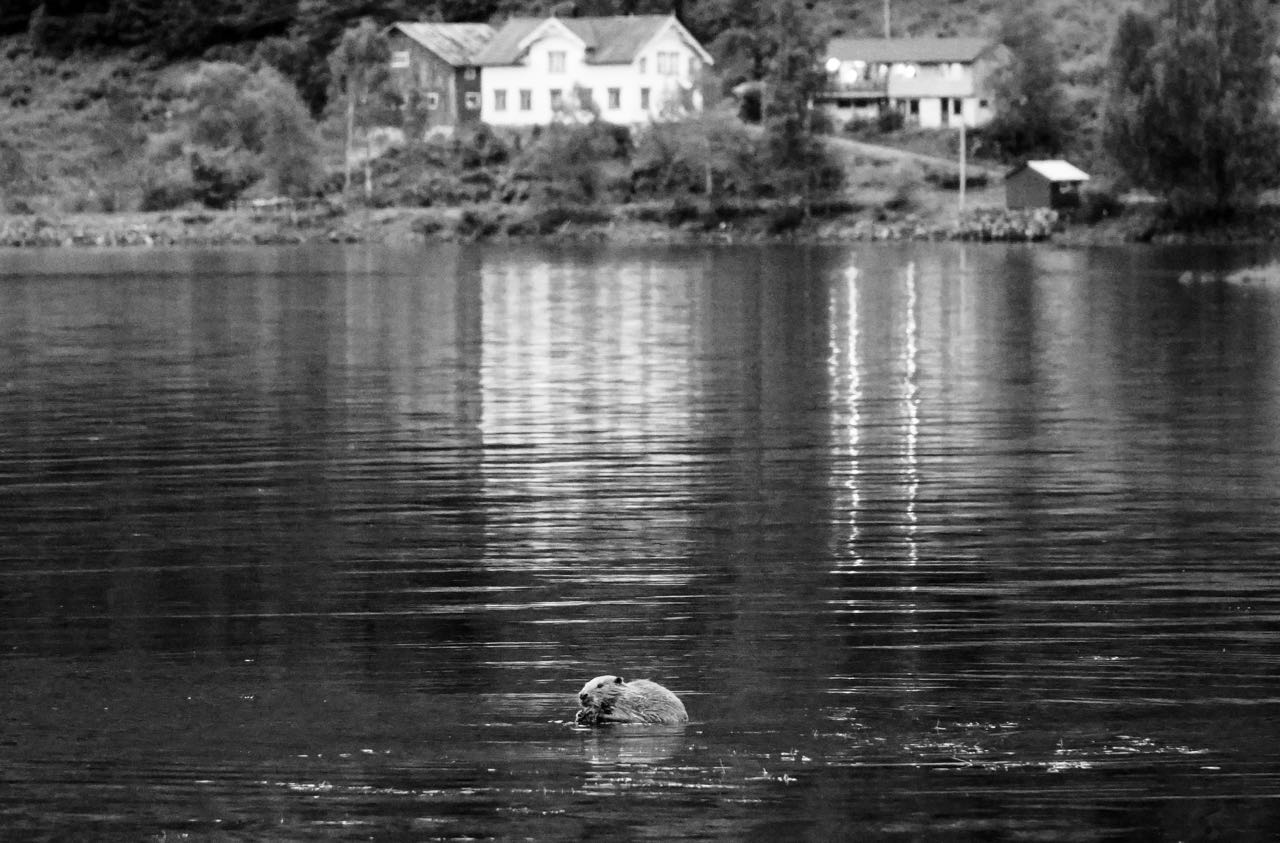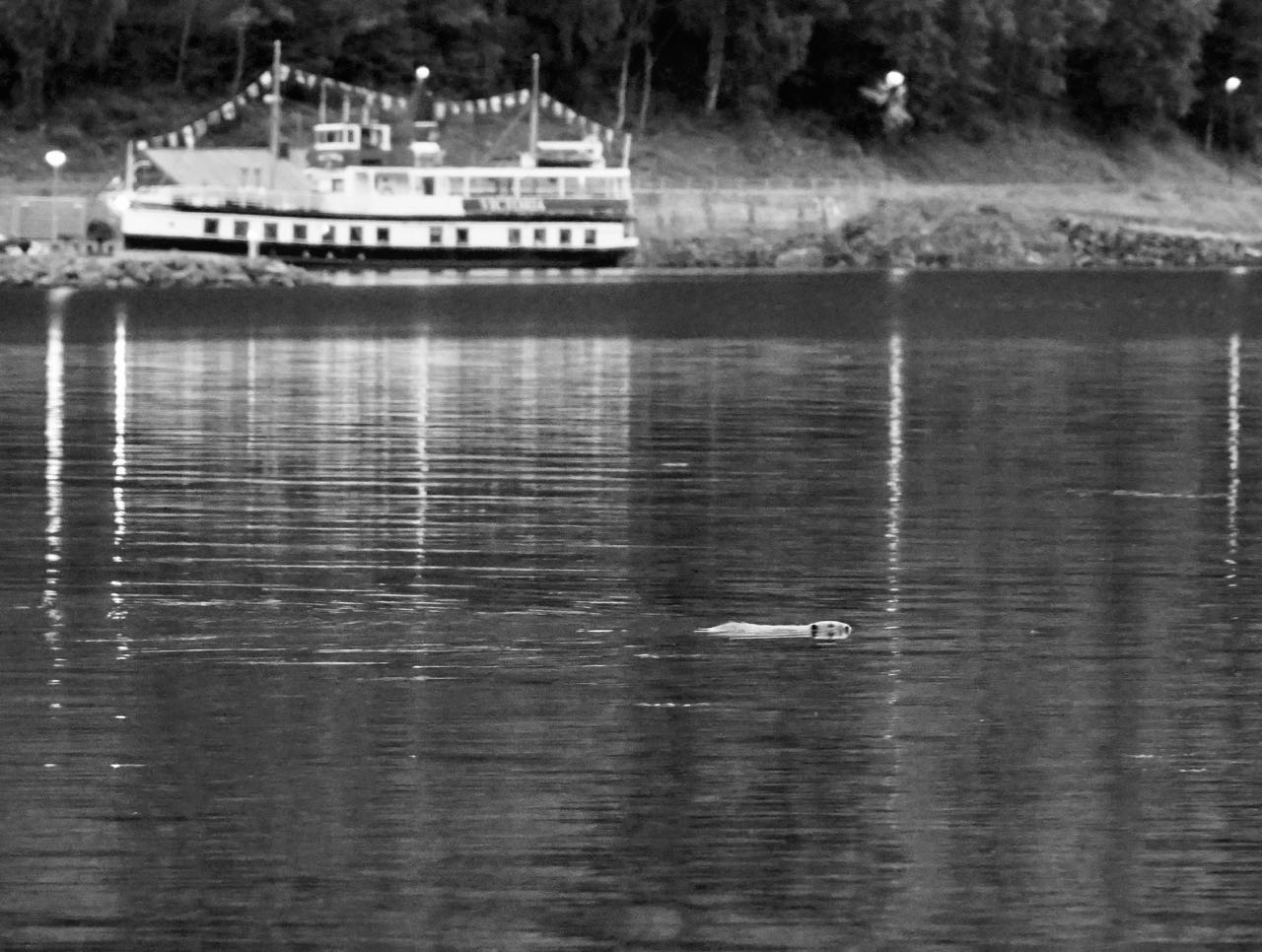 For the night we headed to Telemark Camping & Inn in Hauggrend. It would have been more convenient to stay in Dalen, but unfortunately, all the rooms here were sold out when we booked our vacation. Telemark Camping & Inn was, however, a cozy place with very kind owners.
Link to Sølvgården Hotell & Feriesenter
Link to Visit Telemark – Bufjordstigen
Link to Telemark Camping & Inn
Day 7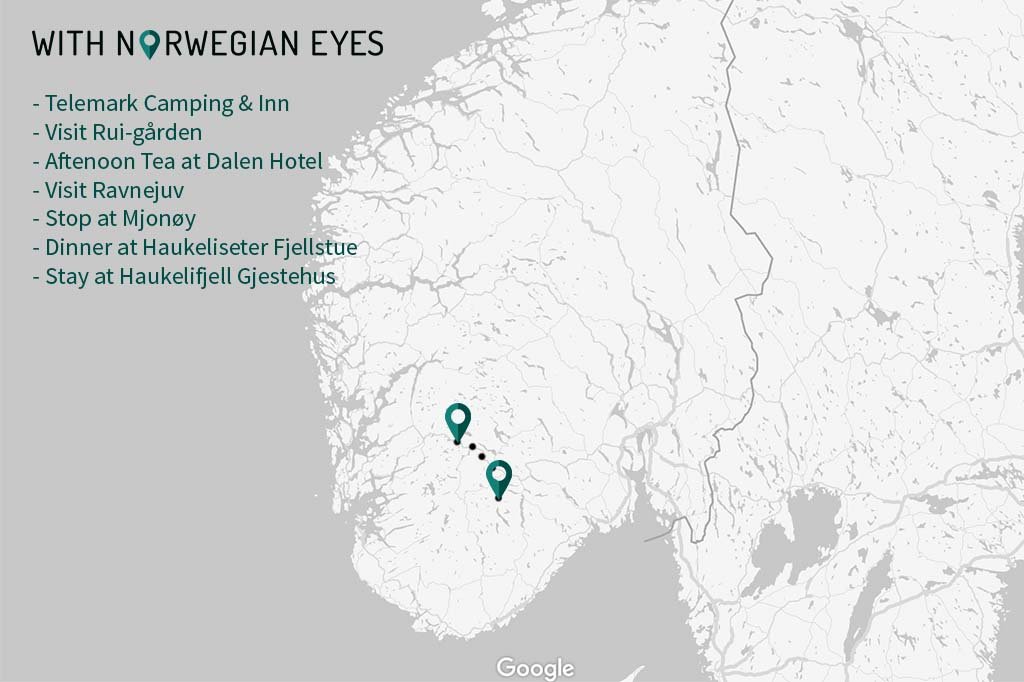 Link to driving directions in Google Maps
We started day seven of our road trip with a memorable visit to the historic Rui farm.
All the climbing had made us thirsty, and it was perfect to have Afternoon Tea at Dalen Hotel after the hike. Dalen Hotel is a well-known hotel in Norway with a history dating back to 1894. It was very interesting to wander around inside the hotel and soak up the special ambience.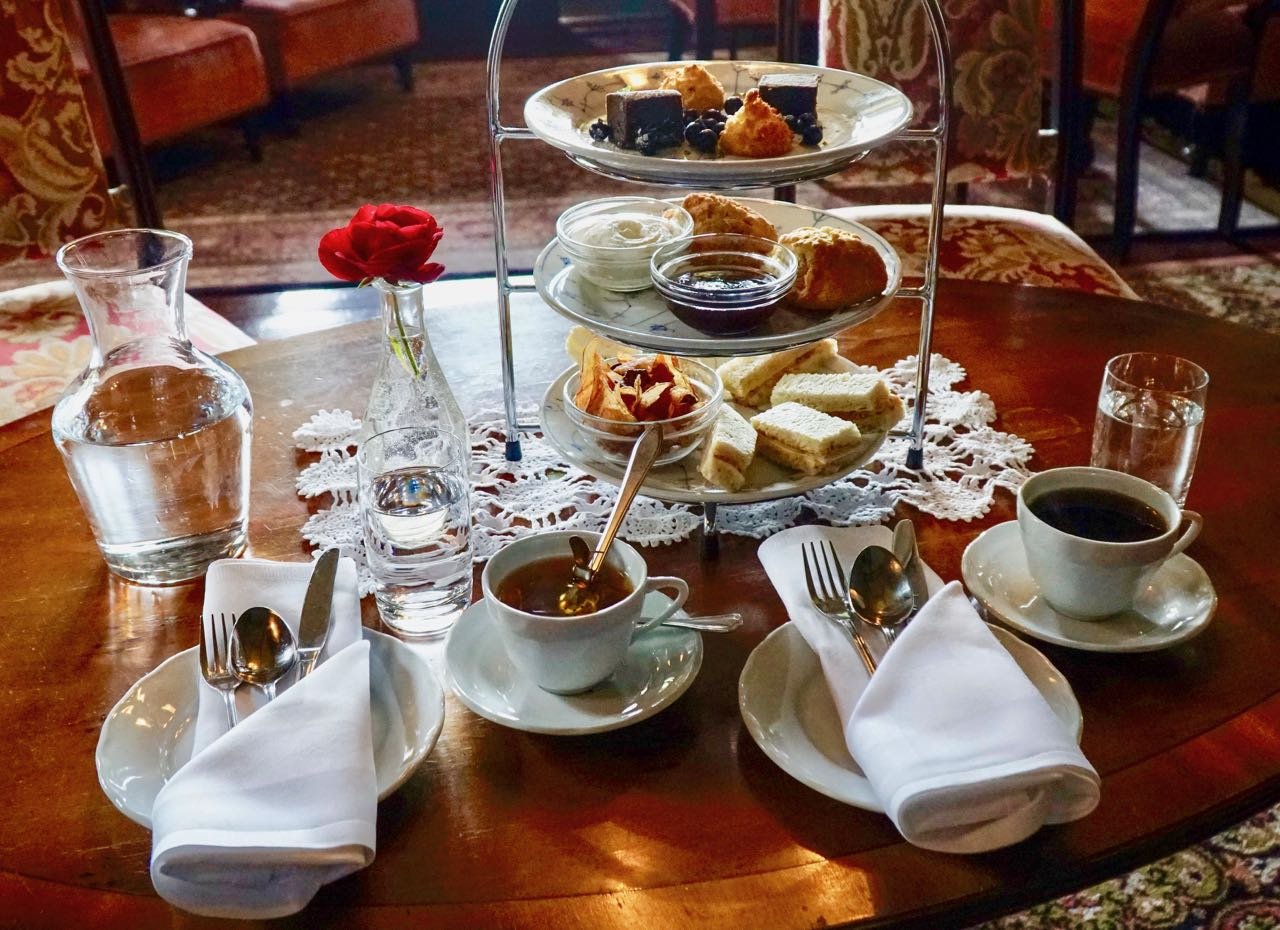 Dalen Hotel was originally built as a luxury hotel to accommodate prominent guests. An excursion many of the guests attended back in the days, was a trip to Ravnejuv (Raven gorge). As Ravnejuv is only 20 minutes by car from Dalen, we headed the same way. It was a five minute walk to get to the gorge from the parking lot. Ravnejuv is a gorge with a steep drop of 350 meters. What is special with the gorge is that is has an airflow going upwards. Of course, we had to test the natural forces and threw a piece of paper off the edge. Despite many attempts to throw the paper downwards, we never got rid of it – the paper came back up every single time!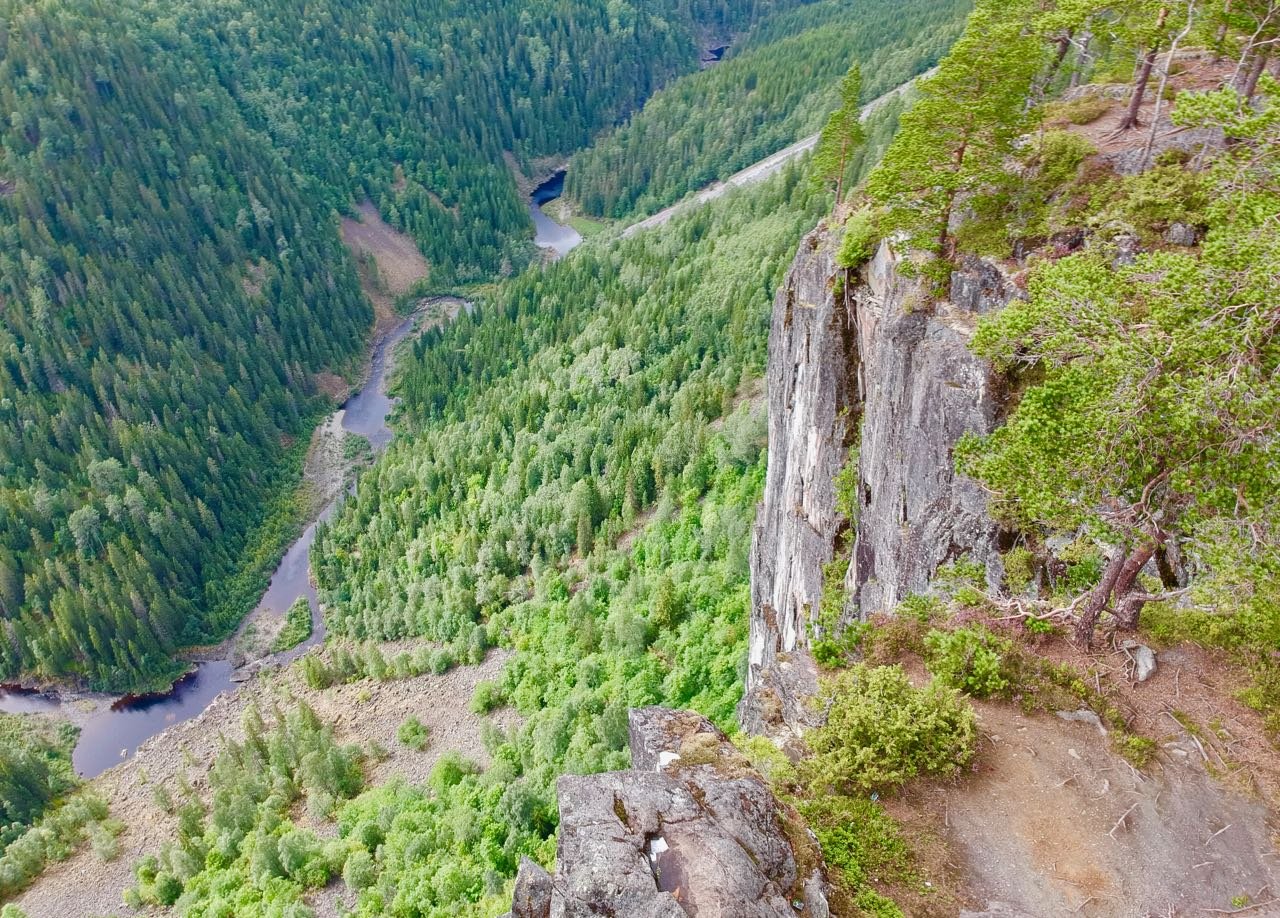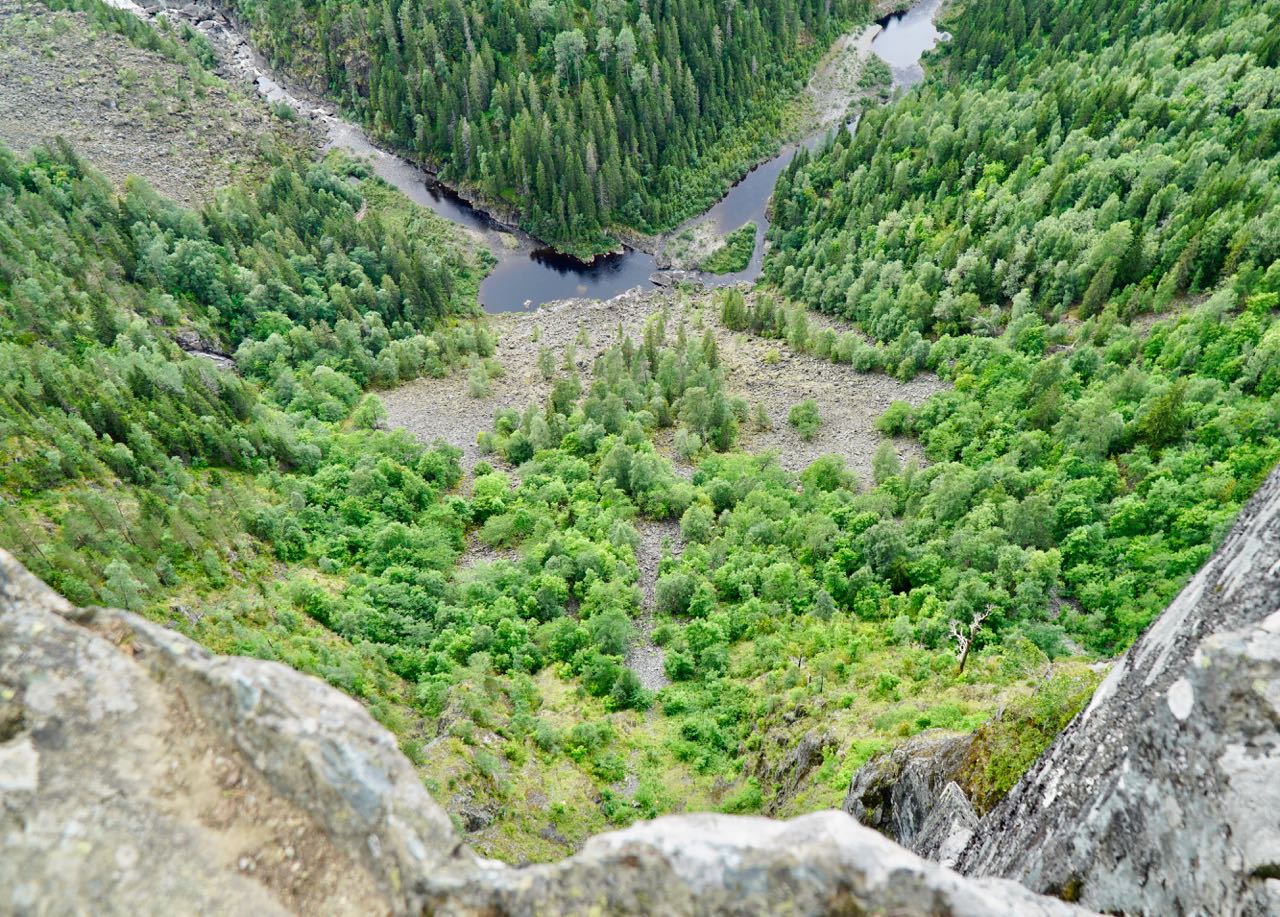 As we headed further on our way to Haukelifjell Gjestehus (Haukelifjell Guesthouse) we suddenly saw an idyllic place along the road. This was Mjonøy with food service, accommodation and an absolutely fantastic bakery. We enjoyed the deliciously baked goods on the benches by the river. Don't miss out on the bakery at Mjonøy!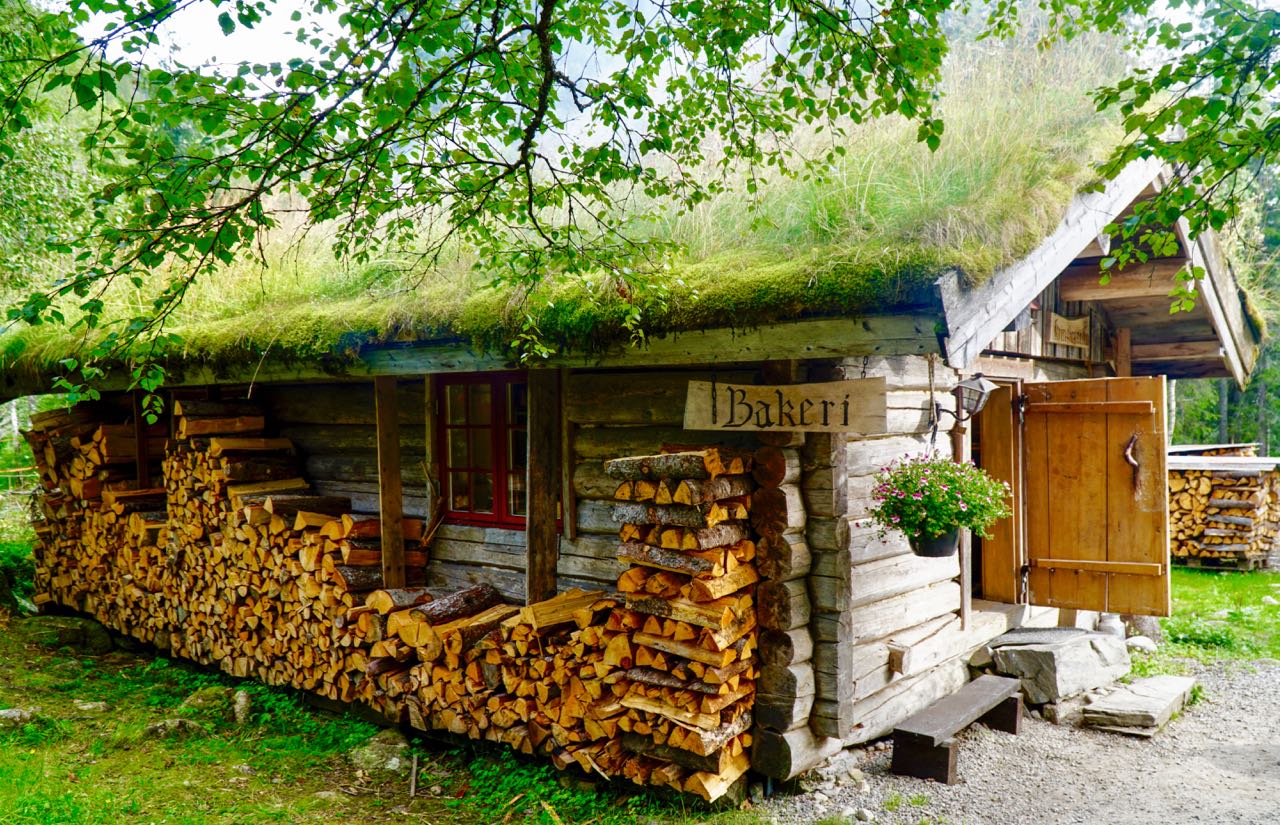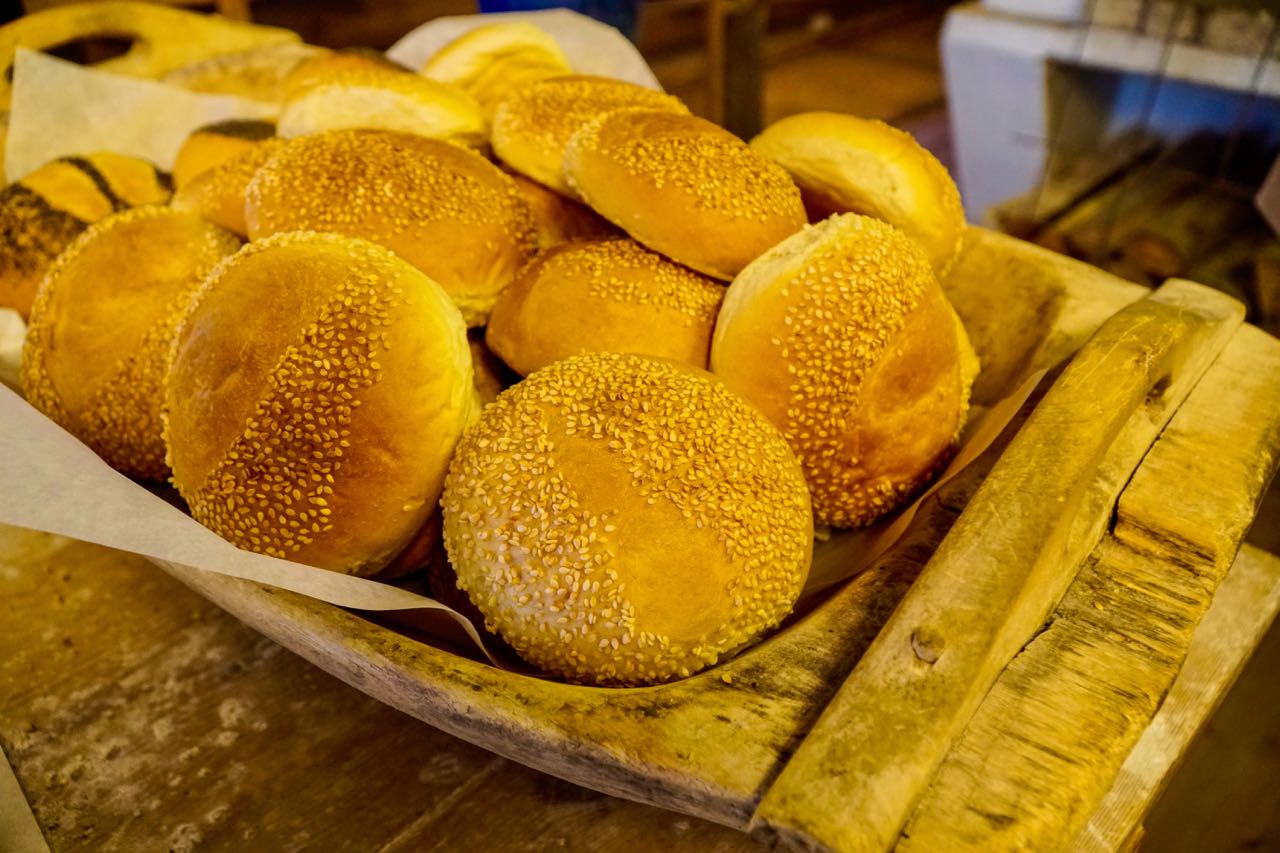 For dinner, we drove to Haukeliseter Fjellstue (Haukelister Mountain Lodge), located a 15 minutes drive from Haukelifjell Gjestehus. The food at the mountain lodge was really tasty and the surroundings were scenic.
Haukelifjell Gjestehus, our home for the night, surprised us in a very positive manner. Our room had a lovely bed, tv, wireless internet and a private bathroom. The included breakfast was also very appetizing and a great start to the next day. We would love to go back to Haukelifjell Gjestehus and see more of the fantastic surroundings at Haukelifjell!
Link to Visit Norway – Ravnejuv
Link to Haukelifjell Gjestehus
Day 8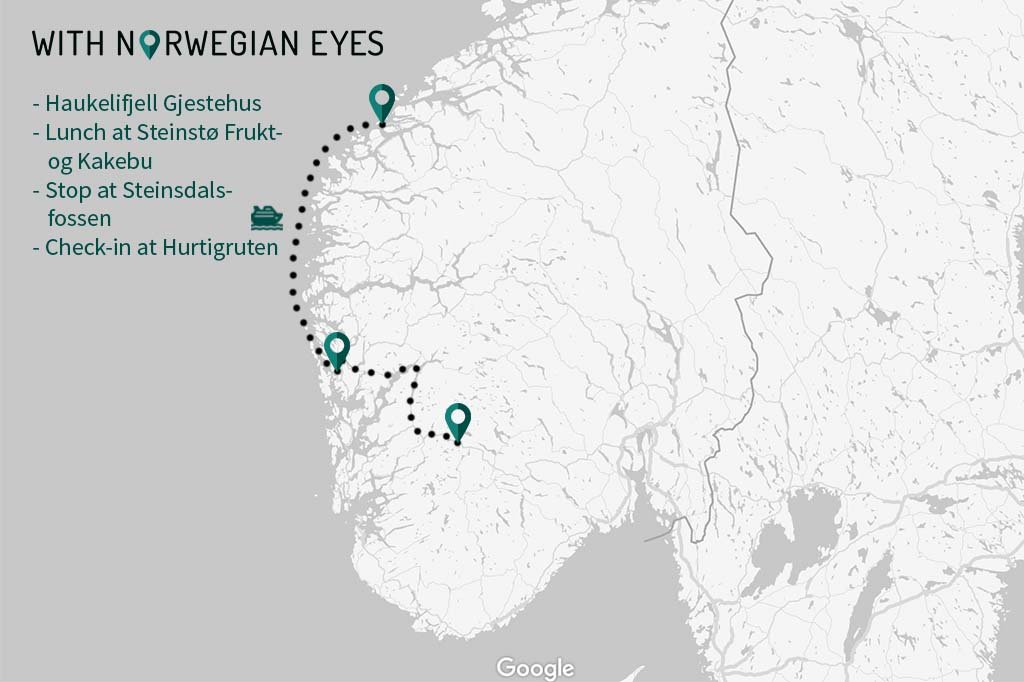 Link to driving directions in Google Maps
On day eight we set course for Bergen, with a couple of stops planned along the way. The first one being Steinstø Fruktgård (Steinstø Fruit Farm and Cafe). To get there, we took a ferry from Utne to Kvanndal, and drove for about another half an hour. Steinstø Frukt- og Kakebu is beautifully situated overlooking the Hardanger Fjord. We sat down by the windows facing the fjord and apple garden, and enjoyed the great views while we had a palatable lunch. The locally made apple juice was a perfect accompaniment to the tasty meal, and we enjoyed it so much that we bought several bottles. The cafe also sold fruit grown on the farm, as well as traditional Norwegian food.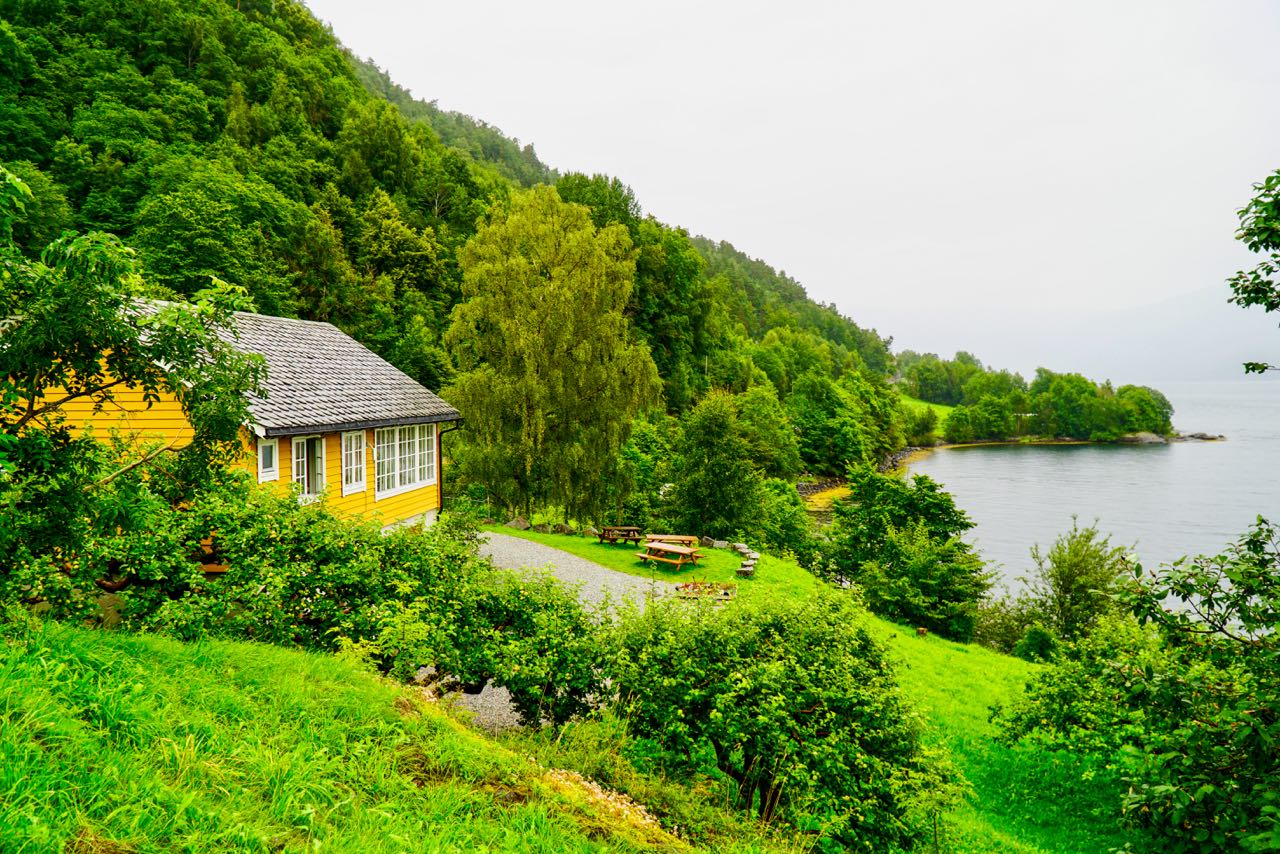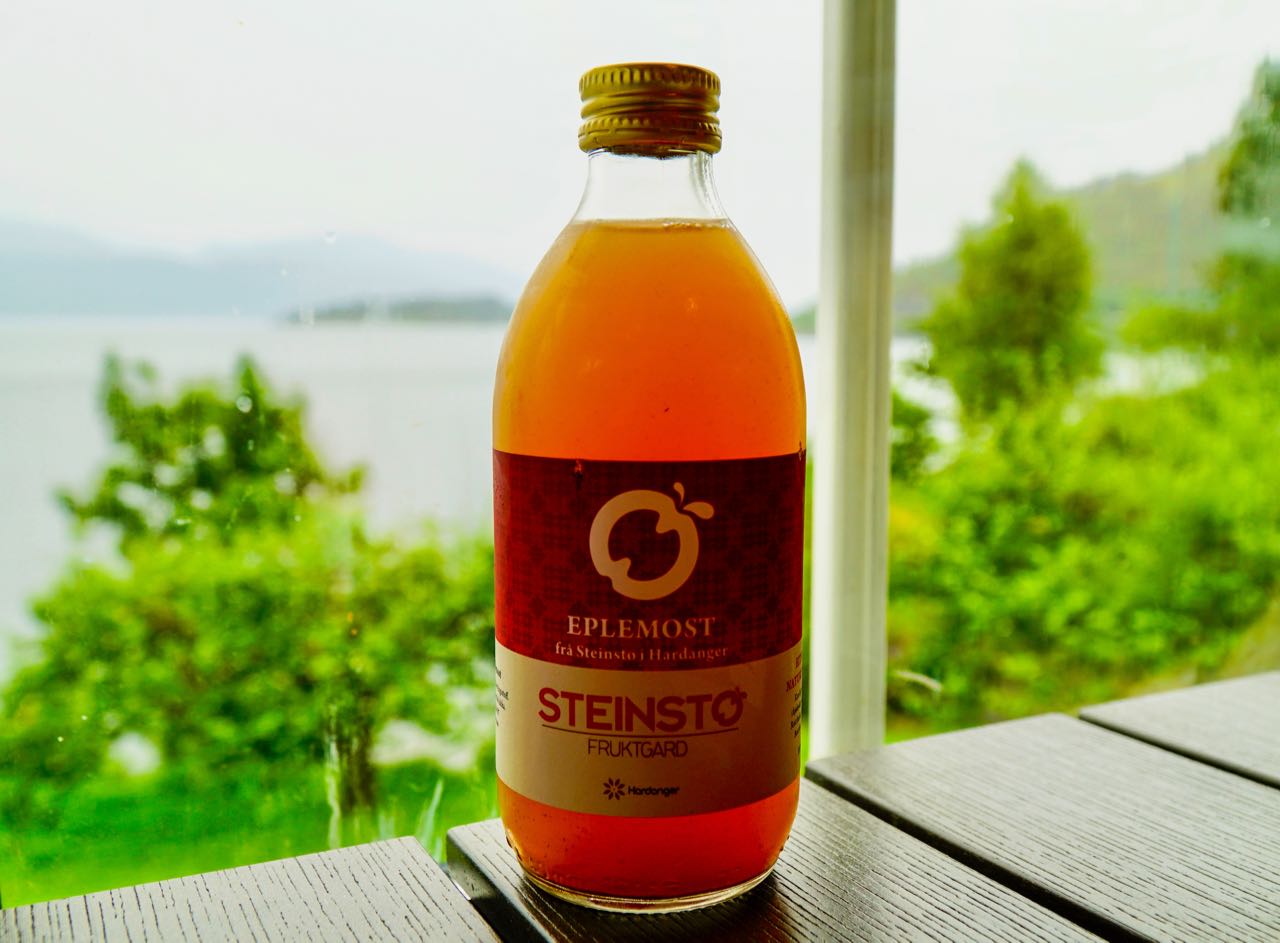 On our journey to Bergen, the next stop was at Steindalsfossen (Steindalsfossen Waterfall), which has a fall of 50 meters. What makes Steindalsfossen special, is the walkway behind the waterfall. We made a brief stop here, and it was cool to see the waterfall close up from this angle.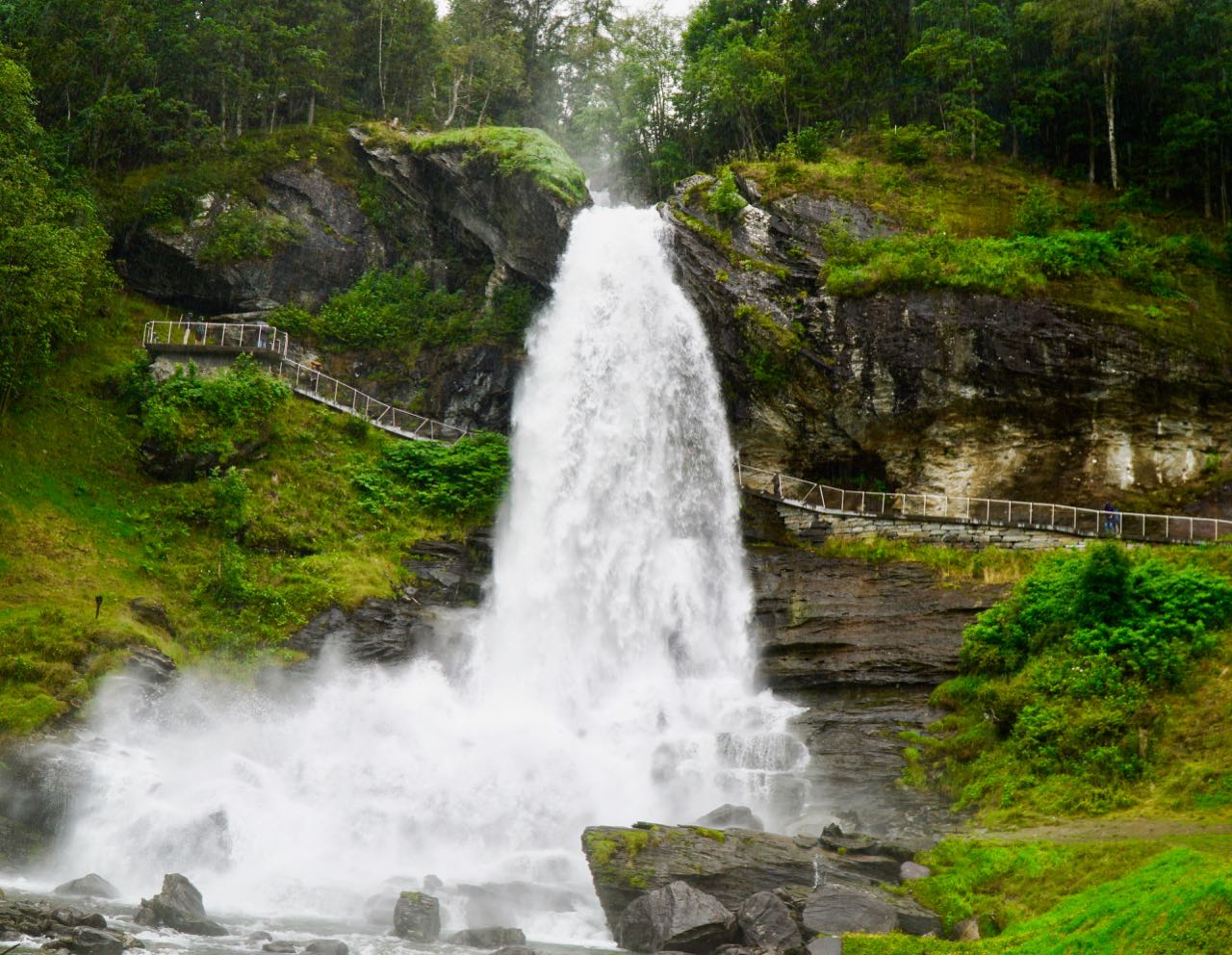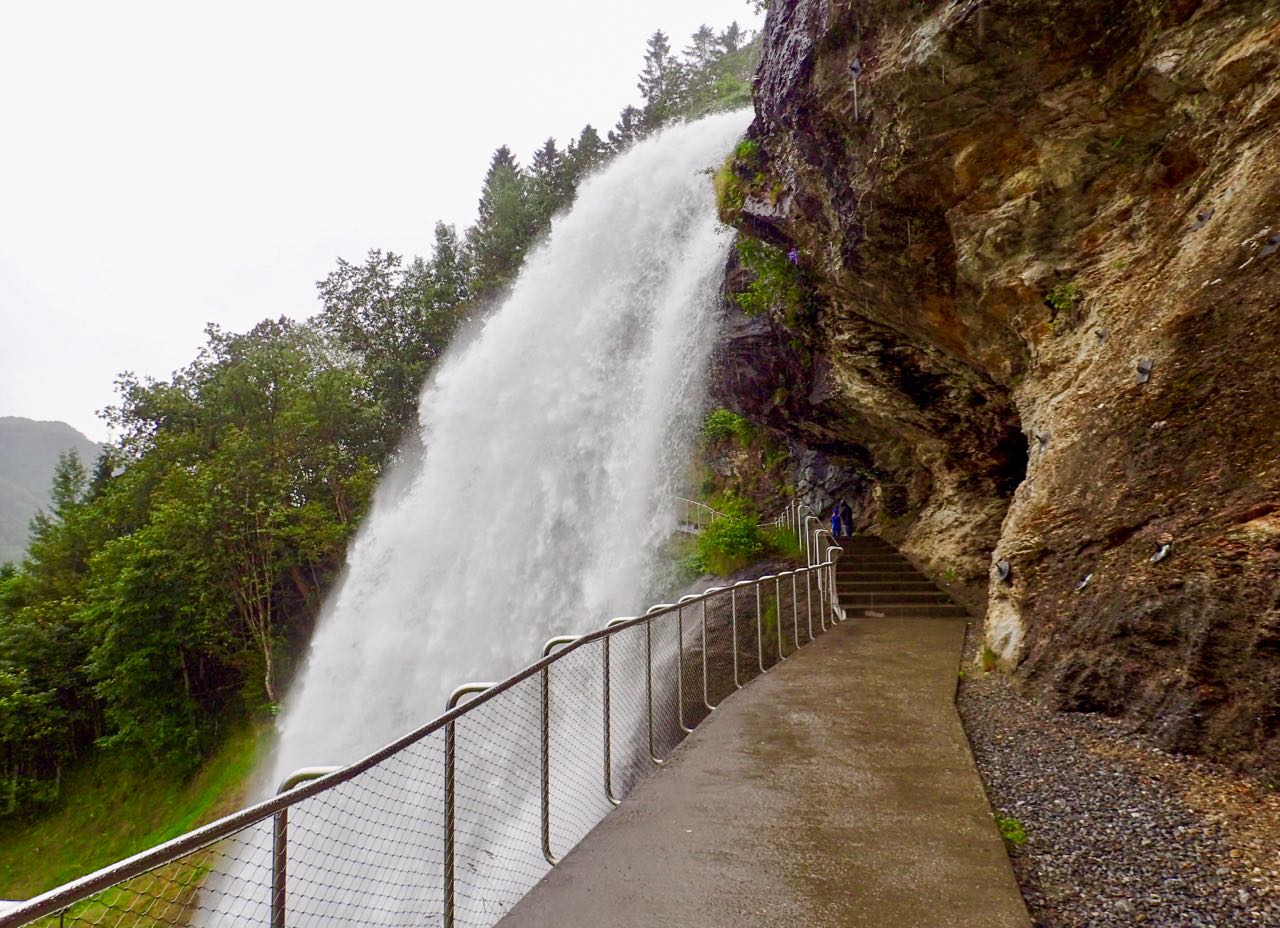 The highlight of the day was to embark Hurtigruten in Bergen. Hurtigruten is a Norwegian company established in 1893 to improve communications along the long Norwegian coast. Today Hurtigruten offers a variety of cruises in Norway, as well as other places around the world. It should be noted that the ships are quite different from normal cruise ships, as they are smaller and still being used to ship mail and other cargo.
We were traveling with Hurtigruten from Bergen to Ålesund, and the majestic Geirangerfjord was the main attraction on our cruise. Check-in at the ship was a breeze, and both we and the car got on board safely. The ship we traveled with was named MS Polarlys, and we had a wonderful outward facing cabin. We left Bergen in glorious sunshine and enjoyed the picturesque views of Bergen as we left the city.
Our dinner at Hurtigruten was a buffet based on local produce. The food was very tasty, and included traditional Norwegian dishes. The adventurous diners could sample the famous "Smalahove" – a dish made from a sheep's head. Onboard the ship were various cafes and restaurants, a bar, fitness room and outdoor jacuzzis. We loved the jacuzzi and had a wonderful evening out on the deck.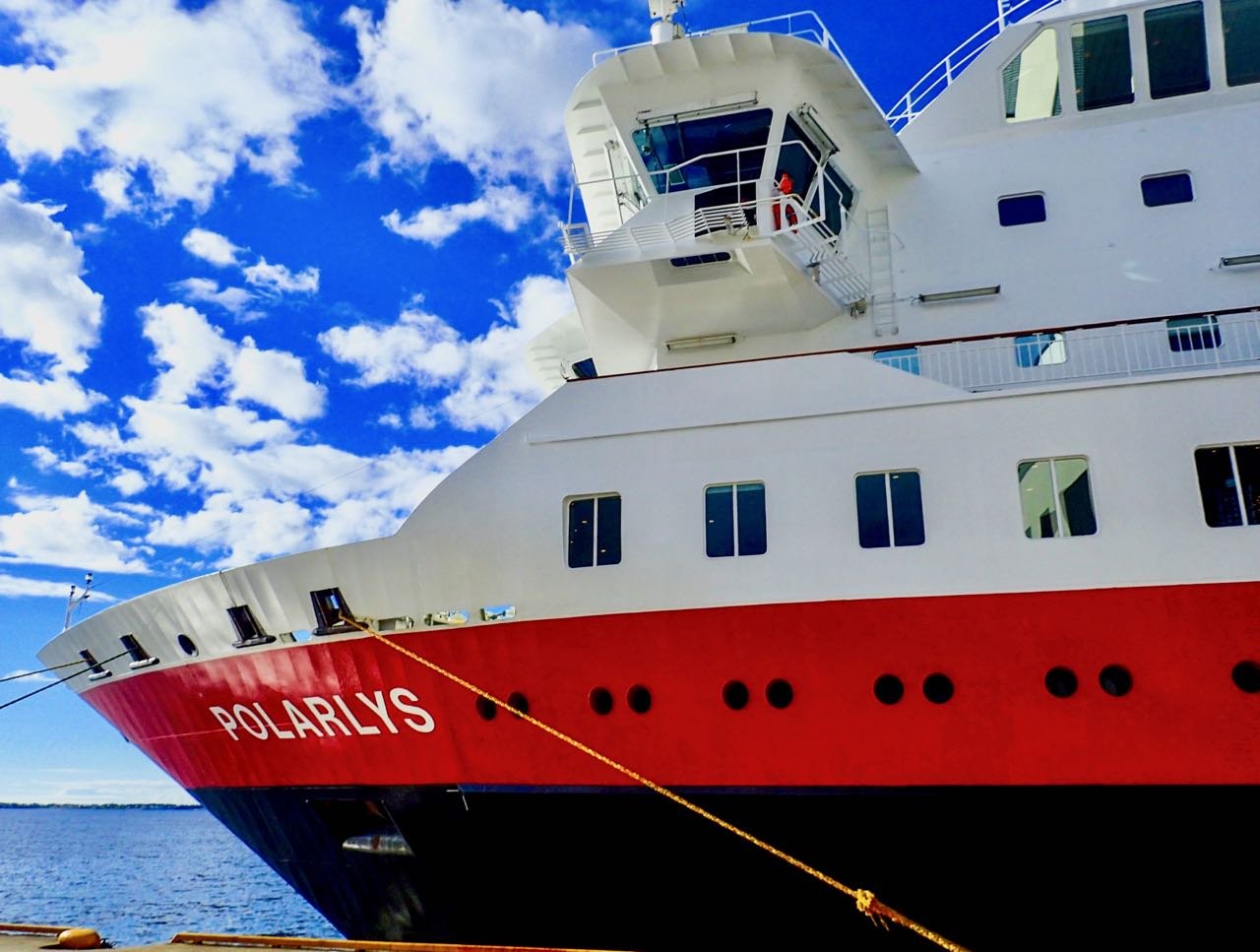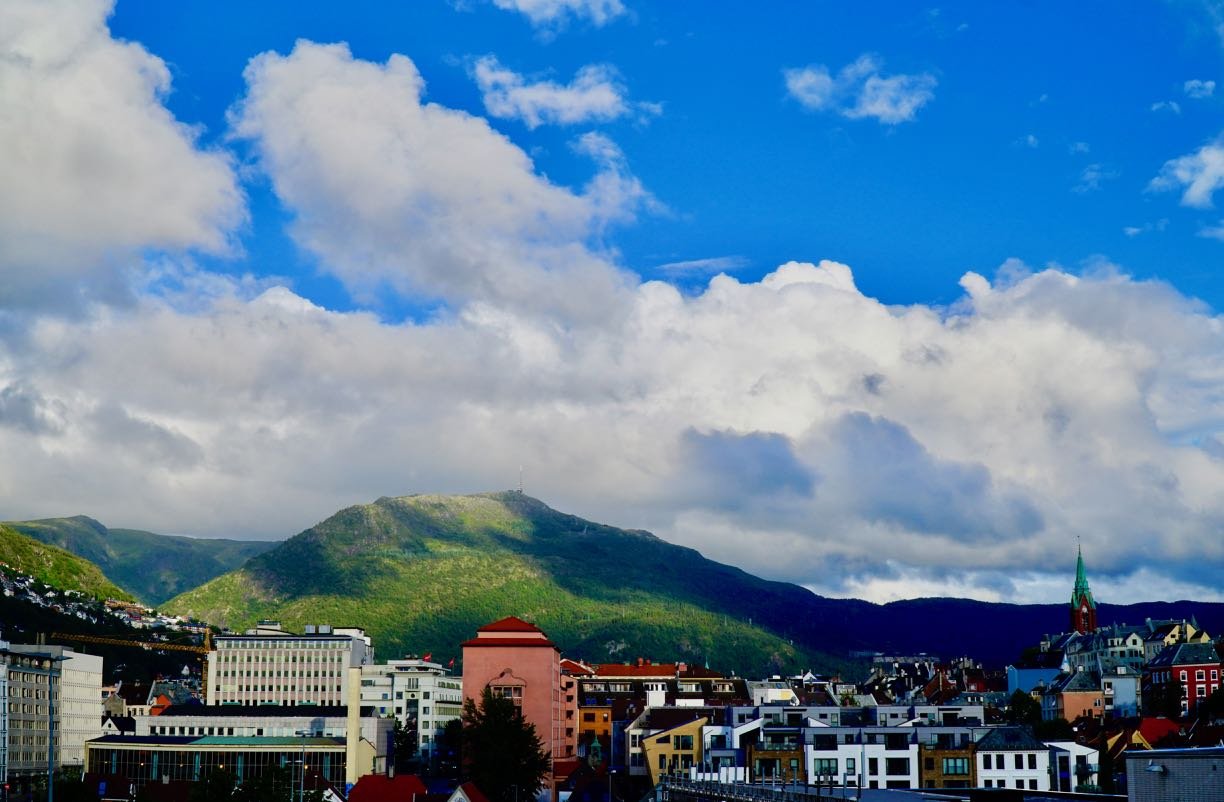 Link to Norled – Utne-Kvanndal ferry schedule
Link to Steinstø Frukt- og Kakebu
Link to Visit Norway – Steindalsfossen
Day 9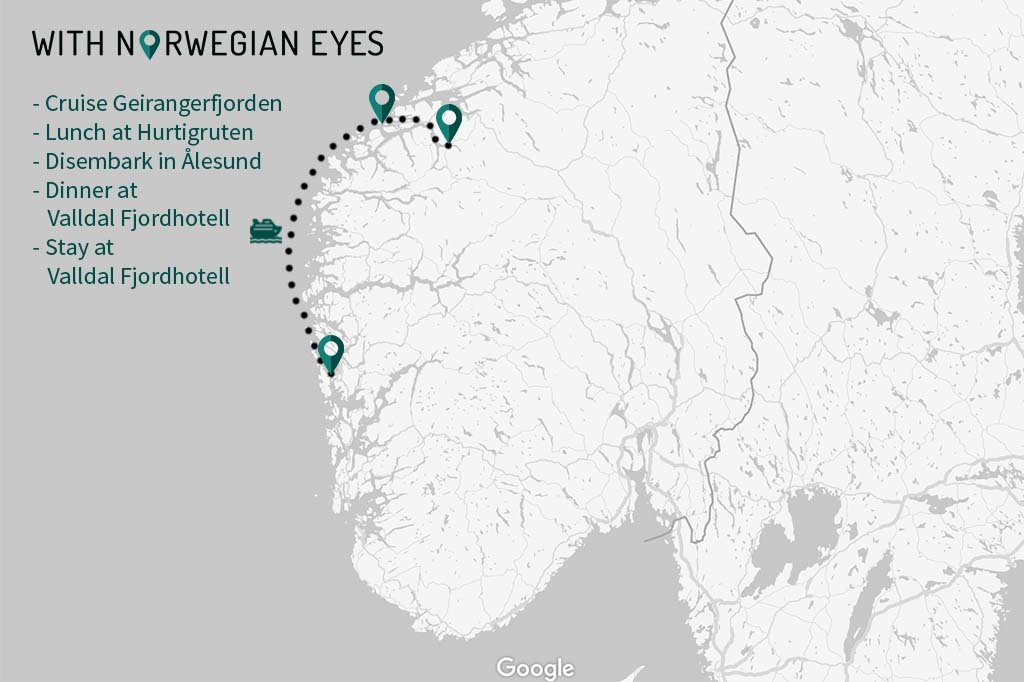 Link to driving directions in Google Maps
Geirangerfjorden is arguably one of the most beautiful fjords on the planet. We enjoyed the breathtaking scenery from the deck on Hurtigruten, and had a superb day sailing. If you have the time, we strongly recommend doing a longer cruise.
After twenty-something hours on Hurtigruten, we were sad to say goodbye to MS Polarlys in Ålesund. We had a great cruise, and are already planning a longer journey with Hurtigruten in the future.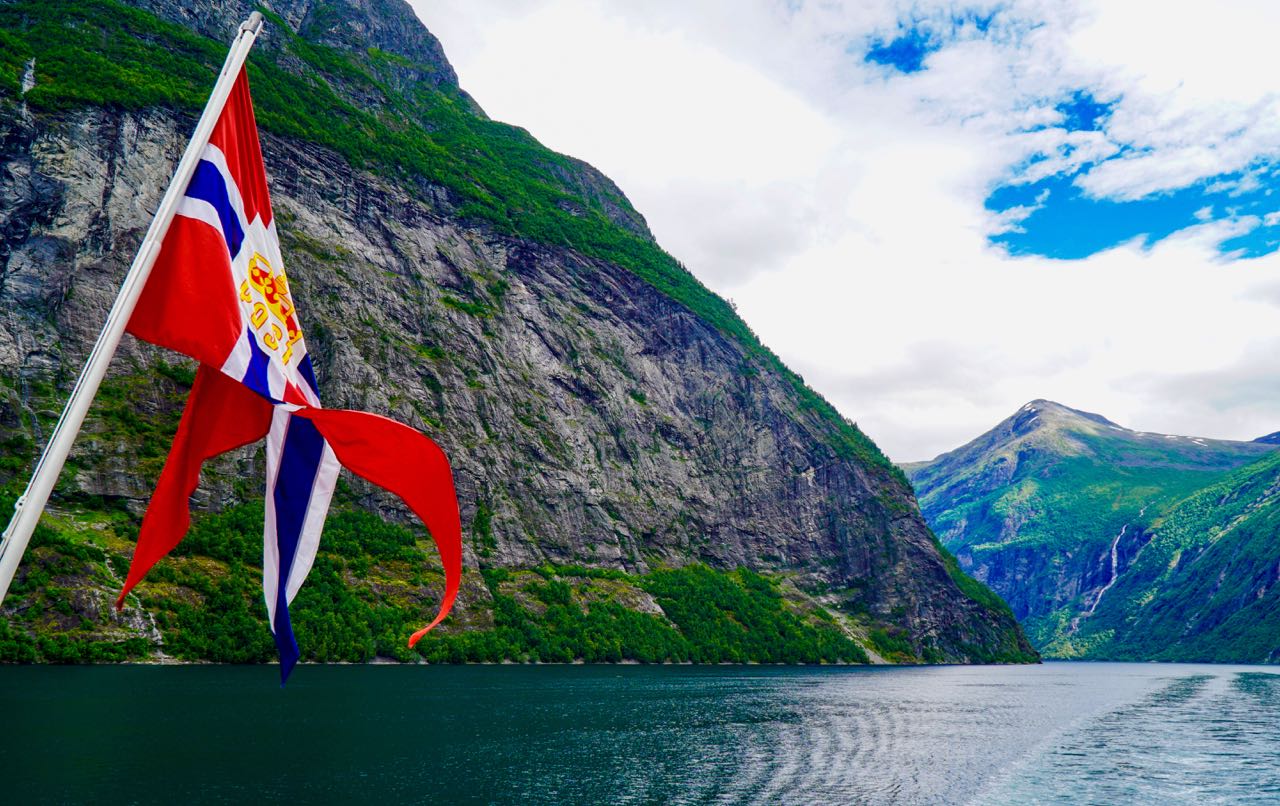 We spent the rest of the evening and night in Valldal, at gorgeous Valldal Fjordhotell.
Day 10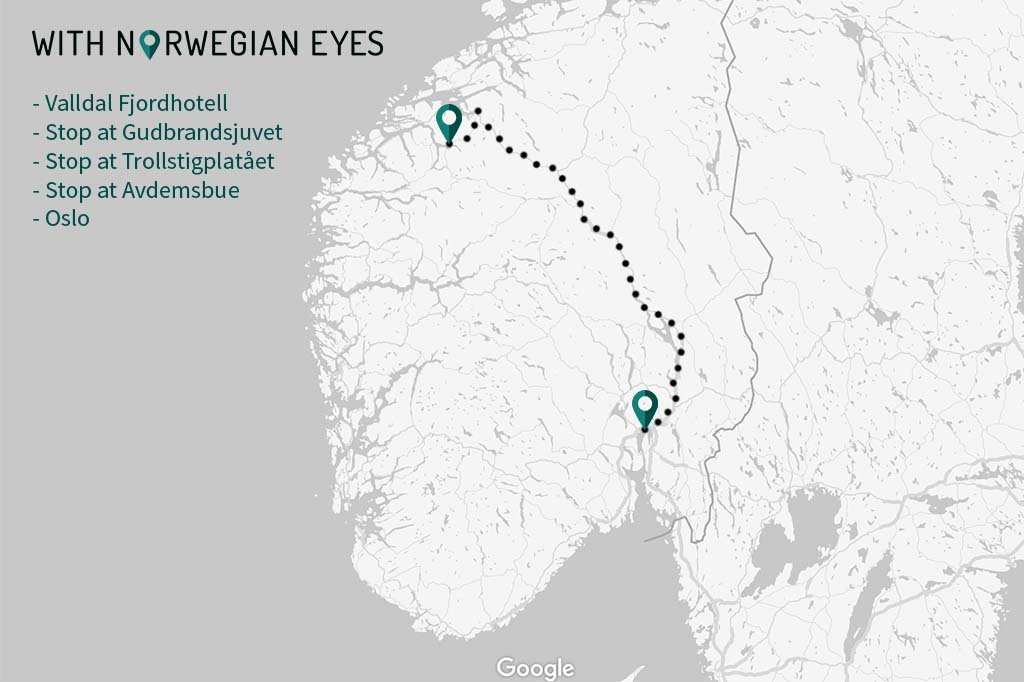 Link to driving directions in Google Maps
Day ten was sadly the last day of our road trip. With the car full of locally bought strawberries from Valldal, we drove to Gudbrandsjuvet gorge. The facilities at Gudbrandsjuvet is well suited for everyone to observe the roaring masses of water in the ravine of the Valldøla river. Among the facilities are parking spaces, walkways and viewpoints, toilets and a restaurant. The latter was unfortunately not open when we visited in 2017, but will be opening again in 2018. Gudbrandsjuvet gorge is a dramatic spectacle not to be missed.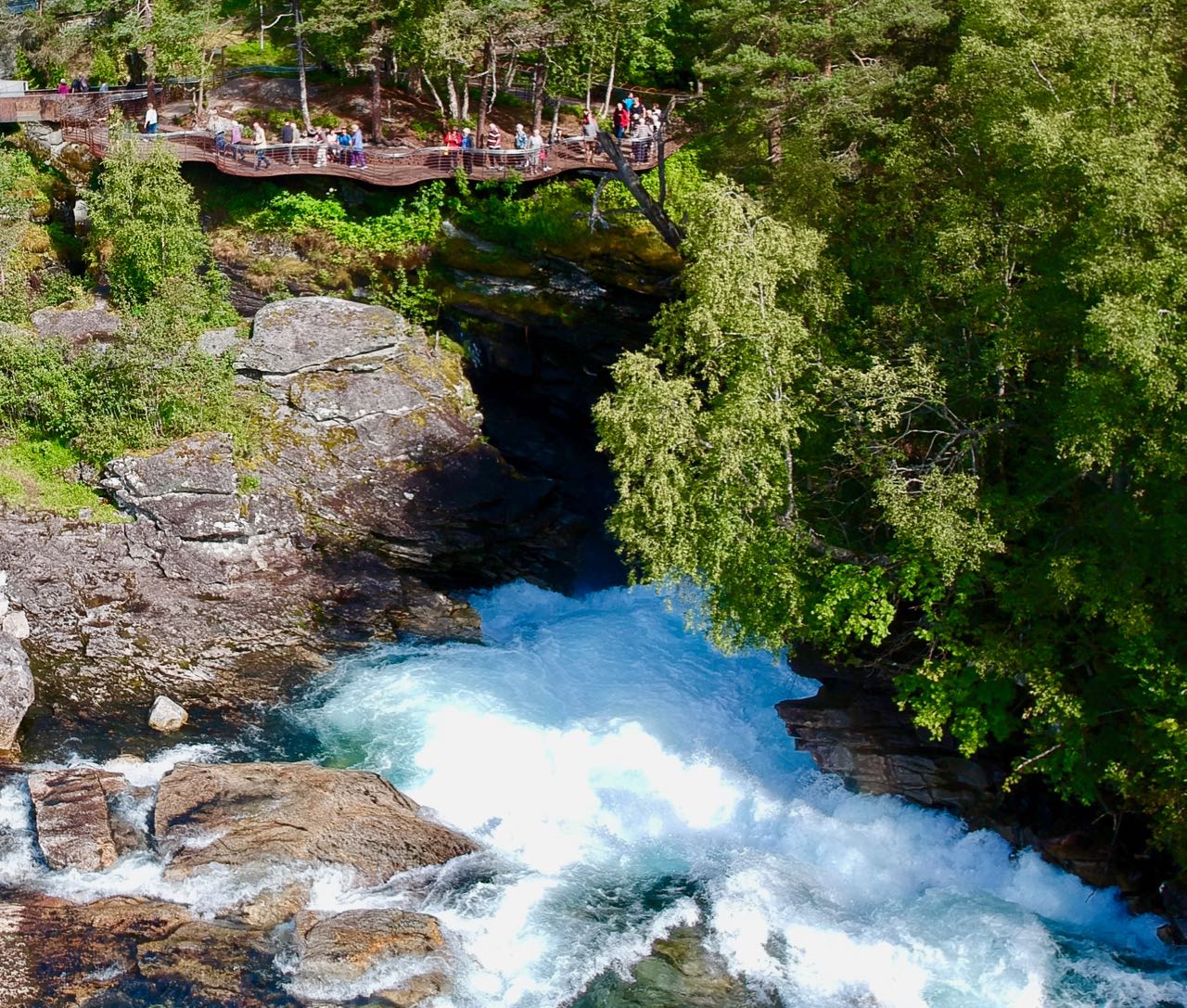 The road from Valldal to Isterdalen in Romsdalen is also impressive. The highest point on the mountain road is 852 meters above sea level, and the road boasts views of tall, snow-capped mountains and rivers with turquoise water. Furthermore, you drive down the famous Trollstigen (The Trolls Road) with its eleven hairpin turns. Before starting the descent, you should stop at the look-out on the top of Trollstigen. You most definitely want to take some pictures here.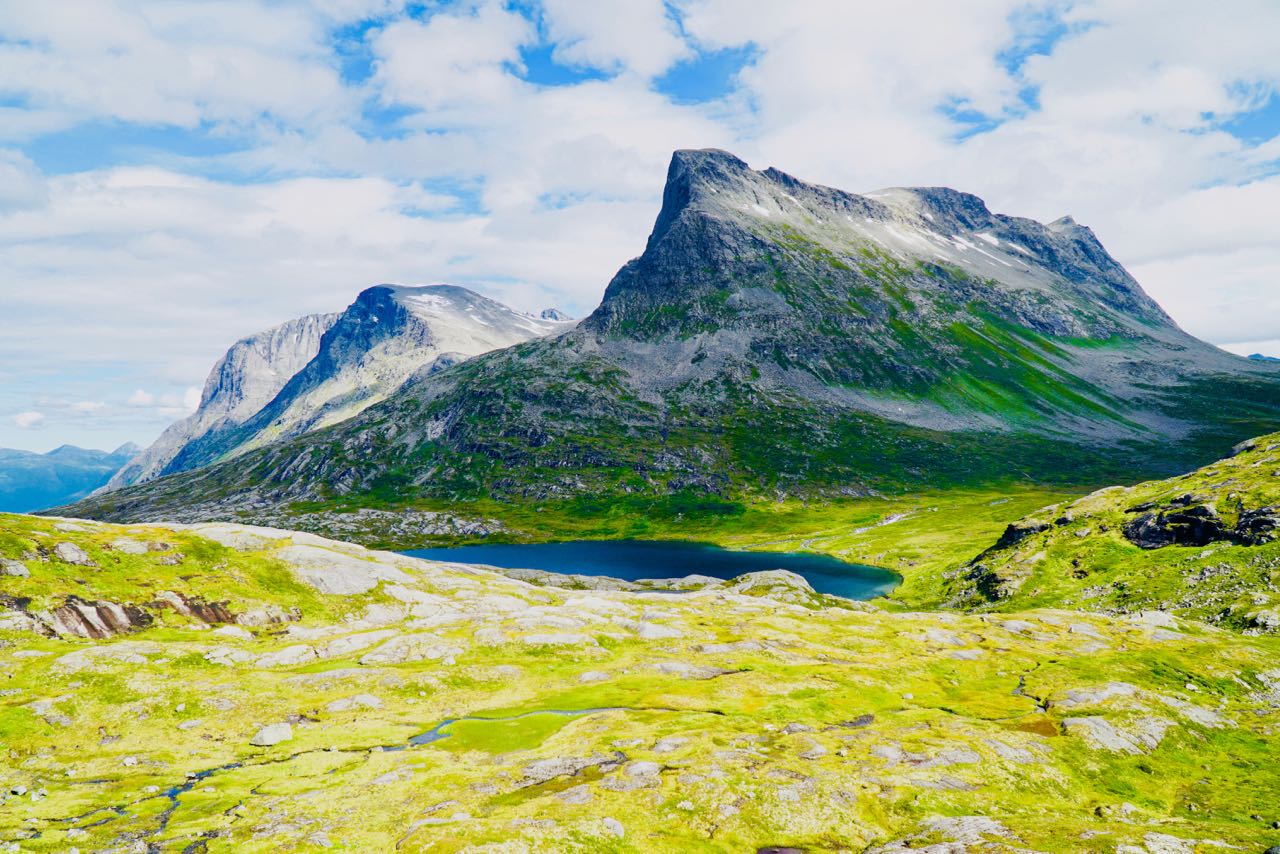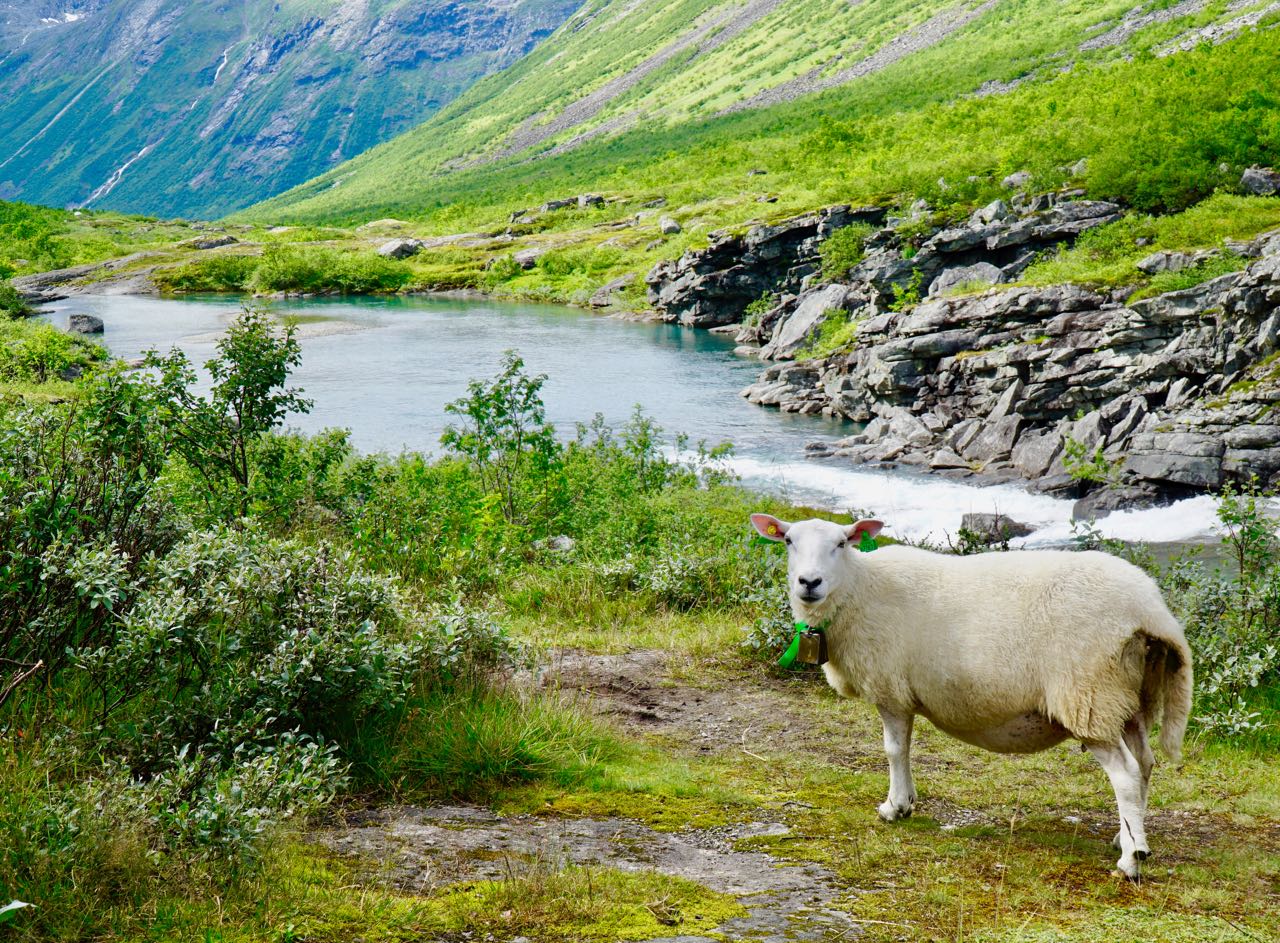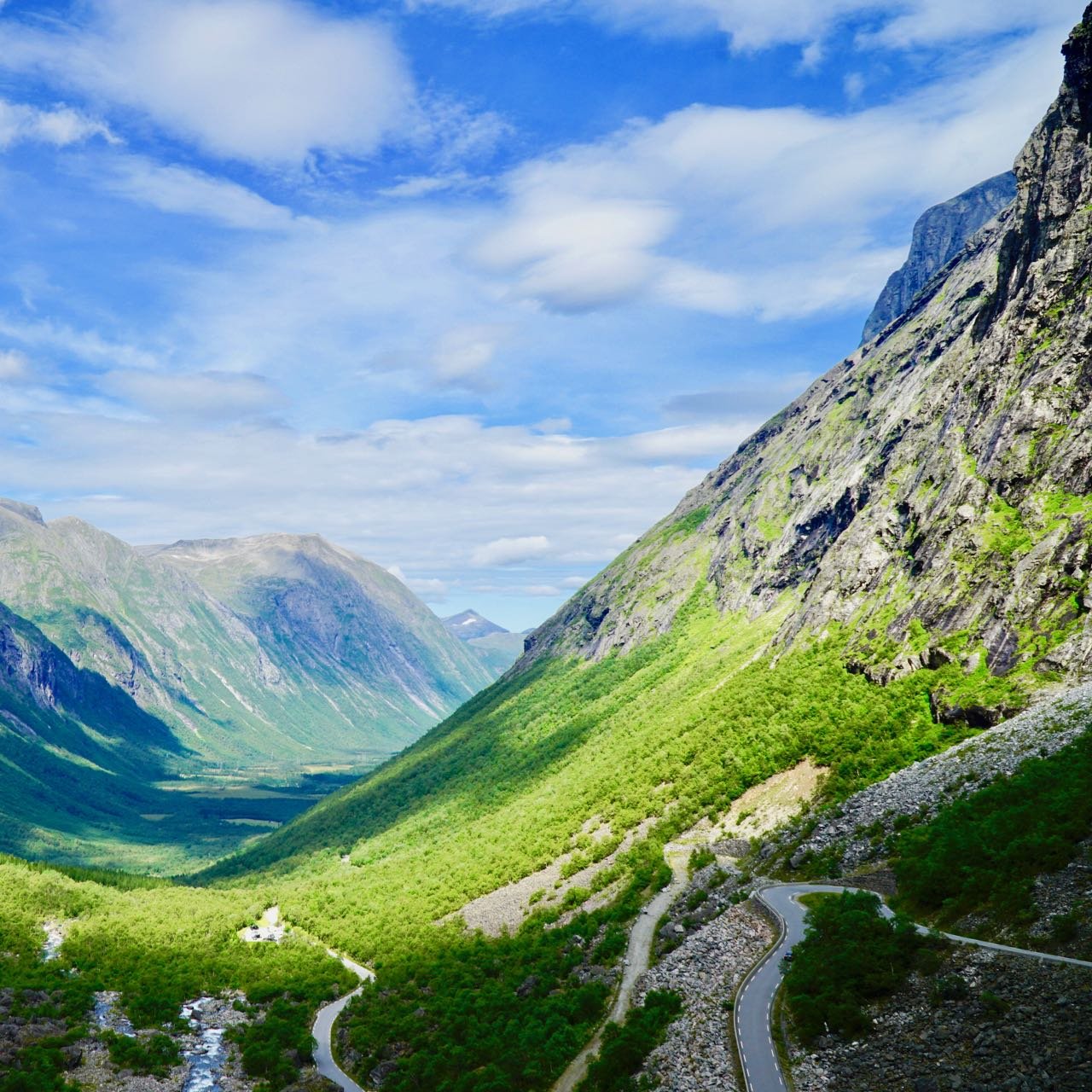 Our last stop on the way back home to Oslo was at the cozy Avdemsbue at Lesja. The small shop at Avdemsbue sells cheese from their own cheese factory, as well as other traditional foods. We were so tempted by the goods that we left with a bag full of delicious treats.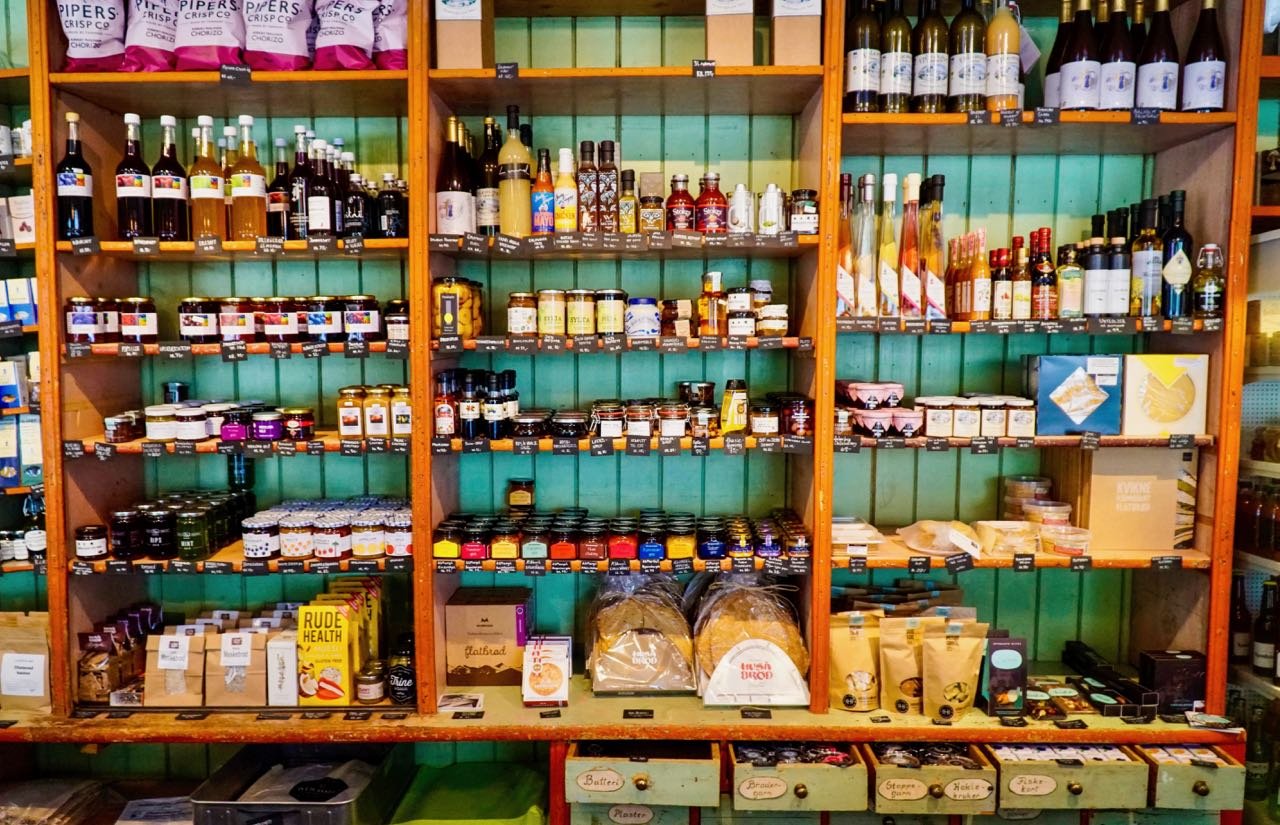 After ten days on the move, our adventure was over. Despite the fact that we have traveled around Norway extensively, our own homeland never stops to amaze us. We are very proud of what Norway has to offer, and are looking forward to explore more!
*The drive from Valldal to Oslo is a long drive. If you have time, consider staying one night in Lillehammer to avoid a long day of driving back to Oslo.
Link to National Tourist Route – Gudbrandsjuvet
Link to Visit Norway – Trollstigen

Tips:
Best time to go on a road trip in Southern Norway:
In the wintertime, Norway often gets snowy weather and icy roads. Our advice is therefore that you plan for a road trip during spring, summer or autumn. Traveling between May and October will usually be a good choice. June, July and August will normally have the warmest weather, but is also peak tourist season. If you decide to visit during these months, it is recommended that you book your accommodation well in advance.
Weather in Norway can be quite unpredictable. This means that you should be prepared for both warm and cold days no matter when you go. The climate in Norway also differs between regions and between the eastern and western parts of the country.
*Trollstigen Road is closed during wintertime. The road opens in May or June and closes in October or November, weather depending. If Trollstigen is not open during your visit, there are alternative ways to get from Valldal to Oslo.
*Some activities may be closed outside peak tourist season. Follow the respective links above for more information on opening times.
Link to Holiday Weather – Weather averages for Oslo
Link to Holiday Weather – Weather averages for Stavanger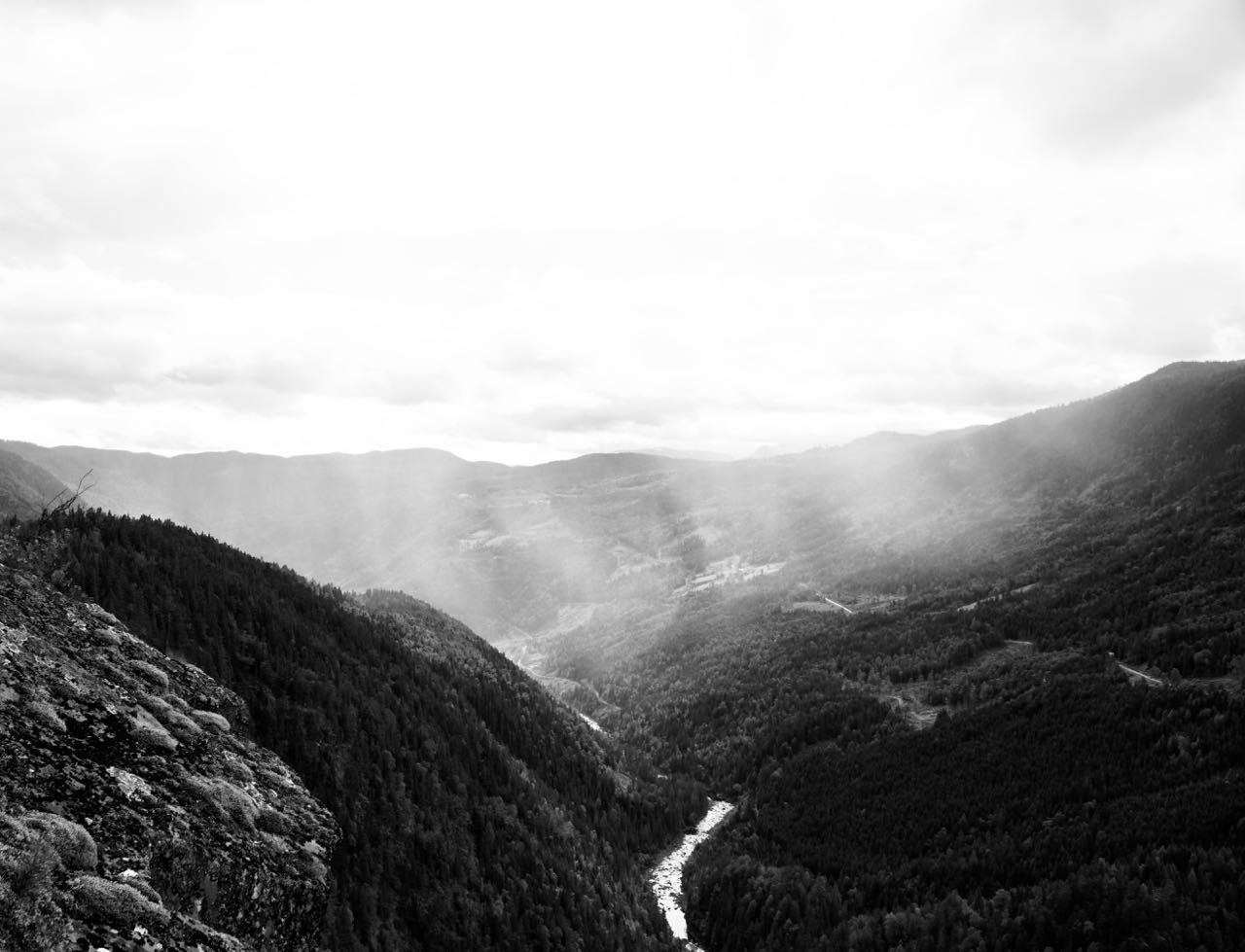 What to pack for a road trip in Norway:
Clothes:
As mentioned, the weather in Norway can be somewhat unpredictable. When packing for a visit you should gear up for all types of weather conditions. The weather can change quickly, and dressing in layers is always a good idea. For chilly days, bring thin wool underwear and a rain- and windproof outer layer. On warmer summer days, shorts and t-shirt will be sufficient. No matter when you visit, you will most likely need a rainproof jacket and an umbrella. You may also want to pack thin gloves and a light hat. Sensible footwear means either trainers for light walks, or proper hiking boots for longer walks. Trainers are sufficient if you follow our itinerary. Do bring swimwear and a towel if you visit during the summer.
Gear:
-A GPS Navigator or a navigation app on your phone (do download offline maps as phone coverage may vary!)
-A small or medium-sized daypack with rain cover
-Drysack for phone and other electronics
-Headlamp
-We also like to bring a small cooler and beach chairs when going on a road trip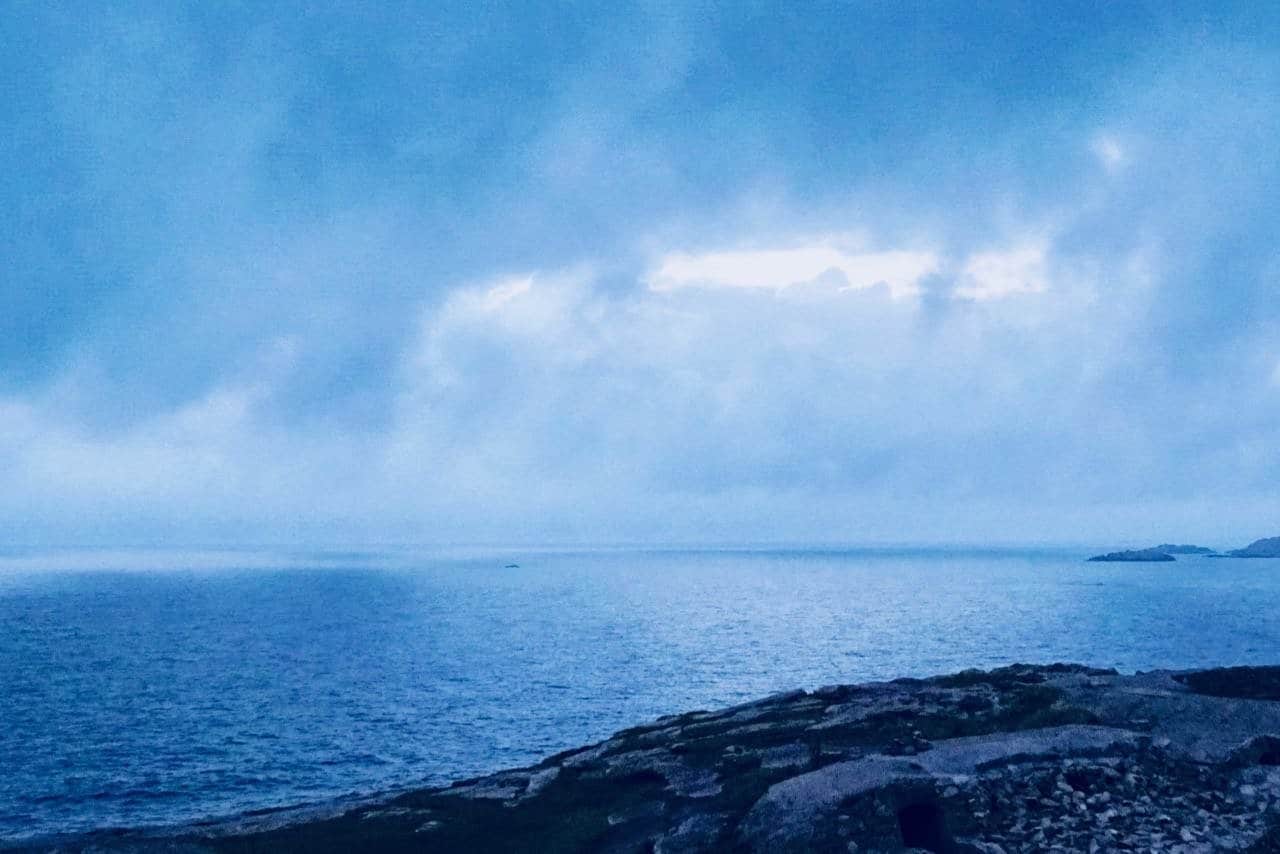 Driving in Norway:
Driving is on the right-hand side of the road. Road conditions are normally quite good, although some roads are narrow and winding. Gas stations are plentiful, and there are lots of resting areas along the road. People are generally helpful should you run into any kind of problems or need help finding directions.
Link to Visit Norway – More information about driving in Norway
There are a number of reputable car renting companies in Norway. You should always make sure to get appropriate insurance. Many rental cars have a manual transmission, but cars with automatic transmission can also be found. These are often more expensive, but can be well worth the money if you are not used to the clutch pedal.

Useful webpages for planning a road trip in Norway:
Link to Norwegian Scenic Routes
Do you have any questions or comments?
Feel free to email us at contact@withnorwegianeyes.com!
*We went on our 10-day road trip in July and August 2017. None of the hotels, restaurants or activities knew that they were being reviewed, and we paid all expenses ourselves. 
Subscribe to our mailing lists and get our newest articles directly in your inbox.