Last updated June 2023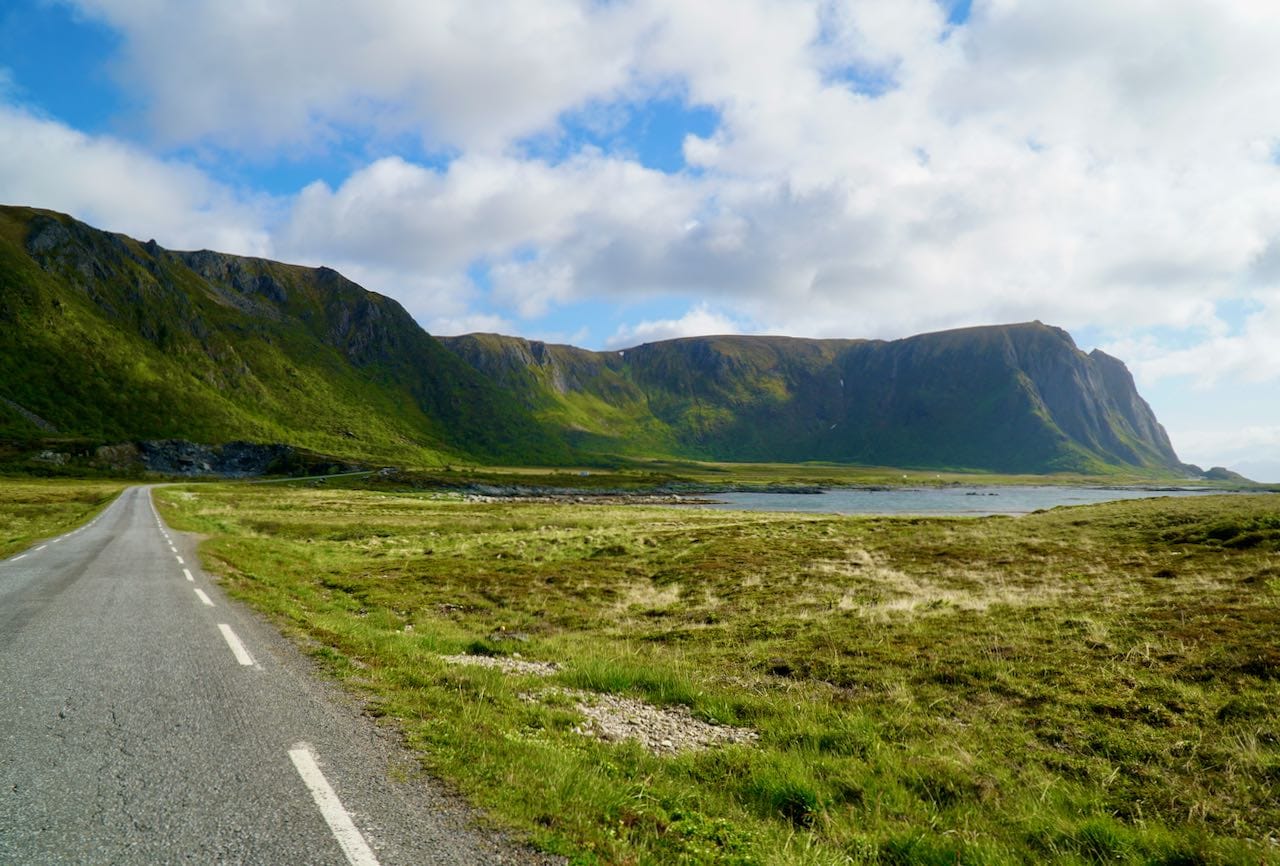 In the summer of 2019, we went on a month-long road trip from Oslo to Northern Norway. On the way north, we drove along some stunning scenery, and The Coastal Highway (Kystriksveien) in particular had beautiful viewpoints and attractions around almost every turn.
However, Andøya Island was the biggest surprise of the trip. While we had heard a lot about the beauty of the Lofoten Islands, we knew far less about Andøya Island located a little further north. Still, at the end of a long trip, we decided to spend a day exploring it. That was a decision we did not regret.
Since we only had one day available, we focused mostly on the attractions along the Norwegian Scenic Route on the island. We had previously driven several of the Norwegian Scenic Routes and we were impressed with every one of them. We were therefore excited to see what Norwegian Scenic Route Andøya had to offer.
The Norwegian Scenic Route Andøya is a total of 58 km and runs along the west side of Andøya Island from Bjørnskinn in the south to Andenes in the north. We arrived on Andøya from the south and chose to take County Road 82 along the east side of the island up to Andenes. We then drove the Norwegian Scenic Route in the southbound direction.
Before heading southwards, we stopped at the lighthouse in Andenes. From there we could see rows of pointed mountain peaks towards the south with the sea right next to them. This first glimpse of the scenery surrounding the road made us even more excited.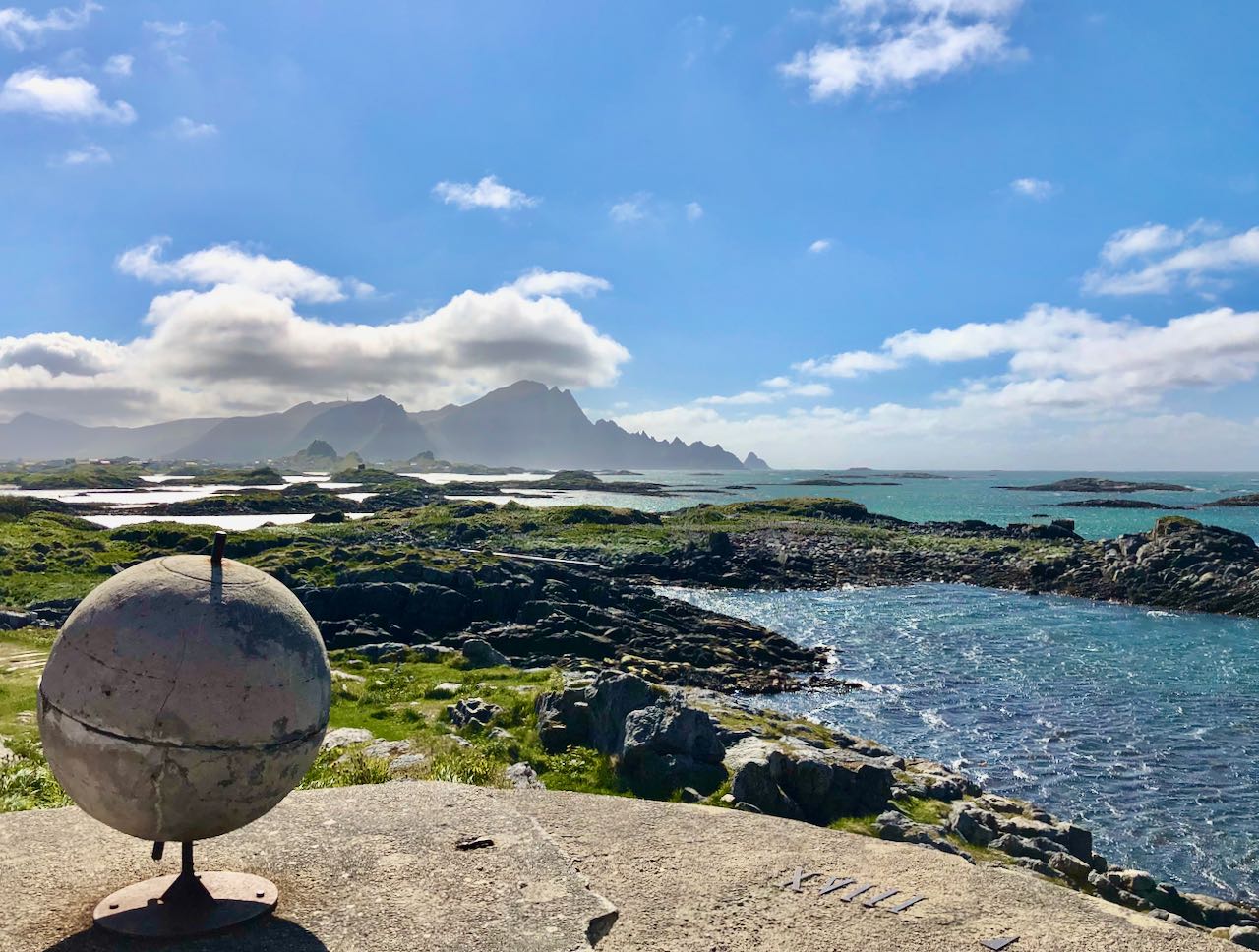 Our first stop on the way south was at Kleivodden, a rest area at the foot of some very steep mountainsides. With gale-force winds, it was a challenge just to get the car doors open. We still managed to admire the view of Bleiksøya Island for a few minutes, before finding our way back to the car.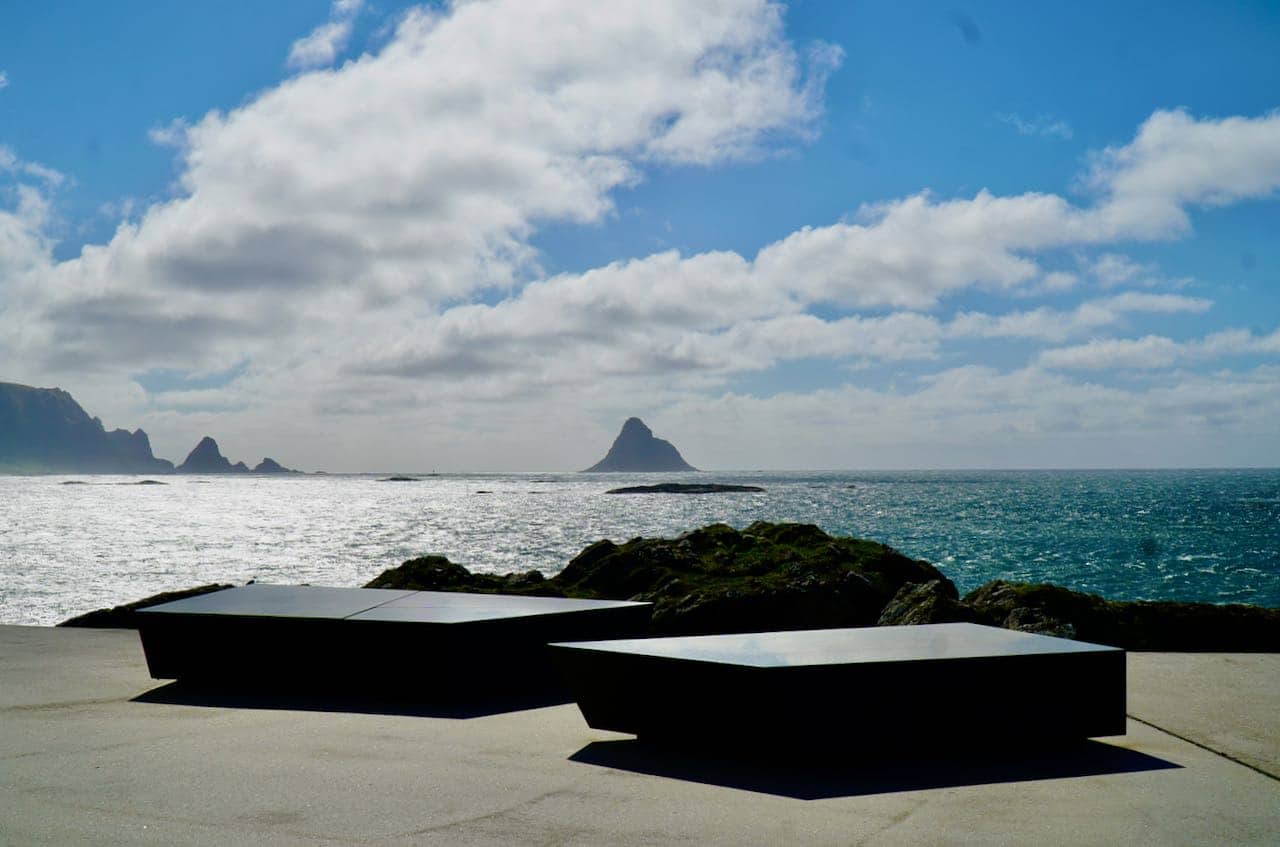 The road continued further along the coast towards the fishing village Bleik. Just outside Bleik we caught sight of Bleikstranda, a gorgeous white sandy beach. Even though the windy conditions were not particularly beach-friendly, we couldn't resist taking a closer look.
The wind gusted the powdery sand all over us and we could hardly stay on our feet, but nothing could take away from the spectacular sight of the white sandy beach with the towering mountains behind it. We could easily see ourselves spending a warmer summer day here!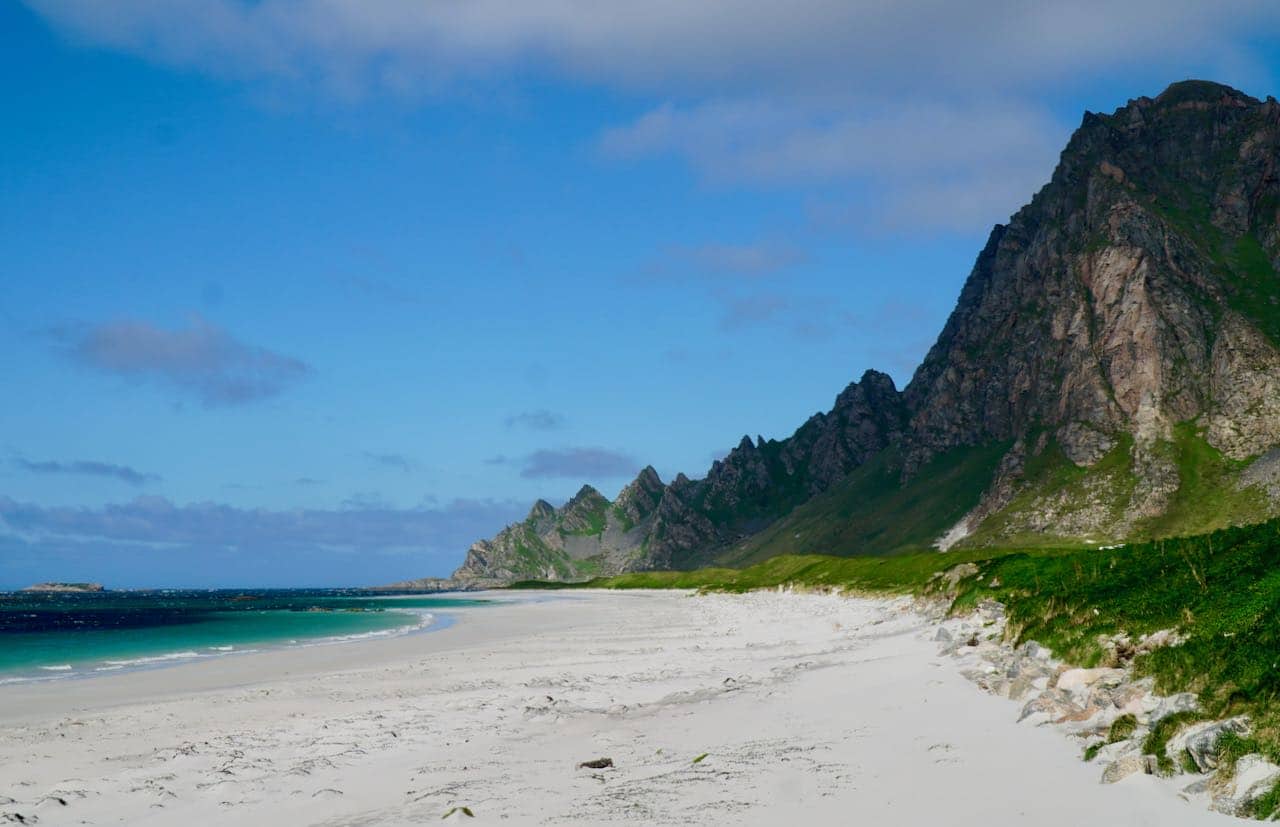 After a quick snack at the cozy Bleik Landsbyservice, a combined grocery store and cafe with delicious baked goods, we drove on. The road veered away from the sea and into a wide stretch of marshland and more rounded mountains, very unlike what we had seen just minutes before.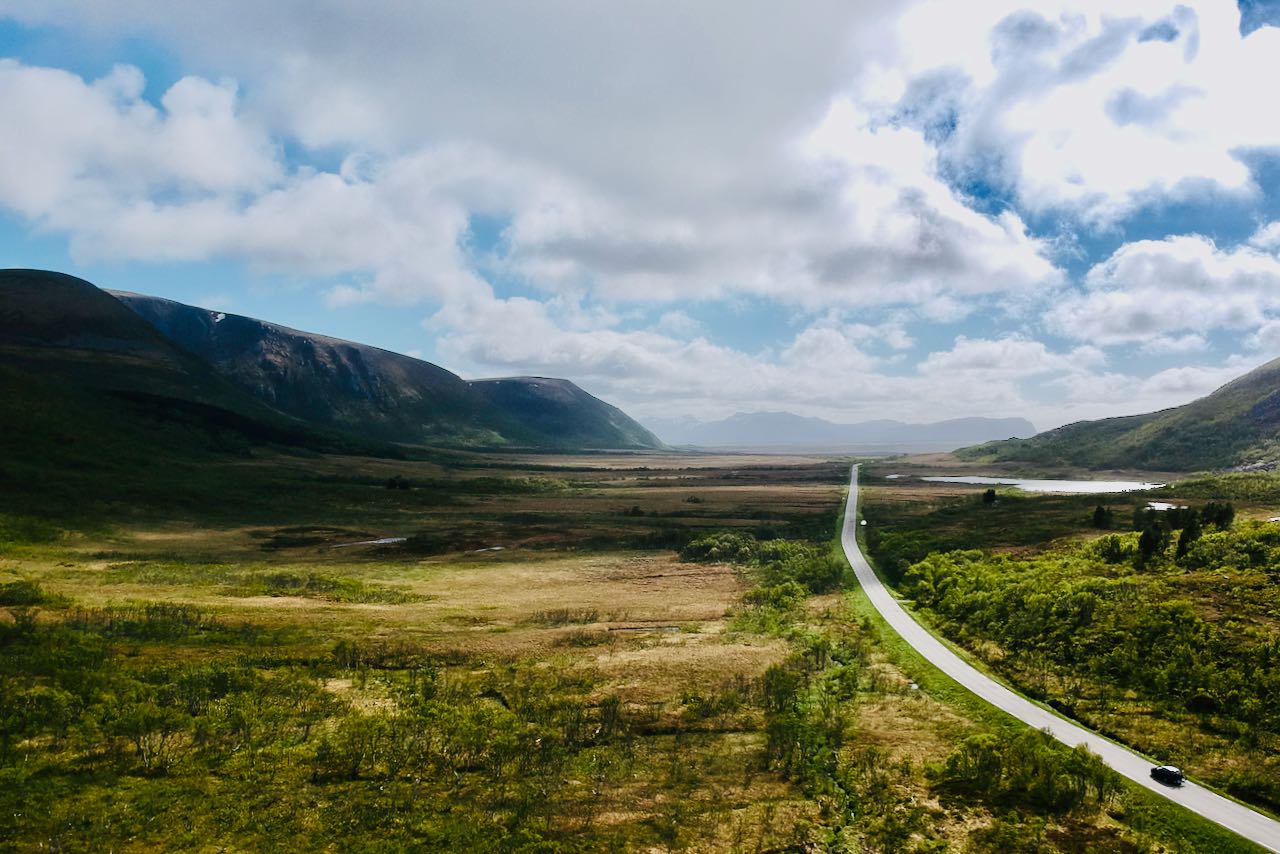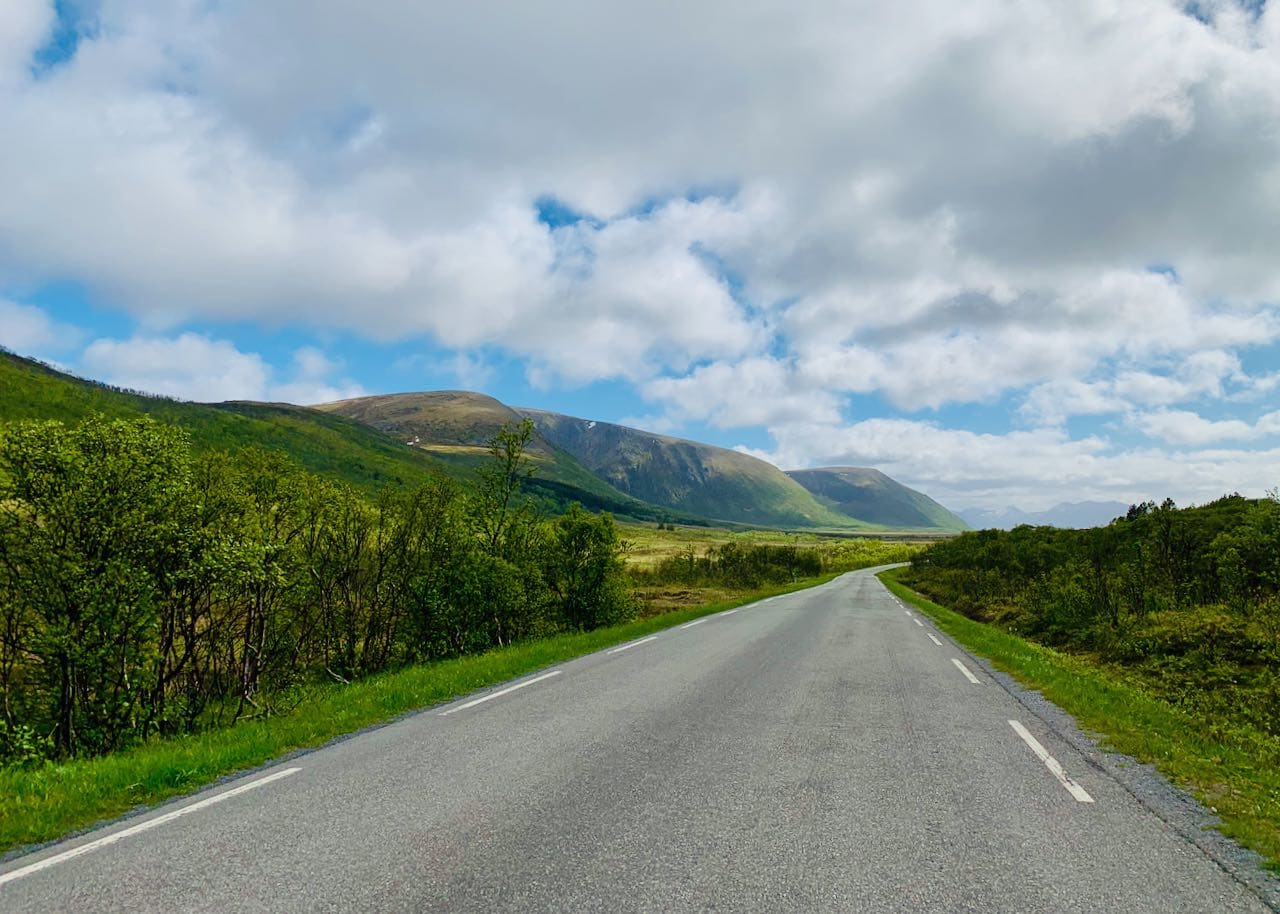 The surroundings changed again as we arrived at the village of Stave, where the sight of yet another magnificent beach made us stop the car. Since the winds had calmed a little, we were able to stroll along the beach without being afraid of getting blown into the sea.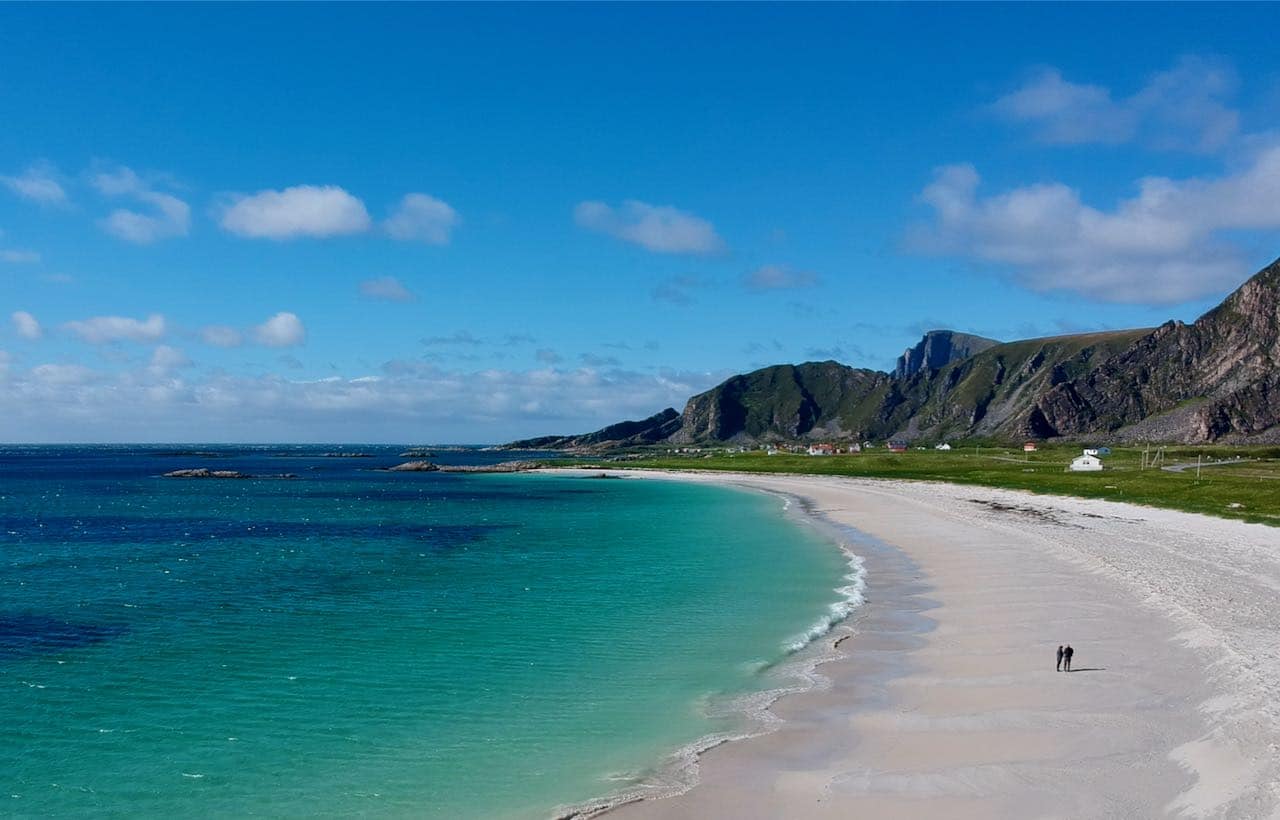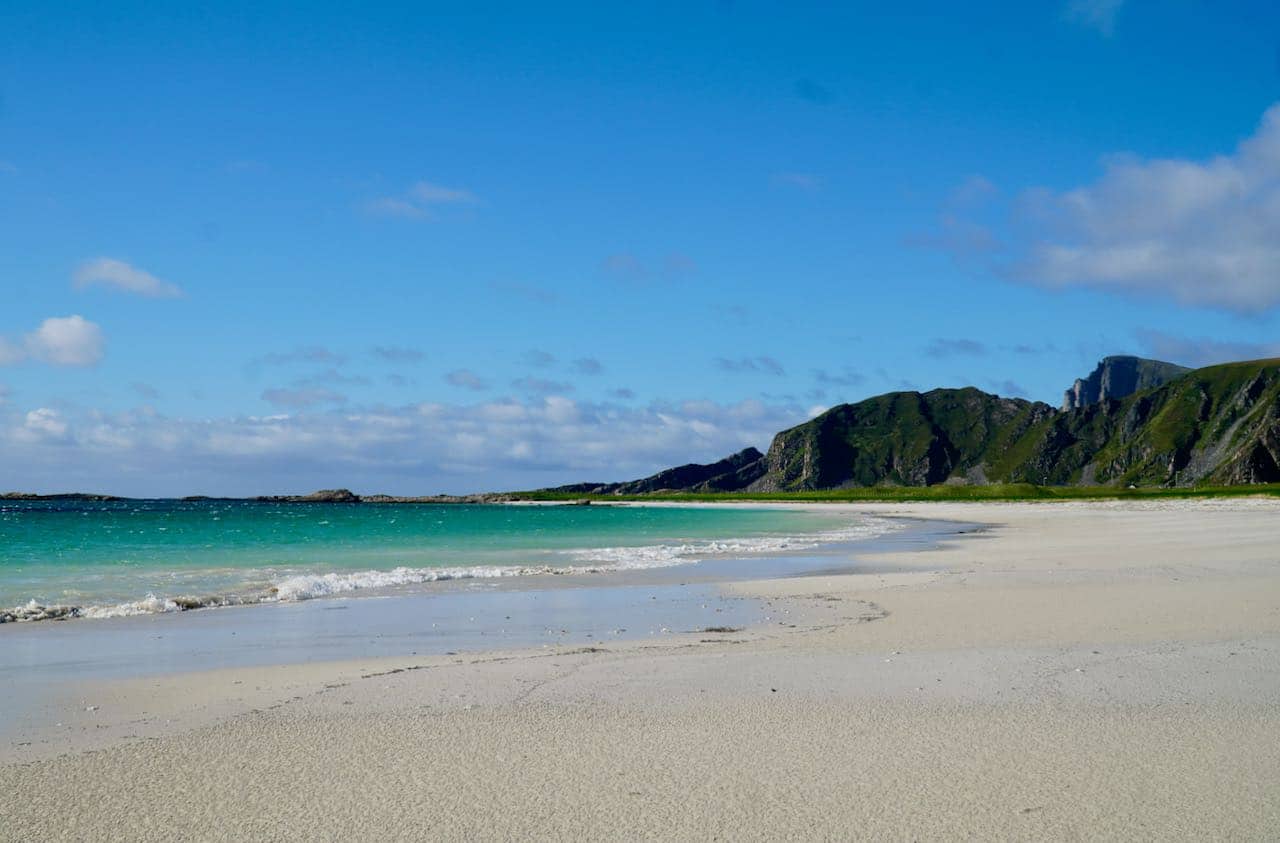 The last stop of the day was at Bukkekjerka, a rock formation which is also an old and preserved sacrificial site of the Sami indigenous people. As part of the Norwegian Scenic Route project, a rest area with benches and restrooms has been built here. The fact that a rest area has benches and restrooms may not be so special, but this restroom is really something. Panoramic windows provide stunning views of the sea, making a visit here truly unforgettable. Rest assured, there is no need to worry about privacy, as one-way mirrors ensure that no one can see inside. We thought this was a fun stop and also took the opportunity to take a closer look at the two small lighthouses just a short walk away from the parking lot.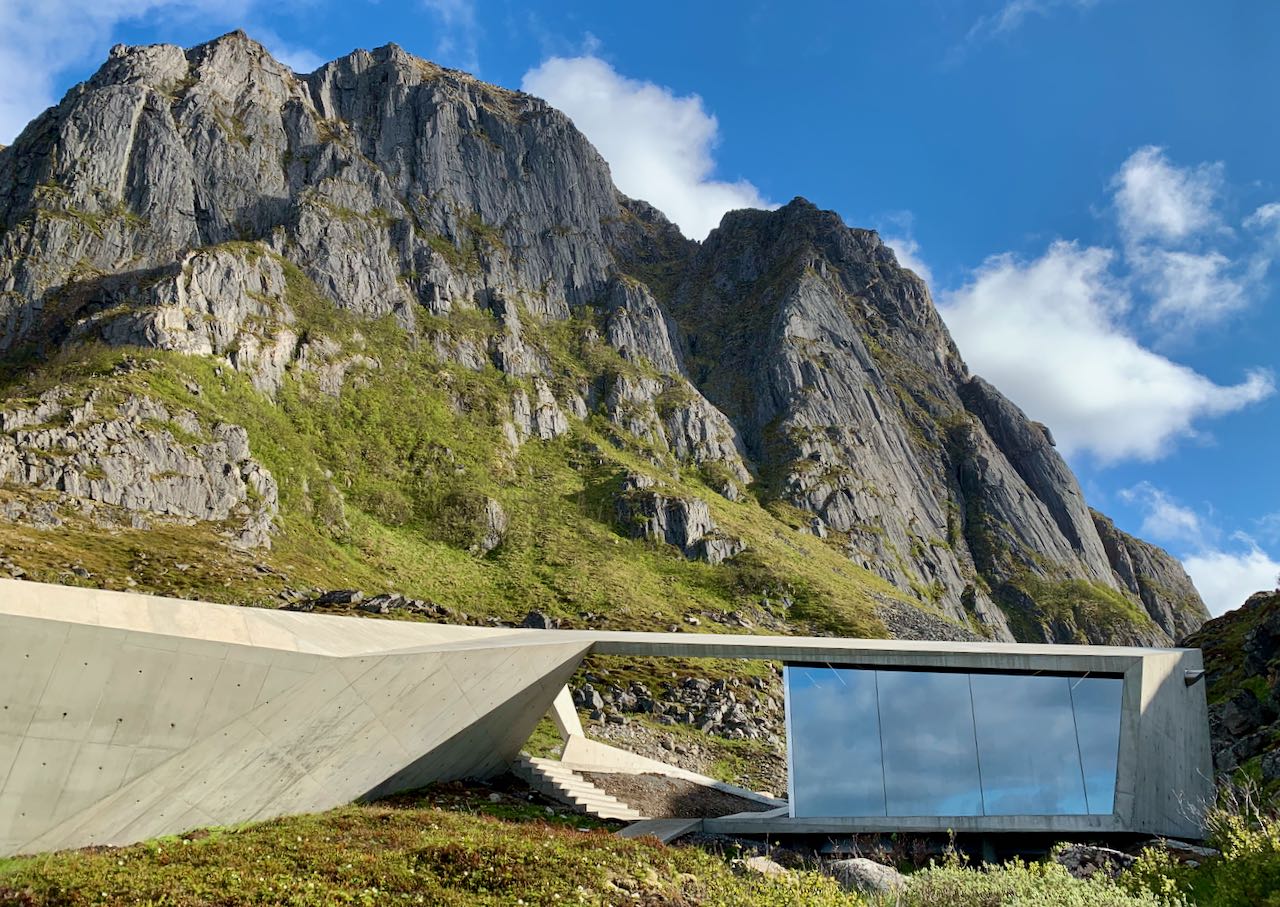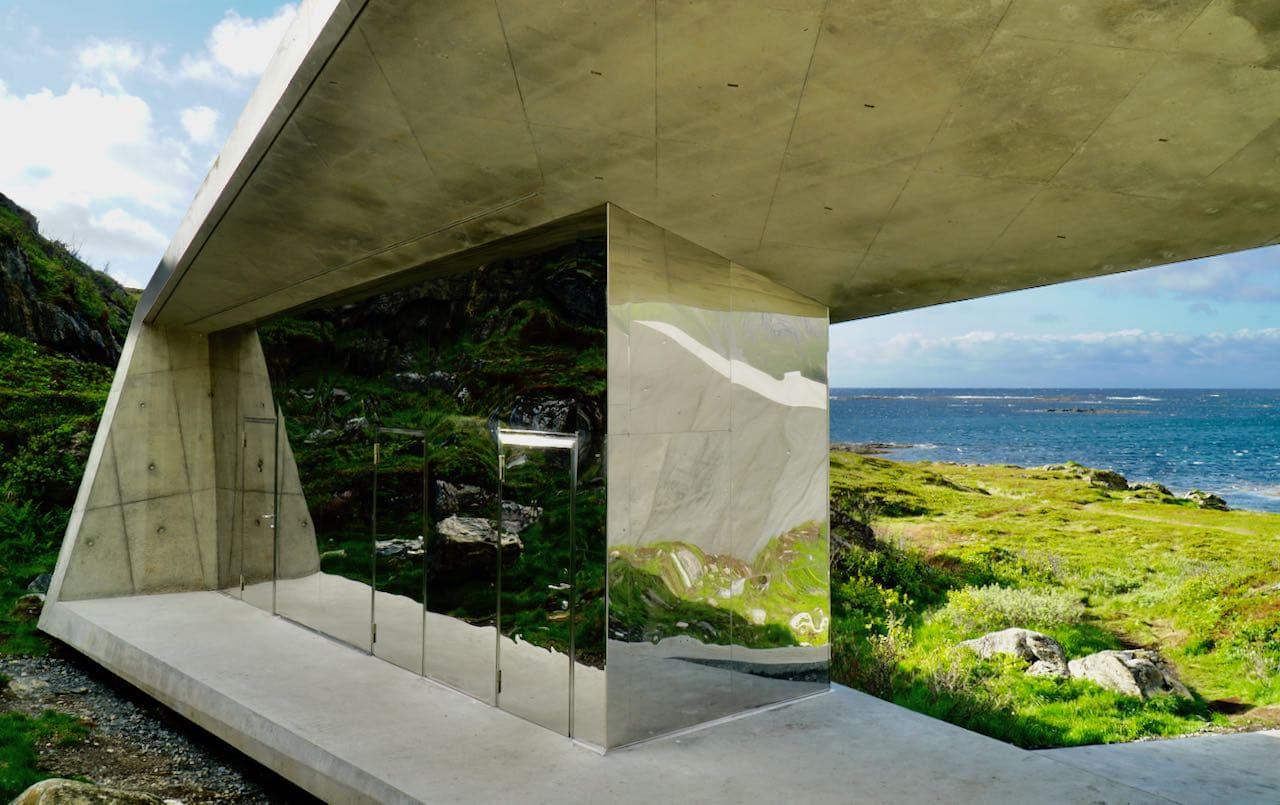 After Bukkekjerka, we had to get back in the car and drive on as we had a ferry to catch that evening. However, the Norwegian Scenic Route Andøya had one last surprise in store for us. Just after we left Bukkekjerka we suddenly came to a little gem of a sandy beach. Since we were so short on time, we unfortunately could not stop, and so we only snapped a few pictures as we passed by. A real pity, since the small beach looked like yet another idyllic stopping point.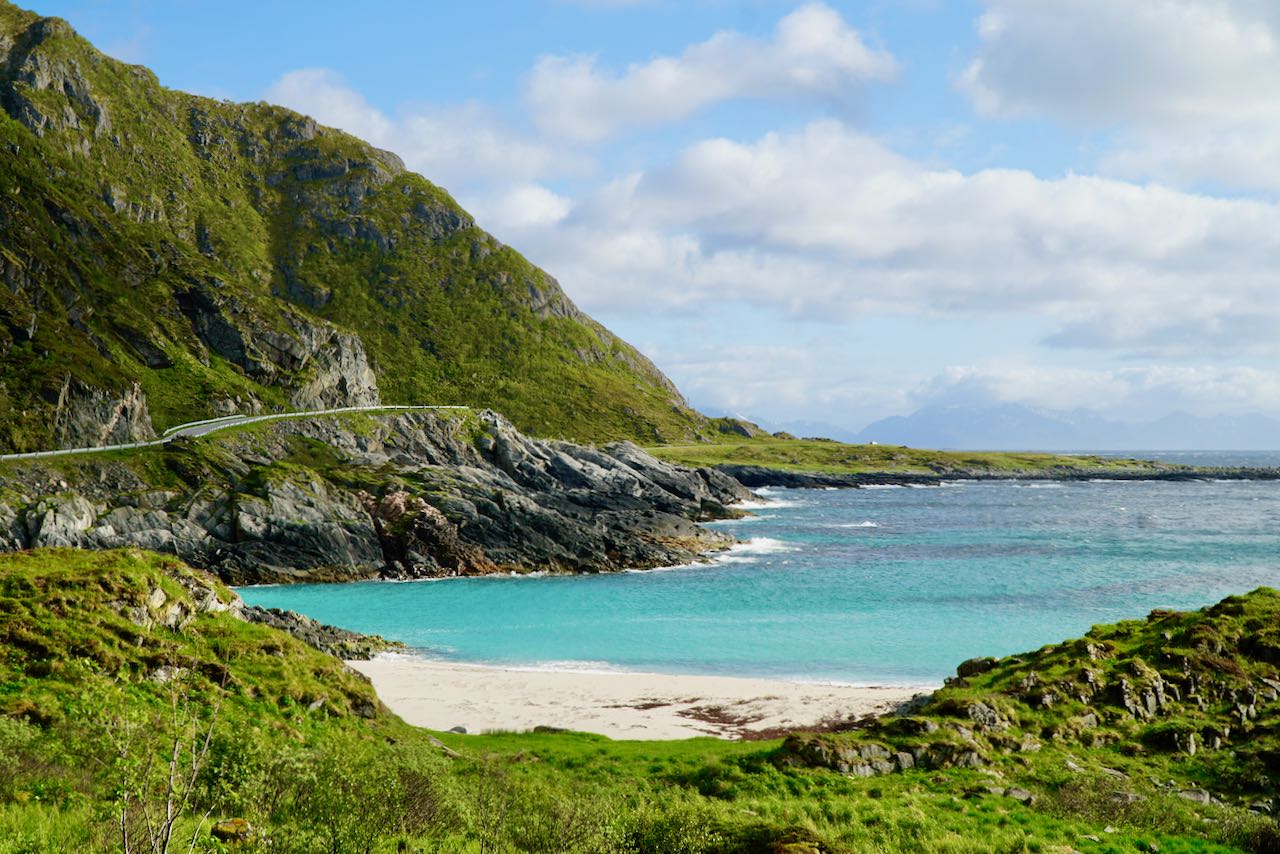 Summary
We thoroughly enjoyed our drive along Norwegian Scenic Route Andøya and wish we had planned it differently so that we could have explored the island better. In fact, we thought Andøya Island was just as beautiful as the much more known Lofoten Islands, and greatly appreciated that there was a lot less traffic there. Just this fact made it easy to stop along the way and enjoy the gorgeous surroundings. Driving the Norwegian Scenic Route Andøya is a trip we highly recommend!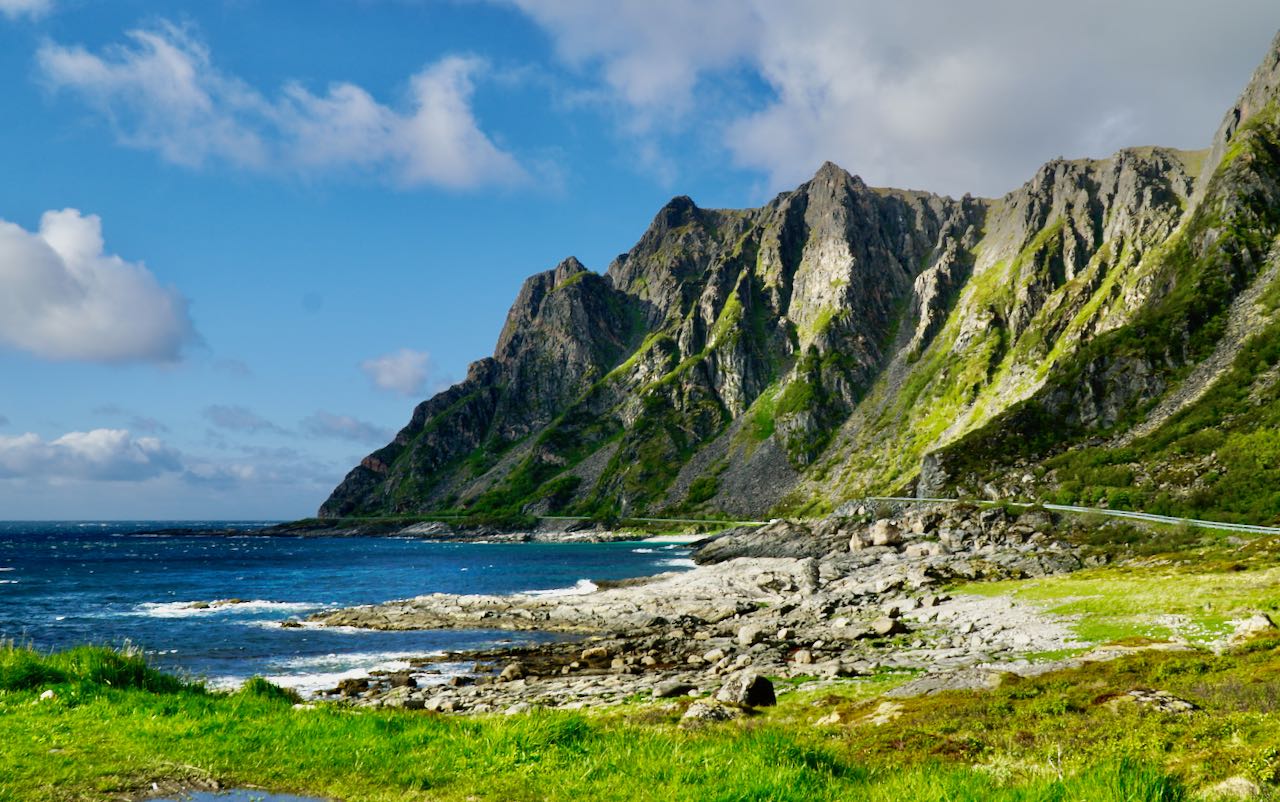 Practical information and tips
Andøya Island is located north of Lofoten in Nordland county. In driving time, Andøya is approximately 20 hours away from Oslo. See more information about Andøya and how to get there at

Visit Andøya's website

.
Norwegian Scenic Route Andøya can be driven in both the southbound and northbound directions. We arrived on Andøya Island from the south and chose to take County Road 82 along the east side of Andøya up to Andenes, and then drove the Norwegian Scenic Route in a southbound direction. This "round-trip" of Andøya is about 110 km in total.
It is also possible to bike along Norwegian Scenic Route Andøya, which is part of National Cycle Route 1. Note that there are no bike lanes, and that parts of the road are exposed to the wind.
A visit to Andøya Island can be combined with many other activities such as whale and bird safaris, fishing, and surfing. Andøya also has its own space center and research station for northern lights. In February 2020, a visitor center called Spaceship Aurora was opened next to the space center.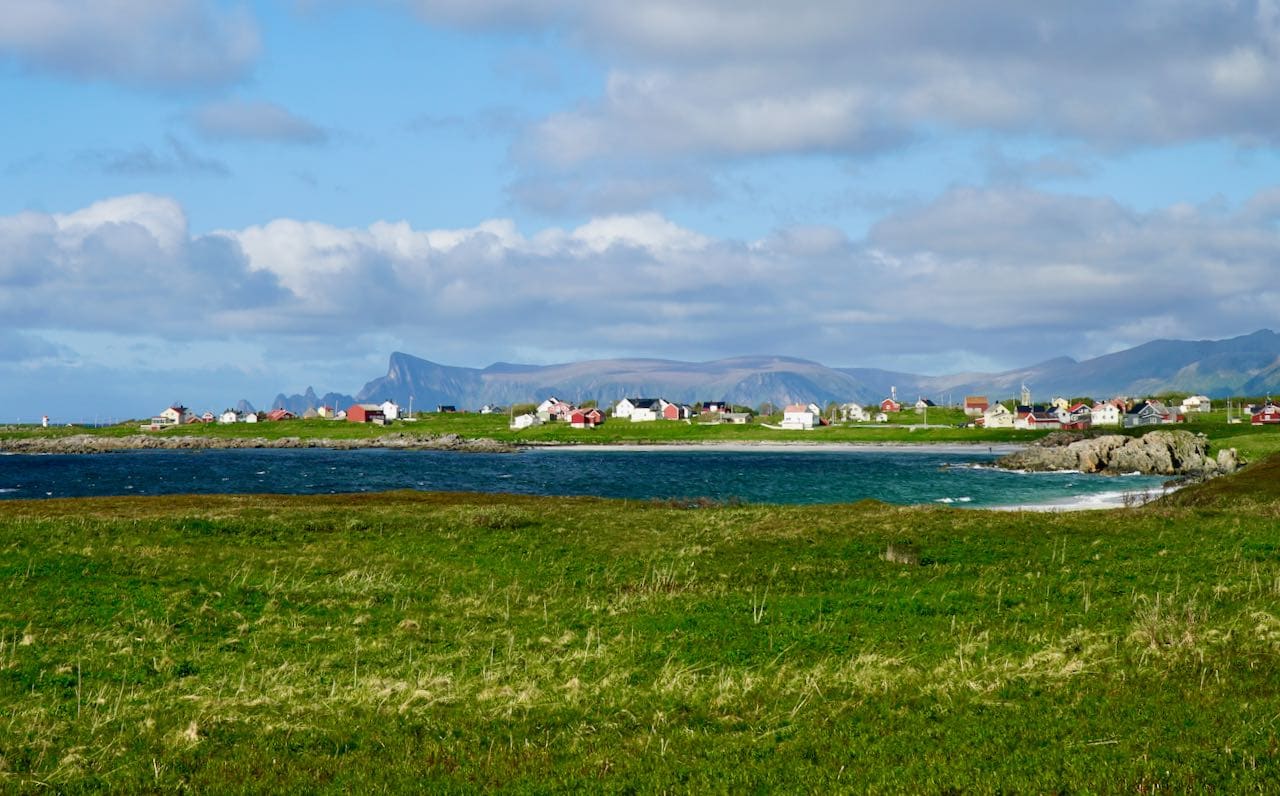 * We drove Norwegian Scenic Route Andøya in June 2019.