September 2018 (Last updated in June 2023)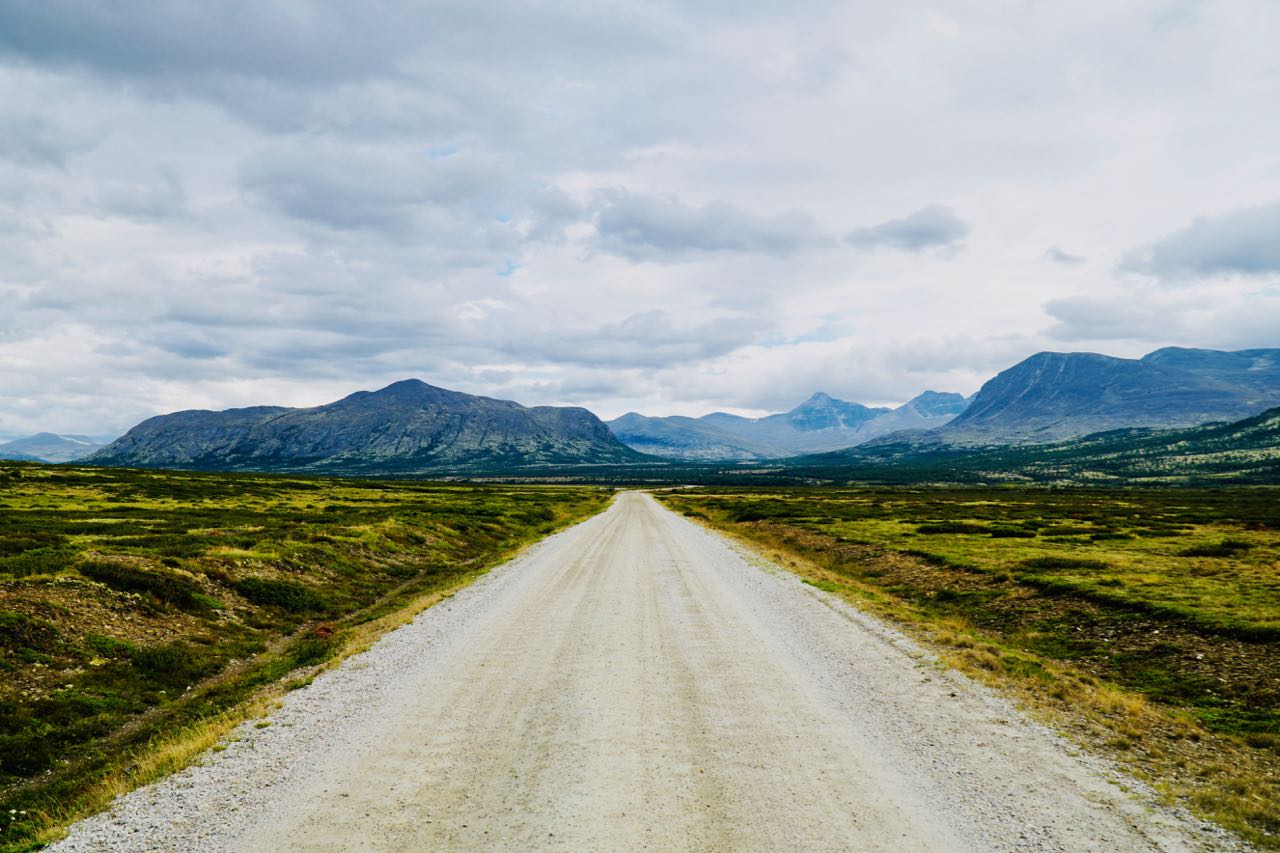 "Best bike ride in Norway", we typed into Google. We got a few unexpected days off from work, and these, of course, had to be spent in the best way possible. Since we both have a love for cycling and for our country, a cycling trip in Norway was an obvious choice.
Google had many suggestions, but one route in particular stood out. "Rallarvegen" is probably Norway's most popular bike ride. And for that reason, it was impossible to find any available accommodation on such short notice. So, we had to ask Google again. After just a few more clicks, we found an alternative that looked very exciting – "Tour de Dovre". With this route as the main attraction, we planned a 5-day bike- and road trip starting from Oslo.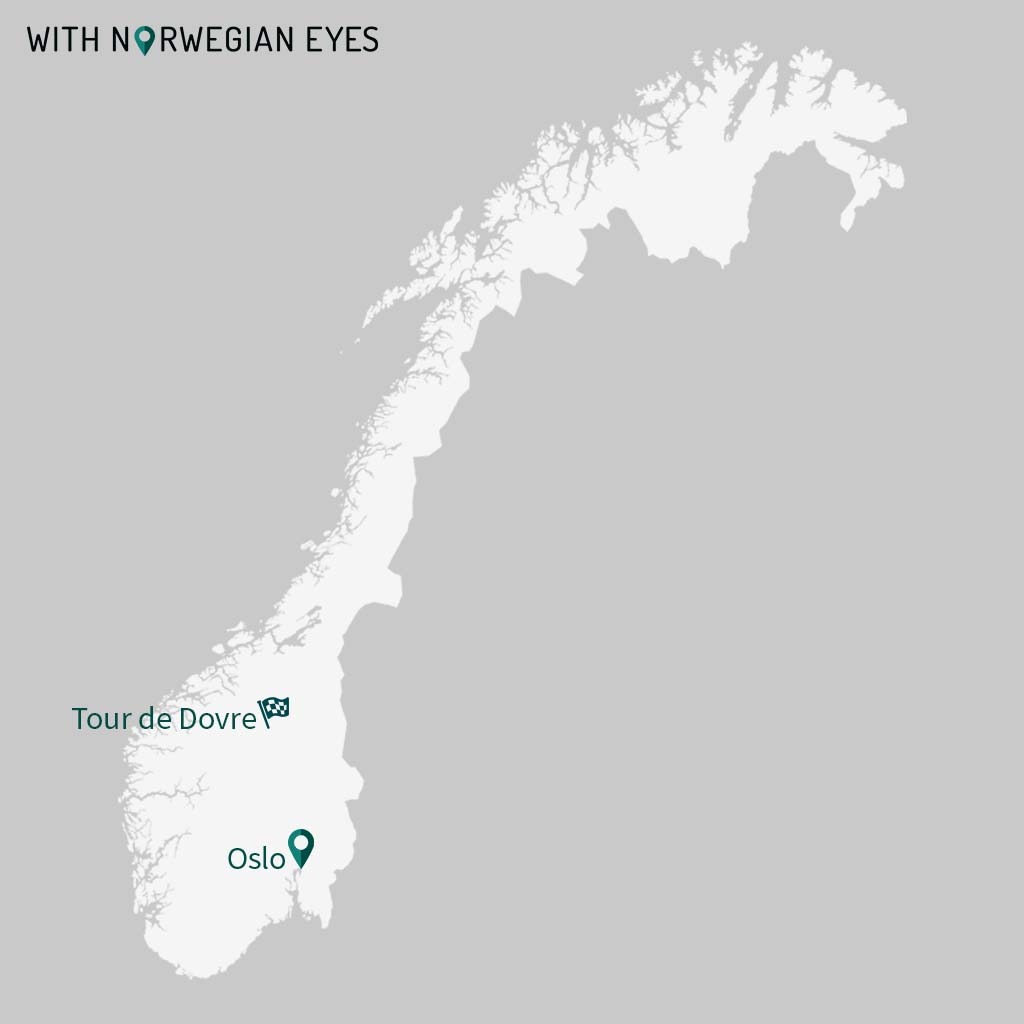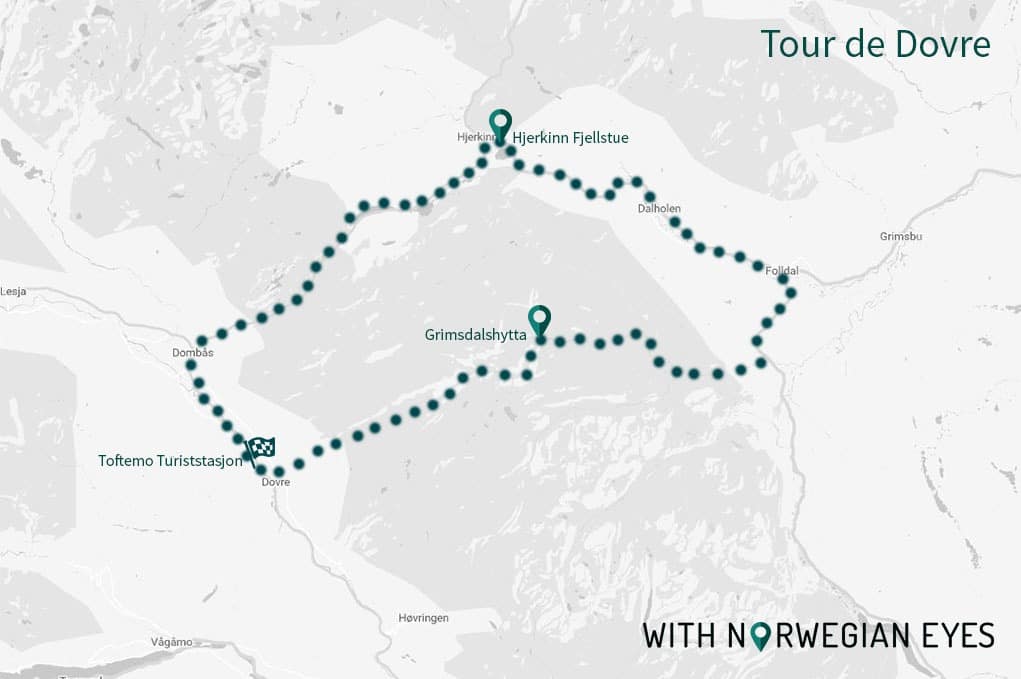 A few days later, we packed our car and headed north. We were eager to see what Tour de Dovre had to offer, as the route seemed almost too good to be true. Along the approximately 130 kilometers, we would see what is described as Norway's most beautiful valley, as well as no less than three national parks!
The base for our trip was Toftemo Turistasjon, located at a four-hour drive north of Oslo. Our plan was to head out early in the morning, but a heavy downpour held us back. As we were reluctant to get wet before we even started pedaling, it was almost noon when we put on our helmets and got on our bikes.
Most route descriptions of Tour de Dovre recommend that you cycle the route clockwise and take two or more days to complete it. We, however, wanted to try things differently and therefore headed southeast towards Grimsdalen valley.
After a few short minutes downhill, we started the steep climb towards the valley. With the brutal ascent stretching out before us, we tried to find a steady pedaling rhythm. Due to the 650 meters of elevation gain in the first 10 kilometers, the first hour was slow-paced. Constantly fighting the lactic acid in our legs, we looked forward to the beautiful views we hoped would greet us at the top.

Upon reaching the highest point of the route, our hard work was immediately rewarded. The nature around us was just as beautiful as we had imagined, and not even yet another rain shower managed to ruin our good mood.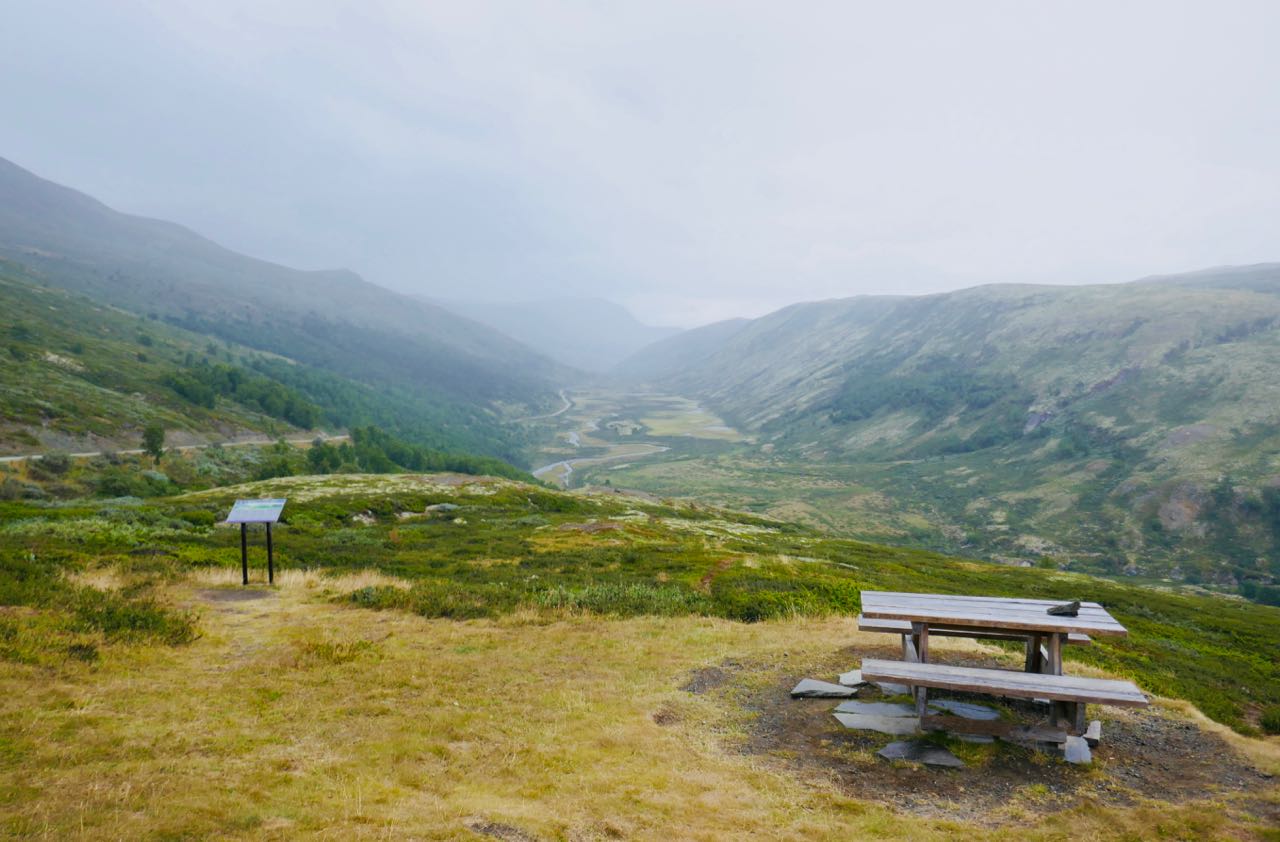 A short while later we took a small detour and headed uphill to Grimsdalshytta. The staffed lodge has a reputation for serving delicious sour cream porridge, which we were keen to try out. The porridge, the selection of cured meats, the waffles and the carrot cake all tasted exquisite. They were almost too tasty, as with stuffed bellies it was challenging to get back on the bikes.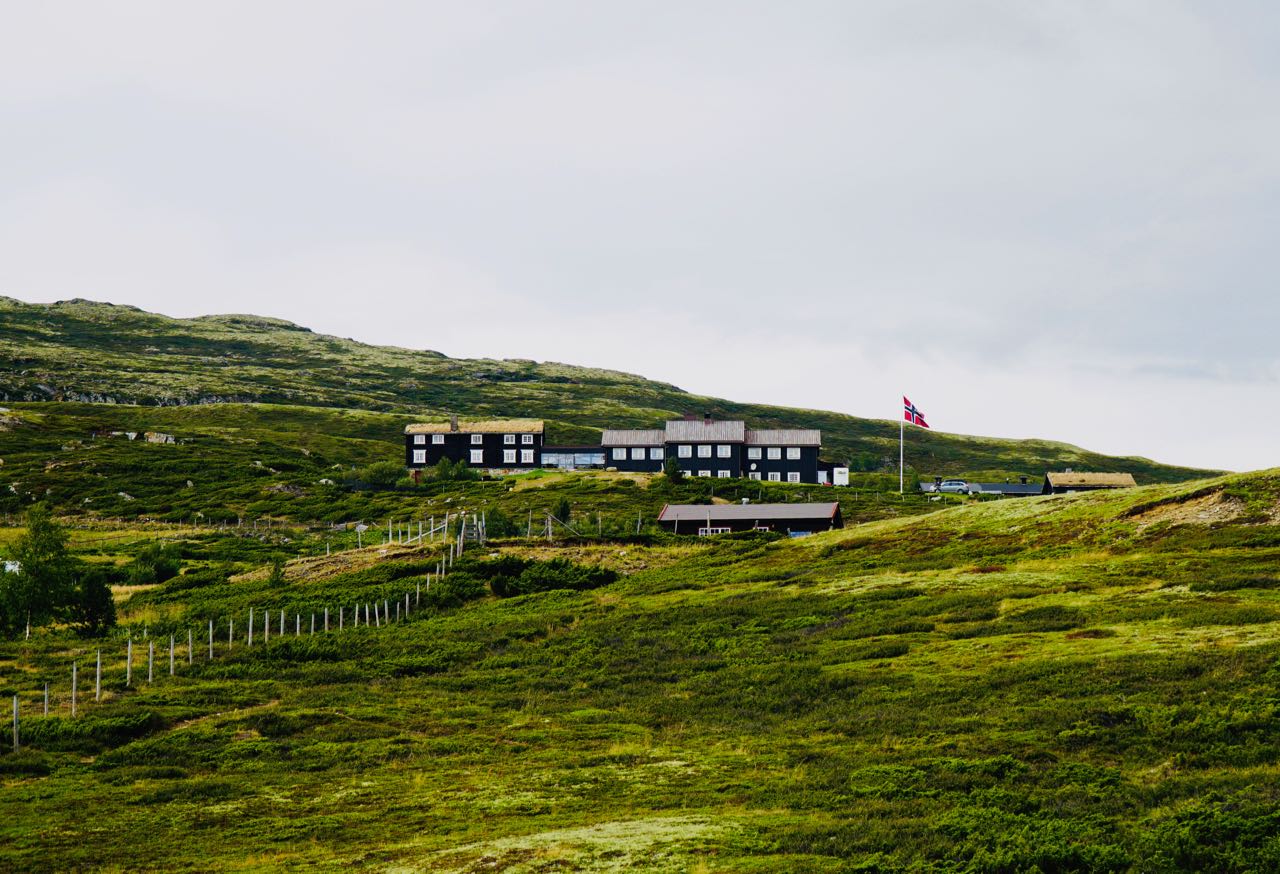 Fortunately, the rest of the journey through the Grimsdalen valley was an easy ride on fairly flat terrain and amazing scenery in every direction. Charming small dairy farms, curving rivers, and pastures battled for our attention with mighty mountains. With Rondane National Park on one side and Dovre National Park on the other, we always had something extraordinary to rest our eyes on. Cycling in Grimsdalen was also very stress-free due to how few cars we had to share the road with.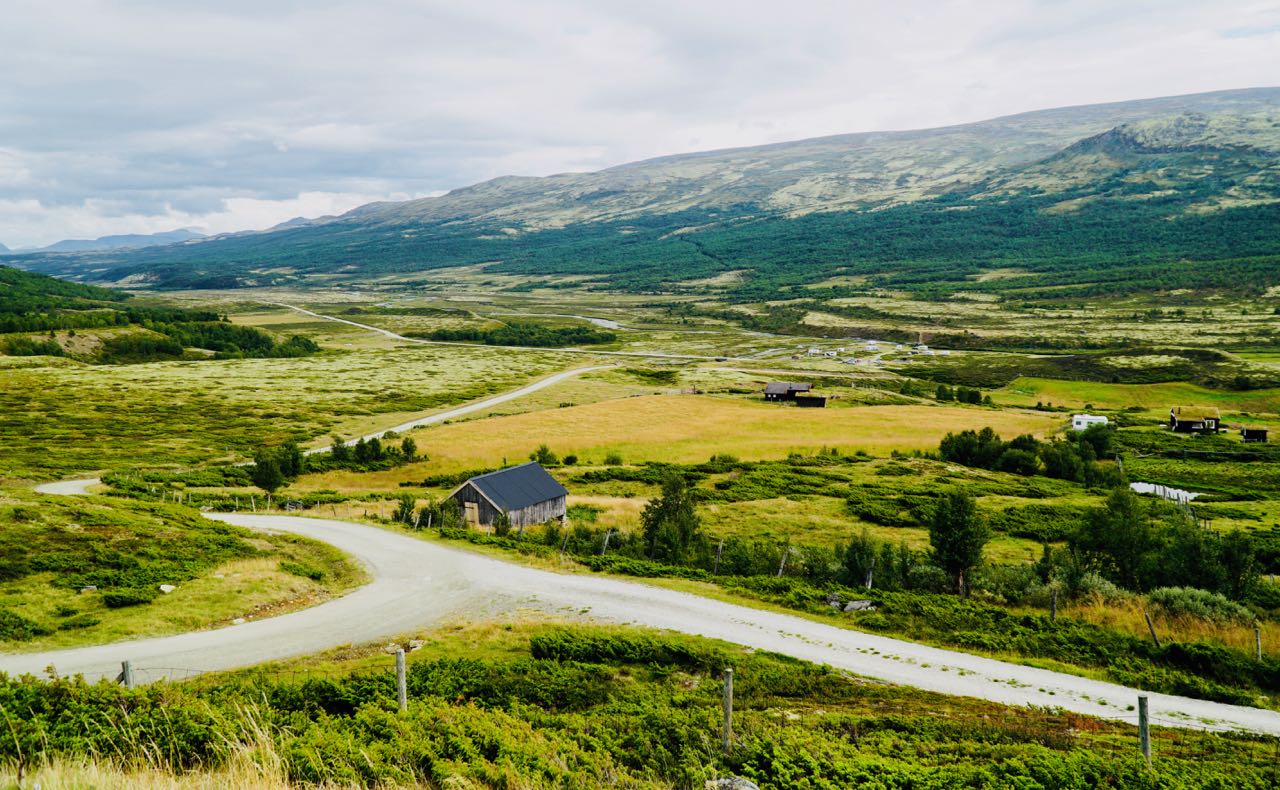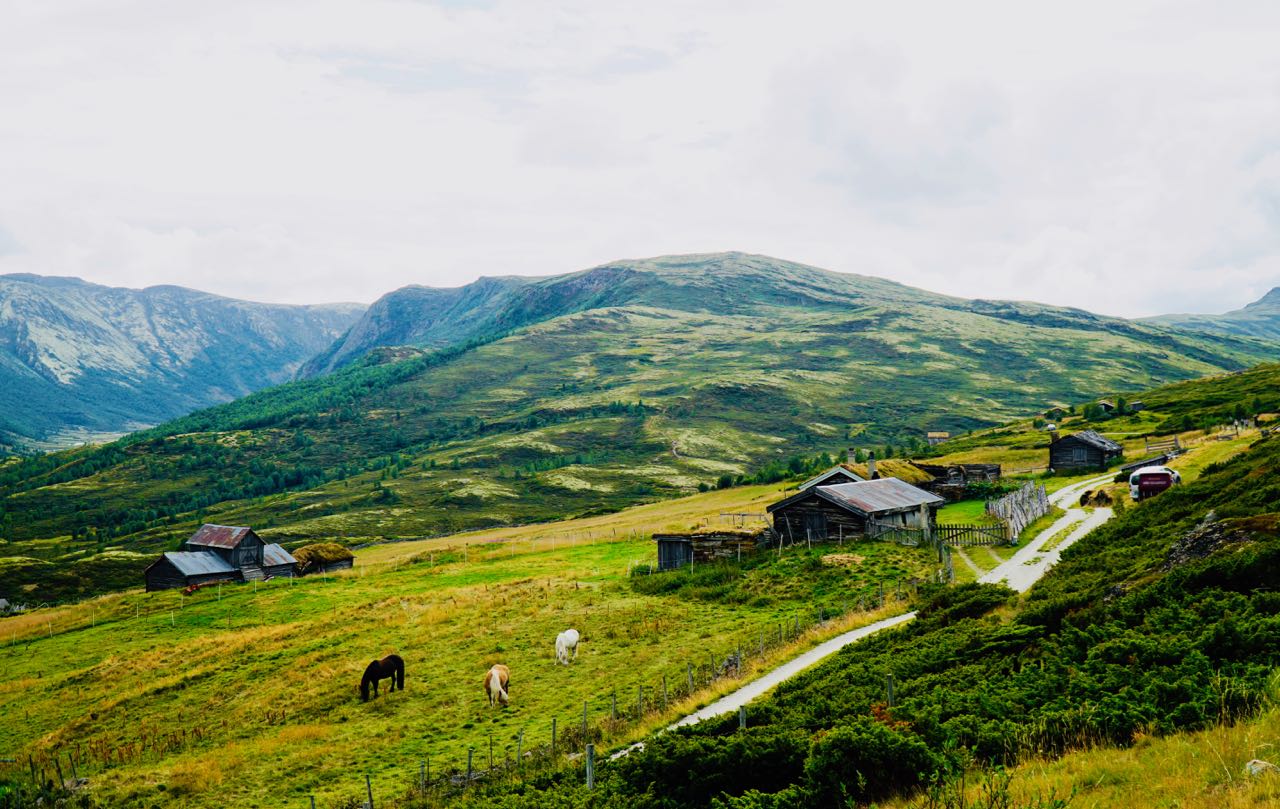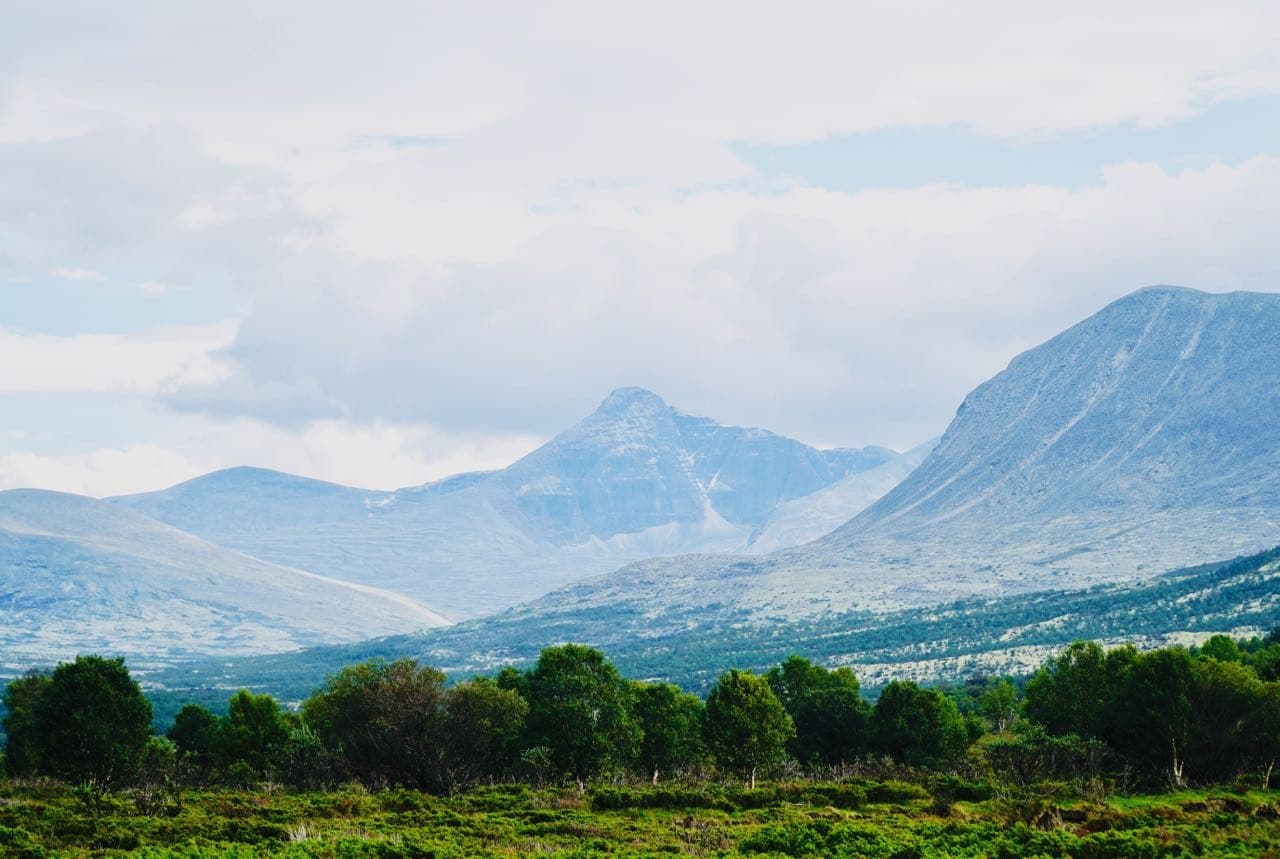 As we turned onto the asphalt road towards Folldal, we had to be somewhat more cautious. There was significantly more traffic, but the drivers were, for the most part, considerate. With the sour cream porridge at least partially digested, we stopped for a few additional snacks at Coop Prix in Folldal.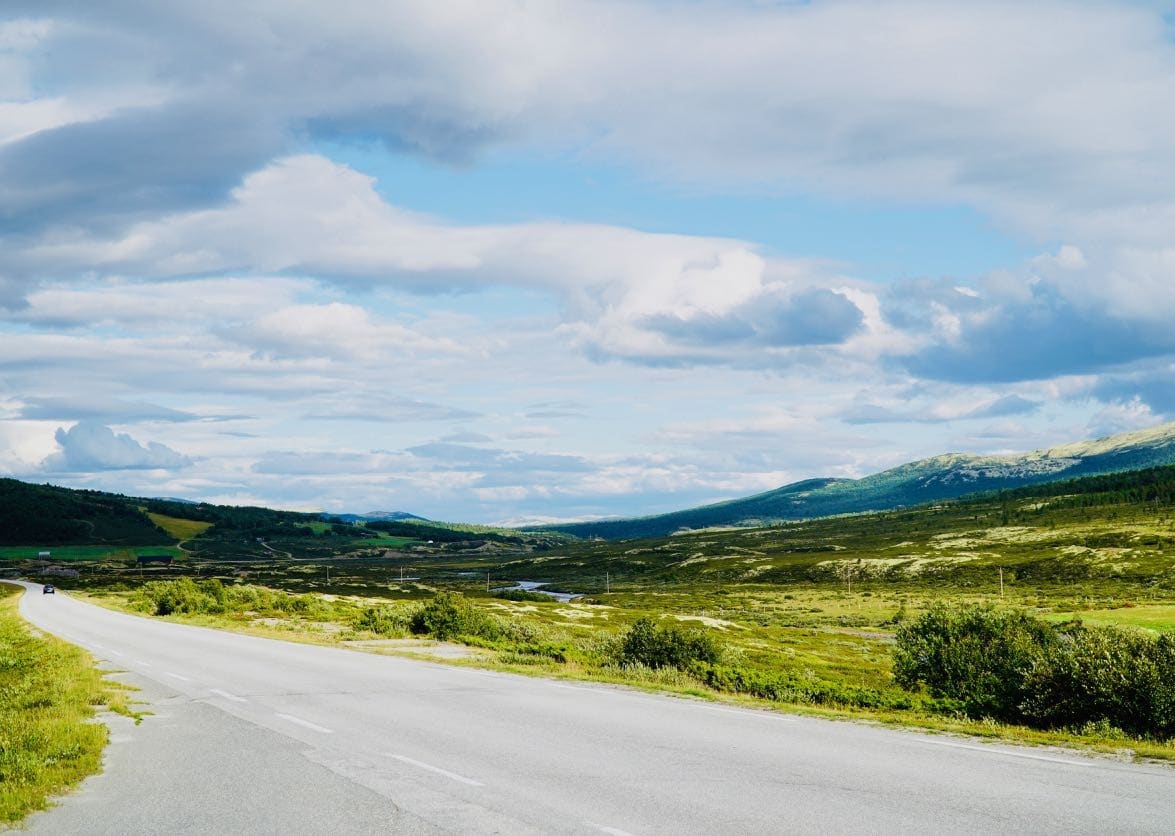 On our way towards Hjerkinn, we were greeted by a fierce headwind that made us pedal much harder to make headway. Fortunately, the magnificent views of Snøhetta and Dovrefjell National Park in front of us motivated us to press on.
Hjerkinn Fjellstue (Hjerkinn Mountain Lodge) provided yet another round of drinks and snacks, much needed after several more hours of cycling. At this point, the long ride was starting to catch up with us.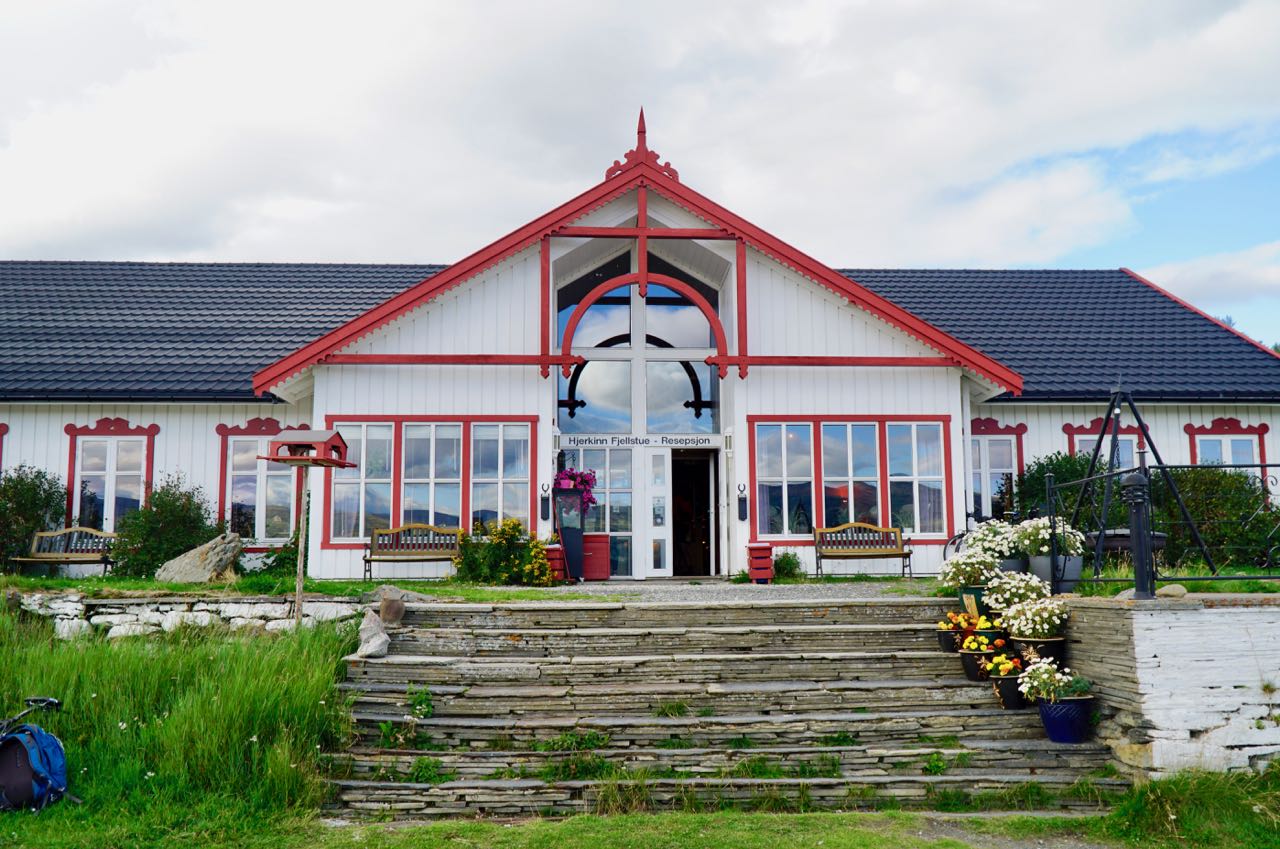 Entering the new bike path between Hjerkinn and Dombås was a welcome change as we did not need to worry about car traffic anymore. However, not long after, we passed a muskox-sign! A little uncertain about whether or not we actually wanted to meet the animals, we pedaled on.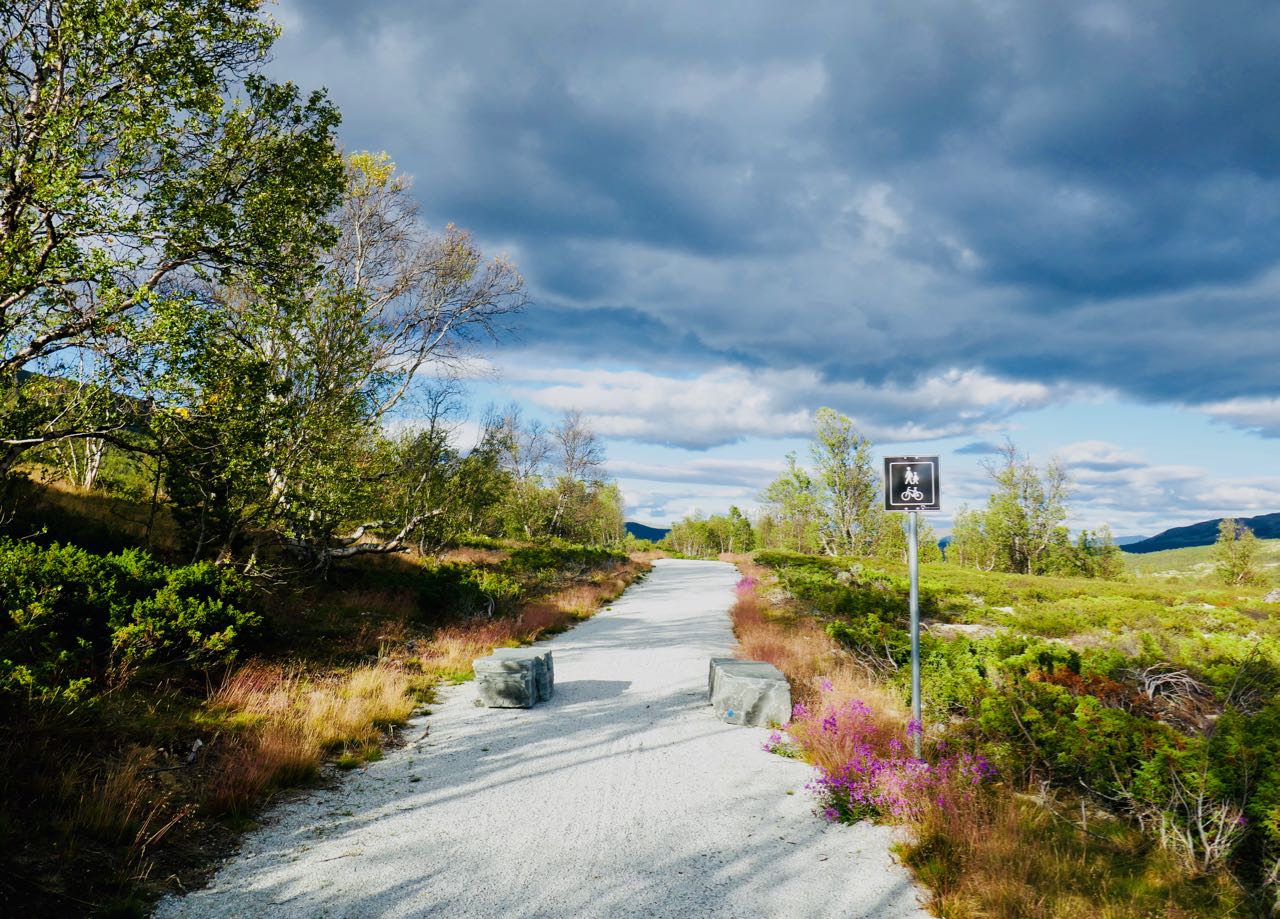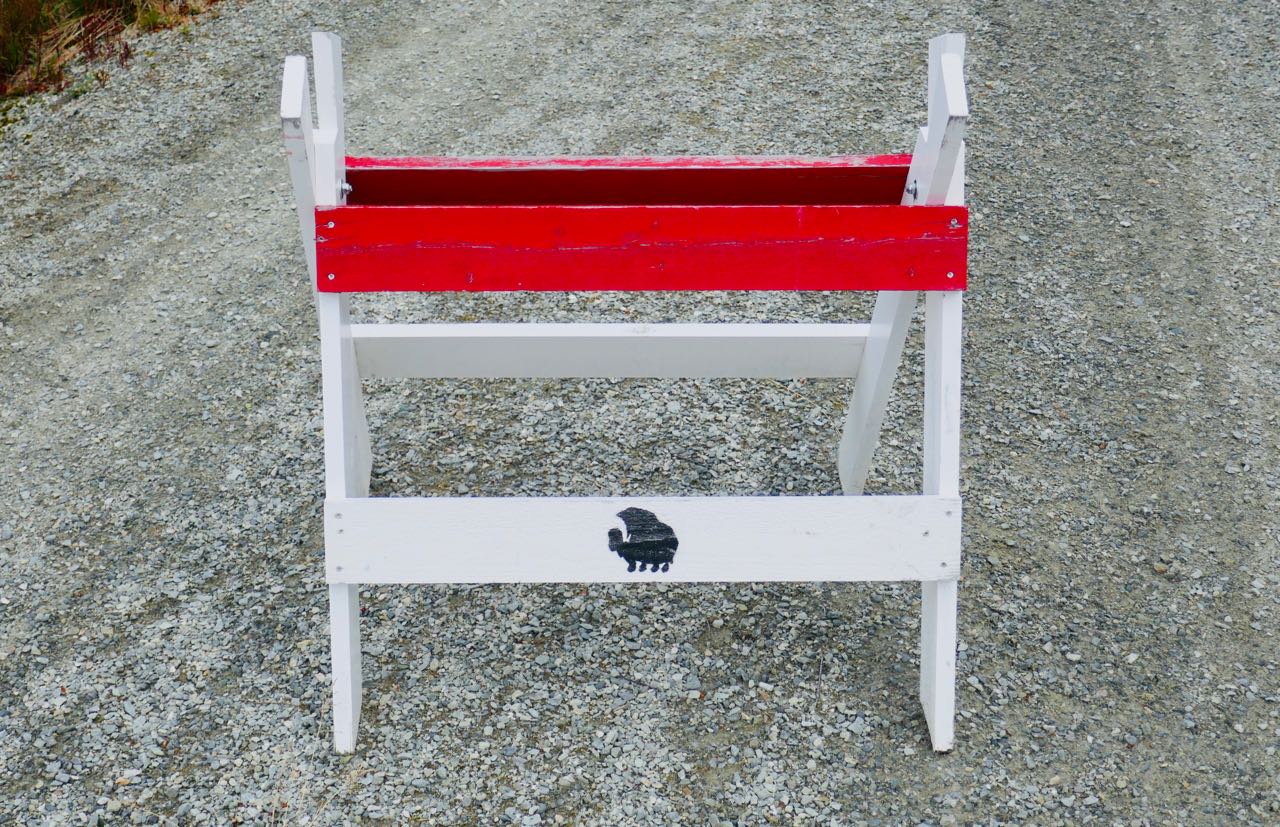 Keeping our eyes peeled for the shaggy-haired animals, we continued to put more kilometers behind us. Starting the descent towards Dombås, we were both relieved and disappointed that we didn't get to see the historic mammals.
Arriving at Dombås, we made the biggest blunder of the day: poor planning saw us turn onto the E6 motorway going south instead of cycling along the far less busy county road down to Dovre and Toftemo Turiststasjon. The last kilometers were not particularly pleasant, with heavy lorries and cars constantly passing us at high speed.
Despite the stressful last kilometers, our smiles were wide as we got off the bikes at Toftemo Turiststasjon just after 10 PM. A long but amazing day had come to an end. Our expectations were not only fulfilled but also greatly exceeded!
READ MORE: A 5-day Road Trip From Oslo, Norway Including 2 Amazing Bike Routes
Practical information and tips:
The road through Grimsdalen valley normally opens for car traffic on the 5th of July. Biking before this date is possible if the snow is gone but the surface may be somewhat loose. Later in the summer, the road conditions will improve as the gravel road hardens.
Tour de Dovre is approximately 130 kilometers long. Most people choose to ride in the direction of Dombås-Hjerkinn-Folldal-Grimsdalen-Dovre. The reason we went the opposite direction was to try to ride the whole route in one day. For such a long ride, we felt it was a good idea to do most of the climb early in the day. Also, by going counter-clockwise, we had the option of taking the train back from Hjerkinn to Dombås if the trip turned out to be too long to complete in one day.
Due to the length of Tour de Dovre, many choose to stay overnight along the way. Conveniently located accommodations along the route are Toftemo Turiststasjon, Grimsdalshytta, Trolltun Gjestegård, Furuhaugli and Hjerkinn Fjellstue.
Link to accommodation along Tour de Dovre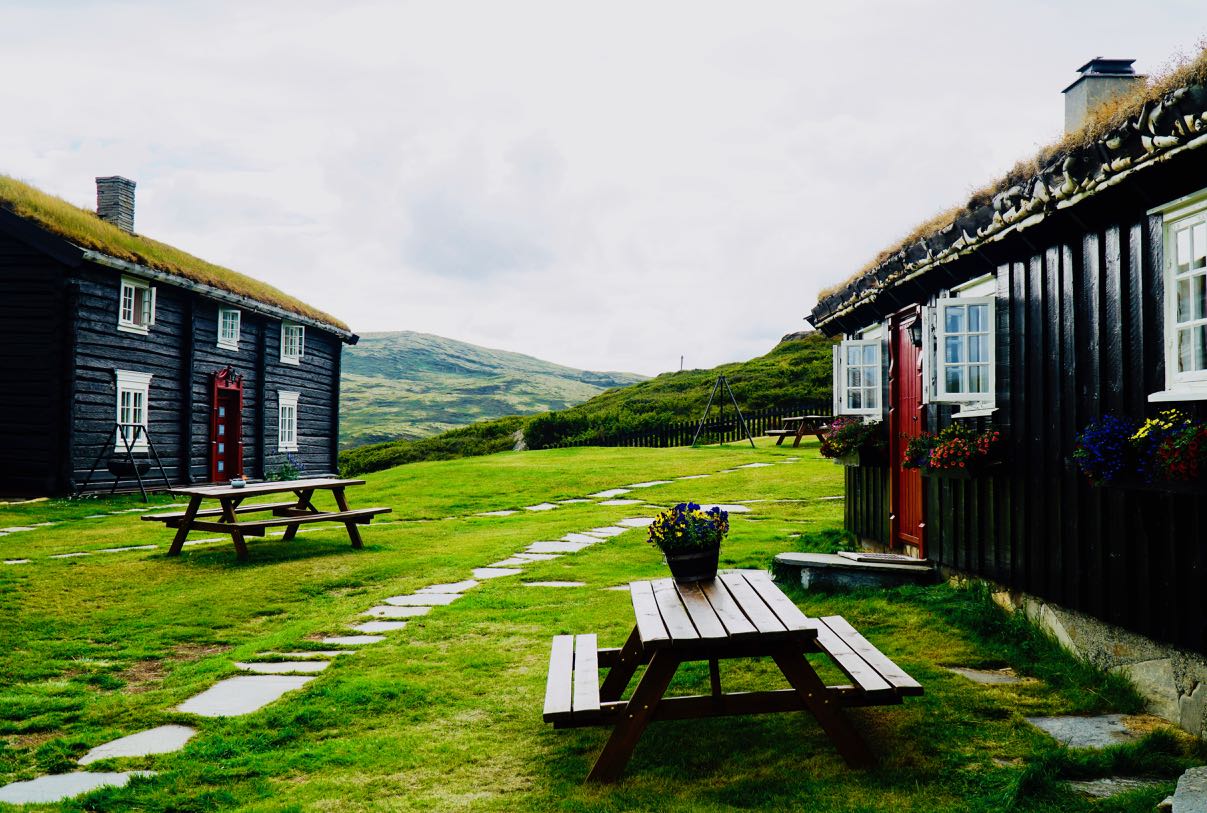 To complete Tour de Dovre in one day, you should either have an above average fitness level or ride an electric bike. One of us did the trip on a road bike, and the other rode an electric bike. We brought an extra battery for the e-bike and used as little battery as possible along the way. Two fully charged batteries were enough for us, but this will vary with the battery capacity of different bikes. Along the route, there are charging opportunities at Grimsdalshytta and Hjerkinn Fjellstue.
Most types of bicycles can be used for Tour de Dovre, as the surface is generally smooth and easy to ride on. The road bike we used had 25 mm wide tires that worked well and resisted punctures. No matter what type of bike you use, make sure to bring a puncture repair set.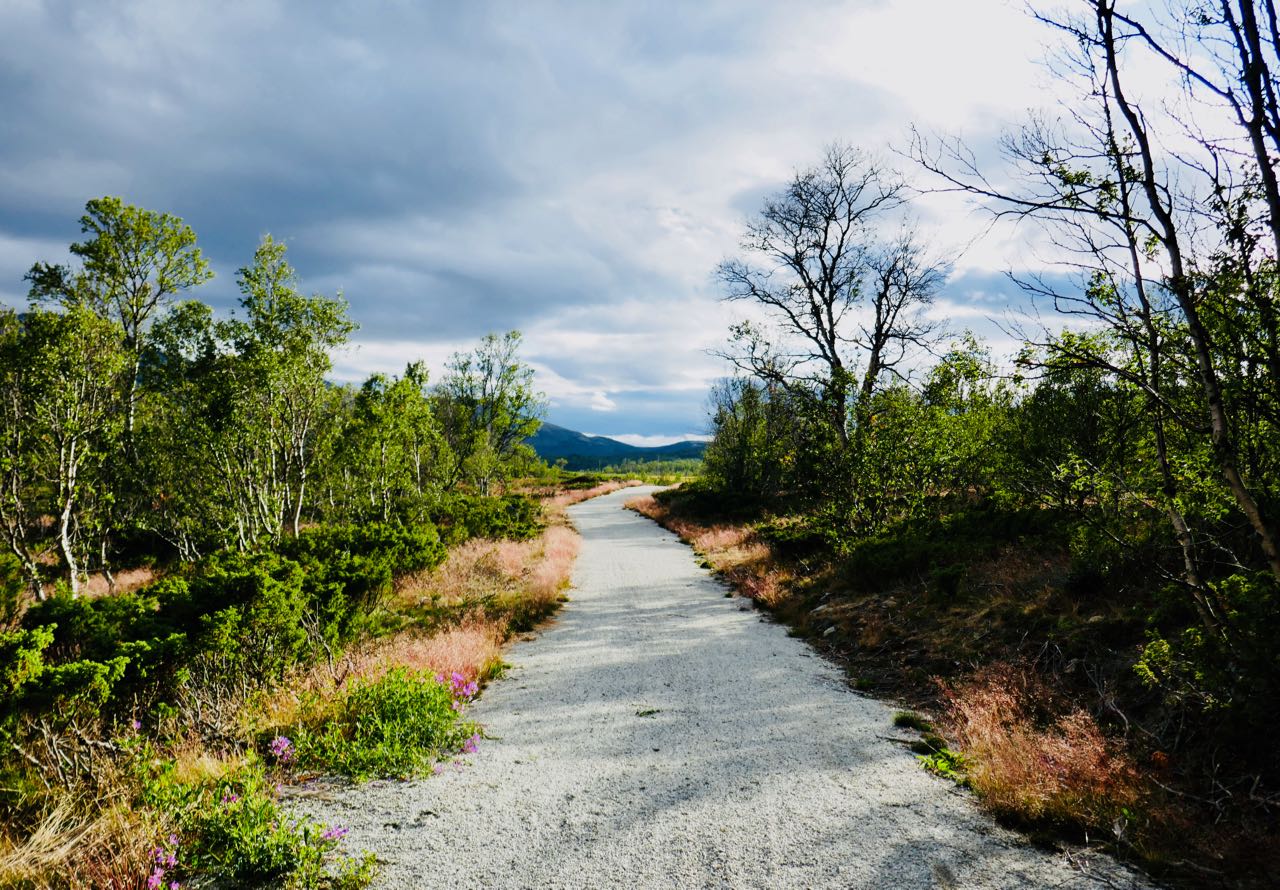 It is possible to rent both regular bikes and electric bikes from Dovrefjell Adventures. Dovrefjell Adventures collaborates with a number of accommodations in the area. This means that you can easily customize the trip according to your preferences. Dovrefjell Adventures is also cooperating with Funkibator in expanding the bike rental options to include bikes customized for people with disabilities in the near future.
If you decide to do the trip with children, it's best to plan it out over multiple days or only cycle part of the route. The most child-friendly parts of the route are in Grimsdalen valley and between Dombås and Hjerkinn. The road in Grimsdalen is open to car traffic in the summer, but we met far more cows than cars on the road.
Speaking of cows, it is wise to exercise some caution. We had a somewhat scary experience in Grimsdalen valley when one of the four-legged inhabitants did not seem too happy to see us. It was standing close to the road when we passed and suddenly made a lunge in our direction. It didn't hit us, but it goes to show that some caution should be taken. For the rest of the trip, we lowered our speed and kept at an extra distance to avoid stressing out the animals.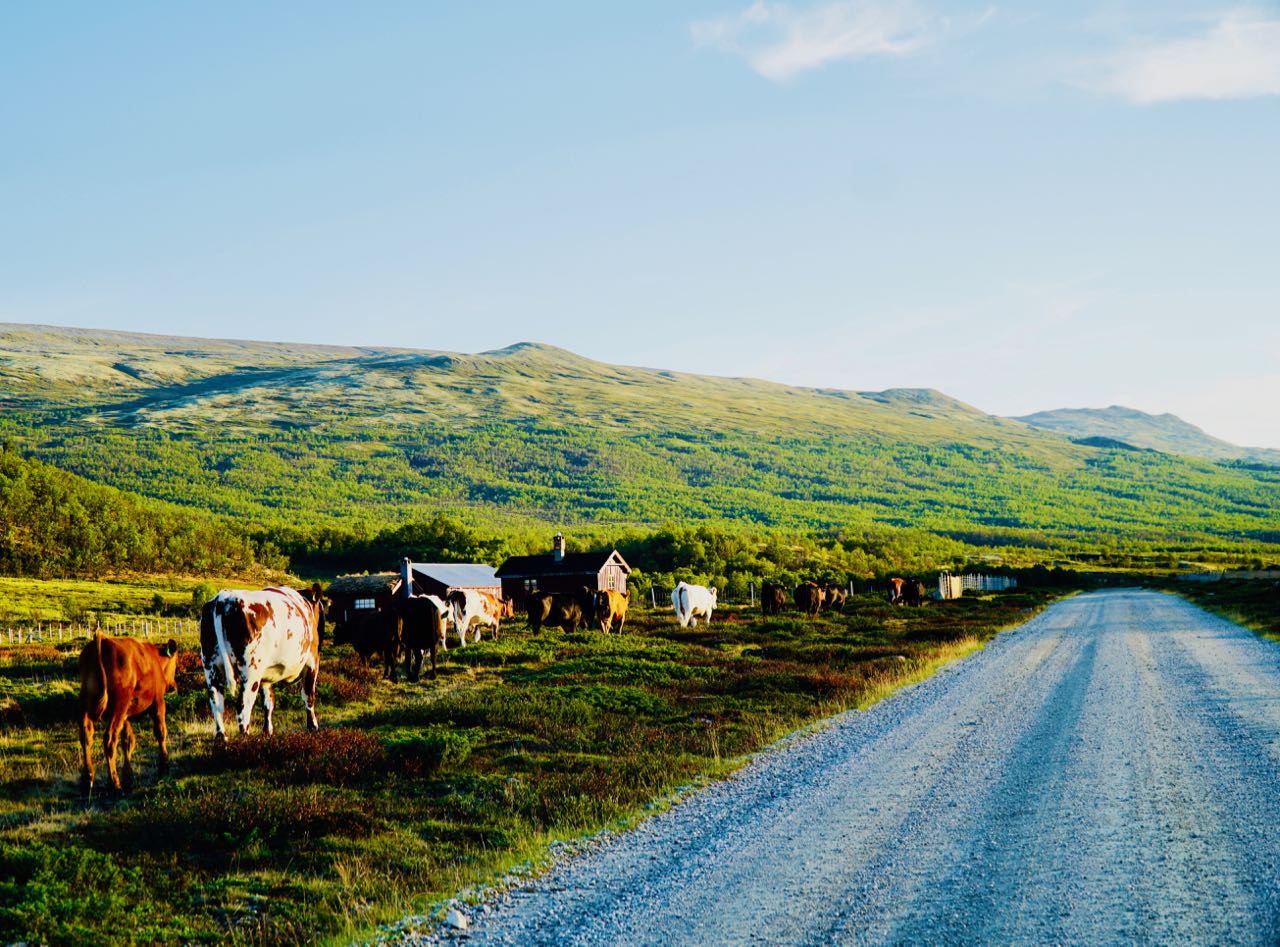 At Dombås, make sure to follow the county road Fv496 and then turn onto Fv497 on your left after crossing the river. It is important to be vigilant at this point of the route to steer clear of the heavy traffic on the motorway down to Dovre.
As mentioned above, it is possible to take the train from Hjerkinn to Dombås to shorten the route by approximately 30 kilometers. If you ride the route clockwise, you can also avoid a long climb if you start the day by taking the train from Dombås to Hjerkinn.
Do bring clothes for all types of weather. Dressing in layers is a good idea, as weather conditions and temperatures can change rapidly.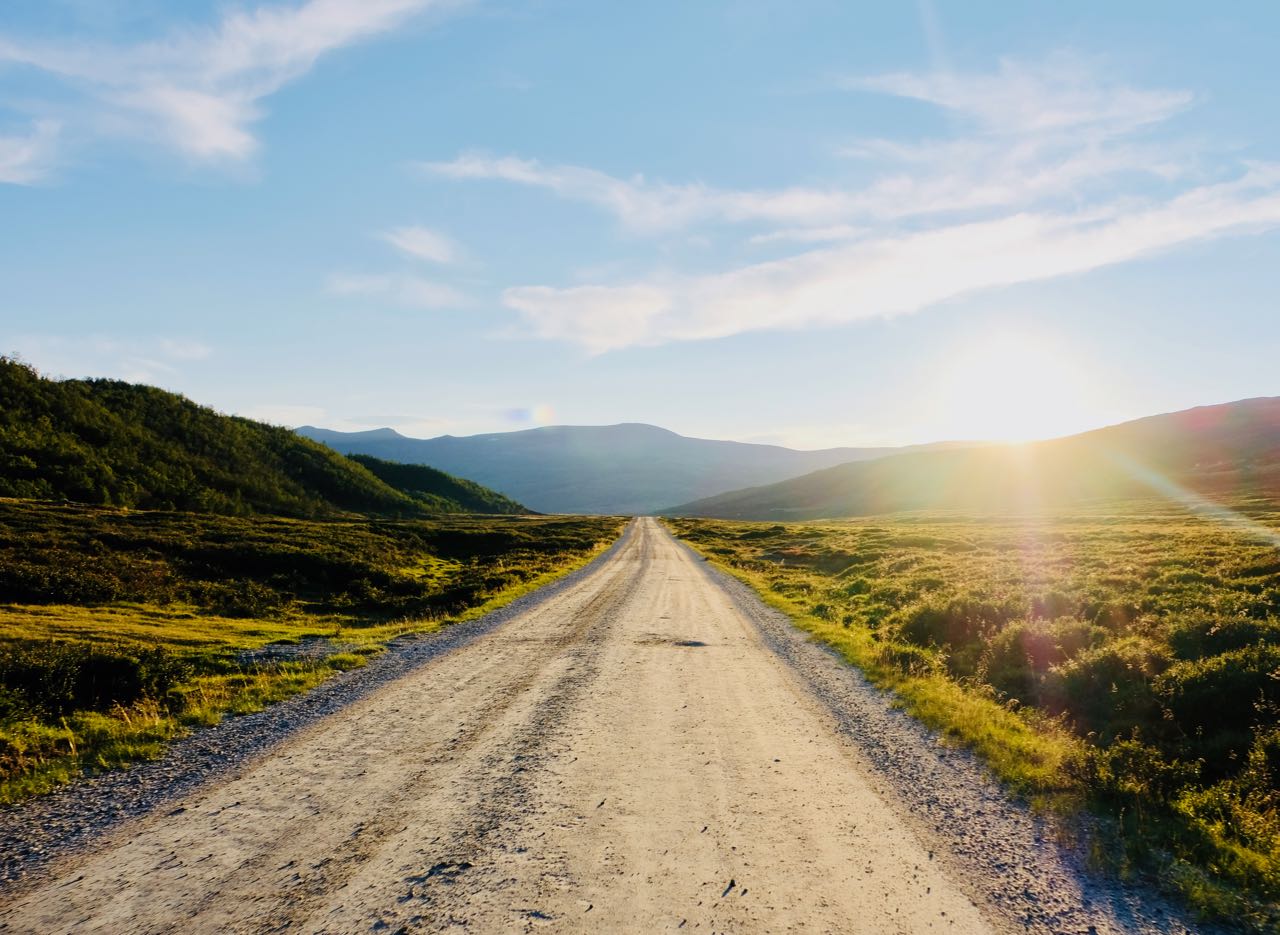 Last but not least, we highly recommend staying at Toftemo Turiststasjon. Toftemo Turiststasjon offers affordable accommodation in tents, cabins and hotel rooms. We stayed in a spacious hotel room with good beds and two comfortable armchairs which were lovely to relax in after a long day on the bike. The service at Toftemo Turiststasjon is also outstanding; we greatly appreciated that the hostess offered to make us dinner more than two hours after normal kitchen hours. This was the perfect end to a perfect day!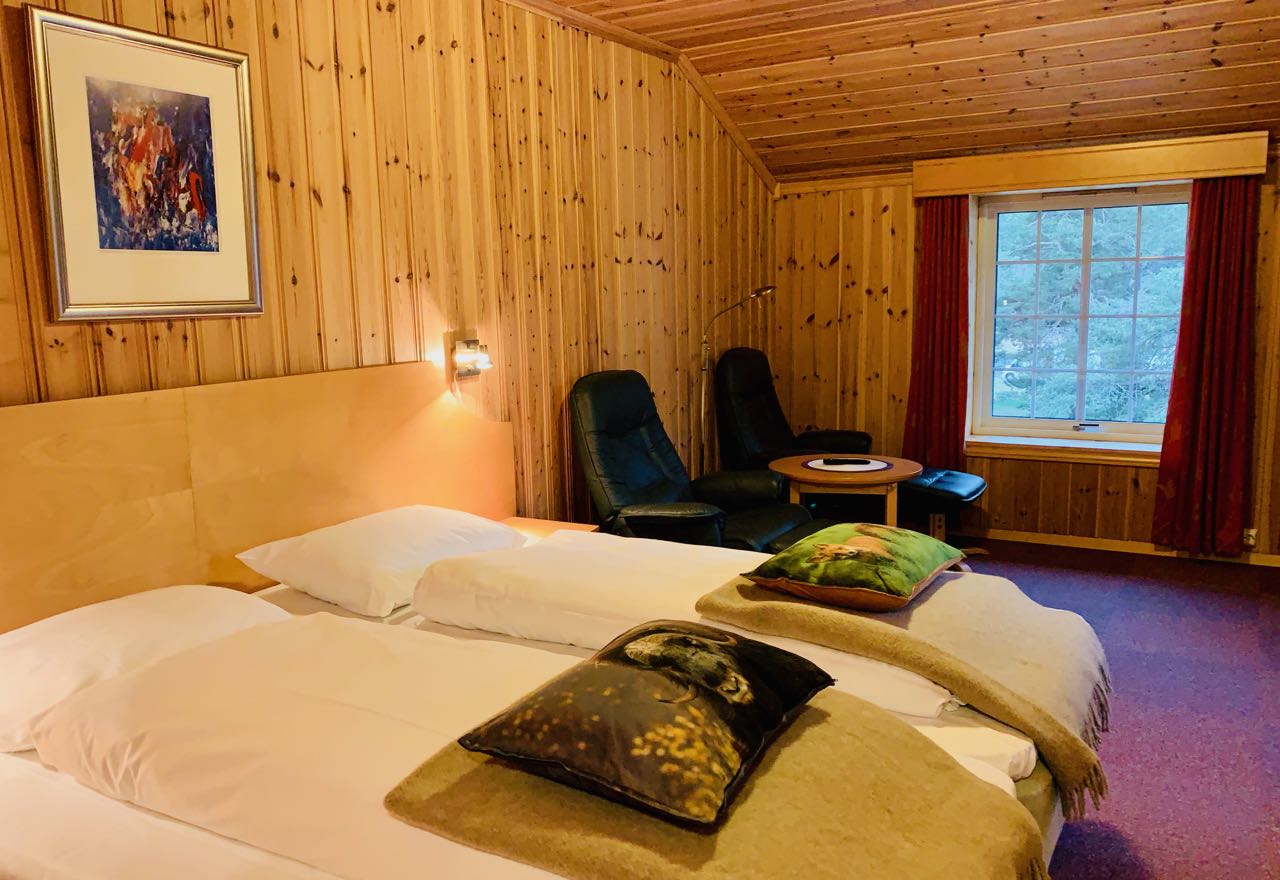 *We cycled Tour de Dovre in early August 2018. None of the places we visited knew that they could be featured on the blog, and we paid all expenses ourselves.