Last updated June 2023
After going on an epic 10-day road trip in Southern Norway in 2017, we were keen to see more of our beautiful country. This time we wanted to explore Norway by both car and bike. With 4 nights and 5 days blocked off on our calendar, we eagerly started planning.
Having come across the Tour de Dovre bike route via a Google search, we quickly decided that this was something we couldn't pass on. Cycling the entire 130 kilometers in one day was an ambitious goal, but with one electric bike and one road bike, we were hoping it would be possible.
With Tour de Dovre as the main item on our to-do list, we planned the rest of the itinerary. We wanted to see lots of beautiful Norwegian nature, and what we managed to do in these 5 days surpassed even our highest hopes!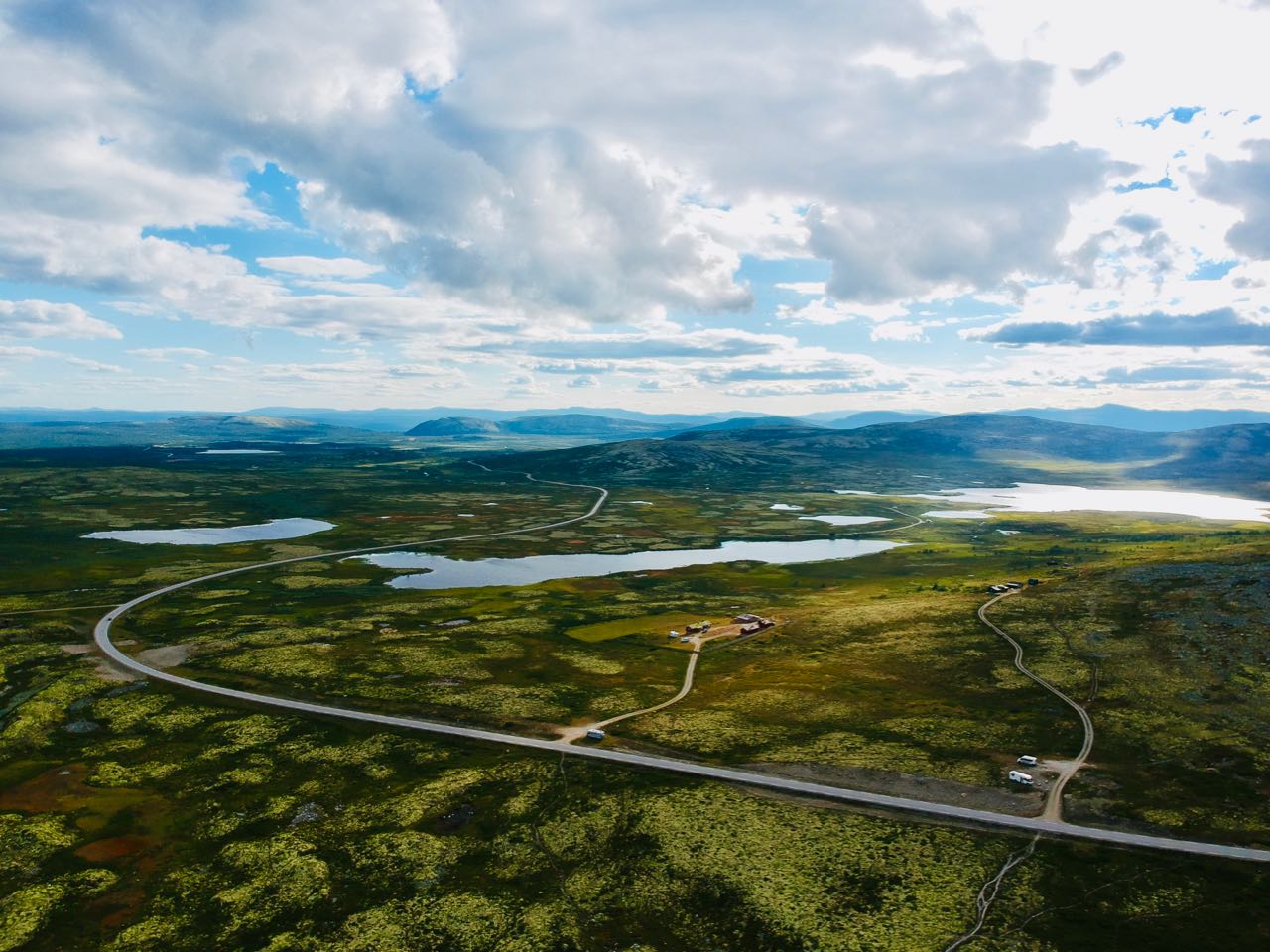 Itinerary:
Day 1: Driving from Oslo to Dovre
Day 2: Biking Tour de Dovre
Day 3: Driving from Dovre to Beitostølen
Day 4: Biking along Jotunheimvegen
Day 5: Driving from Beitostølen to Oslo
NOTE! Parts of the route are closed during winter. All the roads are normally open from the beginning of June to the middle of October, though this depends on the weather and driving conditions. We therefore recommend verifying that all the roads are open. If you skip the biking, it is possible to do this road trip in just two nights/three days.
Day 1: Driving from Oslo to Dovre via Venabygdsfjellet and Grimsdalen
360 kilometers – 5 hours and 30 minutes of driving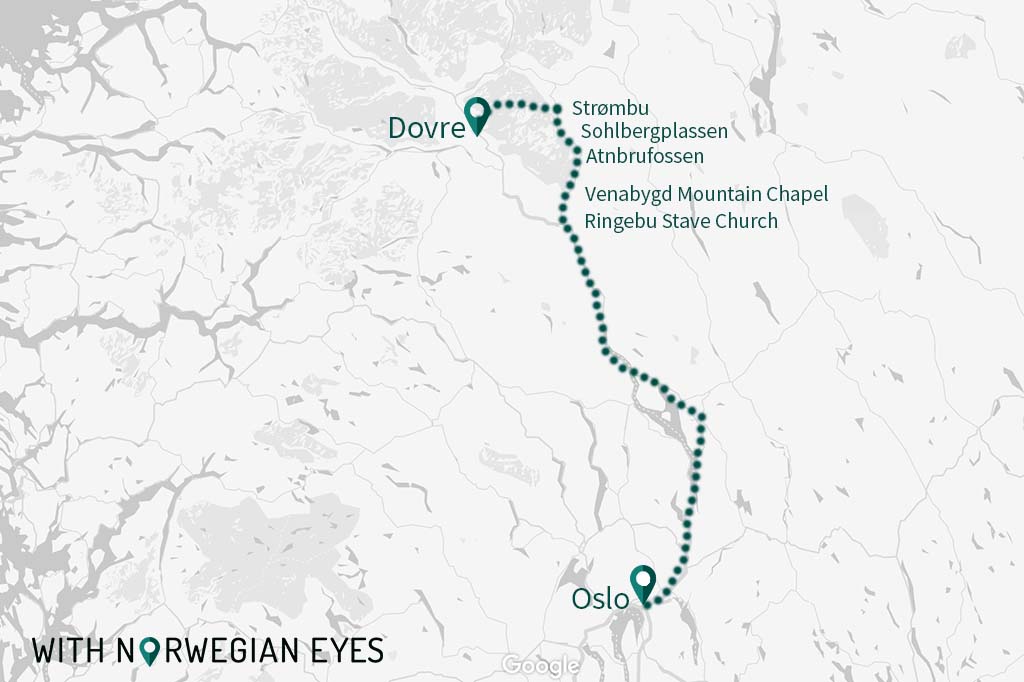 Stop points:
Ringebu stavkirke (Ringebu Stave Church)
Venabygd fjellkapell (Venabygd Mountain Chapel)
Atnbrufossen Vannbruksmuseum og Fossehuset (a water-powered sawmill museum, and waterfall house)
Sohlbergplassen (Sohlbergplassen viewpoint)
Strømbu (Strømbu Rest Area)
Highlights:
Norwegian Scenic Route Rondane
Sohlbergplassen viewpoint
Grimsdalen valley
We headed out from Oslo on a sunny day at the beginning of August. On the way north, we passed the exit to the lush island of Helgøya, but this time we unfortunately did not stop there.
Instead, we drove straight to Ringebu, where in our opinion the road starts to become more exciting. The Norwegian Scenic Route Rondane runs between Venabygdsfjellet and Folldal, but even before we got that far, there was a lot to look at.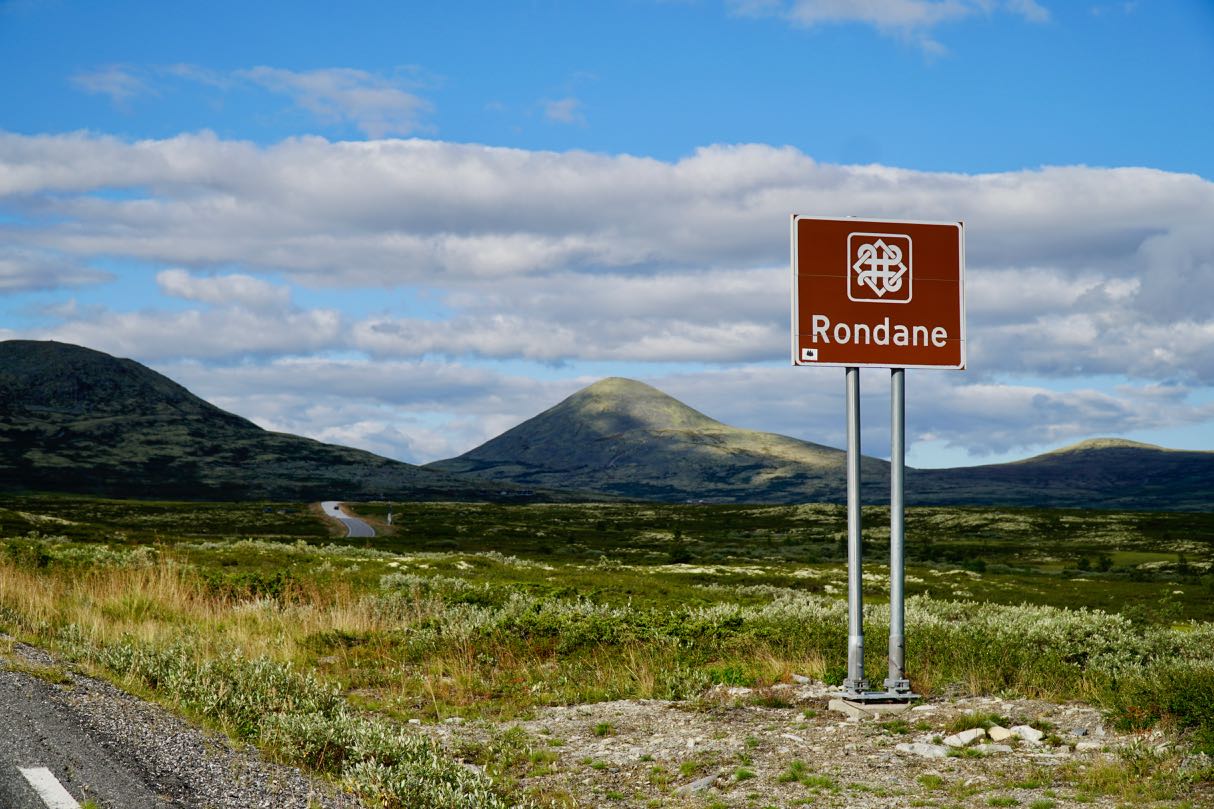 Venabygd Mountain Chapel, with its turf roof, and the pyramid-shaped Muen mountain, are both photogenic vistas close to the road. There is also a multitude of small lakes scattered around the beautiful mountain terrain.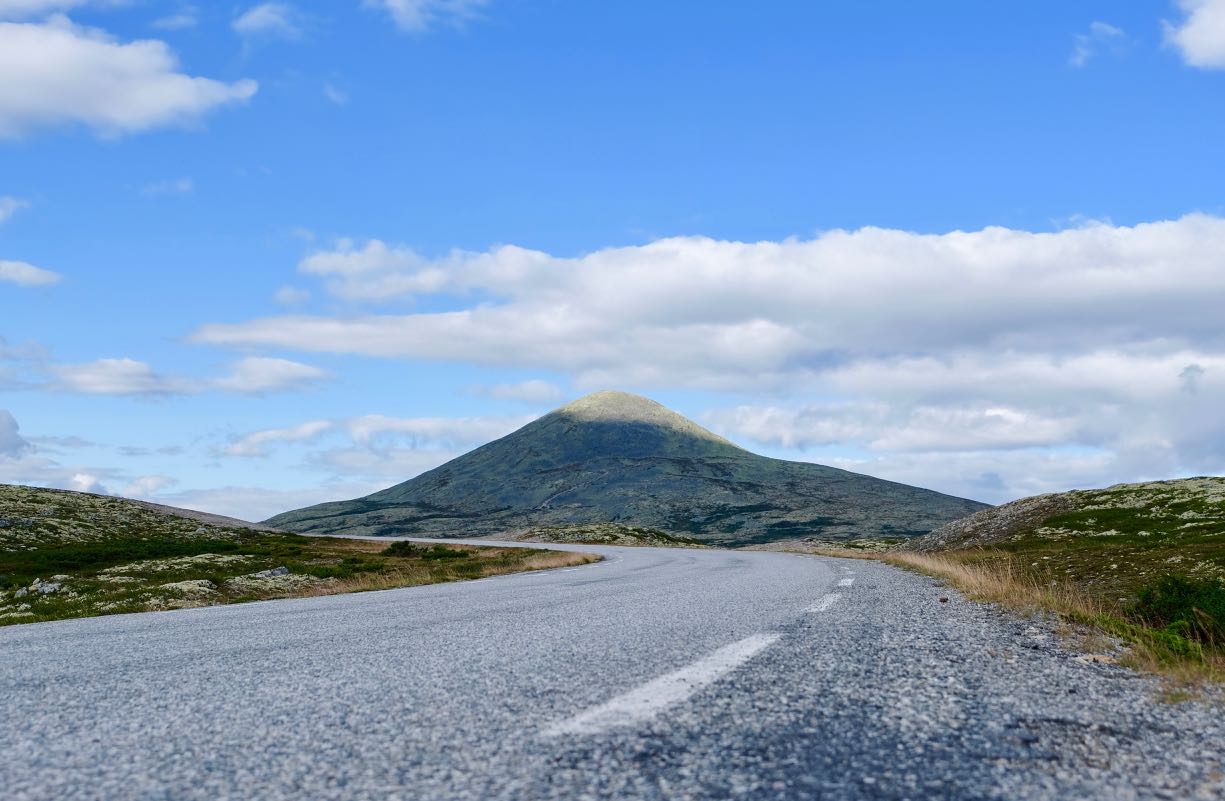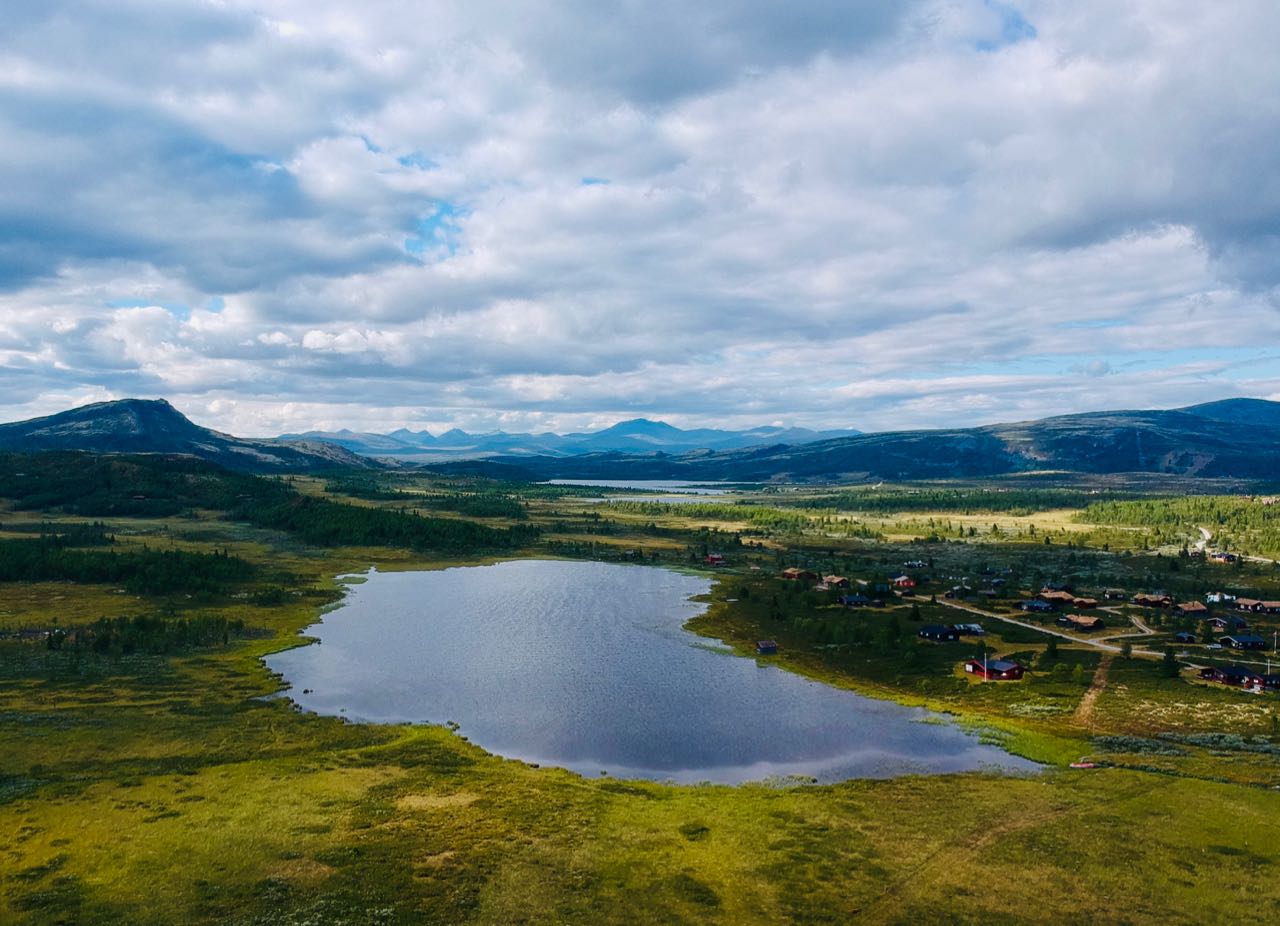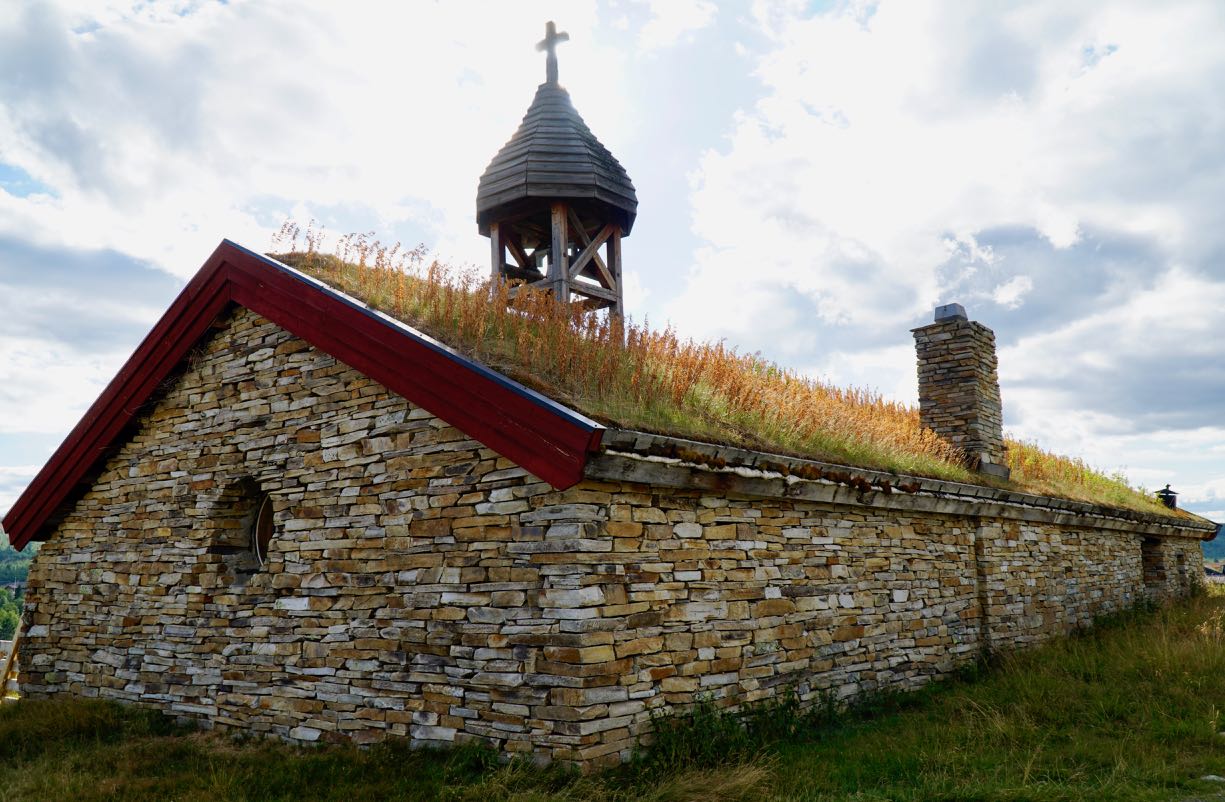 We made a brief stop at Atnbrufossen Vannbruksmuseum og Fossehuset (the sawmill museum and waterfall house). The museum was closed when we arrived, but it was still fun to have a look at the waterfall and the sawmill.
A stop at Sohlbergplassen viewpoint is a must. The curvy shaped platform offered fantastic views of lake Atnsjøen and the mountains of Rondane.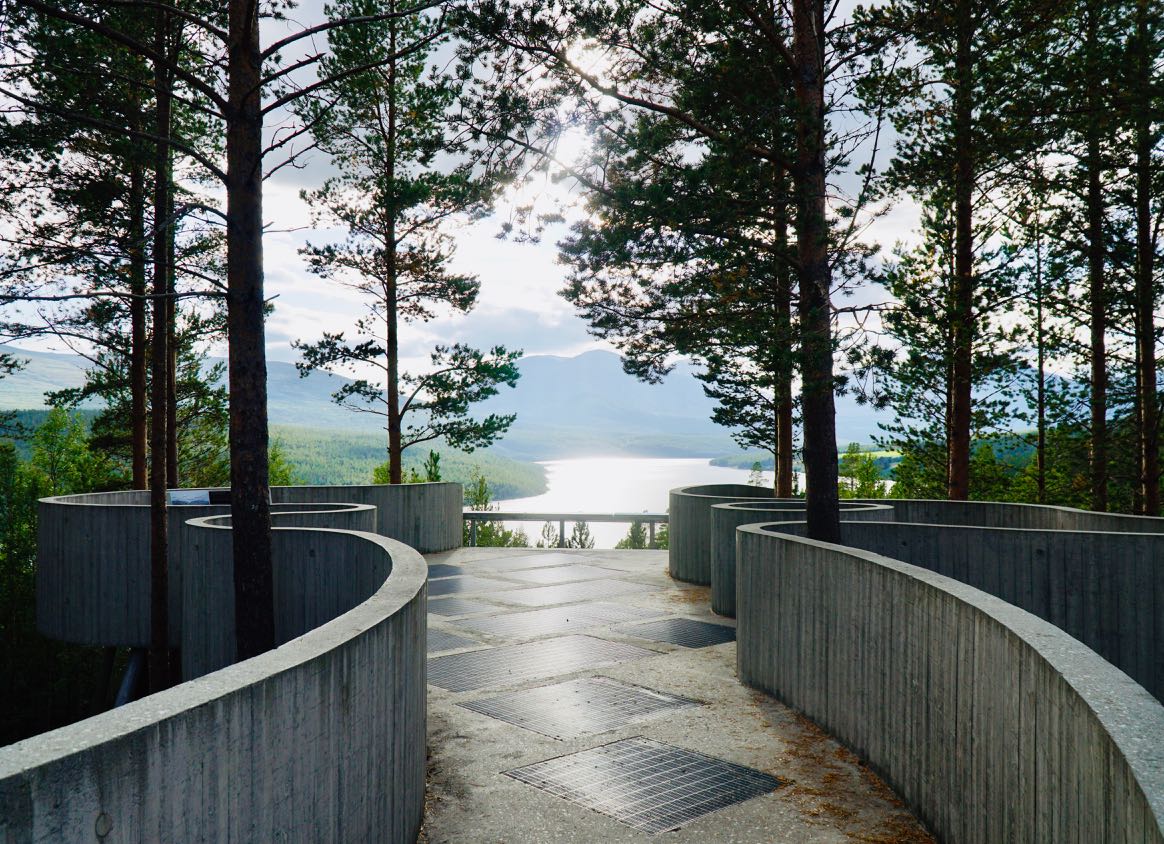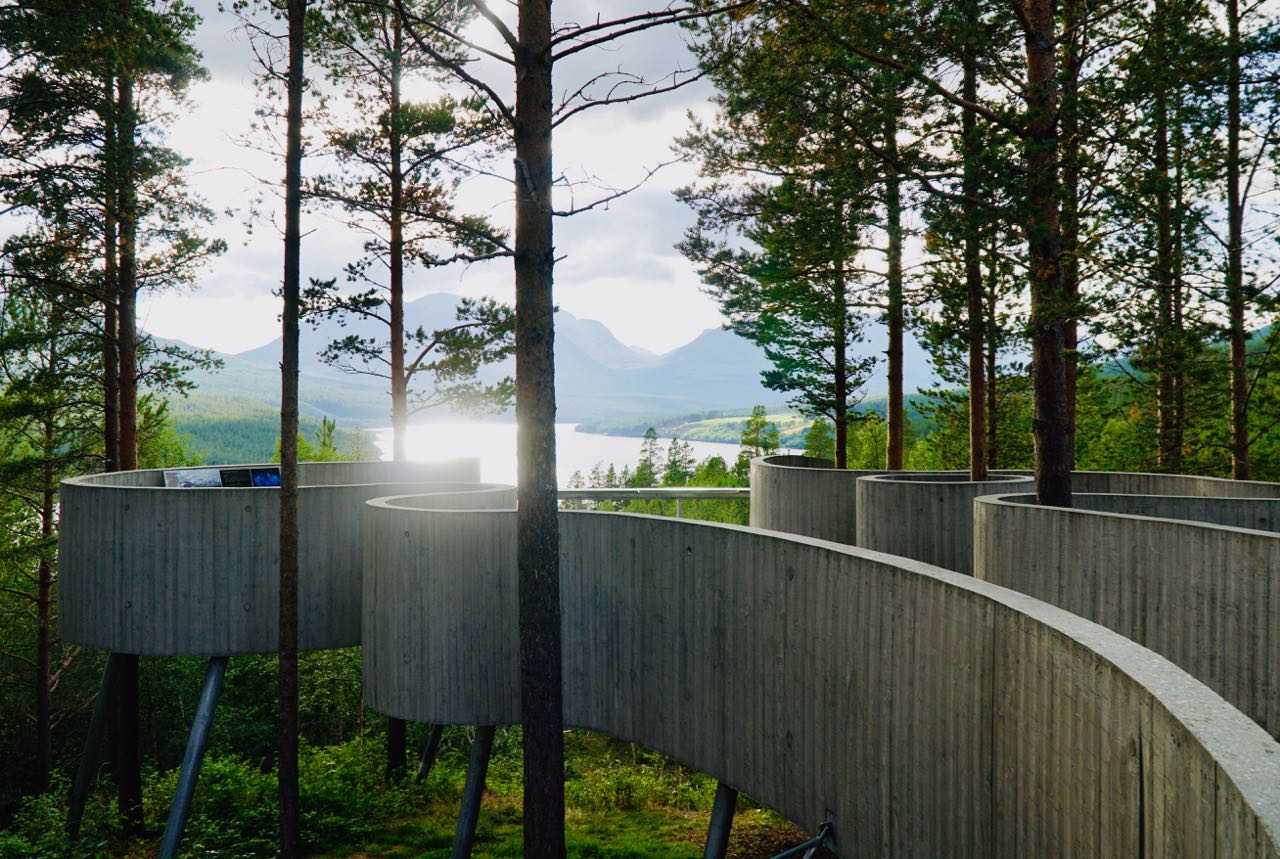 The architect of Sohlbergplassen, Carl-Viggo Hølmebakk, is also the creative mind behind Strømbu Rest Area. The rest area has benches and public washrooms and is peacefully situated next to the river.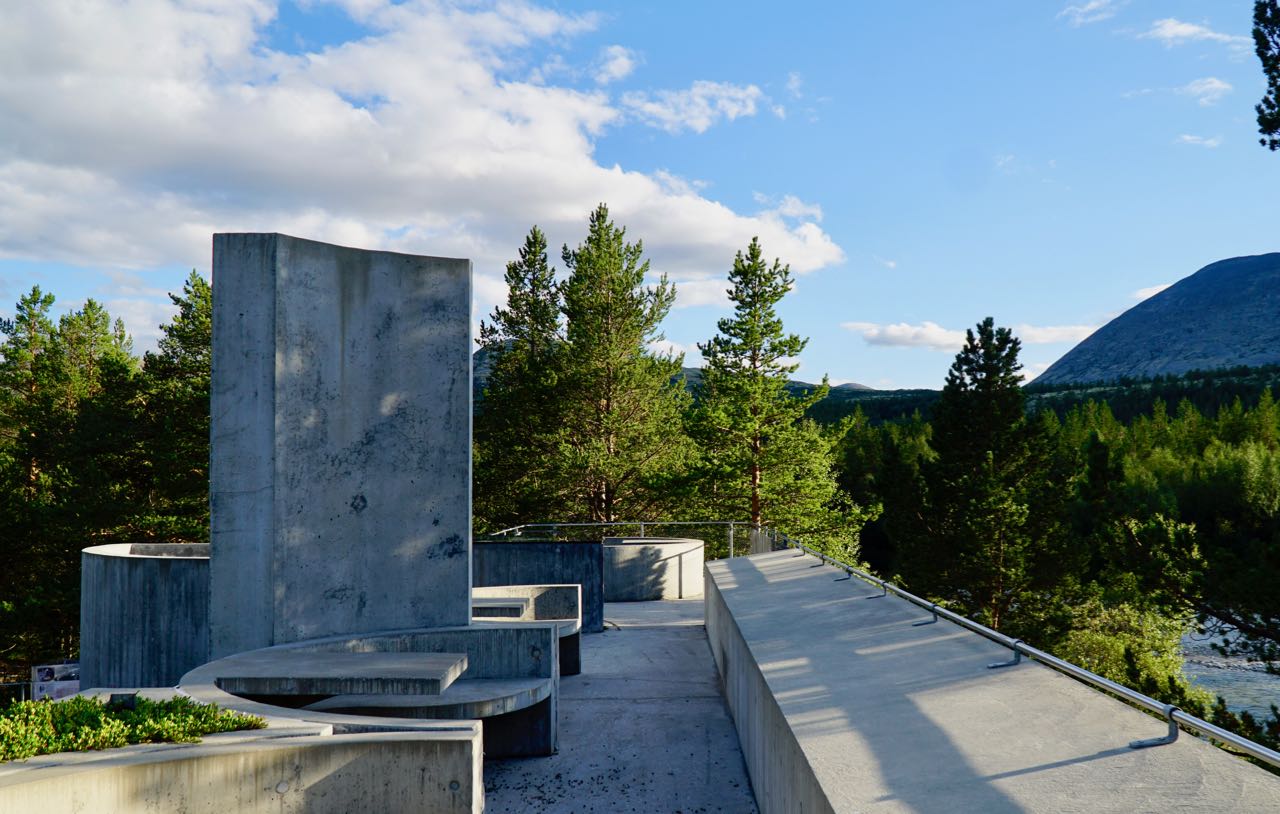 The last leg of the first day took us through Grimsdalen valley. Grimsdalen valley is arguably Norway's most beautiful valley. After driving through this amazing scenery, we couldn't wait to see more of it by bike the next day.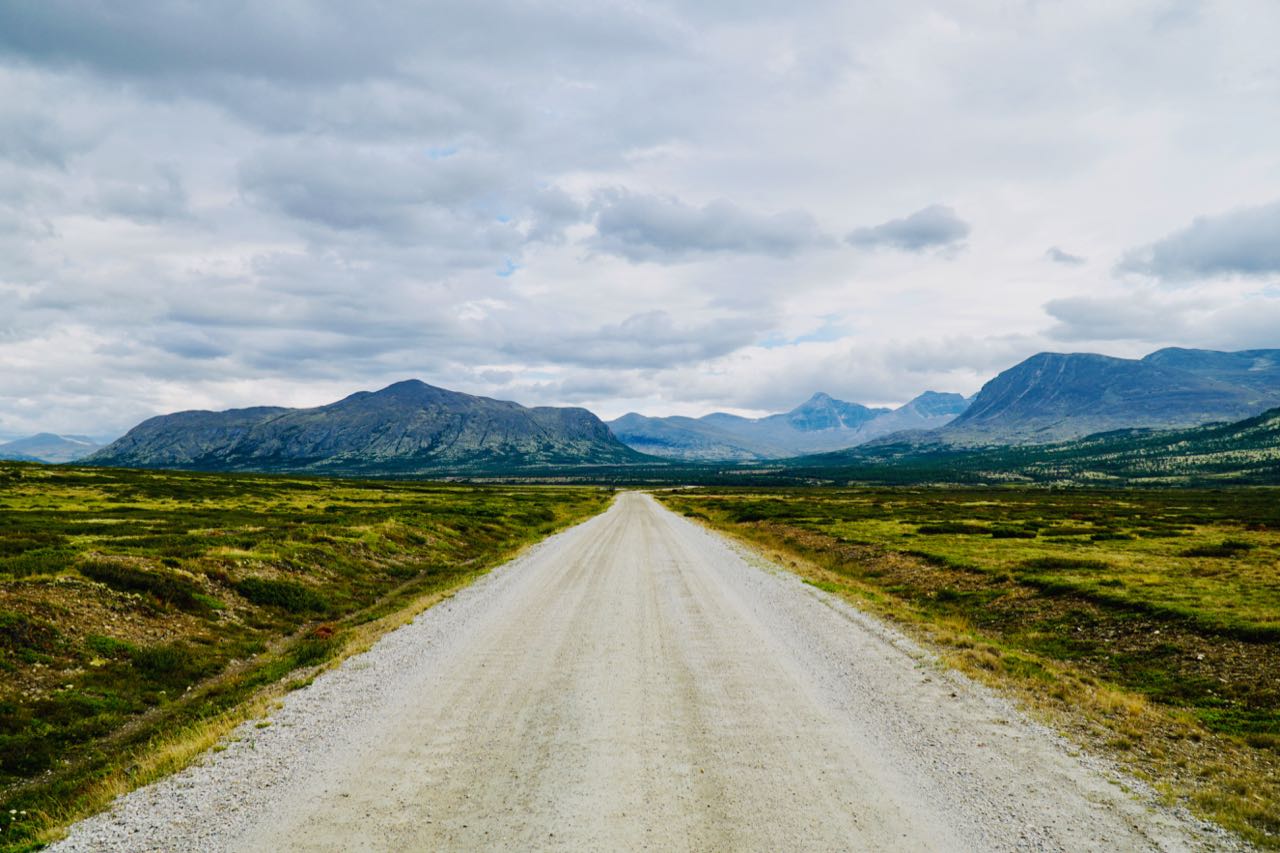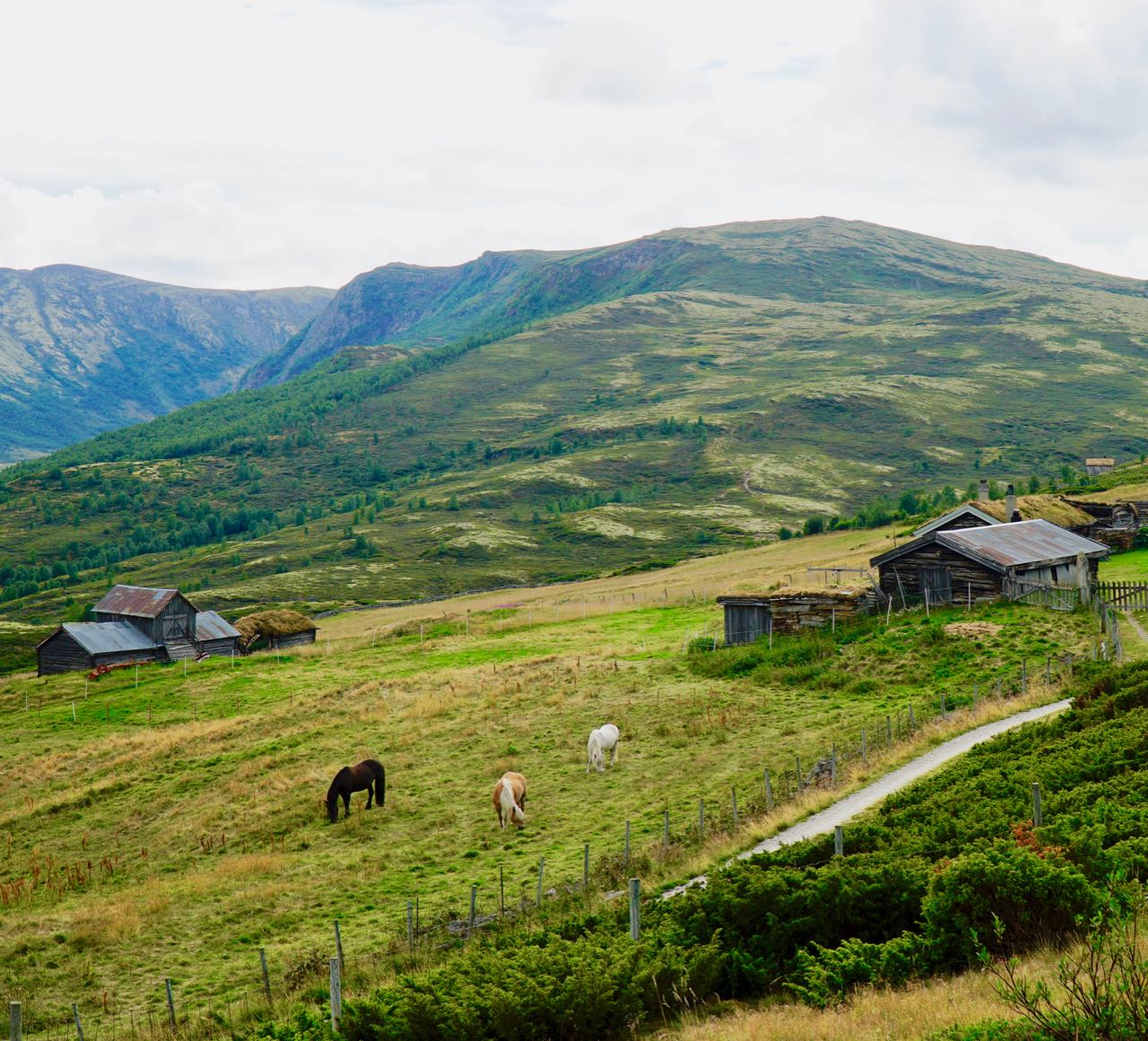 Accommodation: We had booked a room at Toftemo Turiststasjon, which we found to be highly recommendable. We were given a spotless and comfortable room, including a solid breakfast at a very reasonable price. The friendly hostess also provided excellent service.
Day 2: Biking Tour de Dovre
130 kilometers
The Tour de Dovre cycling route impressed us deeply with its breathtaking scenery. It was a long day of biking, but we managed to finish all 130 kilometers just before sunset. Click here to see pictures and read more about our day biking this spectacular route.
Highlights:
Grimsdalen valley
Lunch at Grimsdalshytta (Grimsdalen mountain lodge)
Hjerkinn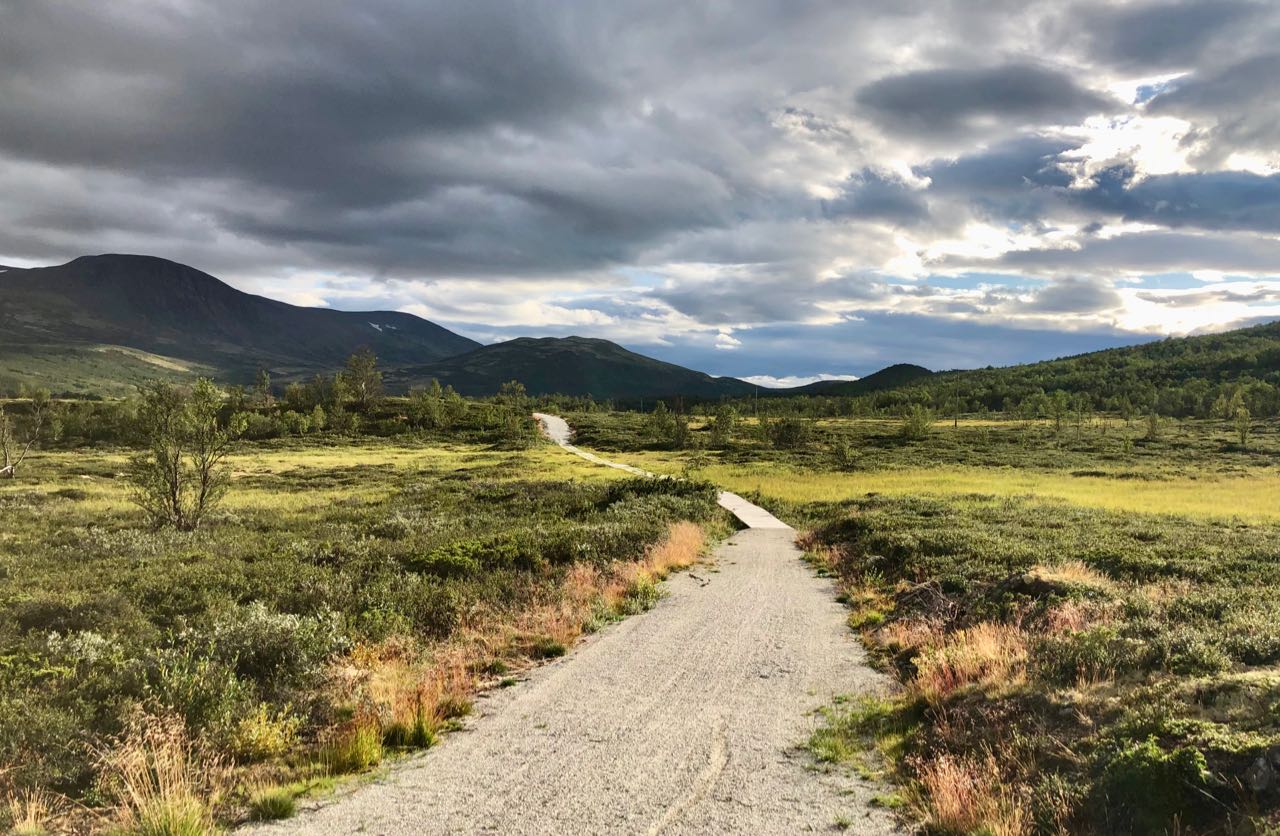 Accommodation: We spent one more night at Toftemo Turiststasjon.
Day 3: Driving from Dovre to Beitostølen via Brimi sæter
150 kilometers – 2 hours and 50 minutes of driving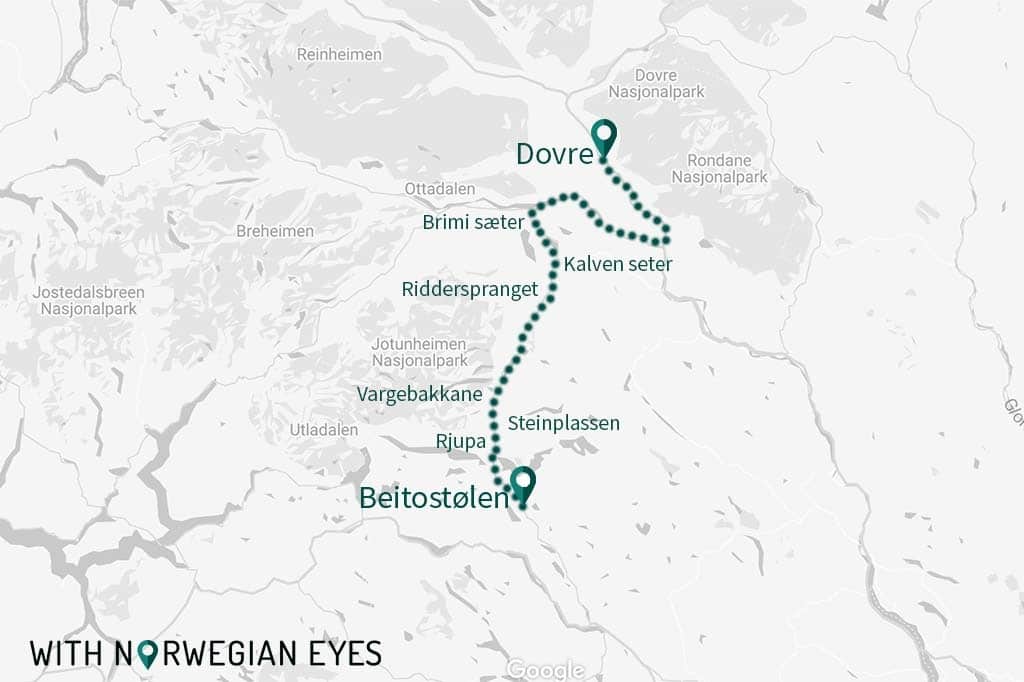 Stop points:
Brimi sæter (farm shop and mountain café)
Kalven Seter Farm and Coffee Shop
Ridderspranget (gorge)
Vargebakkane (viewpoint)
Steinplassen (rest area)
Rjupa (viewpoint)
Highlights:
Brimi sæter
Kalven Seter Farm and Coffee Shop
Norwegian Scenic Route Valdresflye
After breakfast at Toftemo Turiststasjon, we packed our car and headed towards Beitostølen. On the way, we took a small detour to visit Brimi sæter. Brimi sæter offers food and accommodation in idyllic surroundings. We had an absolutely delicious lunch here and bought traditional Norwegian food in the small farm shop. We also stretched our legs among the old buildings and met a few two- and four-legged creatures.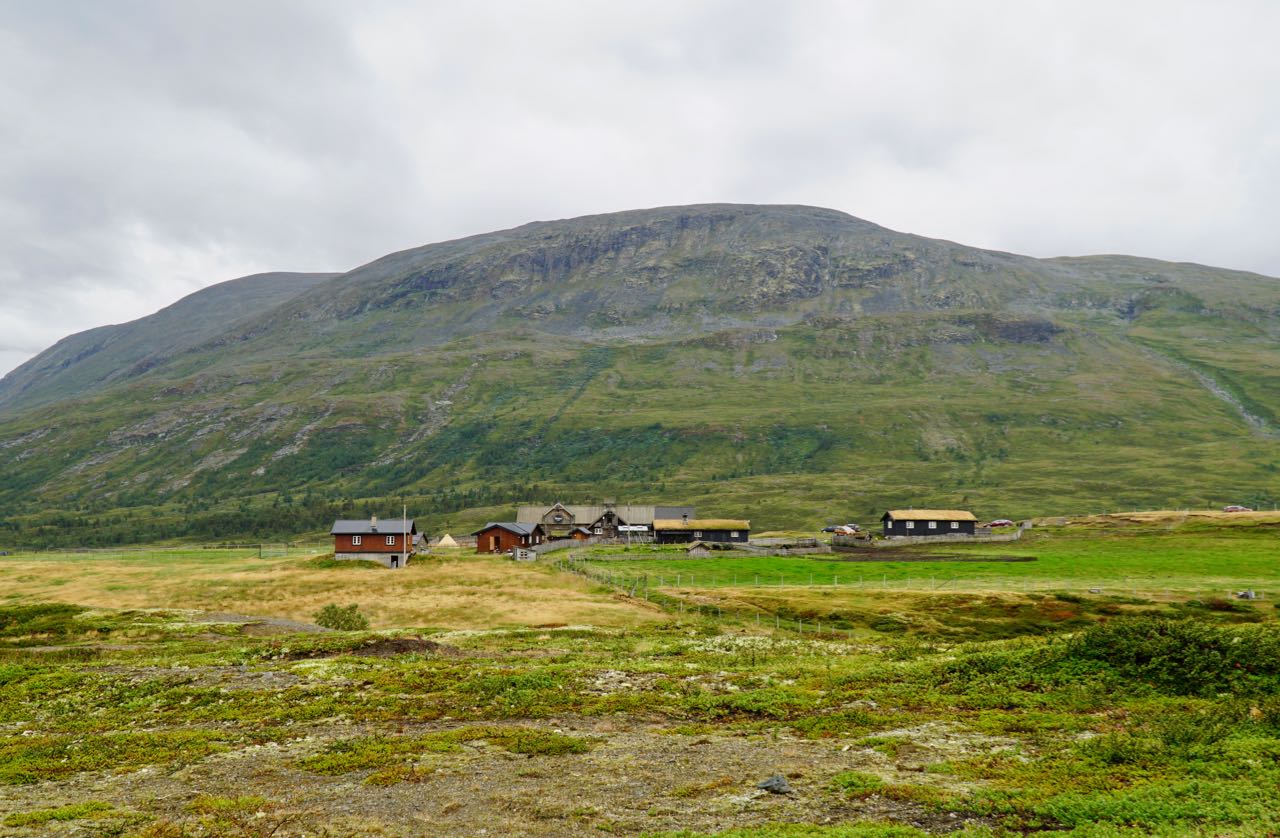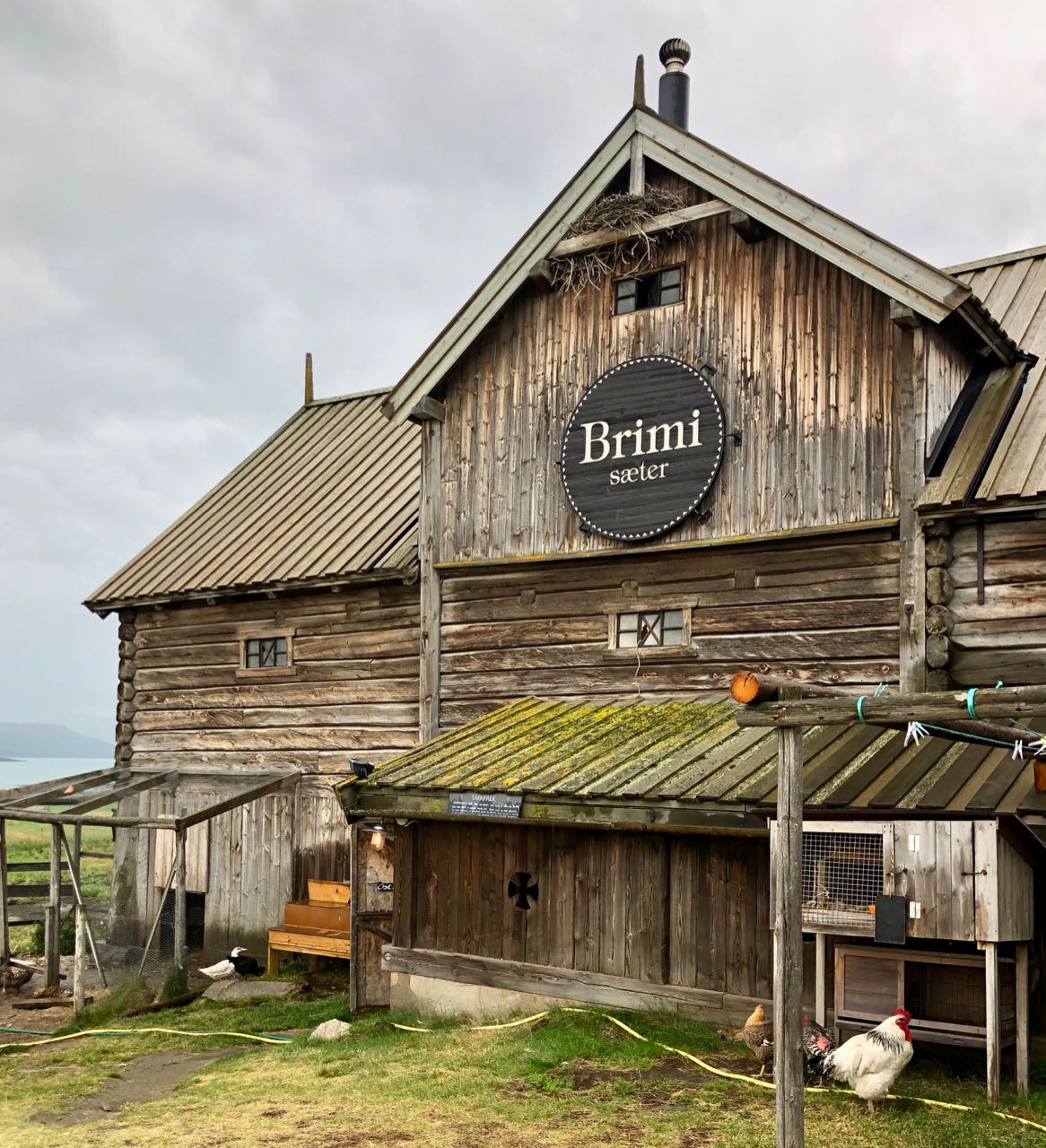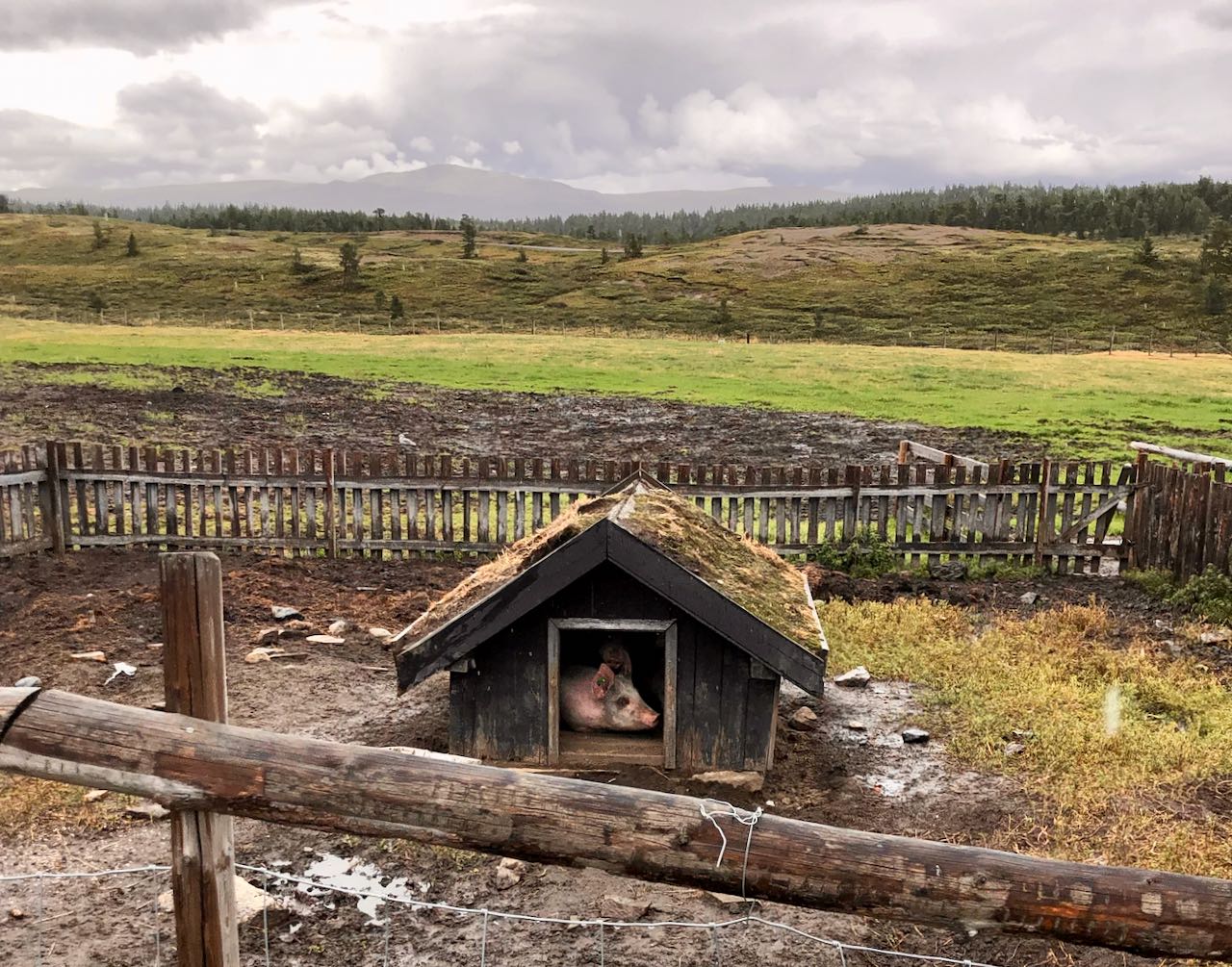 Just a short drive away from Brimi sæter lies Kalven Seter Farm and Coffee Shop. Here we were served some outstanding coffee. We were quite surprised to find a state-of-the-art coffee machine located in one of the old buildings and enjoyed the steaming hot drink in the little living room decorated with wild flowers on the tables.
At Kalven, there are plenty of things to do. With activities ranging from milk tasting to spa treatments, there should be something for every taste. We regretted not having planned this day better to include a massage inside the old 19th century cheese house!
Link to Kalven Seter Farm and Coffee Shop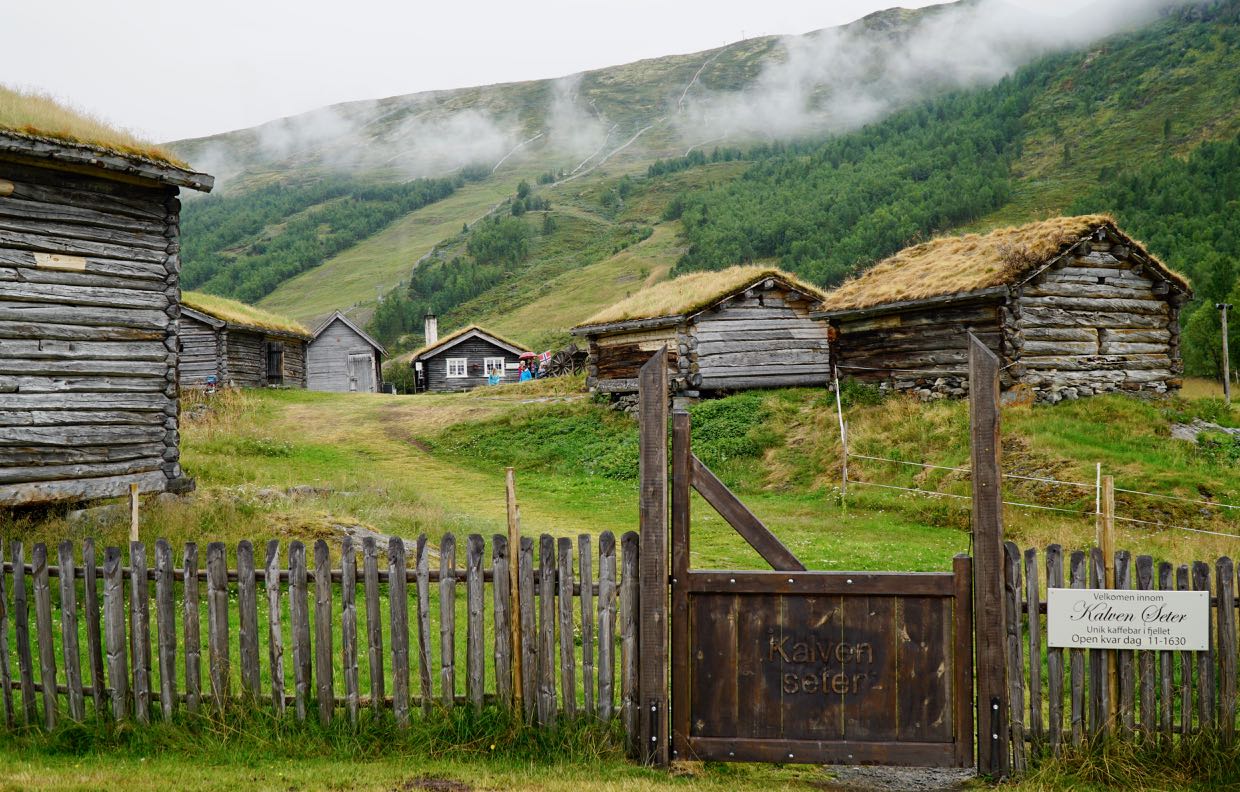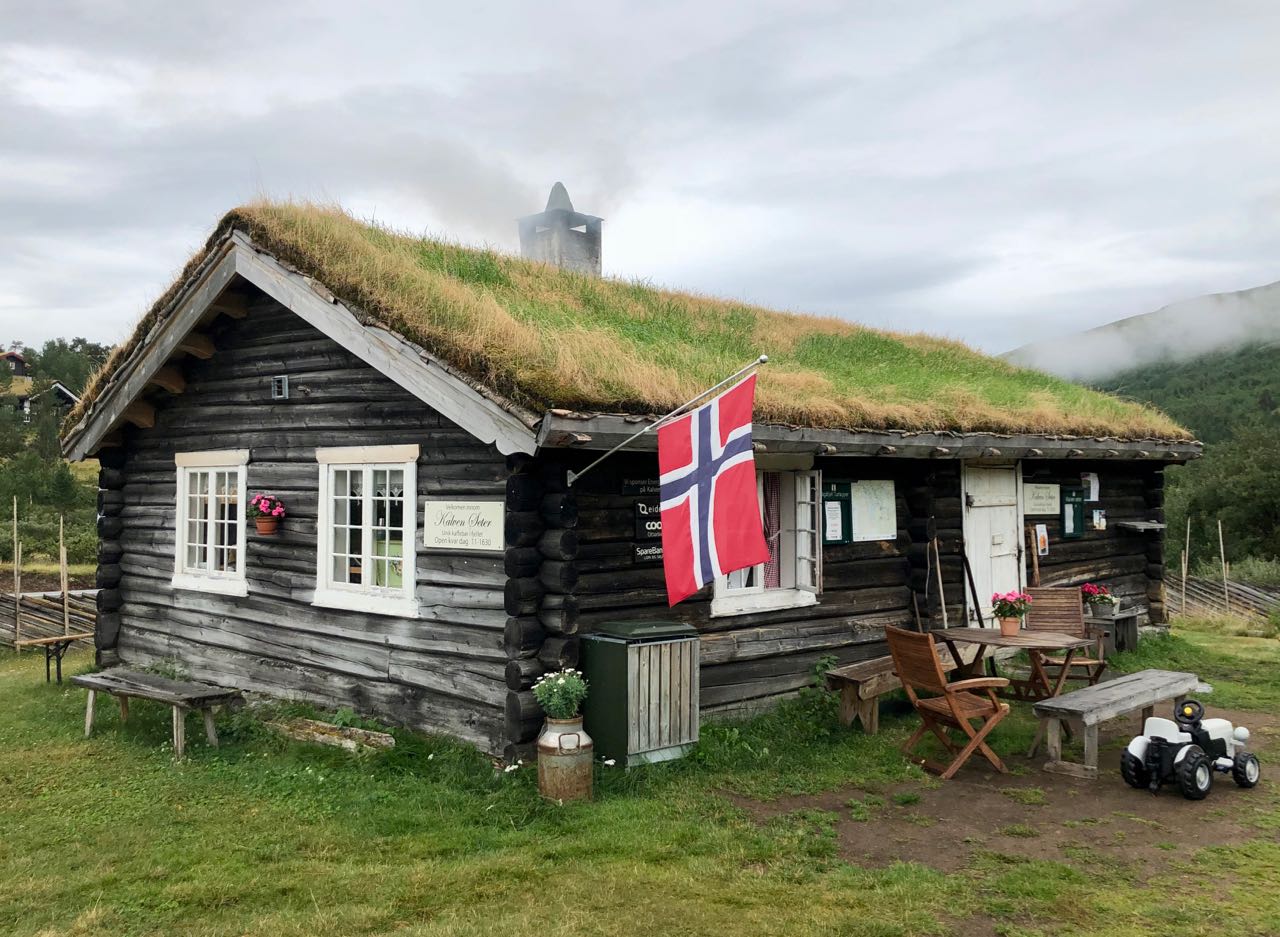 Ridderspranget is a gorge in the Sjoa river. The gorge is located just over a kilometer from the main road and is certainly worth the short detour. The very last bit down to the river must be walked on foot.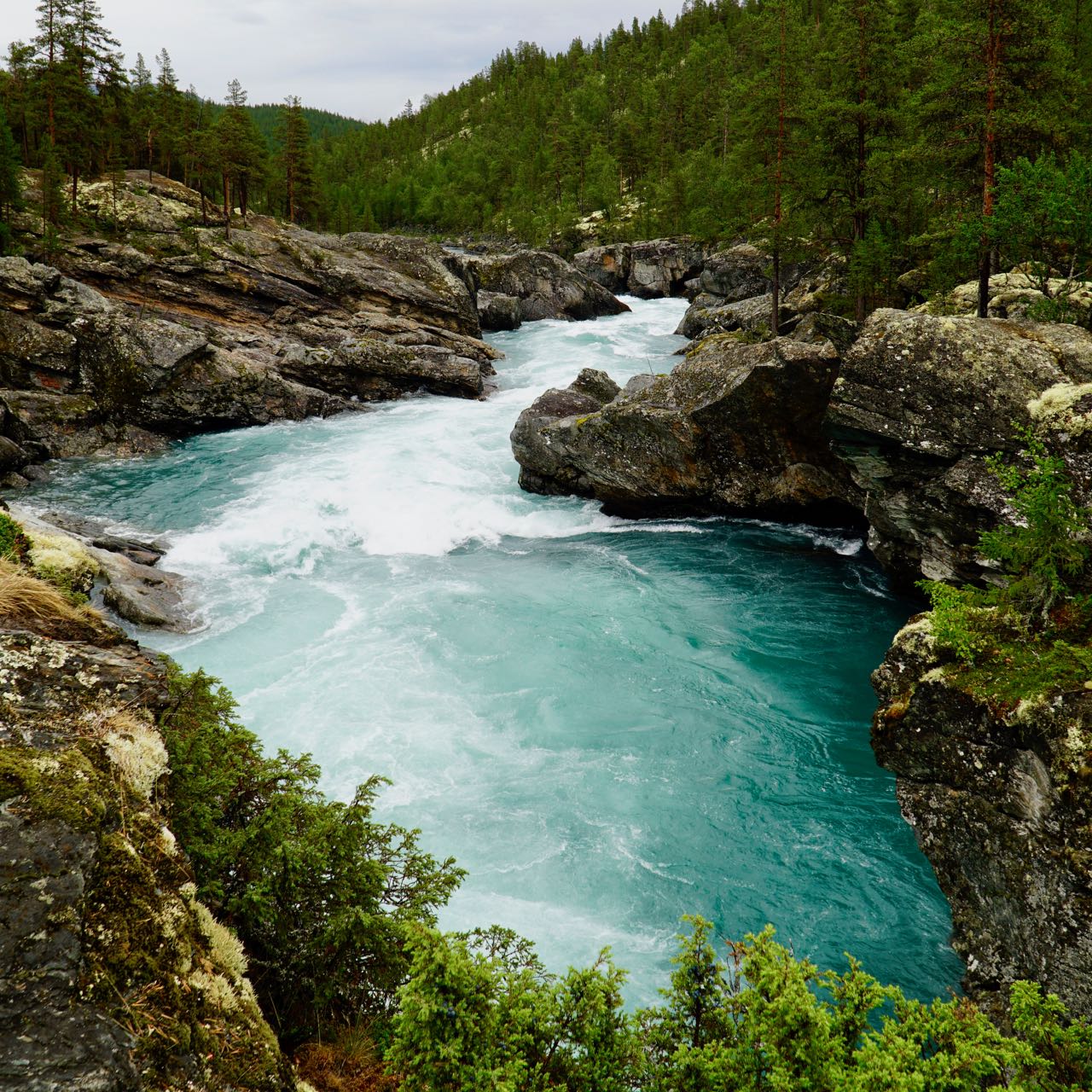 From Ridderspranget we followed yet another Norwegian Scenic Route. Norwegian Scenic Route Valdresflye is an extraordinary stretch of road. It almost floats through the mountainous landscape and offers fabulous views.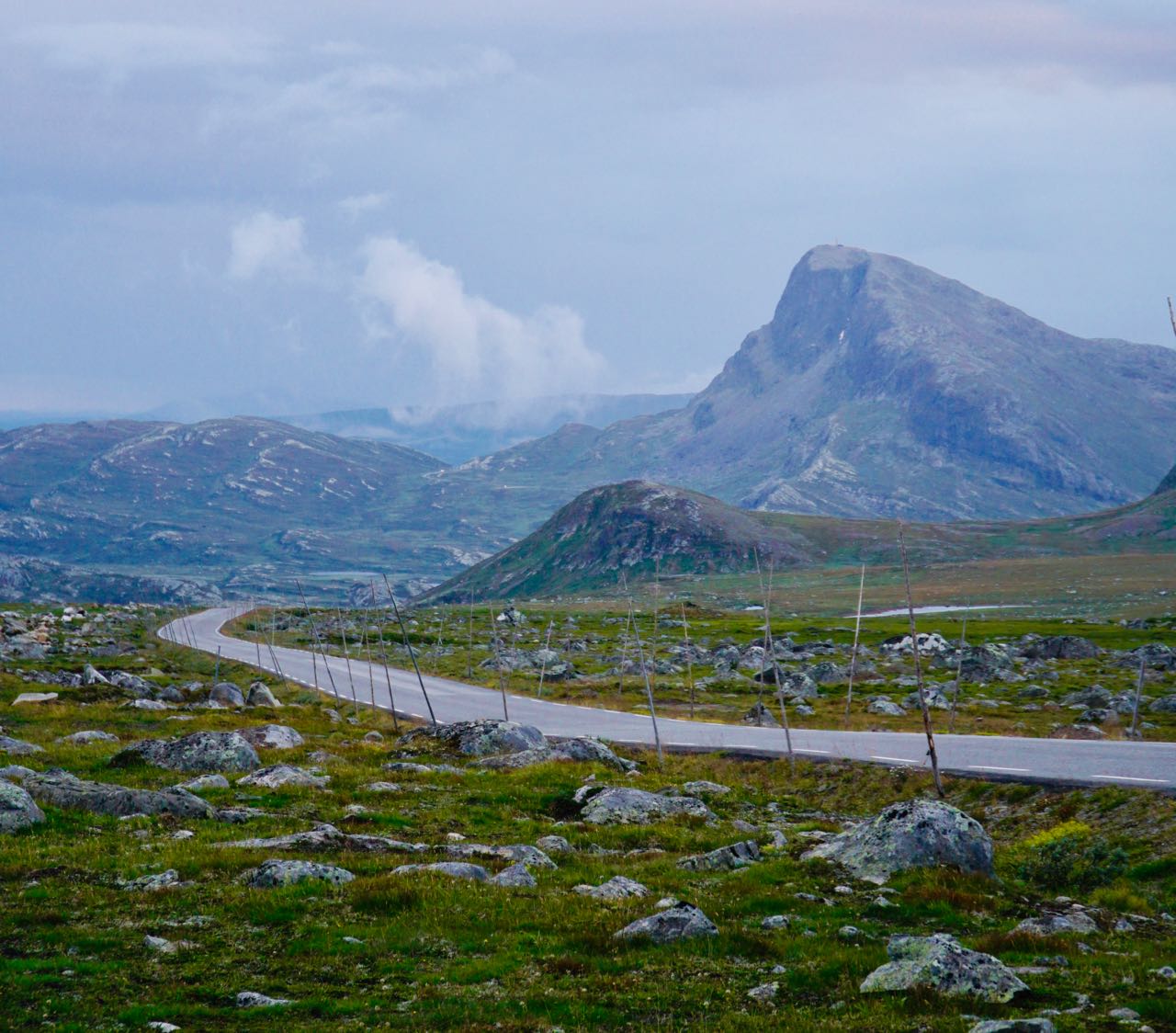 There are countless opportunities to stop for pictures or go hiking along the road. As with the Norwegian Scenic Route Rondane, the rest areas and viewpoints all have great locations and good facilities. Some of our favorites were the "Rock on Top of Another Rock" artwork at Steinplassen and the panorama from the Rjupa viewpoint.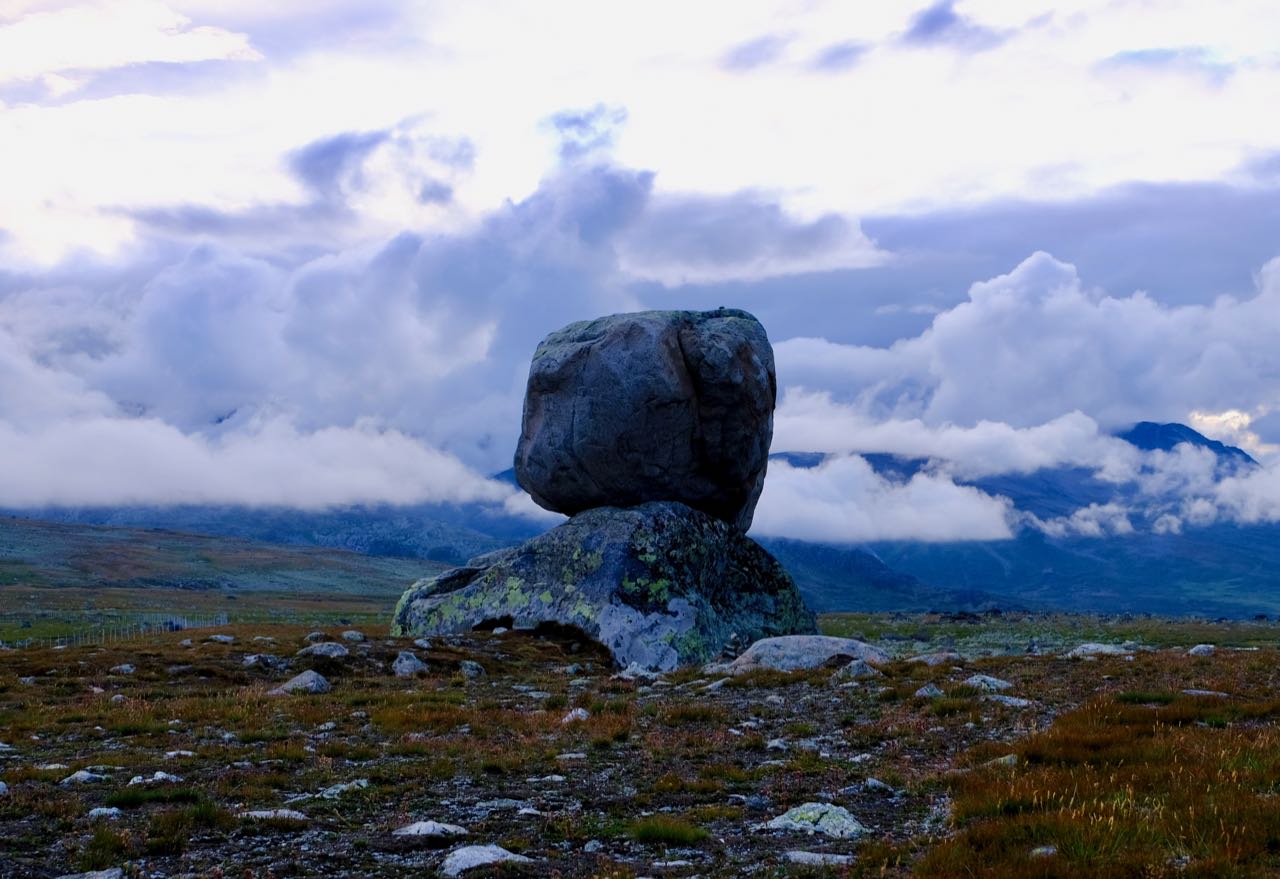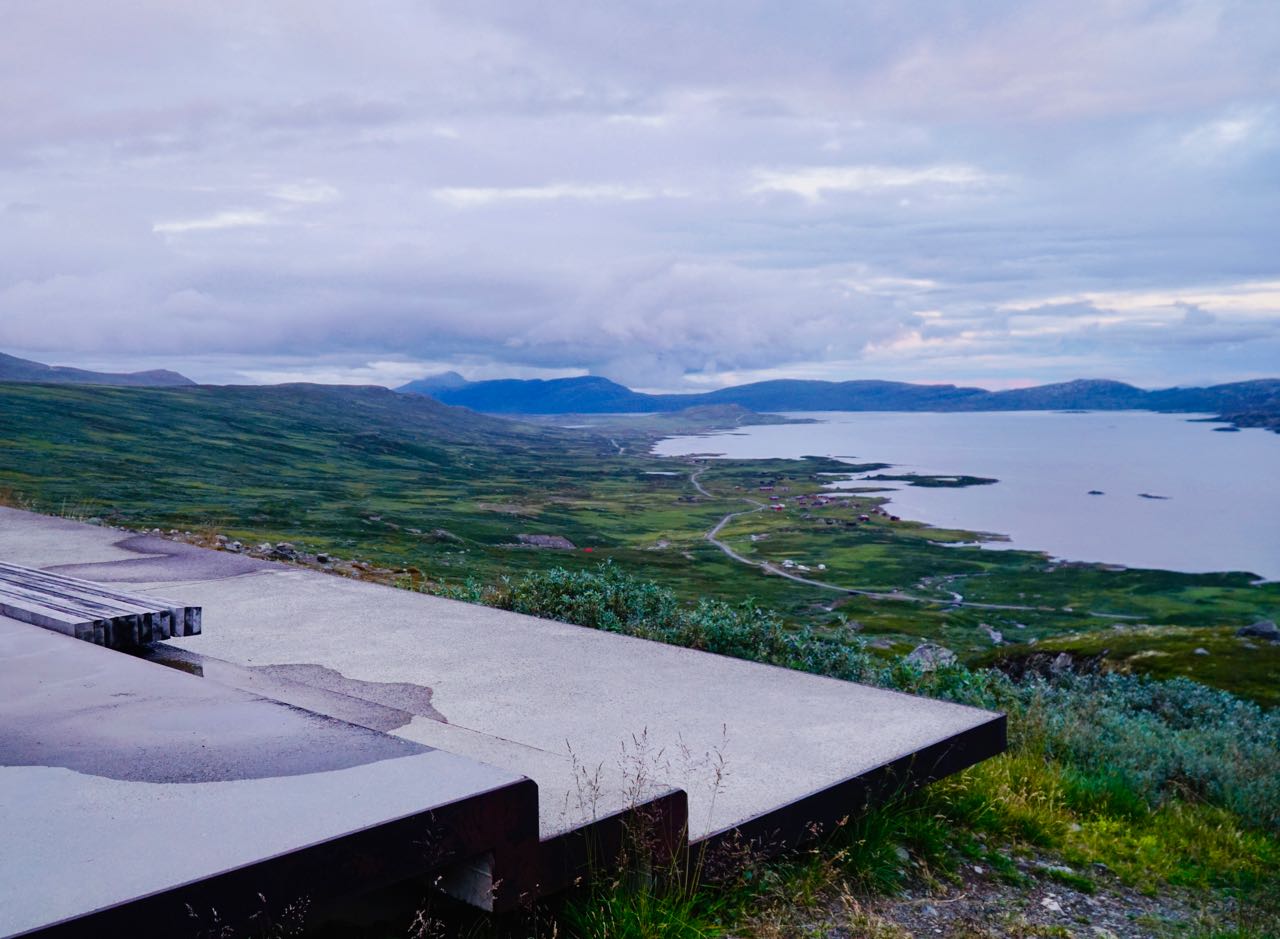 Accommodation: We stayed the night at Radisson Blu Mountain Resort at Beitostølen. The hotel is a few years old, but we got a nice and newly refurbished room. Both the dinner and the breakfast buffet were tasty, and we have nothing to complain about except for the price, which we found to be on the high side. Had there been rooms available, our first choice, however, would have been to stay at Herangtunet, a small hotel located a 20-minute drive from Beitostølen. We stopped briefly at Herangtunet on our way home, and the boutique hotel looked incredibly inviting.
Link to Radisson Blu Mountain Resort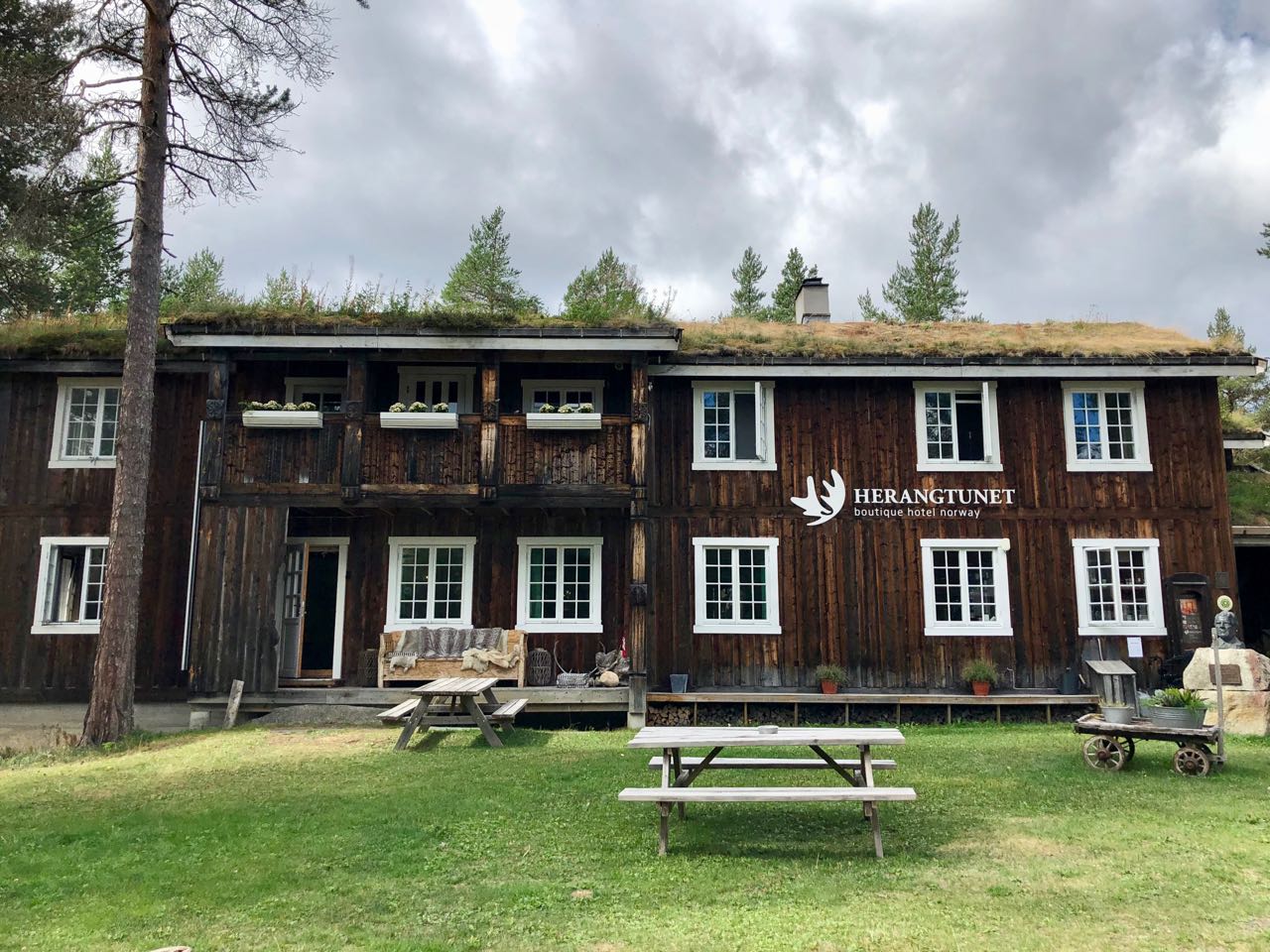 READ MORE: 10 Day Complete Itinerary for a Road Trip in Norway
Day 4: Biking along Jotunheimvegen
(optional length)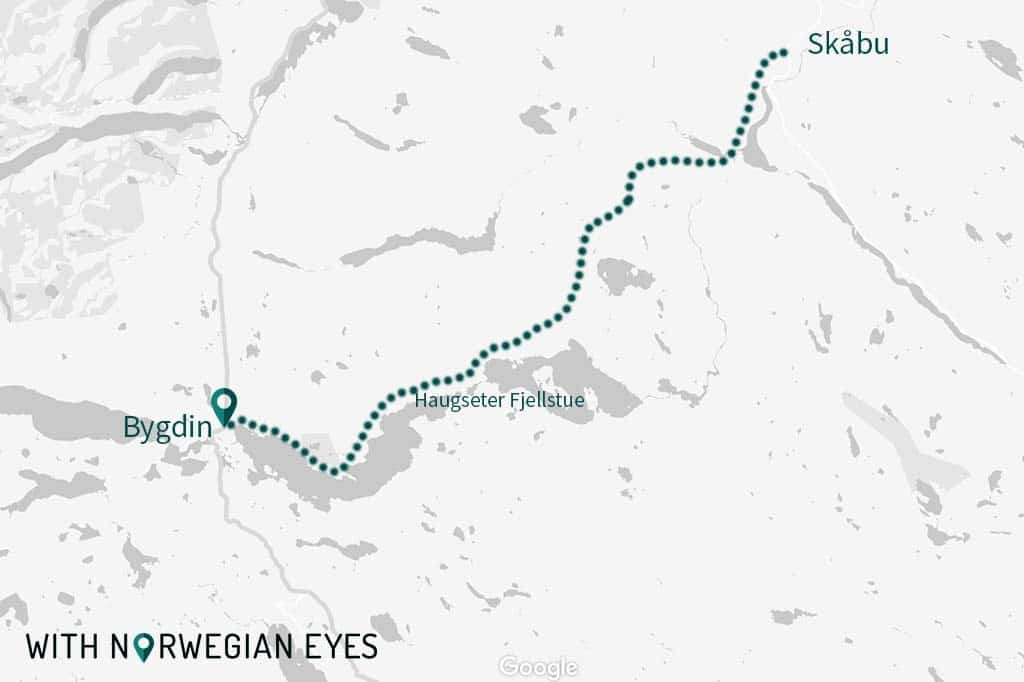 Highlights:
The scenery
The traditional meal at Haugseter Fjellstue (Haugseter mountain lodge)
Vinstervatn lake
Despite our sore buttocks from cycling Tour de Dovre two days earlier, we got back on our bikes. This time we had planned to bike along the Jotunheimvegen mountain road, which has very little car traffic and is therefore well-suited for cycling.
We parked our car in the parking area right after passing Bygdin, where Jotunheimvegen starts. It goes all the way to Skåbu, which makes for 90km of biking there and back, but you can adjust the length of the route as you like by turning back sooner or parking further along the route. The gravel road was excellent to ride on, and we were spoilt with lovely views of Vinstervatn lake and the surrounding mountains. Very few cars passed us, but we shared the road with a surprisingly large number of cows.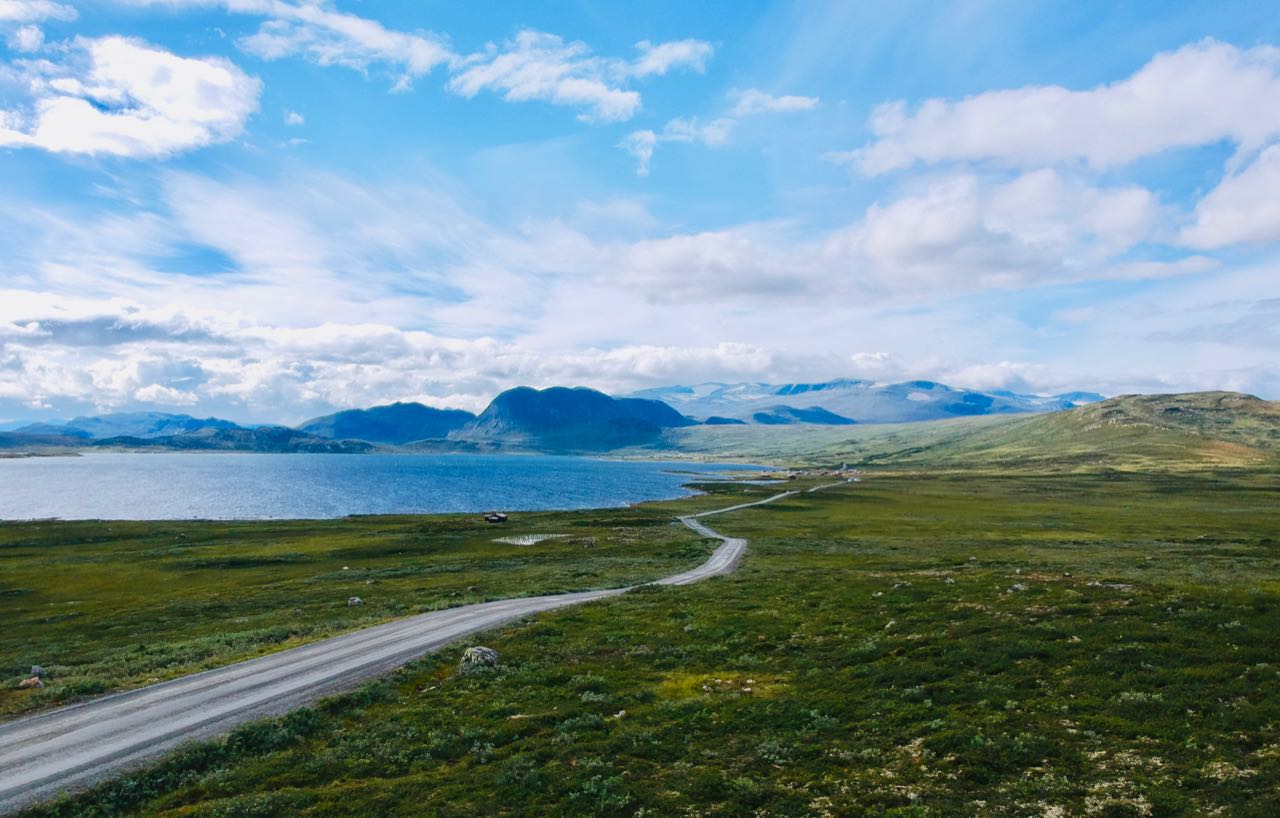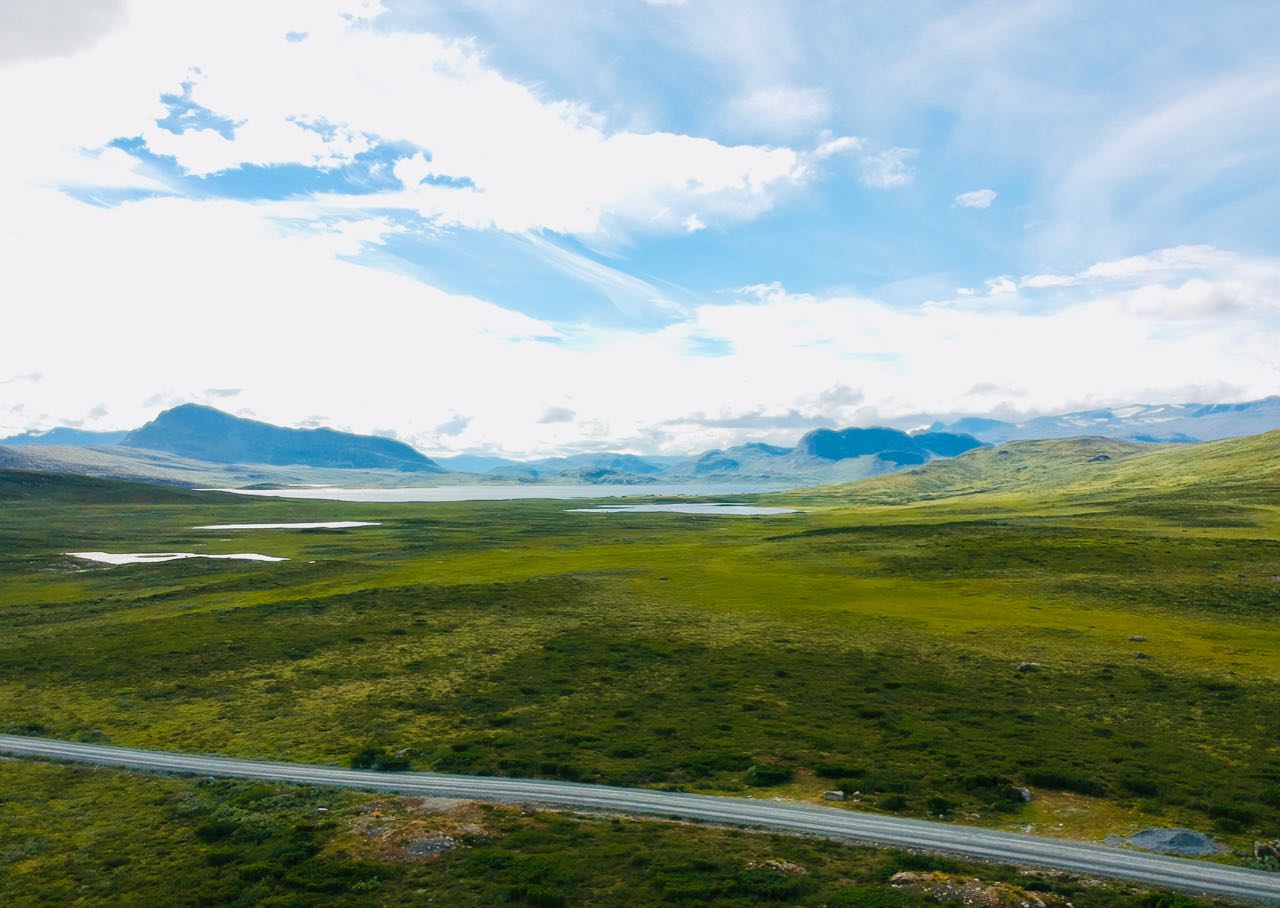 Along the way, we stopped for a lunch break at Haugseter Fjellstue and fuelled up on delicious Norwegian sandwiches and traditional baked goods.
On the way back, we were met with quite a strong headwind. We therefore recommend checking the forecast and being ready for the wind conditions to change at any moment. It is also worth keeping in mind that there can be big differences in temperature and weather conditions between Jotunheimvegen and Beitostølen.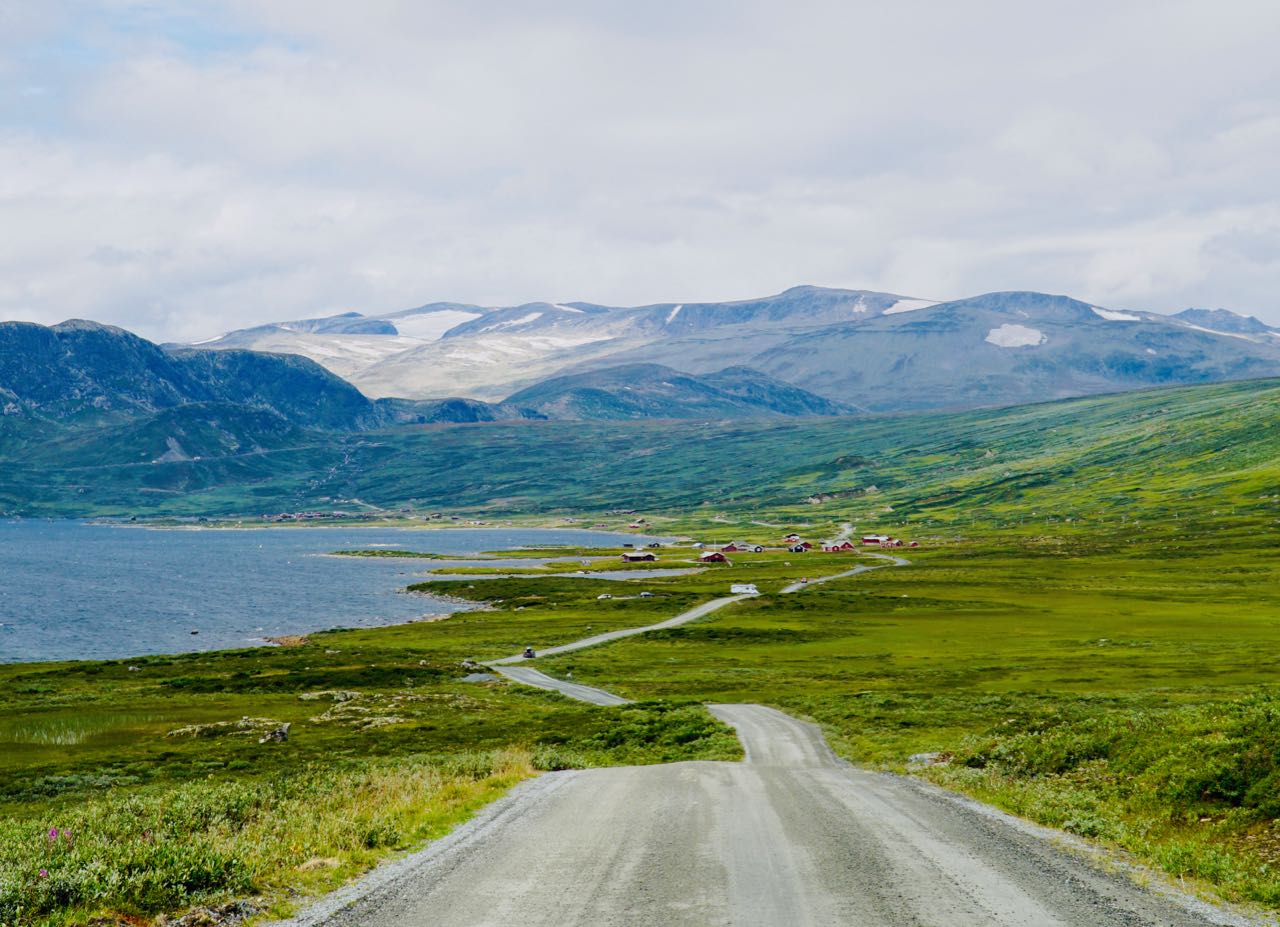 Accommodation: We spent one night at the Radisson Blu Mountain Resort.
Day 5: Driving from Beitostølen to Oslo via Røykenvika
230 kilometers – 3 hours and 40 minutes of driving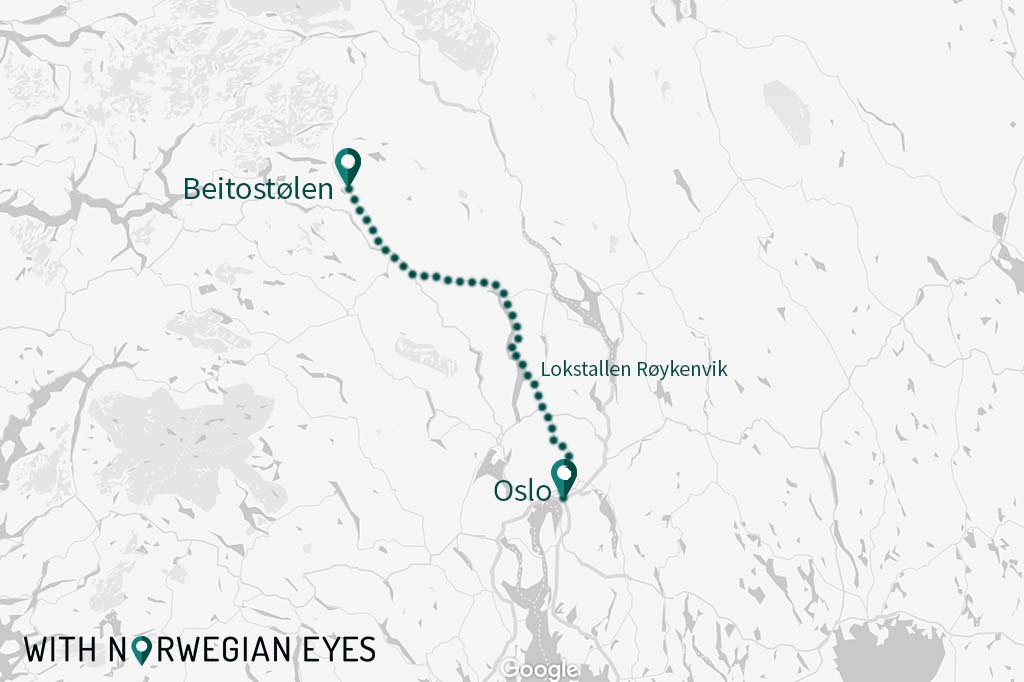 Stop point:
Lokstallen Røykenvik
Highlights:
Randsfjorden lake
Lunch at Lokstallen Røykenvik
On our way back to Oslo, we decided to drive along Randsfjorden lake. This is not the quickest way to Oslo, but it takes you past one of our favorite restaurants, Lokstallen Røykenvik. Indulging in a delicious lunch at Lokstallen, while enjoying the views of Randsfjorden lake was the perfect ending to our road trip!
Click here to find out why we are so fond of Lokstallen Røykenvik.
*None of the places we visited during this trip were informed that we would be writing about them, and we paid all expenses ourselves.