Last updated June 2023
We love road trips, and in the past two years we have explored both southern Norway and central Norway. This spring we went on another adventure: this time to Northern Norway.
After doing some research, we quickly decided to drive along Kystriksveien (also called County Road 17, or the Coastal Route in English) on our way north. The Coastal Route has been named one of the world's most scenic drives by the National Geographic magazine, and a large part of it also has status as a Norwegian Scenic Route.
We spent a total of nine days on the 650-kilometer-long road that runs between Steinkjer and Bodø but would have loved to explore many more places than these days allowed for. There are numerous spots to visit along the route, so set aside plenty of time for the trip.
Our list of highlights along the Coastal Route is not an exhaustive overview of everything there is to experience, but simply a collection of our favorite parts. We took many detours from the road, and we highly recommend you do the same.
1. Inderøy Peninsula — An Enjoyable Detour
Inderøy is located a few kilometers south of Steinkjer and is not officially part of the Coastal Route. We still decided to include Inderøy in our highlights as many visitors will pass the highway exits to this very enjoyable peninsula on their way to or from Steinkjer.
Exiting the highway E6 at either Røra or Vist, you can follow the route appropriately called "Den Gylne Omvei" (The Golden Road) around Inderøy. Without any stops, it would only be 8 minutes of extra driving time. We were, however, planning to take much longer than that, and to cycle rather than drive around the peninsula.
The route we chose to cycle around Inderøy was about 30 kilometers long and crossed through varied landscape with many possible stops along the way. Galleries, eateries, guesthouses, farm shops, medieval churches and other sights are scattered around the near-island, meaning you never have to cycle far between the attractions.
We took our time and made frequent stops. Among other things we did was eating a delicious Inderøy-salad at Marens bakery, shopping at Inderøy Landhanderi (a traditional shop with a nostalgic vibe), enjoying the views from Øyna (a lookout point with a restaurant) and rewarding ourselves with kombucha and ice cream at Gangstad Gårdsysteri (a farm shop selling cheese and dairy produce) after completing the bike route.
We happened to arrive at Gangstad Gårdsysteri at the same time as a bus full of cheerful retirees, who seemed just as excited as us about the cheese samples we were offered. The signature cheese was so good, we must admit that we helped ourselves to more than just one bite…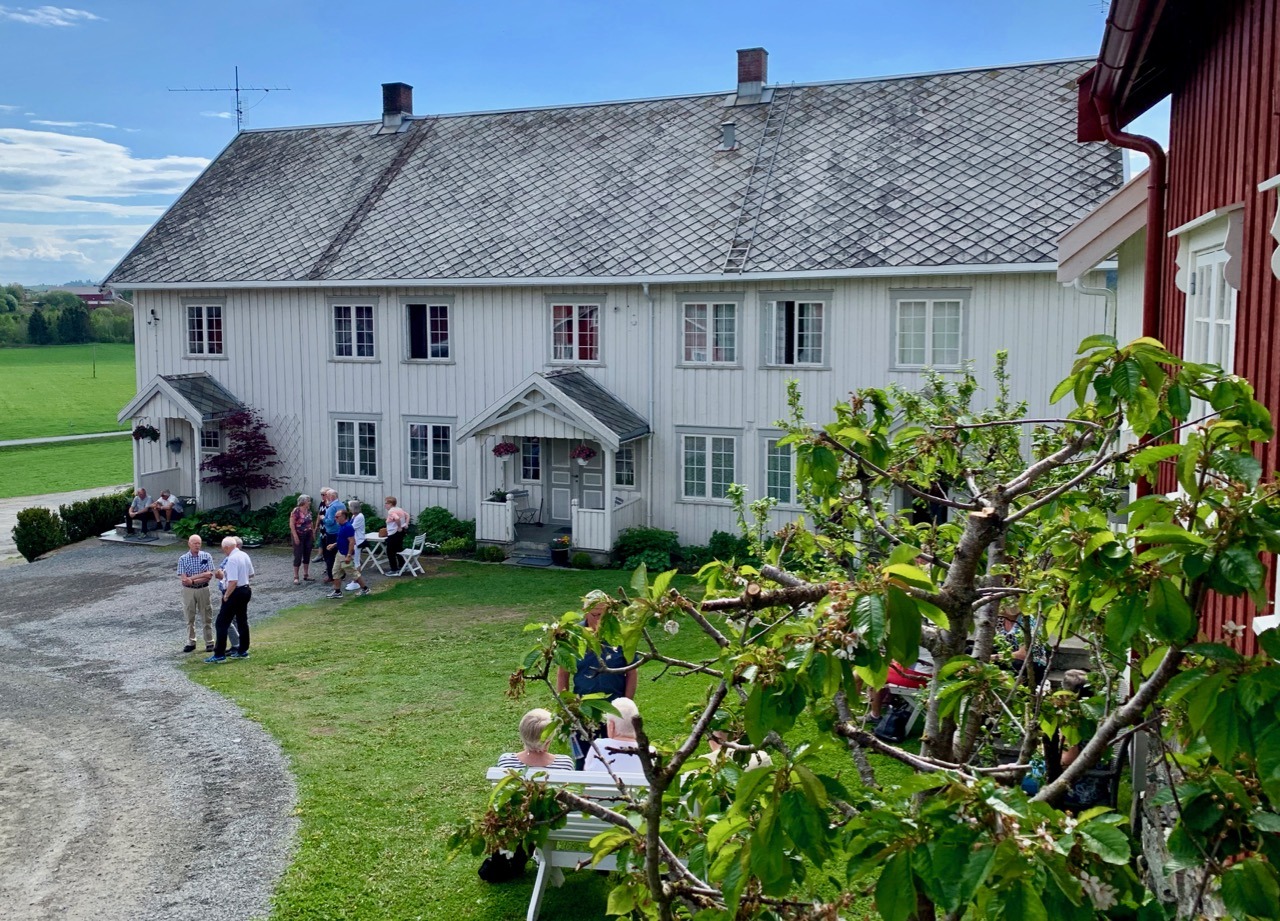 Tip: The various shops and attractions associated with "The Golden Road" have different opening hours, so you may want to check these in advance. Regardless of whether any of the places are closed, driving around Inderøy is a very enjoyable detour.
2. Leka – A Geological Wonder
We had never heard of Leka island before stopping in the tourist office in Steinkjer for travel tips. Now that we've visited this remarkable island, we simply cannot understand why it's not more well-known. The very special geological formations at Leka look like an American national park, and we hardly believed our own eyes when we saw them. The scenery at Leka is so fascinating and unique that a trip here is an absolute MUST.
Click here to read more about our experiences at Leka
3. Torghatten Mountain
Unlike Leka, the Torghatten mountain was more known to us. The mountain takes its name from its location on Torget island and its shape, which yes, looks like a hat. The most special thing about Torghatten, however, is not the shape, but the fact that the mountain has a large hole in the middle.
Strolling through a mountain was a strange feeling. We went there in the evening and were all by ourselves. We almost felt uneasy when we went down the many steps inside the mountain. However, the feeling disappeared once we reached the other side and could admire the views of the fjord beneath us. The weather was not the best when we visited, but we could easily imagine how picturesque it must be there on a sunny day. Despite the strange atmosphere and some bad weather; walking through the hole in Torghatten was yet another of our highlights along the Kystriksveien Coastal Route.
4. Wonderful Vega Island
The headline sums it up. We fell completely in love with the beautiful Vega island. On Vega, we stayed with the world's most hospitable hosts while eating top-class gourmet food, visited the brand-new World Heritage Center, admired the views from the Vegatrappa (Vega stairs) and explored the white sandy beaches. Two days were certainly not enough to experience all that Vega has to offer, and we have already decided to return to this wonderful island very soon.
Click here to read more about why Vega won our hearts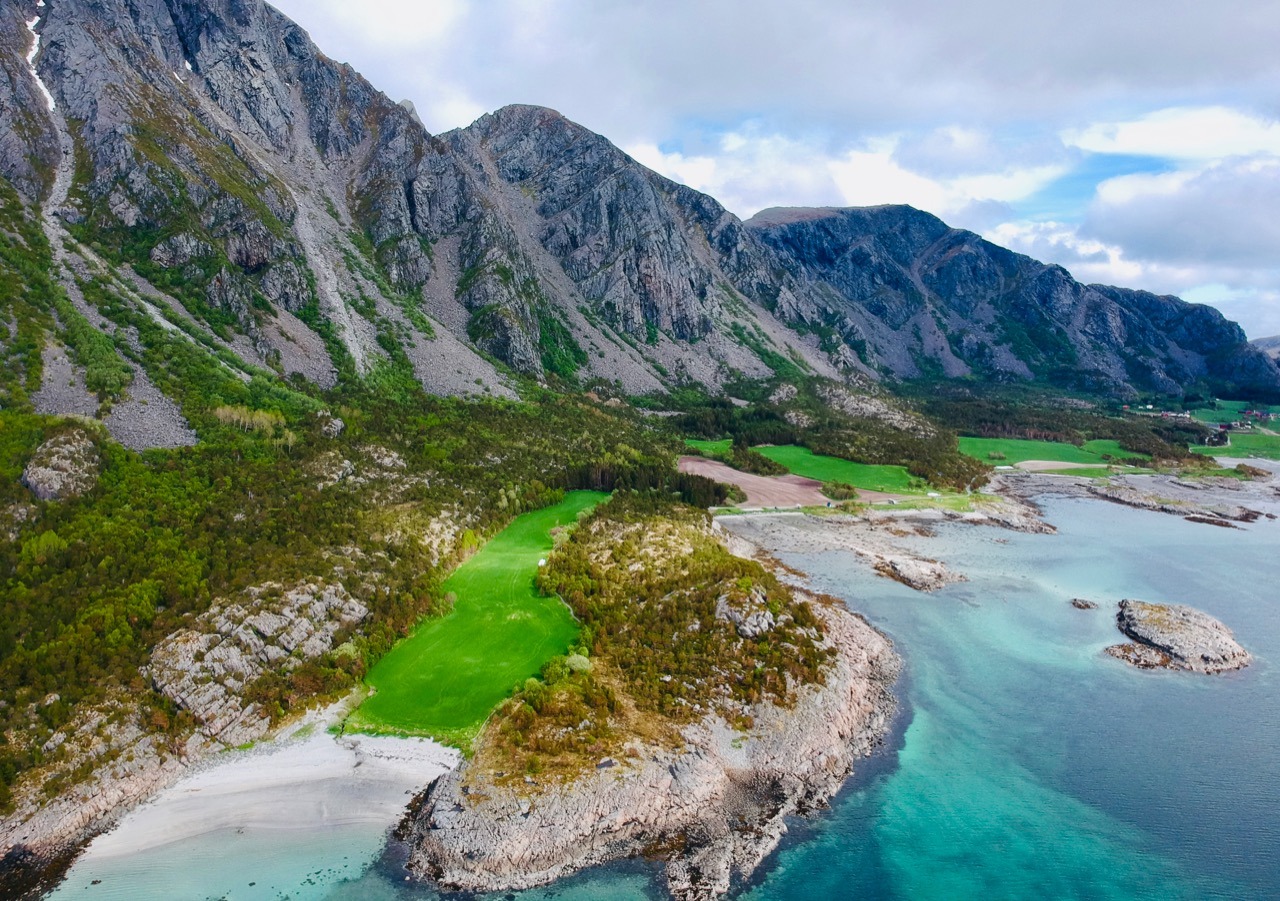 Even after visiting both Leka and Vega, we still craved more of the coastal island life. We therefore took the ferry from Sandessjøen to Herøy and Dønna to explore the islands with our car and bikes. With very little traffic, the roads there are perfect for cycling. We biked many kilometers and thought it was fun to explore random roads without knowing where they would lead.
The biggest surprise on our visit was when we stopped by the flower shop called Etcetra – Botaniske Utskeielser m.m at Herøyholmen. In reality, "flower shop" is far from a proper description. Etcetera is a special place that must simply be experienced. Since we want those who visit this unique shop to be as surprised as we were, we will not share any pictures of it 🙂
Link to Etcetera – Botaniske Utskeielser m.m
Herøy and Dønna is an area with several thousand islets and islands that are joined by a number of charming bridges. The highest mountain is Dønnamannen at 858 meters tall. As we didn't have enough time to hike up the mountain, we settled for admiring it from a distance.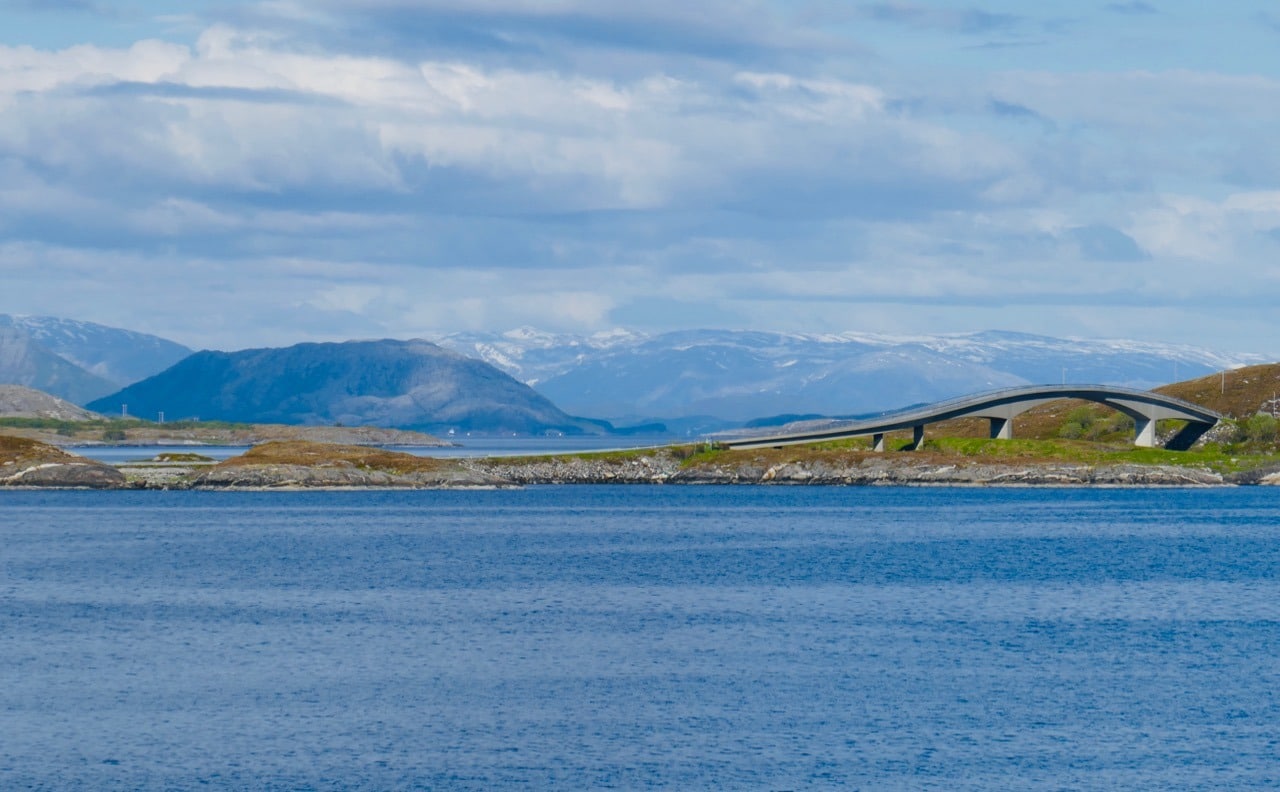 6. Svartisen/Engabreen Glacier
Seeing Svartisen glacier was one of the most impressive experiences we had along the Kystriksveien Coastal Route. There are several ways to see Svartisen, and we chose to take the boat across the Holandsfjord to see the glacier up close. We cycled the first stretch from the quay before doing the last bit on foot. Since we visited the glacier just days after the season started, we were so lucky as to have the viewpoint all to ourselves. This was a marvelous experience we will never forget.
Click here to read our guide with practical information and tips for a visit to Svartisen
7. Kjerringøy Trading Post
Finally, we will "cheat" once again and include a place that is nearby but a little off the Coastal Route. The former trading post Kjerringøy is Norway's best-preserved trading site, and is located about 40 kilometers north of Bodø, where the Coastal Route officially ends.
The highlight of the visit to Kjerringøy was the guided tour of the fully furnished main building. Here we got some vivid insight into what life at the trade post must have been like. The tour was actually so interesting that we chose to watch the movie "I Am Dina" the same night. "I Am Dina" is one of many movies filmed on Kjerringøy, and it was fun to hear that most of the 300 people living in the area have been extras in these films. A visit to Kjerringøy is definitely worth the short trip from Bodø.
Link to Kjerringøy trading post
Tips and practical information for a trip along the Kystriksveien Coastal Route:
The Coastal Route is 650 kilometers long and connected by 6 ferries (7 if you drive via Rørvik).
It can be experienced by boat, car, bicycle or public transport. We drove and brought our own bikes, which gave us a lot of flexibility in how to enjoy the various landscapes and manage our time.
Although the Coastal Route can be driven in a relatively short time, it is commonly recommended that you plan it out over at least four to five days. Even though we took double (nine days), we still would have liked to spend even more days on the trip. The Coastal Route in itself is great, but you will find some great experiences by taking frequent detours.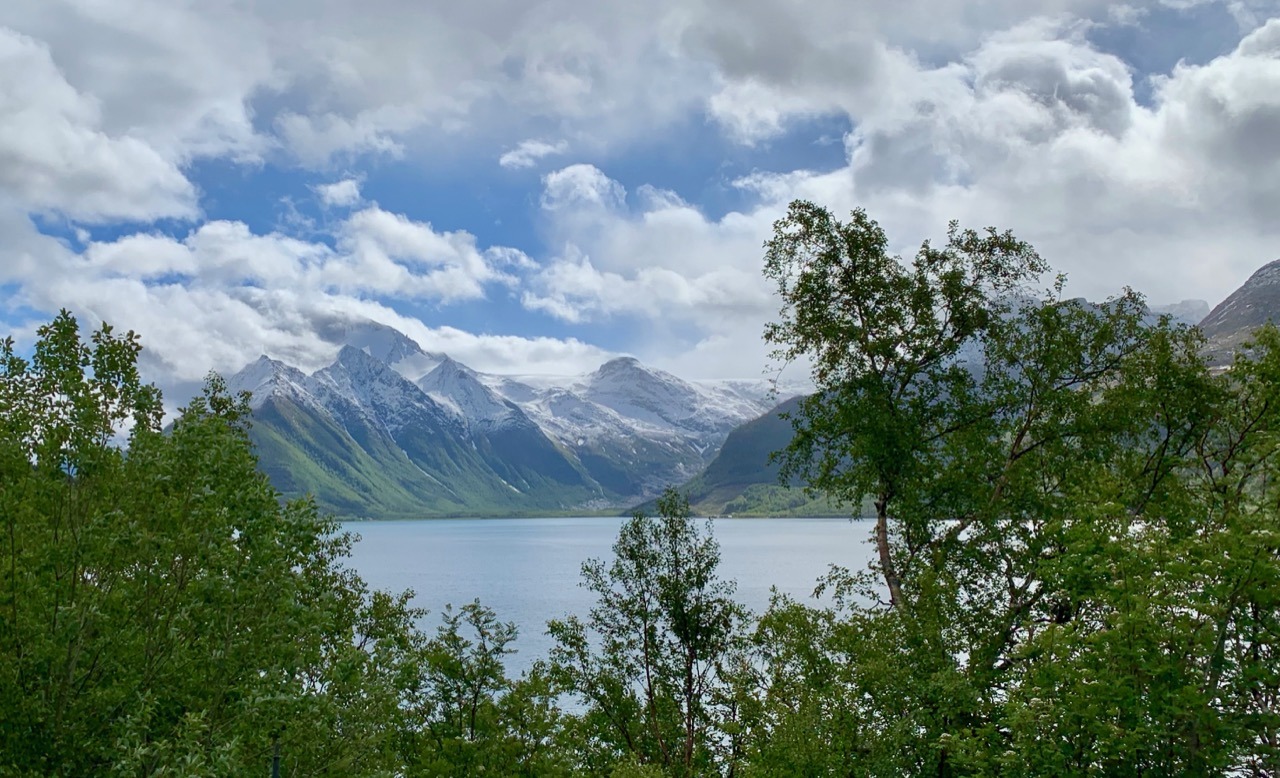 On some parts of the route there can be a lot of distance between gas stations, restaurants and grocery stores, so we recommend that you plan accordingly. We kept food and drinks in the car and were very relieved that we did when we either came to closed shops or were in a hurry to catch the next ferry. It is also wise to arrive at the docks in good time before the ferry departure. We did experience one instance, even before the high season, of not being able get on the ferry because it was full.
Some of the accommodation along or near the Coastal Route has limited capacity and in the high season it is best to book in advance.
Kystriksveien Reiseliv offers planning assistance and can tailor and book accommodation for you according to your preferences.
Link to Kystriksveien Reiseliv
Finally, here are some pages that can be useful when planning a trip along Kystriksveien.
*Vi drove the Coastal Route in May/June 2019. None of the places we visited were notified that we would be writing about them and we did not receive any special discounts.