July 2018
Jekyll Island in Georgia is one giant Kinder Surprise (at least to us Norwegians!). Where else can you hop on a bike and see alligators, picture perfect beaches, mating snakes, adorable residential areas with flags on the mailboxes and wonderful marshlands, all in a half day bike trip?
On our road trip through the Southern States of the USA, we decided to go to Jekyll Island. Despite having visited the area a few times before, we had never crossed the bridge over to Jekyll Island. As we love islands visits, it was about time we explored this bike-friendly retreat.
We rented bikes at our hotel and set out to explore Jekyll island in the afternoon. Seeing an alligator was our number one goal, and after getting advice from the hotel staff, we headed off to Horton Pond.
Even before we managed to lock our bikes by the pond, we heard other people talking about the alligators. Bingo!
Two alligators were hanging out in Horton Pond. A big one was lounging in the sun at a floating platform, anchored at a safe distance from the viewing deck. Right next to the platform, a baby gator stared at us without a blink. A rattling noise made us look closer at a grassy area nearby, and revealed two mating snakes. Our inner David Attenborough was thrilled!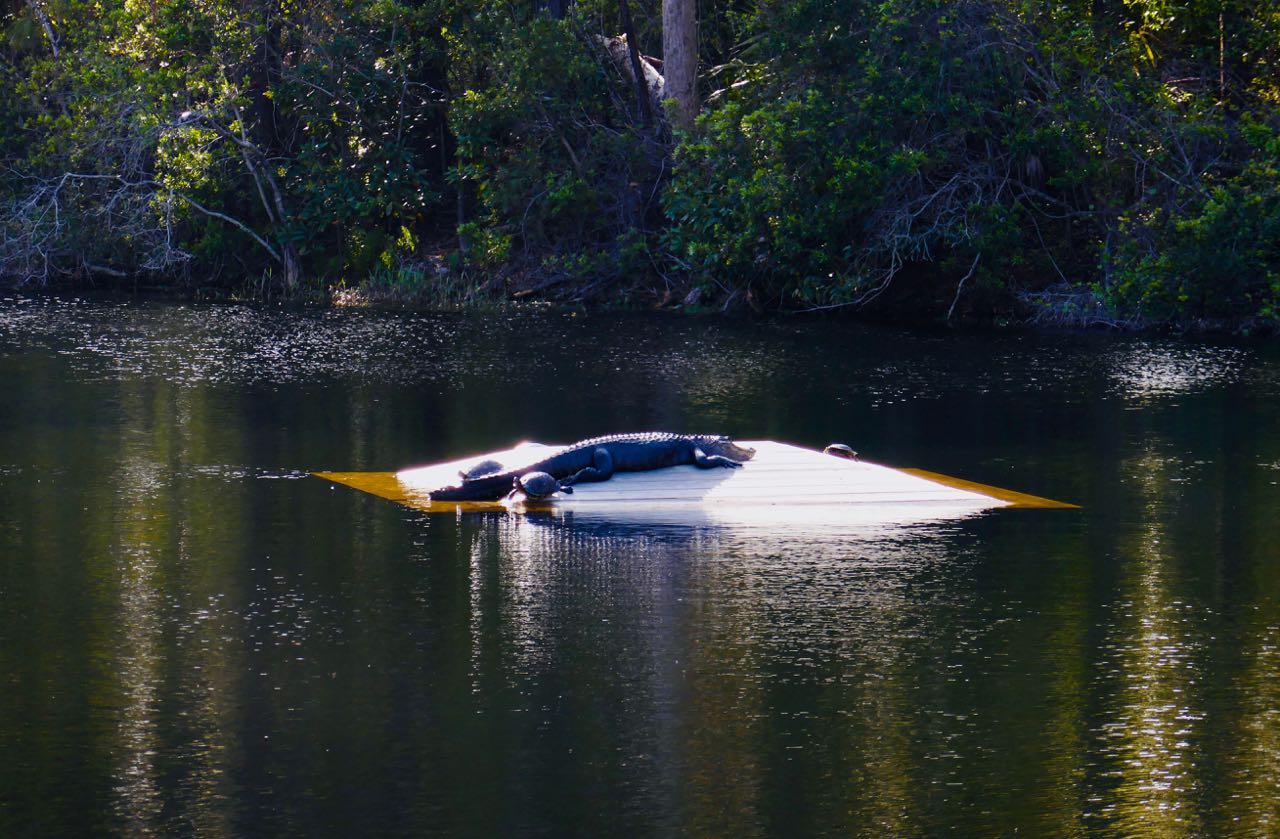 The human-made viewing deck at Horton Pond was the perfect place to hang out and observe the wildlife, and we spent quite some time just enjoying the scenery. As we were about to leave, we discovered the entrance to the Tupelo Trail, just beside the pond. Already pumped up by the alligator spotting, we were ready to explore more of the area and turned onto the trail by foot.
The Tupelo Trail is a 0.7-mile loop that takes you through several maritime plant communities. Along the trail were plaques with information about the different plant species. We had a great hike and enjoyed learning more about the plants and trees we saw along the path.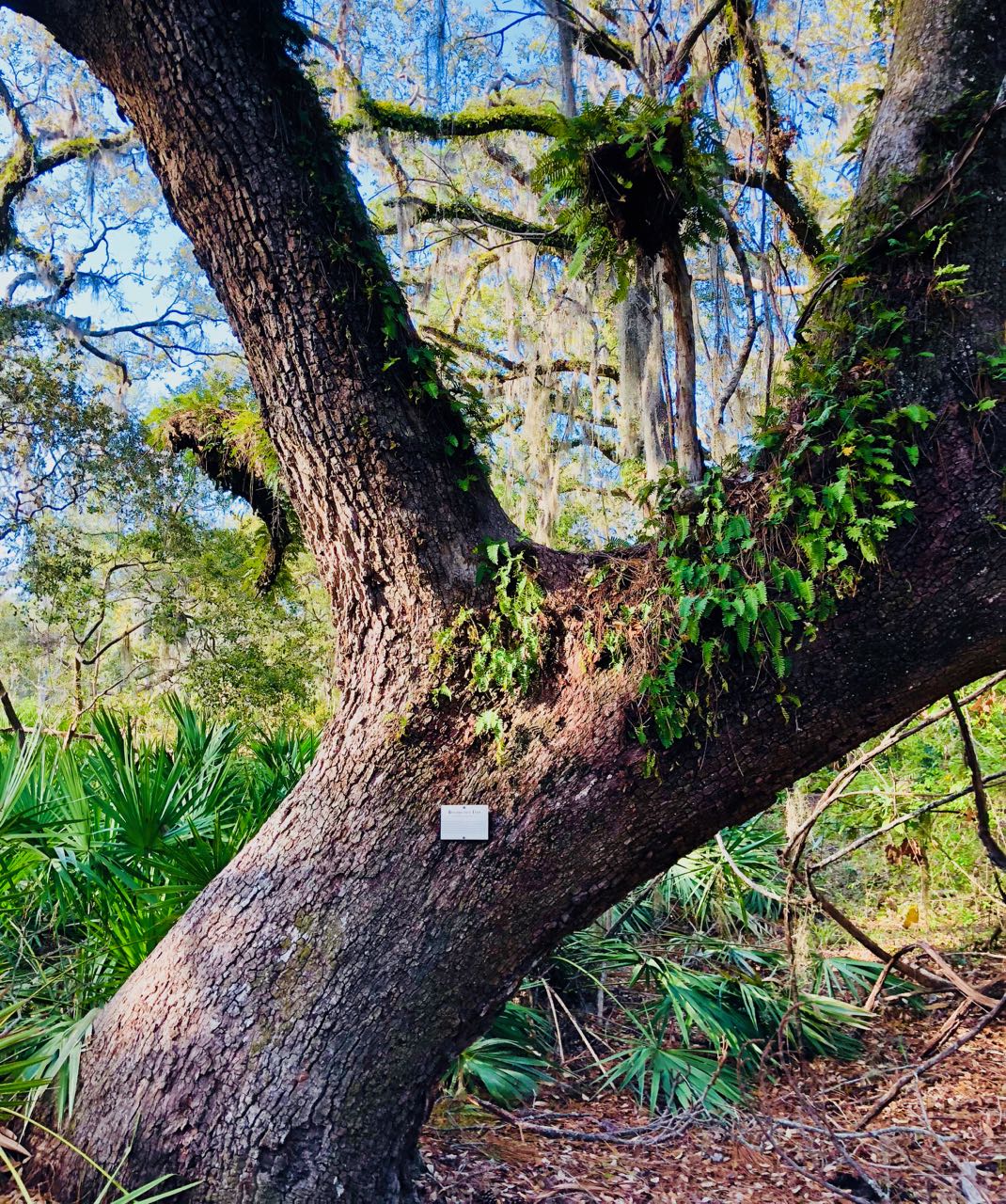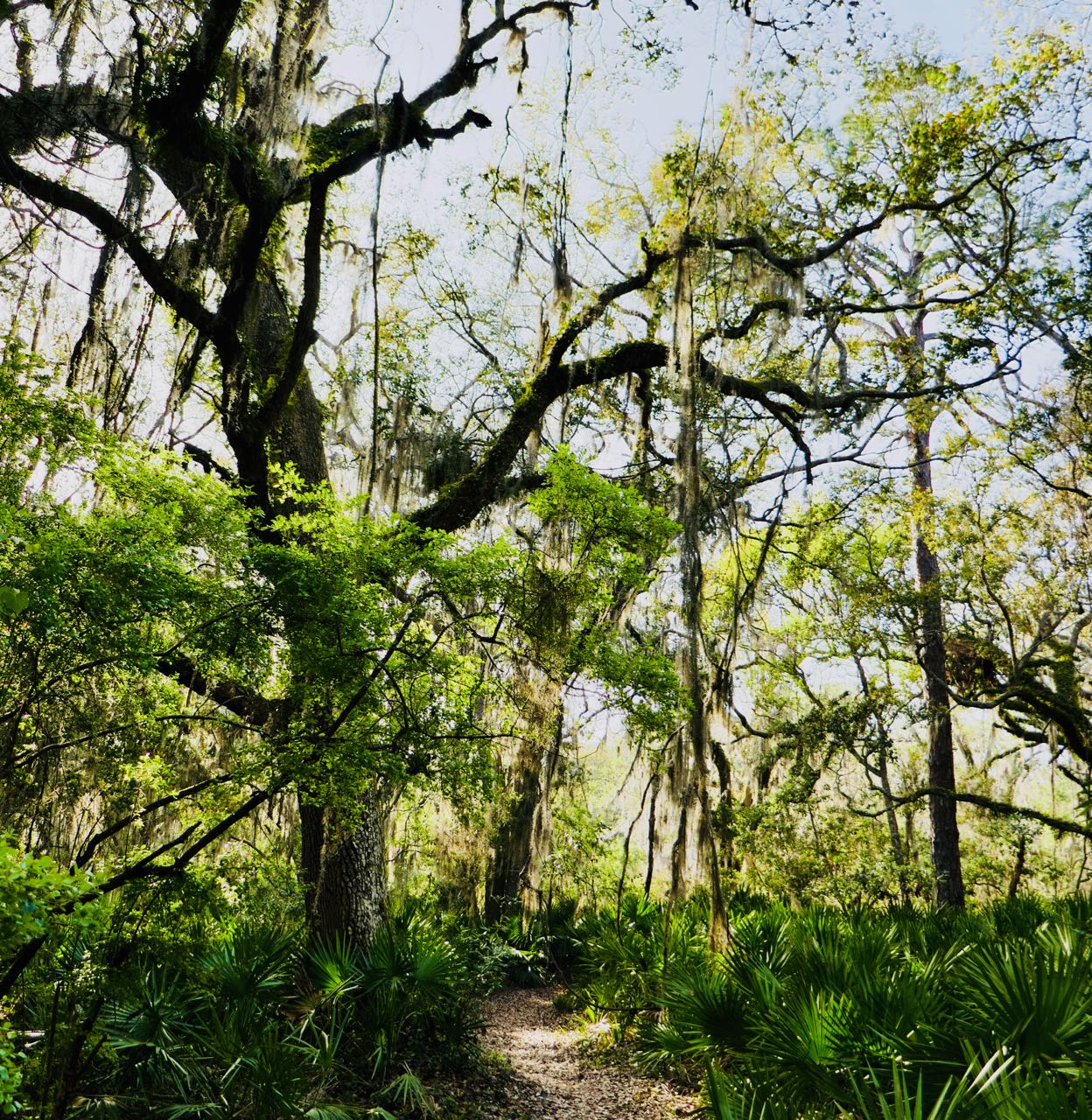 After hiking the Tupelo Trail, it was time to get back on the bikes. A short ride further took us to Driftwood beach. The beach lived up to its name with the whole beach filled with beautiful driftwood. The ambiance was nothing like we have ever experienced at a beach before, and we can see why it is so popular for weddings. In fact, a wedding was taking place a bit further up the beach, and it was pretty cool to see a wedding party in such spectacular surroundings.
From Driftwood beach we biked through wetlands with swaying grass and singing birds until we reach Clam Creek Fishing Pier. The pier was another beautiful sight in the soft evening light. A group of people horseback riding on the beach completed the spectacle.
Time just flew by because of all the beautiful things to observe along our route. The bicycles we rented had to be returned before sunset, and we were almost out of time. We had no choice but to speed up and head back. On our way back to the hotel we saw cute squirrels, stylish propeller airplanes at the small airport, lovely houses with beautiful gardens and trees covered in Spanish moss.
We had our best bike ride ever at Jekyll Island and would have loved to spend more time on this magnificent island. Biking and alligator spotting in Jekyll Island is a truly wonderful experience not to be missed!
Tips:
Biking at Jekyll Island is suitable for most people, including children, as the paths are in good condition and the terrain is flat.
A number of companies rent out bikes at Jekyll Island.
Don't be over-ambitious when you plan the ride. You will want to stop at multiple locations, meaning that time will fly past faster than you might think.
Grab a map of the bike paths before you set out.
Bring water and snacks so you can picnic at one of the many scenic areas along the way. (There are not many places where you can buy food at the northern part of the island.)
Also, bring swimwear and towels. There are multiple great swimming opportunities along the bike trails.
You may want to bring bug spray.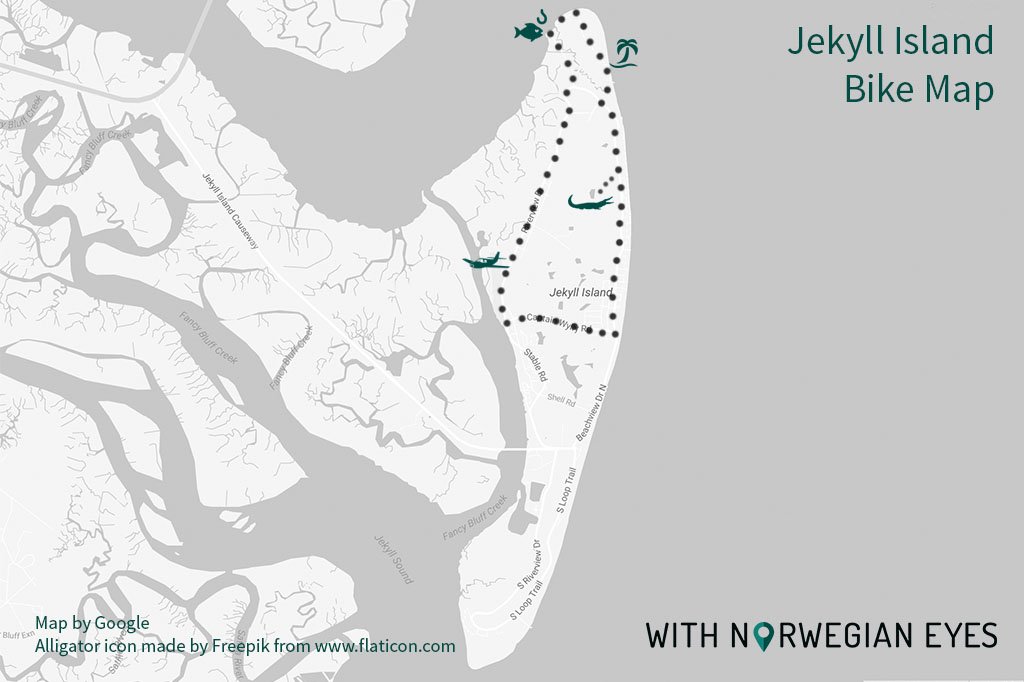 Link to full map of Jekyll Island
Link to bike rentals on Jekyll Island
Link to Jekyll Island official website
*We visited Jekyll Island in March 2018.