Published October 2019
Mahé, the biggest island in Seychelles, is a beautiful and popular holiday destination. With the international airport located there, it is also the gateway to a few neighboring islands.
The second largest island in Seychelles is Praslin, only 44 kilometers away and an arguably even more stunning destination. To get there, you can go by either ferry or plane. Since the seas can be rough, we decided to take the 20-minute flight as opposed to the 60-minute ferry ride.
READ MORE: Seychelles Travel Guide – Tips for a Dream Vacation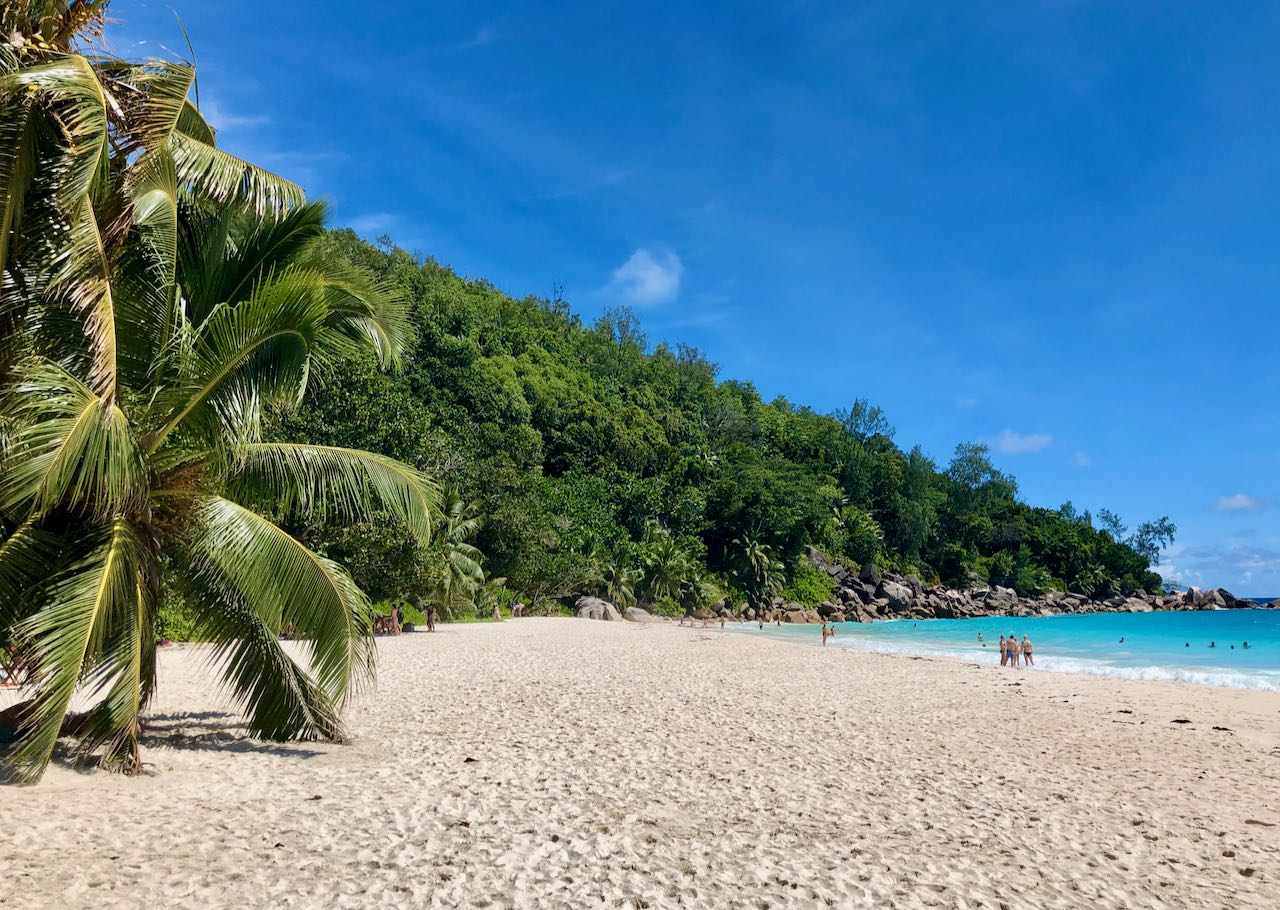 The flights between the islands are operated by Air Seychelles, the national carrier of Seychelles. Their route to Praslin is serviced by Twin Otter aircrafts, which can take up to 19 passengers.
Flying from Mahé to Praslin
Planes to Praslin depart from the domestic terminal located inside Seychelles International Airport. We found the terminal to be efficient and with good facilities.
Check-in was quick, and we dropped off our suitcases at the Air Seychelles counter. For onboard hand baggage, we brought two medium-sized backpacks as well as a camera bag. None of these were weighed, but we are not certain if this is normally the case. Security was also swift, with almost no line.
Boarding takes place in a separate hall after security. This area had plenty of seats, a small kiosk, restrooms and free Wi-Fi with decent speed. The room was also air-conditioned in contrast to the main terminal hall.
Boarding was announced around 10 minutes before the scheduled departure time. Passengers were asked to step forward to watch a brief safety video before boarding the plane. After that, we walked over to the aircraft standing just outside the terminal building.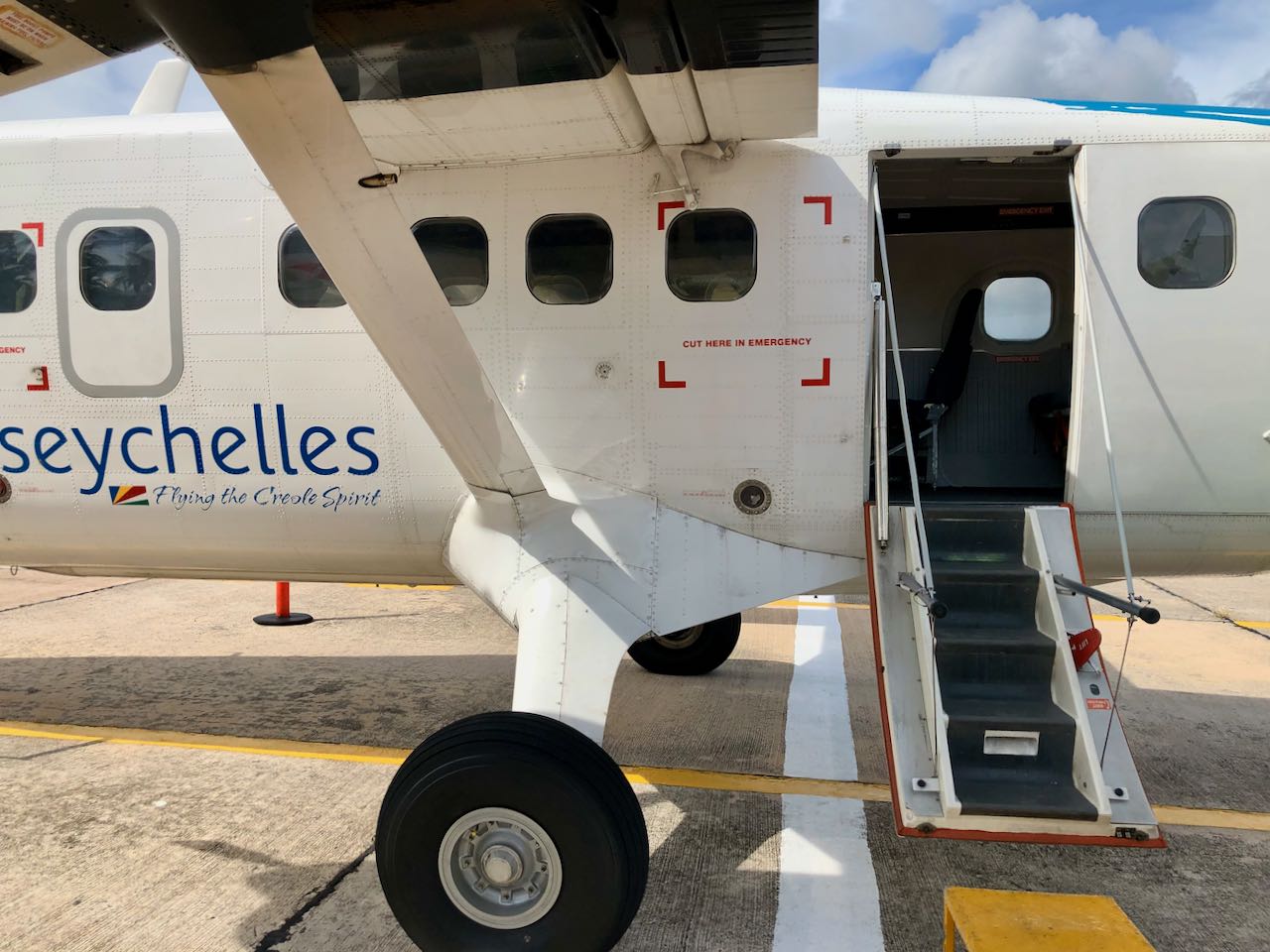 The first thing that struck us was that it was extremely hot inside the cabin. There were air nozzles above our seats, but the air coming from these was also hot, so it was of little help to cool down. Fortunately, the temperature was somewhat more comfortable on our return flight.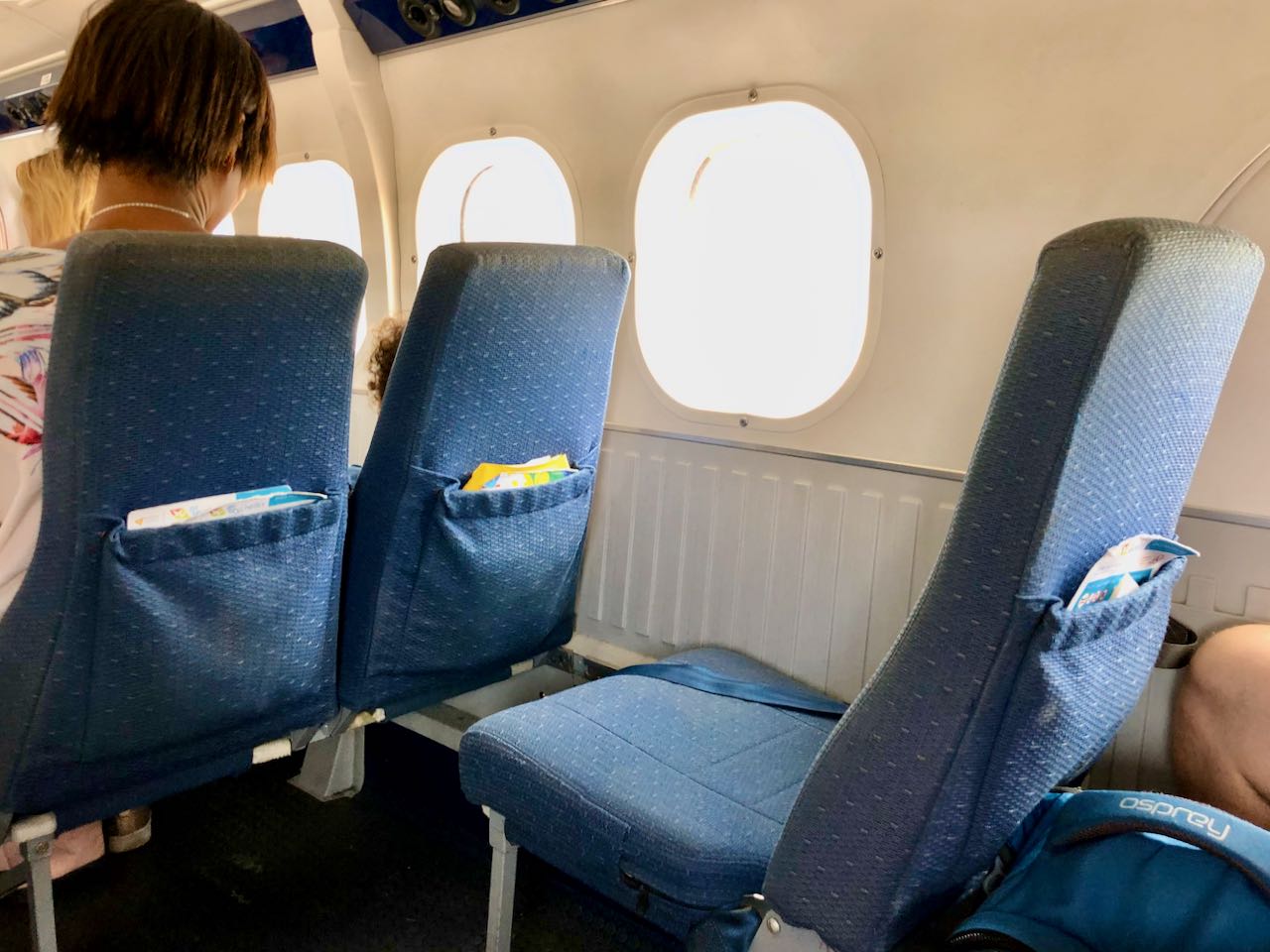 After the doors closed, we started taxiing towards the runway. The turboprop aircraft is noisier than a typical passenger plane, but the noise level wasn't too bad.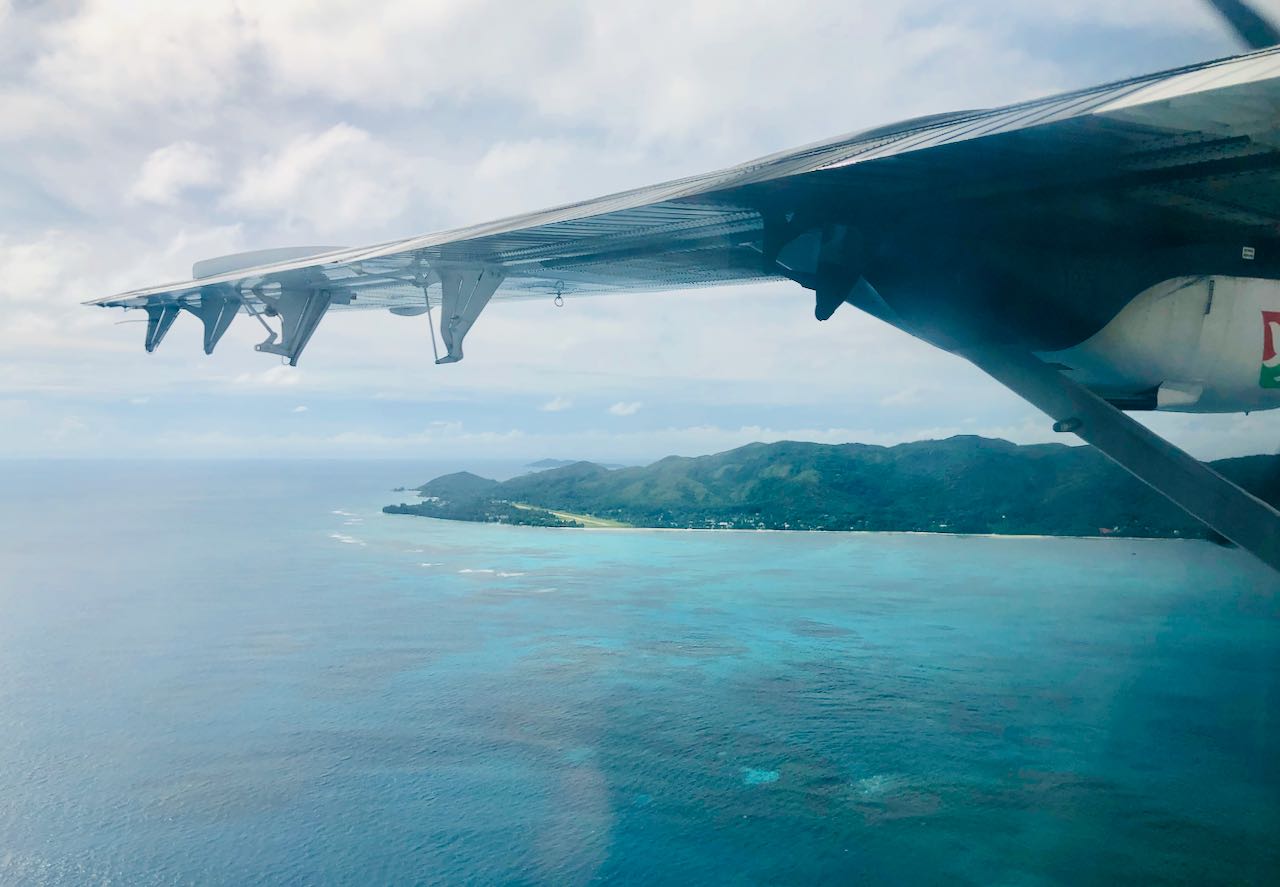 Within just 10 minutes, we started our descent. The total flight time was about 15 minutes. The weather was good, which meant smooth flying conditions. Beforehand, we had read that it can get bumpy in windy conditions. On our way back to Mahé we experienced more turbulence, but we did not find this too unsettling.
Once at Praslin airport, we collected our baggage and headed for Constance Lemuria resort.
READ MORE: Review of Constance Lemuria
Praslin airport facilities
Praslin airport reminded us in many ways of the domestic terminal at Mahé. The departure hall had a jewelry shop and a gift shop which also sold drinks and snacks. Drinks were reasonably priced at 25 SCR/2 USD. Free Wi-Fi was available, but reception was very patchy. The restrooms were clean and functional. Overall, the small airport was comfortable and air-conditioned.
Since our return flight to Mahé was pretty similar to the trip to Praslin, we decided not to review it separately.
Summary
With plenty of flights each day and a short flight time, Air Seychelles offers an excellent way to get to Praslin. We found the service level and airport facilities to be of a good standard.
As slightly nervous flyers, we had mentally prepared ourselves for a different flight than a regular flight on a larger plane. Given that, we would describe the in-flight experience as slightly uncomfortable, but bearable for such a short flight. If we someday go back to Praslin, we will certainly go by plane the next time as well.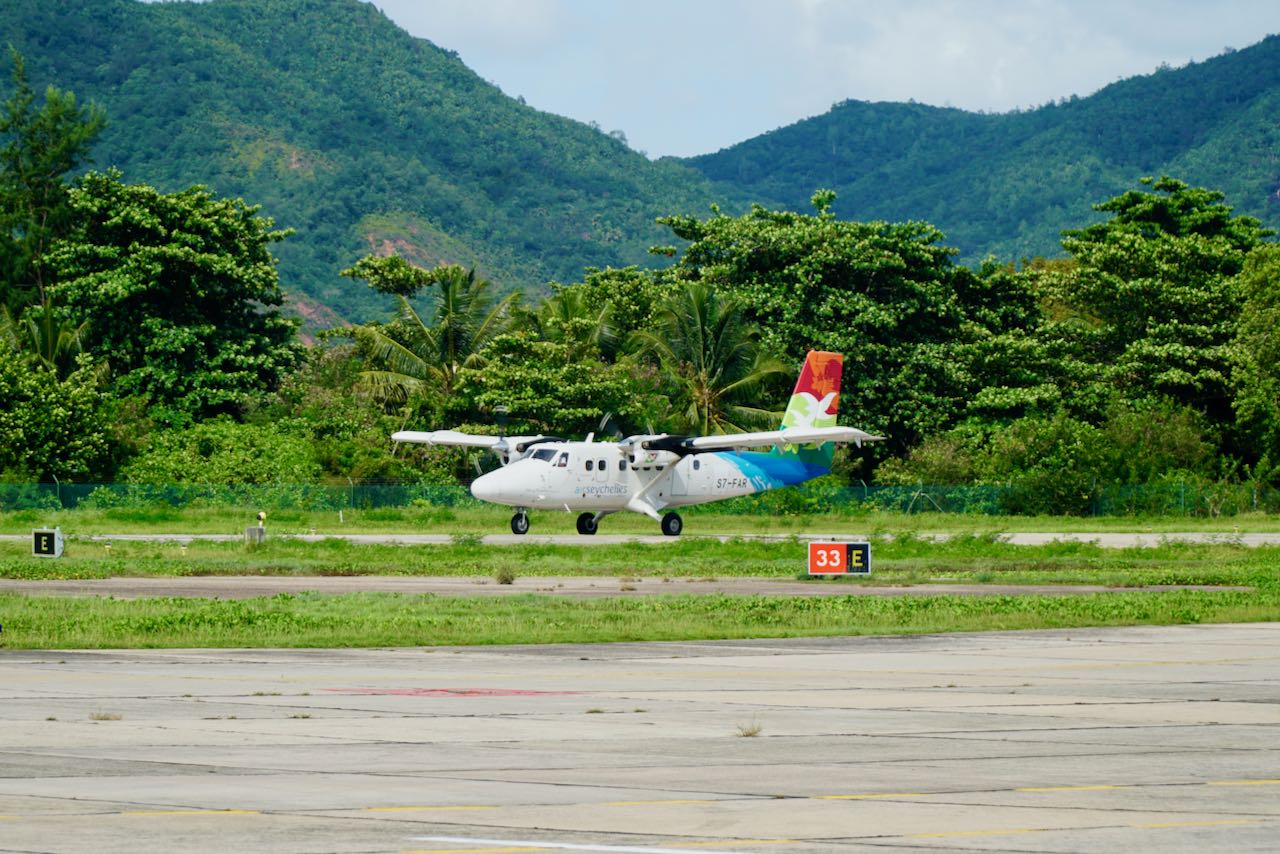 Practical information and tips:
Air Seychelles has more than 40 flights each day between the Mahé and Praslin. Tickets are around 150 USD return flight as of October 2019. (In comparison ferry tickets are around 110 USD return.)
Seat selection is available when booking. There are seven seat rows in a 1-2 configuration in the first five rows. Row six has one seat because of the door on the opposite side while row seven has 3 seats. Seat width is 17.5″ and pitch is 30″.
Seats 7A and 7B have the best leg room as they are emergency exit seats with no seat in front of them.
23 kg of checked baggage is included in the ticket. For excess weight, Air Seychelles charge a flat rate of 5 USD per kilo. The maximum weight of a bag is 32 kg. Passengers are also allowed one piece of hand baggage up to 5kg, and one small personal bag or slimline laptop bag. Please note that regular carry-on suitcases cannot be brought into the cabin as there are no overhead bins. Link to Air Seychelles domestic baggage rule sheet.
Although we got our baggage straight after getting off the plane, packing your essentials in the carry-on is always a good idea in case of baggage delays.
Online check-in is available, though you will still be required to queue for check-in as there is no separate bag-drop for those having checked-in online.
Check-in closes 45 minutes before departure.
At Mahé airport, there is a lounge outside security that can be accessed before domestic flights to Praslin. The Payanke CIP Lounge is open to all travelers, and the entry cost is 40 USD for adults and 20 USD for children. We did not try the lounge ourselves.

Link to Payanke CIP Lounge

.
Air Seychelles is an Etihad Airways partner and you will earn Etihad Guest miles when travelling with Air Seychelles.
Link to Seychelles International Airport
*We flew Air Seychelles in April 2019. Air Seychelles did not know that they were being reviewed and we received no special discounts. Prices are as of October 2019.