Published March 2020
As afternoon tea enthusiasts, we often take the opportunity to try out new versions of afternoon tea while traveling. We have had tea in countries like Cambodia, New Zealand, Scotland, Hungary, and of course countless times at home in Oslo, Norway. On our recent trip to Florida, we decided to try out afternoon tea in the United States for the first time, and we were excited to see how it would compare to our previous experiences.
We had booked a table for afternoon tea at Disney's Grand Floridian Resort & Spa in Orlando and arrived at the resort on a windy and unusually cold Friday afternoon. From the parking lot, it was a short walk over to the Garden View Tea Room, and along the way we were impressed by the beautiful surroundings.
After arriving, we had to wait a few minutes before being escorted to our table. It was set with rose-patterned teacups that matched the nostalgic interior of the room perfectly. At first glance, everything looked charming, but a closer look revealed that the room could use a revamp.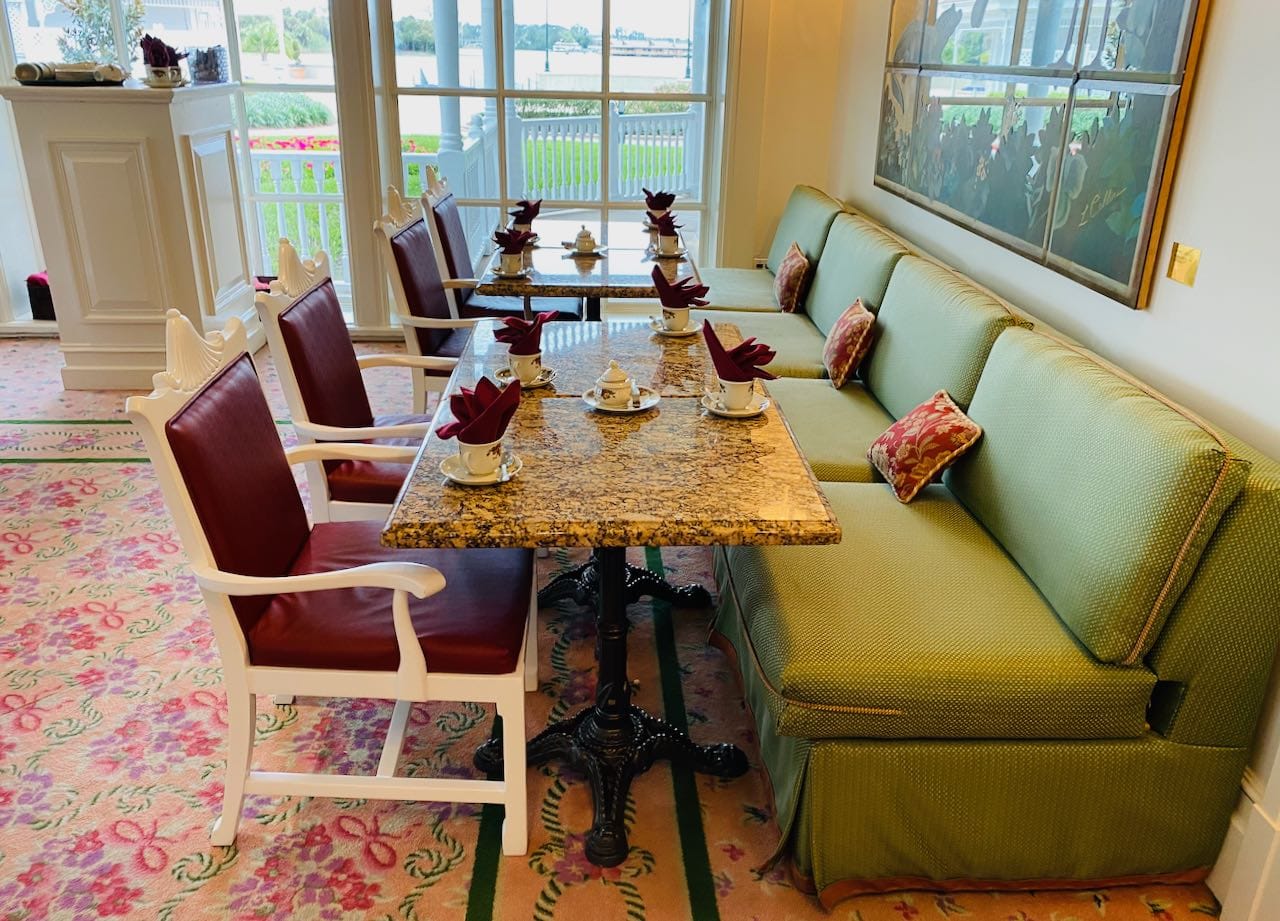 Our server gave us a quick and somewhat mechanical introduction to the various menu choices, but in her defense, it should also be said that with a packed room, she had a very busy shift that day.
The menu tempted us with a few different options for afternoon tea. We decided on The Bedfordshire Tea, which was the most traditional type. Other options on offer included cheeses or caviar. We also got to choose what kind of tea and dessert we wanted. For dessert, the choices were an English trifle, strawberries with whipped cream, or a plate of house-made pastries.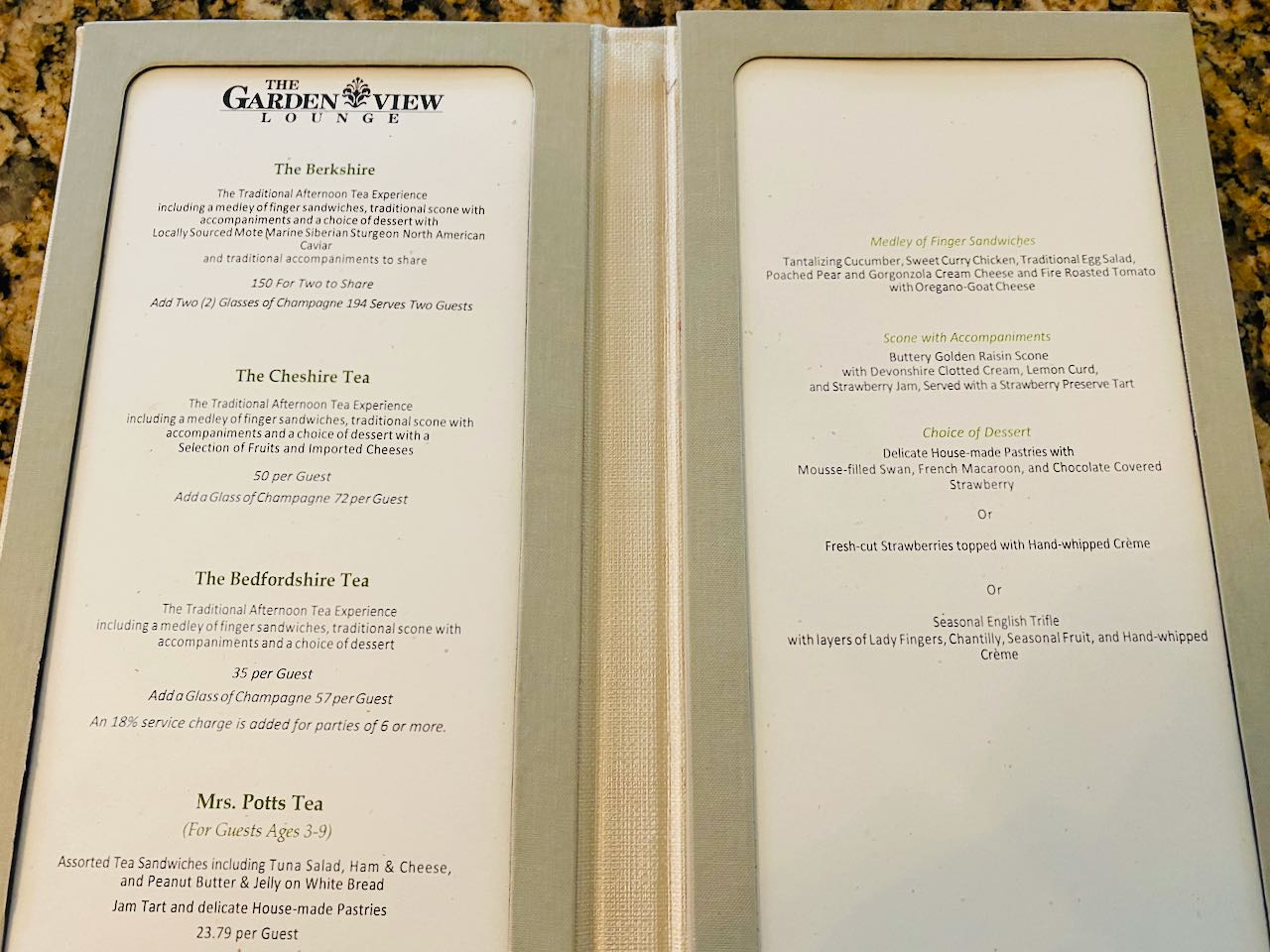 Both the tea and the food came to our table at rocket speed, and since we were served everything at the same time, the small table became pretty crowded. A nice detail was the teapot heaters with the hotel's logo. Unfortunately, these had seen better days, and were both worn and a little dirty.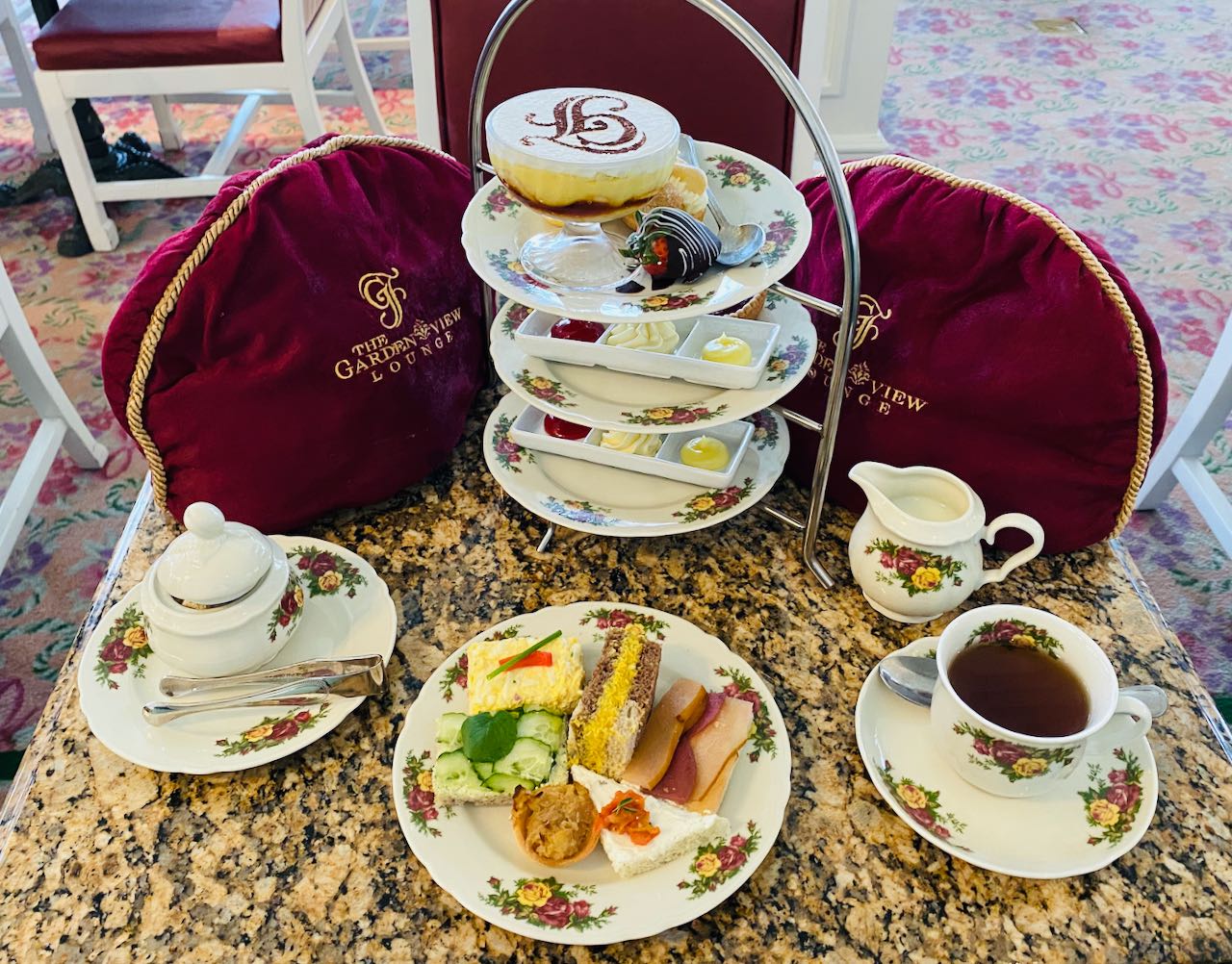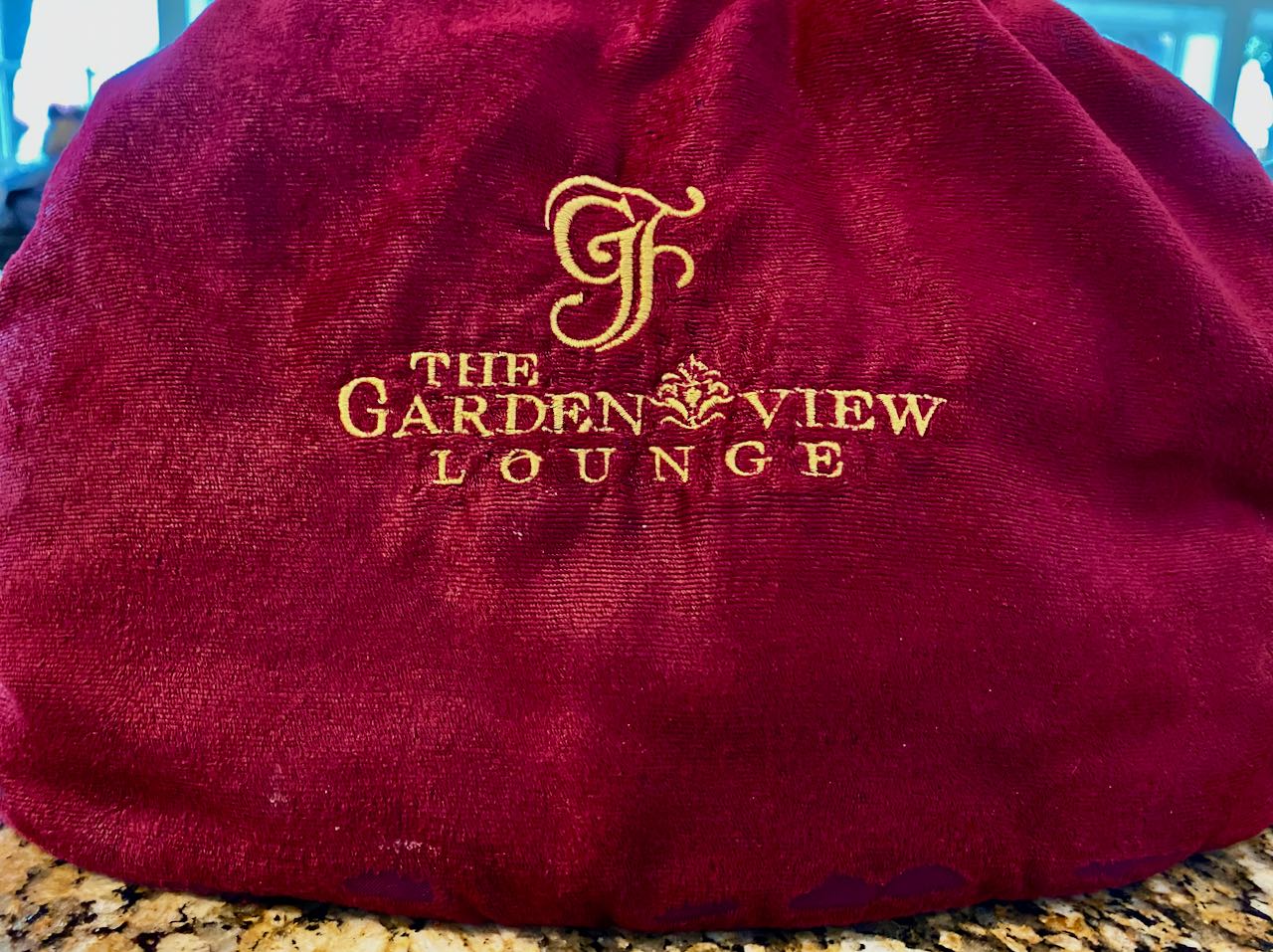 Fortunately, the teapots underneath were clean enough. From the large tea selection, we had decided on Golden Tipped English Breakfast and London Strand Earl Gray. The former tasted fine, but the latter had a slightly odd taste.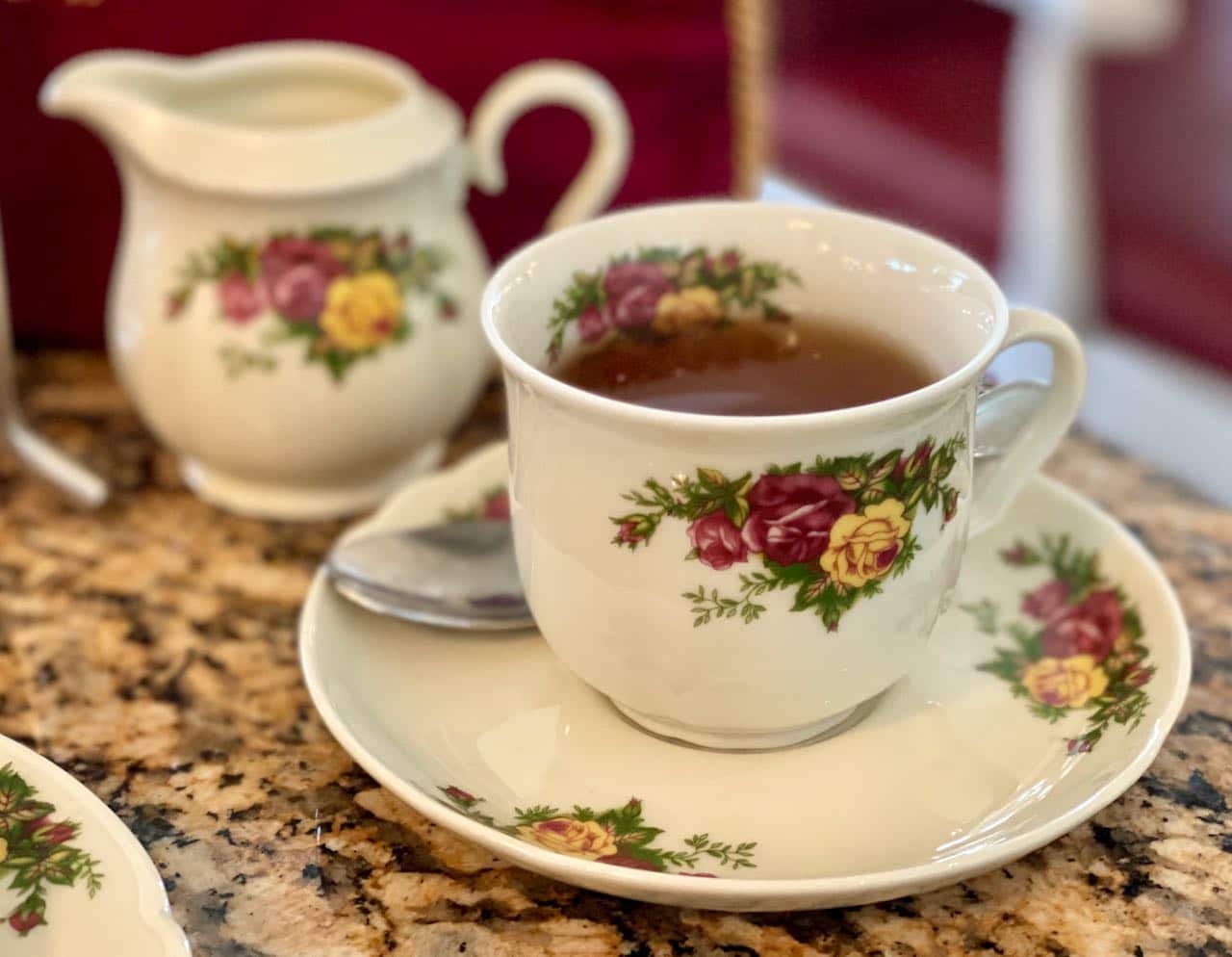 In front of us we now had plates of finger sandwiches, as well as a three-tier stand with scones and other sweets. We started with the sandwiches and first off was one with cucumber and cream cheese. It was served as an open sandwich, which was perfectly fine since the bread was a bit on the dryer side. This first sandwich was mild and tasty.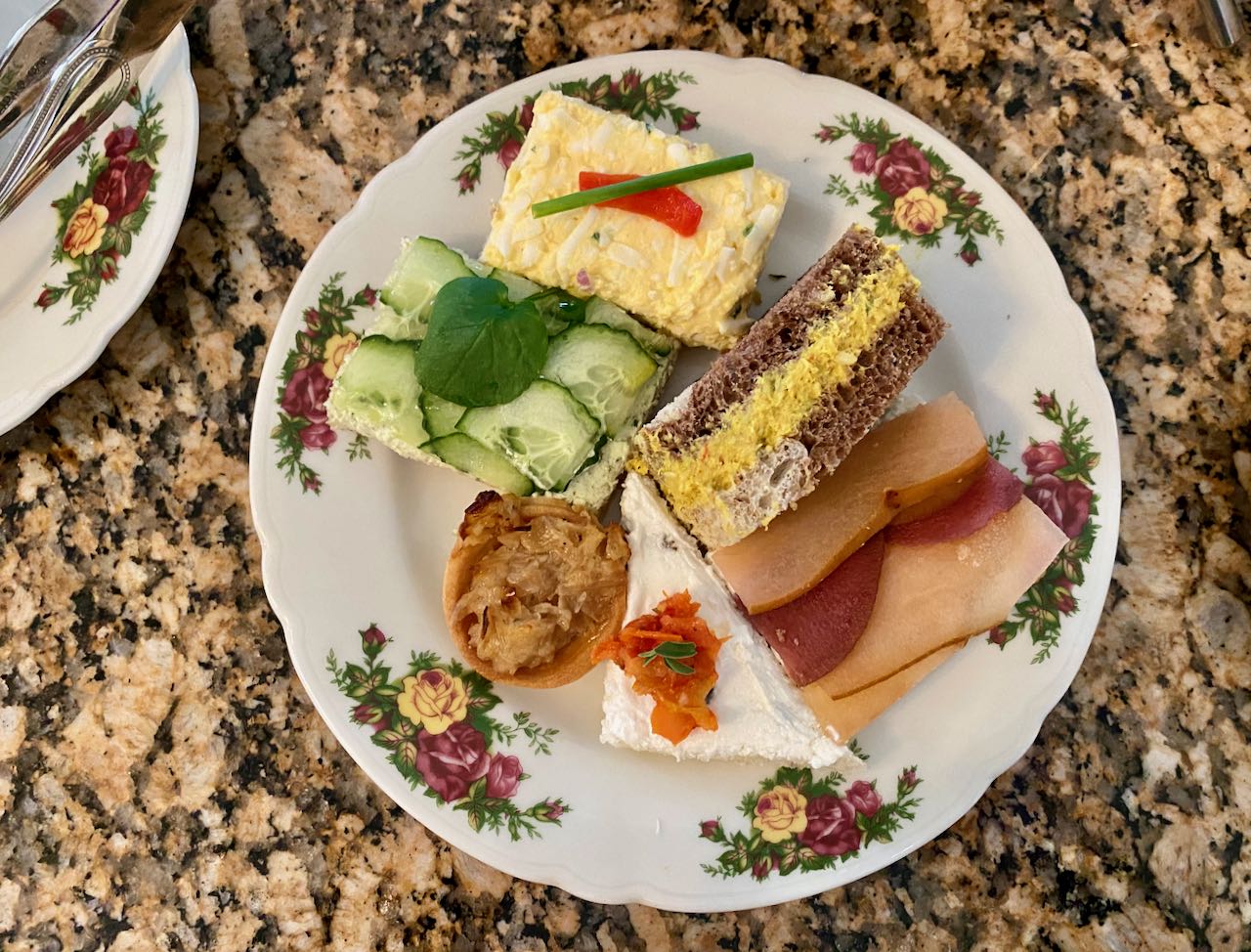 The same can be said about the egg salad sandwich. The one with poached pears and gorgonzola, on the other hand, tickled our taste buds with its surprisingly spicy flavor, and was an exciting addition. We also enjoyed the sandwich with goat cheese and grilled tomatoes: the slightly sour tomatoes combined well with the creamier cheese.
The last sandwich was a double slice of marbled bread filled with curry chicken. We felt that the dry bread overpowered the otherwise delectable chicken spread. The last piece on the savory plate was an onion tart, which neither of us cared for due to the much too sweet flavor.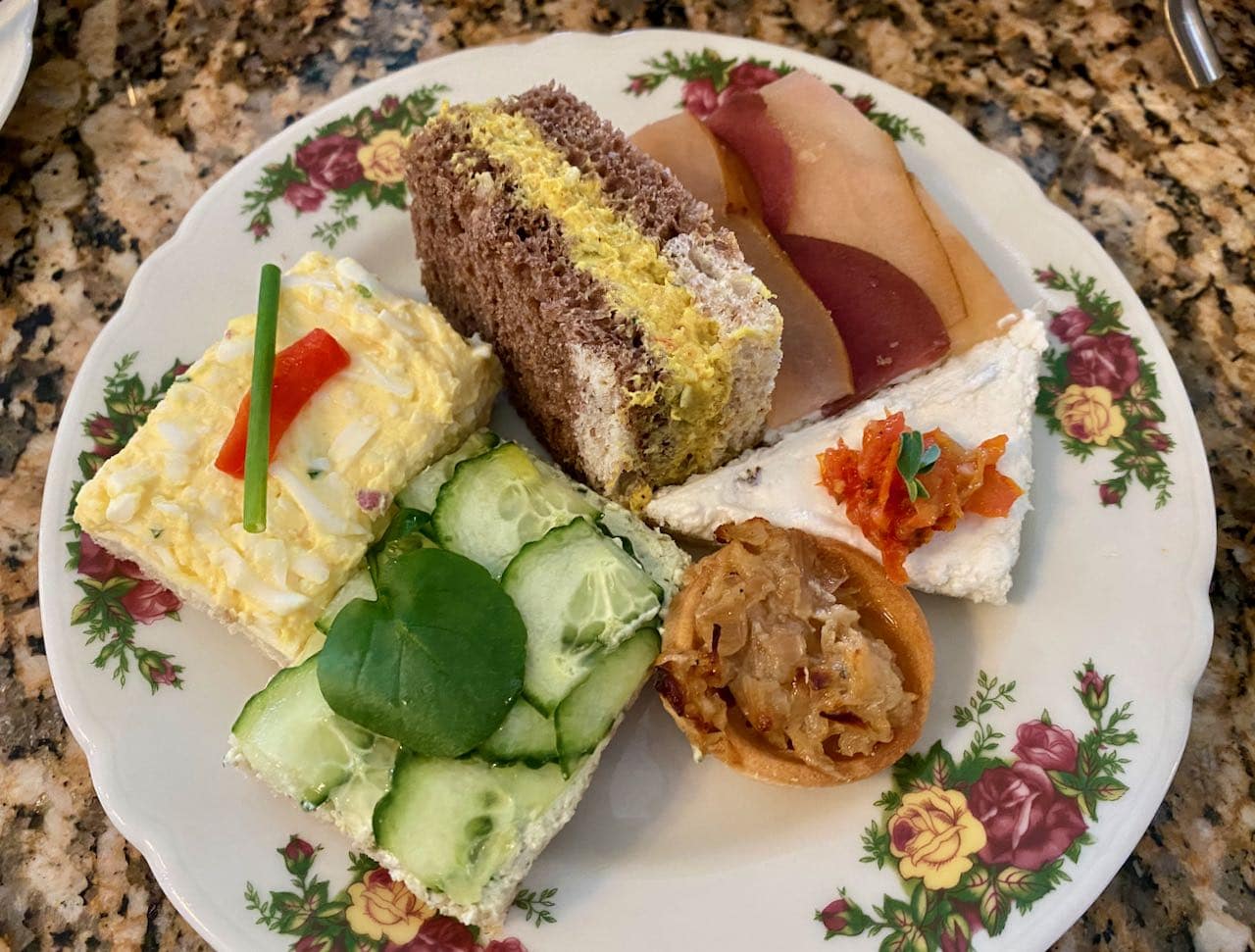 The next plate also contained tarts, these filled with strawberry jam. They tasted just fine, but we would have gladly replaced them with an extra scone—the ones with raisins were delicious and one of the highlights of the meal. For accompaniments we got Denvonshire Clotted Cream, lemon curd, and strawberry jam. The jam and lemon curd were OK, but the clotted cream lacked both the traditional flavor and texture. In other words, there was little that reminded us of classic clotted cream.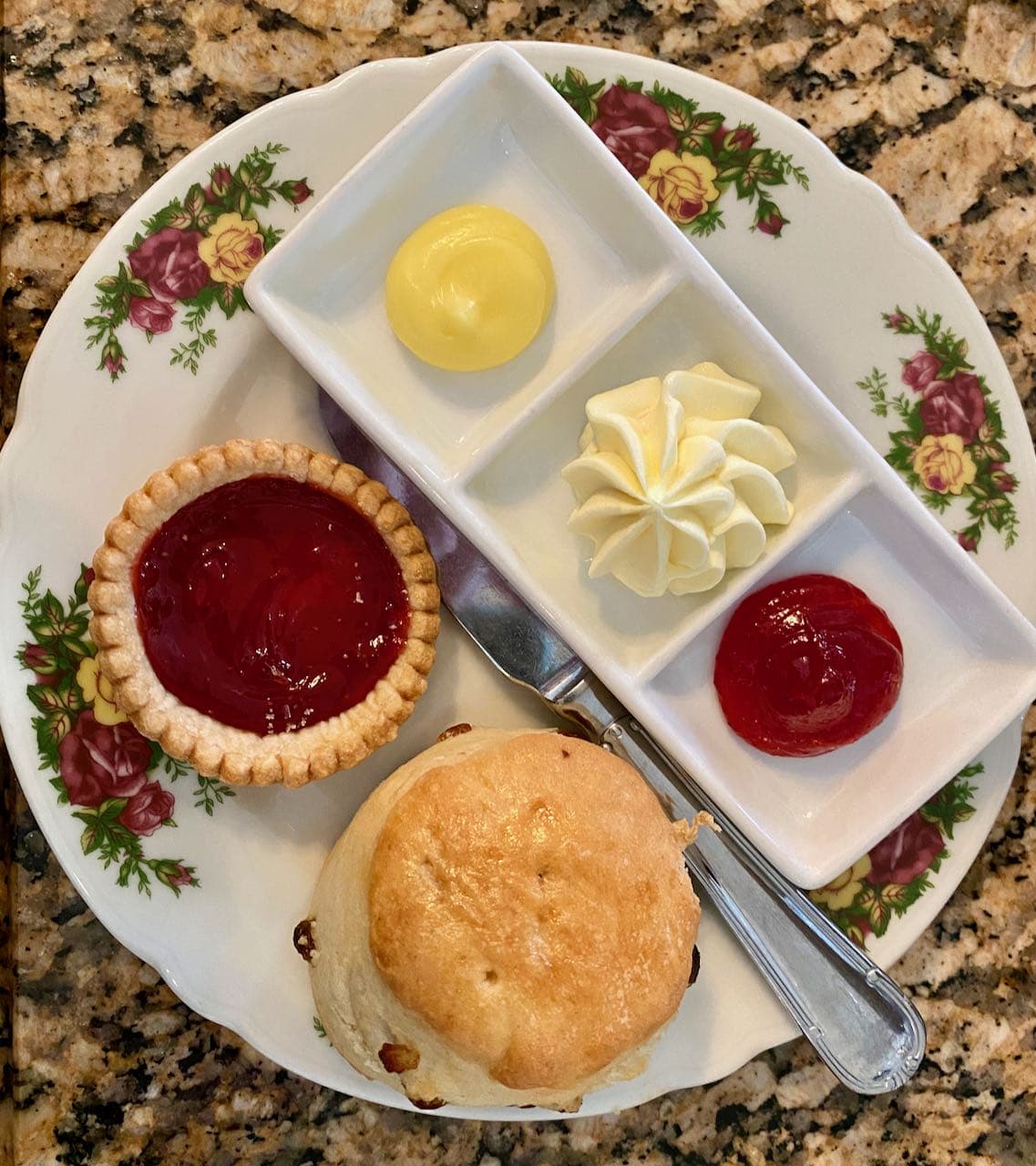 At this point in the meal, we would have liked to savor the moment and let the food digest for a while, but the hectic activity around us did not invite us to relax. With a packed restaurant and waiters dashing around, the atmosphere was totally different from what we are used to at an afternoon tea. While this meal can often be a somewhat solemn event, it now felt as if we were in the midst of an efficient assembly line where everything should go as fast as possible. With a long line of dishes already lined up, the staff served table after table in express shipping mode. Everything was premade and nothing was made to order. This, unfortunately, also impacted the presentation of the meal, which lacked finesse.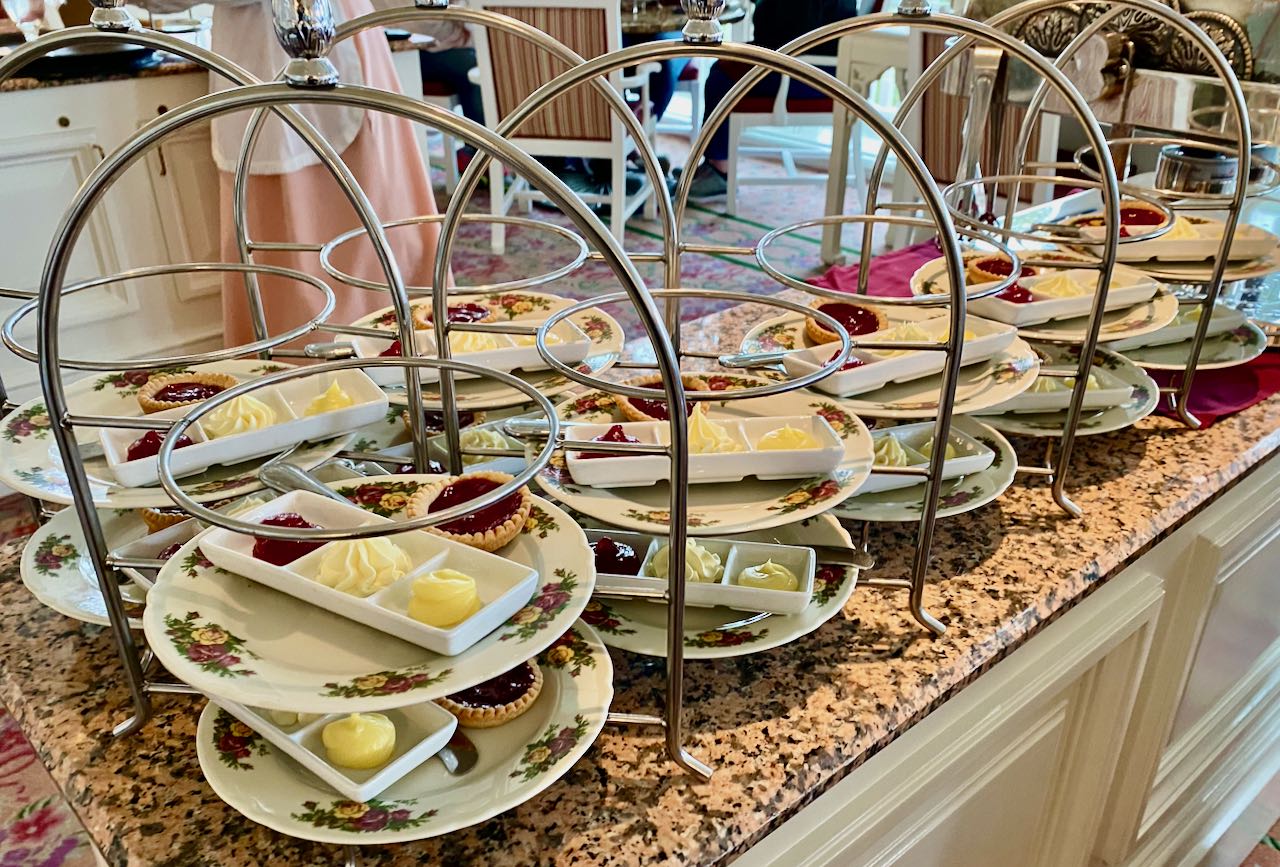 Instead of dwelling over these details, we decided to just to get on with the dessert. We had chosen the English trifle with banana and caramel as well as the house-made sweets. The trifle was a tasty "calorie bomb," and the portion was so generous it was a challenge to finish it.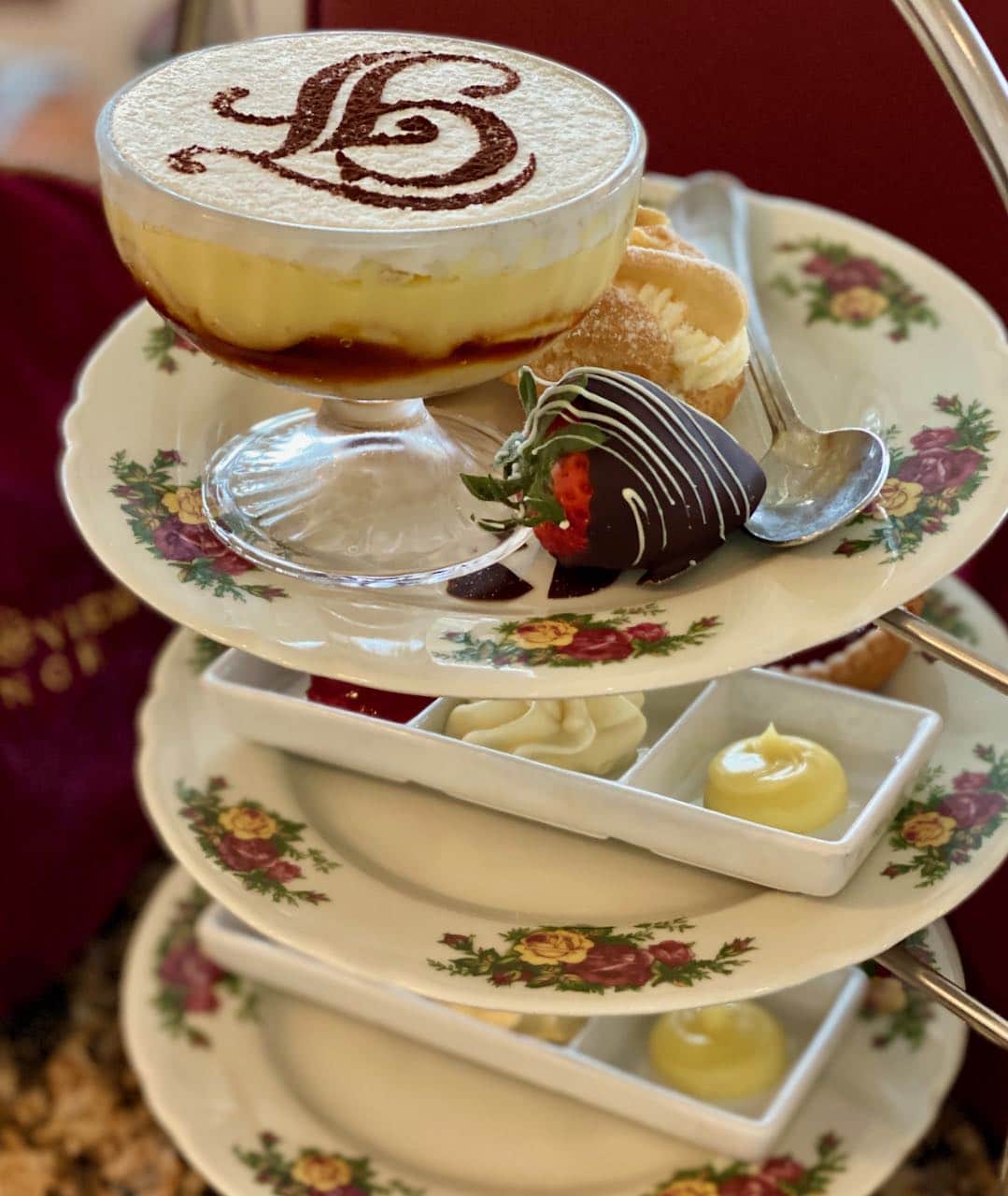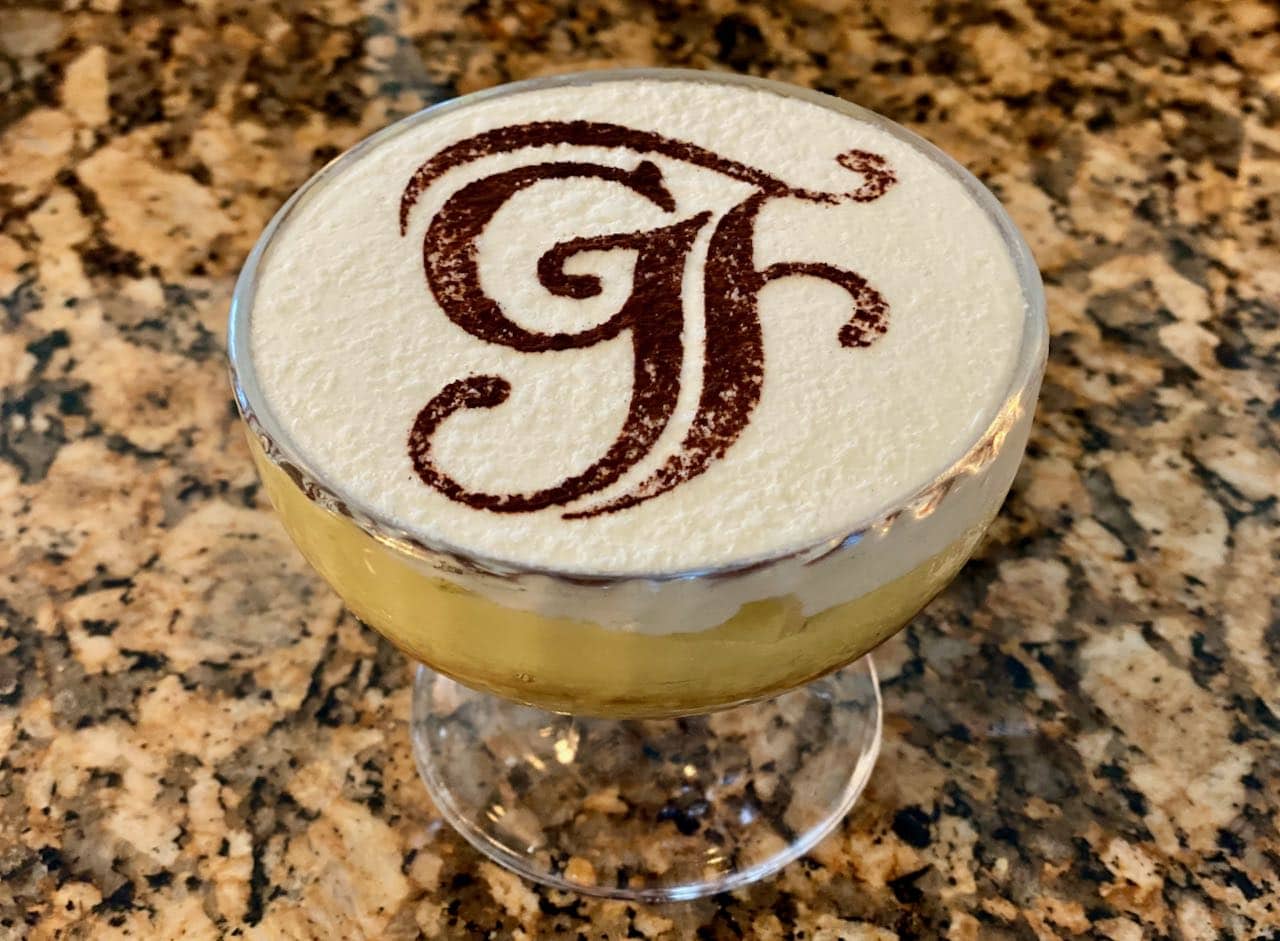 The second dessert consisted of a white-chocolate-mousse-filled eclair shaped like a swan, two macarons and a chocolate-covered strawberry. The swan and macarons were very good, but the meal unfortunately ended on a bad note when the strawberry turned out to have a considerable amount of sand and earth on the leaves. It also didn't help that our waitress just shrugged when we made her aware of this, and she didn't offer to replace the strawberry.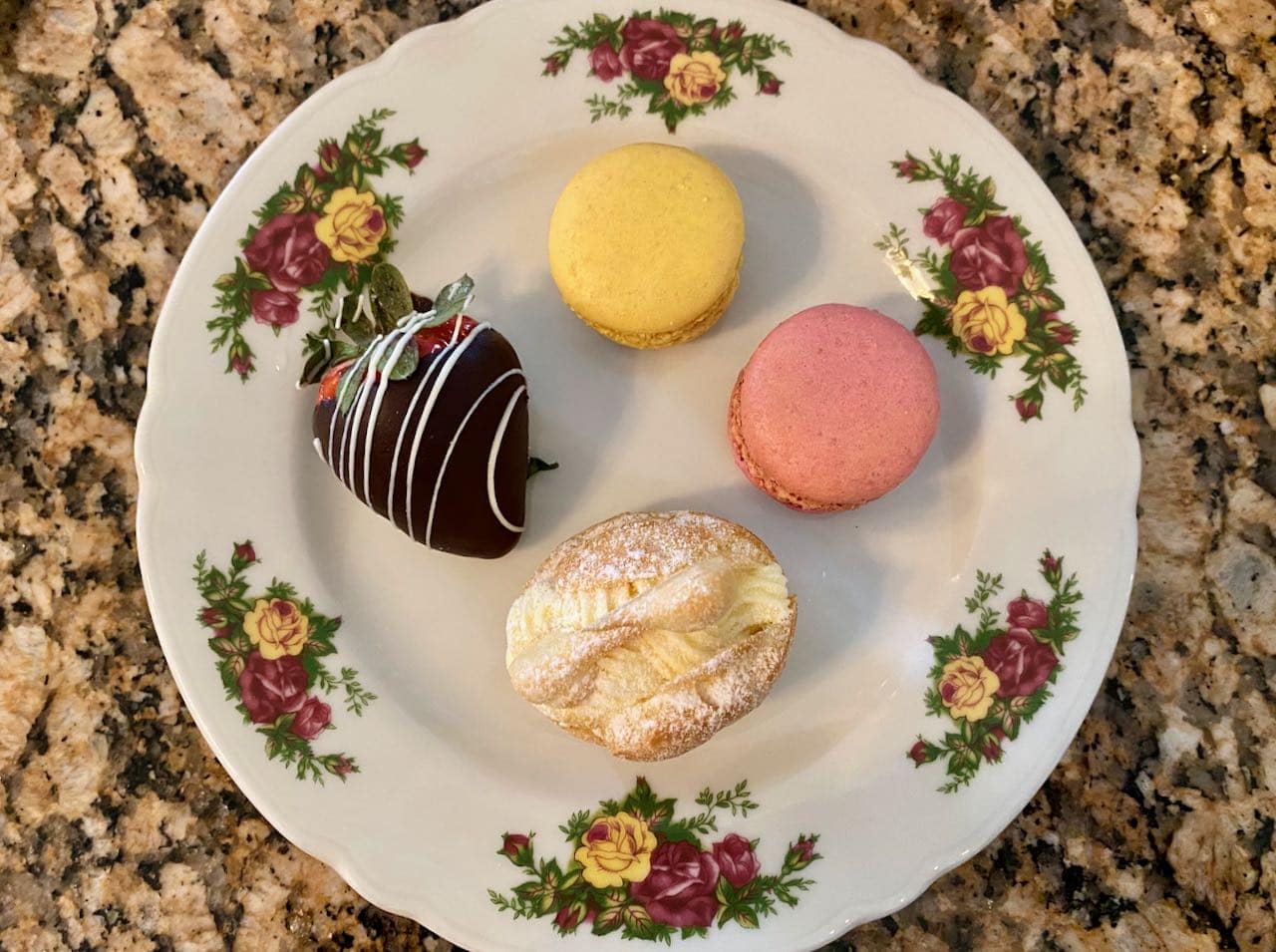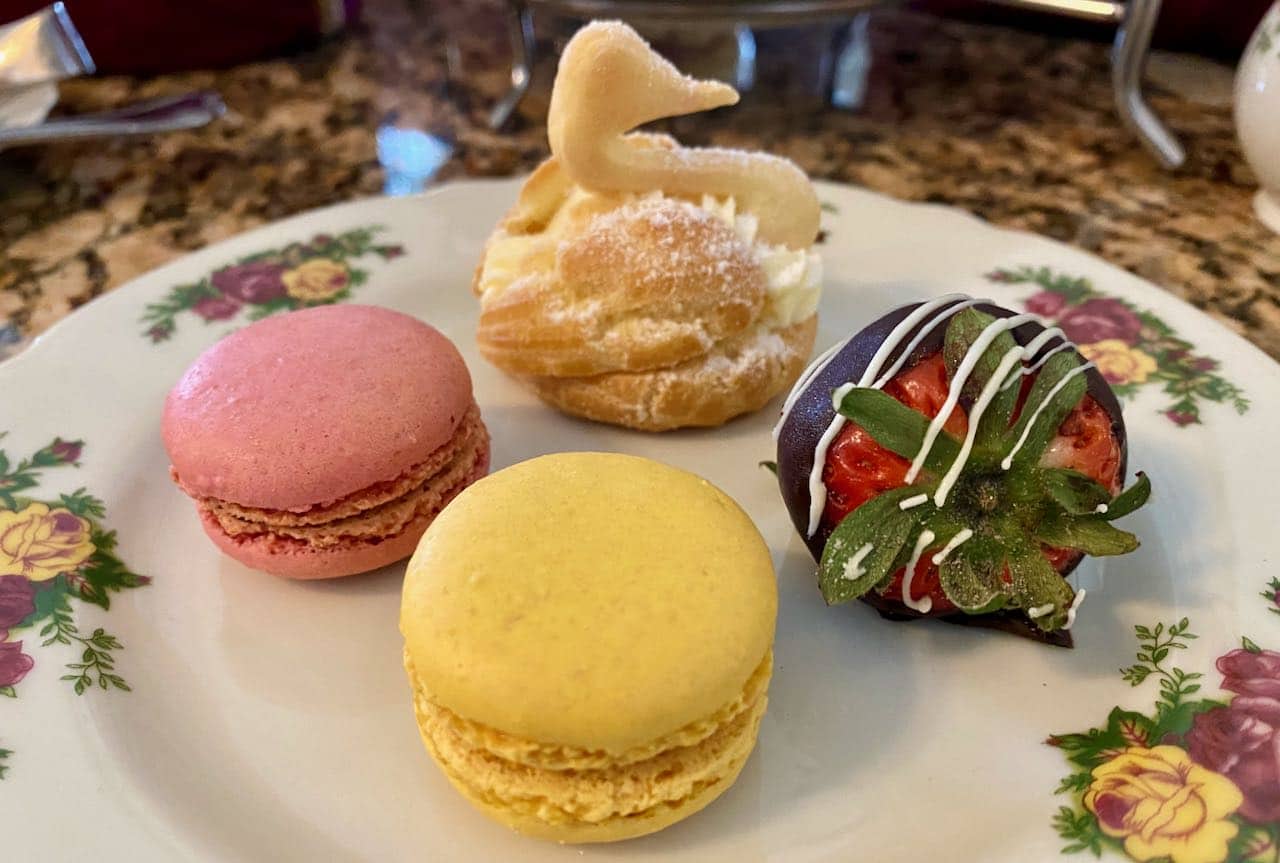 Summary
As Disney fans, we had been looking forward to drinking tea in what we had hoped would be a magical setting. The experience, however, was not particularly magical at all. With an assembly-line-style atmosphere and lack of attention to detail, Disney's Grand Floridian Resort & Spa failed to deliver the wonderful experience the Disney parks are known for.
Although the food all in all tasted fine, it alone was not enough to give us a good overall impression when we were served strawberries that were obviously not washed and the surroundings bordered on being chaotic. The worn and dirty teapot heaters also dragged down the overall experience. We don't think the relatively stiff price of 35 USD (plus tax and tips) reflected the quality of what was delivered, and we cannot therefore recommend having afternoon tea at Disney's Grand Floridian Resort & Spa.
Link to Disney's Grand Floridian Resort & Spa
*We visited Disney's Grand Floridian Resort & Spa in February 2020. Disney's Grand Floridian Resort & Spa did not know that they could be featured on our blog, and we did not receive any special discounts.