April 2019
Click here to read this article in Norwegian – Klikk her for å lese denne artikkelen på norsk
Introduction:
Airline: Thai Smile Airways
Aircraft: A320
Flight: WE590
Route: Bangkok (BKK) – Siem Reap (REP)
Duration: 01h05m
Class: Plus (Premium Economy Class)
Seat: 31K + 31H (row number 31 is the first row on the plane)
On the short trip from Bangkok to Siem Reap our main goal was to find a flight that would transport us to Siem Reap as smoothly as possible. With plenty of flights to choose from, we eventually booked an evening flight with Thai Smile Airways. We wanted seats up front to get first to the immigration lane in Siem Reap, as well as having a flexible ticket in case of need for a date change. Although more expensive than a regular saver ticket, we decided to book a Plus-ticket, which is Thai Smile Airways premium economy class. However, we were in no way prepared for the experience Thai Smile Airways managed to pack into this one-hour flight!
Check-in:
The trip started well checking in our bags at Thai Smiles priority check-in lane at Bangkok Suvarnabhumi International Airport. After a swift security control, we were inside the terminal.
Our tickets included access to the pleasant Thai Airways Flagship Royal Orchid business class lounge. We spent an hour there enjoying a great selection of food and drinks.
Link to Thai Airways Flagship Royal Orchid business class lounge
Boarding:
As our boarding time approached, we started walking towards the gate. Boarding was bang on the announced time, 40 minutes before departure. Although we had priority boarding this was of little value as our gate was a bus gate. Getting first on the bus did get us seats, however, which was appreciated given the quite lengthy bus ride to the aircraft stand.
Walking into the plane we were instantly greeted by three very friendly flight attendants. Since we were seated in the front row, we unloaded our hand luggage to the overhead bins and found our seats in no time.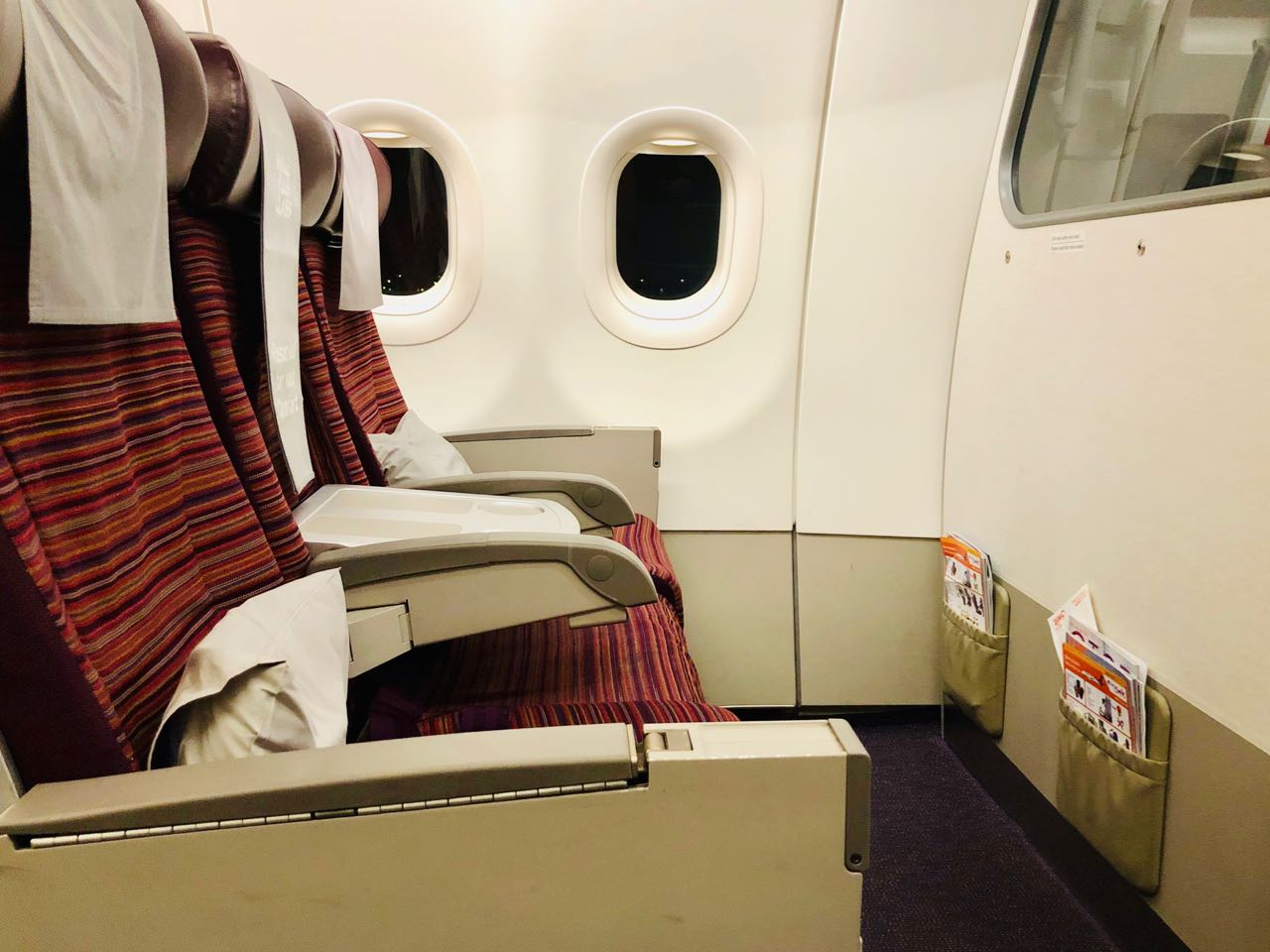 Cabin and seat:
The seats in the front row were very comfortable with plenty of leg room and a blocked middle seat. The seat also had a flexible headrest, enhancing comfort significantly. A small pillow was awaiting in every seat. Because the tray table being located inside the armrest in the first row, the seat width is slightly reduced.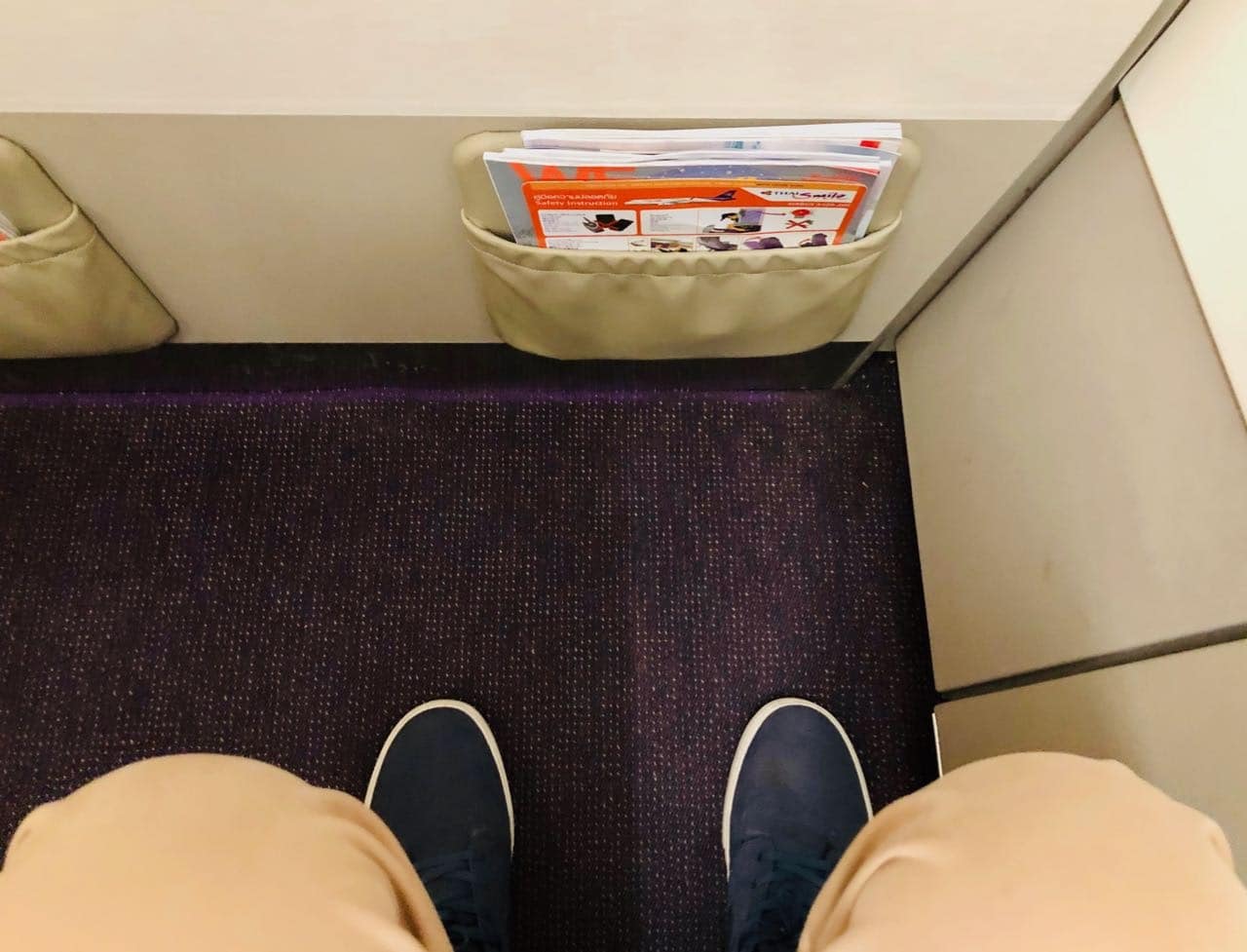 The Thai Smile Airways Plus class consisted of 4 rows with a 3-3 configuration, all with the middle seat blocked by a small table. The legroom in the consecutive rows was not as generous as in the front row, but still not bad. As the only passengers flying in Thai Smile Airways Plus class, we had the opportunity to check out the 33 inches seat pitch in the rows behind us.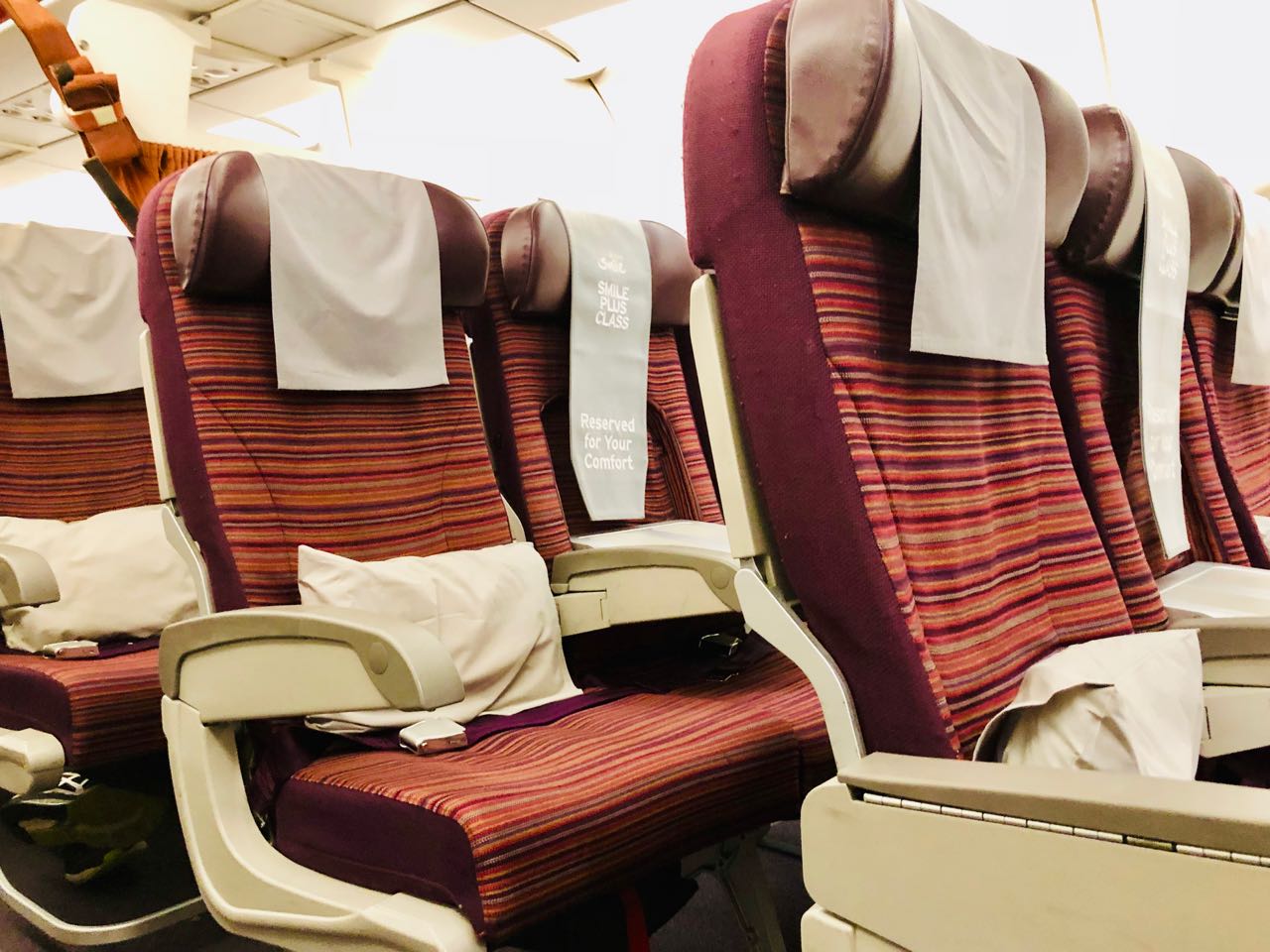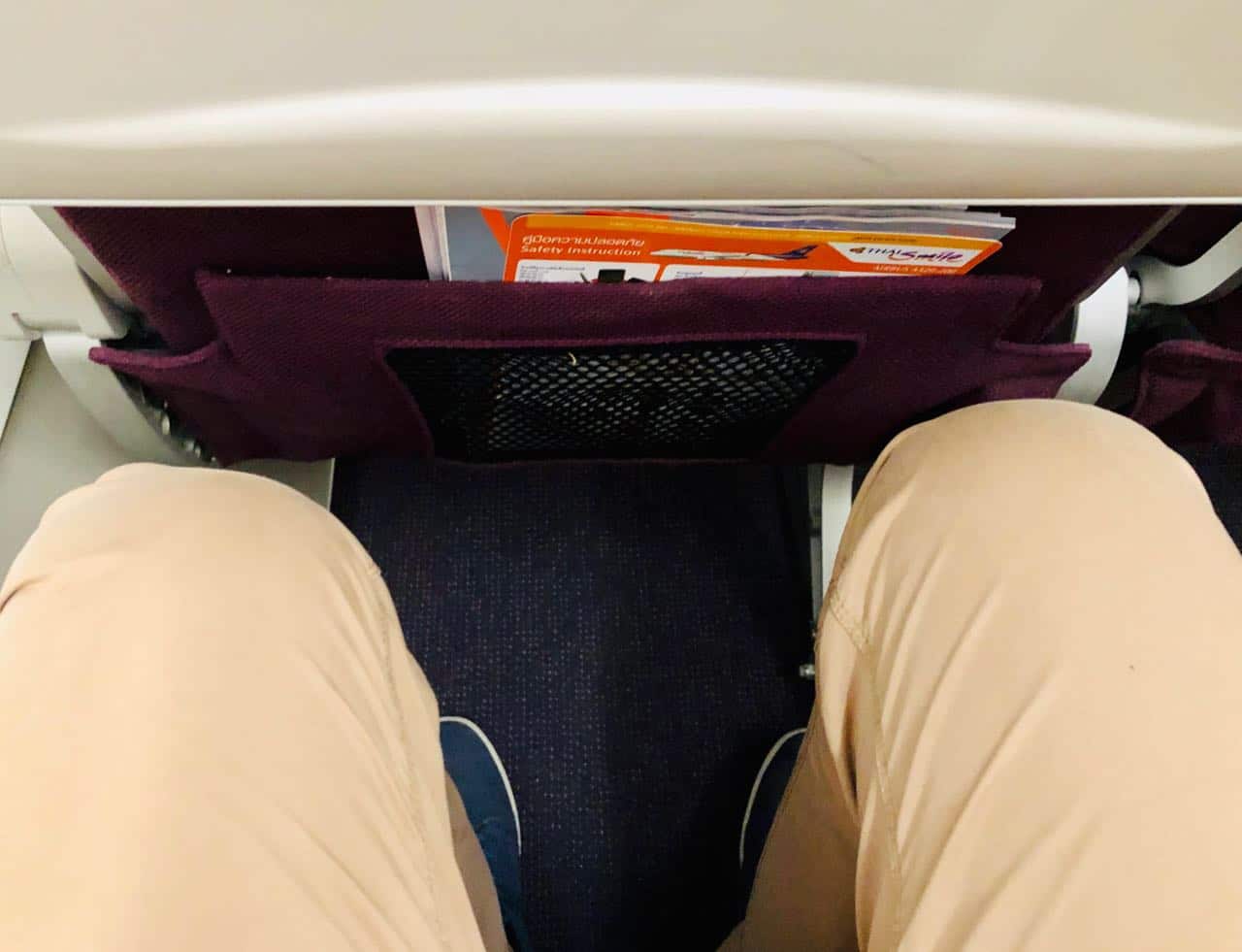 Food and beverage:
We were given a warm towel and served grape juice and nuts just seconds after settling into our seats. Soon after, the flight attendant stopped by to take our orders for food and drinks. The menu was presented to us by the cabin attendant.  We had a choice of shrimp or fish for the main course, while the starter and dessert were set.
After a short taxi and a smooth take-off roll, we were handed a tray with a salmon starter, our main course and dessert with white chocolate and mango. Everything was served on a white cloth with proper cutlery and glasses. The food was tasty, though on the spicy side for us Norwegians. We just had coffee and soft drinks, so we are not quite sure if alcohol was on offer.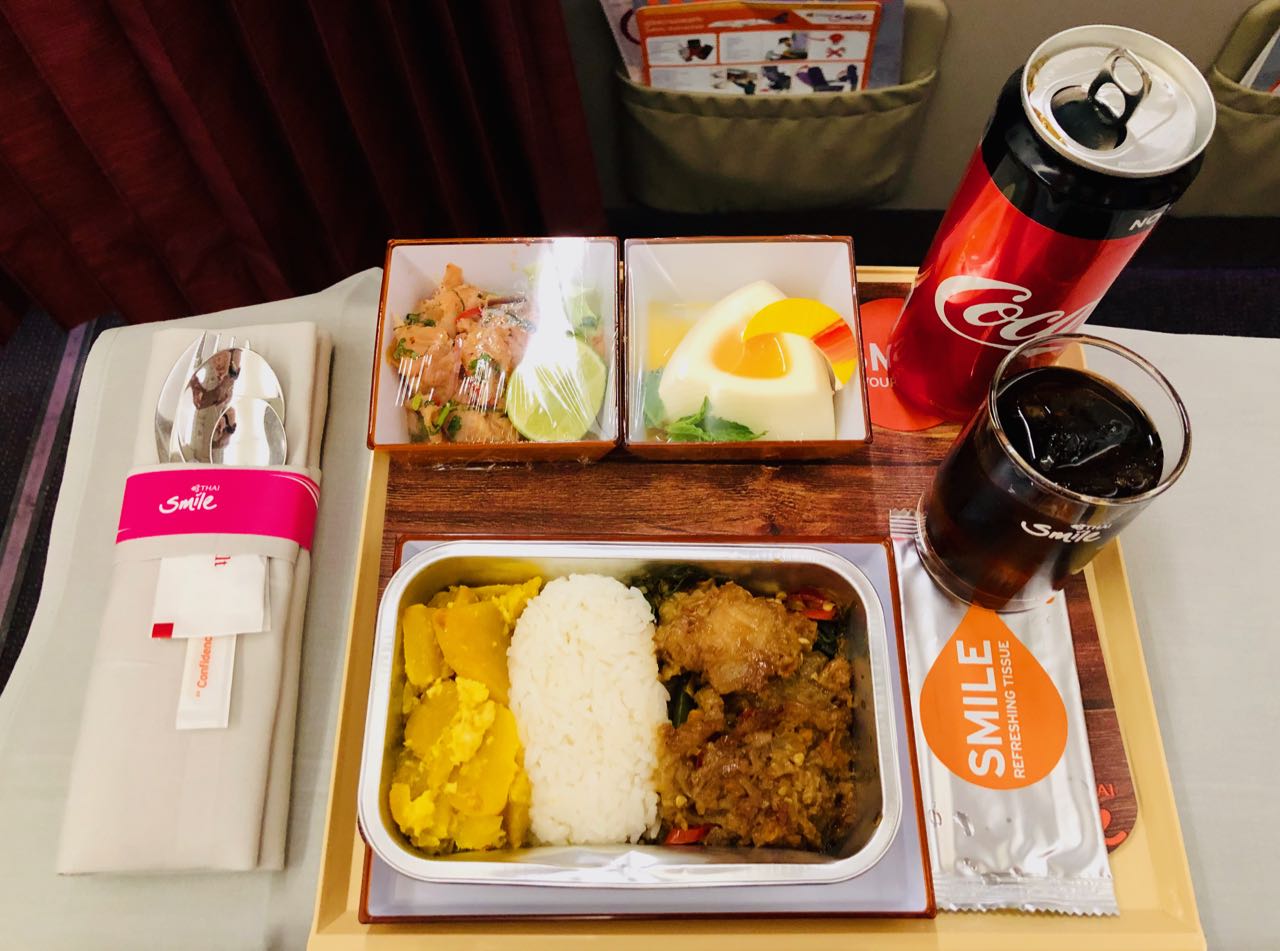 Service:
The onboard service was friendly and relaxed yet extremely efficient. During the very short flight, we had multiple interactions with the crew who were all smiling and willing to assist. Upon receiving the immigration papers, we were also proactively offered pens, which was a nice touch.
Summary:
Thai Smile Airways impressed us greatly with their Plus class experience. The service level was better than we have experienced on short-haul European business class with leading flag-carriers, and we would love to see them learn a thing or two from the Thai Smile Airways crew!
Serving a 3-course meal in such a short flight is quite ambitious, but the crew pulled this off with a smile.
We felt that the extra money spent on Plus class was well worth it. The lounge access, the generous legroom, and getting first of the plane made for a very pleasant trip. Being the first to get off the plane also meant that we saved time in the immigration process, which was much appreciated given the late evening arrival.
All in all, Thai Smile Airways Plus class was our best short flight ever!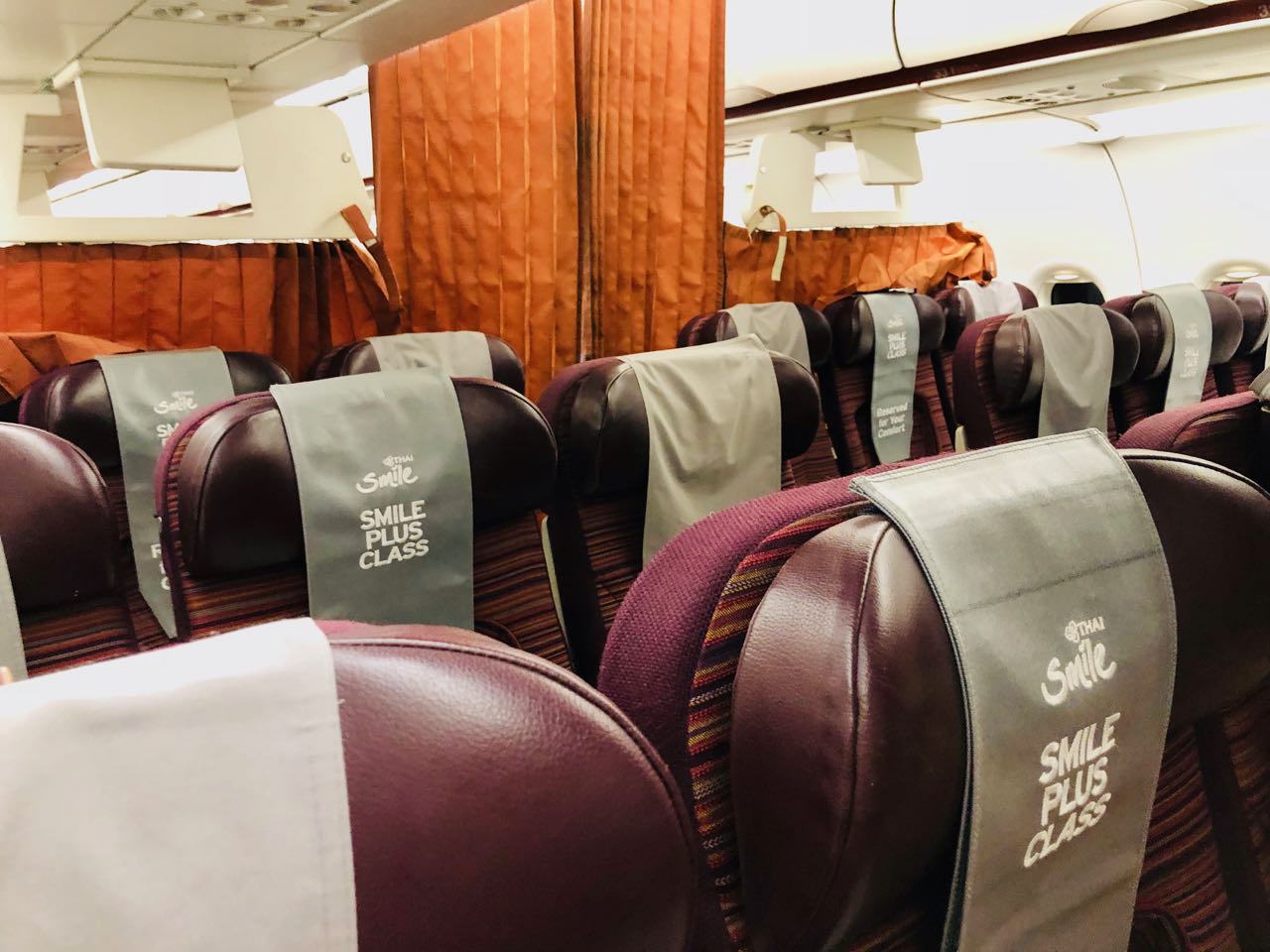 Overview of the benefits of flying Thai Smile Airways Plus class:
Airport lounge access (at Bangkok Airport this includes access to the Thai Airways Flagship Royal Orchid business class lounge)
Free seat reservation and seating in the first rows of the plane
30 kg of checked in baggage allowance on domestic routes– 40 kg on international routes
Priority boarding
Comfortable seat with 33 inches seat pitch (standard economy class has a seat pitch of 28-31)
Blocked middle seat
Welcome drink and full-service meal with hot and cold beverages
Priority baggage
Rerouting is permitted without a fee
Flight and date changes are permitted without a fee
Cancellation is permitted within 4 hours before departure time (fee of THB 500 for domestic routes and 1500 for international routes)
Miles earning with the Thai Royal Orchid Plus frequent-flyer program
*Thai Smile Airways did not know that they were being reviewed and we paid all expenses ourselves.