Published November 2019
When we visited Cambodia for the first time in 2018, we were immediately struck by the beautiful country with its incredibly friendly people. However, it was impossible not to notice the difficulties a large proportion of the population experiences. During our stay in Siem Reap, we therefore visited several projects and initiatives aimed at improving the locals' living conditions. We have described these projects HERE.
When we returned to Siem Reap this year, we found even more initiatives and projects, which we have covered in this blog post. In addition, we also mention the places we wrote about last year. Finally, we include a number of places that we unfortunately did not have time to visit, but which seemed great as well.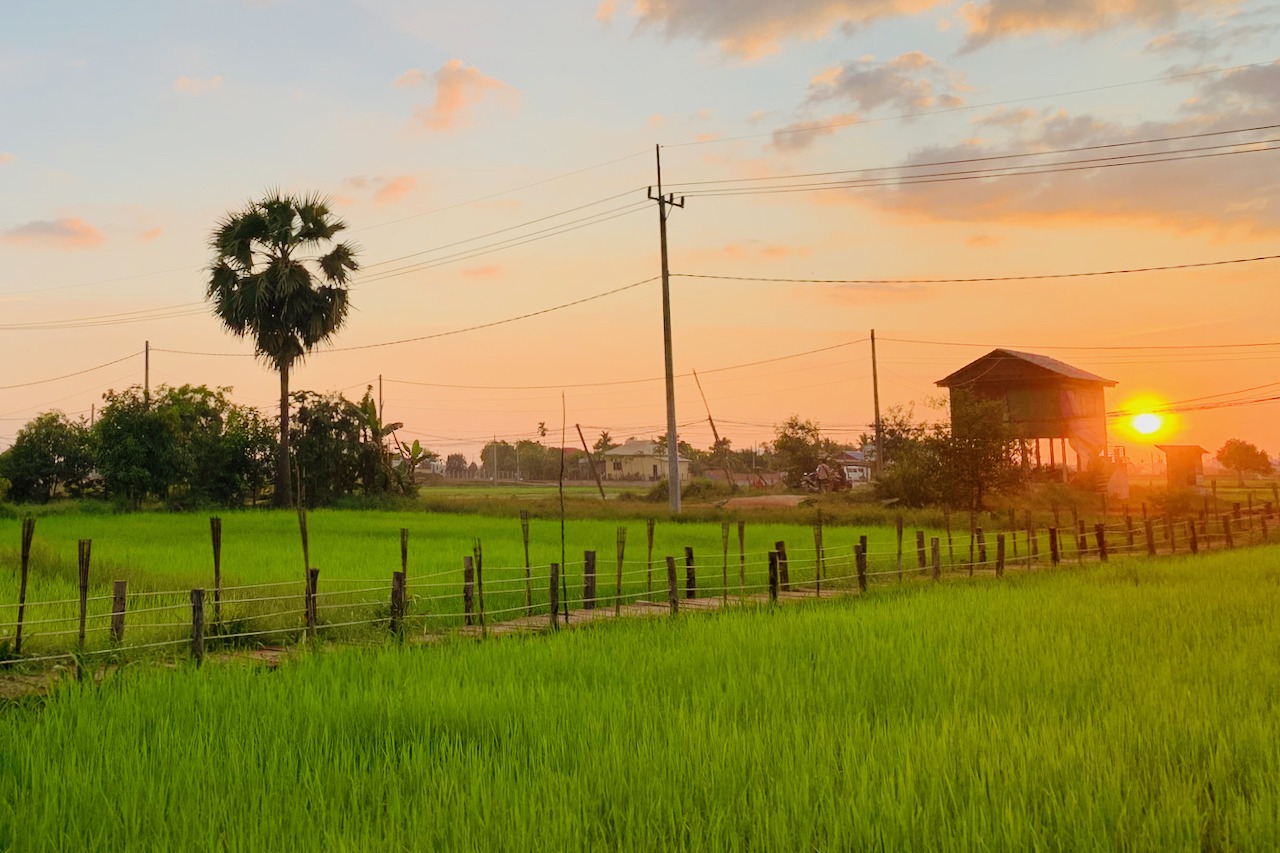 Made in Cambodia Market
Of Siem Reap's many markets, our favorite is the Made in Cambodia Market. All the products sold here must be made in Cambodia. The market was originally started by the Shinta Mani Hotels in 2013 with the aim of providing jobs for rural craftspeople and sellers.
At Made in Cambodia Market you will find a large selection of handmade crafts and art. We were very impressed with the quality of what was on offer. You might pay a little more compared to the mass-produced items sold in other markets, but in return you know that the money benefits the locals. We also appreciated that the sellers did not pressure us into making a purchase as we browsed their stalls.
Practical information:
Made in Cambodia Market is located on King's Road Angkor
Opening hours: every day 12 p.m.–10 p.m.
Link to Made in Cambodia Market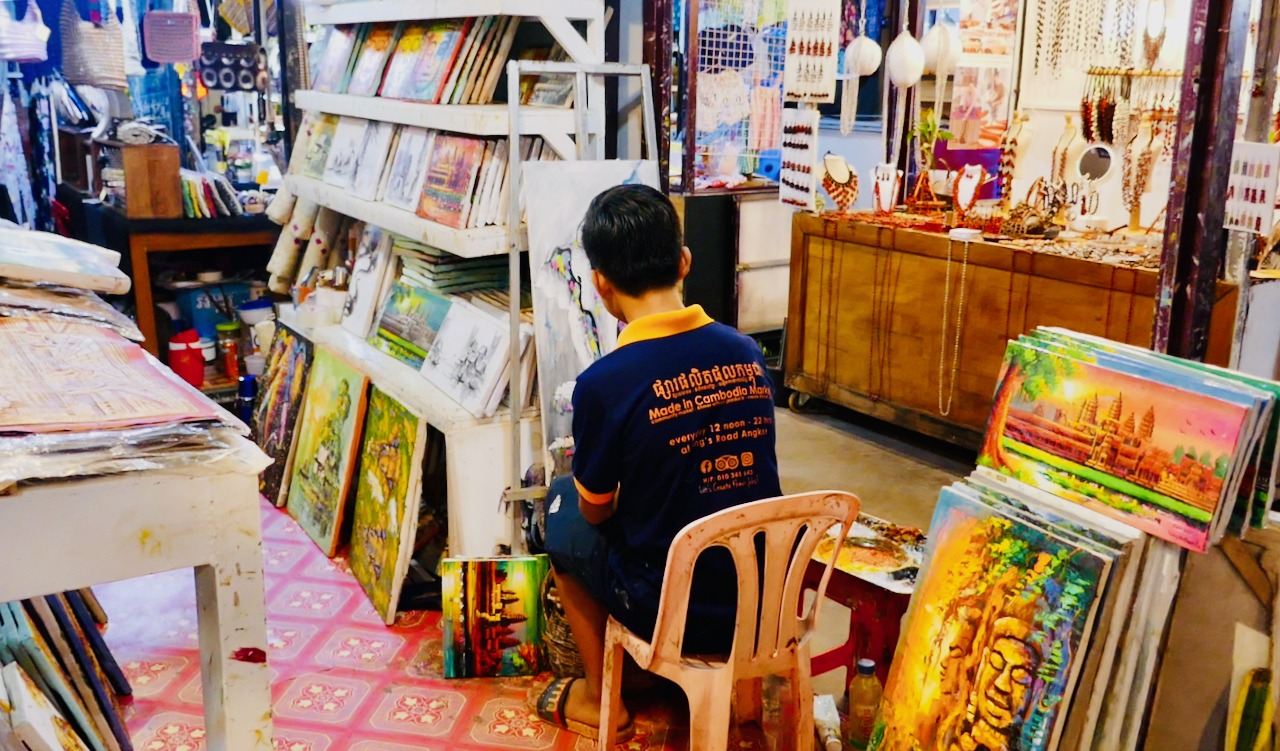 Shinta Mani Hotels
Shinta Mani Angkor and Shinta Mani Shack are two boutique hotels centrally located in the French district of Siem Reap. The hotels started the Shinta Mani Foundation, which aims to be a leader in responsible tourism. The foundation runs various projects in education, clean water well construction, and health care. They also provide micro-loans to small start-up businesses.
We stayed at the Shinta Mani Shack and found the hotel to be very comfortable. The staff was extremely welcoming and the service great. The garden and pool area were particularly beautiful and the perfect place to relax after a long day on the go. We also liked the environmental focus of the Shinta Mani Shack and thought it was admirable that the hotel does not use any disposable plastic. Furthermore, at the gift shop adjacent to the hotel, 100% of the profits go to the Shinta Mani Foundation.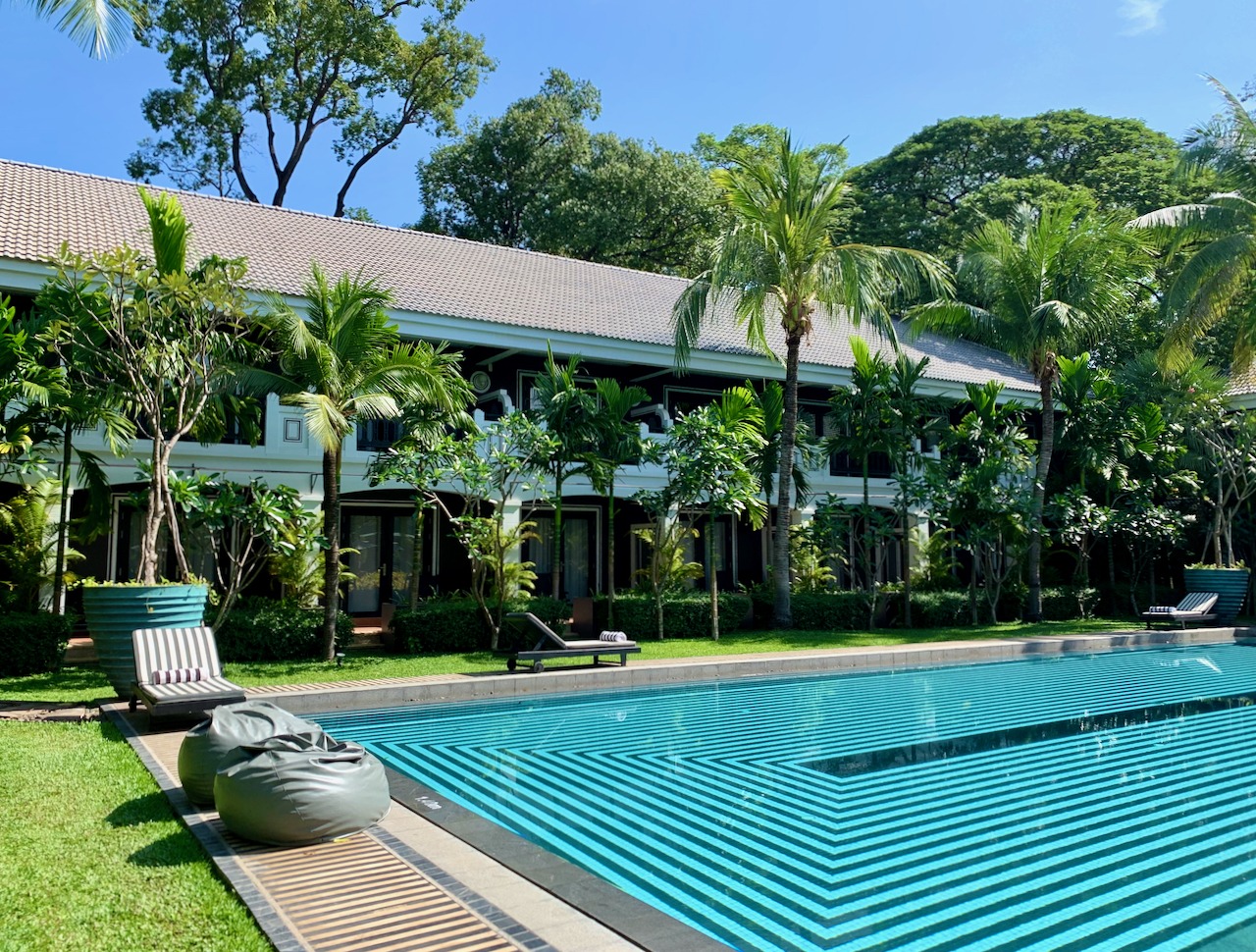 Siem Reap Waxing Spa
Siem Reap Waxing Spa was started by two local ladies with considerable experience working in the city's luxury hotel spas. They founded their business at the end of 2018. Today, only Mary runs the spa.
Among the treatments offered are massages, waxing, body scrubs, manicures, and pedicures. We booked a body scrub and a massage and were impressed with the quality of these treatments. The sugar scrub used was homemade from natural ingredients, leaving the skin incredibly soft. Mary was also a very friendly and professional spa therapist.
During our stay in Siem Reap, we had massages in various places, and the treatments we received at Siem Reap Waxing & Spa were among the very best. The premises are simpler than at the luxury hotels but they are nonetheless inviting. The price is only a fraction of what the hotels charge, and if you choose to have wellness treatments here, you will directly support the local economy.
We highly recommend a visit to Siem Reap Waxing Spa
Practical information:
Siem Reap Waxing & Spa is located on Funky Ln, 17255
Opening hours: every day 10 a.m.–9 p.m.
Cash only
Link to Siem Reap Waxing & Spa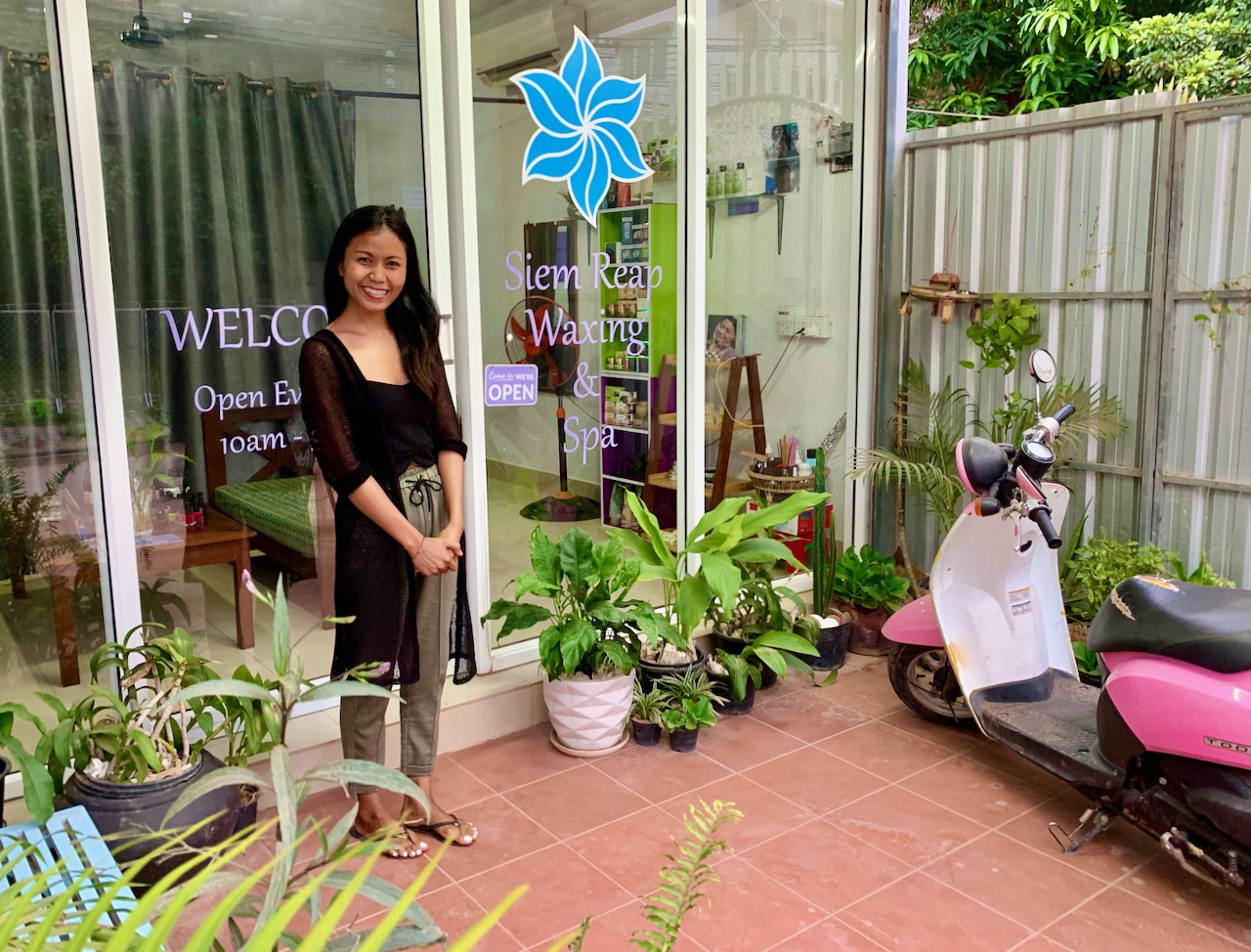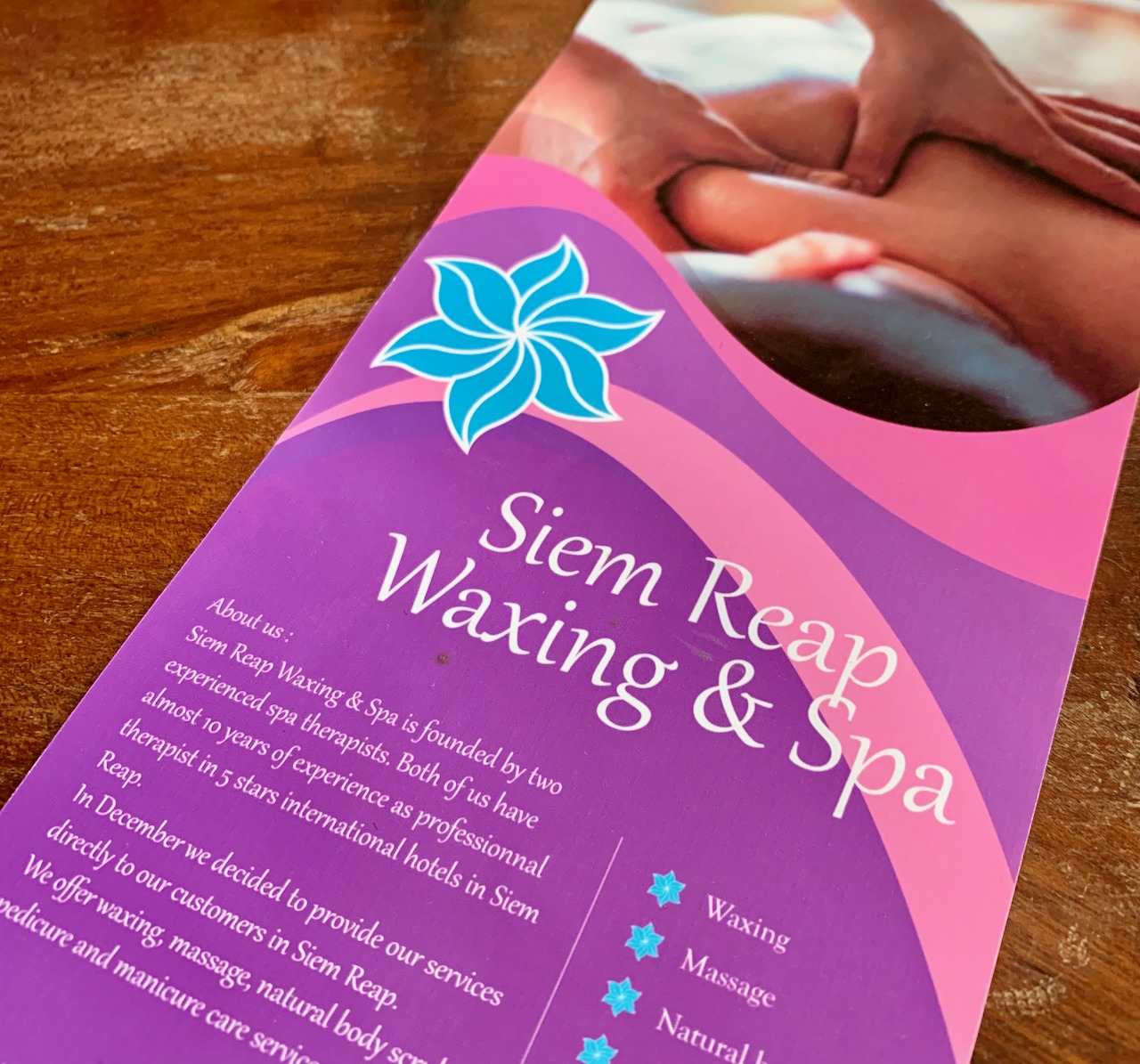 New Leaf Eatery
New Leaf Eatery is a social enterprise restaurant that donates 30 percent of its profits to charities in Siem Reap. They also share 20 percent of profits directly with their local employees.
We found the New Leaf Eatery to be a cozy eatery with a relaxed and casual atmosphere. The restaurant serves both local and international cuisine at a good price. The menu had lots of tempting dishes, and we were served a tasty meal. Our favorite was the vegetarian curry with lots of different vegetables in a delicious sauce.
New Leaf Eatery also sells various handicraft products and used books, and we were very happy when we found a Norwegian book on the shelves.
Practical information:
New Leaf Eatery is located 75 meters east of Old Market, behind Angkor Trade Center
Opening hours: every day 7 a.m.–10 p.m.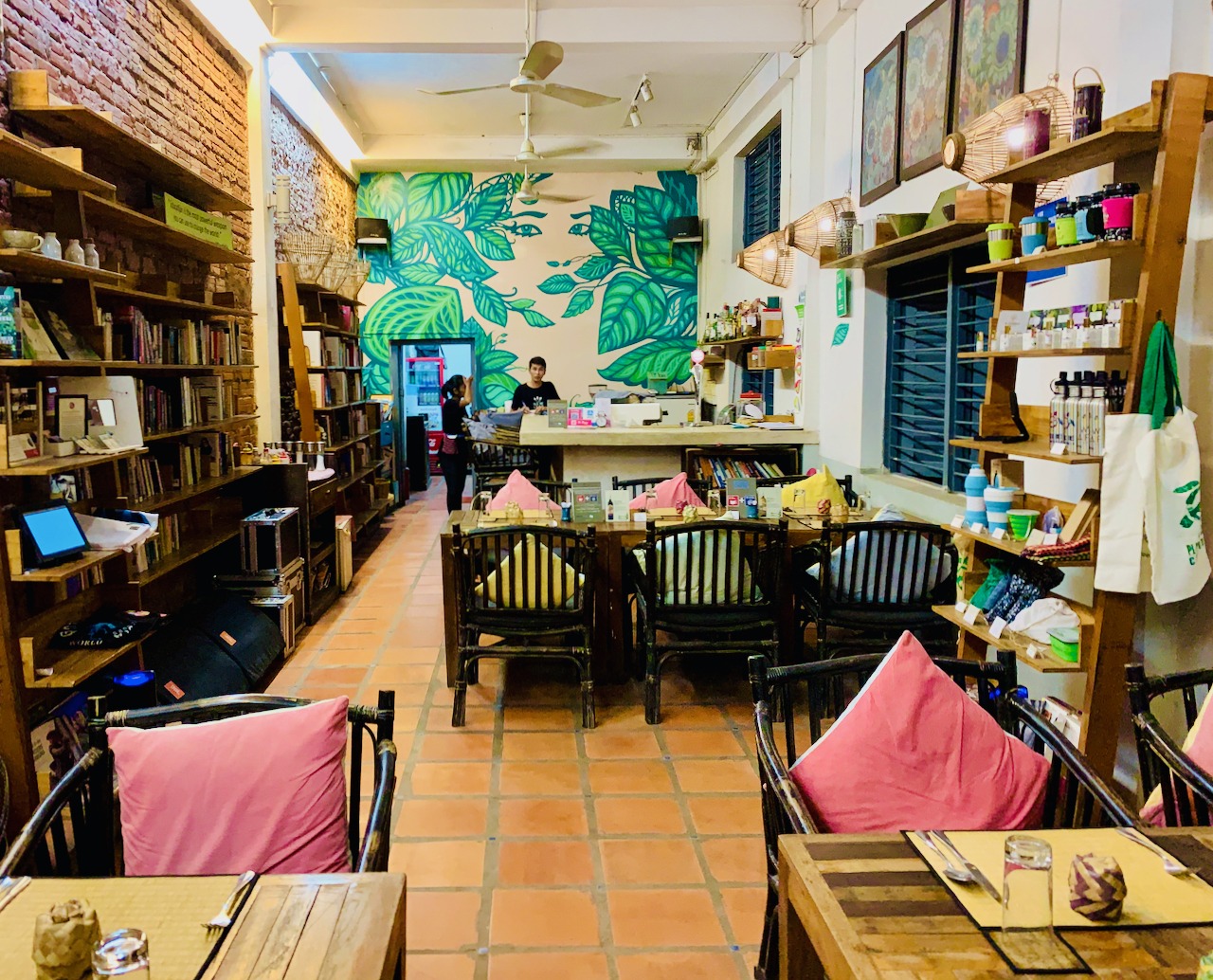 Senteurs d'Angkor
Since its foundation in 1999, Senteurs d'Angkor has been using Cambodian raw materials for the production of soaps, lip balms, oils, spices, and candles. They use only natural ingredients and have an environmentally friendly production process through the use of solar energy and biodegradable packaging. They also focus on providing their employees with good working conditions, and offer a good social safety net, long-term contracts, and access to further education.
It is possible to attend workshops at the factory, which is located just outside Siem Reap town. Visiting the factory is free, and complimentary transportation by tuk-tuk to and from the center is offered.
Senteurs d'Angkor has two stores in Siem Reap city center and two located at Siem Reap Airport. Here we bought, among other things, a light with a lemongrass scent that smelled incredibly good.
Practical information:
Their main store is located on Hospital Street in front of the Old Market. Opening hours: every day 7 a.m.–22 p.m.
Senteurs d'Angkor also has s shop in Sivatha road, Night Market Area which is open every day 10.30 a.m.–10.30 p.m.
The stores at the airport are located at the domestic and the international terminals. Opening hours are 7 a.m.–10 p.m. and 6 a.m.–10 p.m. respectively.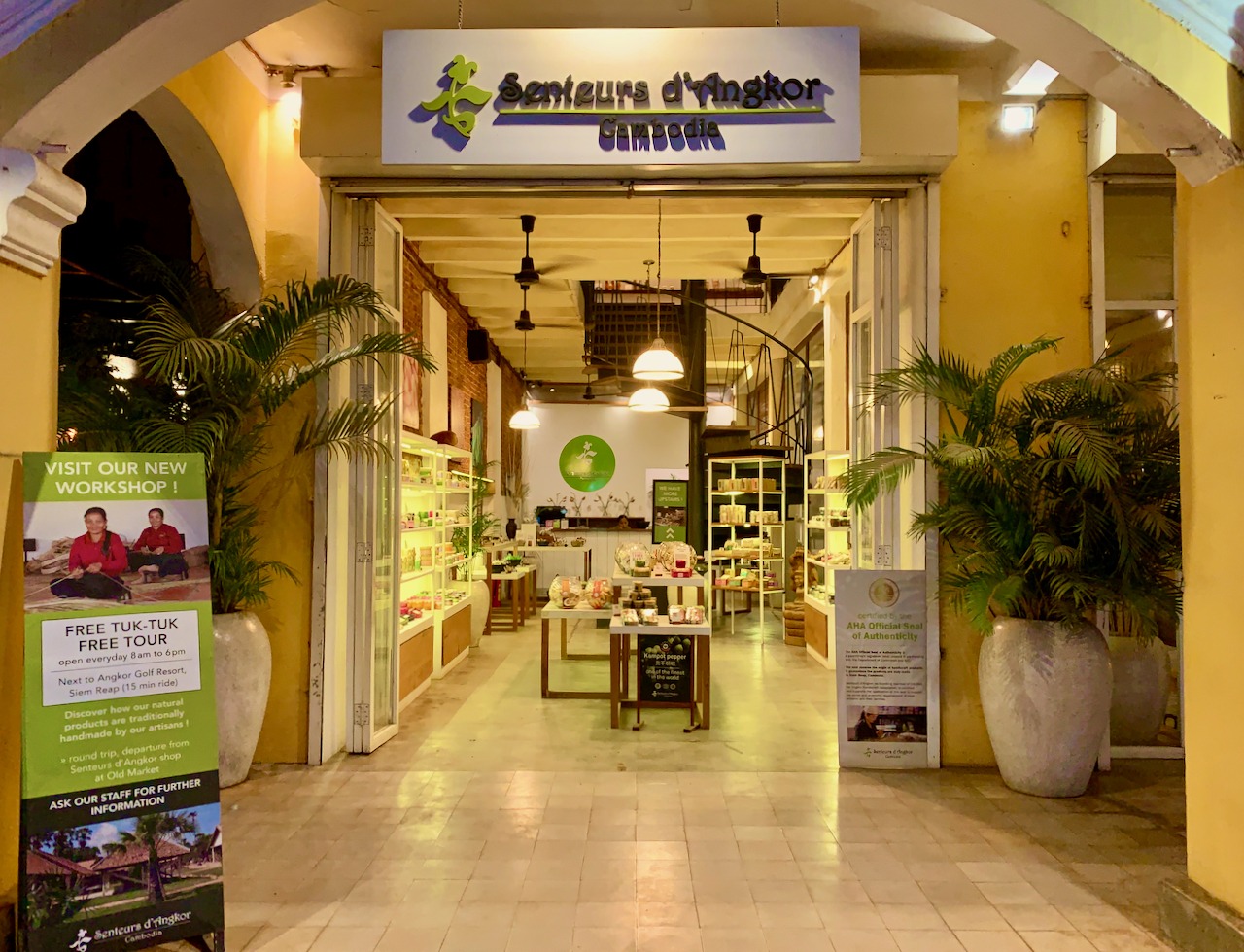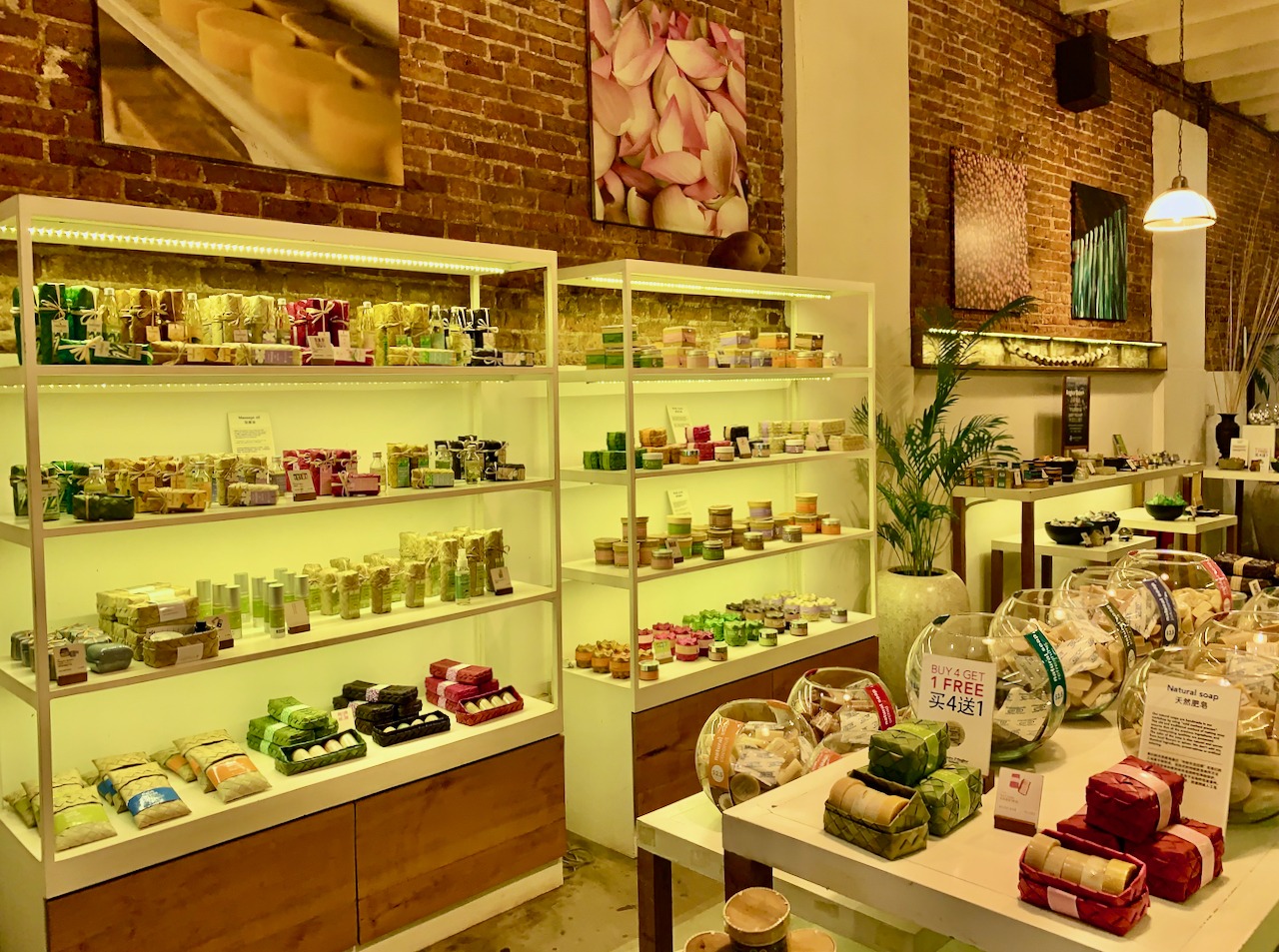 Jaya House River Park Hotel
Jaya House River Park is a hotel with a strong commitment to its employees and the environment. Jaya House River Park has only 36 rooms but close to 120 employees. The reason for this is that the hotel management wants to provide jobs for as many locals as possible. This large workforce also lets the hotel offer its guests free daily spa treatments, unlimited laundry, and free tuk-tuk transportation within Siem Reap.
One thing we think is worth special praise is that Jaya House River Park employs people with physical disabilities. For example, one of the staff at the spa was blind, but this was no obstacle to doing a fantastic job. Furthermore, the hotel has cut out all use of disposable plastic and aims to be 100% plastic free.
Jaya House River Park holds the top spot in Siem Reap on Tripadvisor.com. Having stayed at the hotel ourselves, we certainly understand why. In addition to having very comfortable amenities, Jaya House River Park provided world-class service with a fantastic attention to detail.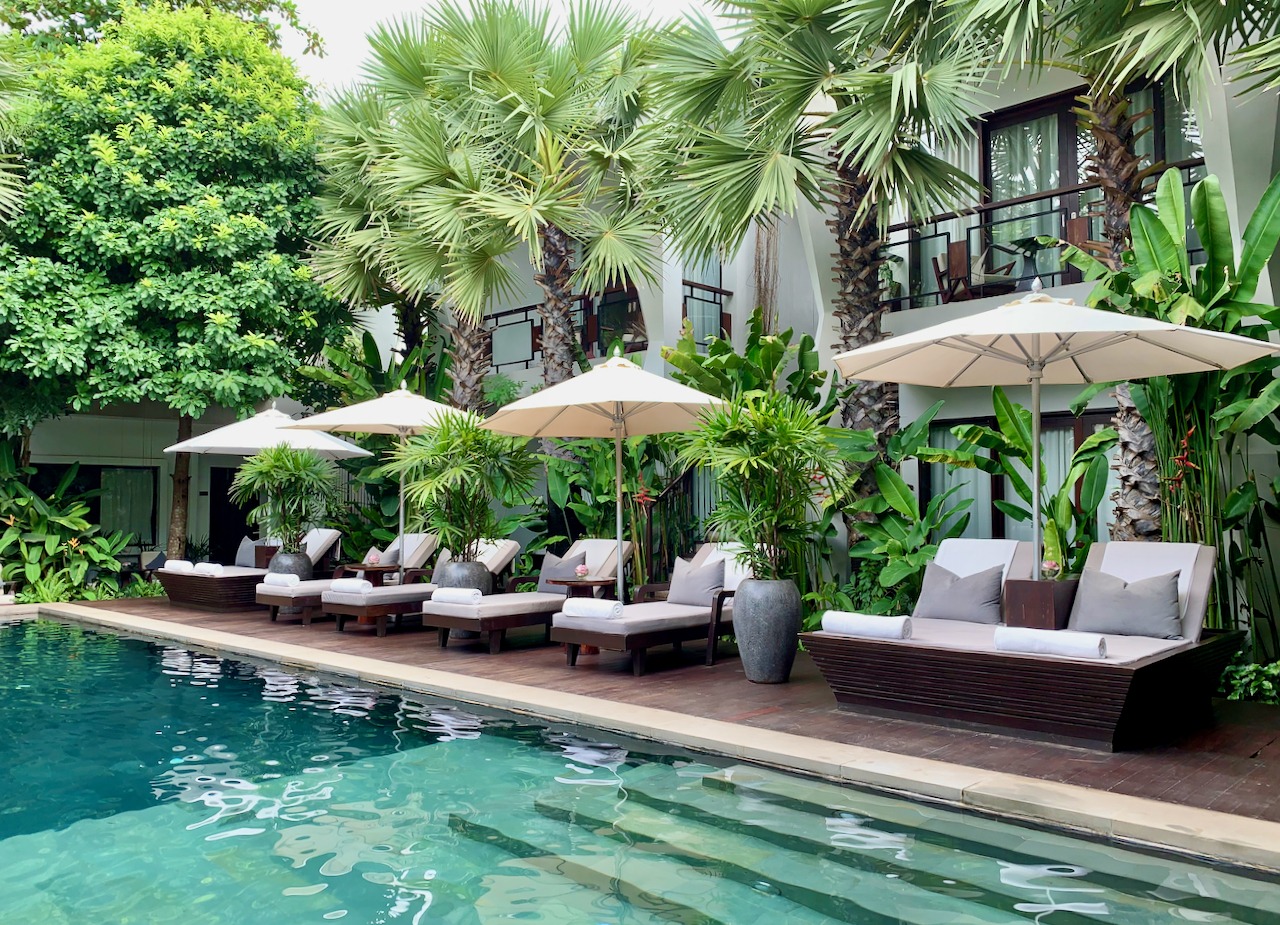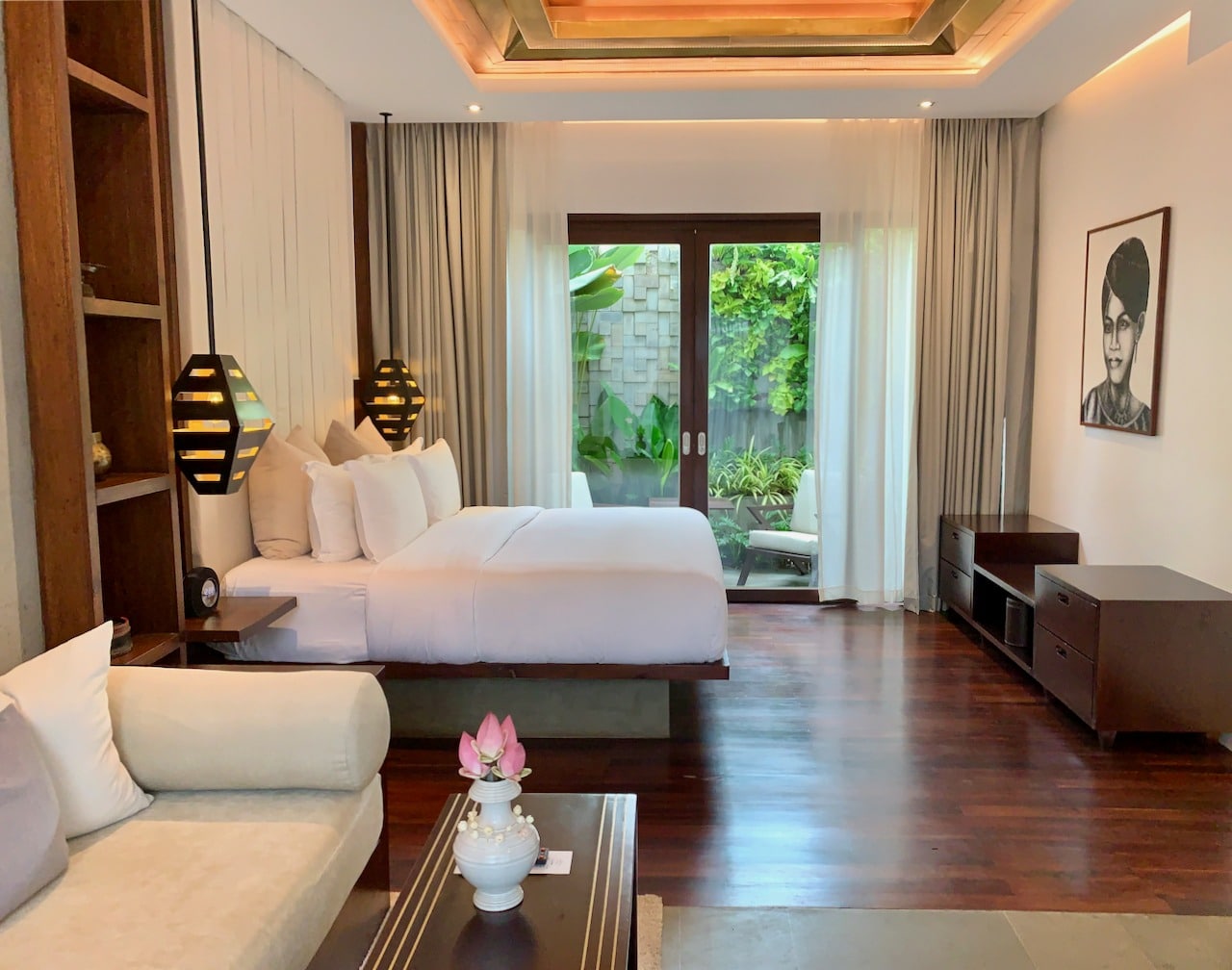 Shopping at the airport
Most people who visit Siem Reap spend just a few days in the city with tight schedules. If you don't have time to buy local products before leaving the city, there are several opportunities to shop at the airport. Both Senteurs d'Angkor (mentioned above) and Smateria (which we wrote about last year) have their own shops at the airport. In addition, the tax-free shop, Dufry Cambodia, has a department with products made by disadvantaged people. We especially fell in love with the hand-painted elephants made by hearing-impaired Cambodians.
Link to Siem Reap International Airport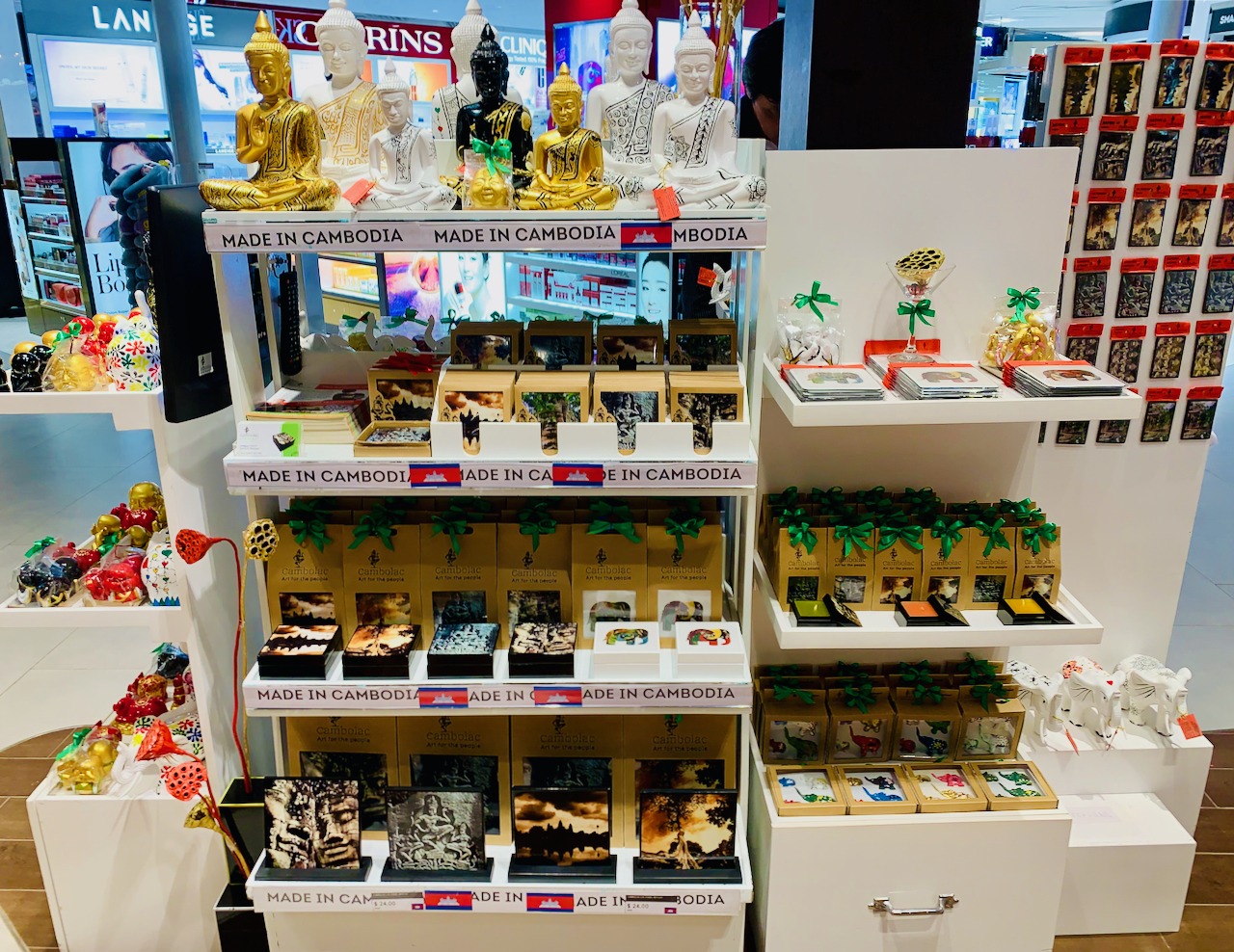 Places we visited in 2018
Haven Restaurant
HAVEN is a training restaurant for vulnerable young adults who come from orphan homes or poor communities around Siem Reap. In addition to training them in restaurant work, HAVEN helps the young adults develop their general skills so that they can lift themselves out of poverty. HAVEN also provides housing, food, and health support for their trainees.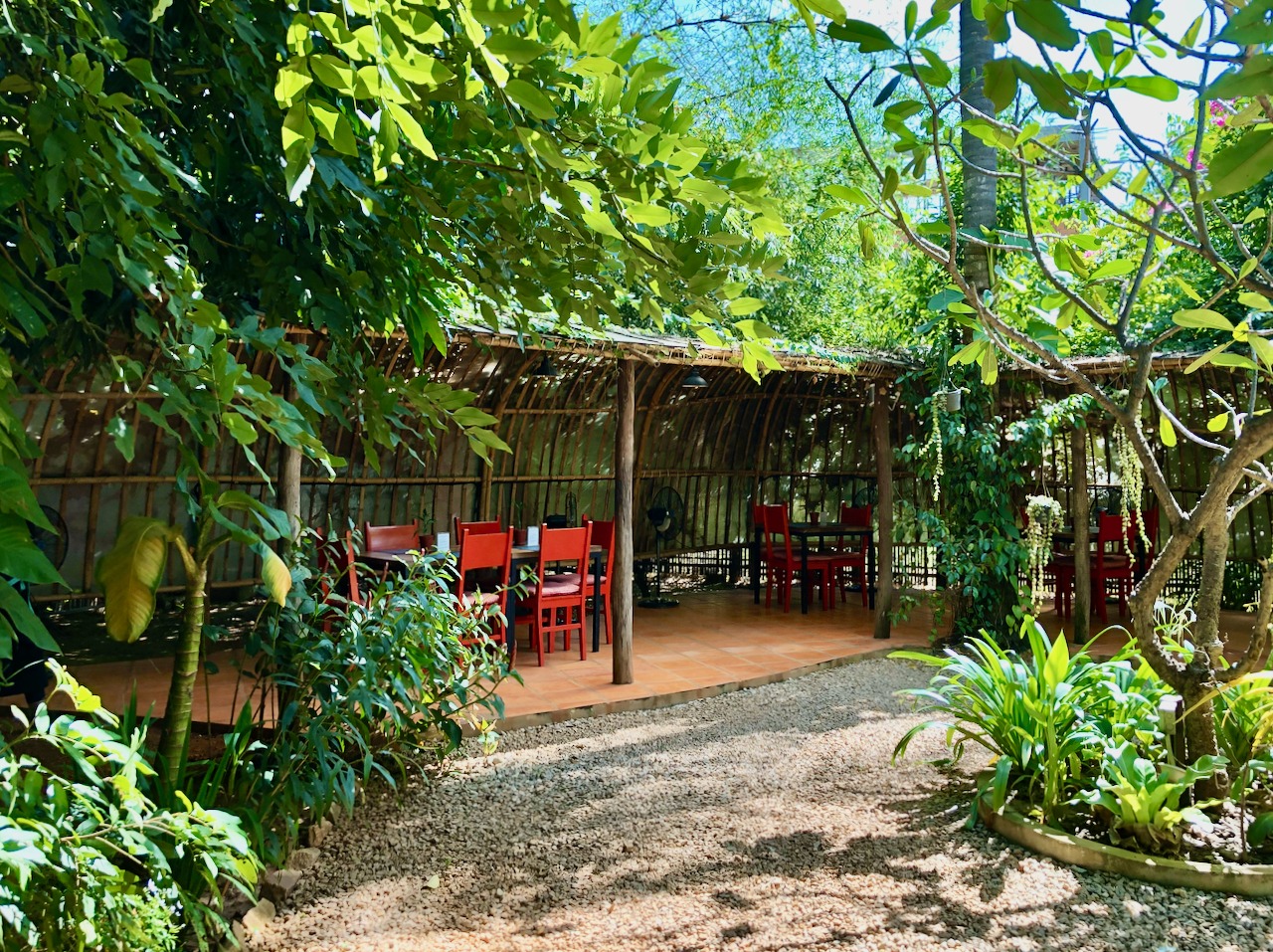 Ox Cart Adventure Tours
Ox Cart Adventure Tours is a local company based in Siem Reap, offering tours in the countryside. Part of the profits go to supporting 25 families in the small village of Chreav, located 7 kilometers outside of Siem Reap.
We went for an ox cart ride in Chreav last year and spent an unforgettable afternoon in the Cambodian countryside. The tour was actually so enjoyable that we went back this year to repeat the experience. If you are visiting Siem Reap, this is an activity not to be missed! Click HERE to see pictures and read more about our ox cart adventure tour.
Link to Ox Cart Adventure Tours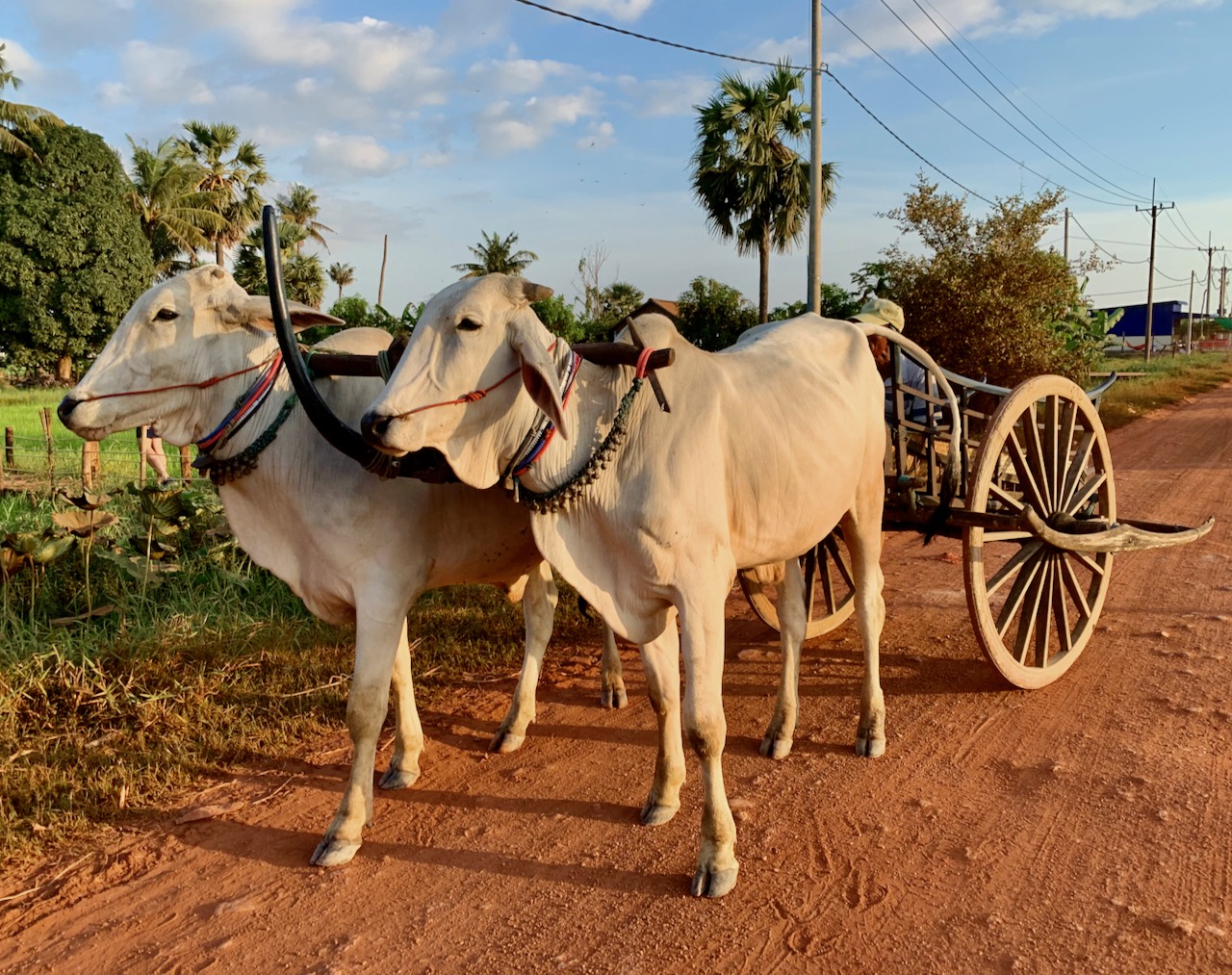 Smateria
As mentioned above, Smateria has a store at the Siem Reap Airport. Smateria is a business that sells bags and accessories made from upcycled and recycled materials. In addition to their focus on producing environmentally friendly goods, they also provide employment for vulnerable groups.
APOPO Visitor Center
Learning about how rats save lives by searching for landmines and seeing a live demonstration of how they work at the APOPO Visitor Center was one of our most memorable experiences from our first visit to Cambodia. The profits from the visitor center go towards funding the search for landmines, which still pose a significant threat to the population of Cambodia. Click HERE to see more pictures from our visit and read about our encounter with the charming HeroRATs at the APOPO Visitor Center.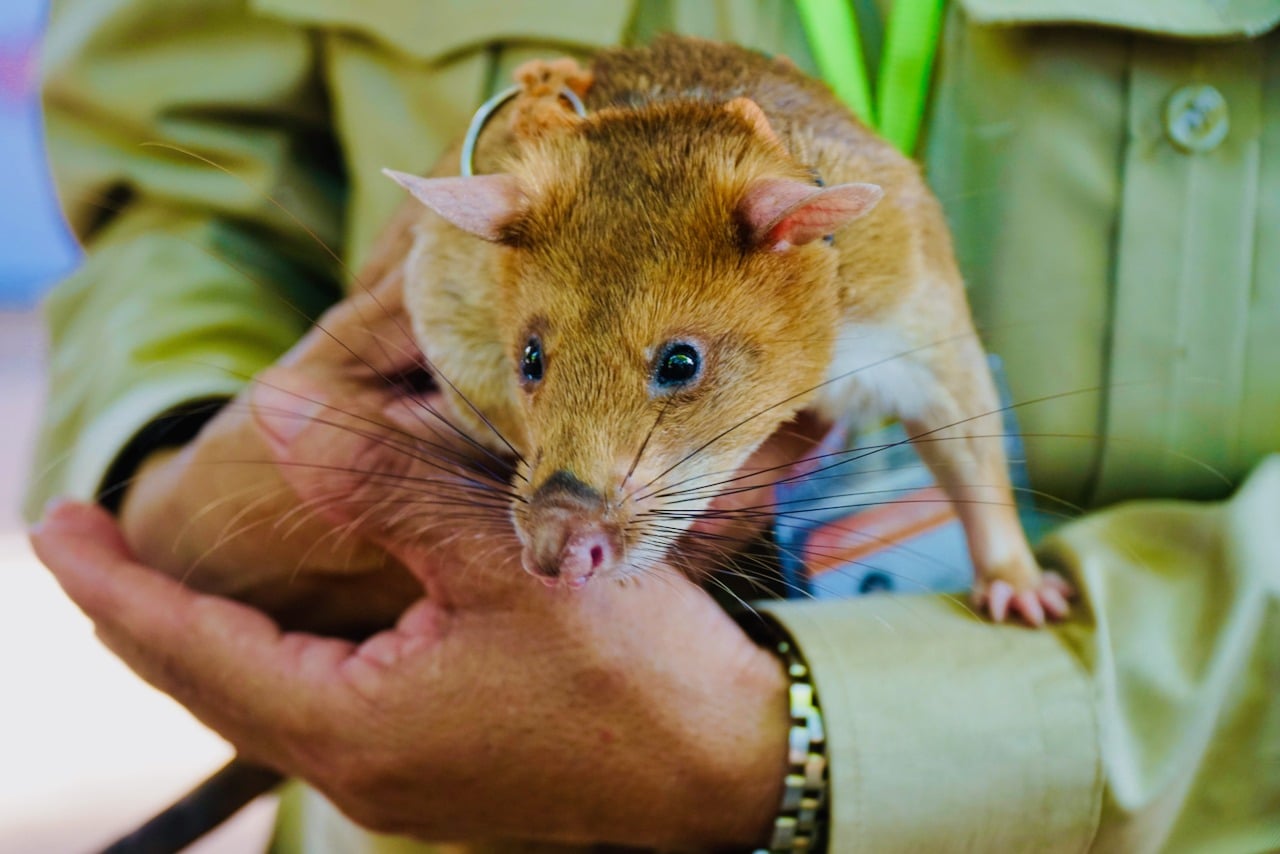 The Ponheary Ly Foundation
The Ponheary Ly Foundation gives kids from poor families access to education. The foundation was established in 2005 by Ponheary Ly from Cambodia and Lori Carlson from Canada. Since then, the foundation has provided almost 3000 children and youth with education, food, and health services. The foundation is entirely dependent on private donations.
Link to Ponheary Ly Foundation
*We visited all the above places on our own initiative and did not receive any special discounts.
Other projects, initiatives and organizations with a focused on social and environmental sustainability:
Restaurants
Bayon Pastry School Coffee Shop
The Glasshouse Deli Patisserie
Arts- and crafts businesses
Miscellaneous
Babel Guesthouse is run by two fellow Norwegians, Katrine and Simen, who seek to give their local employees good working conditions. They do this by providing extensive training, fair wages, health insurance, and the possibility to receive financial aid for higher education. In addition, Babel Guesthouse also focuses on eco-friendliness: among other things, it has Cambodia's first zero-waste shop.
Banteay Srey Butterfly Center is a botanic garden with thousands of different species of butterflies. The profits from the center go to poverty alleviation efforts in the local community.
HUSK Cambodia is a Cambodian NGO aimed at providing access to safe water, health, and education for people in the Trek and Kompheim villages in Siem Reap. They also organize tours of the village, of which the profits go to the local community.
Phare Circus is a circus whose profits go to support free education and poverty alleviation in Battambang, a city west of Siem Reap.
Volunteer Development Children's Association
Volunteer Development Children's Association is a Cambodian NGO providing free education to children from poor families.