Last updated January 2020
For tourists heading to Siem Reap, the most popular activity is visiting the many temples near the city. We went for an early morning visit to Ta Prohm temple and got to enjoy the marvelous site by ourselves. The experience gave us goosebumps and we will never forget it. Equally memorable, yet somewhat more surprising, was a sunset ox cart ride in the countryside outside Siem Reap.
After picking us up at the hotel, our tuk-tuk driver turns onto the main road towards the city center. He continues on through the city, and we are soon on unfamiliar countryside roads. Gone are the five-star hotels and busy markets; instead, farmlands and traditional houses surround us. After just a few more minutes we arrive at Chreav Village and are met by the sight of two oxen in front of an old-fashioned cart.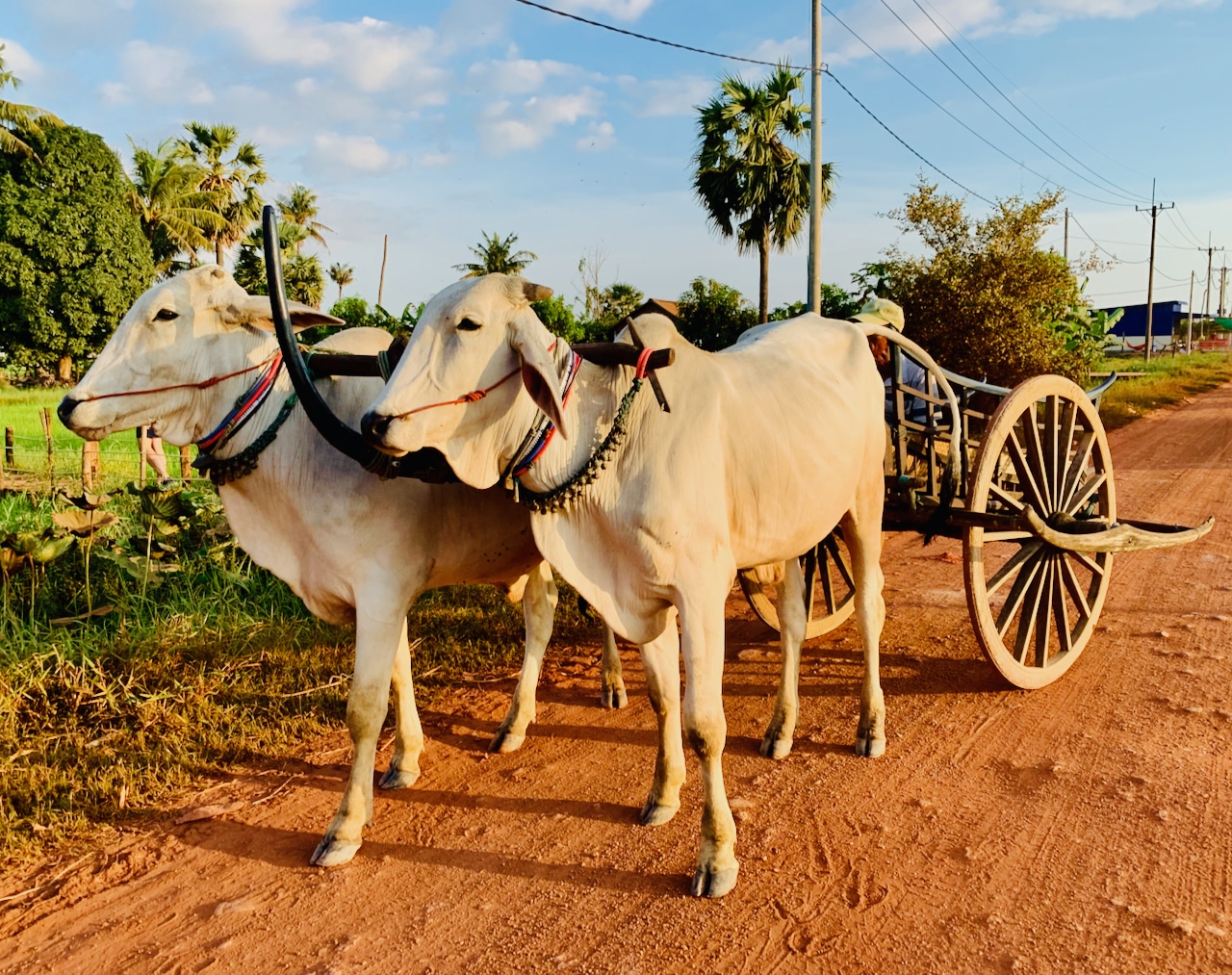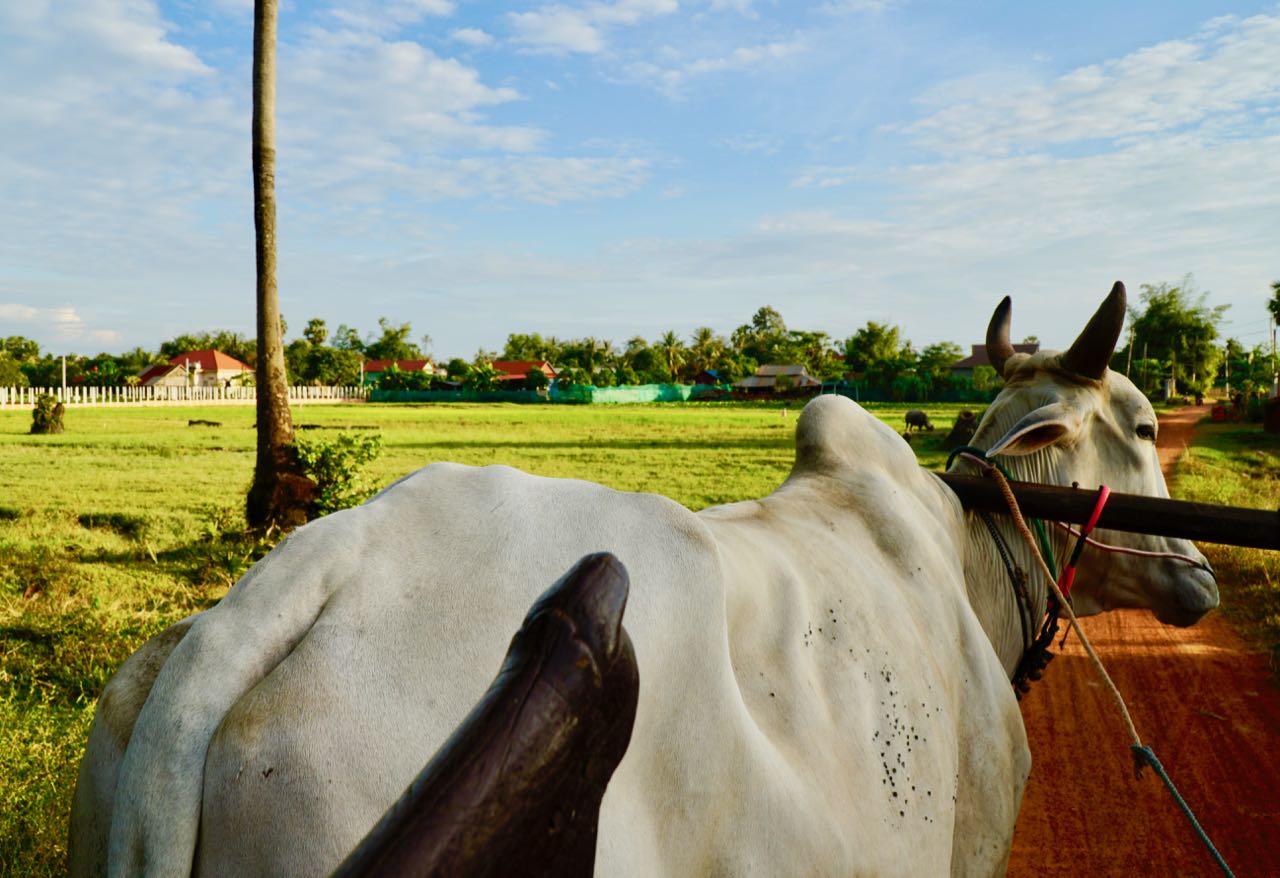 Mr. Phanith, our guide, gives us a warm welcome and after a few instructions, we climb into the cart. The leisurely pace of the oxen gives us plenty of time to soak in the picturesque views. We ride past rice fields and see the local villagers go about their everyday lives. Along the way, we are constantly greeted with smiles, waves and cheerful "hellos."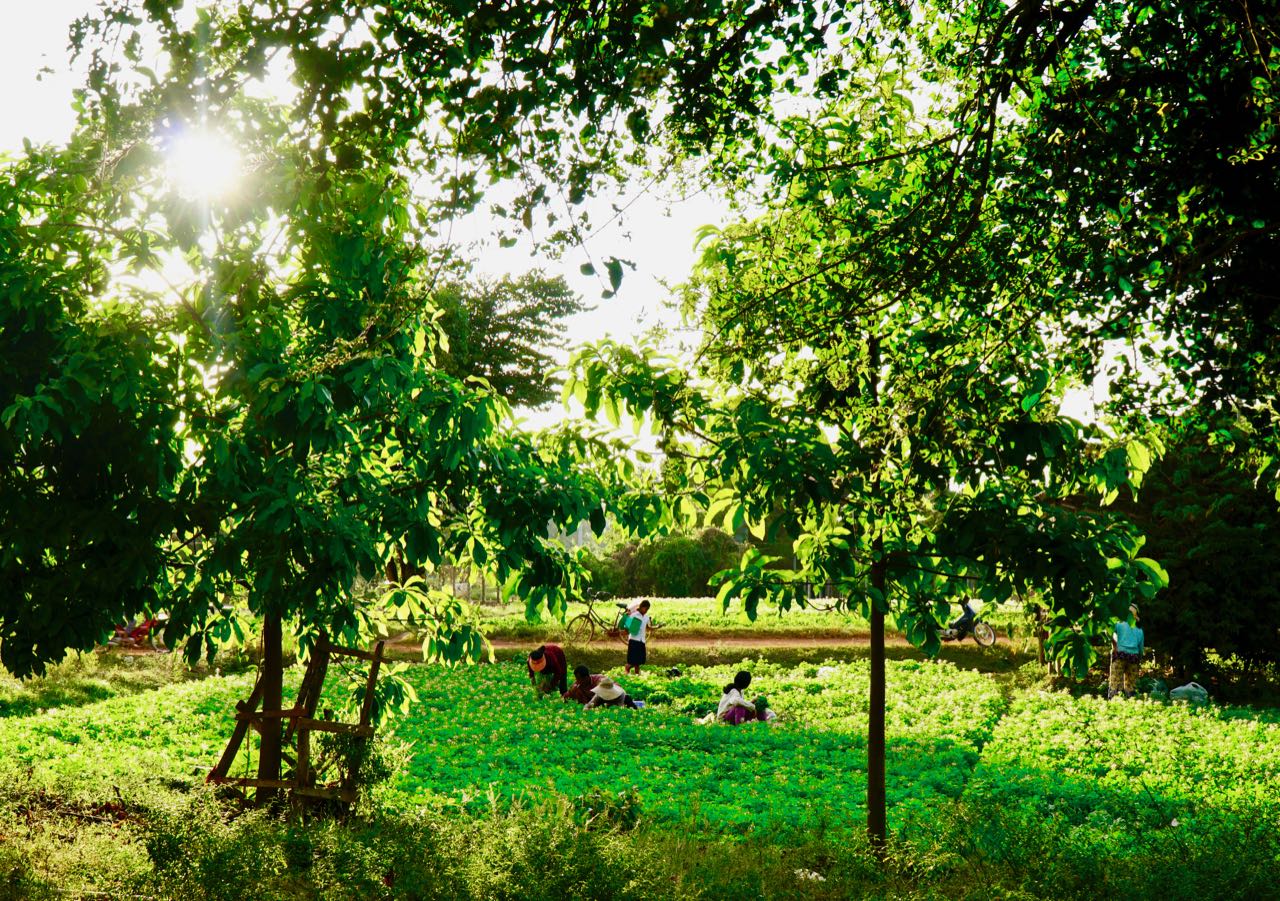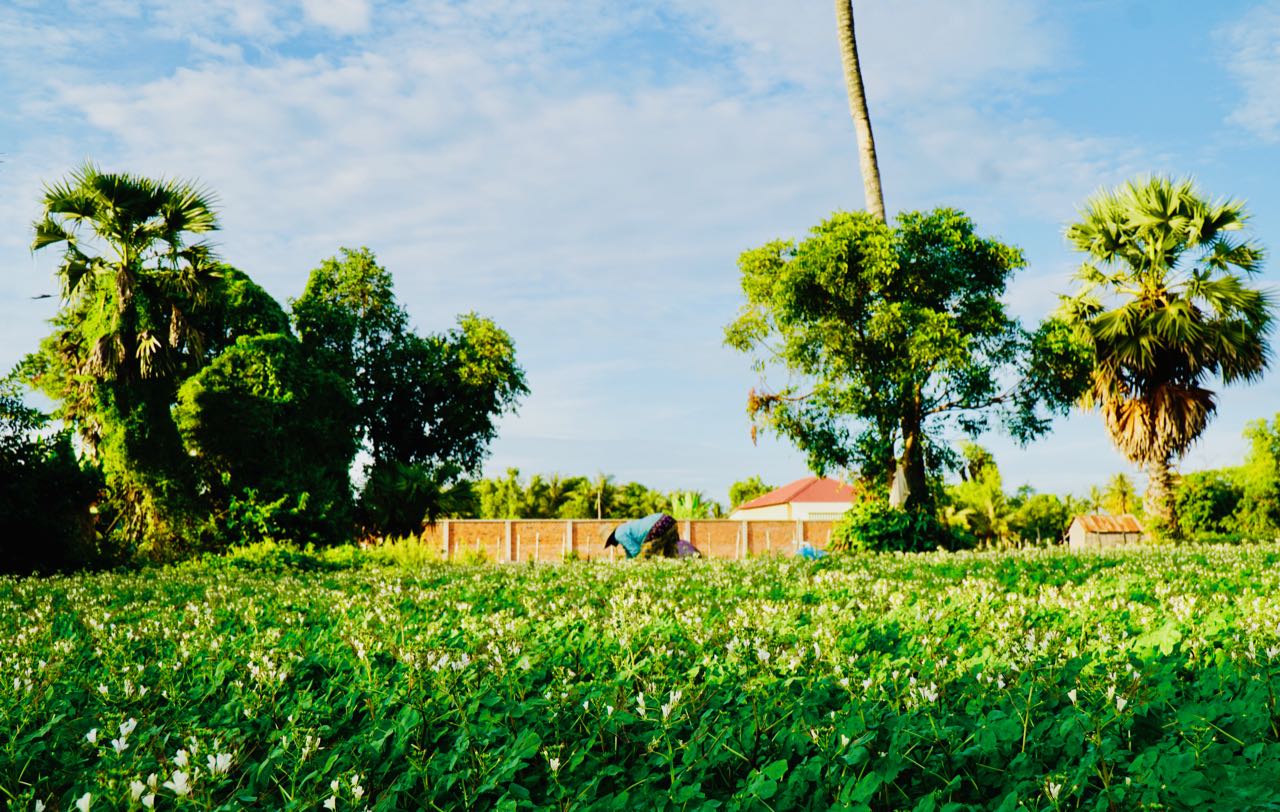 Our first stop is at a family home. Here we are shown the traditional tools and methods used for rice production, and we also get to try our hand at some rice-preparing ourselves. We quickly understand that this is time consuming and hard work.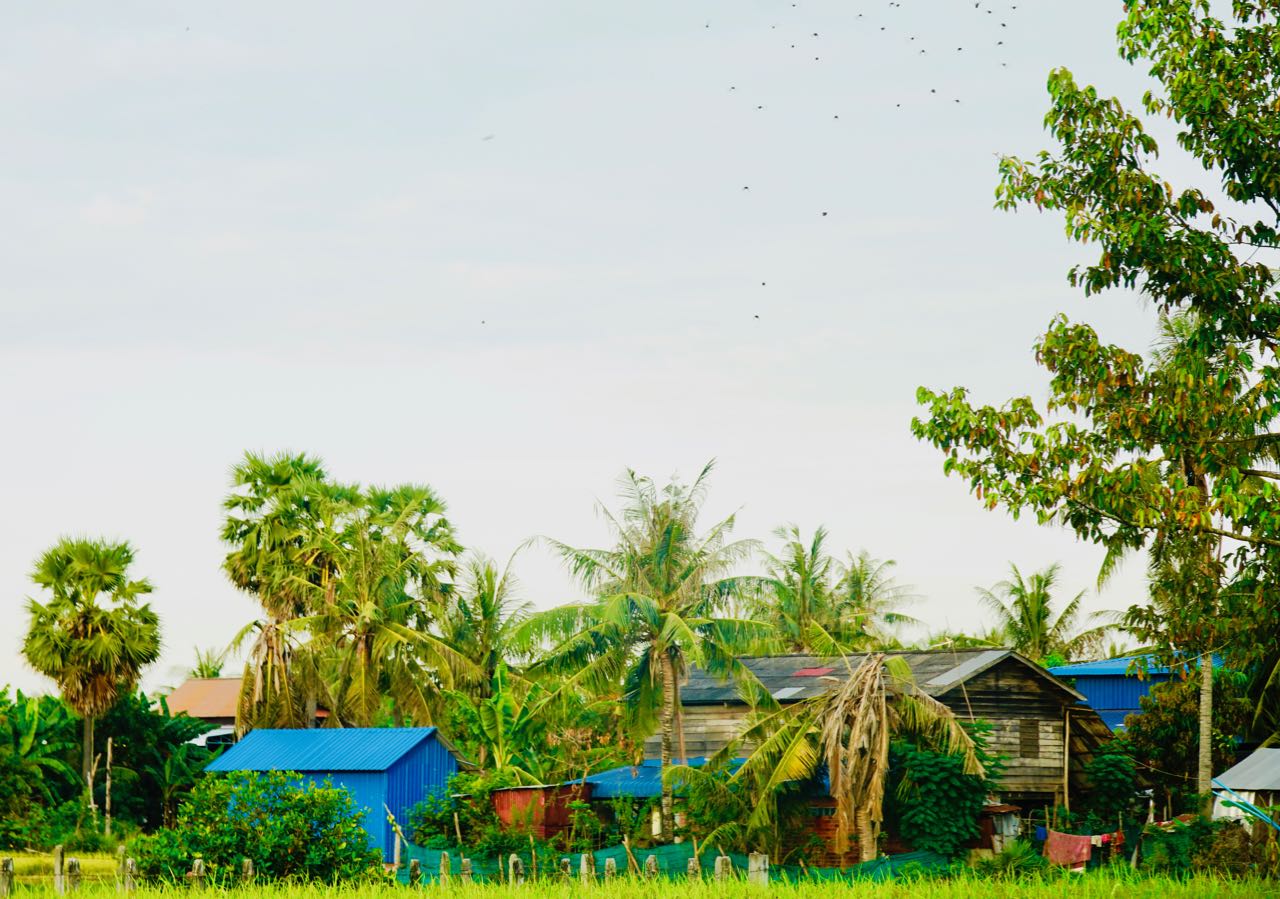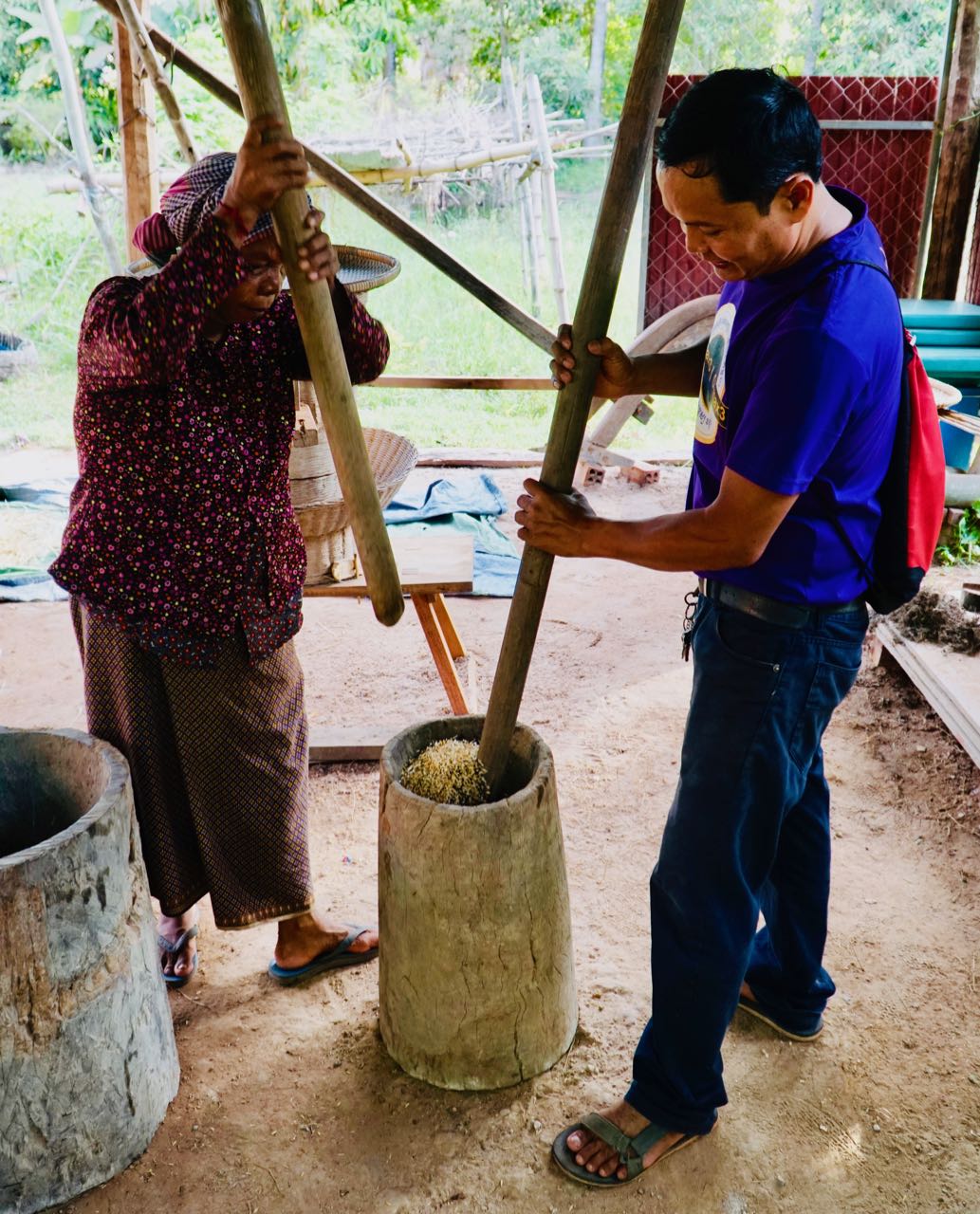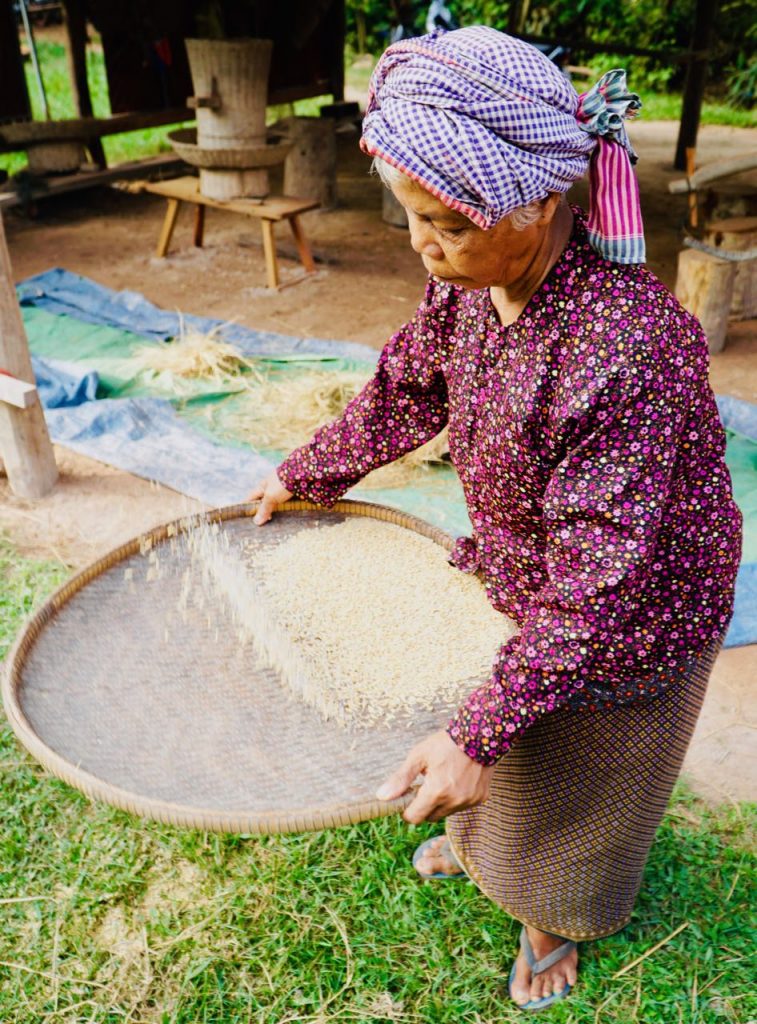 The tour continues on foot while Mr. Phanith explains how Cambodia has changed over the last decades. We also learn how dramatic life in Cambodia has been and are deeply moved by both Mr. Phanith's personal story and the history of Cambodia.
We are greatly impressed by Mr. Phaniths commitment to his local community. Ox Cart Adventure Tours supports 25 families in Chreav Village every month and also focuses on providing jobs and development support for the locals.
After a brief visit to a colorfully decorated pagoda, we climb back onto the cart and our ride continues on gravel roads. It is dusty and bumpy, but we still enjoy the tour immensely. Cambodia seems to have its own color schemes, comprised of soft pink (the roads), lush green (the trees), and the most amazing shades of blue (the evening light). Our cameras go click-click-click as we attempt to capture this magical moment.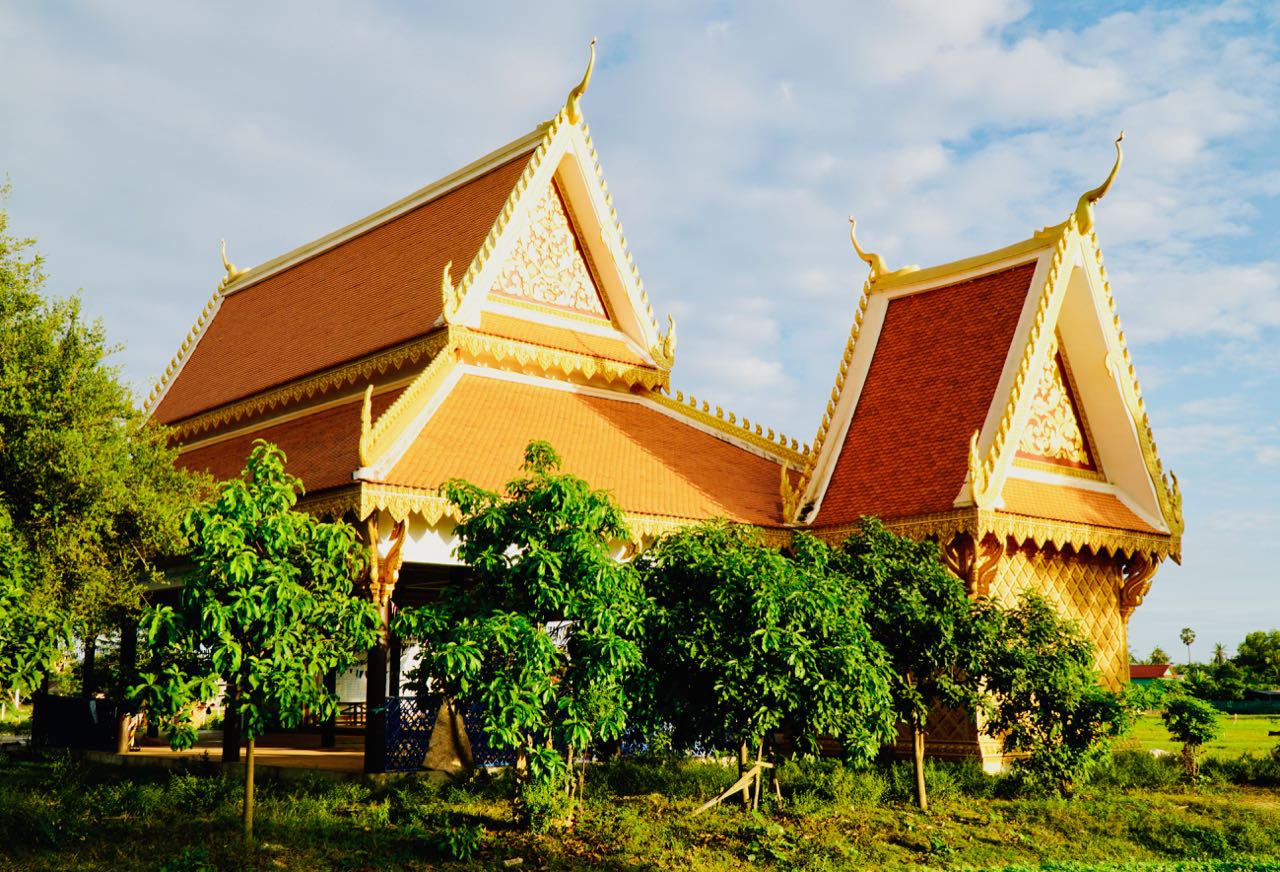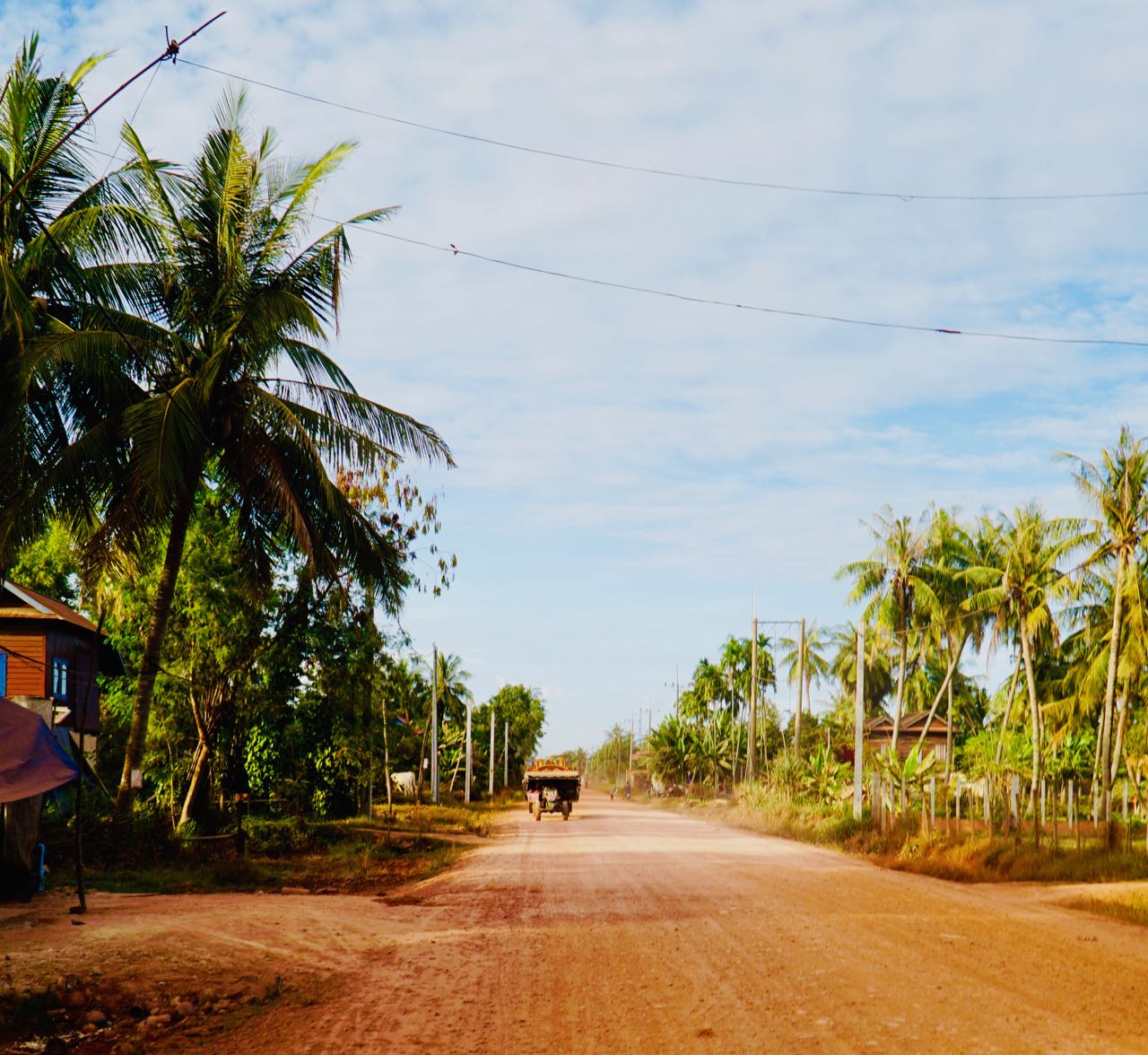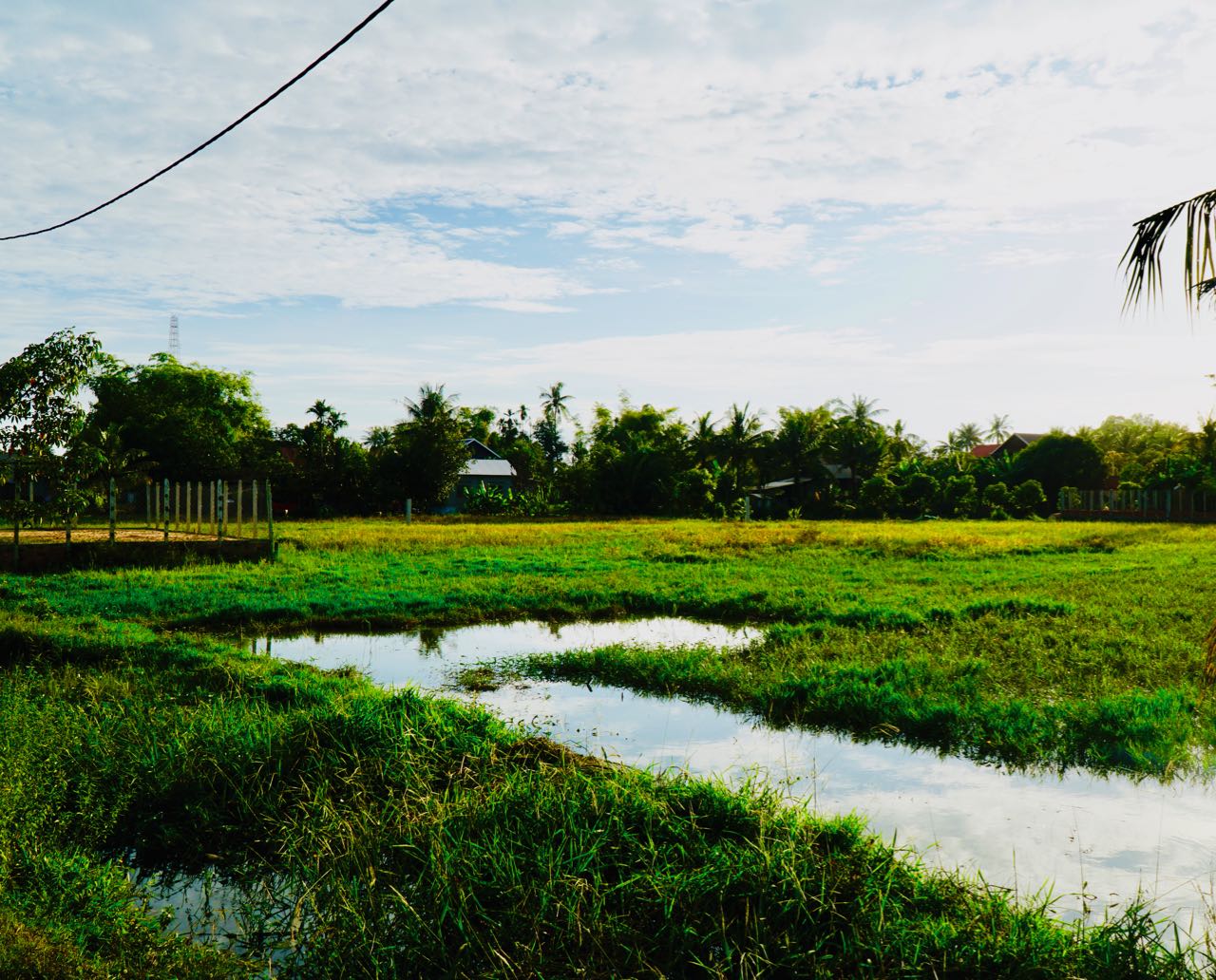 The tour ends in the middle of a rice field. After having a go at traditional fishing methods, which gives us a good laugh, we are given coconuts and straws. Watching the sun go down over the Cambodian countryside while sipping the refreshing coconut juice is the perfect ending to our ox cart adventure.
Going on the ox cart tour is a great way of seeing the real Cambodia. We appreciated the authenticity of the tour and the opportunity to learn more about Cambodian culture and history. (Update from January 2020: The first ox cart tour made such a positive impression on us that we went on a new excursion with Ox Cart Adventure Tours when we returned to Cambodia in the fall of 2019!)
READ MORE: 28 Great Sustainable Tourism Projects in Siem Reap
Practical information and tips:
The tours can be booked by email ([email protected]) or phone (+855) 89 529 696.
The tour takes place in the morning or in the afternoon and lasts approximately 2 hours.
The price is 35 USD per person.
Chreav Village is located 7 kilometers away from Siem Reap. Pick-up and drop-off at hotels in Siem Reap by tuk-tuk is included in the price.
Ox Cart Adventure Tours also offers bike tours, cooking classes, and monk blessing water activities.
Link to Ox Cart Adventure Tours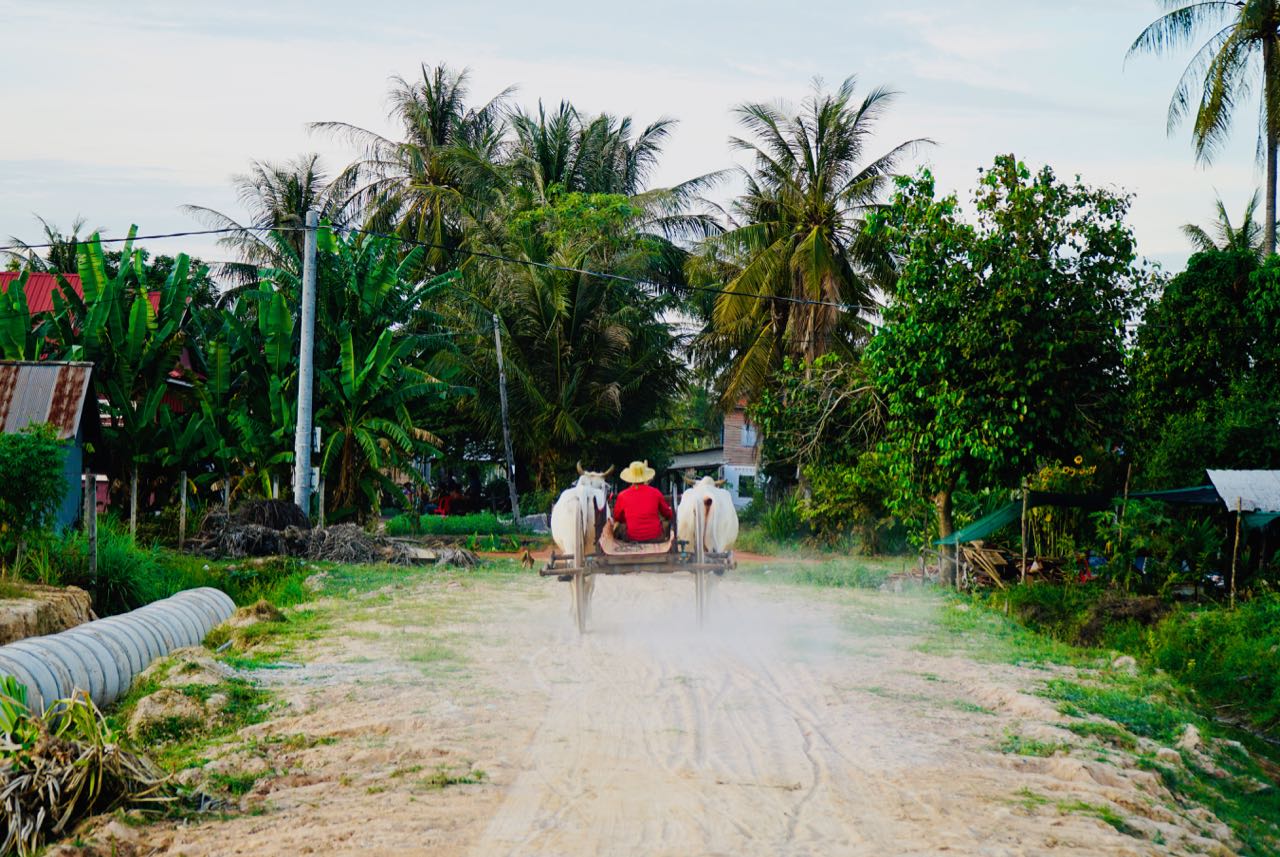 *We went on the ox cart tour in November 2018 and again in November 2019. Ox Cart Adventure Tours did not know that they could be featured on our blog, and we did not receive any special discounts.