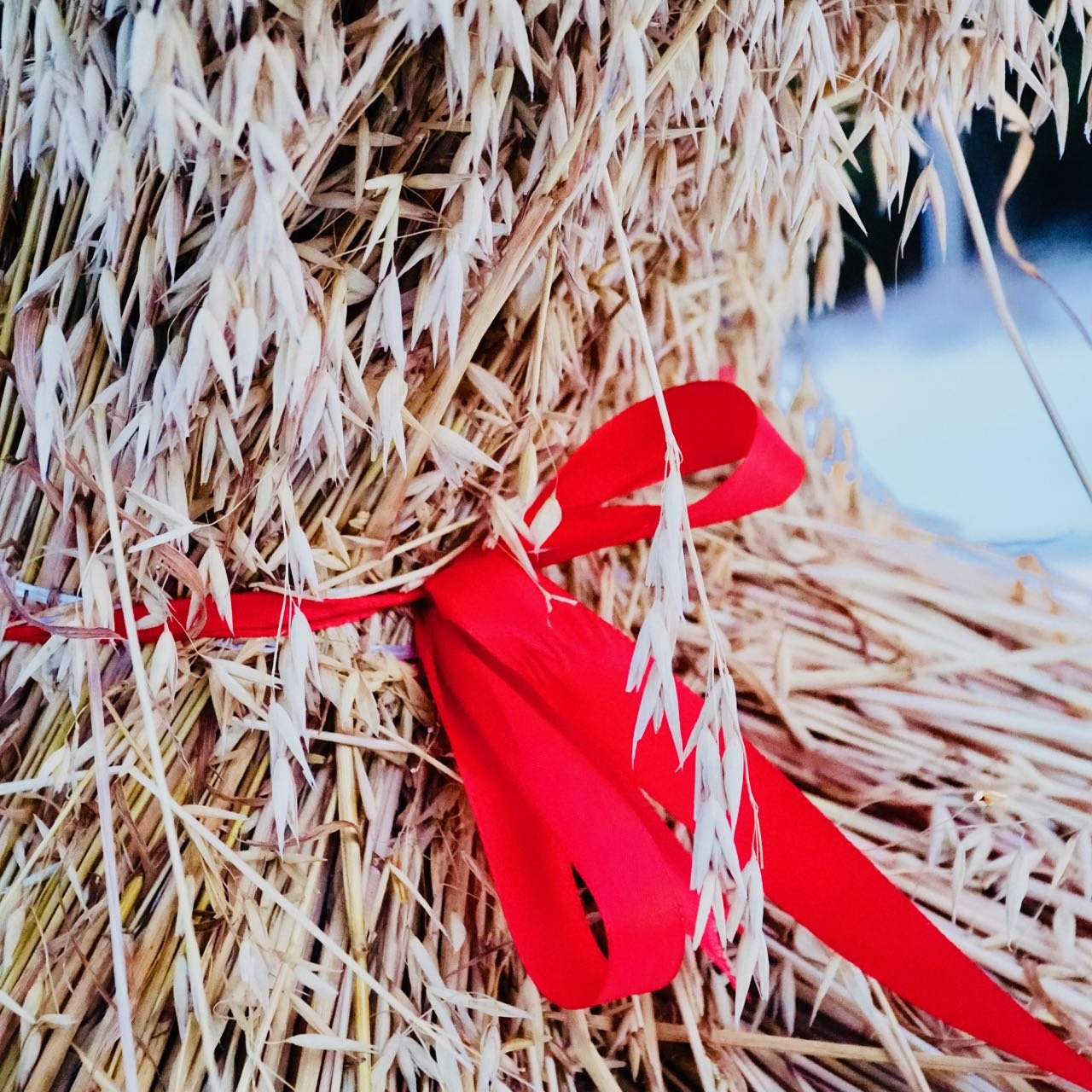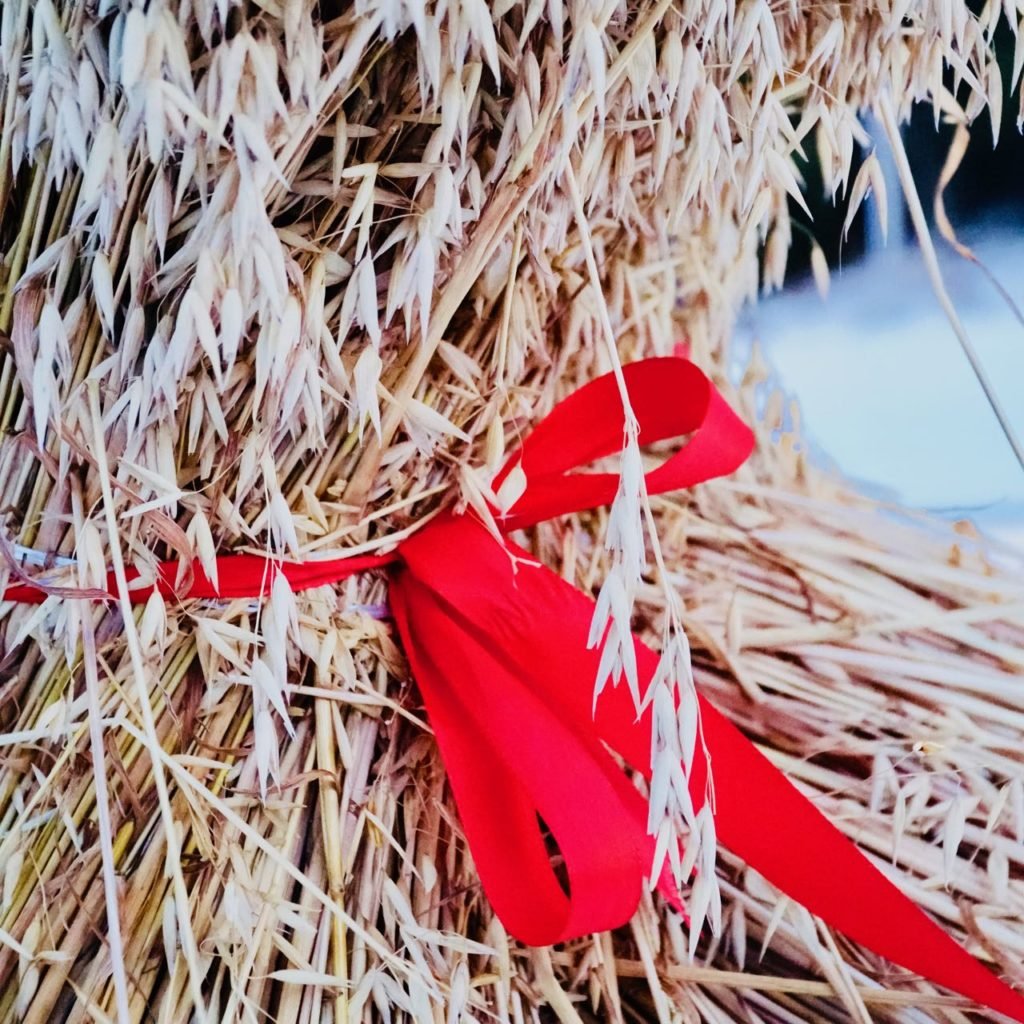 We love Christmas. We actually love this time of year so much that we are constantly looking for new cozy activities that bring out that warm, fuzzy Christmas feeling. We often spend the holiday season in our hometown, and luckily for us Oslo and its surrounding areas certainly don't lack Christmas spirit. There is a great abundance of activities on offer in December, and here we've put together a list of our favorites.
Update as of November 2020:
Due to the current unpredictable corona situation, we unfortunately can't guarantee that all the activities in this post will be open this year. We have therefore chosen to remove all information about opening hours, as constant changes in the situation mean that the various organizers have had to change plans repeatedly. Please check the respective websites below for up-to-date information.
The Christmas Fair at Norsk Folkemusem
The Christmas Fair at Norsk Folkemusem (the Norwegian Museum of Cultural History) at Bygdøy is one of the classics on our list. Here you can really feel the nostalgia amongst buildings that are hundreds of years old. The Christmas Fair is very popular, but the area is so vast that it never feels too crowded. In the booths you can buy food and drinks, traditional baked goods, Christmas ornaments and Christmas presents. Among the activities offered are horseback riding and carriage rides. We find the Christmas sing-along in the chapel to be especially charming.
When: –
Where: Bygdøy just outside Oslo city center. Address: Museumsveien 10, 0287 Oslo.
Price in 2019: Adults NOK 160, children NOK 40, parents with children/ grandchildren NOK 320, students/senior citizens NOK 120.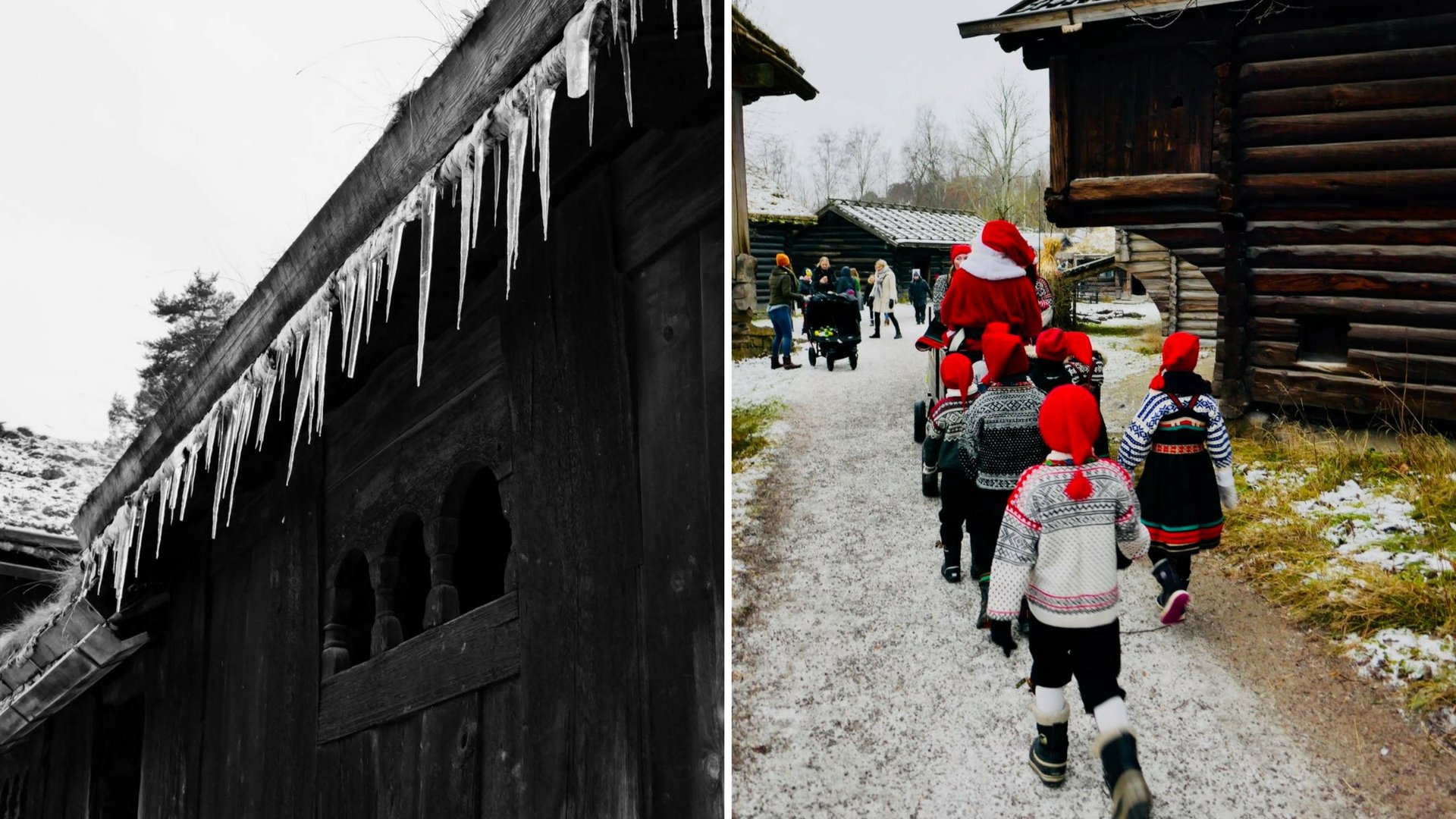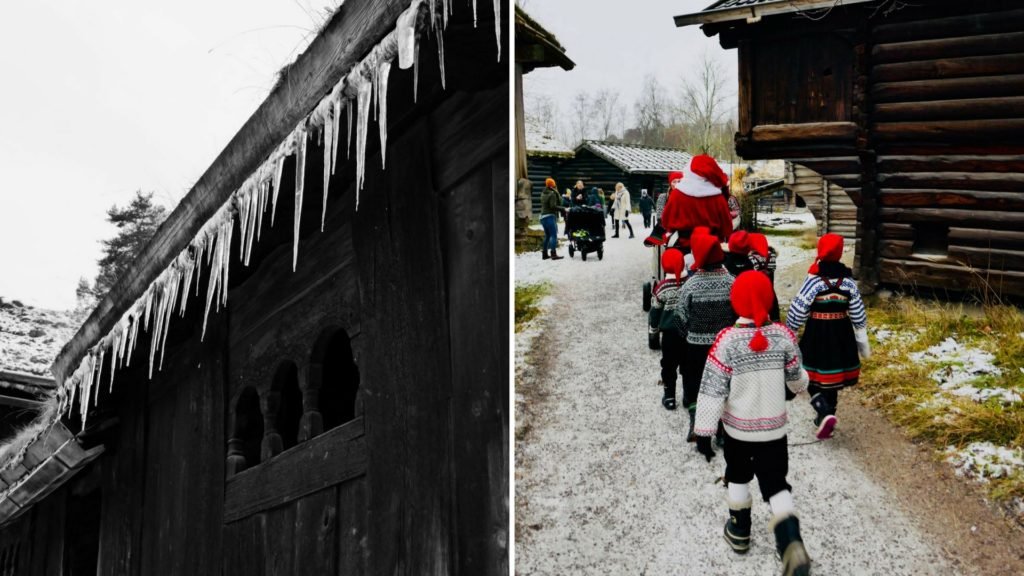 Tregaarden

's

Julehus
A 40-minute drive from Oslo lies Tregaarden's Julehus (Tregaarden's Christmas House) in Drøbak. Tregaarden's Julehus is a Christmas store that is open all year round, and also has its own post office. If you have not finished shopping for Christmas presents, there is a lot to choose from at Tregaarden's Julehus. Aim for an evening visit to the shop and be sure to leave enough time for a stroll in Drøbak's cosy streets. The small town has beautiful decorations and burning candles outside many of the shops that make for a wonderfully charming atmosphere.
When: –
Where: In Drøbak, approximately 40 minutes by car from Oslo. Address: Havnebakken 6, 1440 Drøbak.
Price: Free entry.
Tip: Send Christmas cards from the shop's post office — you can get them stamped with the official Santa-stamp!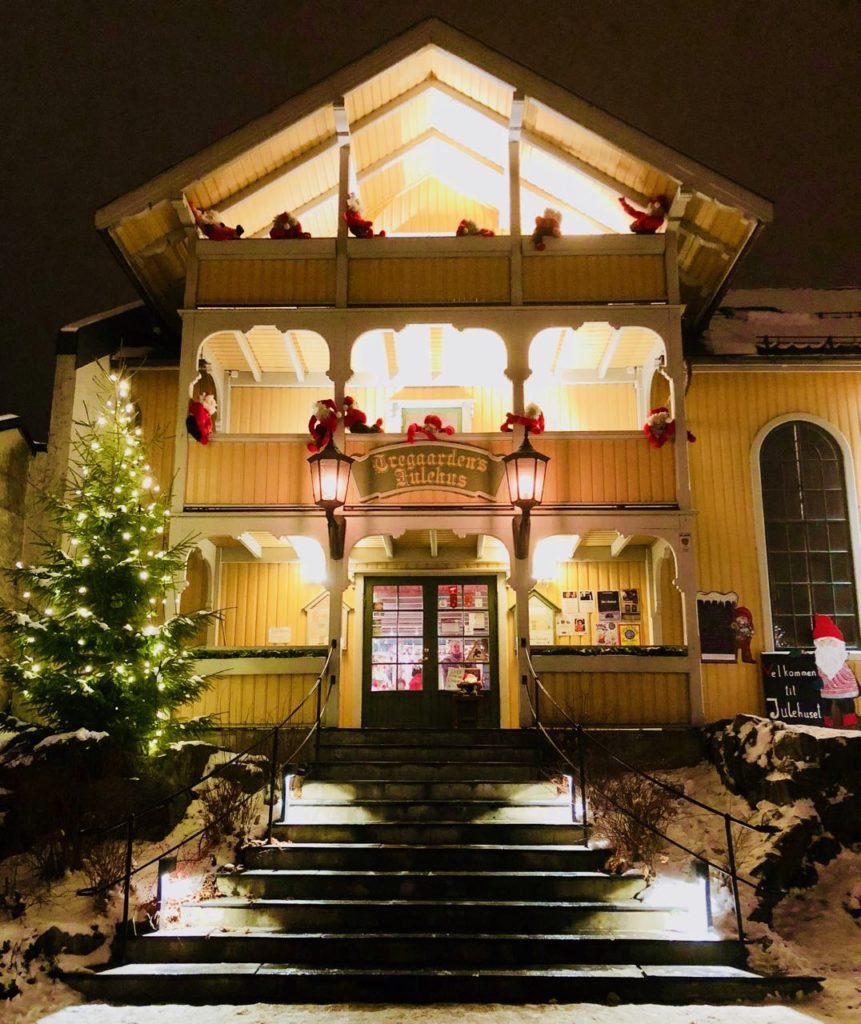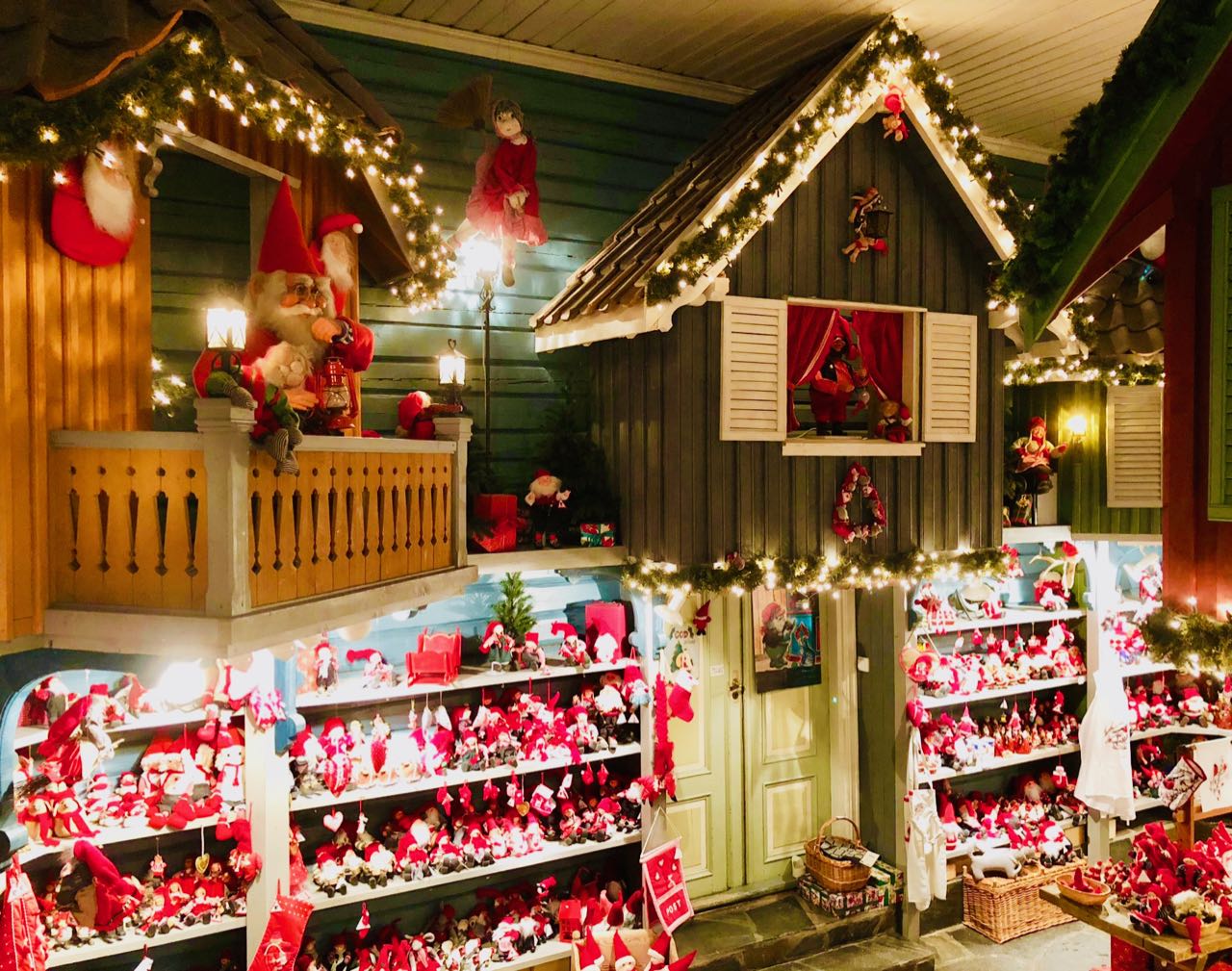 Afternoon Tea at Lysebu
Drinking afternoon tea may not be usually associated with Christmas activities, but when the atmosphere is as idyllic as at Lysebu hotel, finding the Christmas feeling is easy. The Danish designer Jette Frölich decorates the hotel every year before Christmas, and the result is always magical.
Click HERE to read more about our visit to Lysebu and to find out who we think serves the very best Afternoon tea in Oslo.
When: –
Where: In Holmenkollen, approximately 30 minutes by car from Oslo city center. Address: Lysebuveien 12, 0790 Oslo.
Price: NOK 275 per person.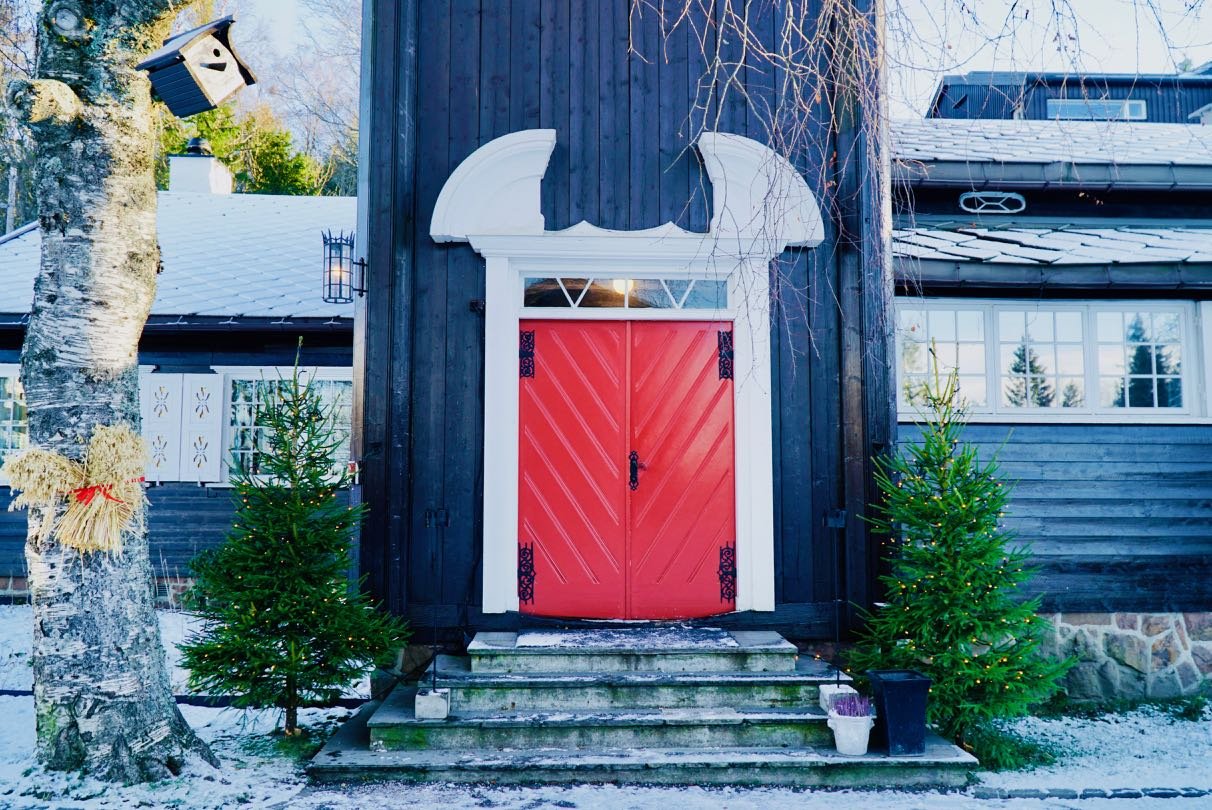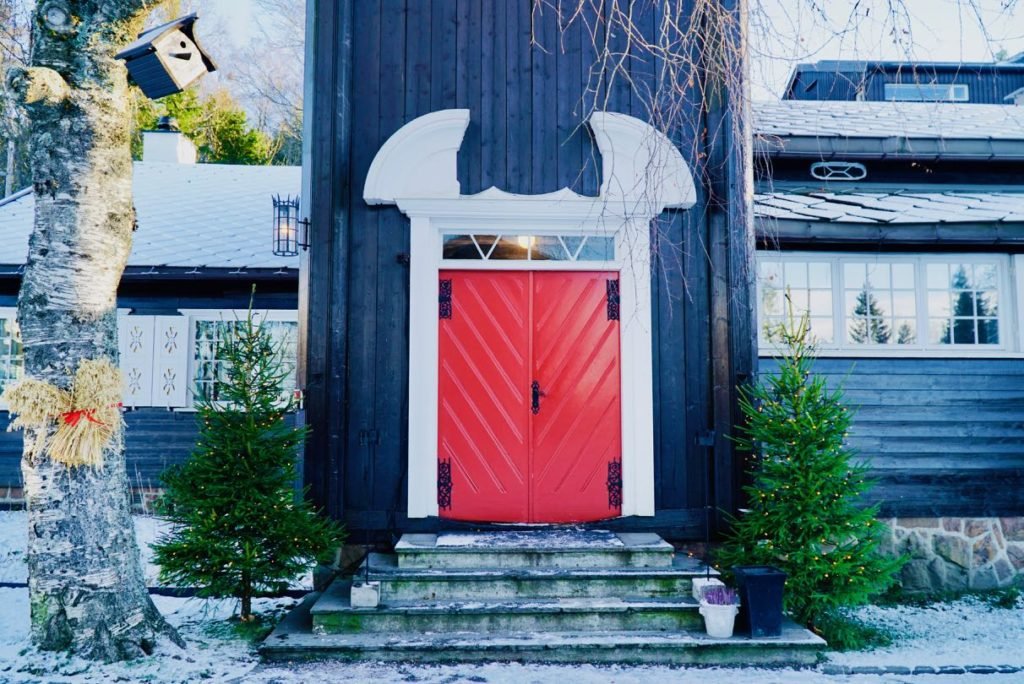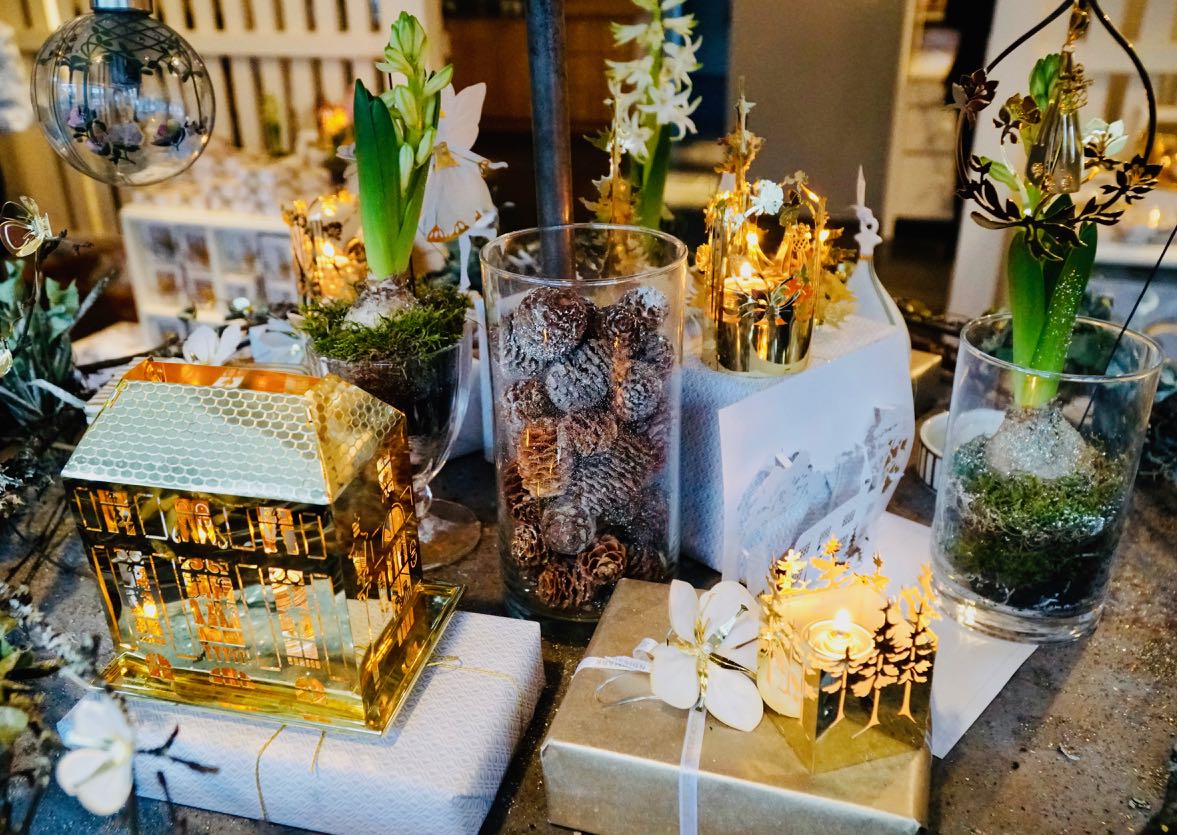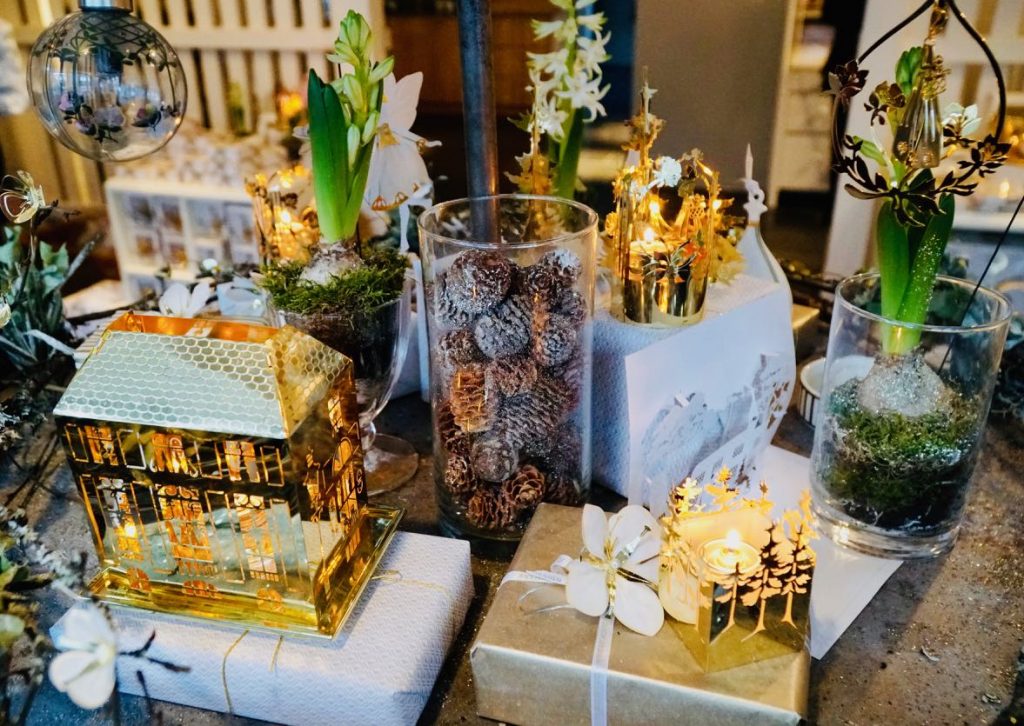 Christmas at Bærums Verk
The traditional Christmas market at Bærums Verk is one of our favorite Christmas markets. The best time to visit is on Sundays, as these days also are the Farmers' Market days. The Farmers' Market is incredibly popular and attracts a lot of guests. We usually arrive in the afternoon to avoid the biggest crowds in the morning, and also because Bærums Verk is at its most beautiful when the Christmas lights are lit.
When: –
Where: In Bærums Verk, approximately 30 minutes by car from Oslo city center. Address: Verksgata 15, 1353 Bærums Verk.
Price: Free entry.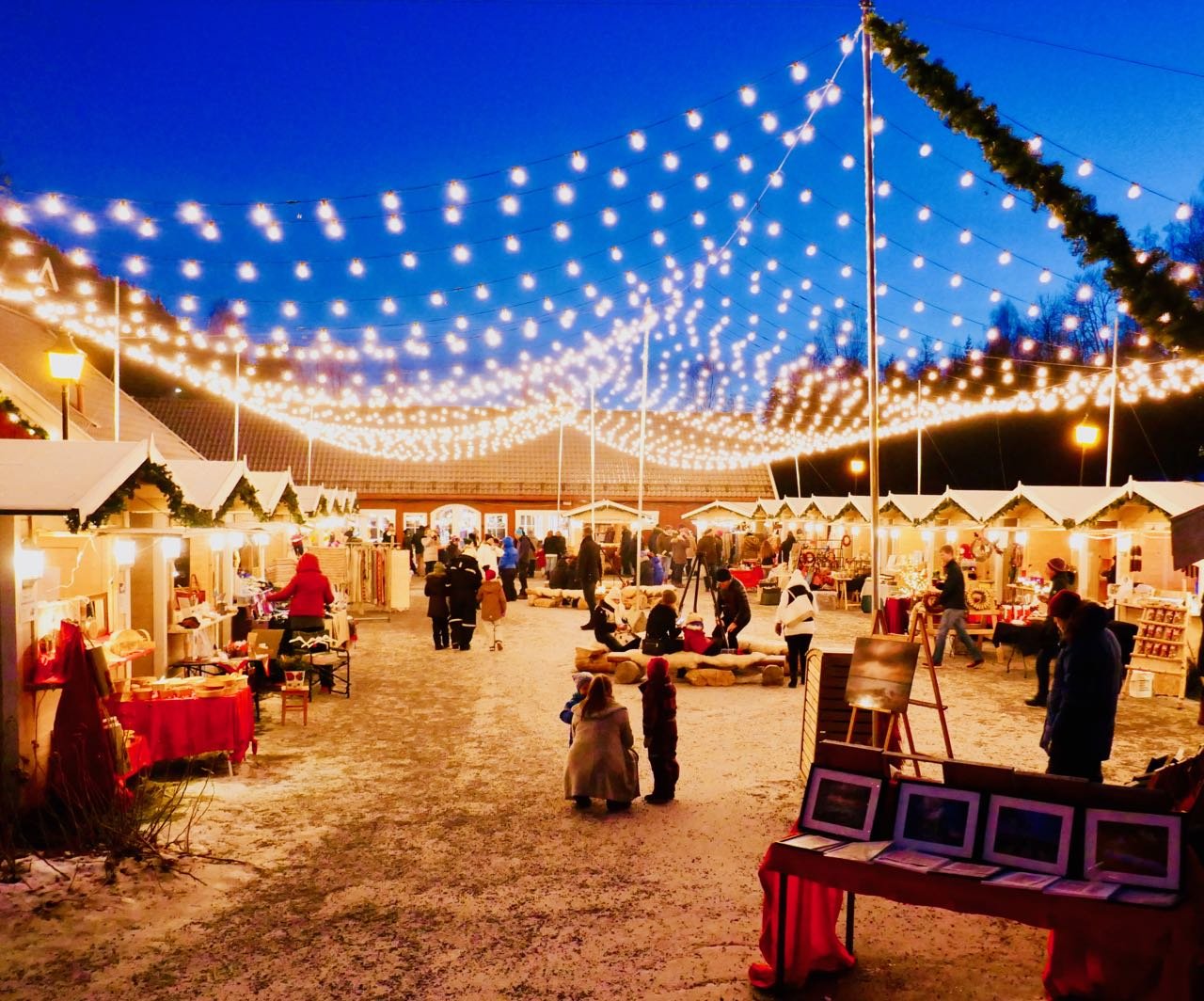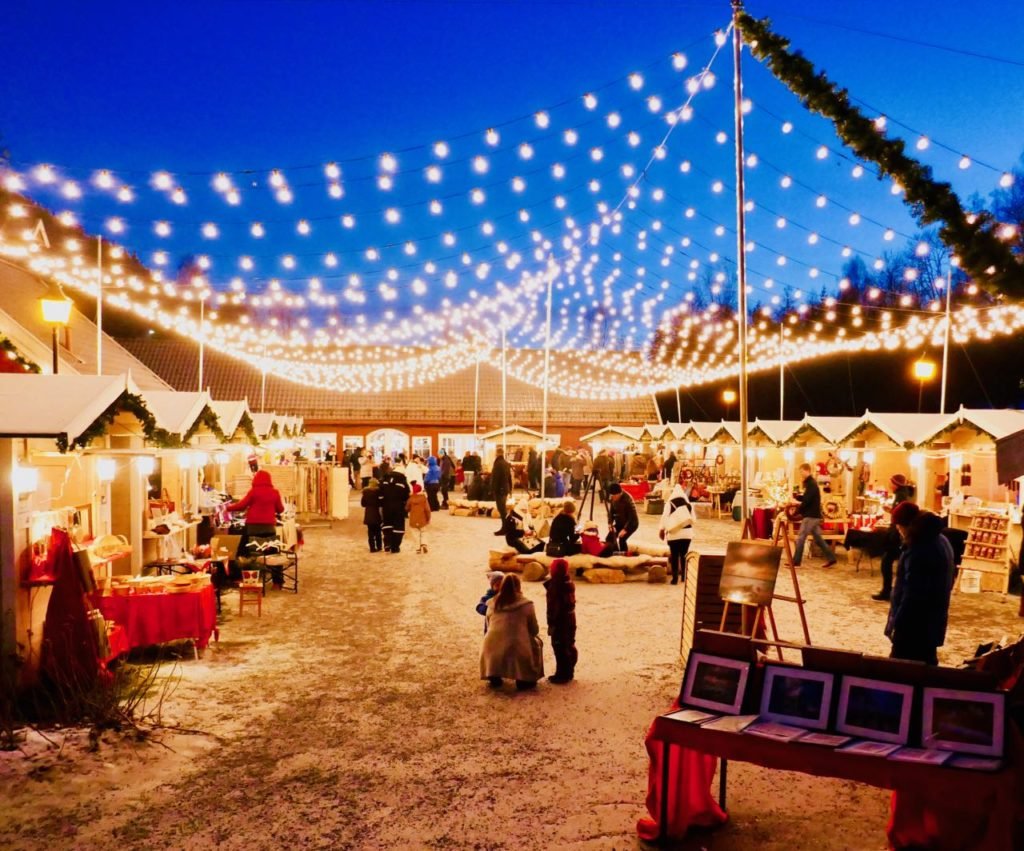 Steam Locomotive Ride at Tertitten
At Tertitten, also known as The Urskog-Høland Railway, nostalgia prevails. With its historic wagons, the coal-fired steam locomotive calls up dreams of a bygone era. The train ride itself is not very long — only about 4 kilometers each way —  but it is very atmospheric. On the way, the passengers keep warm thanks to wood-burning stoves placed in the carriages, and can look out over a winter landscape that frequently disappears in the dense steam from the locomotive. Halfway through the trip, the train stops at Fossum station where gløgg (mulled wine) and gingerbread cookies are served. And if Santa Claus has time, he may show up to hand out bags of sweets to the children.
When: –
Where: The train ride starts at Sørumsand, approximately 40 minutes by car from Oslo. Address: Sørumsand center, 1921 Sørumsand.
Price: Adults NOK 200, children/senior citizens NOK 80.
Tip: The train ride is very popular, so it's a good idea to buy tickets well in advance.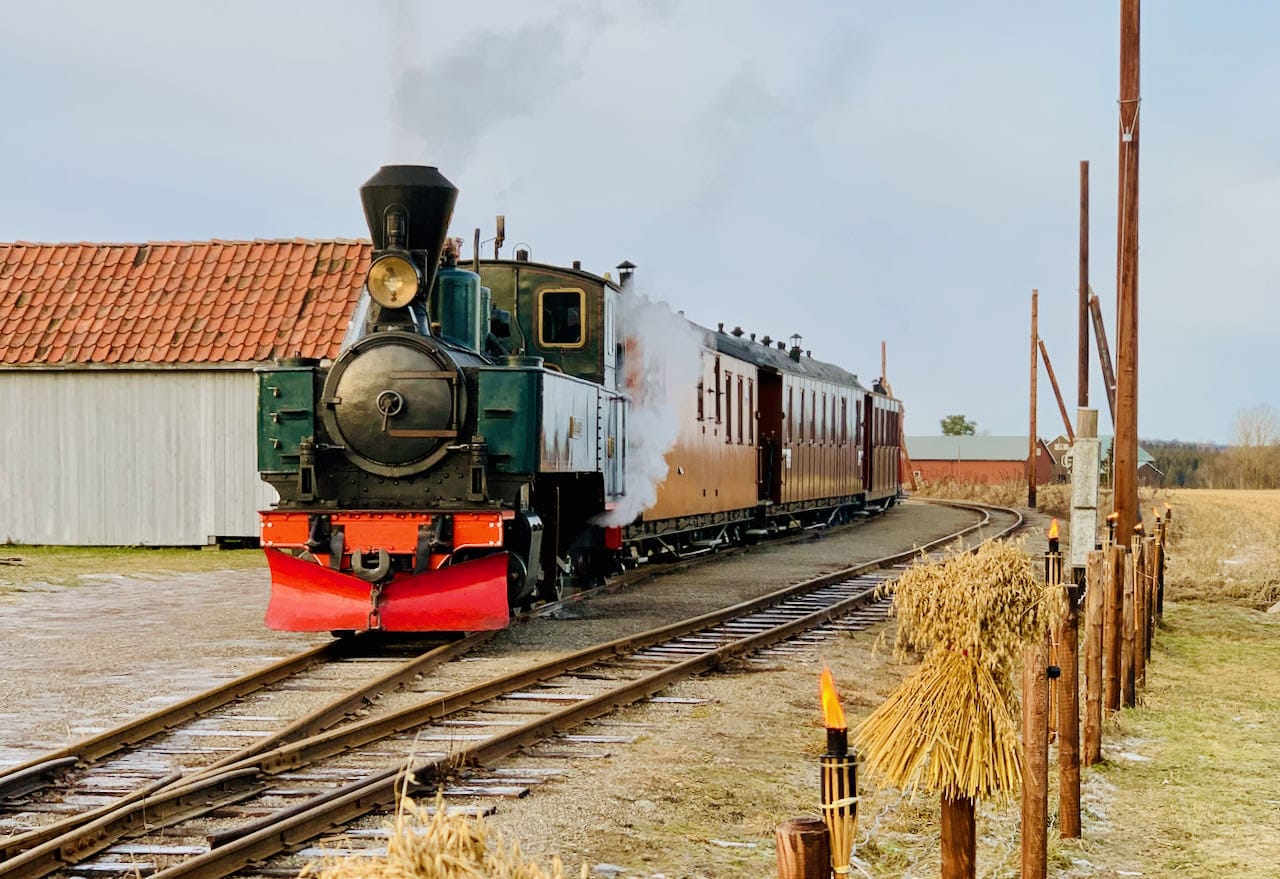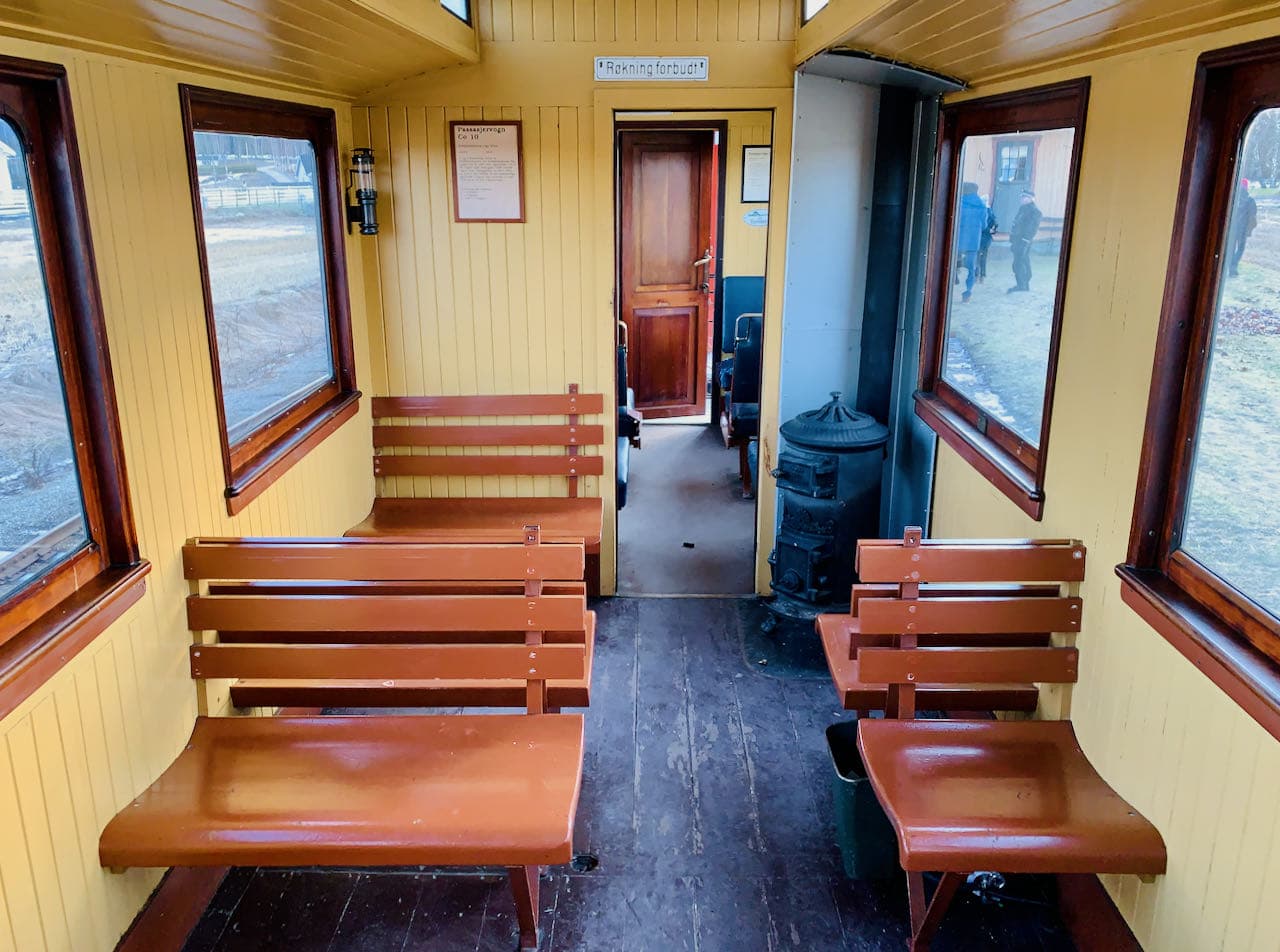 Lokstallen Røykenvik
We love visiting Lokstallen in Røykenvik all year long. In the summer it is great to sit outside and enjoy the views of the Randsfjorden lake. The rest of the year it is most tempting to sit inside and enjoy the heat from the wood burning stove. For Christmas, the restaurant is filled with beautiful decorations and the smell of delicious food. We had an excellent visit to Lokstallen last year, and hope that the heavenly creamed rice pudding is also on the menu this year! A trip to the restaurant should be combined with a visit to their interior shop on the second floor.
Click here to read more about our summer visit to Lokstallen Røykenvik.
When: –
Where: In Røykenvik in Brandbu, approximately 1 hour and 15 minutes by car from Oslo city centre. Address: Røykenviklinna 412, 2760 Brandbu.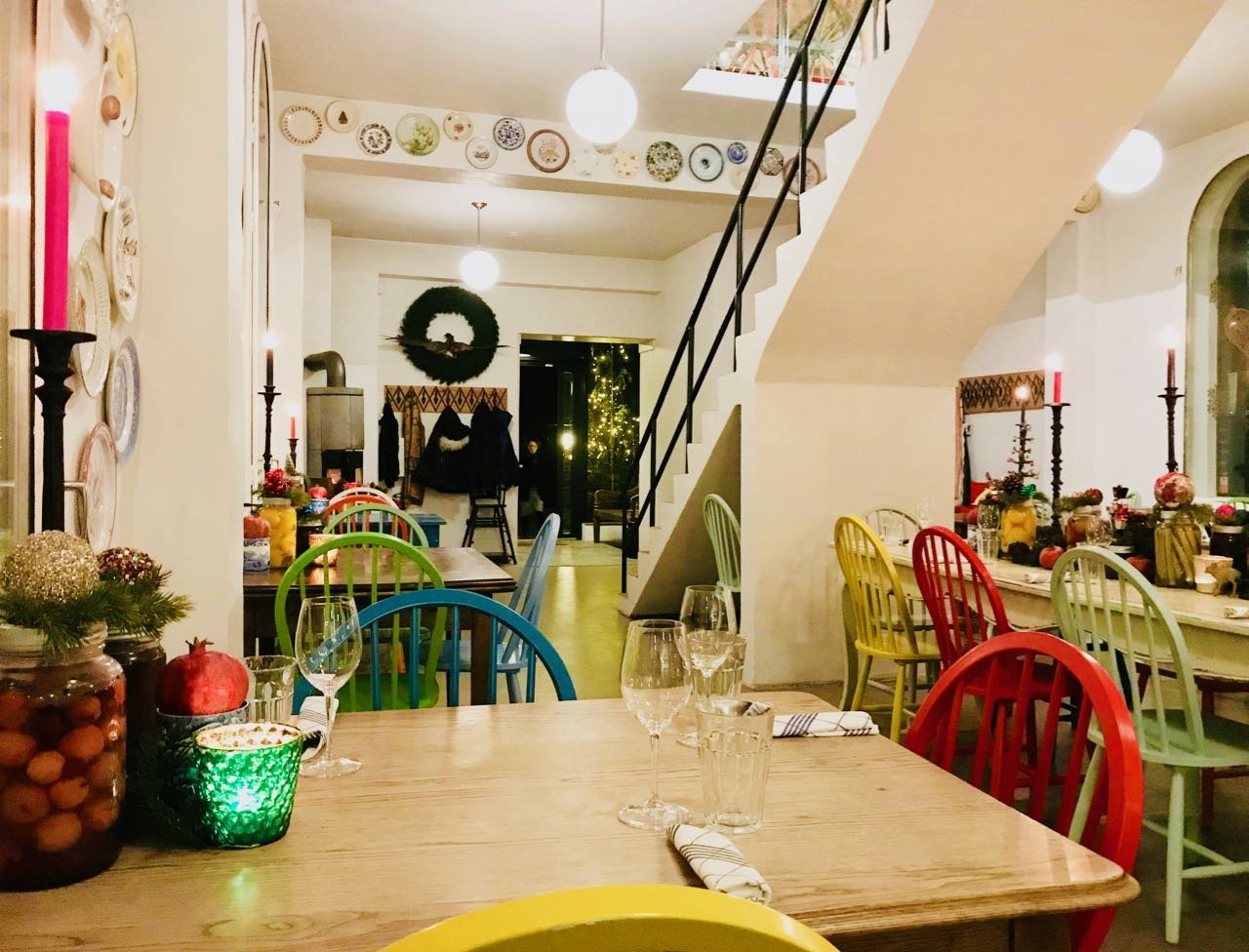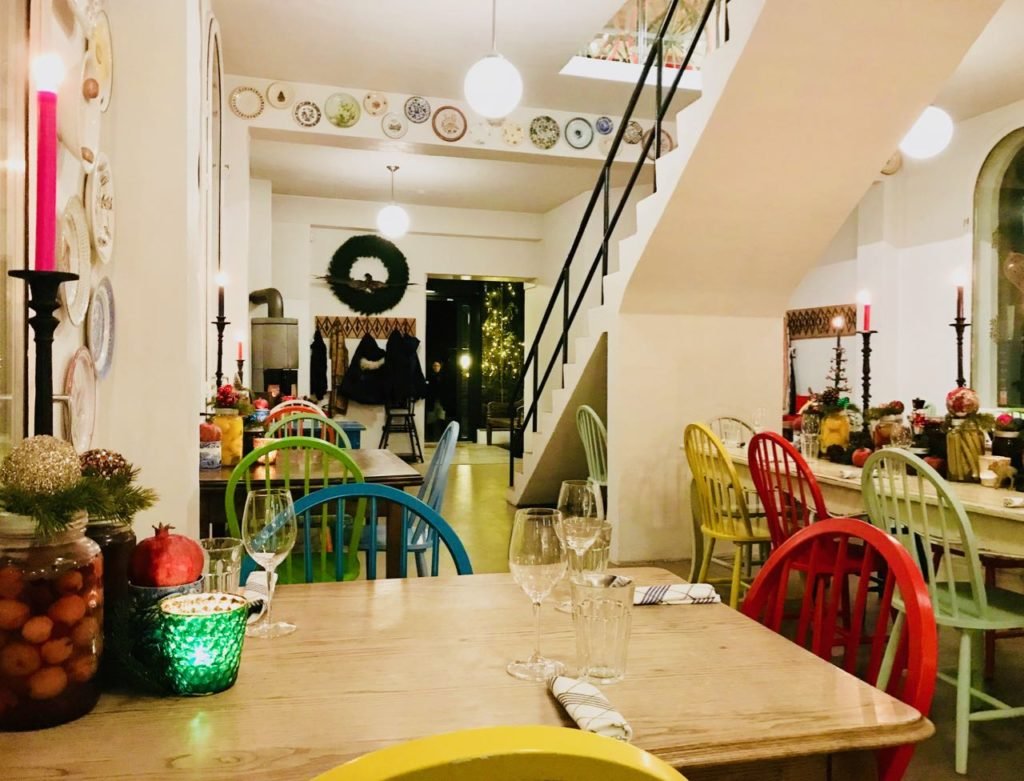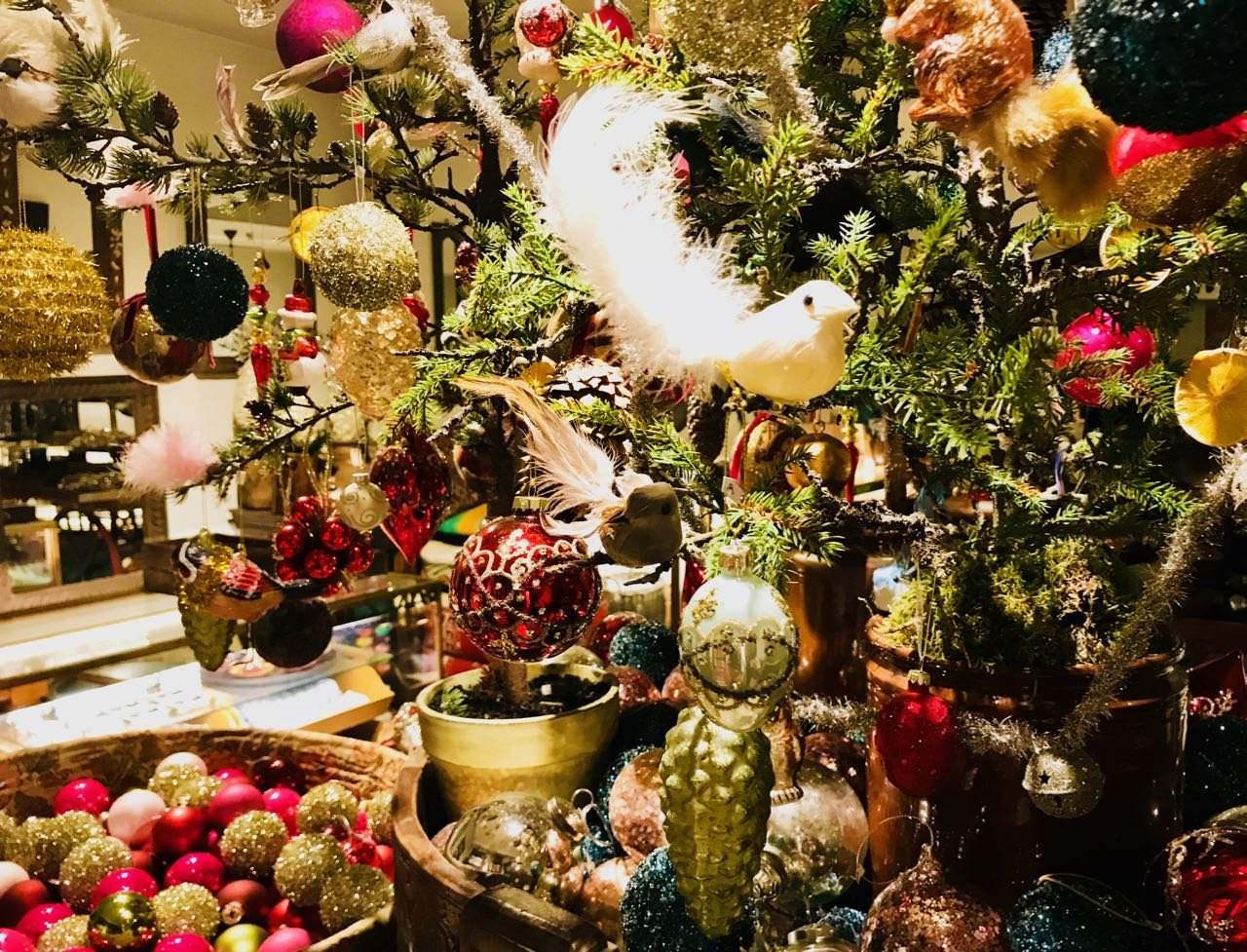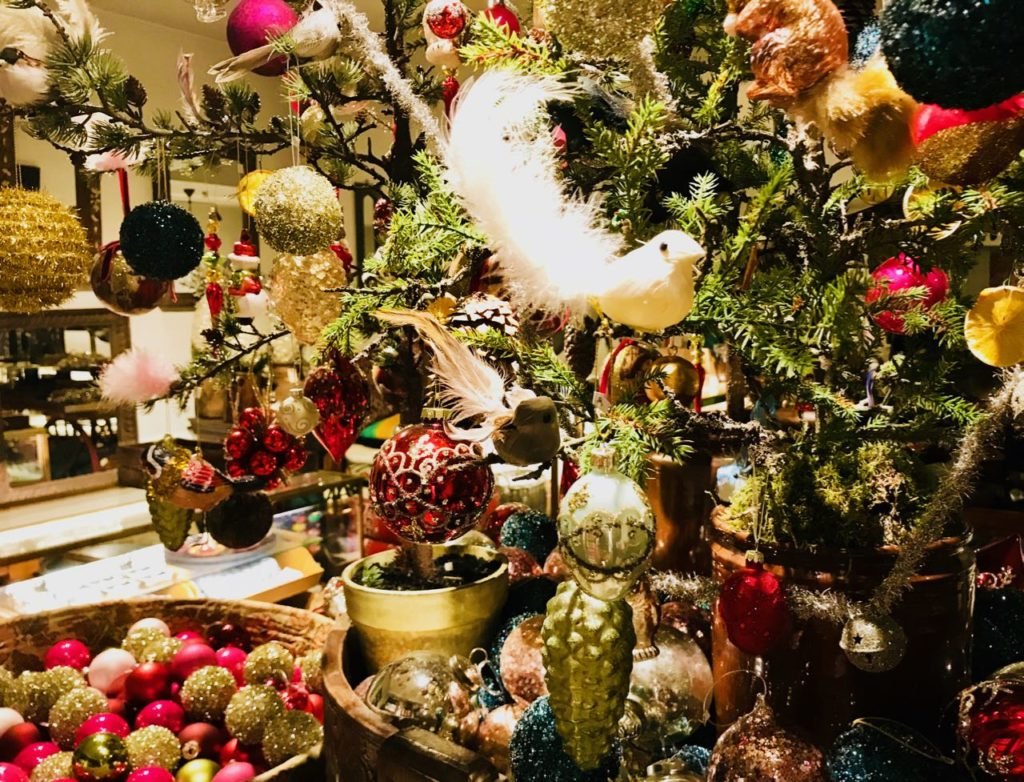 Jul i Vinterland
The Christmas market in Oslo city center, Jul i Vinterland (Christmas in Winterland), offers a pre-Christmas treat for people of all ages. For the youngest, there are Christmas crafts workshops as well as a chance to meet Santa Claus himself. Adults may enjoy the very nice bar area on two floors. Here you can settle down with blankets and heat lamps and watch skaters glide around the skating rink below. The Christmas ferris wheel offers even greater views. It is 33 meters high and gives you a fabulous bird's-eye view of Oslo city center.
When: –
Where: In Spikersuppa in the center of Oslo. Address: Spikersuppa, 0162 Oslo.
Price: Free entry.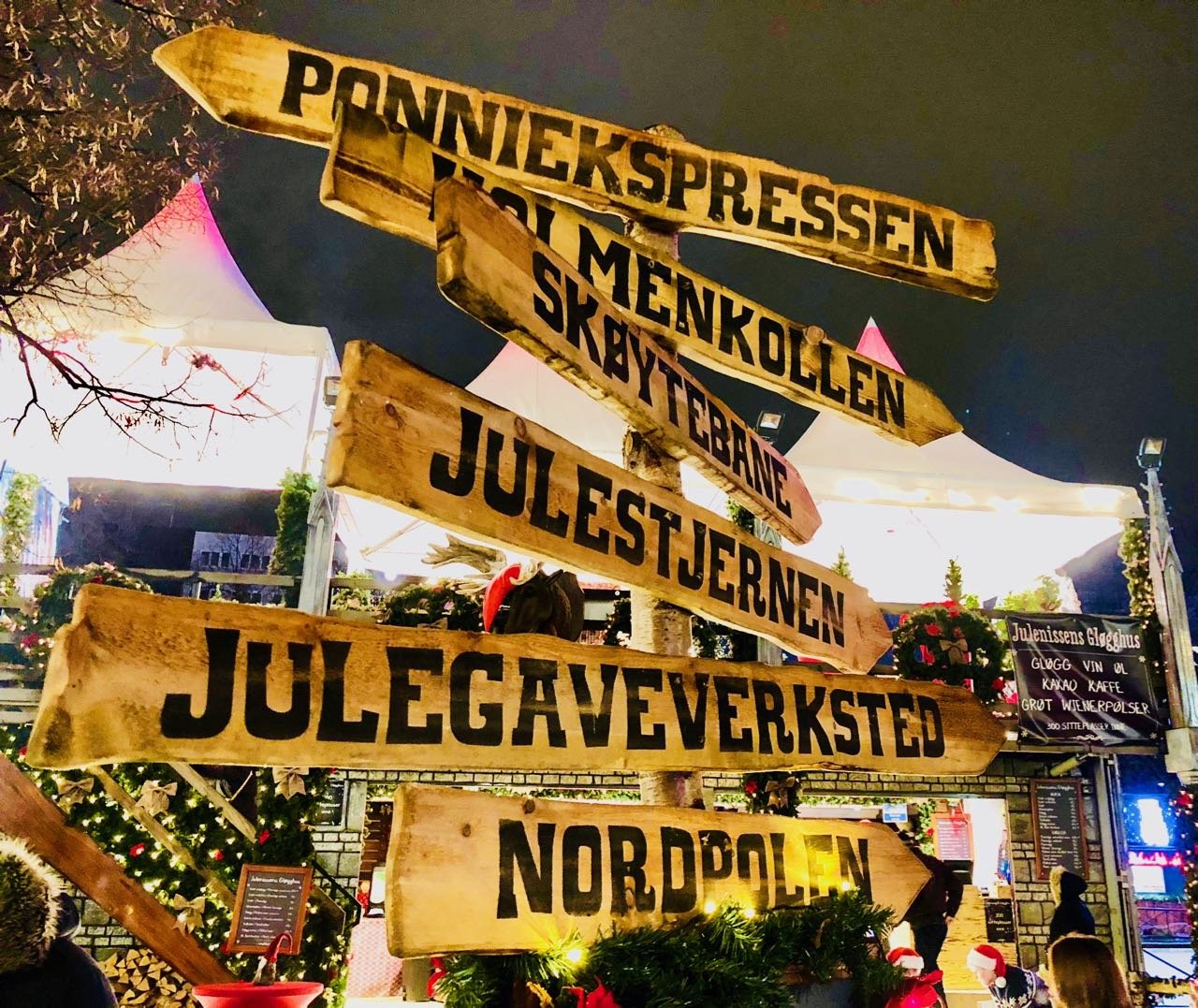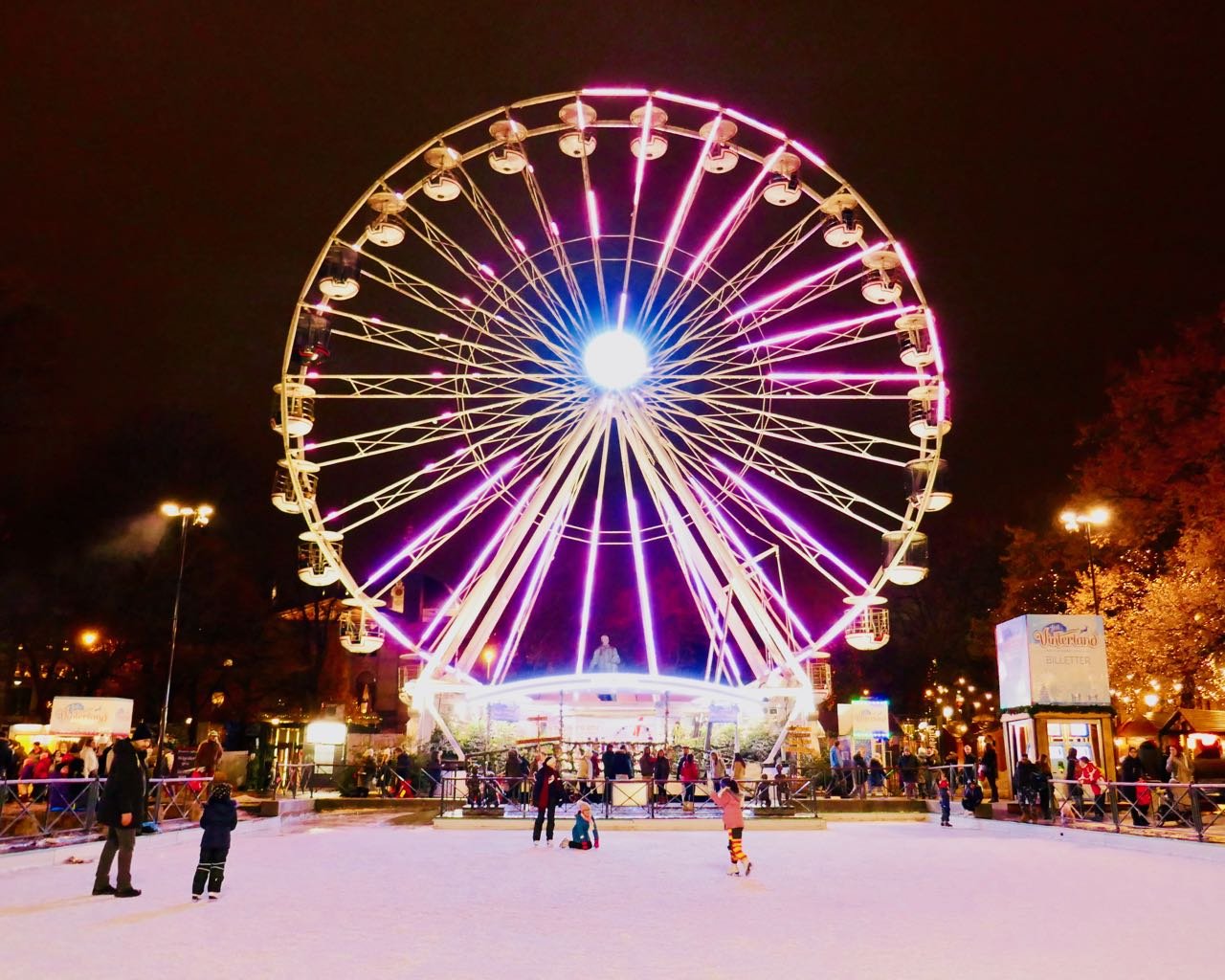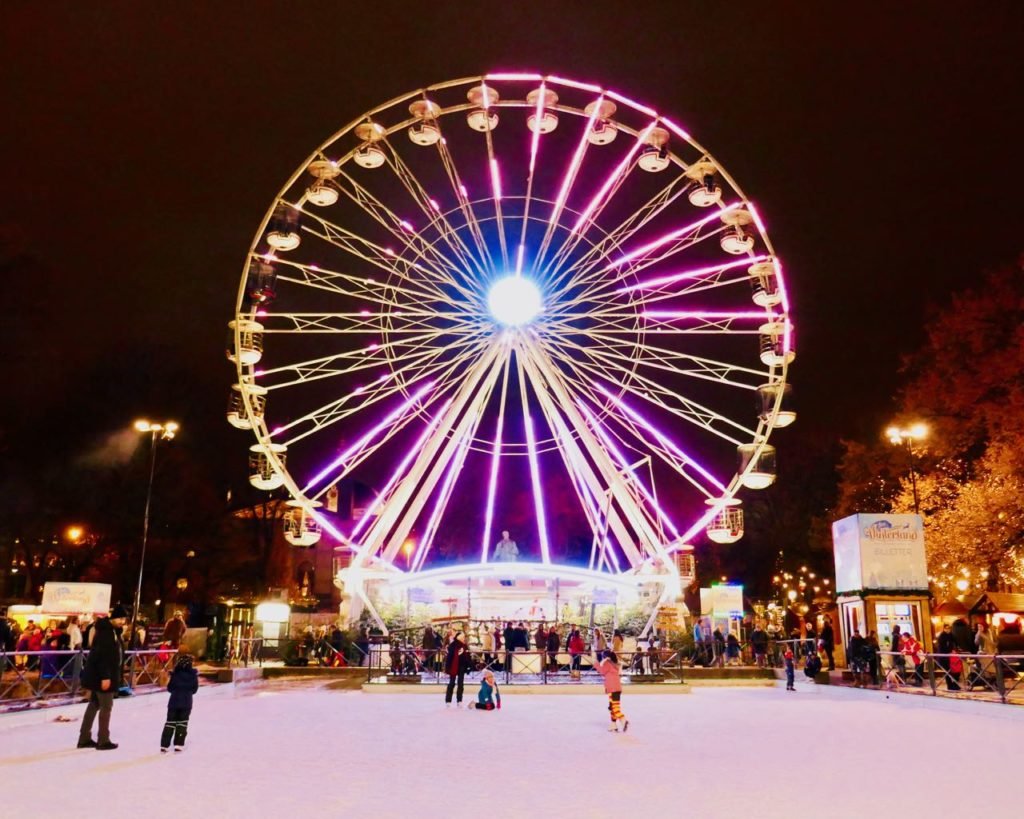 Cafe Seterstua at Frognerseteren
For one of the most spectacular views of Oslo, head for Cafe Seterstua at Frognerseteren in Holmenkollen. The venerable building is traditionally decorated with Christmas wreaths, garlands, flowers, and candles. Fireplaces burn joyfully, and in the cafe the delicious cocoa is always hot. Christmas cakes are available, but instead we recommend that you order a piece of the classic apple pie that Cafe Seterstua is famous for. Cafe Seterstua at Frognerseteren is the perfect place to unwind and recharge your batteries for the rest of the Christmas preparations.
When: –
Where: In Holmenkollen, approximately 25 minutes by car from Oslo city center. Address: Holmenkollveien 200, 0791 Oslo.
Tip: Rent a sled and go for a ride in Oslo's most famous toboggan run, "The Corkscrew", located right next to Cafe Seterstua at Frognerseteren.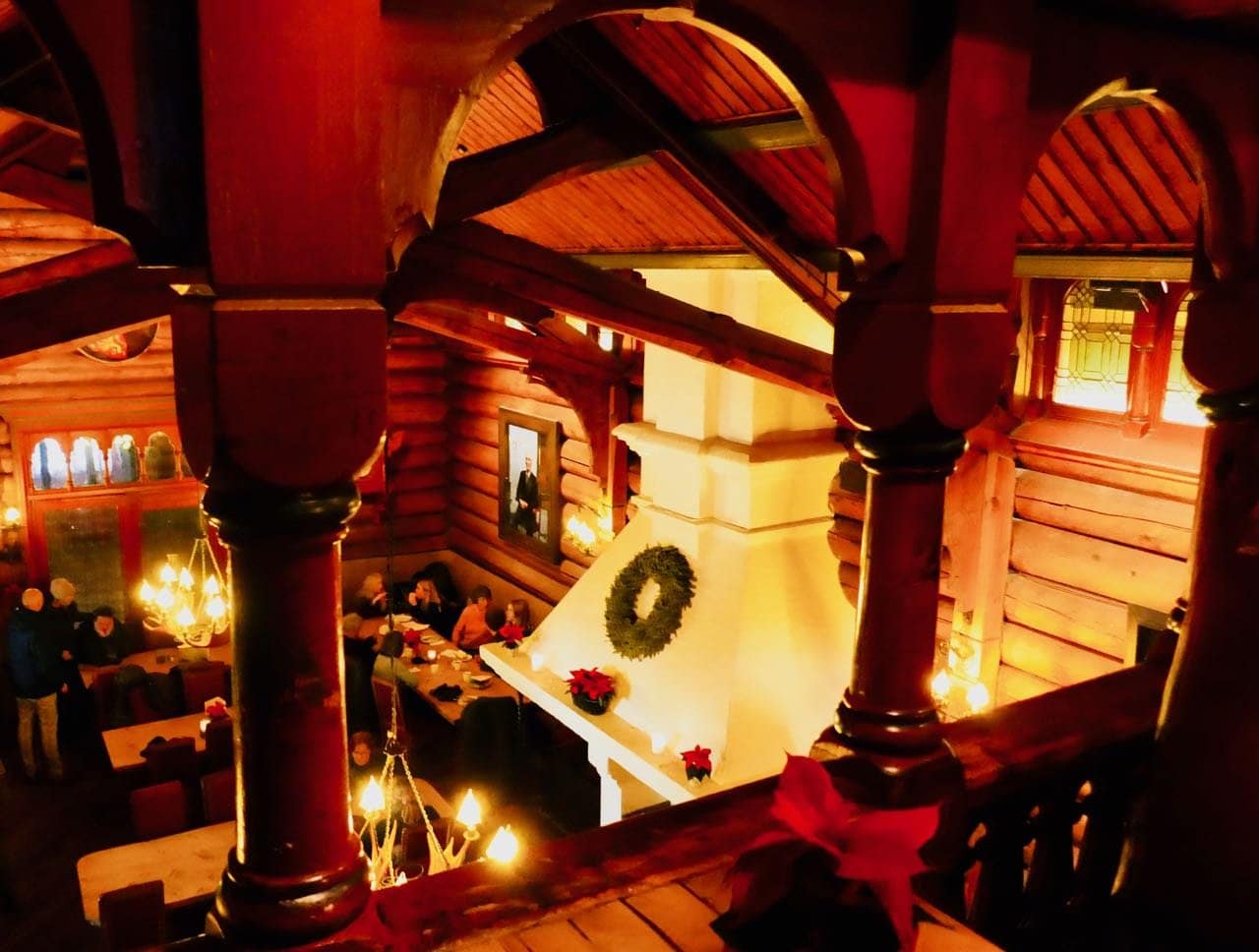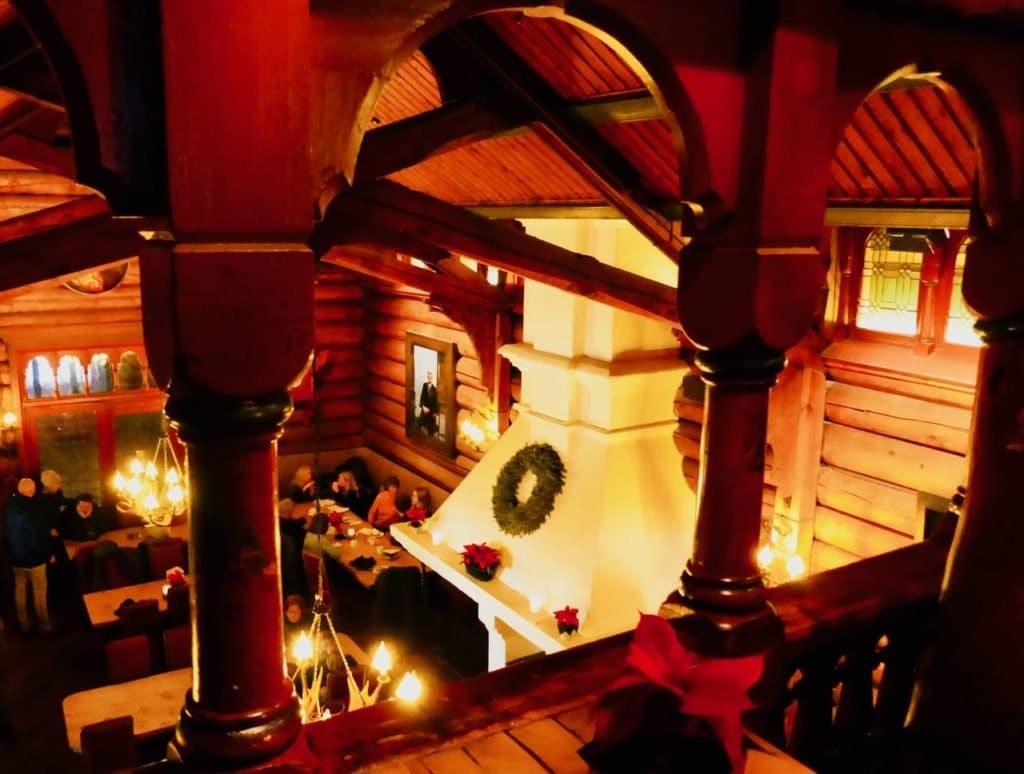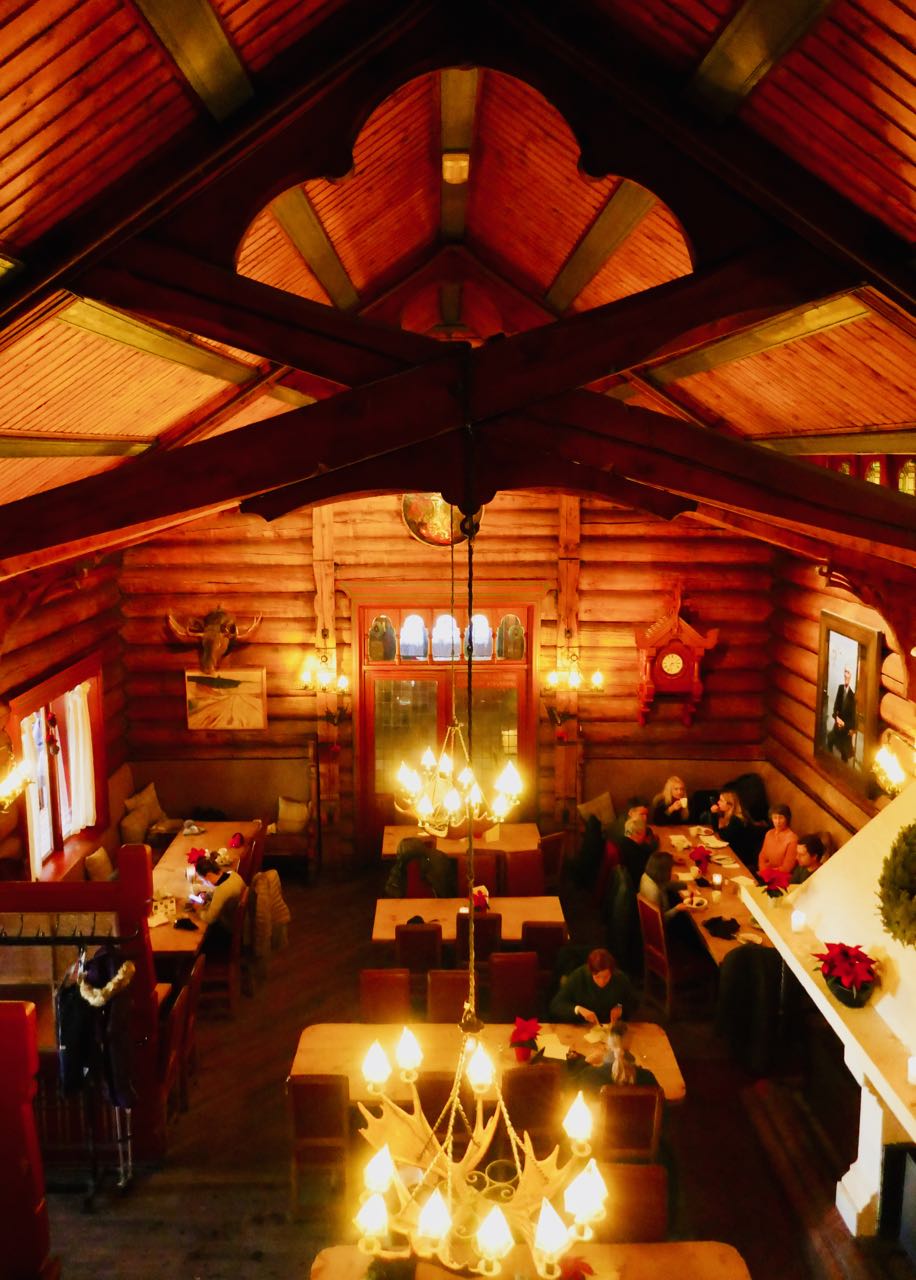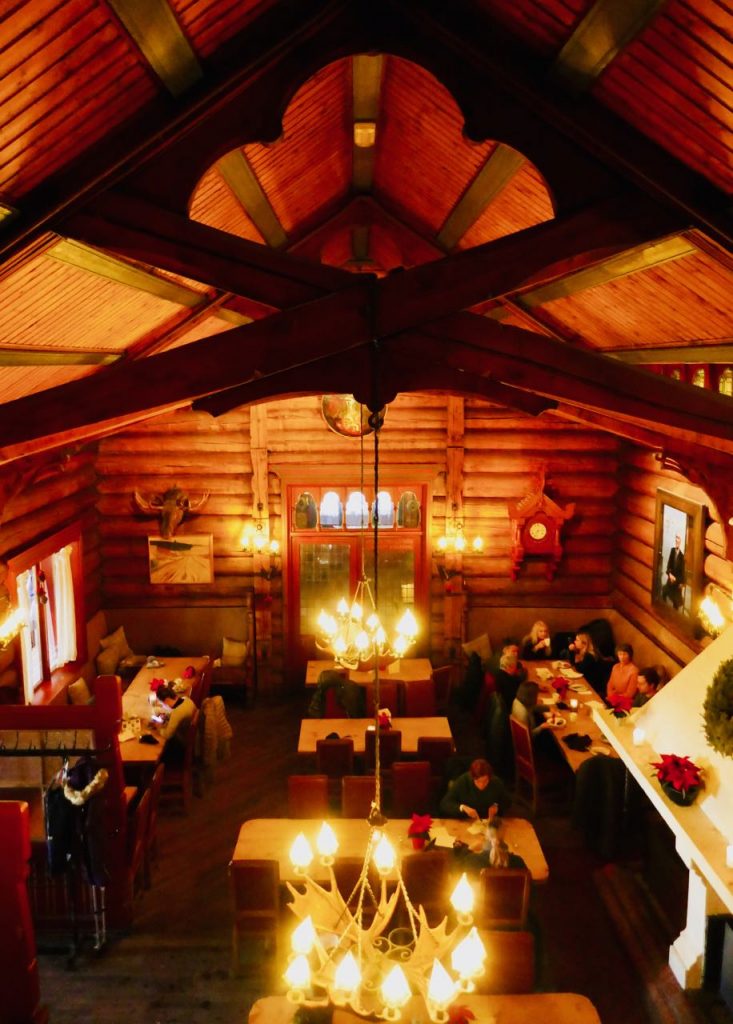 The Christmas Markets at Blomsterhagen på Abildsø and Abildsø Farm
Those who want to recreate the traditional Christmas atmosphere from Frognerseteren at home should take a pre-Christmas trip to Blomsterhagen på Abildsø. Here you can buy the most beautiful Christmas decorations and wreaths in all sizes. Personally, we just can't get enough of spruce needles and red bows! In recent years, we have made sure to visit Blomsterhagen the same weekend as the Christmas market is held at Abildsø farm, just a stone's throw away. It sells, among other things, apple juice produced from local apples, Christmas cakes, and various handicraft products. In addition, there is an open cafe with lighted fire bowls in the yard.
When: –
Where: In Abildsø, approximately 10 minutes by car from Oslo city center. Address: Plogveien 100, 0680 Oslo.
Price: Free entry.
Link to Blomsterhagen på Abildsø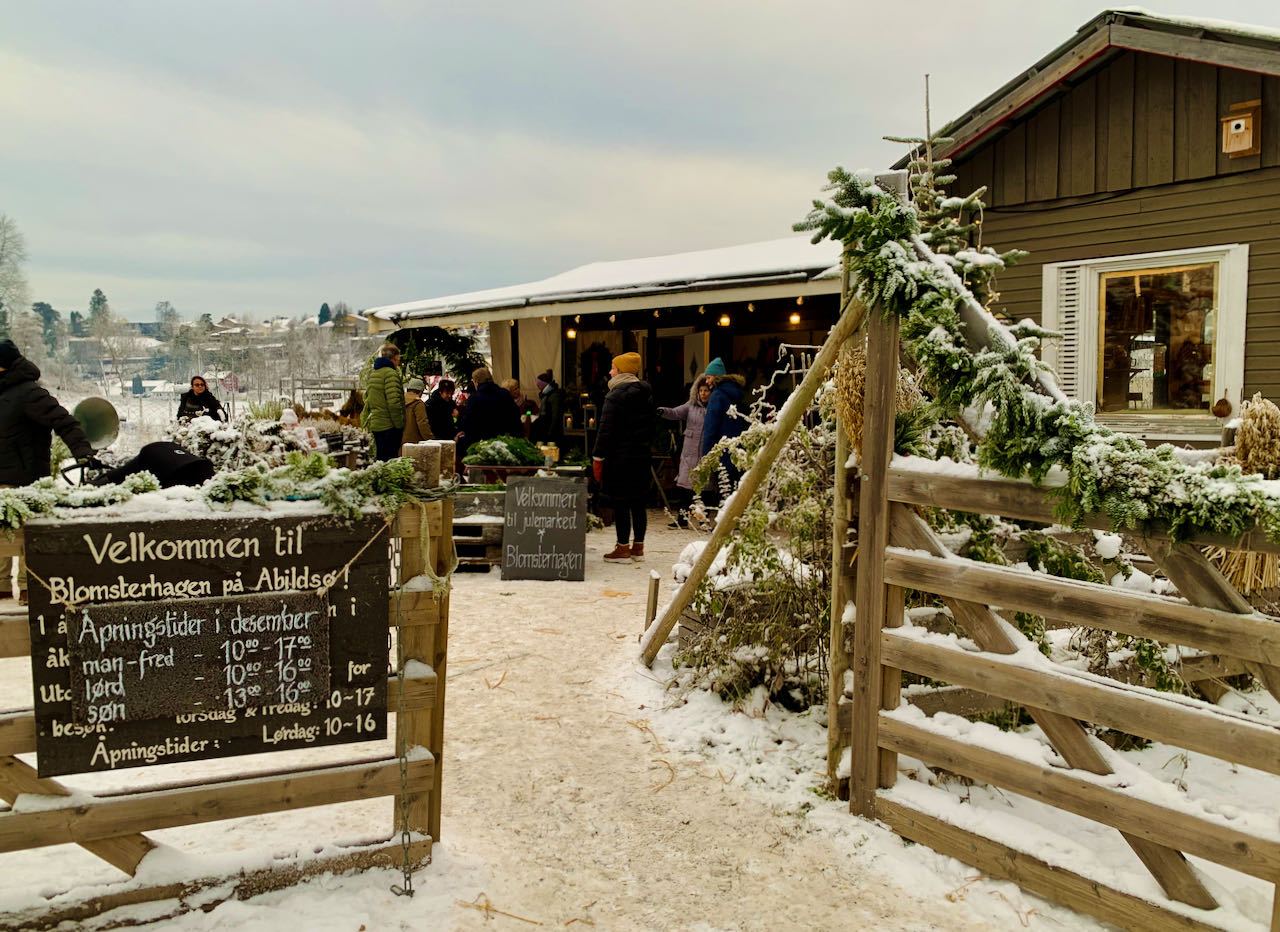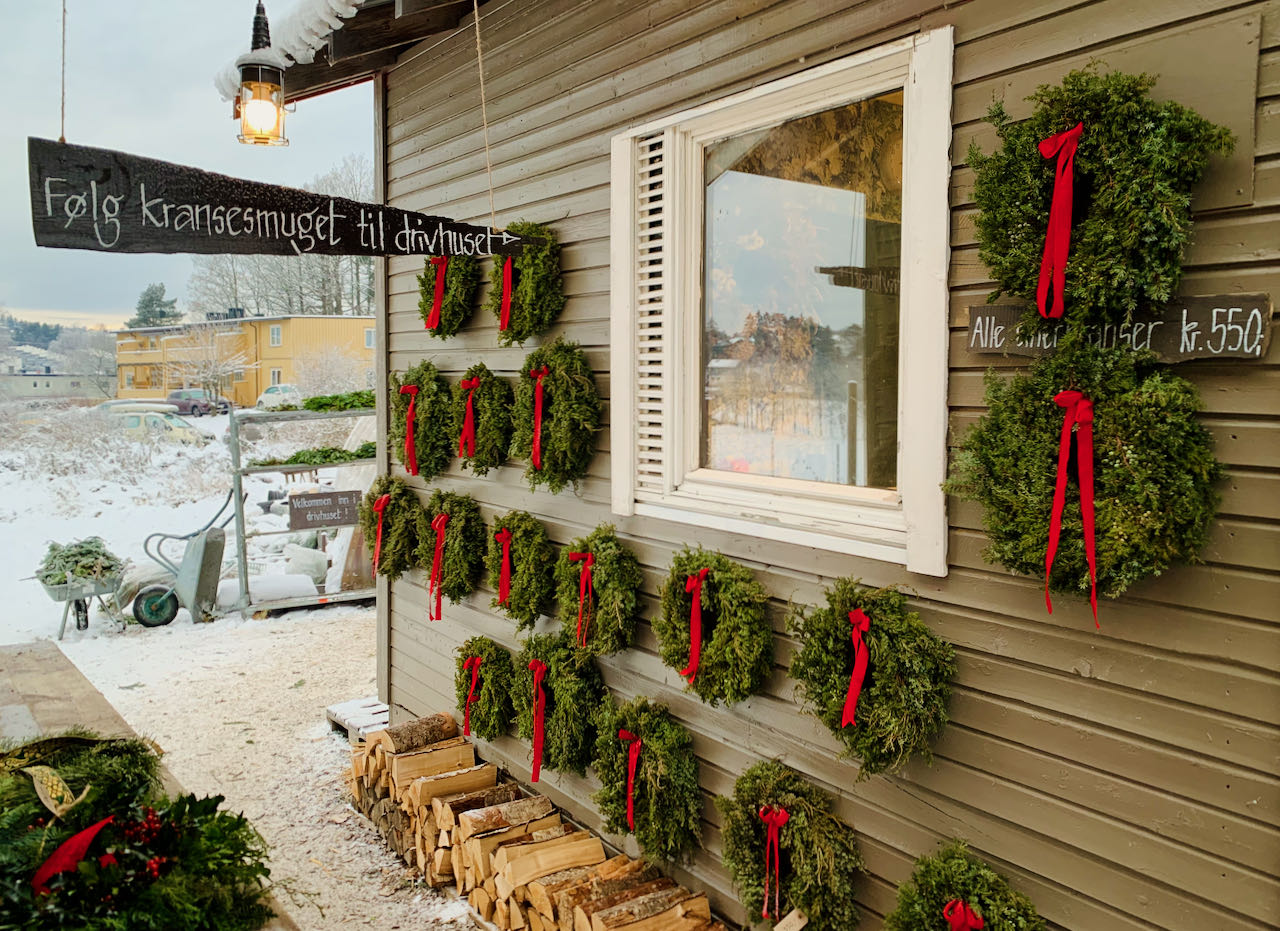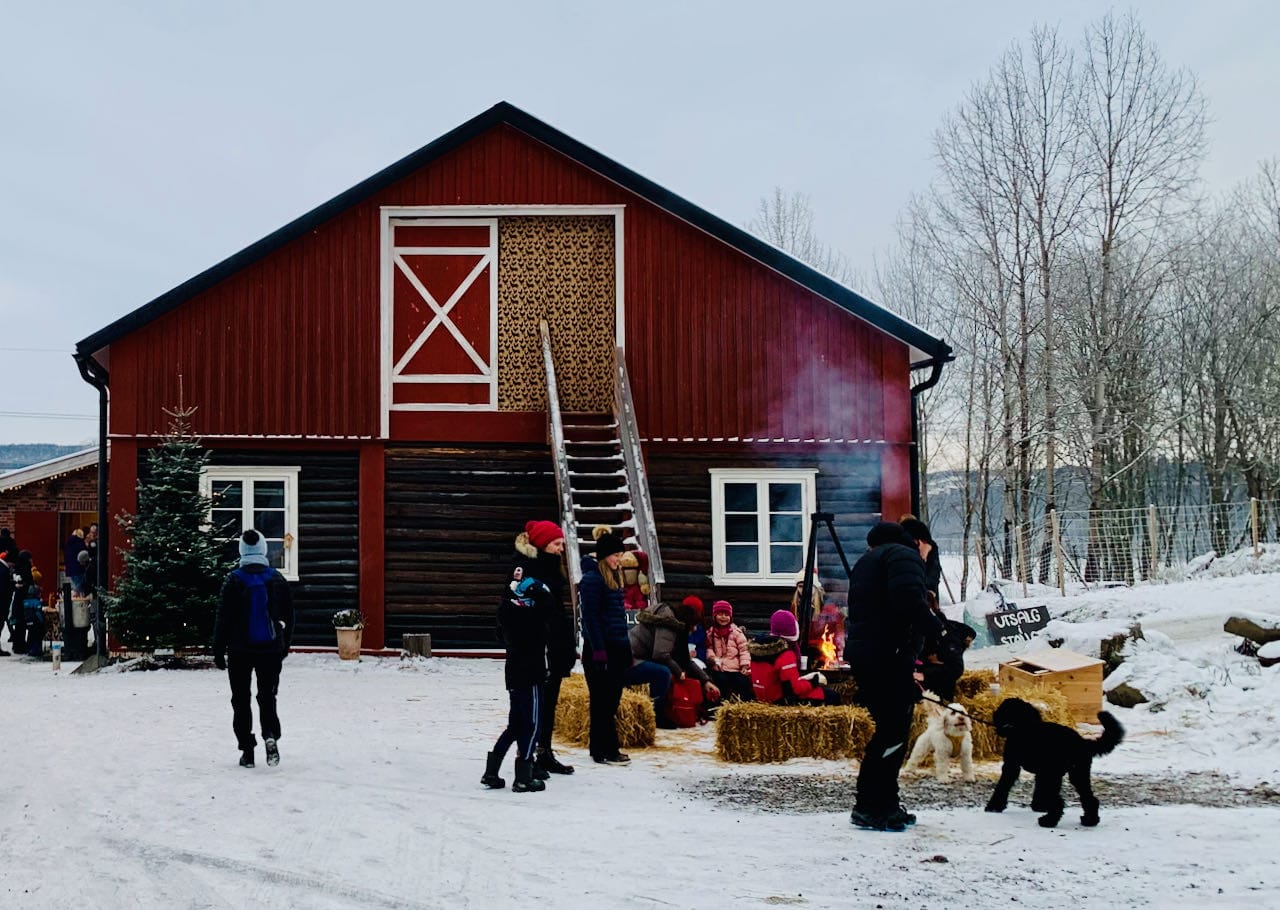 Cut Your Own Christmas Tree at Rolstad Farm
We have, of course, saved the best for last. For us, the ultimate pre-Christmas activity is to cut our own Christmas tree at Rolstad farm. A visit here can be combined with a horse and carriage ride and we cannot imagine a better way to start our Christmas celebrations!
Click here to read more about the wonderful experience we had at Rolstad Farm.
When: –
Where: Rolstad farm is located a 1-hour drive northeast of Oslo. Address: Rolstadvegen 50, 2170 Fenstad.
Price in 2019: The price for a Norwegian Spruce and a sleigh or carriage ride is NOK 900 (Serbian Spruce or Subalpine Fir is NOK 200 more). Visiting Rolstad for the carriage ride only is also possible. This costs NOK 500. The carriage can take up to 5 people.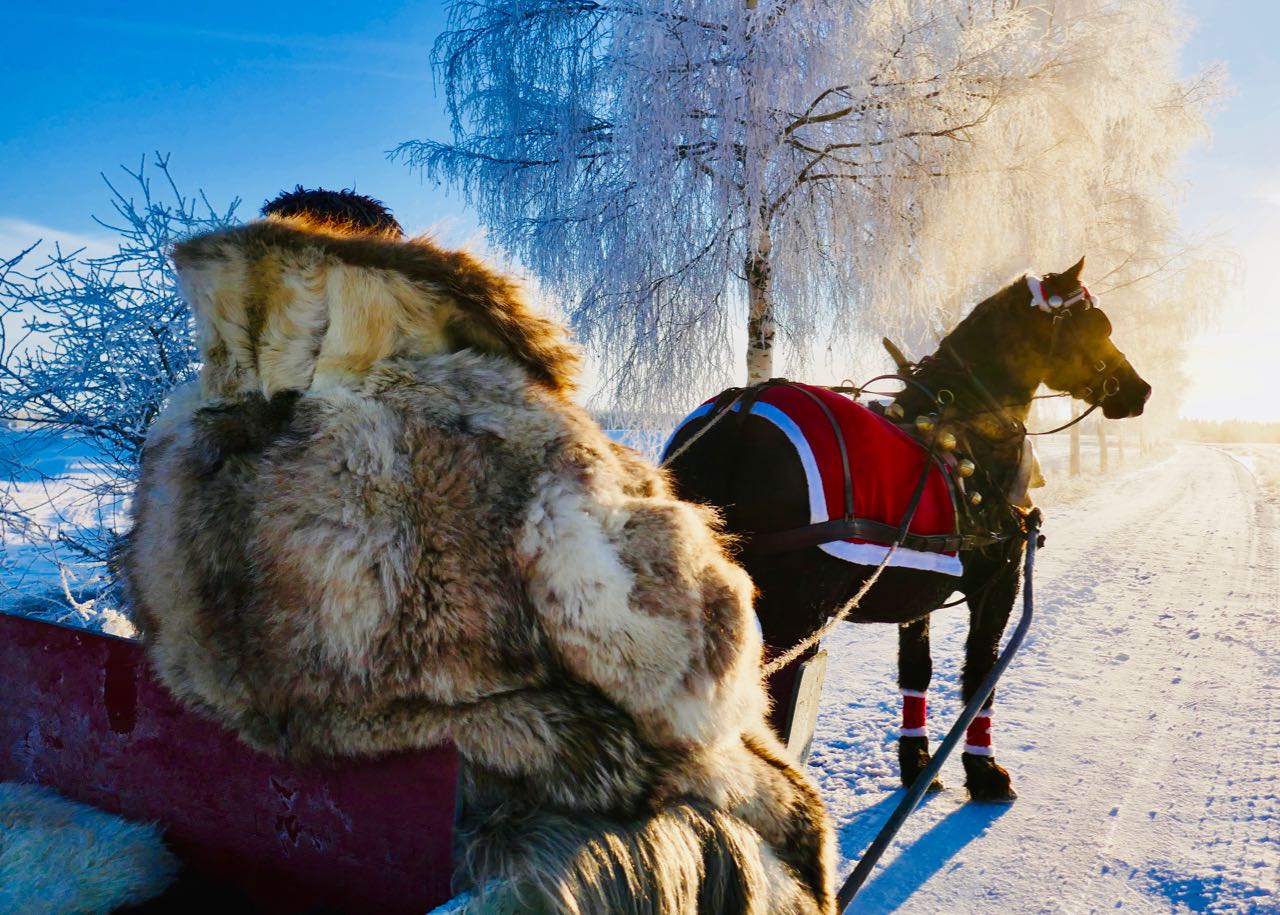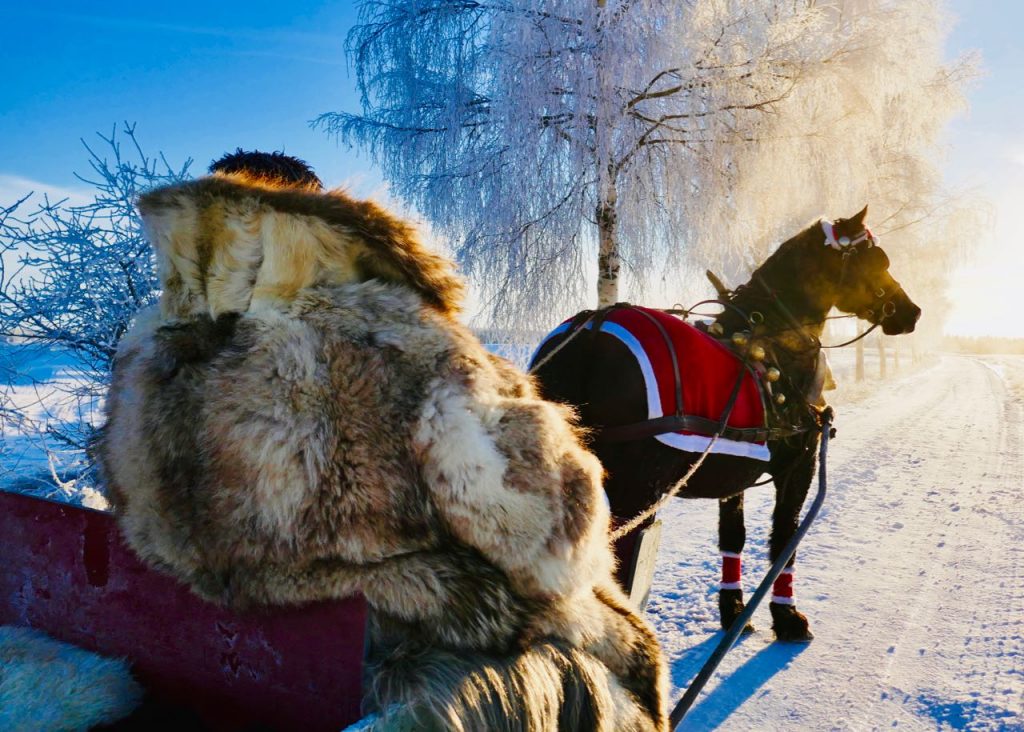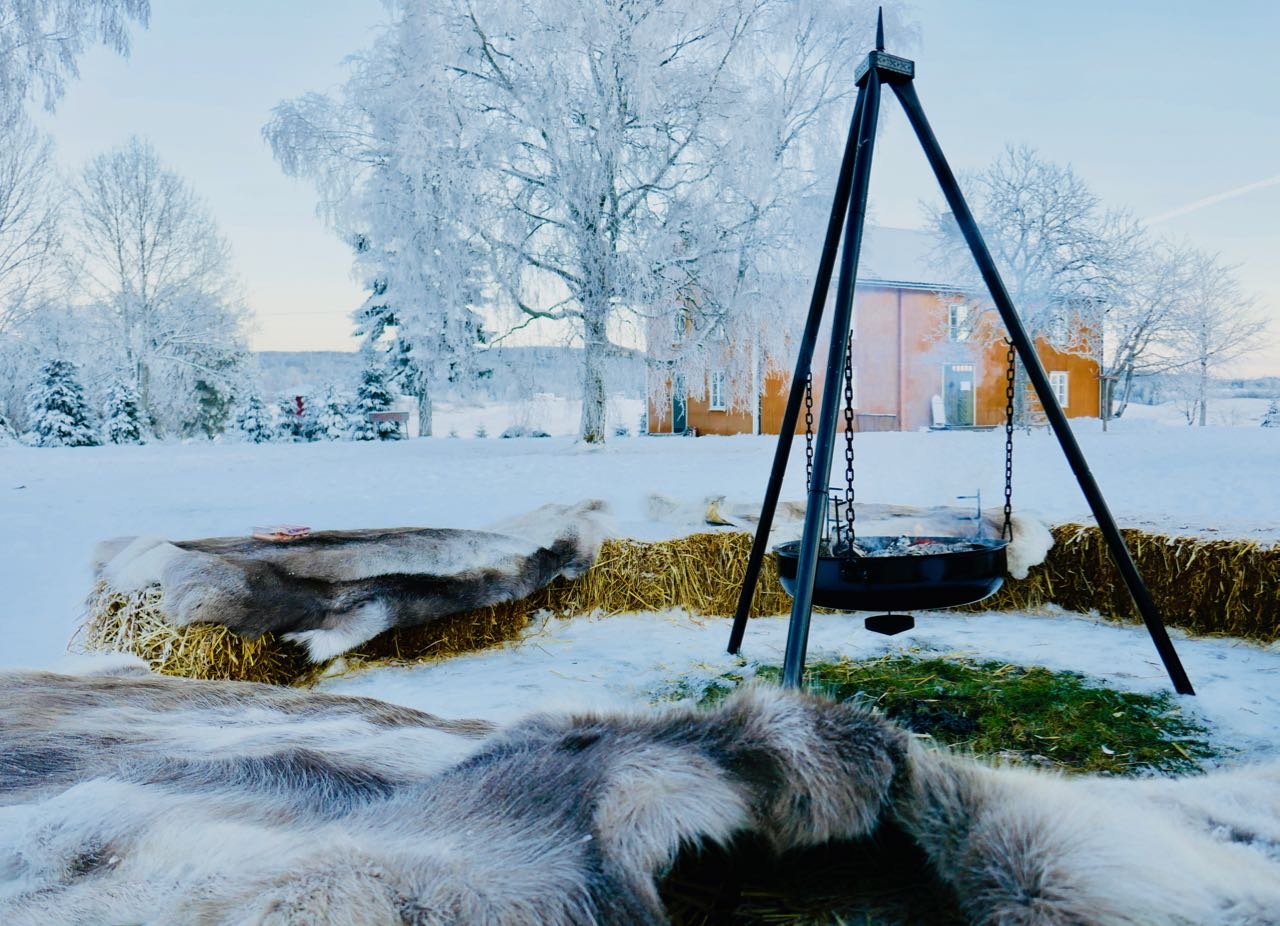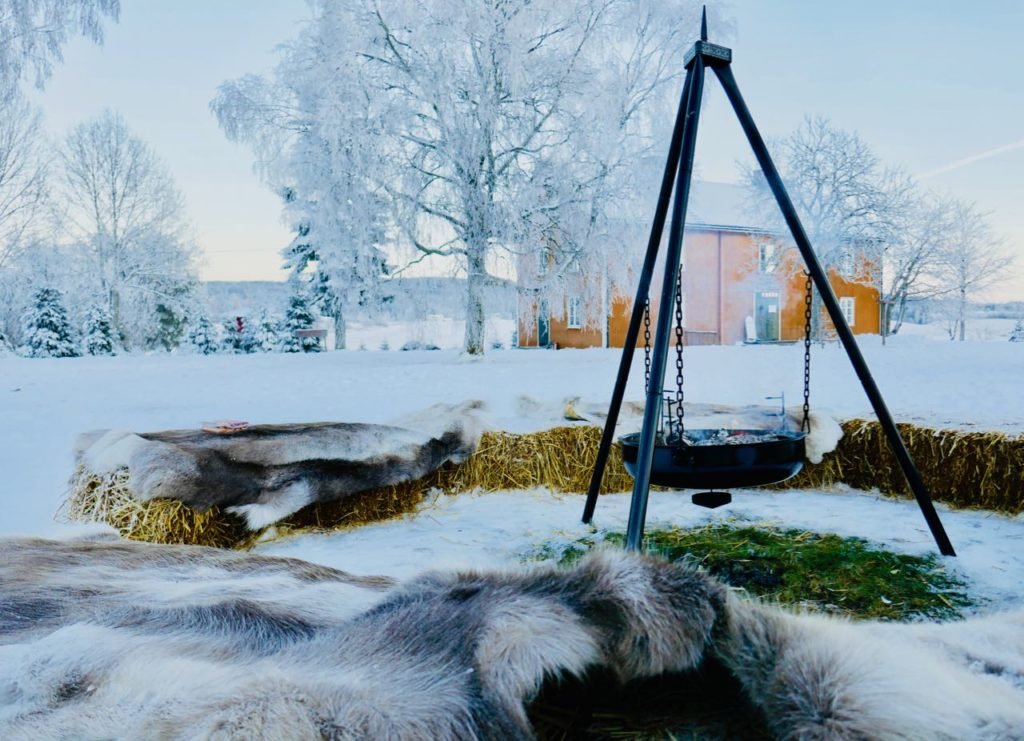 *None of the places we visited knew that they could be featured on our blog, and we did not receive any special discounts.

You might also like: