Last updated June 2023
Despite the fact that we have only visited Australia once, the country has already managed to become one of our absolute favorite places on earth. During the four weeks we spent "Down Under," we had an incredible number of wonderful experiences. Among our fondest memories are meeting the amazingly cute kangaroo-babies at The Kangaroo Sanctuary, staying at a luxury lodge inside the rainforest, and last but not least a 10-day road trip we took starting in Cairns. This trip was so great, we are planning to go back and drive the exact same route again!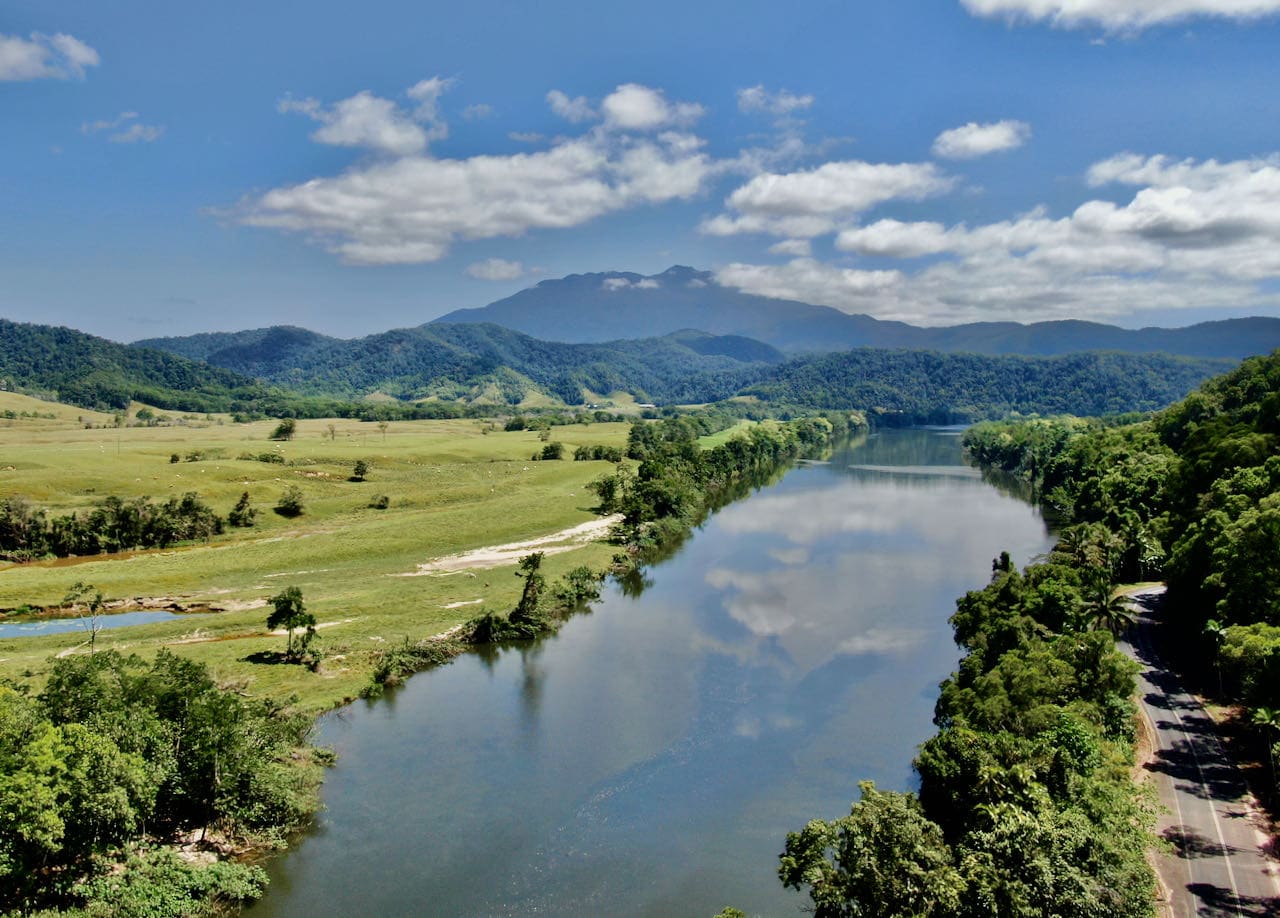 Cairns is located on the north-east coast of Australia and is one of the cities closest to the Great Barrier Reef, making it a very popular tourist destination. What is not so well known, however, is that the areas around the reef and city offer a wide range of exciting activities on land as well. With a rental car and 1-2 weeks at your disposal, you can make the acquaintance of spectacular Australian wildlife, hike in one of the world's oldest tropical rainforests with an Aboriginal guide, enjoy some divine freshly roasted coffee on a plantation, get a heart-warming tour of a bat hospital, and step back in time through a visit to a historic village.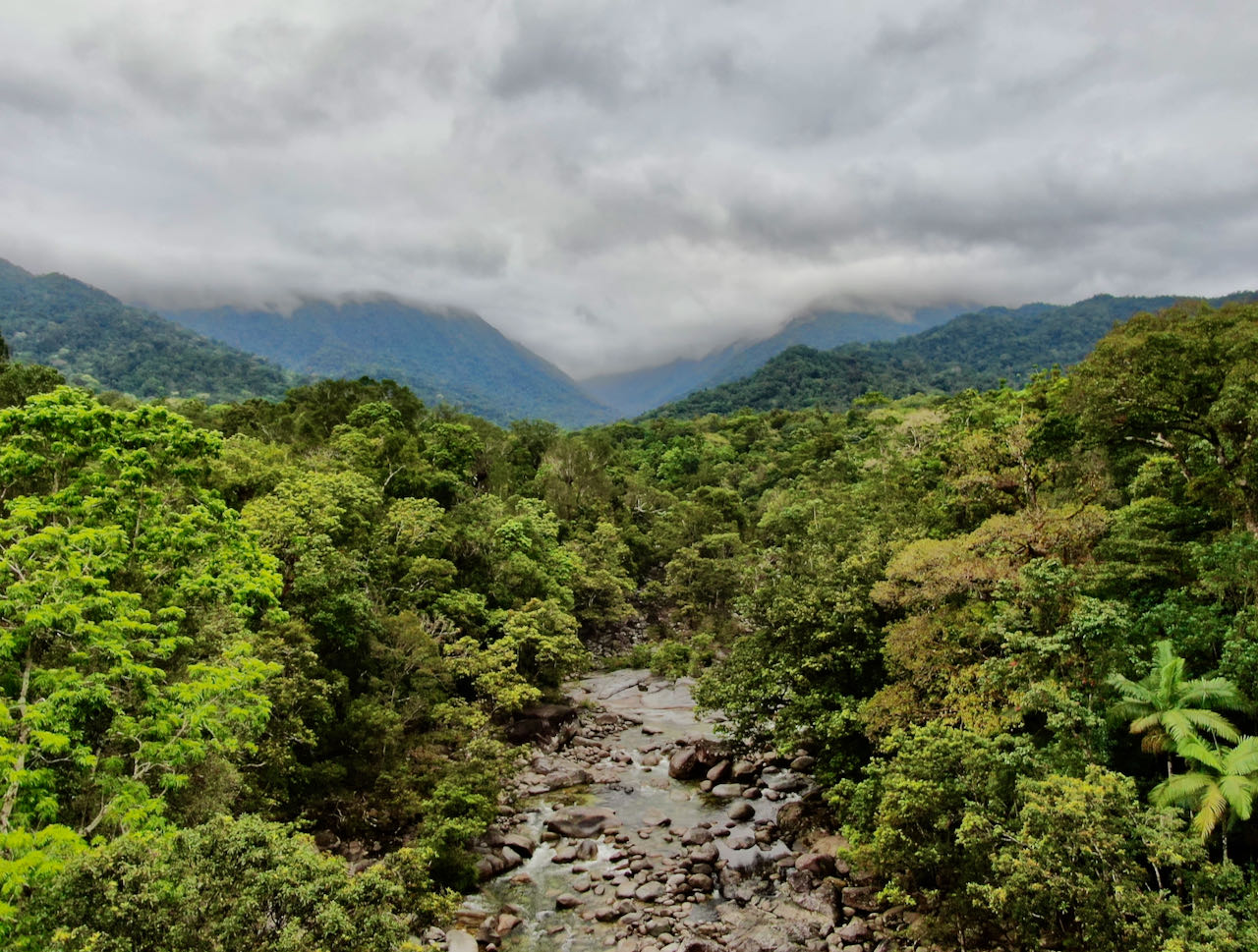 We had 10 days to explore the area, and since we are very fond of nature and wildlife, we planned a route focusing on exactly that. When we go on road trips, we prefer to drive short stints each day so that we have plenty of time to stop and experience as much as we can along the way. Our itinerary therefore covers relatively short distances.
Day 1: Drive from Cairns to Yungaburra in Atherton Tablelands
Day 2: Explore the Atherton Tablelands
Day 3: Drive from Yungaburra to Mossman
Day 4: Enjoy the stay at Silky Oaks Lodge
Day 6: Drive from Mossman to Daintree
Day 7: Take a day trip to Cape Tribulation
Day 8: Drive from Daintree to Port Douglas
Day 9: Go snorkeling at the Great Barrier Reef
Day 10: Drive from Port Douglas to Cairns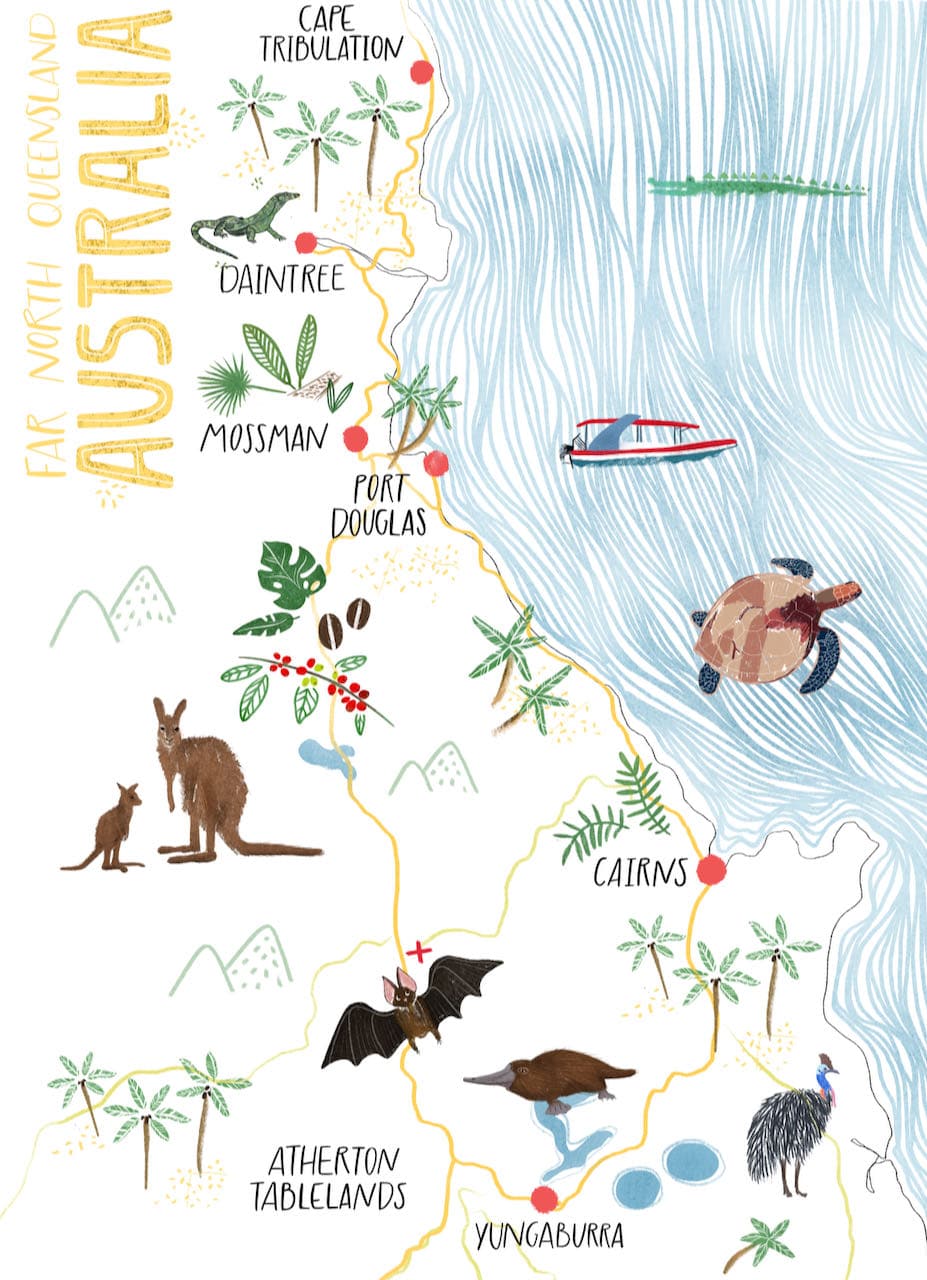 Below is a more detailed overview of where we drove and what we experienced each day. All distances are driving distances and include detours to the stops/activities described.
Day 1: Drive from Cairns to Yungaburra in Atherton Tablelands – approx. 80 kilometers
Stops / activities:
Lake Barrine Rainforest Cruises & Teahouse
Lake Eacham
Curtain Fig National Park
Peterson Creek
Blue Summit Hideaway
Accommodation:
Blue Summit Hideaway
We started the day by picking up our rental car at the airport in Cairns. From the airport, we drove south before turning inland towards Atherton Tablelands.
Our very first stop was at Lake Barrine, specifically at Lake Barrine Rainforest Cruises & Teahouse. We had hoped to go on a cruise on Lake Barrine, but unfortunately we arrived on a public holiday and therefore no boat trips were being offered.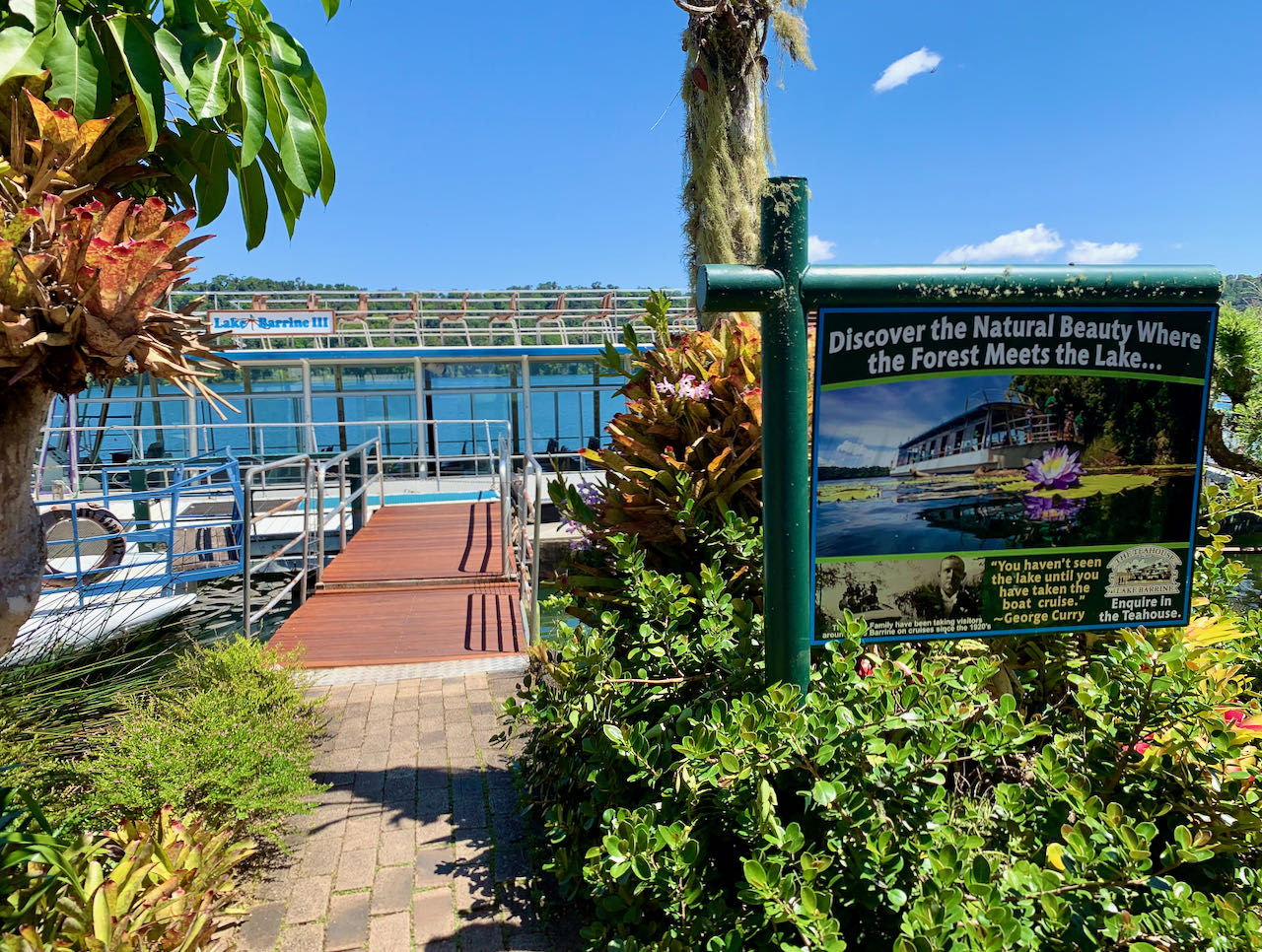 Luckily the café was open, and we enjoyed a delicious Devonshire Tea instead. This consisted of tea or coffee as well as scones with cream and jam. The scones were homemade using a recipe from 1926 and were obviously very popular since the queue at the checkout snaked through almost the entire charming, old-fashioned venue. Despite the fact that there were many guests at the teahouse that day, we were lucky and found a vacant table out on the porch overlooking the water.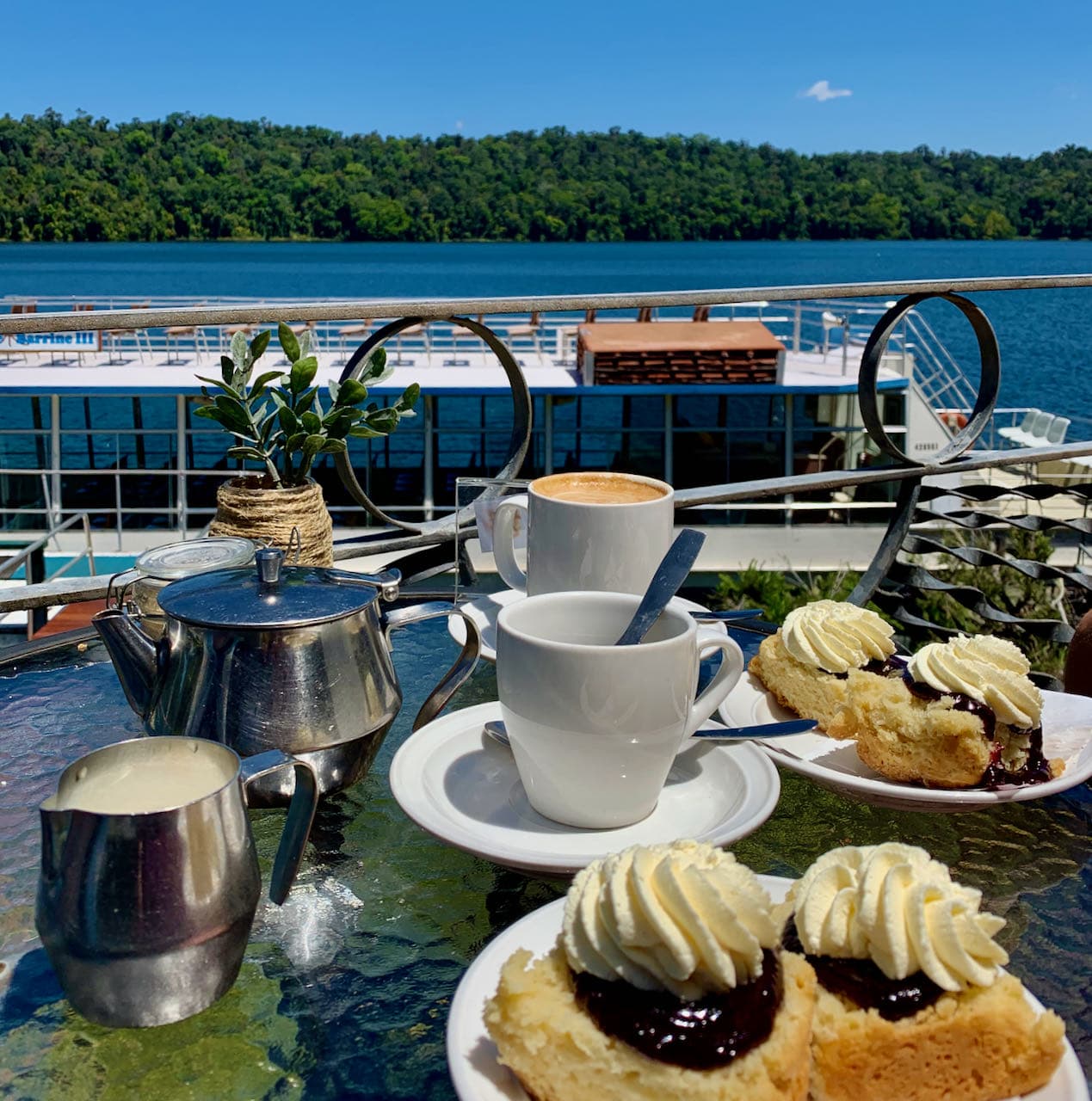 Lake Barrine is an ancient volcanic crater which over time has filled with water, and the result is a beautiful lake surrounded by rainforest. It is possible to walk around the entire lake on a path that is approximately 5 kilometers long. However, we just went for a little stroll in the teahouse garden.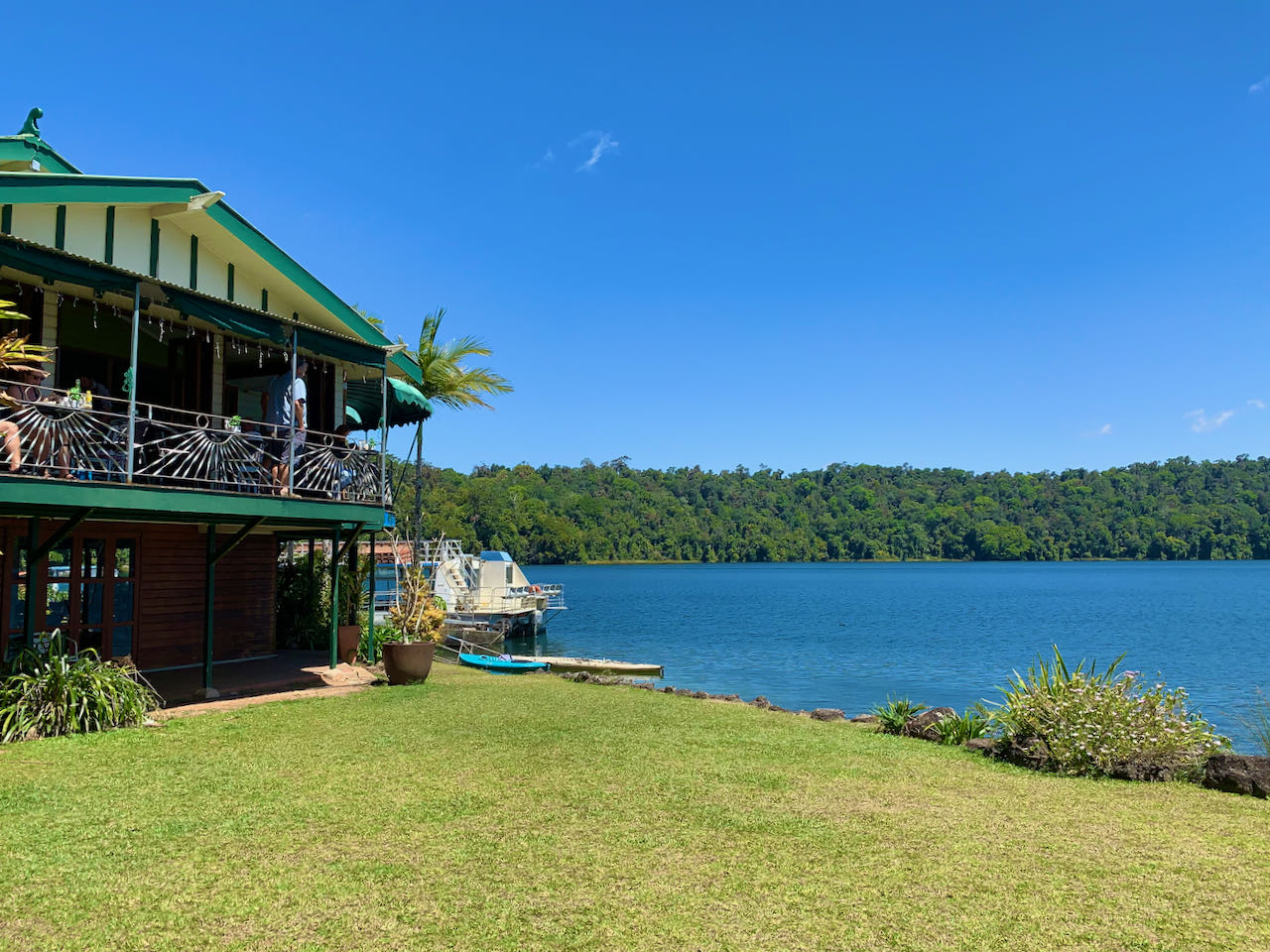 Link to Lake Barrine Rainforest Cruises & Teahouse
Link to more information about Lake Barrine
The next stop was at another crater lake, Lake Eacham. Both Lake Barrine and Lake Eacham belong to Crater Lakes National Park, with hiking trails around both. The one around Lake Eacham is approximately 3 kilometers long — we walked parts of it while admiring the sight of the beautiful blue-green water.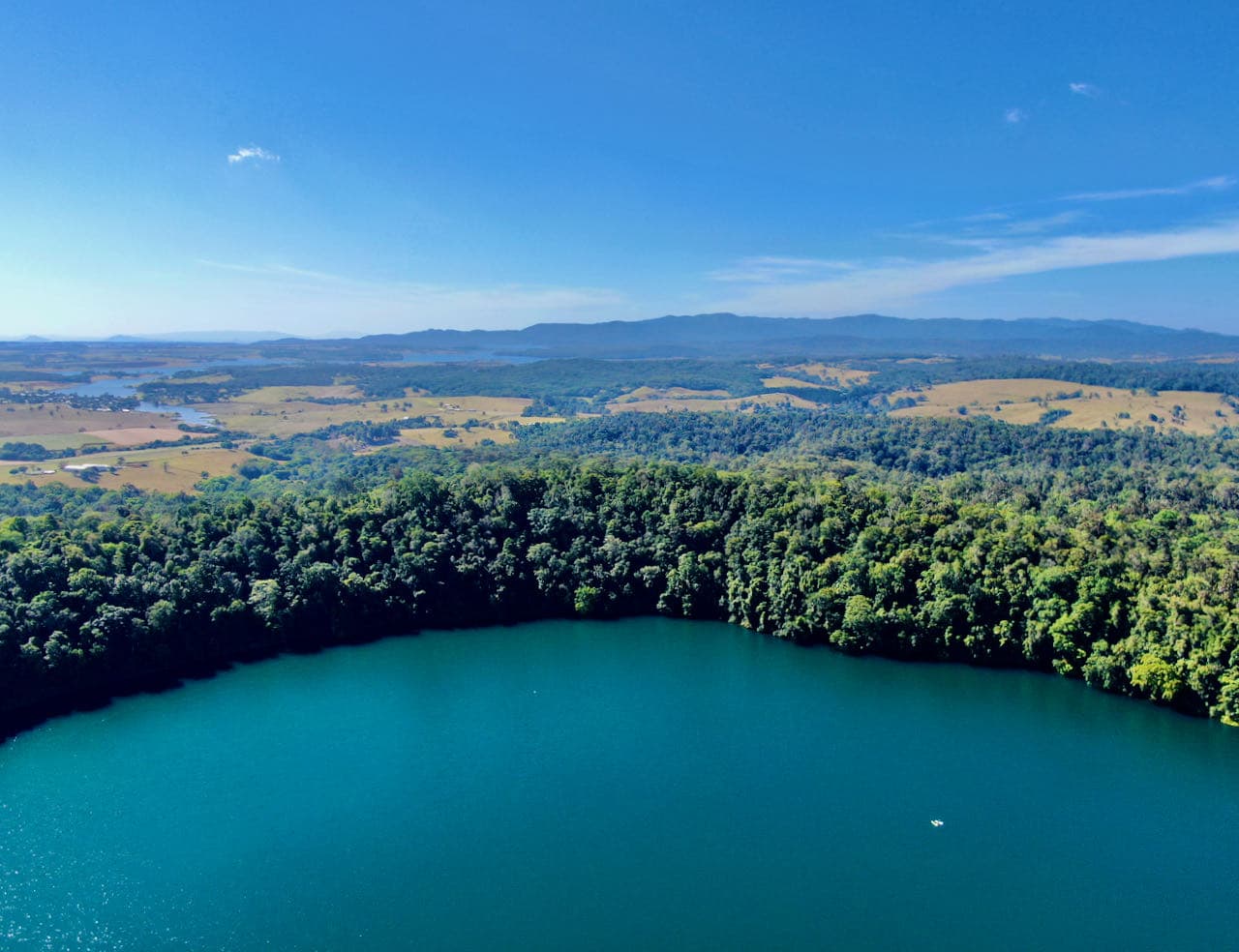 Lake Eacham was teeming with life, and many people were enjoying canoeing, picnicking, and swimming. It was definitely tempting to go for a swim but a sign warning against a freshwater crocodile that lived in the lake made us keep our toes out of the water 🙂
Another creature we were on the lookout for was the cassowary. These large, ostrich-like birds can be spotted in the area if you are lucky, but unfortunately we did not see any.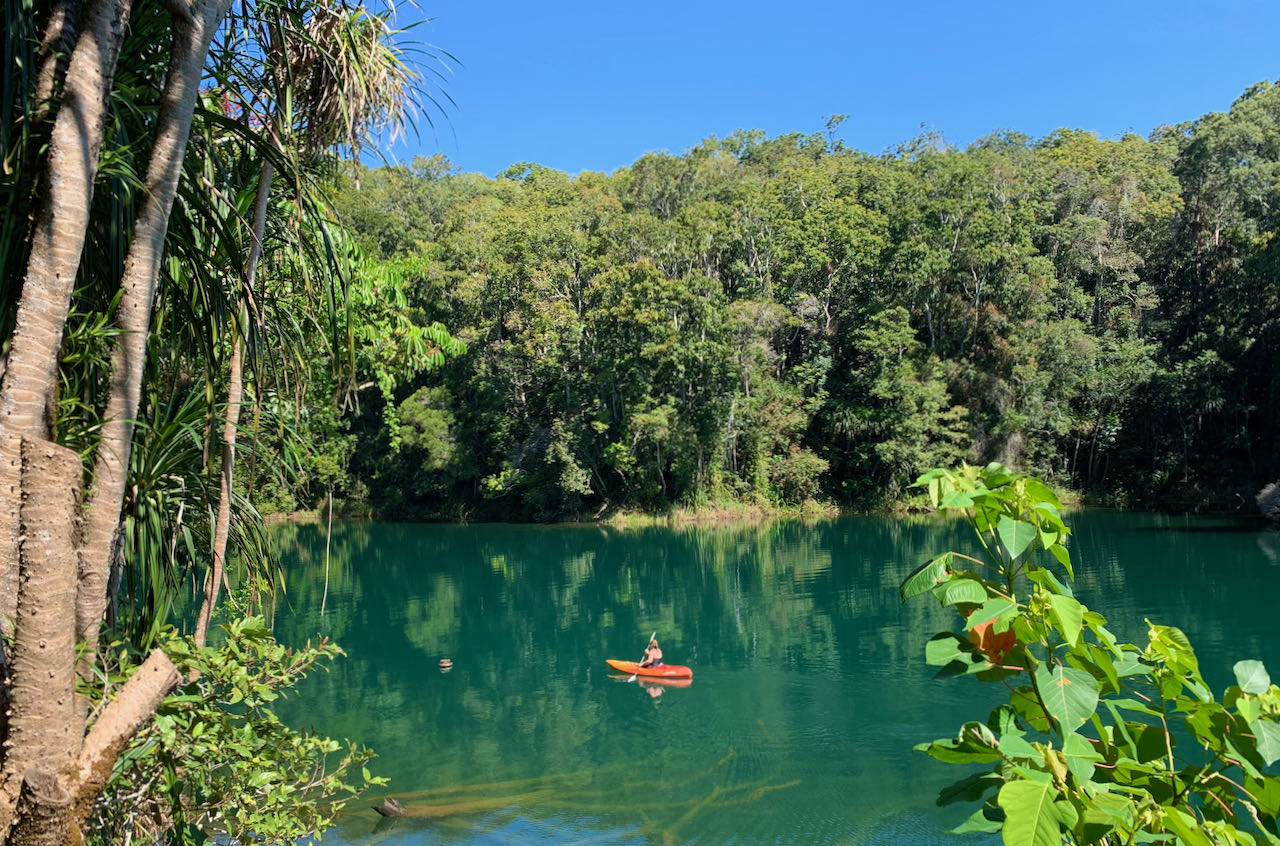 Link to more information about Lake Eacham
Curtain Fig National Park is only a 10-minute drive from Lake Eacham, and it is definitely worth making a short stop to see the huge fig tree that grows there. The 500-year-old tree is less than 200 meters from the parking lot, and the short walk is rewarded with a sight that's quite out of the ordinary.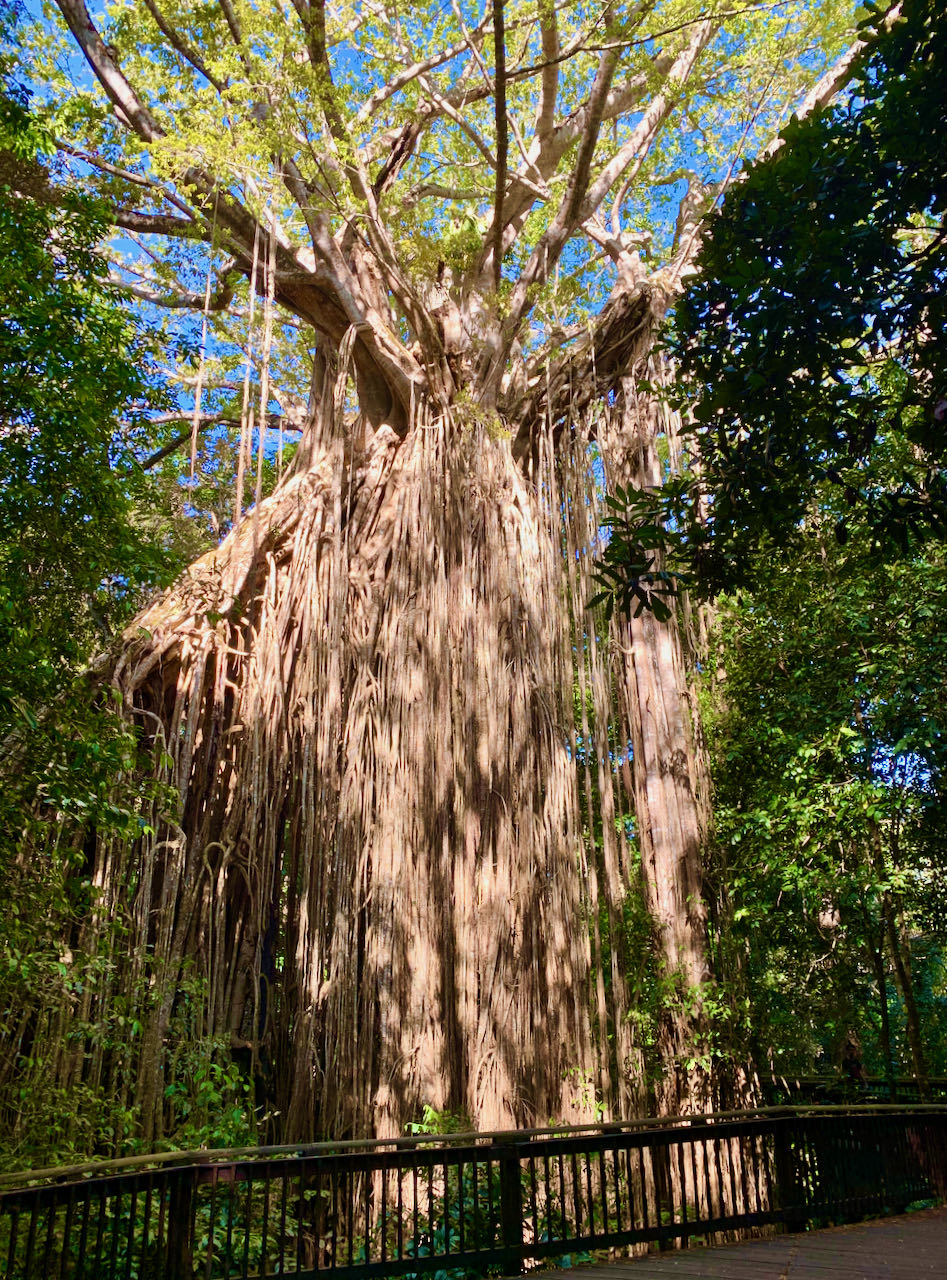 Link to more information about Curtain Fig National Park
The last activity of the day was to search for platypuses. These aquatic mammals are only found in Australia, and one of the places there is a good chance of seeing them is in Peterson Creek in Yungaburra. We parked the car at the overnight accommodation, Blue Summit Hideaway, and strolled the short distance to the creek.
Platypuses are most active at sunrise and sunset, so it was perfect timing that it was about to get dark as we got there. By the creek there was an observation platform and a path along the water. Since the platypus is very shy, we tried to be as quiet as we could. To our great disappointment, the creatures, which resemble a duck from the front and a beaver from behind, were nowhere to be seen.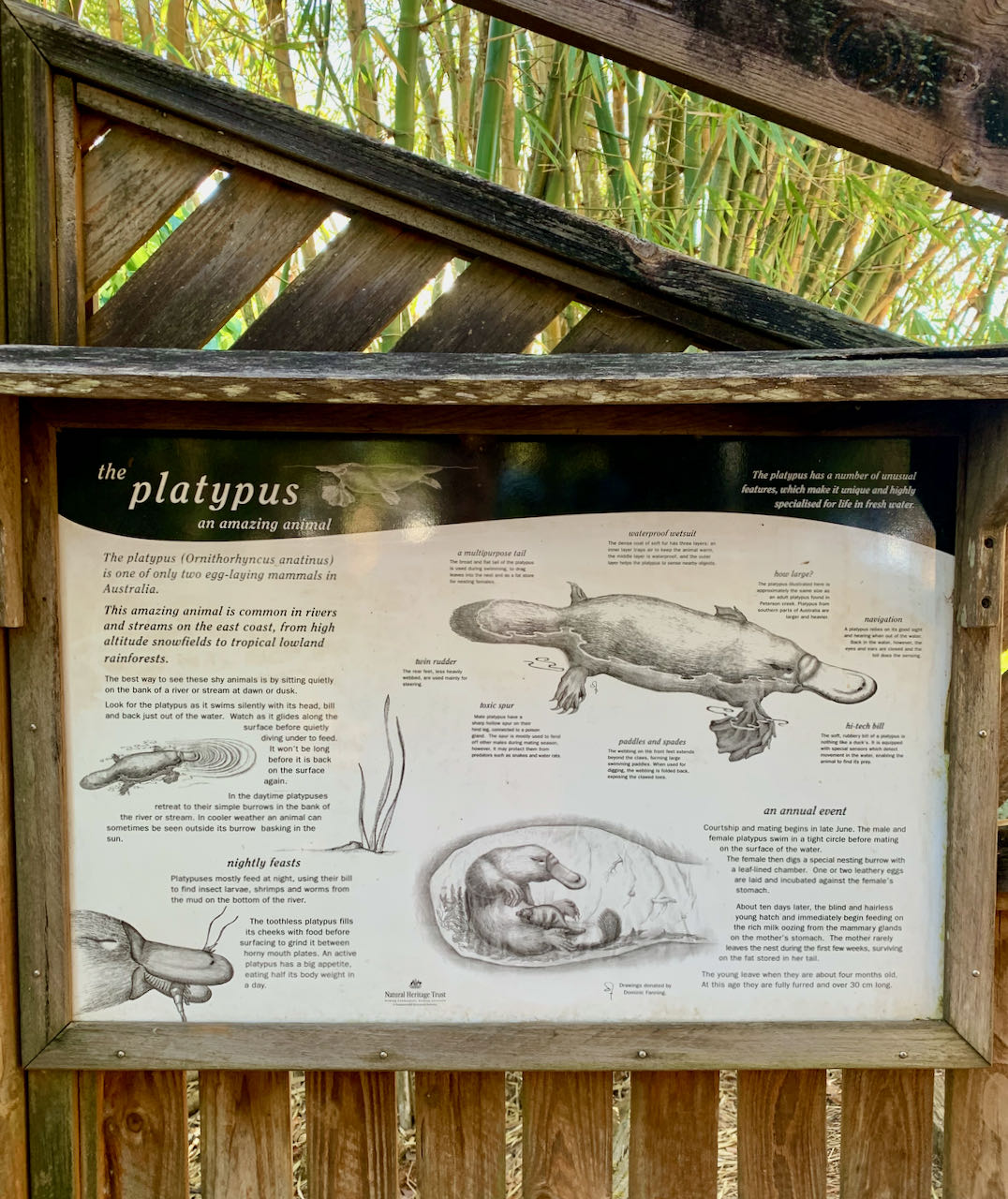 We spent the two next nights at Blue Summit Hideaway, a nice accommodation with clean and neat rooms. The only thing it lacked was a heat source that did not make as much noise as the electric wood stove in the room. We were surprised at how cool it was in Atherton Tablelands in the evening.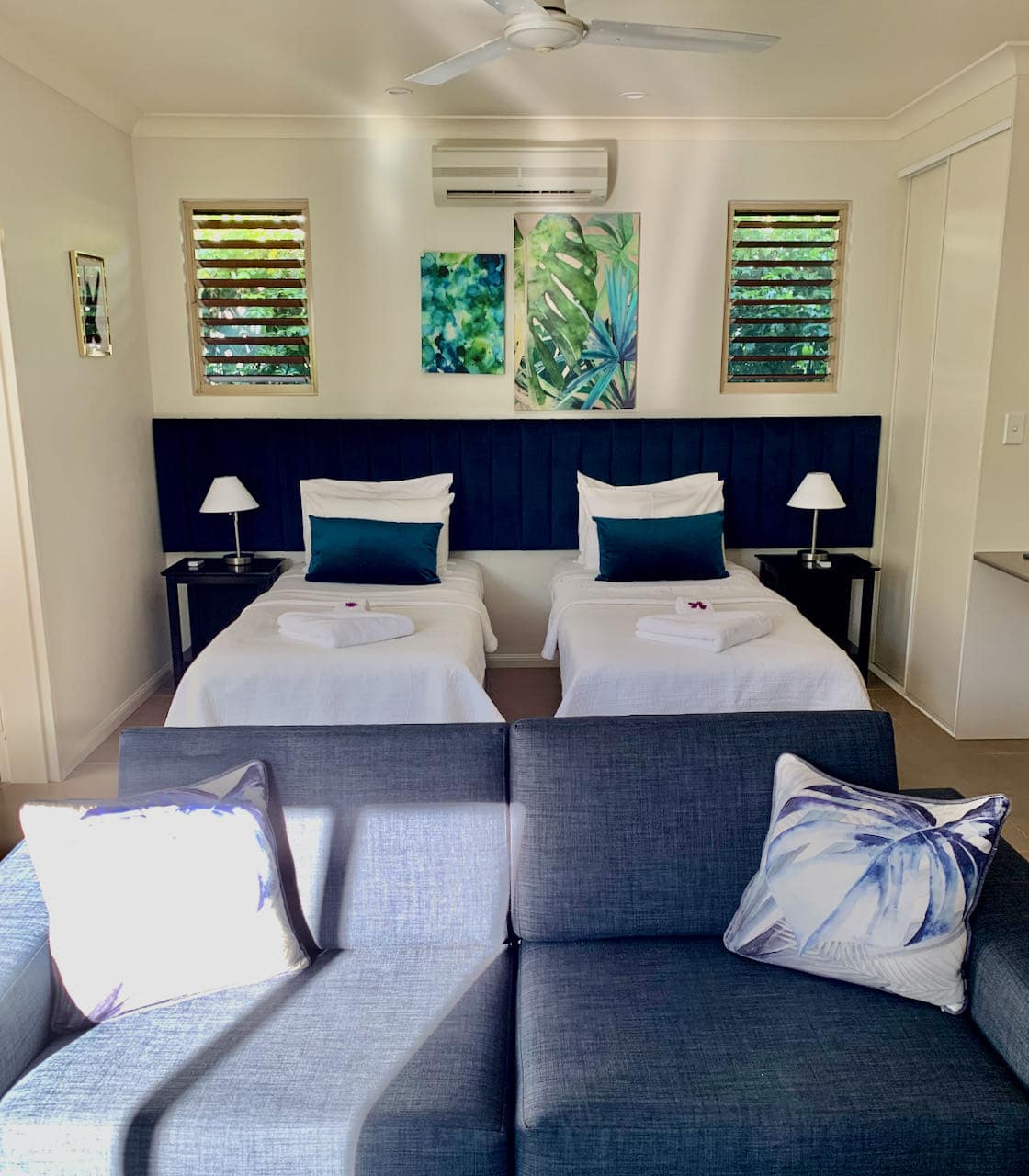 Day 2: Explore the Atherton Tablelands – approx. 60 kilometers
Stops / activities:
Gallo Dairyland
Historic Village Herberton
Tolga Bat Hospital
Accommodation:
Blue Summit Hideaway
The next morning, we decided to have breakfast at the dairy farm Gallo Dairyland. Gallo Dairyland has a café, cheese factory, and animal nursery. Visitors can also watch milk demonstrations and shop for gourmet cheeses and chocolate.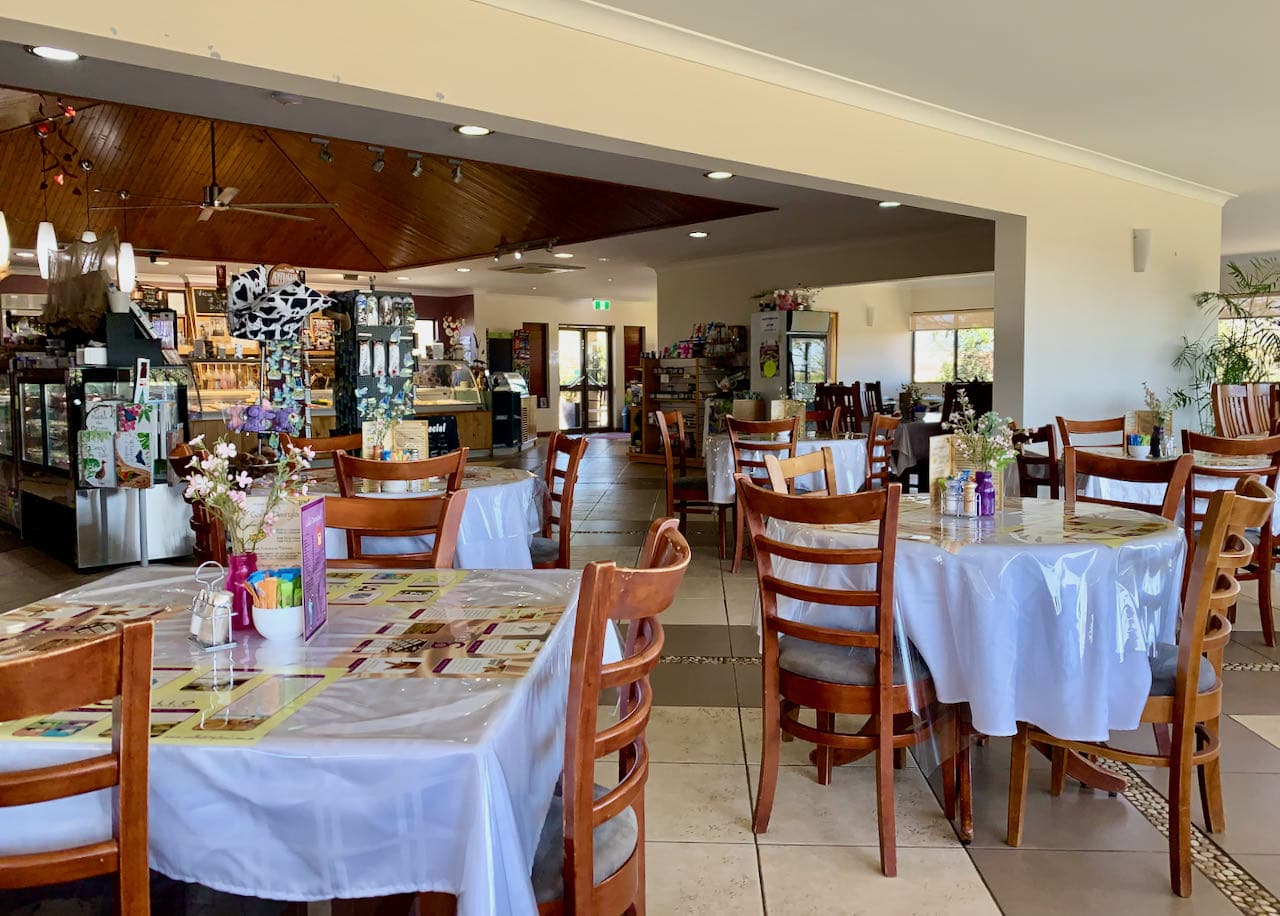 We ate a rustic but tasty meal in the cozy café with wildflowers on the tables, and a slight hint of barn smell made the experience very authentic. After breakfast we went for a walk on the farm to say hello the animals, before we took a look inside the cheese and chocolate shop. When we saw that they sold koala-bear-shaped chocolate, it was impossible not to buy a few.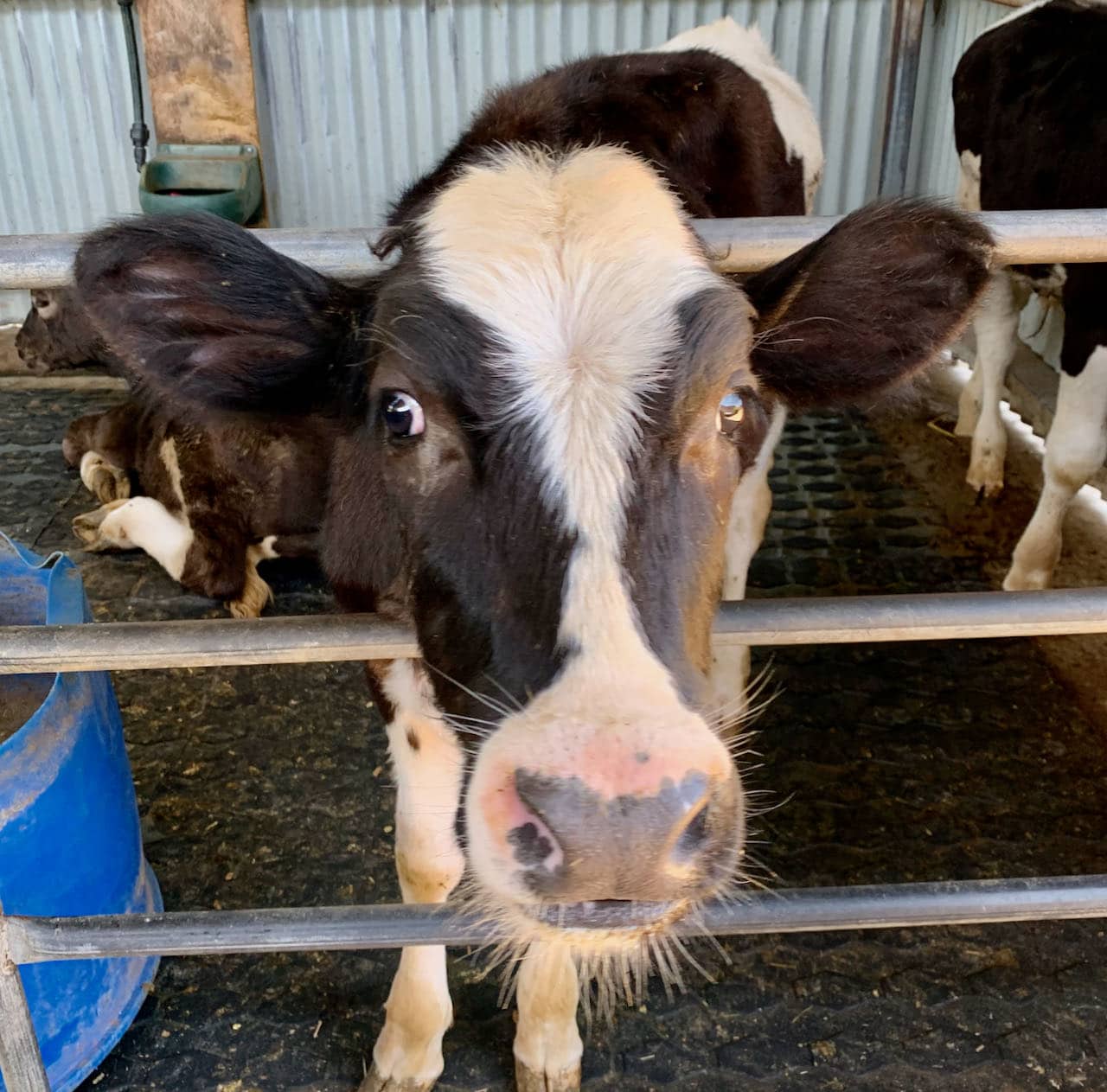 With full stomachs, we then took a trip back in time at the Historic Village Herberton. This charming outdoor museum consists of more than 60 original buildings that date back to its days as a mining town. Walking around here felt like being on a movie set with old shops, workshops, vintage cars and tractors, a school, a pub, a bank, and a café that sold refreshments.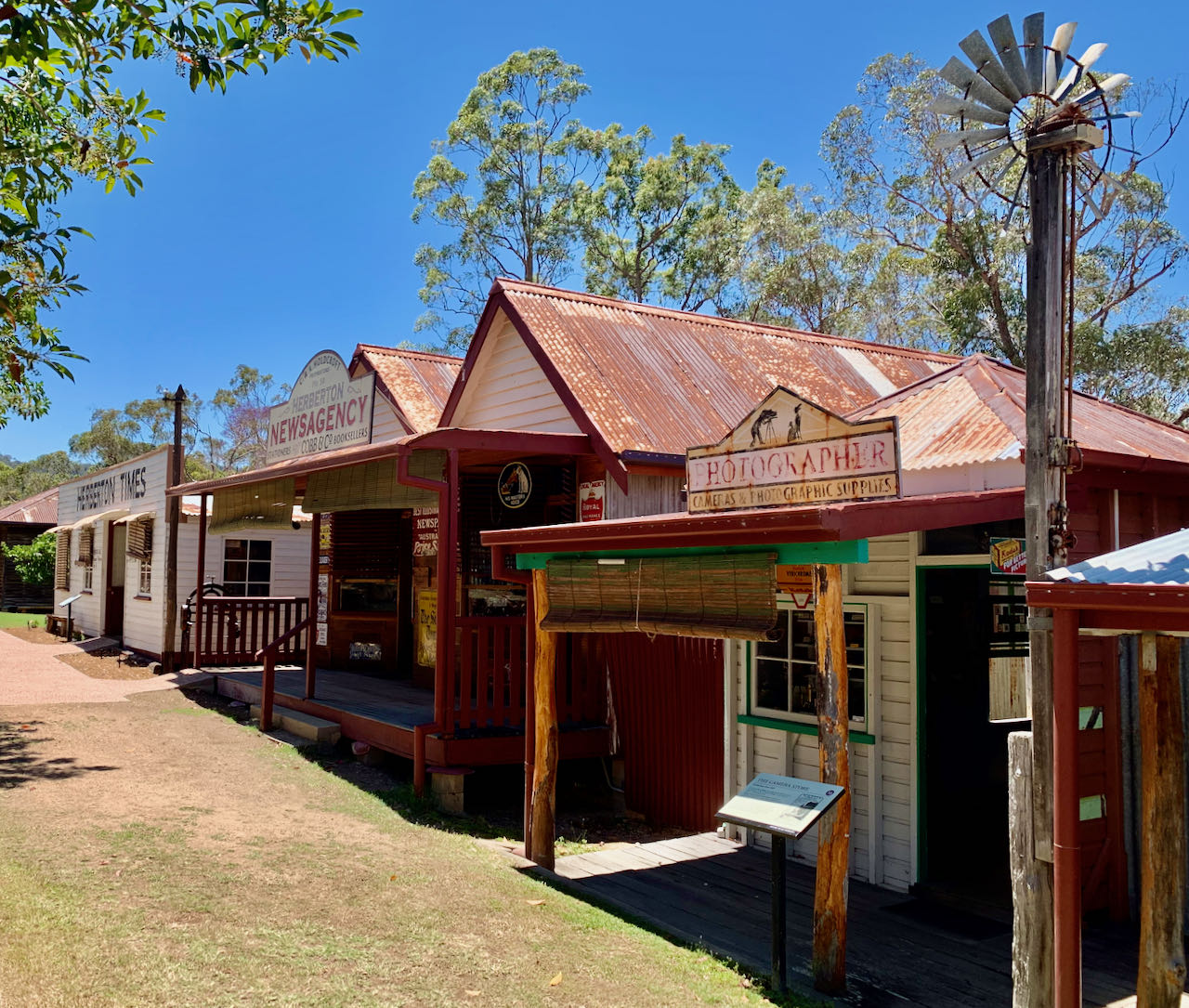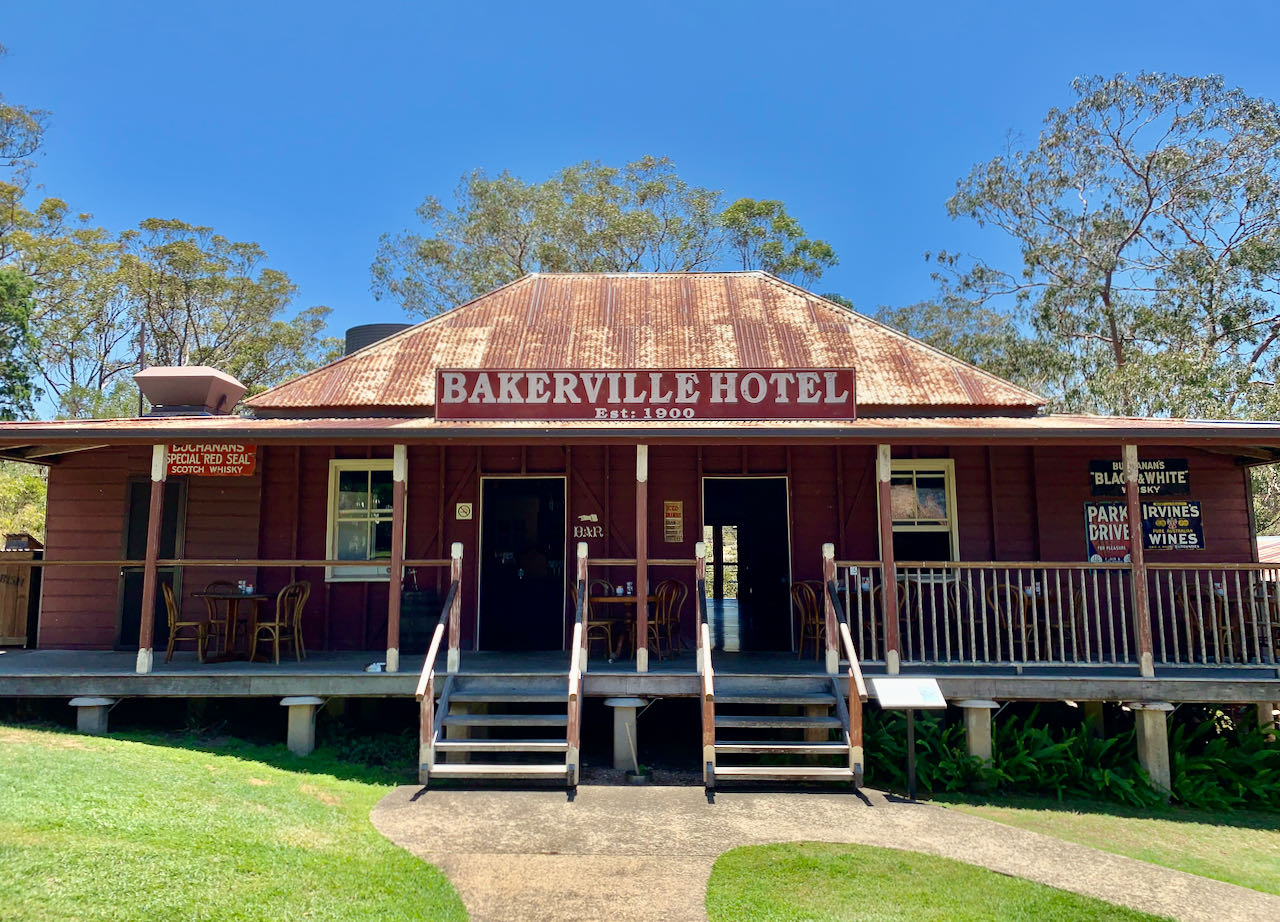 Most of the buildings in Herberton are located on one side of the river, but one should also take the trip over the suspension bridge to look around on the other side. Here you will find a strange mix of scrap heaps and works of art that are difficult to describe. It simply has to be experienced. We had a great time in Herberton and spent much longer here than we had originally planned to. In other words, a visit here is something not to be missed.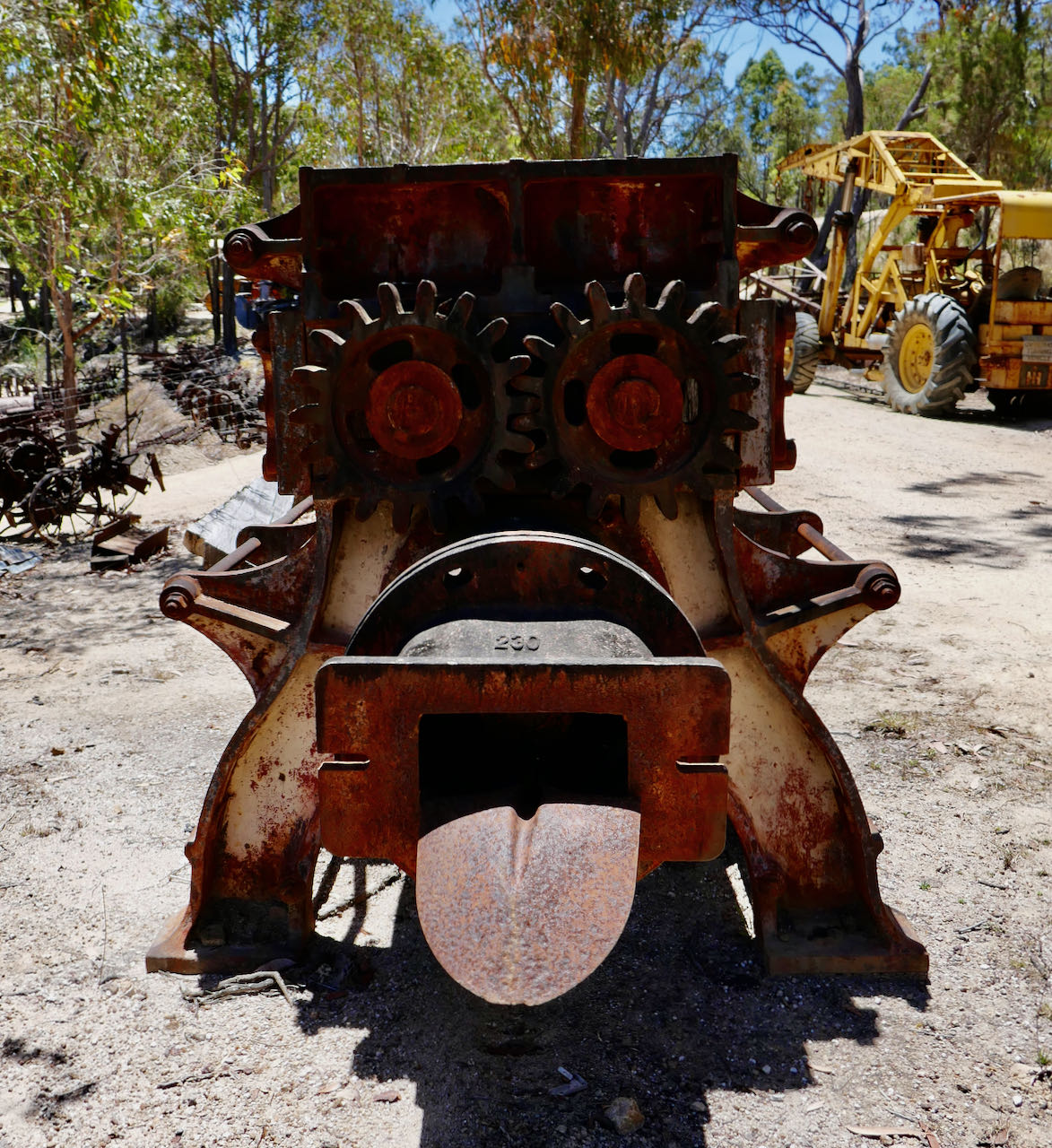 Link to Historic Village Herberton
The last stop of the day, Tolga Bat Hospital, also surprised us in a very positive manner. We must admit that we walked in feeling a little apprehensive of the stealthy, sharp-toothed creatures, but after the tour of the bat hospital, our fear crystallized into fascination. The tour was extremely interesting and informative, and we certainly did not expect to be totally charmed by the furry bat babies. Tolga Bat Hospital receives visitors all year round, but you must make an appointment in advance.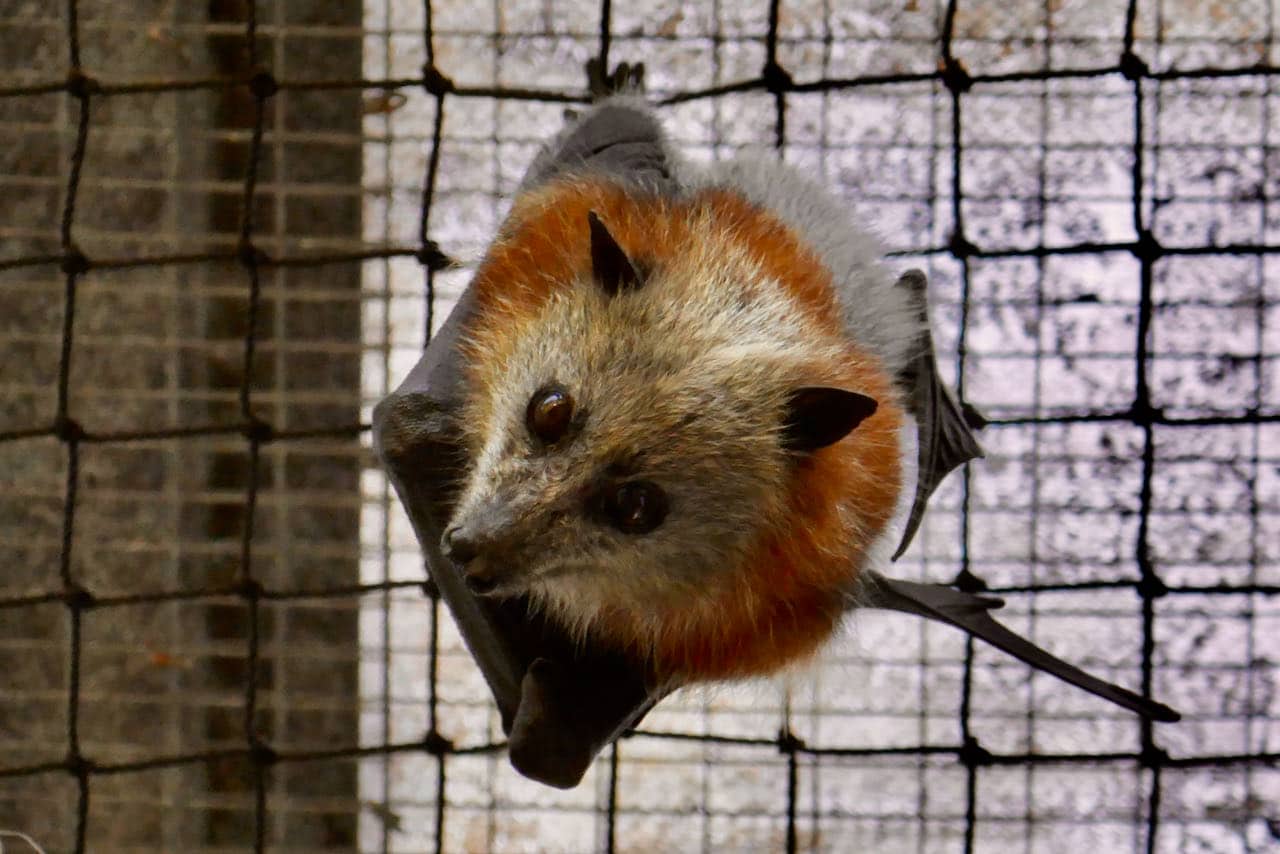 READ MORE: From fear to fascination – a visit to Tolga Bat Hospital
Day 3: Drive from Yungaburra to Mossman – approx. 140 kilometers
Stops / activities:
Jaques Coffee Plantation
Mount Molloy
Mossman Mount Molloy Road Lookout
Silky Oaks Lodge
Accommodation:
Silky Oaks Lodge
The plan for this day was to drive from Yungaburra to the luxury accommodation Silky Oaks Lodge located in the rainforest at Mossman. On the way we stopped at Jaques Coffee Plantation, where we did a coffee tour consisting of a documentary and a self-guided walk on the plantation.
The documentary was informative, but a little too politically angled for our liking. After the film, we strolled around the plantation a bit, but did not find very many interesting things to look at. Perhaps the longer tour option with a guided walk on the property would have been more exciting.
A cup of coffee and a taste of coffee liqueur was included in our ticket. We opted for a flat white and an iced latte which both were excellent. We didn't really feel that the tour was worth the money, but we would happily stop here again just for the coffee.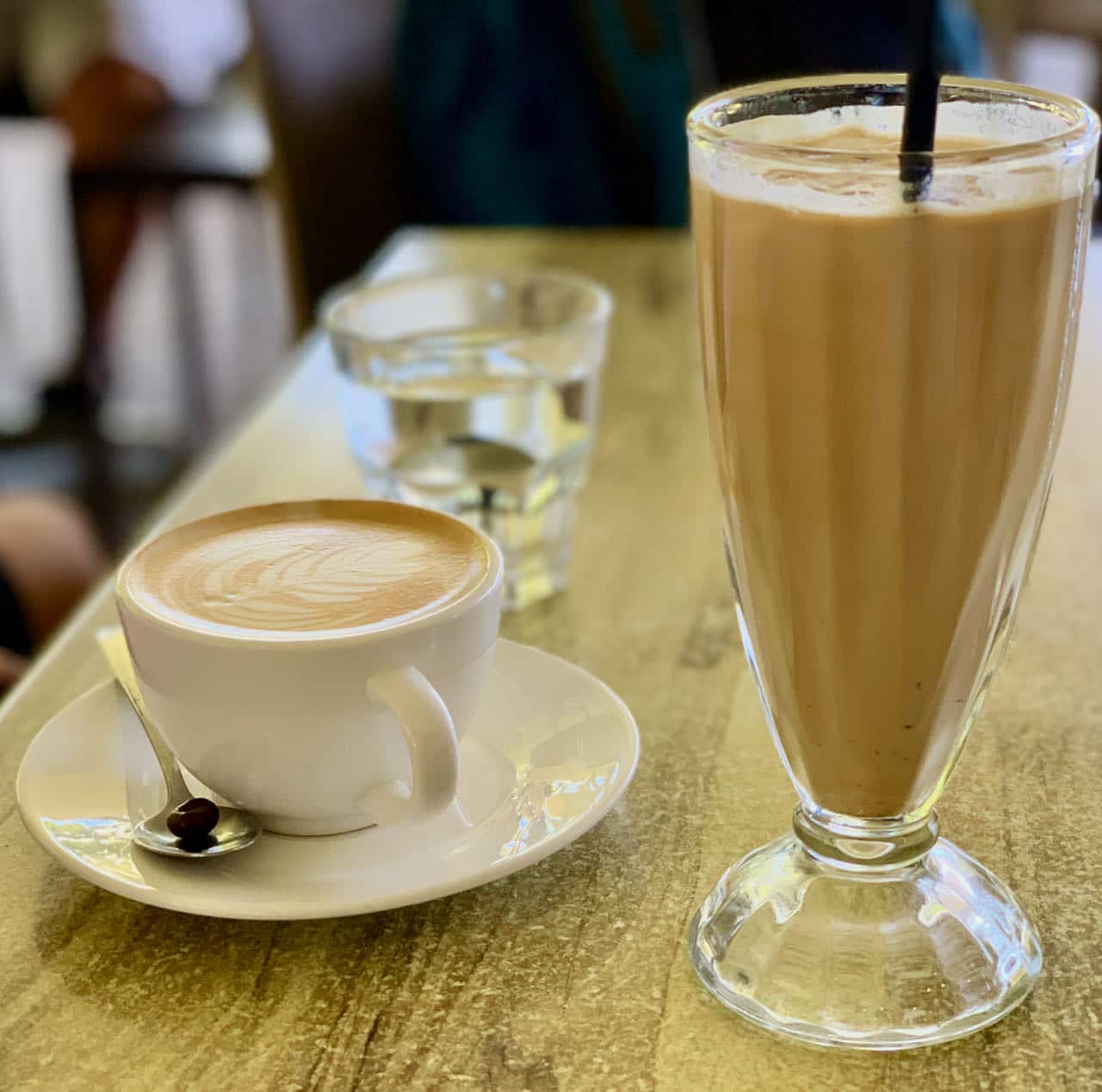 Link to Jaques Coffee Plantation
On the way to Mossman we passed the tiny town of Mount Molloy. We had planned to have lunch at the pub of the traditional Mt Molloy National Hotel. Unfortunately we arrived right after the lunch service ended. This was a shame, because the hotel looked like it had a very cool vibe.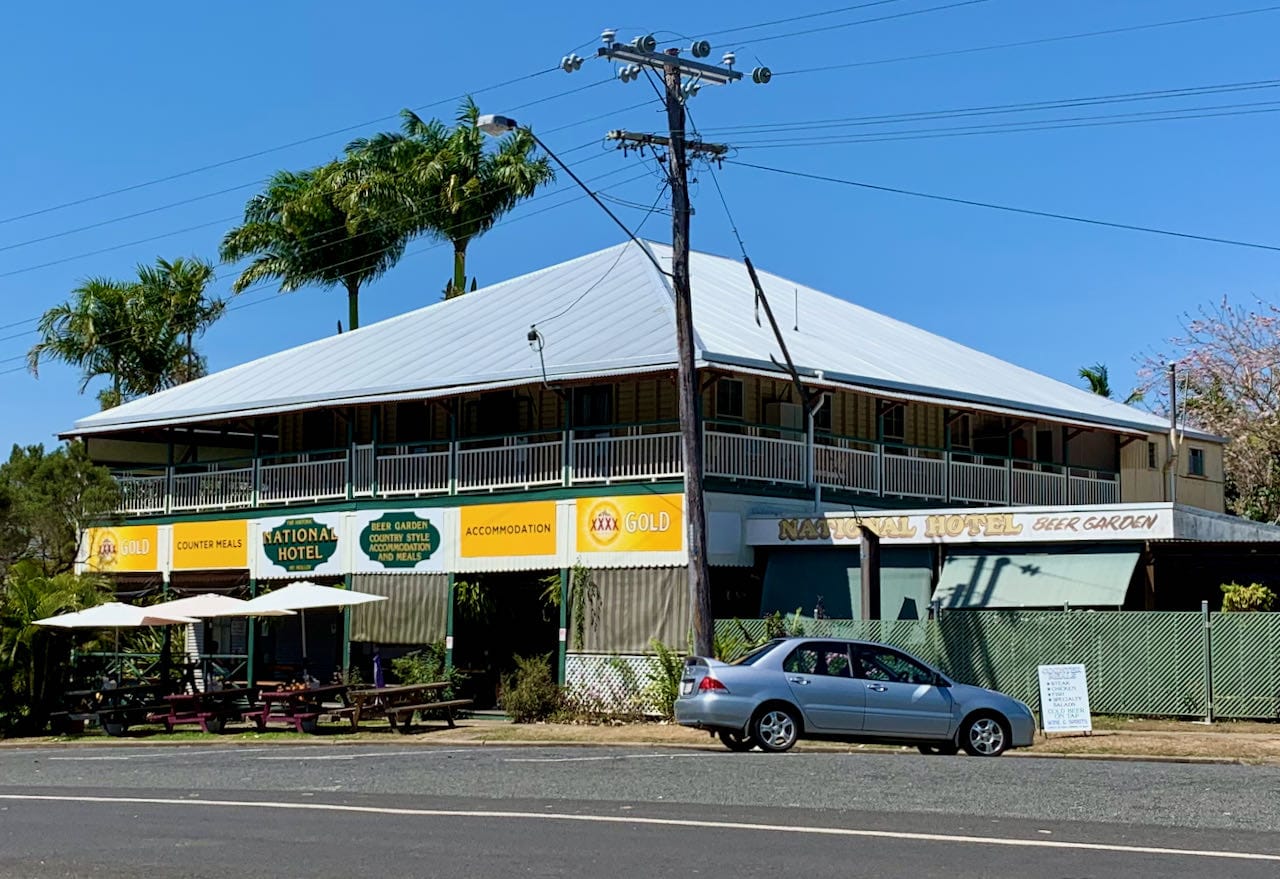 Link to Mt Molloy National Hotel
Instead, we ended up getting a couple of sandwiches from the local gas station, which we enjoyed while taking a closer look at the surroundings. Mount Molloy is an old timber and mining town, and it was fun to get a glimpse of the history there.
We were now approaching the coast again, as confirmed by the sight of the sparkling sea that met our eyes when we stopped at Mossman Mount Molloy Lookout.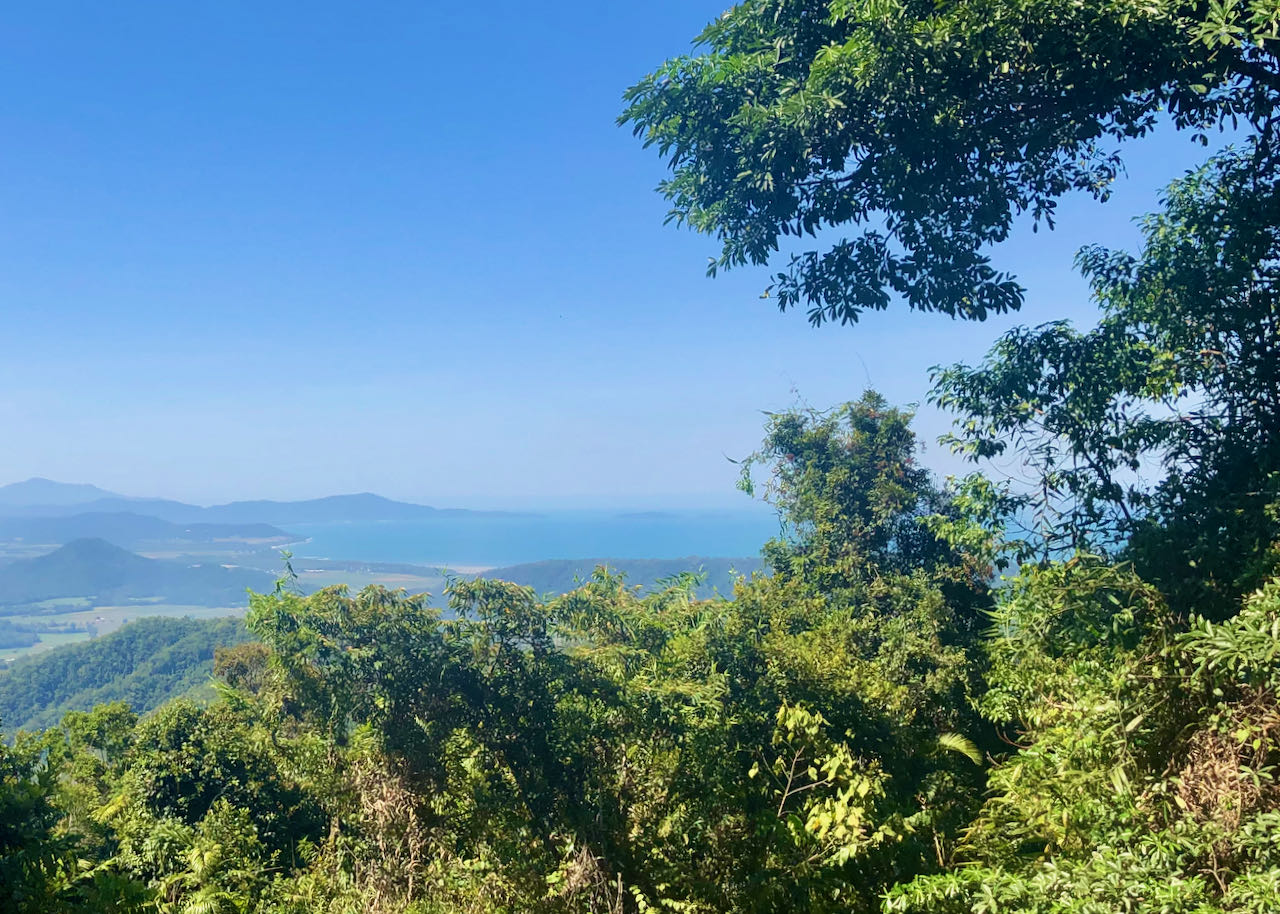 A little later we turned onto the road to Silky Oaks Lodge, located in the rainforest by Mossman River. Our expectations were high — but the stunning lodge met them, and then some!
We fell completely in love with the place, its incredible location, fantastic food, and super nice staff. We only spent three nights here, and in retrospect we wish we had booked our last two nights at Silky Oaks Lodge as well instead of at Daintree Ecolodge, which was our next place to stay.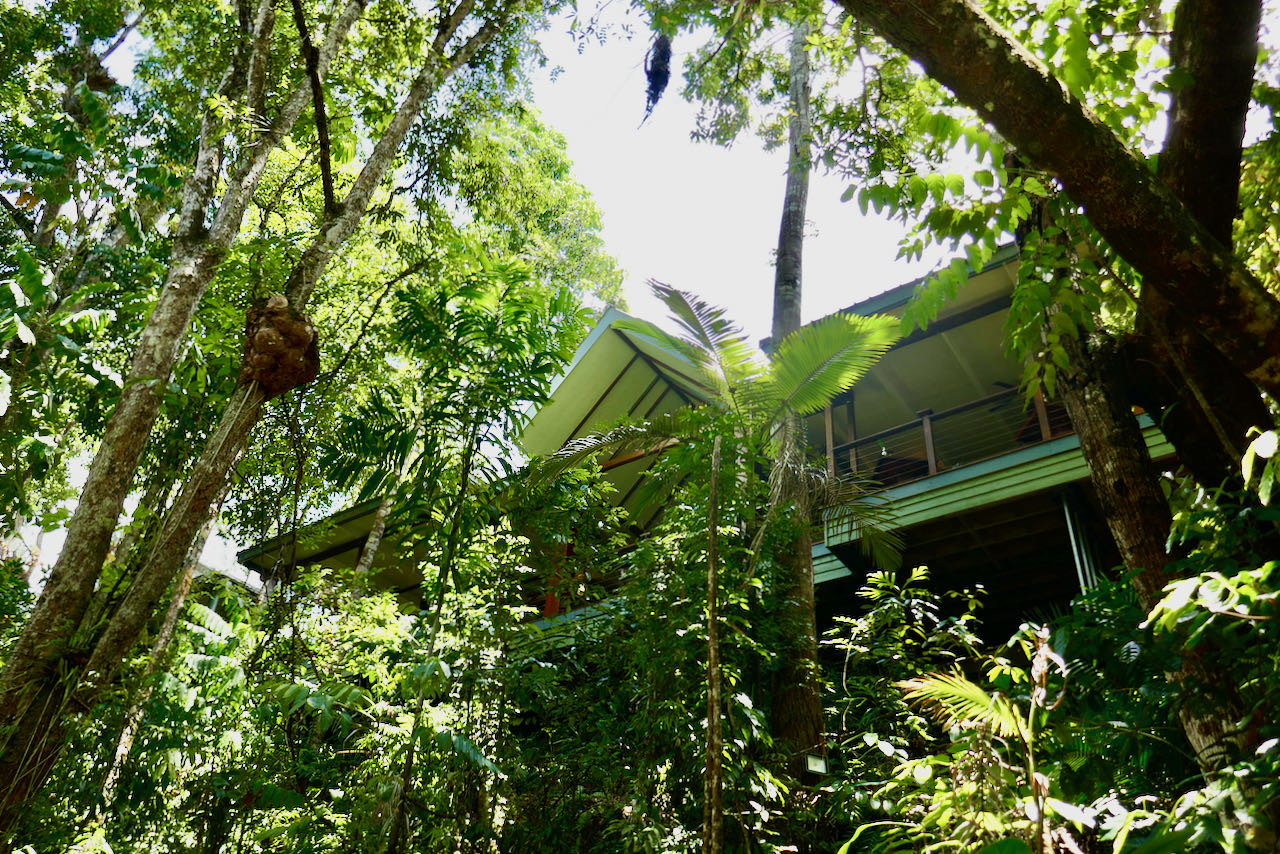 READ MORE: Review of Silky Oaks Lodge
Day 4: Enjoy the stay at Silky Oaks Lodge
Stops / activities:
Rainforest hikes
Kayaking
Snorkeling
Swimming
Spa treatments
Spending time in the hammock
Accommodation:
Silky Oaks Lodge
We had set aside day 4 to enjoy the area around Silky Oaks Lodge. We were very happy we had done so, because there were plenty of exciting things to experience near the lodge.
In short, we can mention the hiking trails, kayaking, snorkeling, and swimming (we liked the billabong called Beach Billabong the best). We also had a couple of wonderful treatments in the Healing Waters Spa. Last but not least, it was an experience in itself just to swing slowly back and forth in a comfy hammock surrounded by lush rainforest. We spent several hours lounging in the hammock on the porch of our cabin, never getting tired of looking at the exquisite flora and fauna around us. Turkeys with bright red heads and large butterflies with metallic blue colors were just a few of the creatures that caught our attention.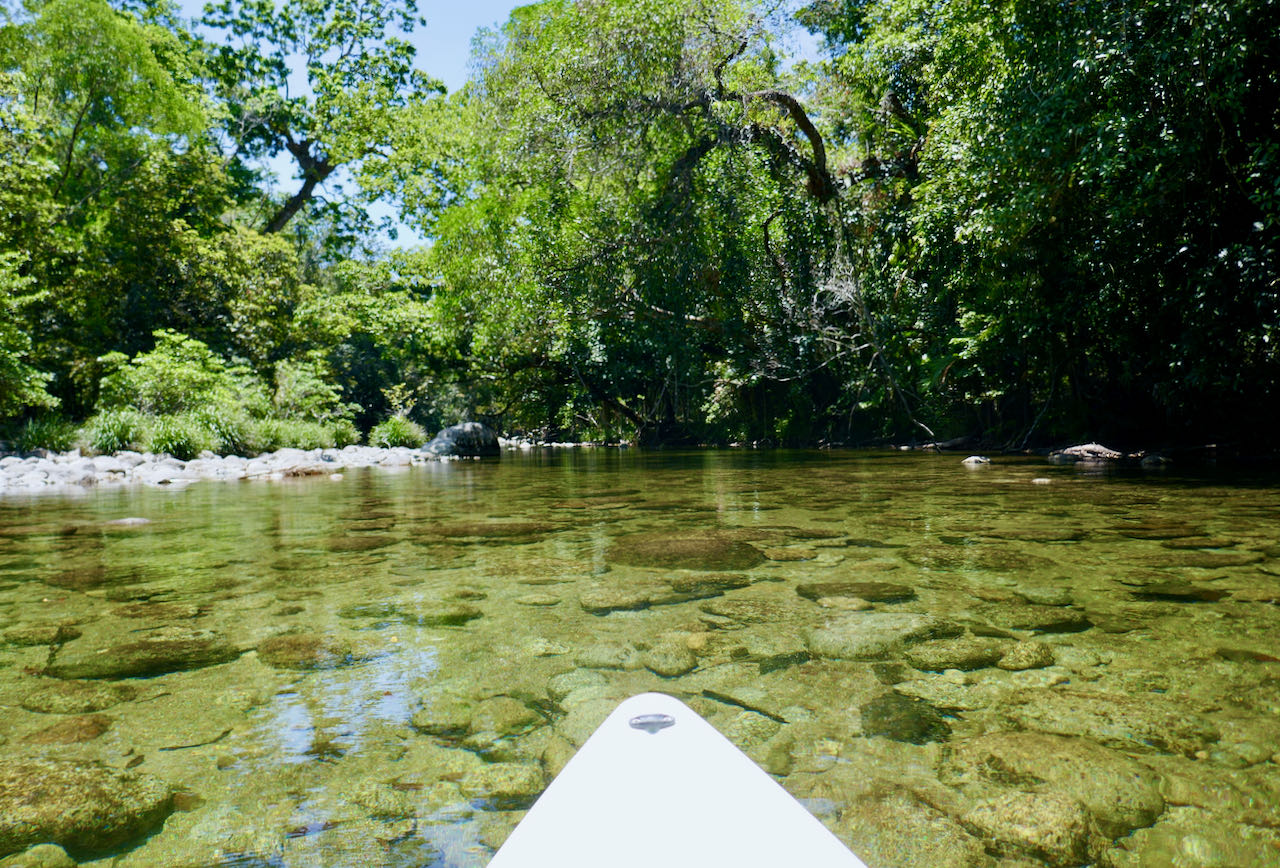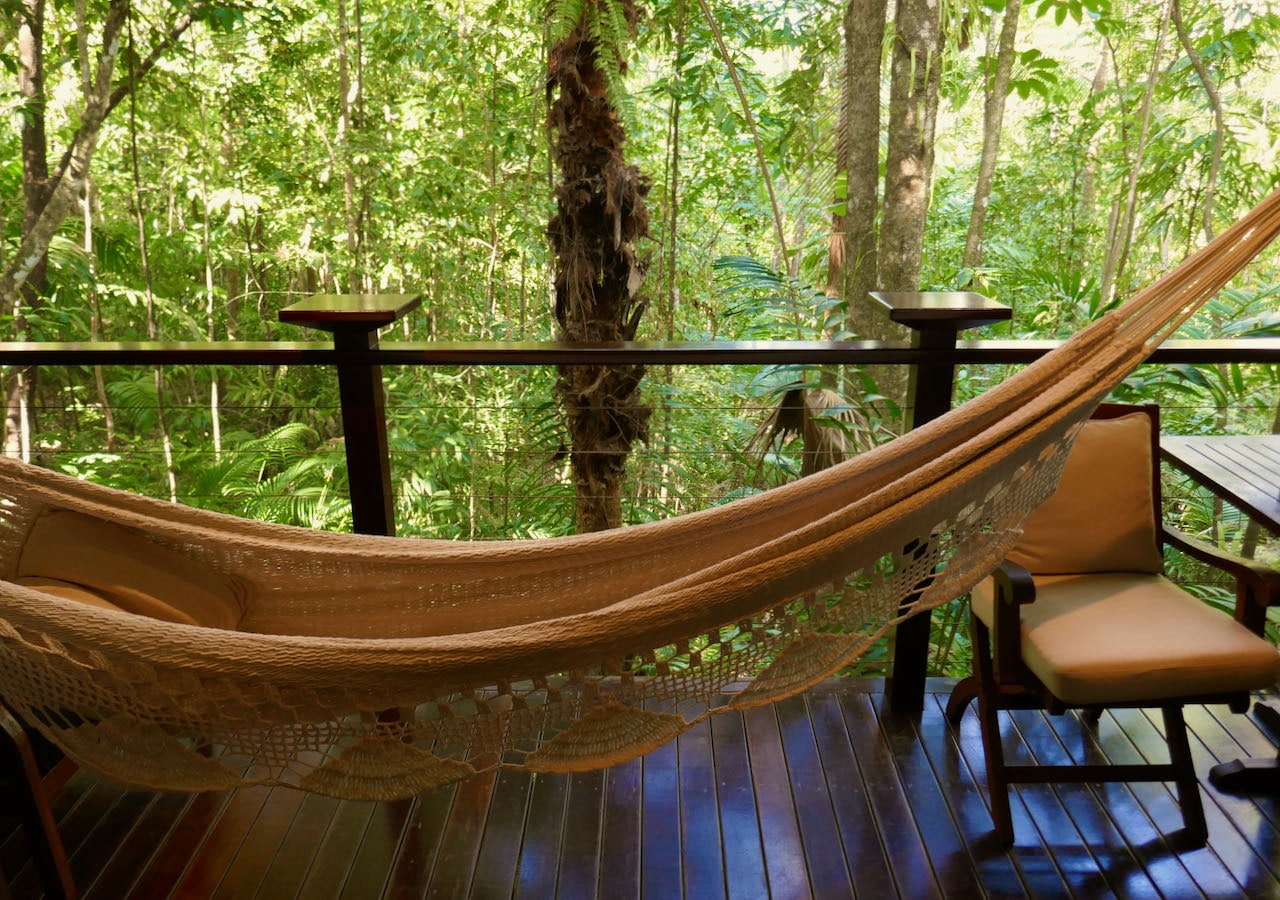 Day 5: Hike in Mossman Gorge – approx. 20 kilometers
Stops / activities:
Mossman Gorge Centre — Ngadiku Dreamtime Walk
Self-guided hike in Mossman Gorge
Accommodation:
Silky Oaks Lodge
Silky Oaks Lodge is located in Daintree Rainforest. When you stay in one of the world's oldest rainforests, it goes without saying that you should explore this further.
The perfect place to do this is in Mossman Gorge, just a short drive from Silky Oaks. Here you can participate in a guided walk through the rainforest with someone who knows it inside and out — the Kuku Yalanji. Kuku Yalanji are local Indigenous people, today recognized as the traditional owners of the area.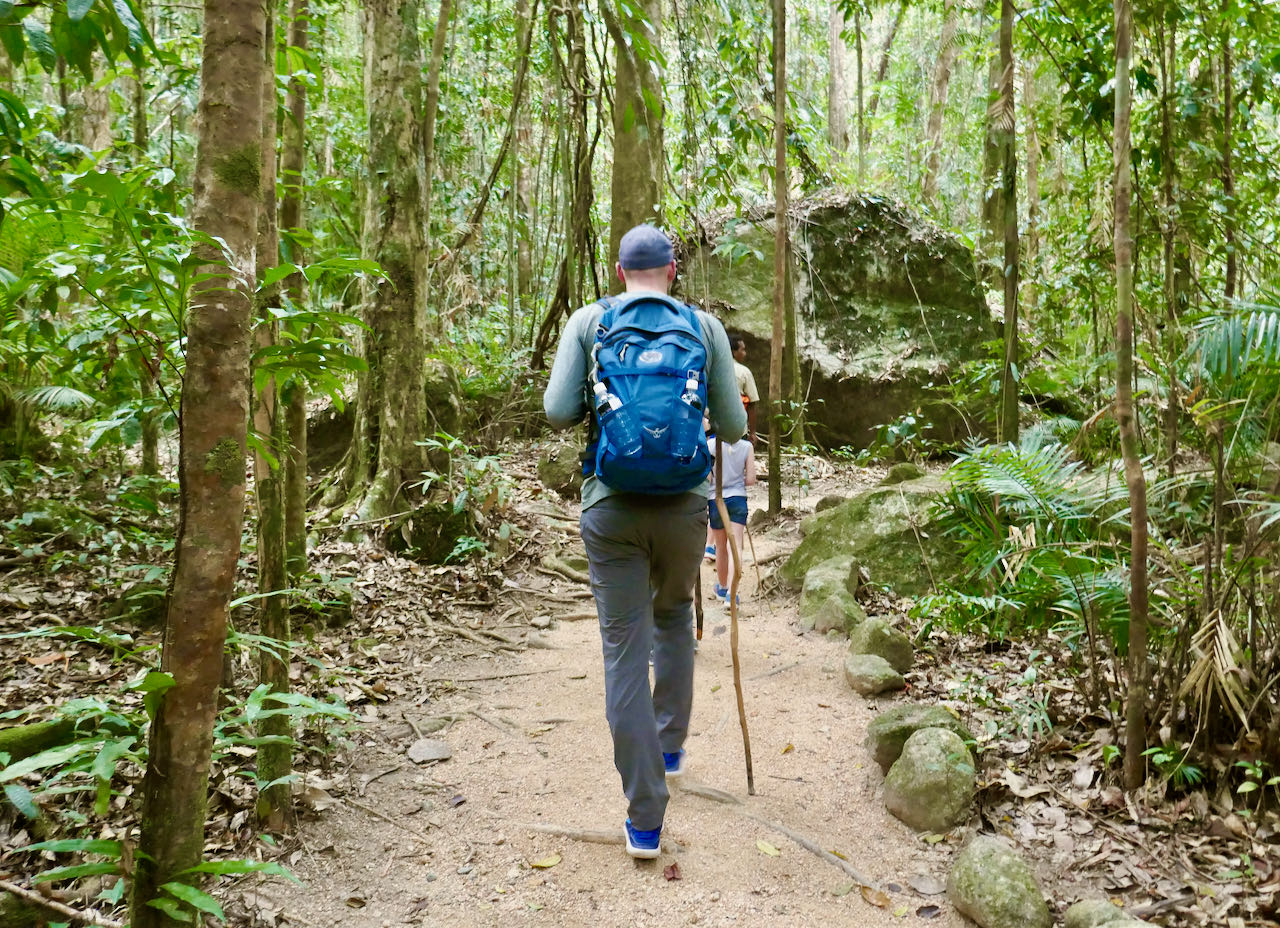 We booked the Ngadiku Dreamtime Walk through Mossman Gorge Center, and found the approximately 90-minute walk under the vivid green canopy to be utterly fascinating. We got to take part in a traditional smoking ceremony, see how paint and soap are made from wild plants, and learn a lot about the plants and trees around us. In addition, we got an insight into the history and traditions of the KuKu Yalanji people.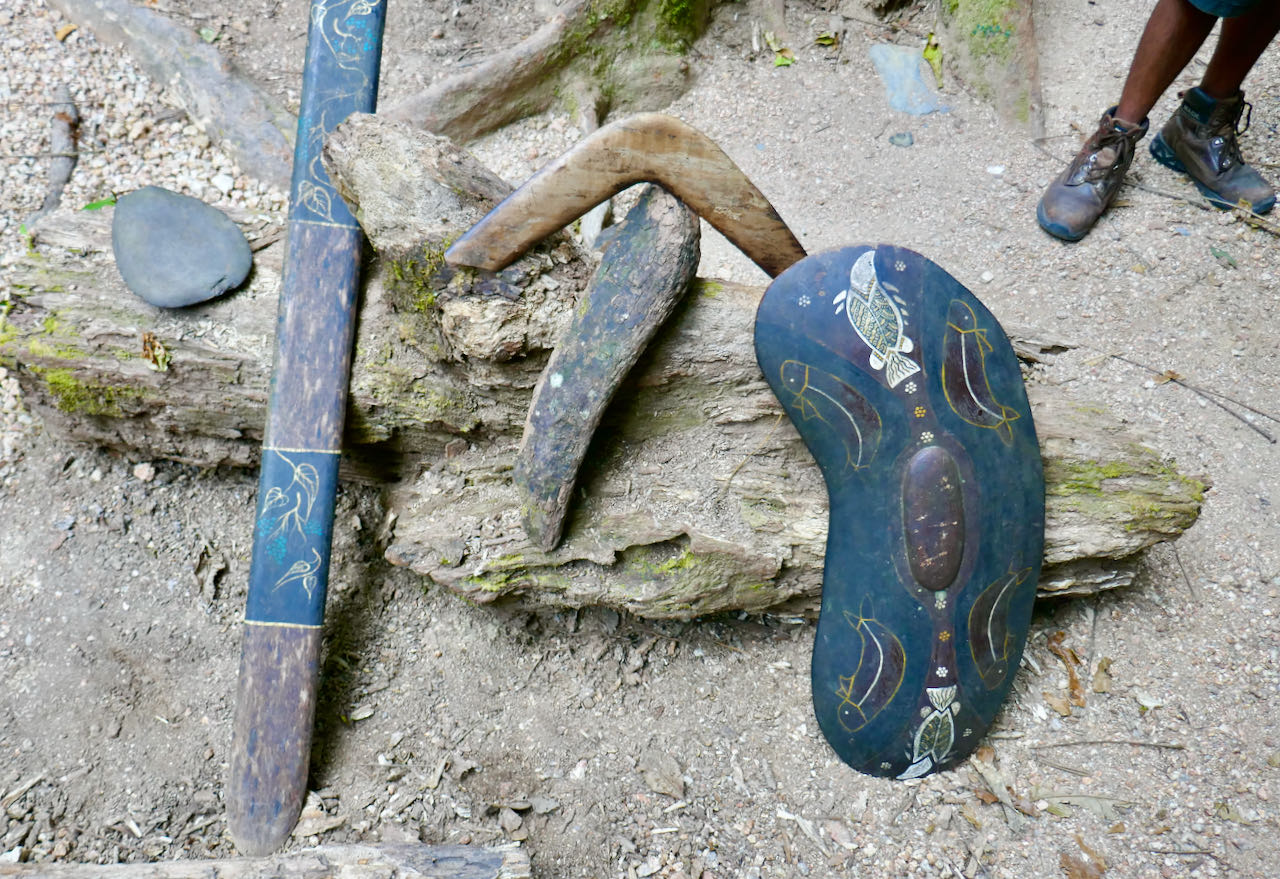 After a captivating tour that we wished had lasted even longer, we continued hiking on our own. Mossman Gorge has several marked hiking trails of various lengths that meander through the forest and along the river. The crystal clear water with beautiful billabongs beckoned us to dip our toes in, but when we visited the area it was unfortunately forbidden to swim there because the current was too strong. Either way, the place was just perfect for a little picnic.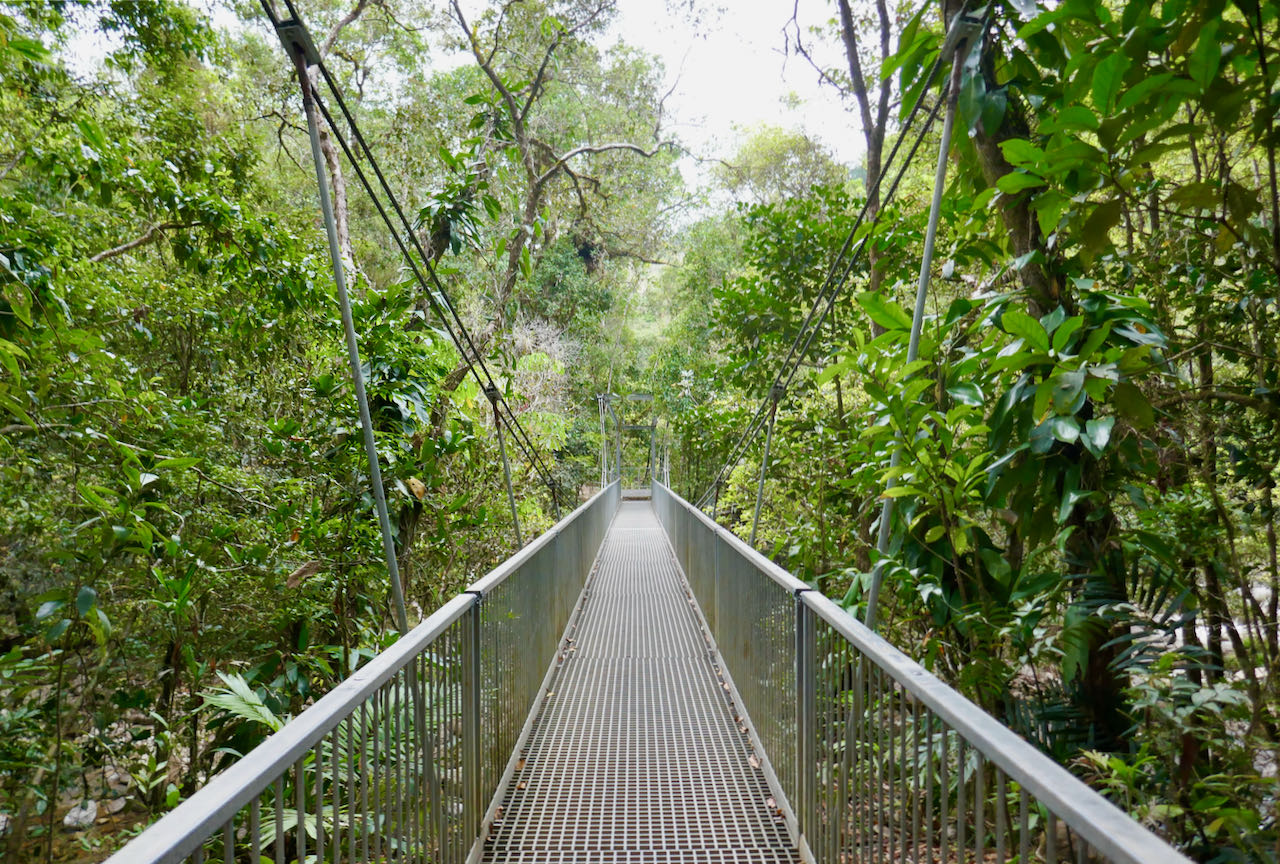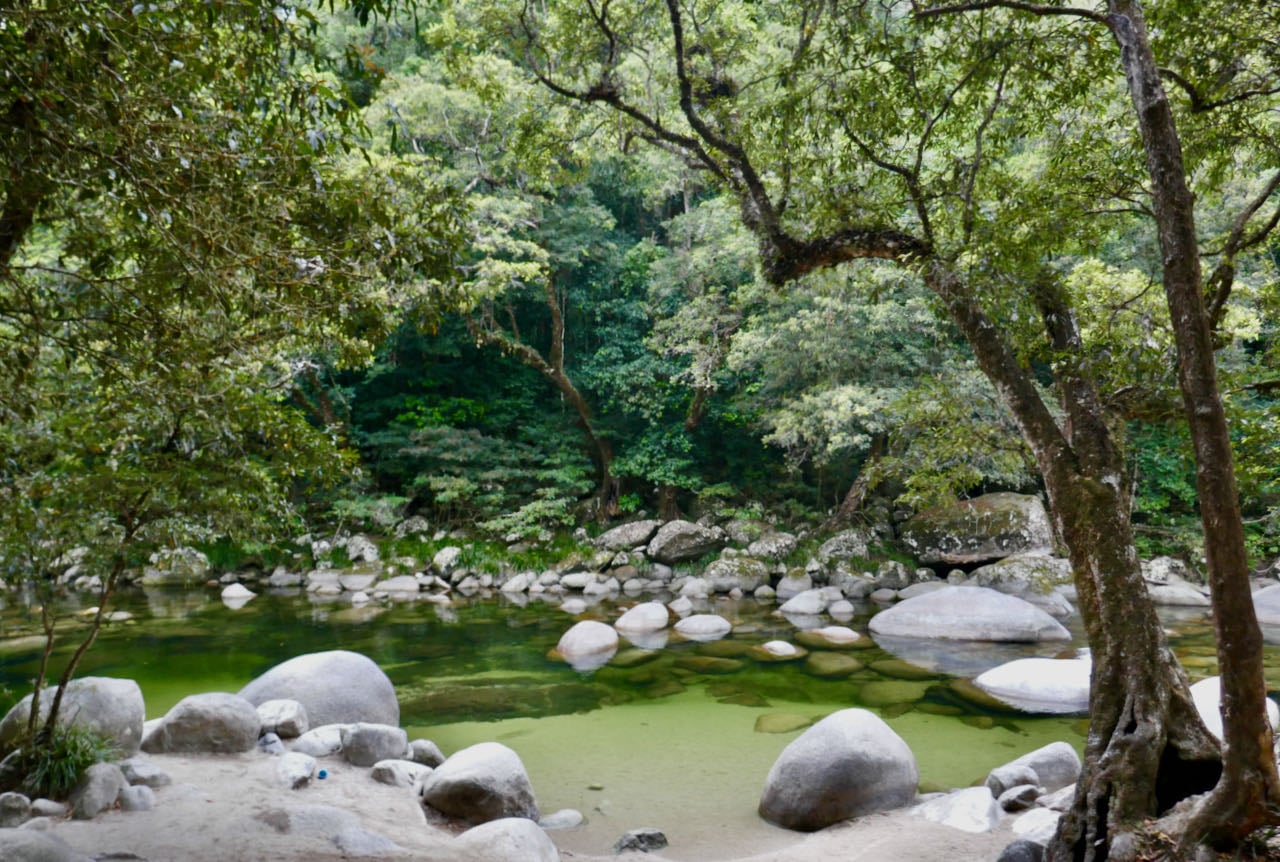 Day 6: Drive from Mossman to Daintree – approx. 40 kilometers
Stops / activities:
Daintree River — cruise with Solar Whisper Daintree River Crocodile & Wildlife Cruises
Daintree Ecolodge
Accommodation:
Daintree Ecolodge
The drive from Silky Oaks Lodge to Daintree Ecolodge is not long, so we decided to take a short detour to go on a cruise on Daintree River. We were hoping to see some of the many crocodiles that populate its winding waters.
There are several companies that offer cruises on Daintree River. We booked with Solar Whisper Daintree River Crocodile & Wildlife Cruises which offers environmentally friendly tours with its solar powered boat. The boat is also very quiet, which is an advantage when you're hoping to catch a glimpse of camera-shy wildlife.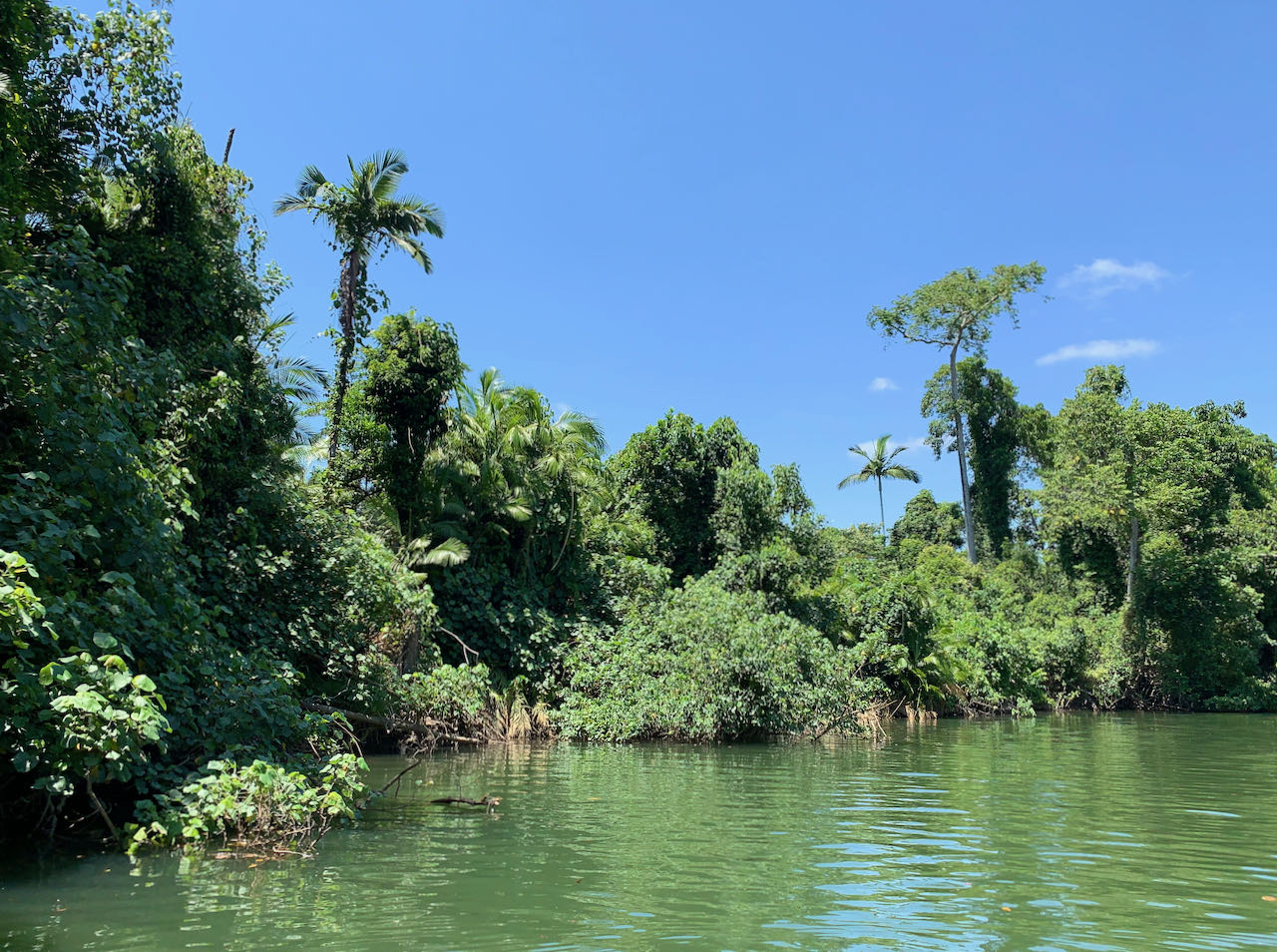 Unfortunately, there turned out to be unfavorable conditions for crocodile watching during our cruise, and we only saw a small crocodile baby. It is therefore worth checking in advance to see when there will be the greatest chance of seeing crocodiles (this is usually when the water level is low and the temperature is not too high). The boat trip was still nice, and we enjoyed looking at the lush nature around the river.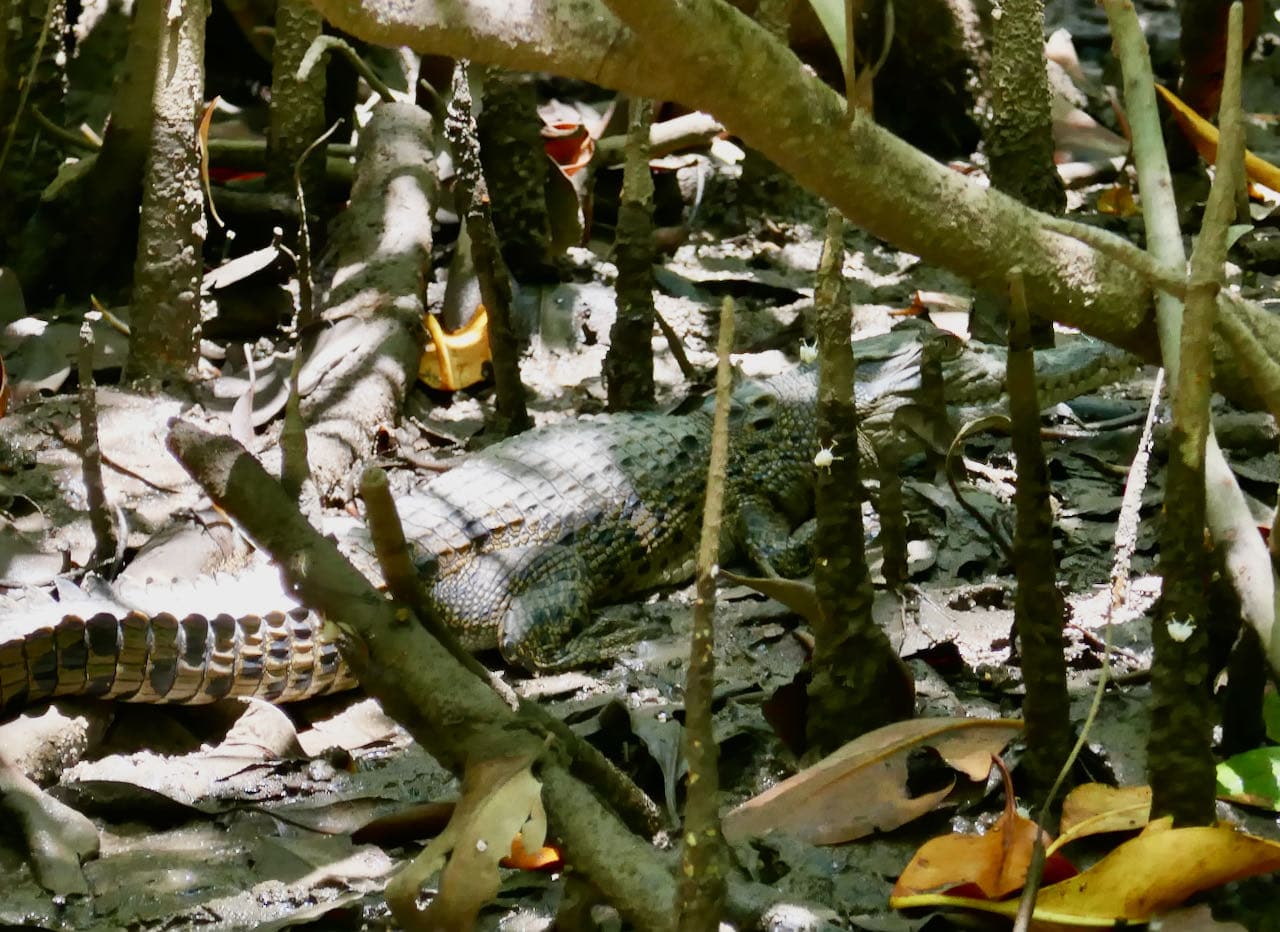 Link to Solar Whisper Daintree River Crocodile & Wildlife Cruises
We spent the next two nights at Daintree Ecolodge. This lodge had very nice staff and comfortable rooms, but we found that we paid a relatively high price for our stay compared to the Silky Oaks Lodge. However, the location was perfect considering what we had planned for the next day — a day trip to Cape Tribulation.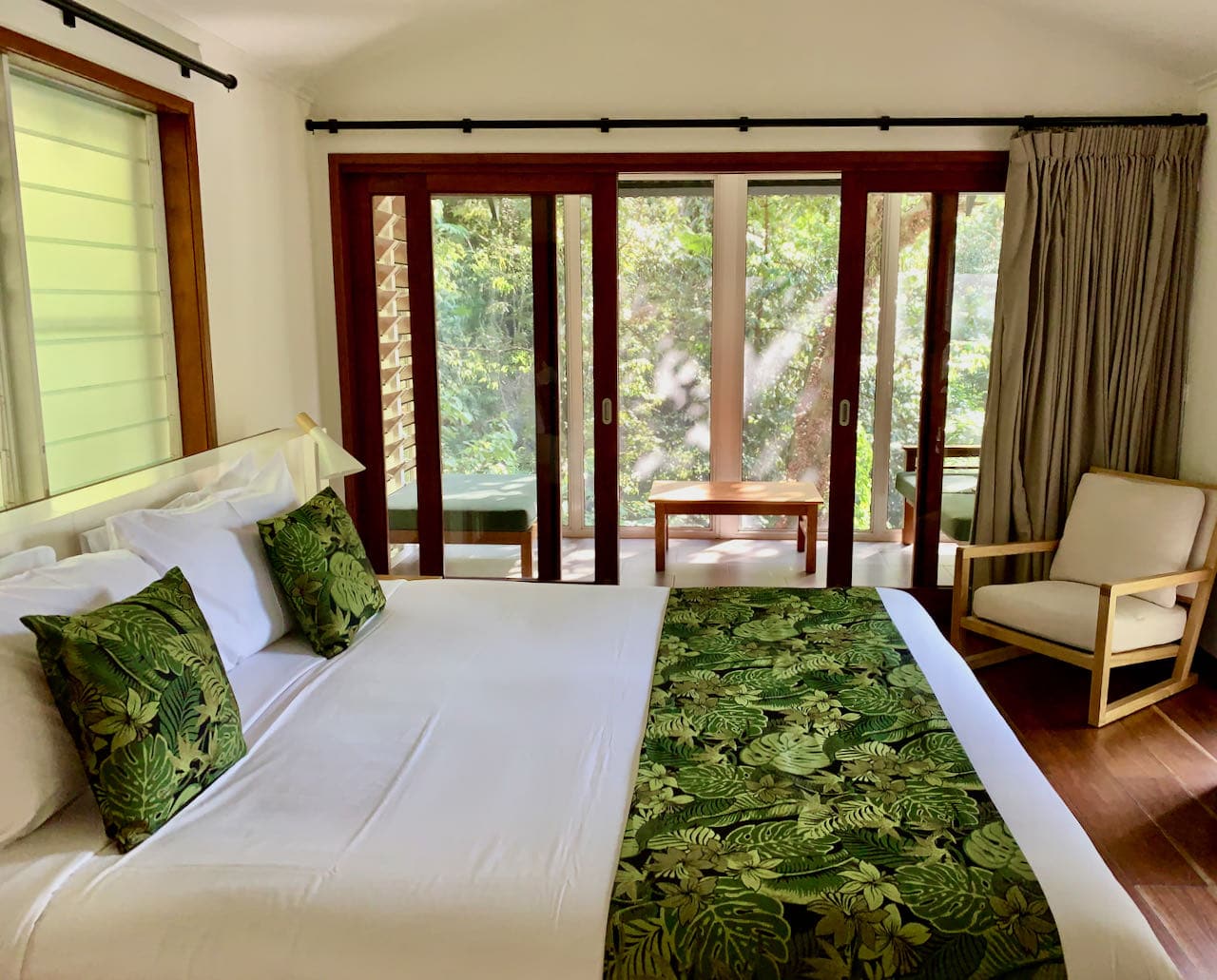 Day 7: Take a day trip to Cape Tribulation – approx. 90 kilometers
Stops / activities:
Cape Tribulation Beach
Myall Beach
Madja Boardwalk
Thornton Beach
Daintree Ice Cream Company
Jindalba Boardwalk
Mount Alexandra Lookout
Accommodation:
Daintree Eco Lodge
The trip to Cape Tribulation was something we had been looking forward to for a long time, and we had the most wonderful day north of Daintree River. The day was actually so eventful and full of experiences that we have written a separate post about Cape Tribulation which you can read HERE.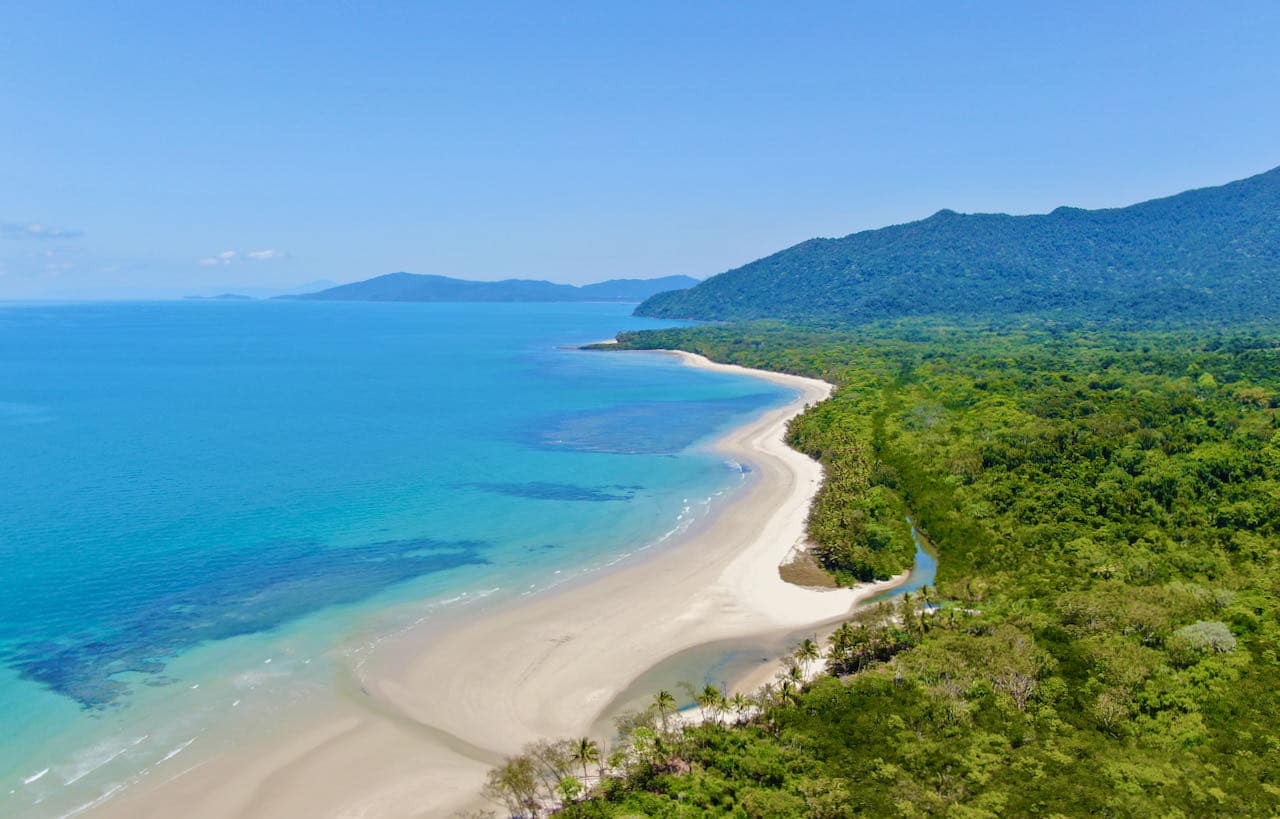 Day 8: Drive from Daintree to Port Douglas – approx. 60 kilometers
Stops / activities:
Trinity Bay Lookout
Lazy Lizard Motor Inn
Accommodation:
Lazy Lizard Motor Inn
On our way from Daintree to Port Douglas we did a farm tour. The tour was somewhat disappointing and because of this, we have decided not to include it in our recommended itinerary.
Before settling in for the night, we headed for the Trinity Bay Lookout in Port Douglas. This is a vantage point with great views of 4 Mile Beach. It is possible to hike up to the viewpoint, but we were feeling lazy and therefore drove our car up.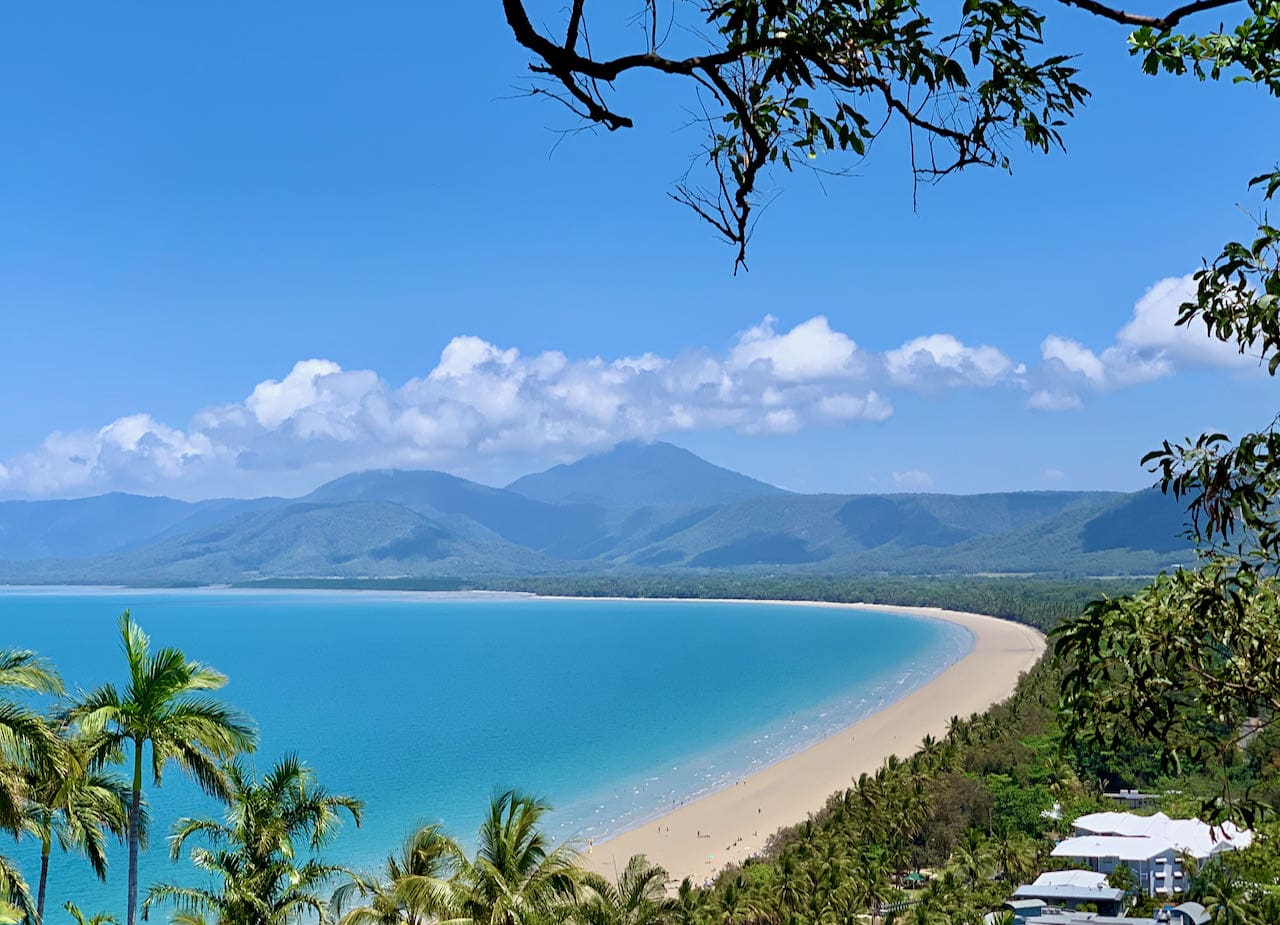 For the next two nights, we had booked a stay at the Lazy Lizard Motor Inn. It had simple, no-frills rooms with all necessary amenities. Most importantly, it was spotlessly clean. The owners were very welcoming and helpful, and we would not hesitate to stay at Lazy Lizard Motor Inn again.
Day 9: Go snorkeling at the Great Barrier Reef – approx. 6 kilometers
Stops / activities:
Reef Sprinter — snorkling at the Great Barrier Reef
Grant Street Kitchen
4 Mile Beach
Accommodation:
Lazy Lizard Motor Inn
If based in Port Douglas, you have different opportunities for exploring the Great Barrier Reef. You can either book a tour to the inner reefs that are closest to land, or to the outer reefs that are significantly further away. For the latter, the boat trip usually takes 1.5-2 hours (there are also speedboats that can do the trip in about 40 minutes).
Since we have limited experience with snorkeling far out at sea, we chose to book a tour to the inner reef — more specifically the Low Isles. The company we booked with, Reef Sprinter, guarantees a boat trip without seasickness. With their fast speedboats, passengers avoid the drifting that can lead to queasy stomachs. An additional advantage of the fast boat is that it takes only approximately 15 minutes to get to the snorkeling spot.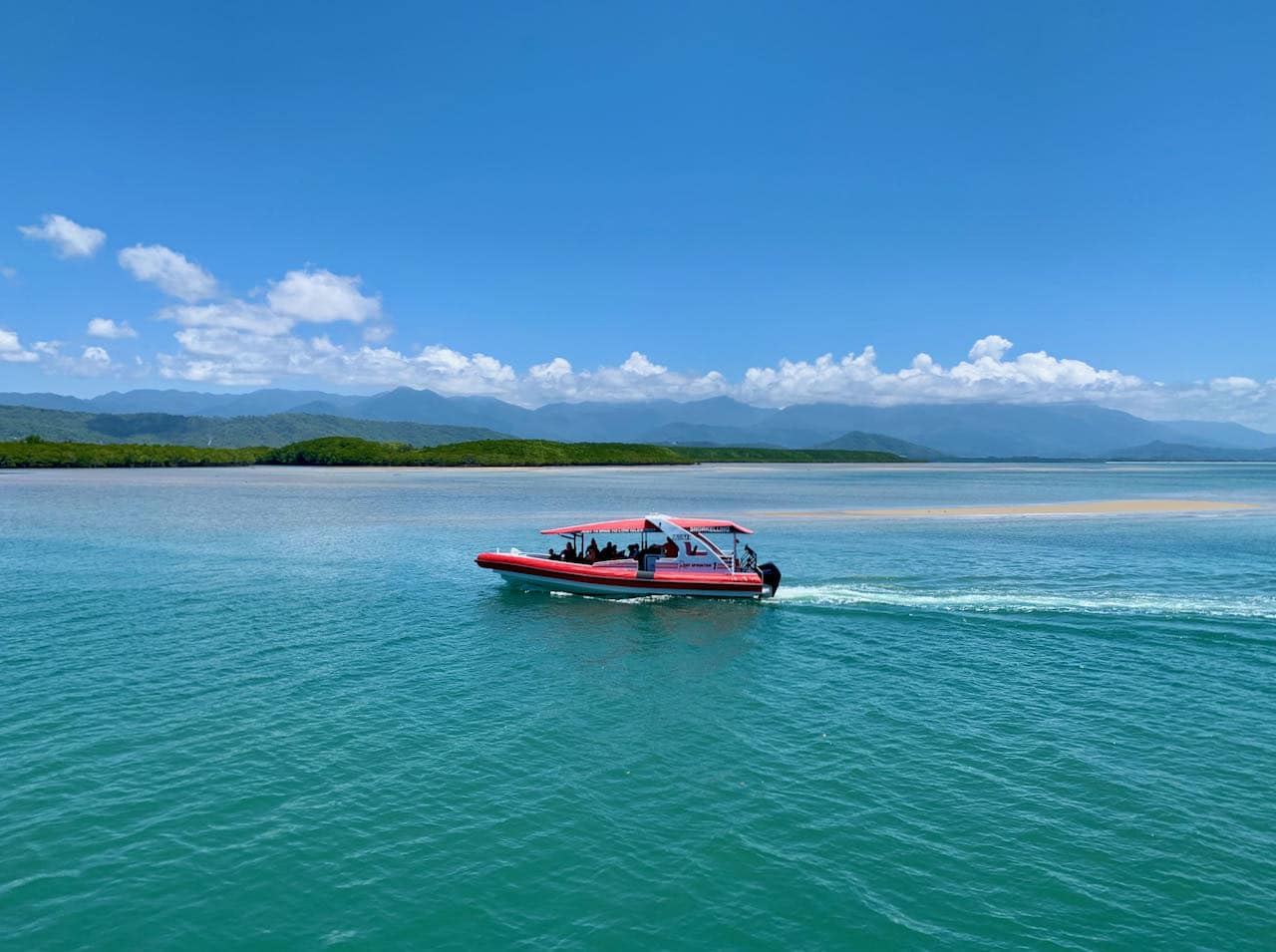 Reef Sprinter offers various snorkeling trips, and we signed up for the one called "Option B: Island and Lagoon Tour". On this trip, the boat stopped at a small island, and we thought it was nice to be able to take small breaks from the snorkeling.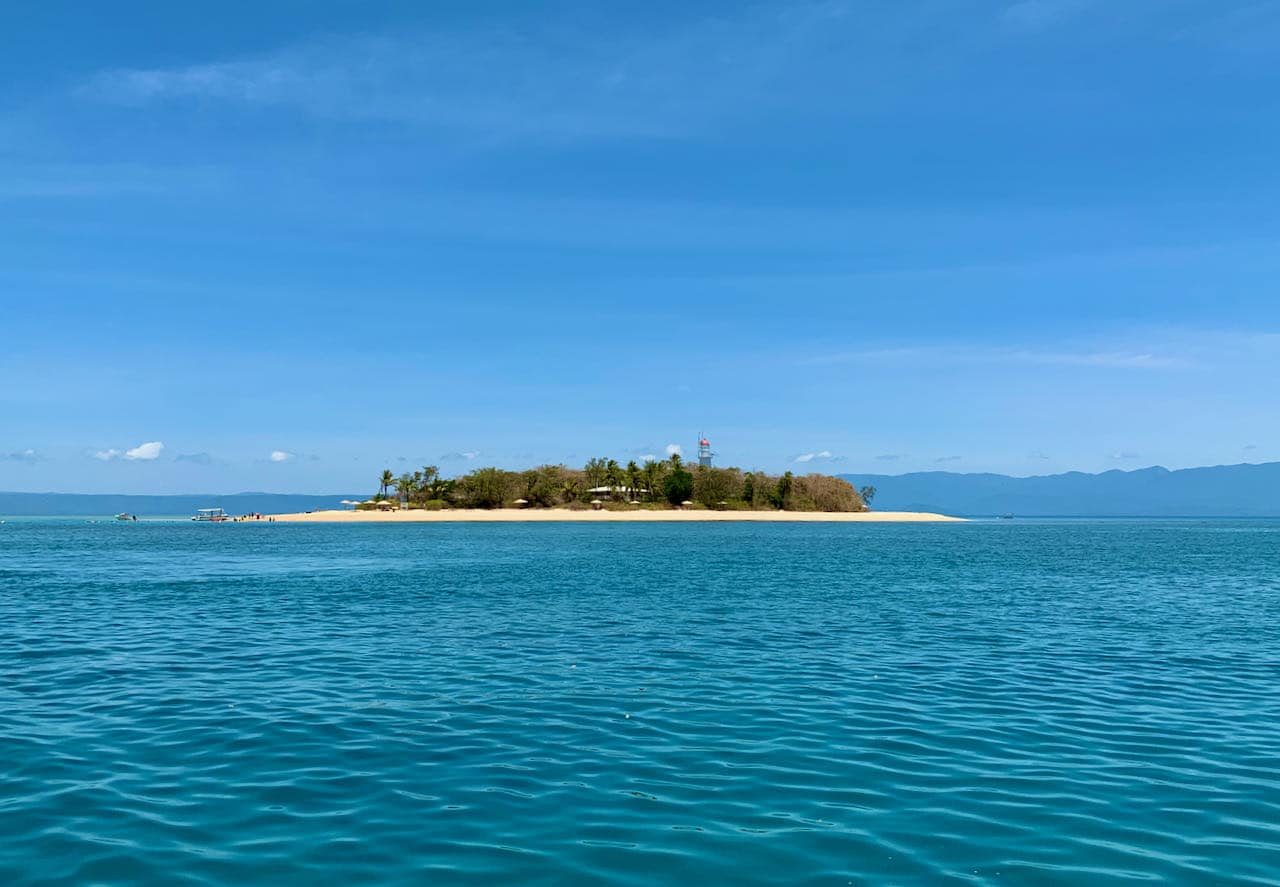 The reef we snorkeled on probably does not measure up to the beauty of the outer reef, and some of the corals there were damaged by pollution and bad weather. We still thought we had a great experience and saw plenty of fish in a beautiful array of shapes and colors. Among other things, we saw reef sharks, a moray eel, and lots of large flat fish that were very curious, not to mention several turtles. Next time we visit the area, however (we just HAVE to go back), we will book a snorkeling trip on the outer reef.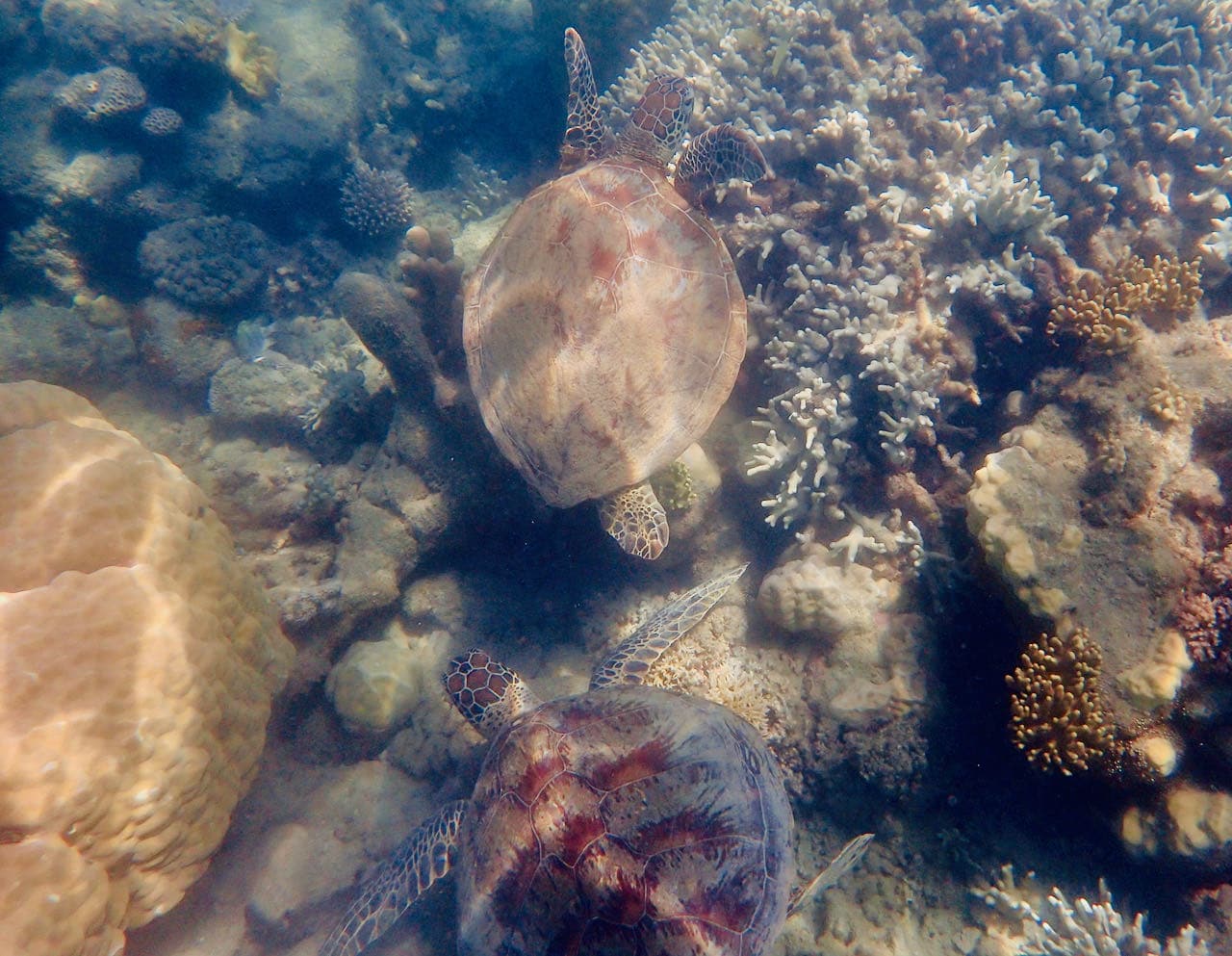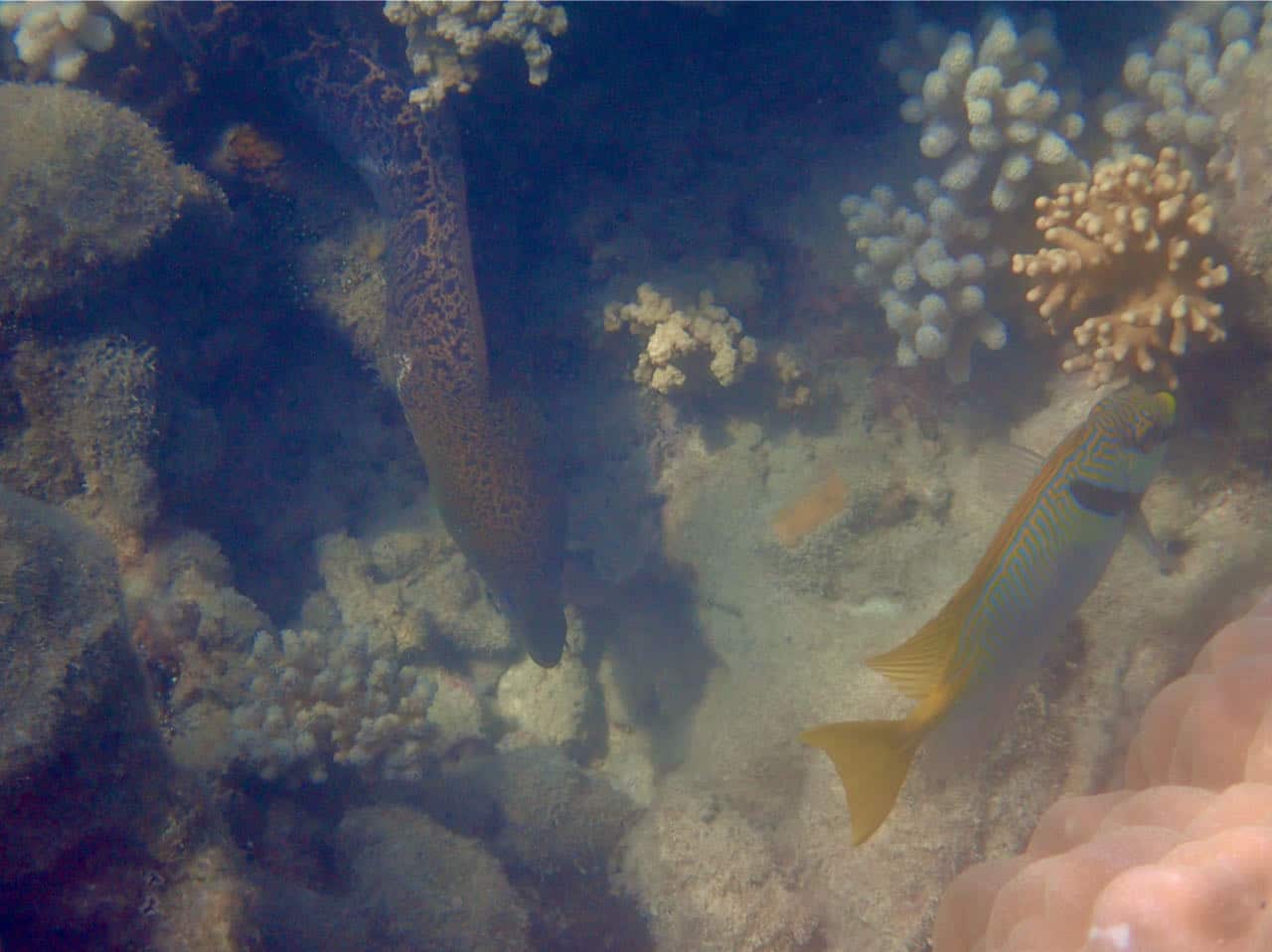 After snorkeling, we were hungry as wolves, and since we had been recommended the Grant Street Kitchen cafe, that's where we took our empty stomachs. Grant Street Kitchen serves up delicious food, and a visit here is a must if you are in Port Douglas. We loved both the avocado smash sandwich and the almond croissant we ordered.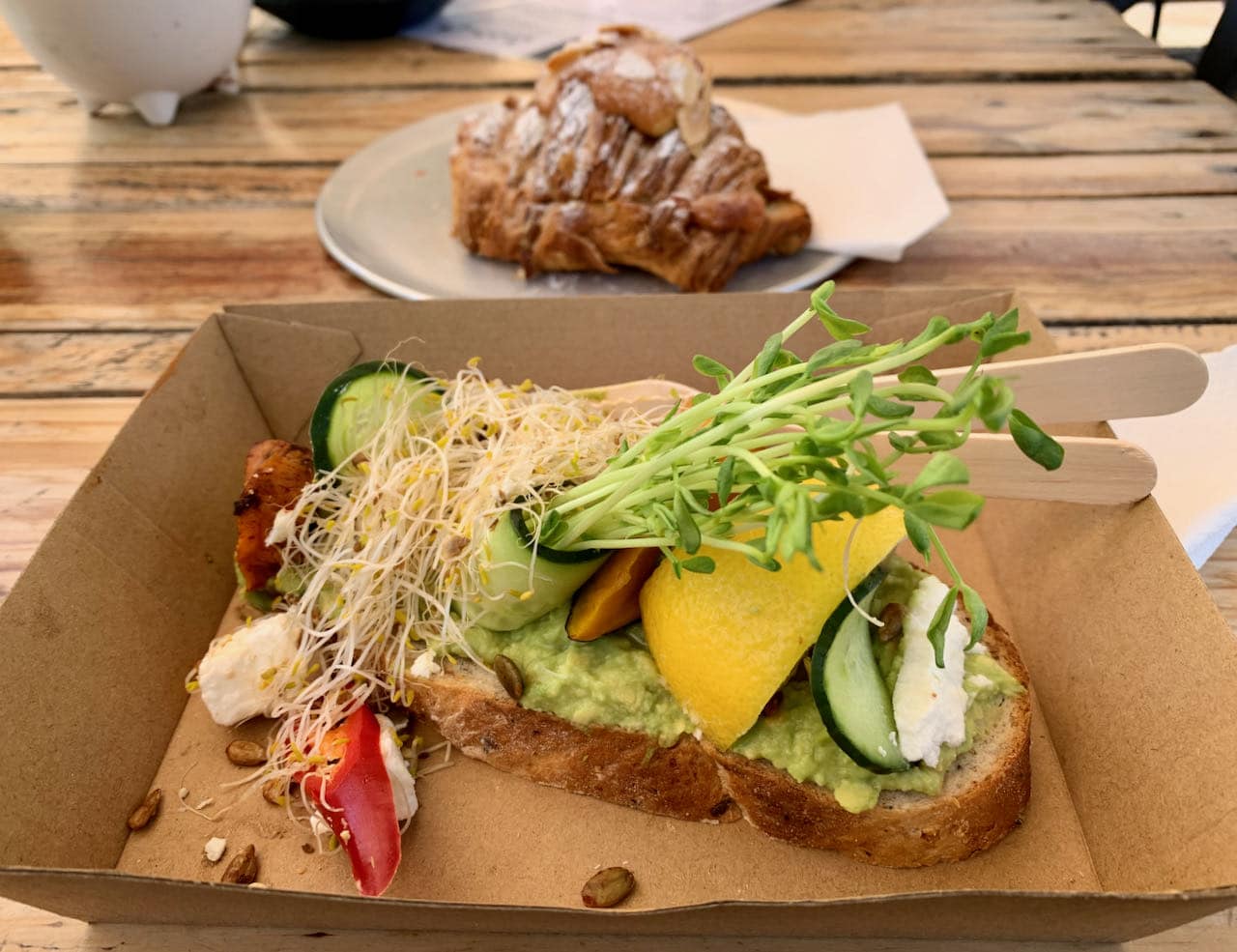 Since we had seen 4 Mile Beach from Trinity Bay Lookout the day before, we thought it was a great idea to round off the day with a little stroll on it.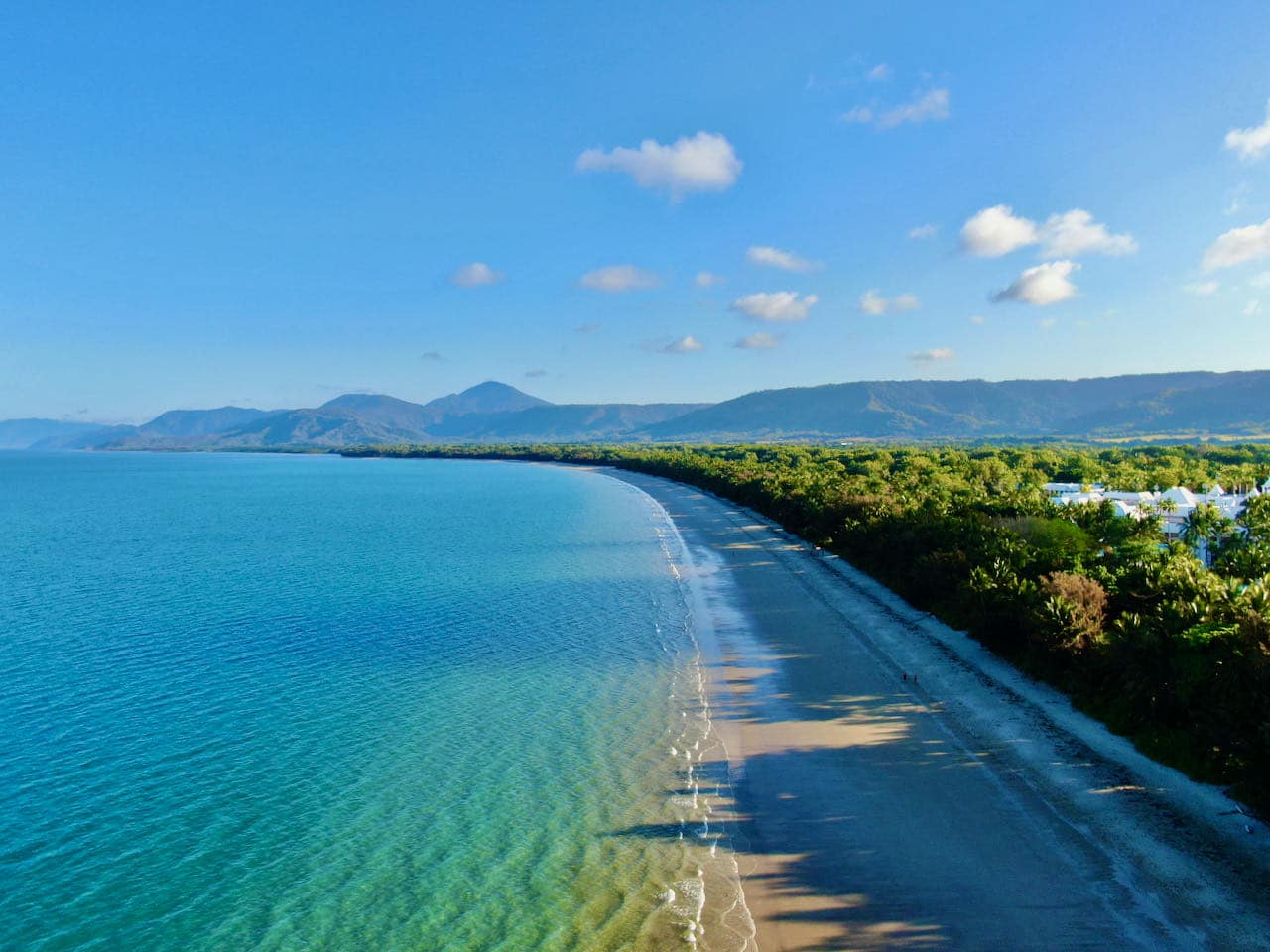 Day 10: Drive from Port Douglas to Cairns – approx. 70 kilometers
Stops / activities:
Port Douglas (Sunday) Markets
Cairns Esplanade
Holiday Inn Cairns Harborside
Accommodation:
Holiday Inn Cairns Harborside
We were lucky enough that our last day in Port Douglas fell on a Sunday, which is the day the weekly market is held. The market consisted of around 150 stalls that were idyllically set up with the sea as a backdrop.
The stalls offered an incredibly varied selection of goods and services with everything from massage and reflexology to art, handicraft products, clothing, and fruits and vegetables. We even found one full of Christmas decorations. The market seemed to be a popular spot, and it was full of cheerful people busy shopping and socializing.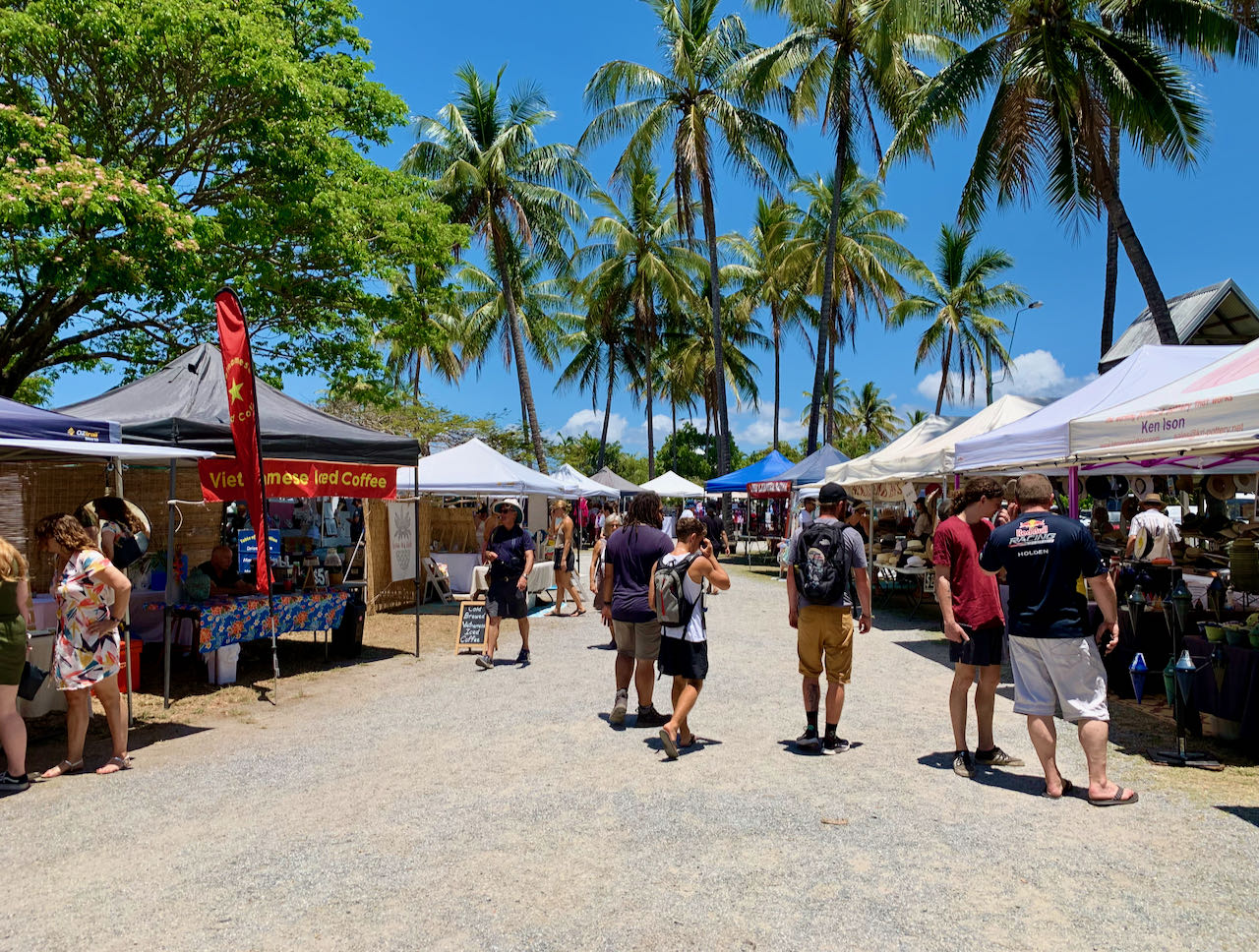 Link to more information about Port Douglas Market
After a great morning at the market, it was time to hop in the car and drive it back to Cairns to drop it off. The road between Port Douglas and Cairns is called Captain Cook Highway, and is often considered one of the most beautiful rides in the world. The road winds along the coast, and you can enjoy the view of the sea along large parts of the route. We wish we had had time to stop along the way, but unfortunately had to drive almost non-stop to be able to deliver the rental car by the deadline. We recommend you set aside plenty of time to drive this stretch, and that you stop at some of the beautiful beaches.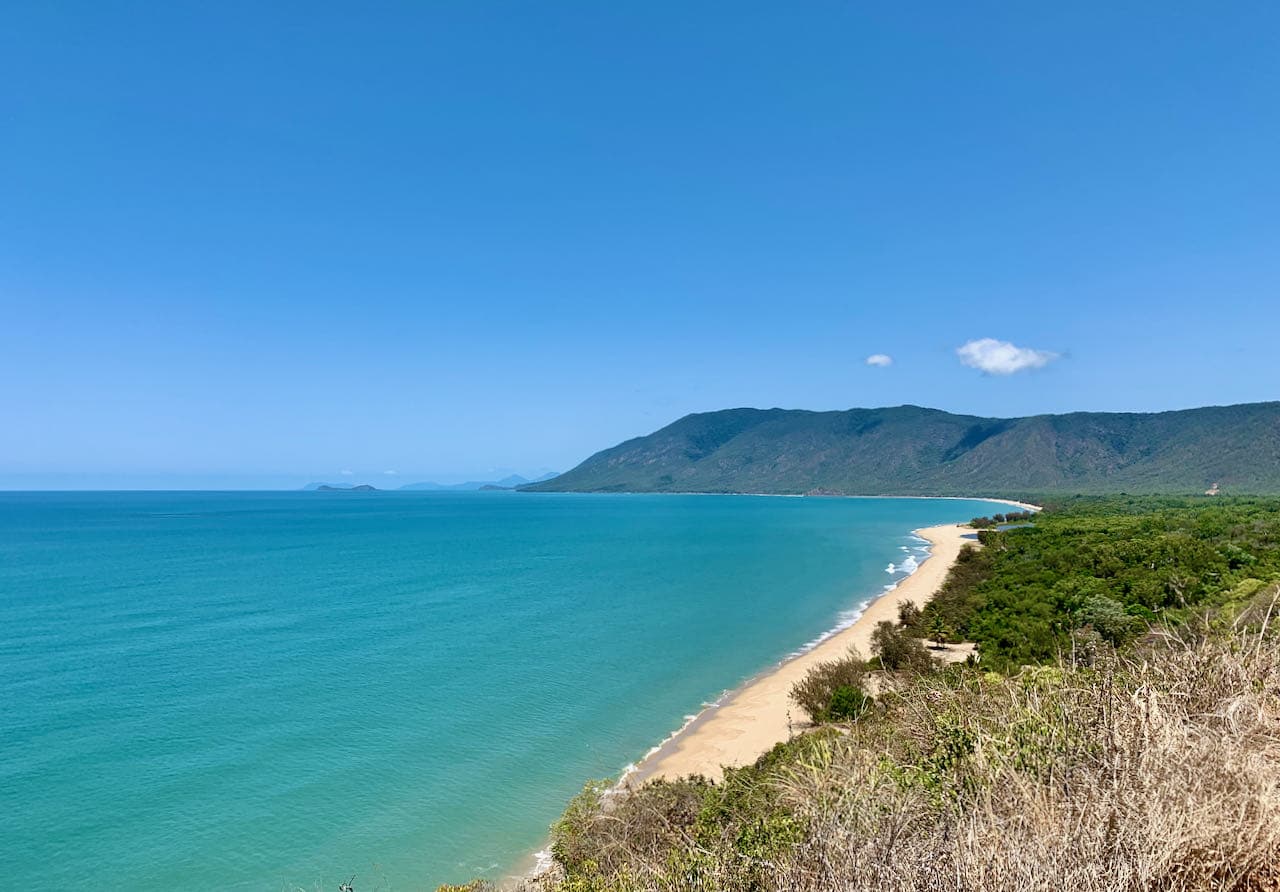 Holiday Inn Cairns Harborside was our last accommodation on the trip. We were given a room that could use a bit of a sprucing up, but it worked fine for a short stay. The location was very good, with the Carins Esplanade right in front of the hotel. It was great place to end the day accompanied by the sound of the waves.
Link to Holiday Inn Cairns Harborside
Practical information and tips
Cairns is located in Far North Queensland in Australia. Most visitors arrive in the city by plane. There are direct flights from the largest cities in Australia as well as some international destinations. It is also possible to reach Cairns by sea, bus, or train.
For those who are wondering how long they should spend here, our answer is: as long as you can! Our 10 days went by much too fast, and we wish we had had even more time. That said, you can also experience a lot in less time than we had available.
The best time to visit the area is in the dry season between May and November. The period from May to September is often recommended in particular. In the dry season, temperatures are usually comfortable, and there is less chance of encountering dangerous marine stingers in the sea.
The dry season coincides with the high season for tourists. During this period, you may want to book accommodation in advance.
In our opinion, renting a car is a must to be able to explore all that Cairns and the surrounding area has to offer. The freedom to stop where you want is simply unbeatable. We rented a car through Avis and got a nice car at a fair price.
In Australia you drive on the left, something we're not used to. Fortunately, we quickly got into the habit of driving on the "wrong" side of the road, and we found that most fellow road users drove considerately and safely. Furthermore, it was very nice that the roads had frequent overtaking lanes which made it easy to let other cars pass by. Distances are stated in kilometers, and speed is stated in kilometers per hour. Foreign drivers may need an international driver's license to drive in Australia.
It is important to be extra careful when driving in Queensland. The local wildlife can appear anywhere and anytime. One must take special care after the sun has set since many animals are most active at this time of day.
It is a good idea to get a paper map or download an offline map on your mobile before setting off, as not all areas have mobile / GPS coverage.
We went on a snorkeling trip to the Great Barrier Reef from Port Douglas. However, there are countless opportunities to experience the reef from other places as well (ex. Cairns and Cape Tribulation).
Our itinerary and activities do not cover all the possibilities available in Far North Queensland. Other places to visit include parks, waterfalls, and an aquarium. It is also possible to go on a boat, fishing, or train trip to name a few. There is something for absolutely everyone here!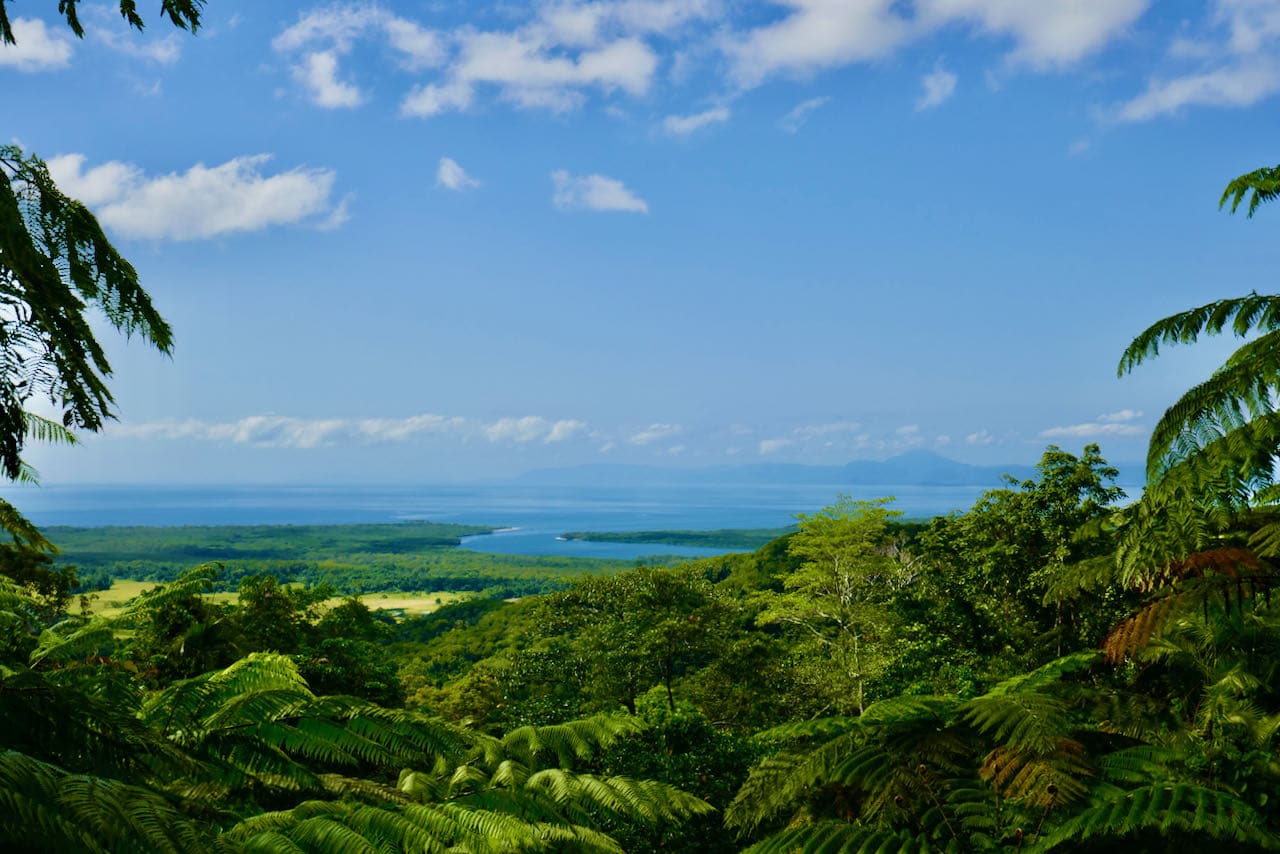 *We visited Cairns in October 2019. None of the places or tour operators we mention in this post knew they could be featured on our blog, and we paid all expenses ourselves.