Published February 2021
Cape Tribulation is located on the northeast coast of Queensland, Australia, and is often marketed as the place where the rainforest meets the reef. And not just any old rainforest and reef — Daintree, the world's oldest tropical rainforest, and none other than The Great Barrier Reef. Both are on the UNESCO World Heritage List. It's no wonder that Cape Tribulation is one of the most unique places in Australia.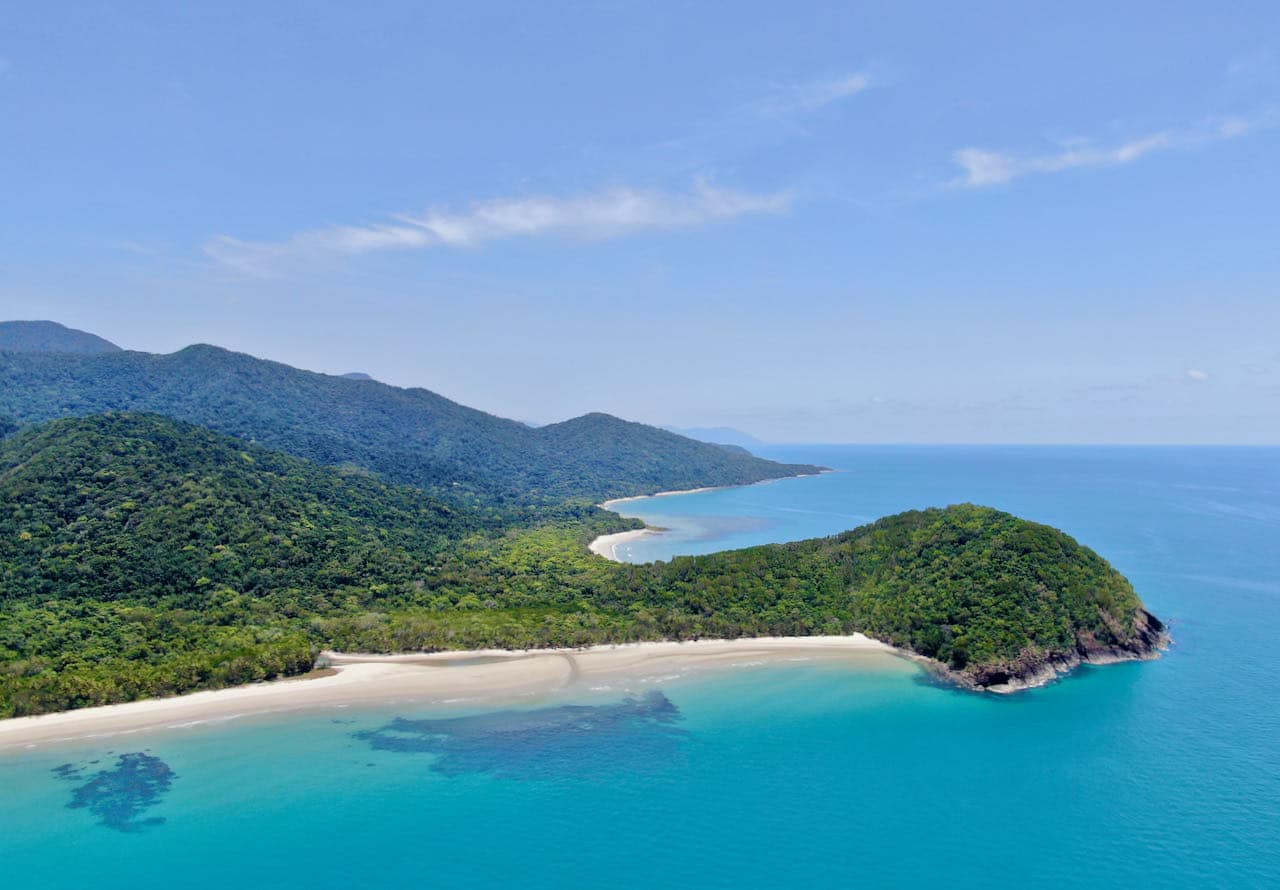 When is the best time to visit Cape Tribulation?
The best time to visit Cape Tribulation is in the dry season between May and November. The period from May to September is often recommended in particular. July and August are the most popular months. We visited the area in mid-October and had perfect weather. In the dry season, temperatures are usually comfortable, and if you plan to go snorkeling on the reef there is less chance of encountering marine stingers.
Starting point and accommodation
There are many options for accommodation around Cape Tribulation. You can stay in Cairns (about 140 kilometers away) or Port Douglas (about 85 kilometers away) and go on a day trip from there. Group trips are also arranged from these places.
However, we recommend that you rent a car and drive, since you will have more freedom to stop exactly where you want. In addition, it is a good idea to start the trip even closer to Cape Tribulation, or to add one or more overnight stays in the area. In this way, you get time to experience more of the wonderful surroundings.
We used Daintree Ecolodge as our base. It is located in Daintree Rainforest just south of Daintree River. From here it is only a 10-minute drive to the ferry that takes you across the river to Cape Tribulation. Daintree Ecolodge had very nice staff and comfortable rooms (treehouses), but we found that we paid a relatively high price compared to the standard in the area. The location, on the other hand, was unbeatable, allowing us to cross the river before the tourist buses arrived.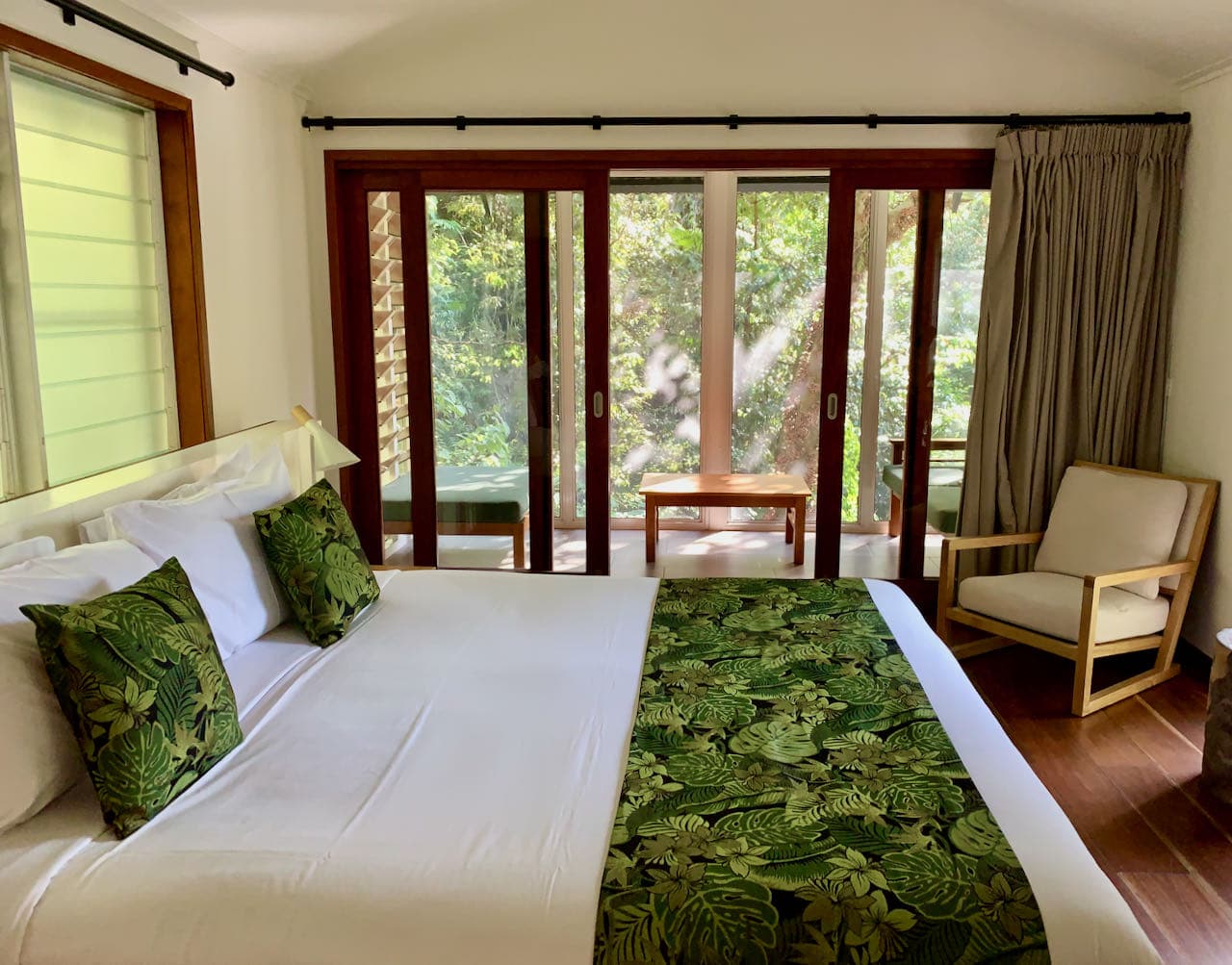 For those who want to spend more than just a few hours in Cape Tribulation, there is also a selection of accommodations there. If you go for this option, we recommend that you book in advance.
READ MORE: Review of Silky Oaks Lodge
Daintree River Ferry
To get to Cape Tribulation, you have to cross Daintree River using the Daintree River Ferry. The crossing itself only takes a few minutes, but in high season you should expect lines in the morning between 10 a.m.–12 p.m. and in the afternoon between 3 p.m.–5 p.m. It is therefore a great advantage to start the day early.
Link to more information about the Daintree River Ferry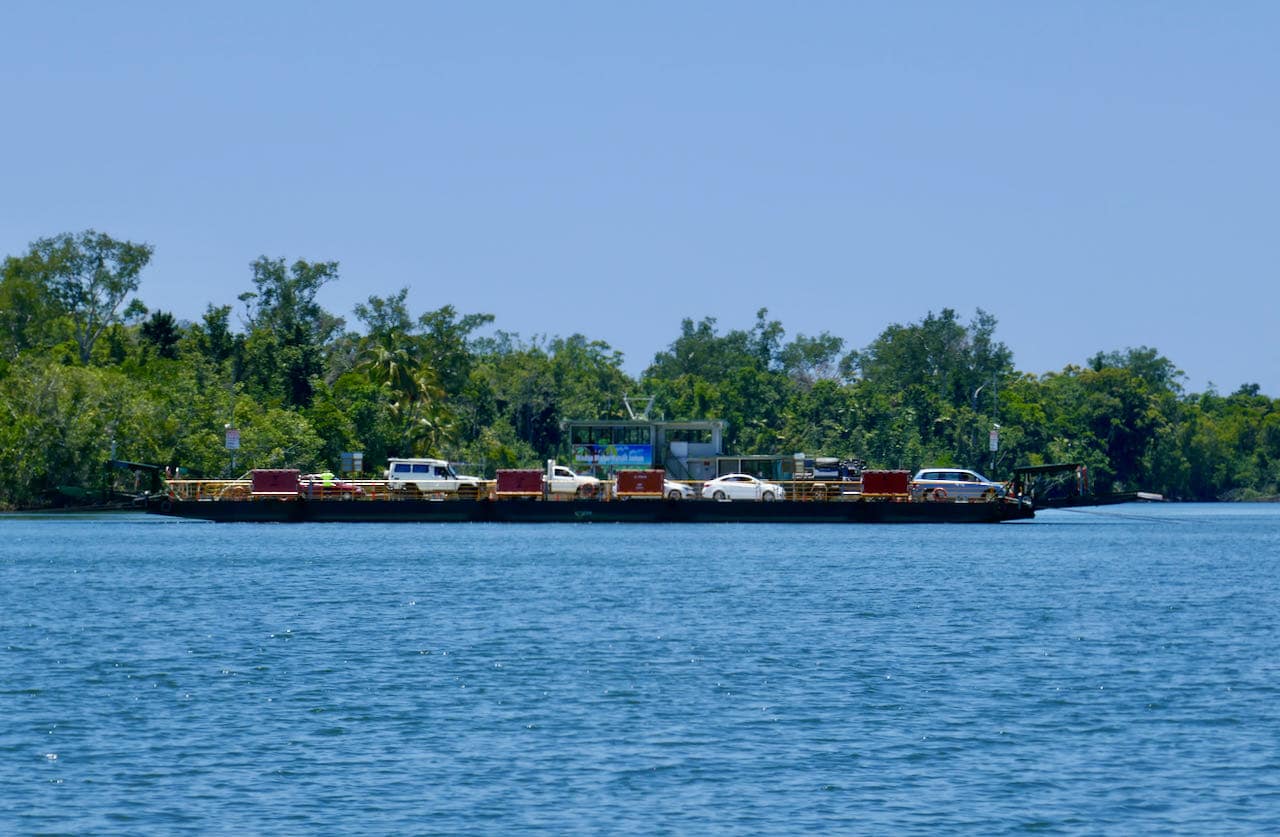 Itinerary and places to stop
Cape Tribulation has a wide range of sights, and one day is far from enough to see all of them. If you decide to do this anyway, it is a good idea to spend some time planning in advance. We visited seven places during our day trip to Cape Tribulation and had a wonderfully nice but quite busy day with limited time at each stop. In total we visited three different beaches, but in retrospect we could have dropped one of these since they were all relatively similar.
We chose to drive straight up to Cape Tribulation without stopping along the way in hopes of avoiding most of the other tourists. This plan turned out to work well since many of the other cars stopped on their way north, while we instead worked our way south. By driving all the way up to Cape Tribulation Beach first, we got to have it almost entirely to ourselves. As we moved south through the day, we met more and more other tourists. Below is an overview of the places we stopped at in chronological order from north to south.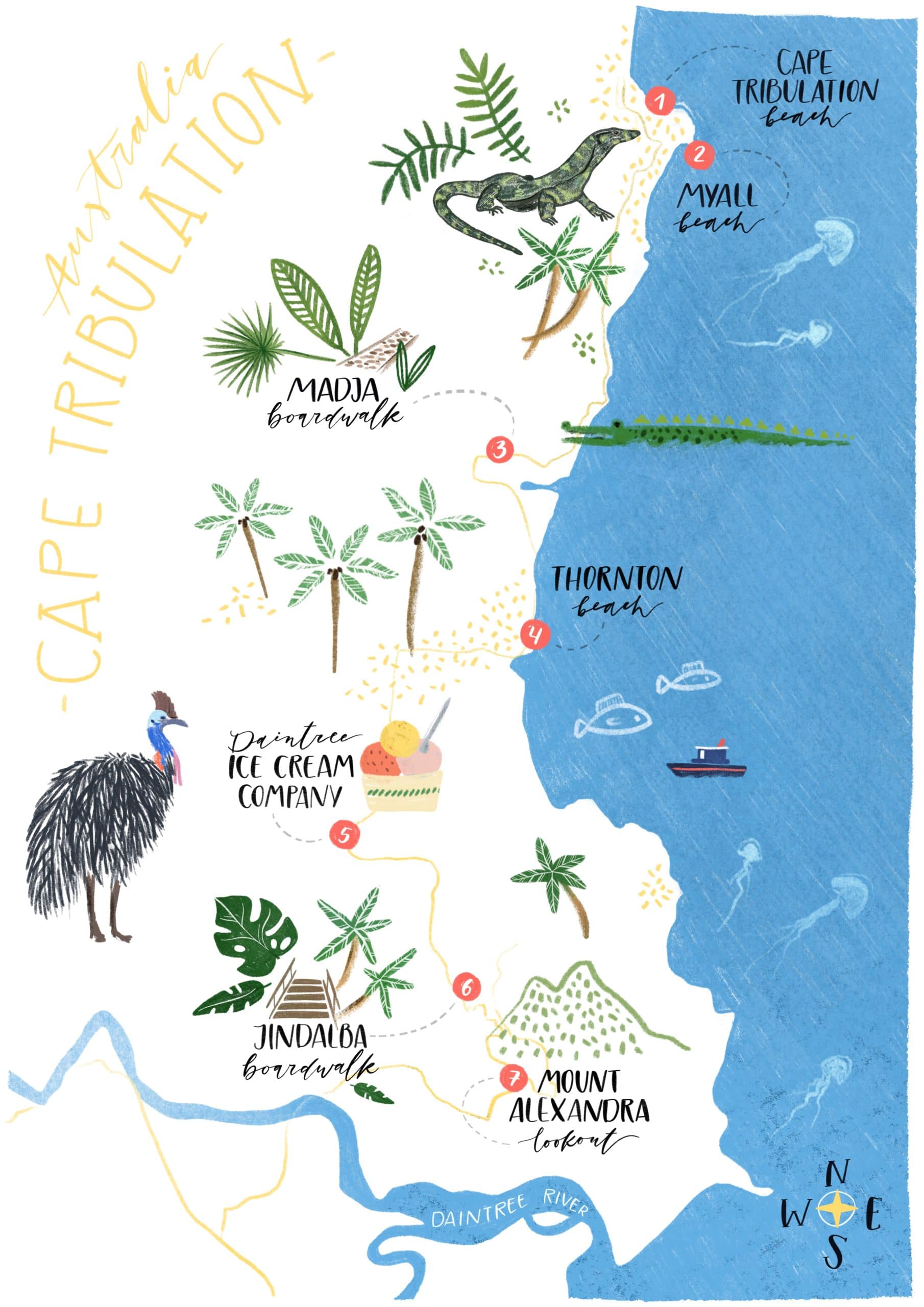 1. Cape Tribulation Beach
Cape Tribulation Beach is the actual point where the rainforest meets the reef. Here, the bright green vegetation extends all the way down to the water's edge and creates an exotic atmosphere. The stunningly beautiful beach practically begs for sunning and bathing, but the latter is unfortunately strongly discouraged. At the risk of bumping into both crocodiles and stingers in the water, it is safest to stay ashore. From the beach there is a path, Kulki/Cape Tribulation Boardwalk, up to a lookout point which we did not take the time to check out.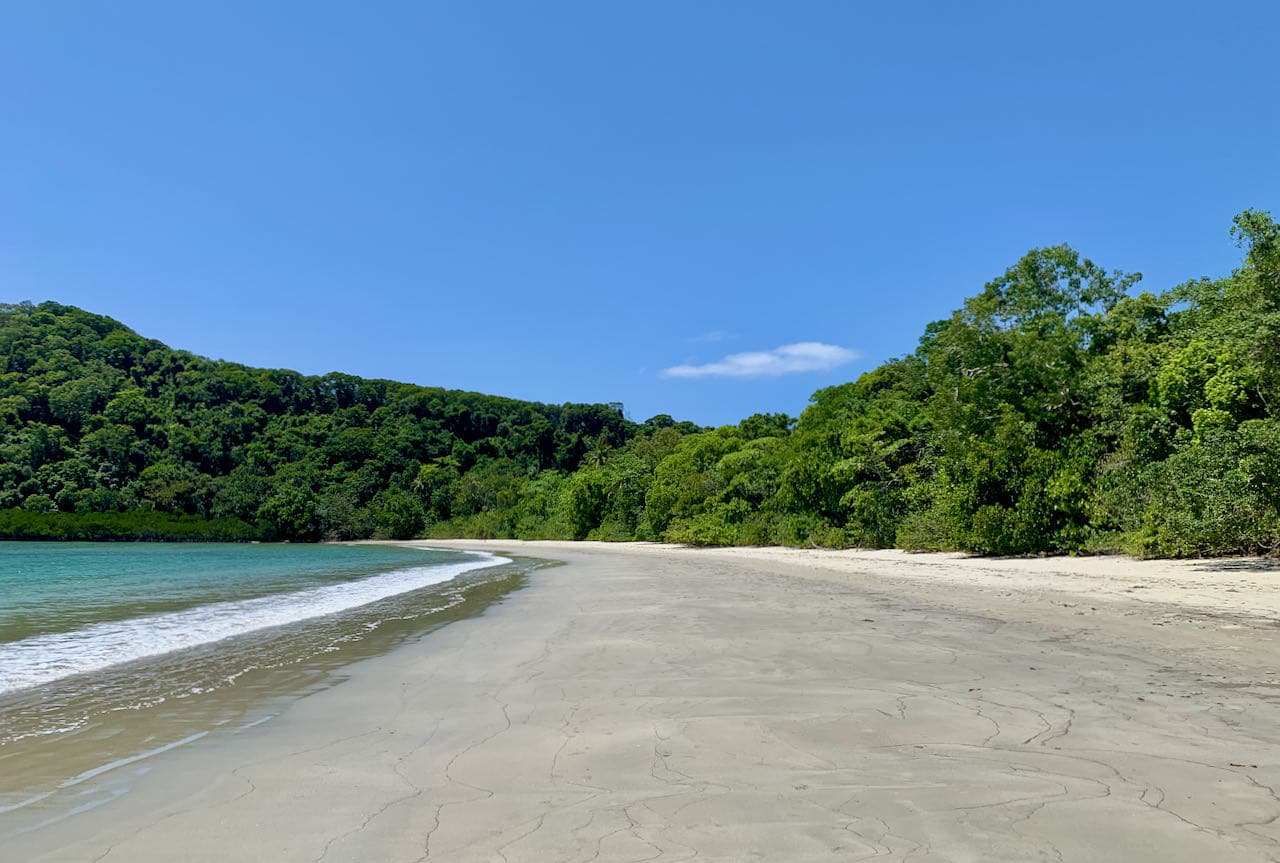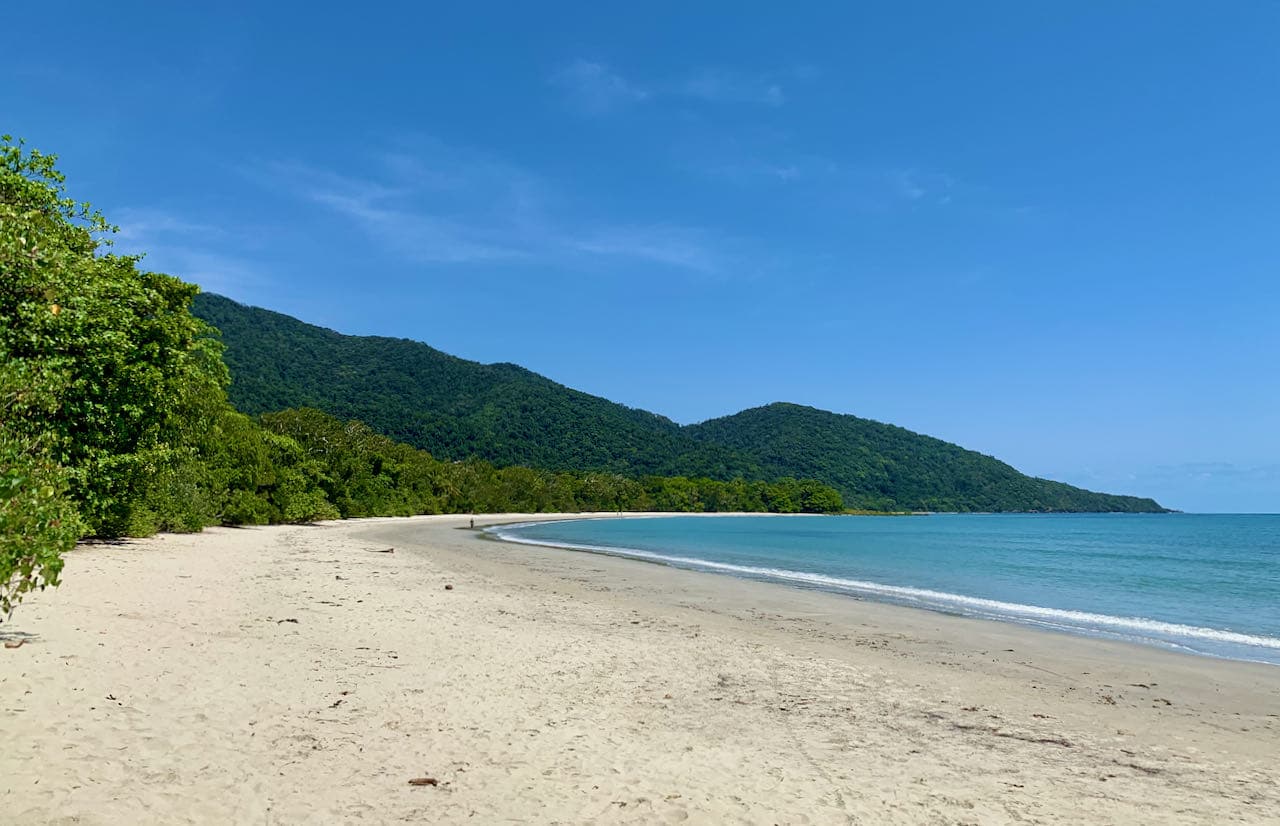 2. Myall Beach
After a quick cup of coffee at Turtle Rock Cafe and Bar (their flat white coffee was absolutely delicious) we took a short walk to the next beach, Myall Beach. Myall Beach has a lot in common with Cape Tribulation Beach, and you really get the tropical vibes in both places. There were a couple more people on the latter, but still very few in general. Near Myall Beach you will find the Dubuji Boardwalk — we only walked down a small part since we had planned to walk a couple of other trails instead.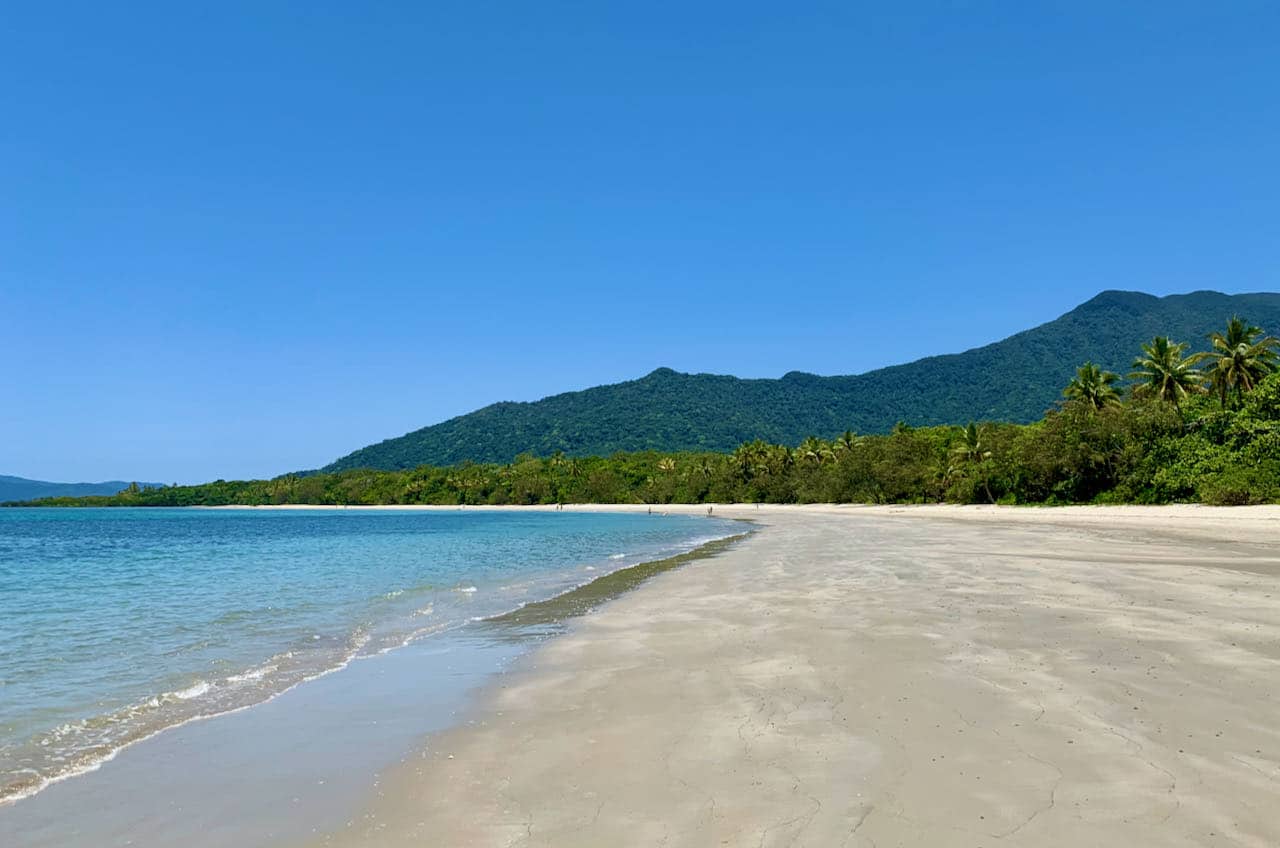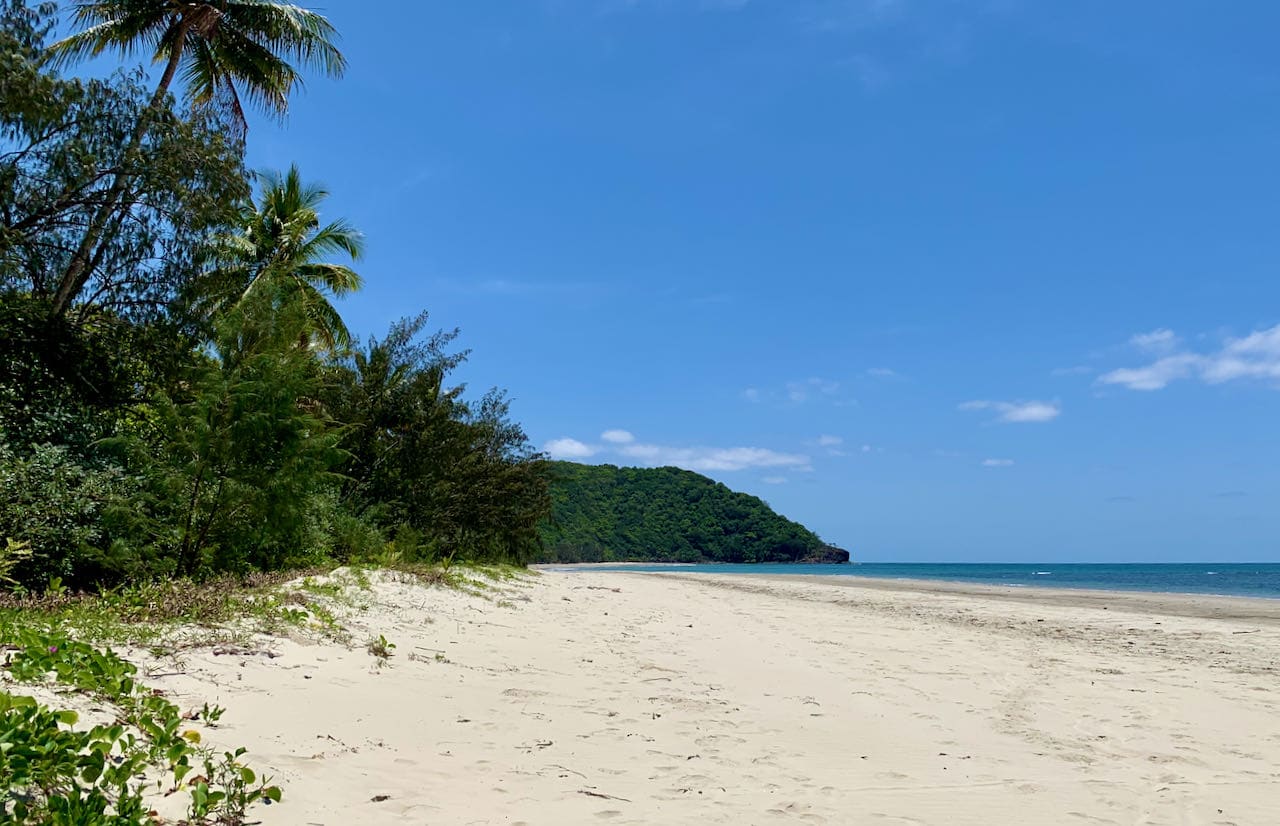 3. Madja Boardwalk (also called Madja/Marrdja Botanical Walk)
Just a 10 minutes' drive south of Cape Tribulation lies Madja Boardwalk, an accessible boardwalk that takes you through the jungle. The 1.2-kilometer trail is wheelchair-friendly and offers both mangrove and rainforest views with signs explaining what you see. Along the way you have the opportunity to see various fish such as barramundi and shrimp. We saw several kinds, as well as a cleverly camouflaged lace monitor lizard.
Link to more information about the Madja Boardwalk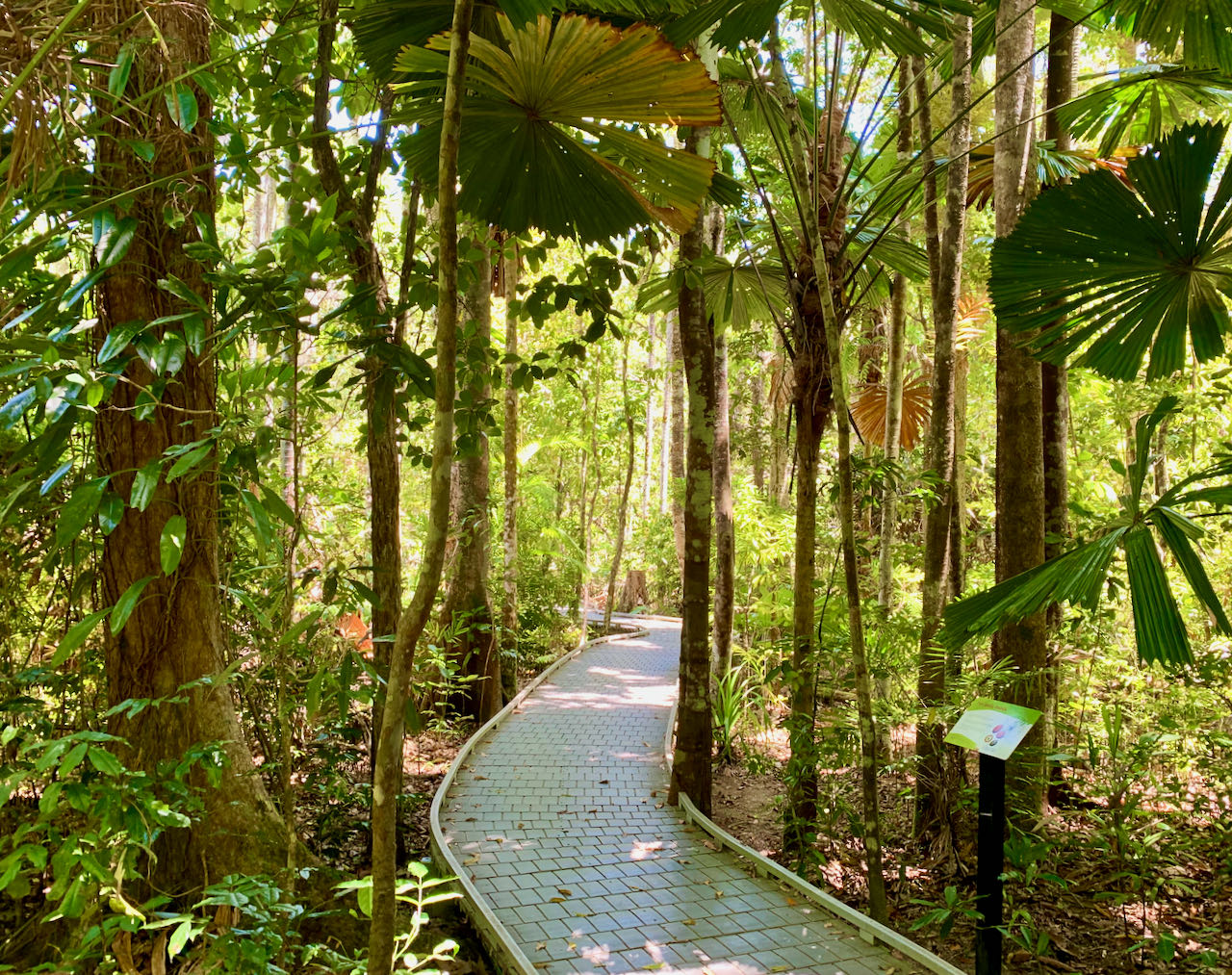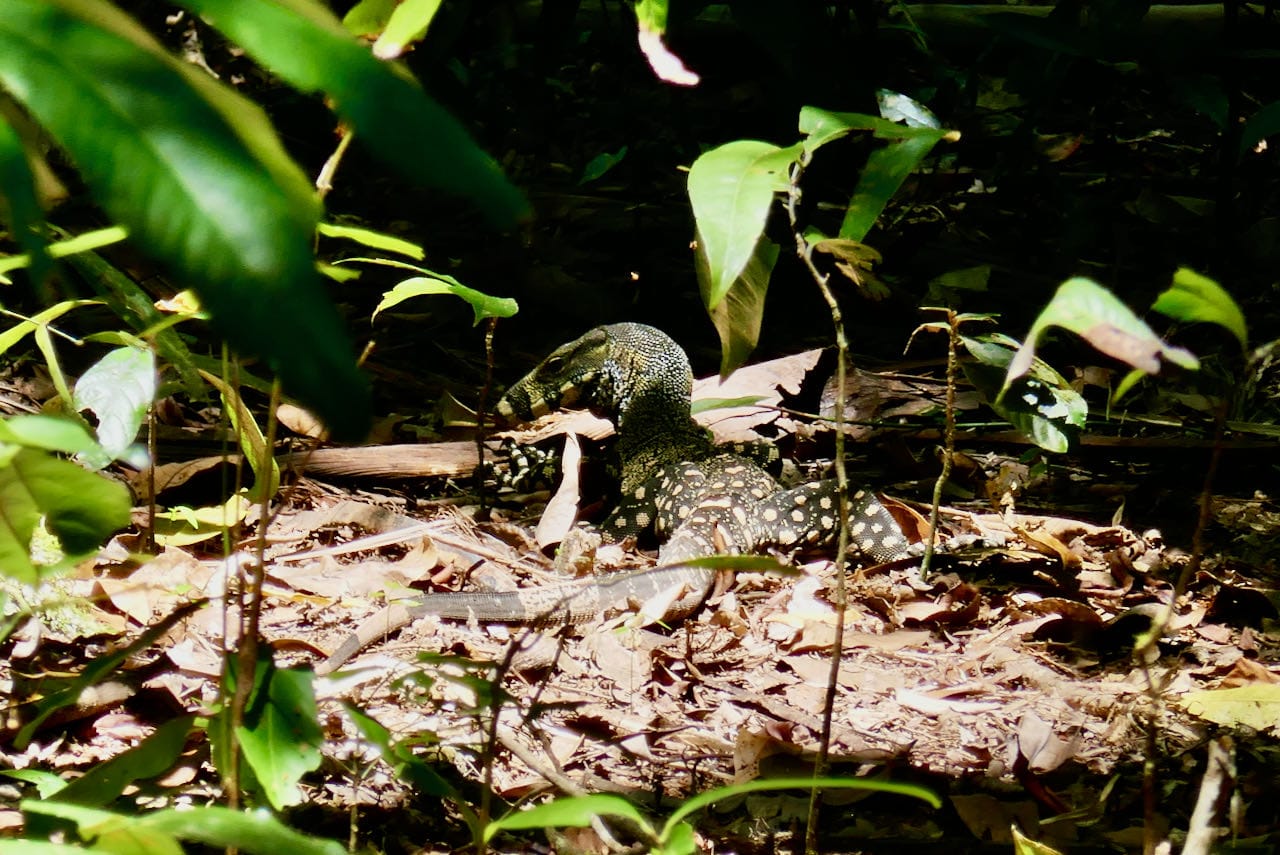 4. Thornton Beach
Thornton Beach is another paradise beach with silky soft sand and bright green palm trees. Like the other beaches in the area, swimming is not recommended here either due to crocodiles and stingers. But the beach is still a perfect place for a picnic or a walk in the beautiful surroundings.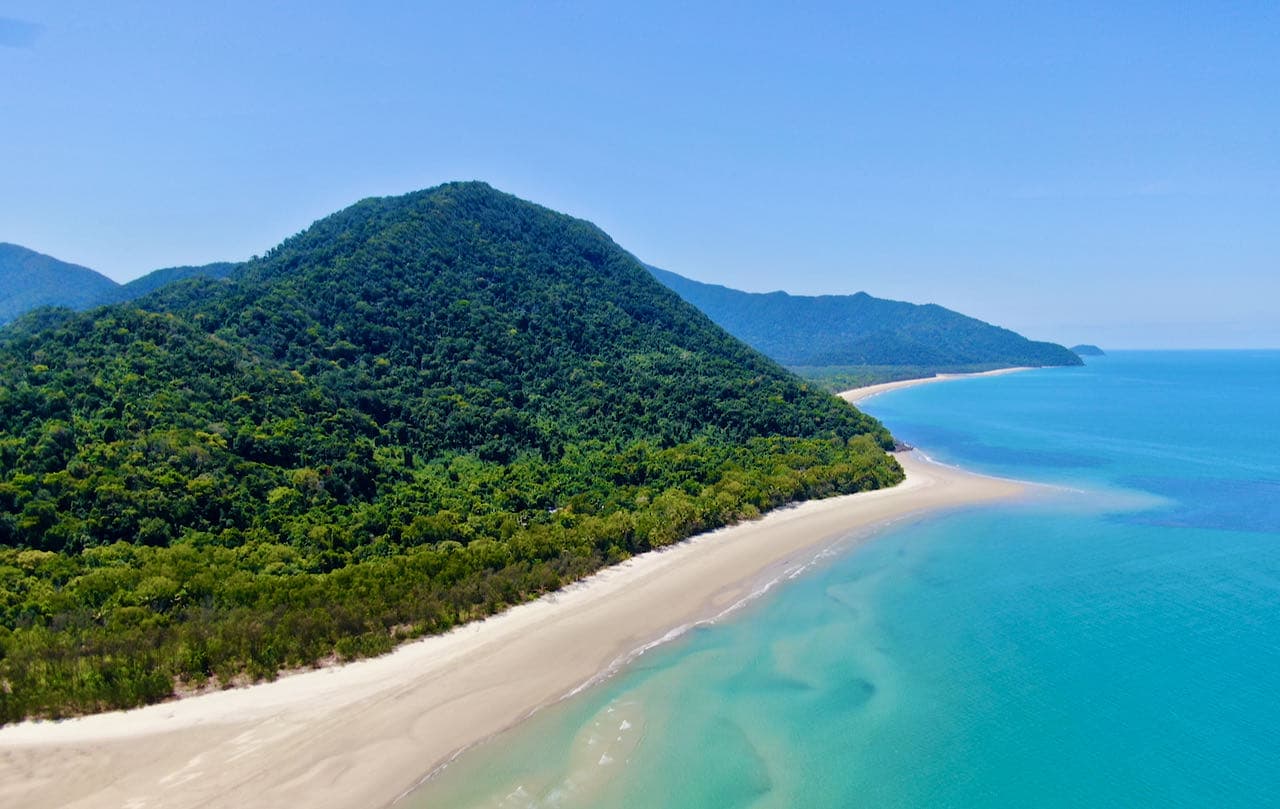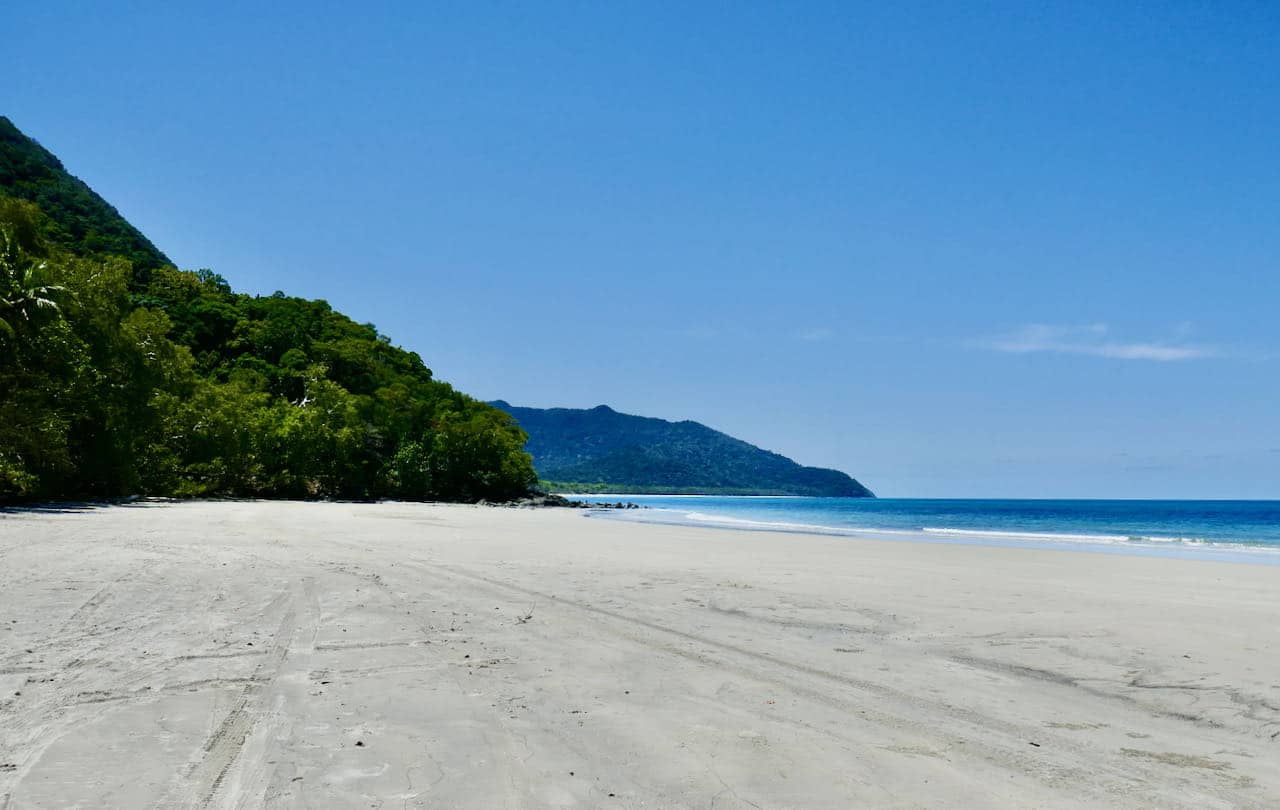 5. Daintree Ice Cream Company
The Daintree Ice Cream Company is a popular stop on the way to or from Cape Tribulation. Ice cream is made here from local organic ingredients. The exotic fruit that turns into ice cream and sorbets is grown on site, and visitors are welcome to stroll around the orchard. The ice cream is sold in cups with four different flavors that change daily based on which fruits are currently ripe. When we visited the Daintree Ice Cream Company, the flavors of the day were coconut, passion fruit, jackfruit, and wattleseed. The ice cream may not have been the best we've ever eaten, but it was still a lot of fun to test the exotic flavors.
Link to the Daintree Ice Cream Company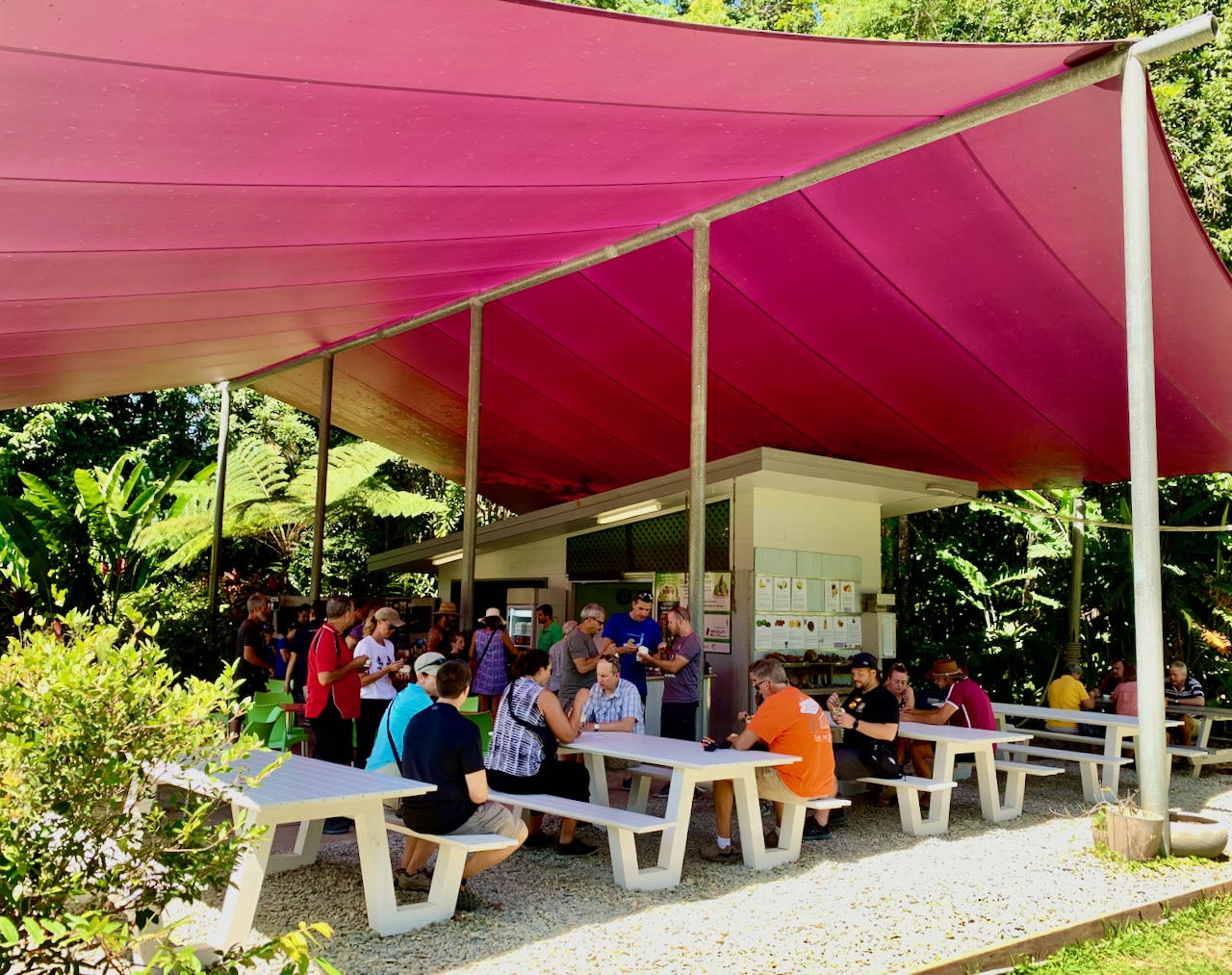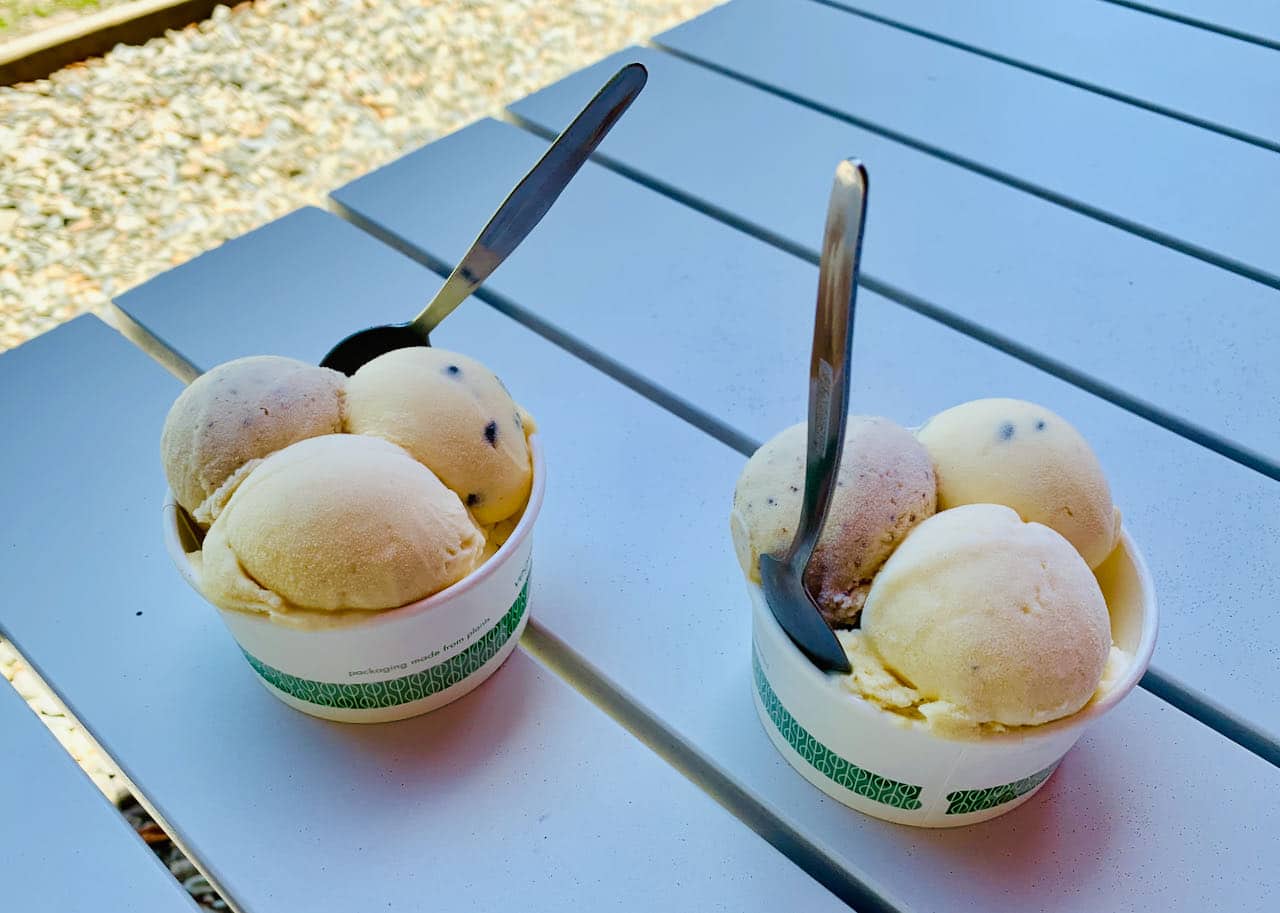 6. Jindalba Boardwalk
One of the highlights of our day trip to Cape Tribulation was hiking the Jindalba Boardwalk. This boardwalk is not as flat as the Madja Boardwalk and is unfortunately not wheelchair-friendly. It is nevertheless well arranged with steps, railings, and benches. The walk is only 700 meters long, but you still get the feeling of penetrating deep into the jungle. As on the Madja Boardwalk, there are signs describing the local plants and animals. We thought it was very exciting to stroll under high treetops while we scouted for the strange cassowary birds that you can glimpse along the trail if you're lucky. To our disappointment, we didn't see any.
From Jindalba Boardwalk it is also possible to walk a longer route of almost three kilometers. This path goes through tougher terrain and is suitable for the more adventurous.
Link to more information about the Jindalba Boardwalk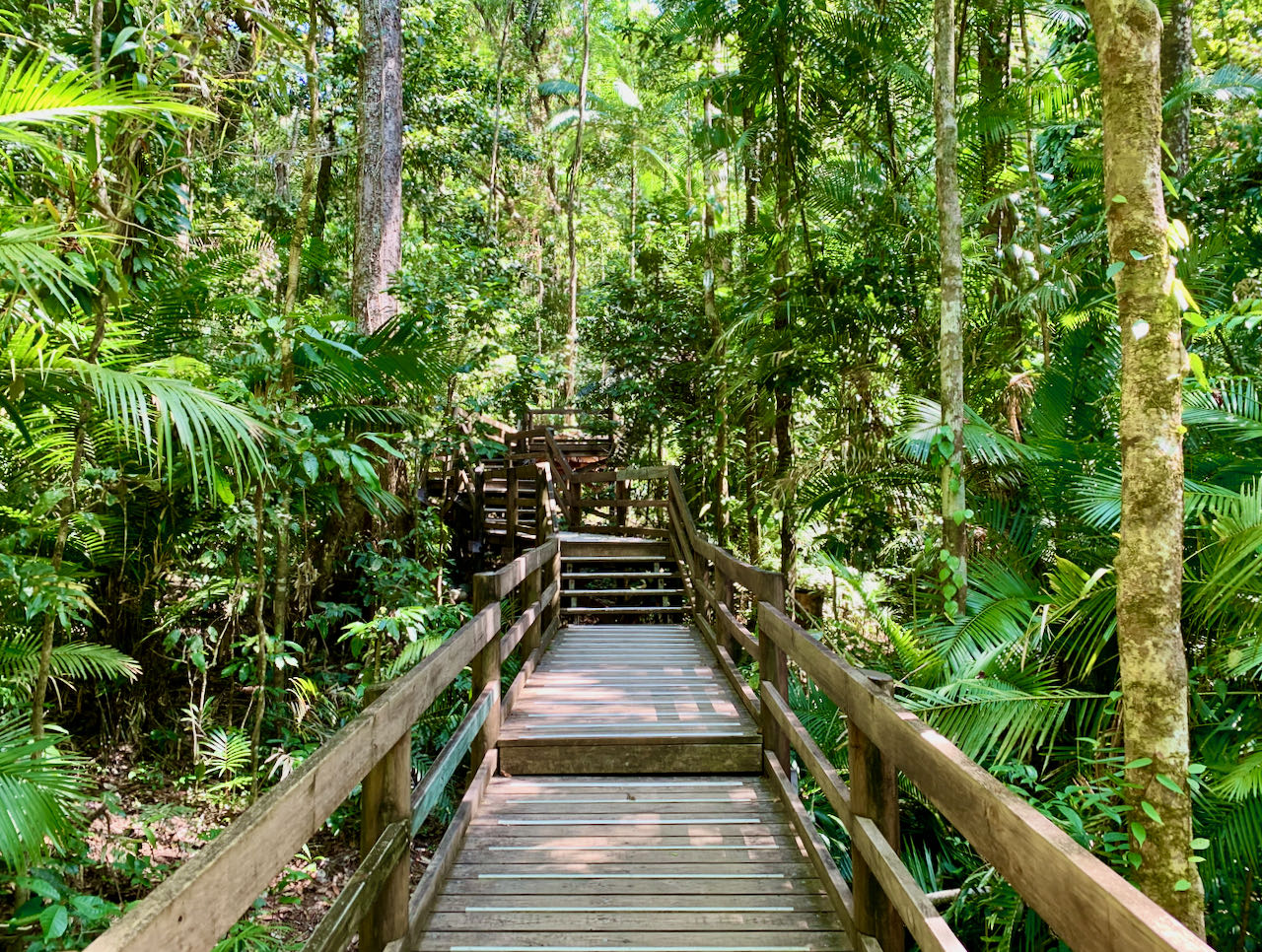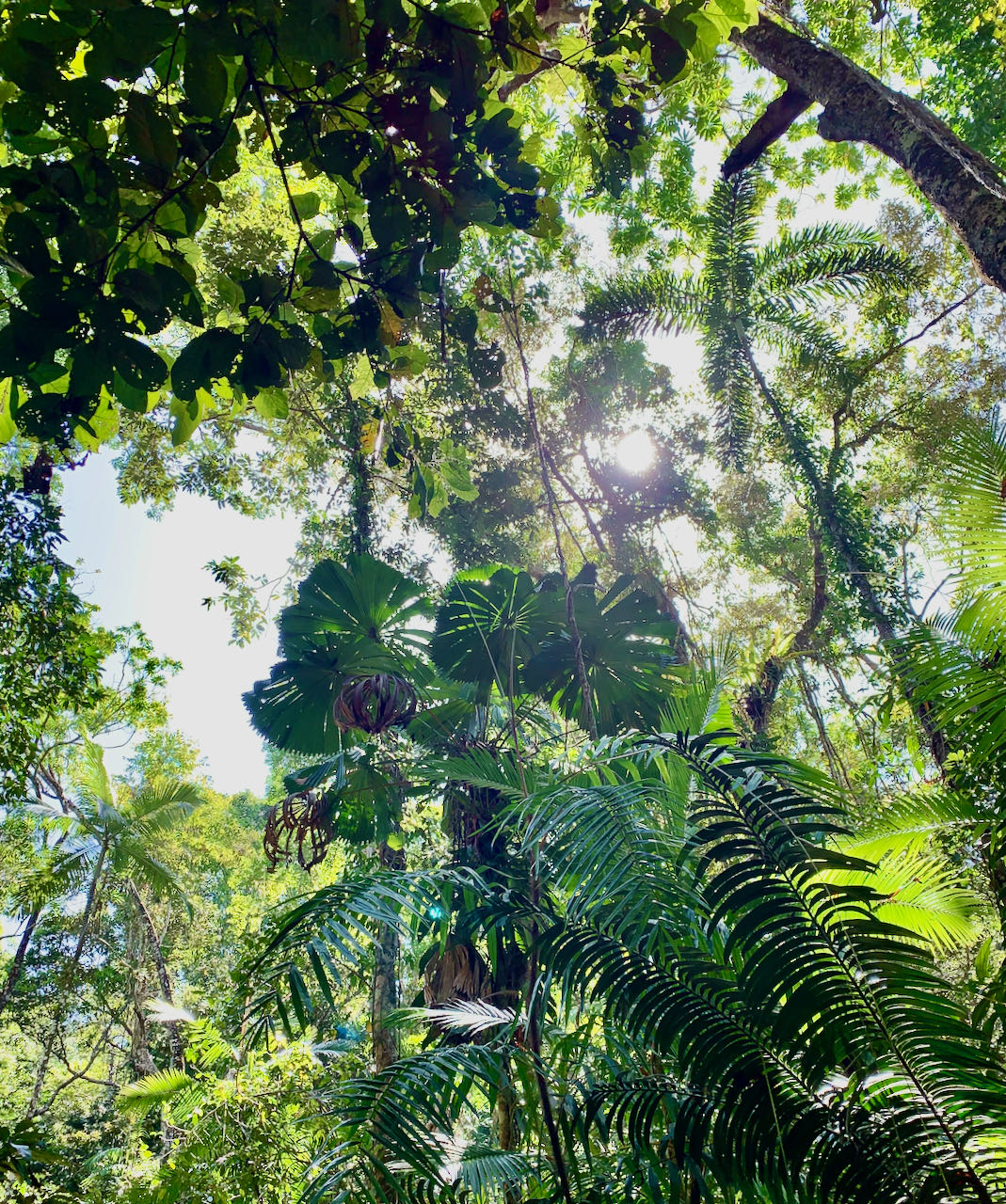 7. Mount Alexandra Lookout
The Mount Alexandra Lookout is a great place to take one last break before taking the ferry back. From here, you get an expansive view of the rainforest, as well as the point where Daintree River meets the sea. The lookout point is right by the road and there were plenty of free parking spaces when we stopped there.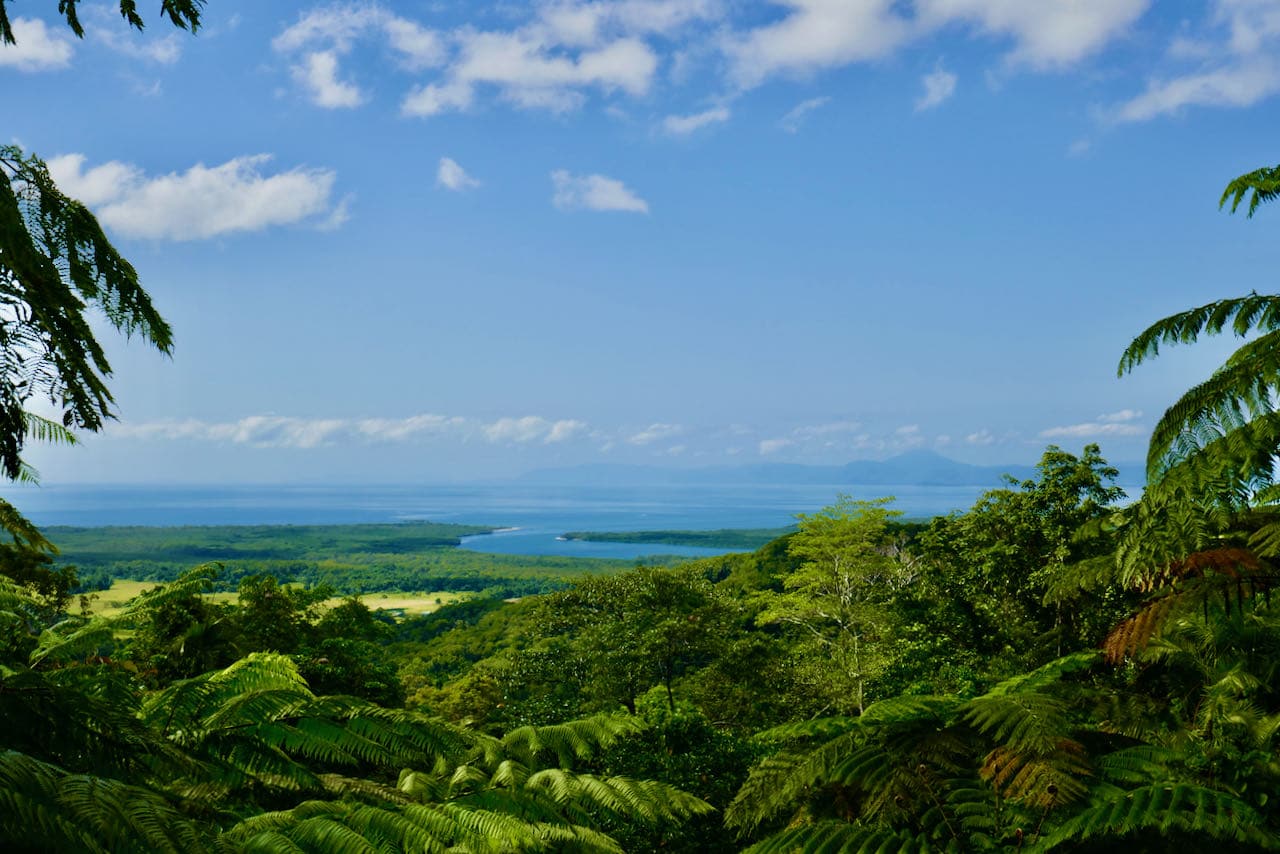 Other activities in the area
Tour of a tropical fruit farm
At Cape Trib Farm you can learn about the exotic fruits grown on the farm and get a taste of them too.
Snorkel at The Great Barrier Reef
Ocean Safari organizes snorkeling trips from Cape Tribulation.
Join a guided tour of the rainforest
The Daintree Rainforest company offers various tours and has received very good feedback on the internet.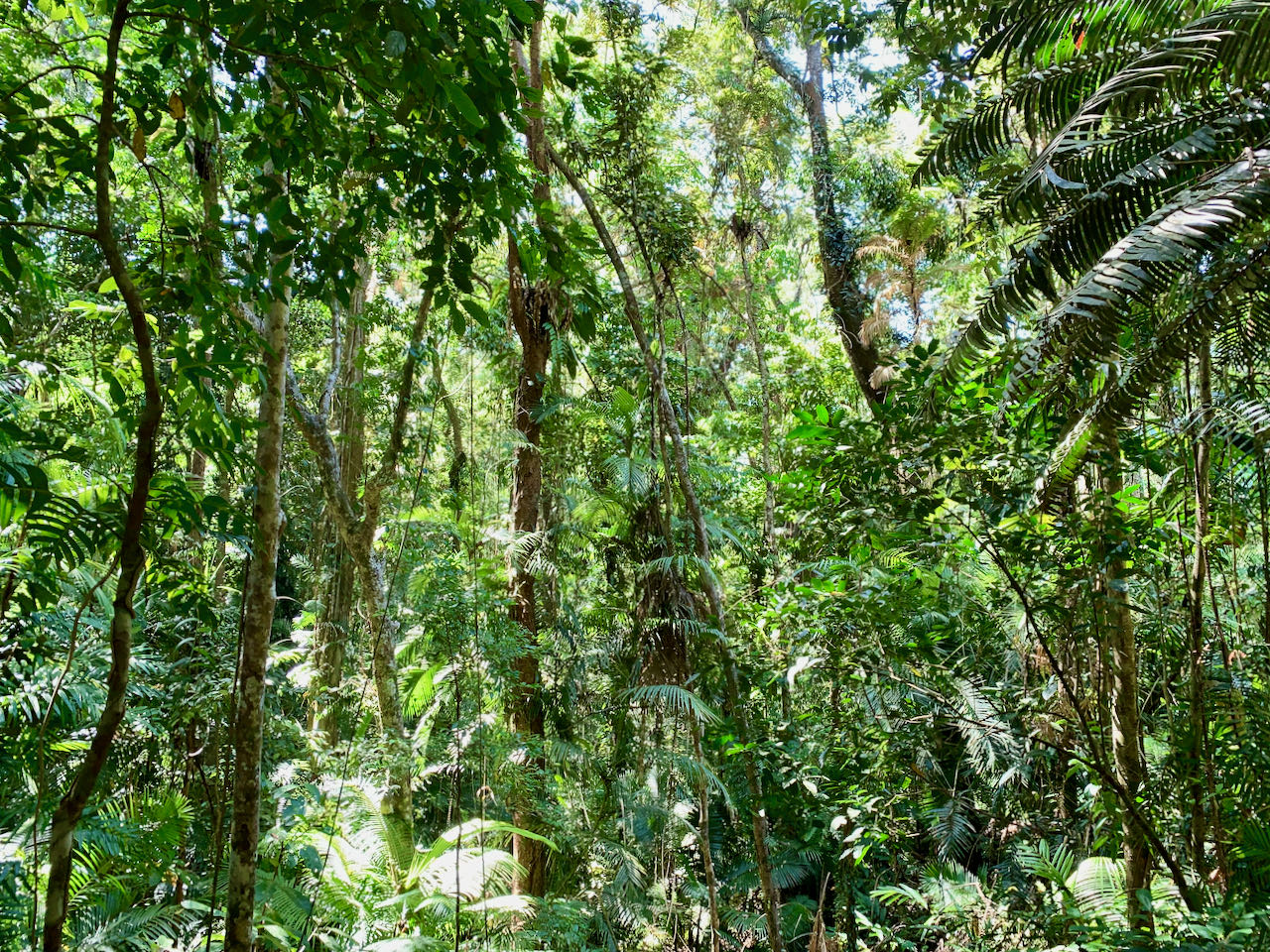 Go horseback riding on the beach
On the way to Myall Beach you will learn about the local flora and fauna.
Explore the rainforest at several heights
At the Daintree Discovery Center, there is a 23-meter-high observation tower in addition to paved paths and an aerial walkway. If you want to visit the Daintree Discovery Center, you should consider stopping there first so that you have a better understanding of what you'll see the rest of the day.
Link to the Daintree Discovery Centre
Cruise on the Daintree River
There are several companies that arrange cruises on the Daintree River. We went on a trip with the Solar Whisper one of the other days we were in the area and appreciated that they offer an environmentally friendly alternative with their solar electric boat. Unfortunately, we were unlucky with the weather and water level during our cruise and saw only one small baby crocodile. It therefore pays off to call ahead and ask when there is the greatest chance of seeing crocodiles. (This is usually when the water level is low and the temperatures are not too high.)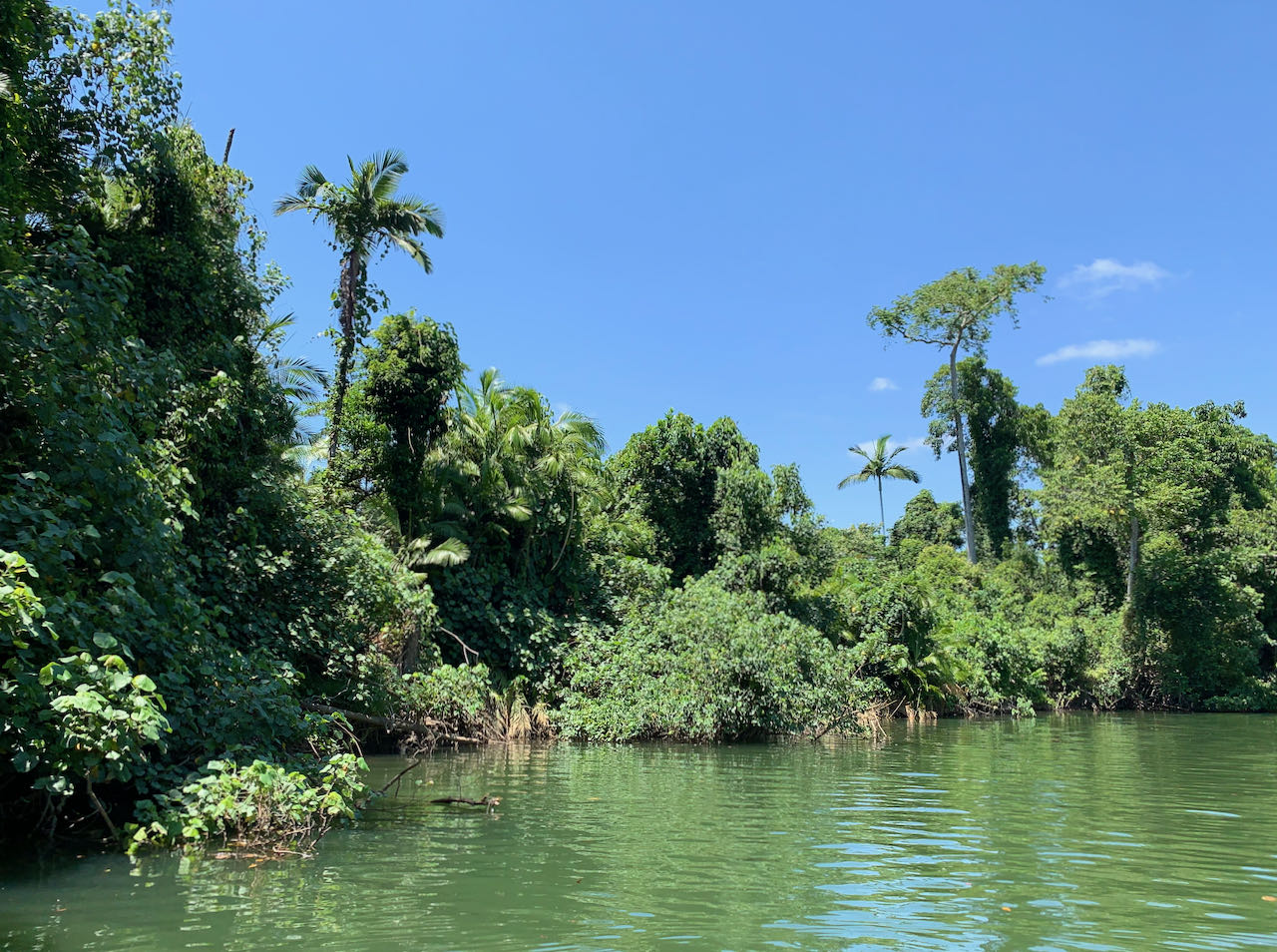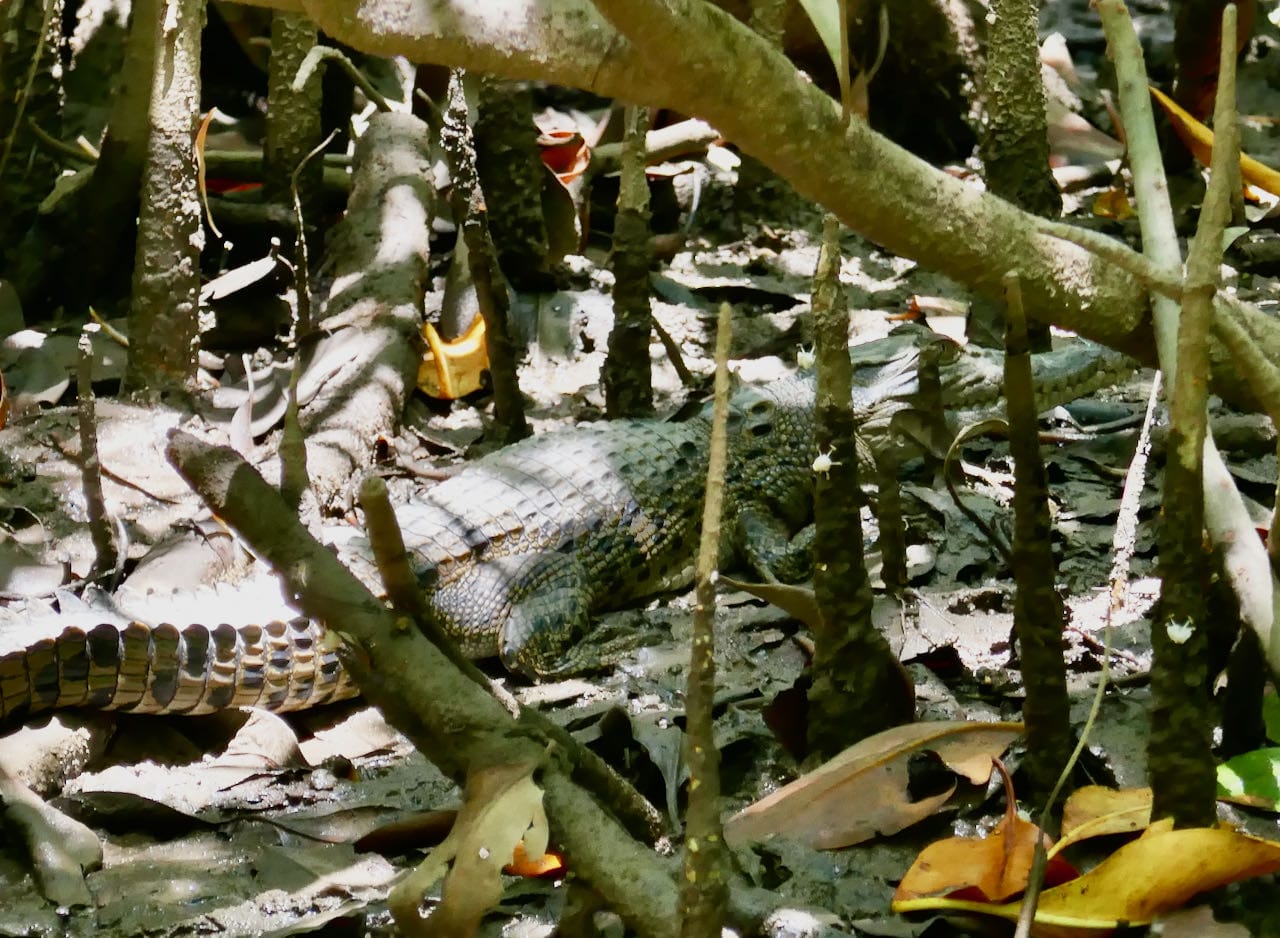 Tips and practical information
As previously said, it is wise to make a plan for the day before setting course for Cape Tribulation. Be prepared for mobile coverage to be poor, if not completely absent, so you can't count on using Google or Google Maps everywhere. You don't have to worry too much about getting lost because the road is easy to navigate, but it is still a good idea to have a paper map or download an offline one on your mobile before you leave.
Bring cash. The ferry and many other places take cards, but the system can sometimes have problems. It is therefore a good idea to have cash in hand.
There are cafes, restaurants, and grocery stores in the area. Since we wanted to spend as much time as possible in nature, we brought a cooler bag with a packed lunch.
There are plenty of public toilets around Cape Tribulation. These were both clean and neat, and had toilet paper and water, but no soap. We were therefore happy that we had brought hand sanitizer with us.
It's only 35 kilometers from Daintree River to Cape Tribulation. The road here has good paving but is quite narrow and winding, so the drive takes longer than you might think. This is actually an advantage since you can experience a lot of excitement along the way if you take the time to look. If you are really lucky, you can actually see both kangaroos and cassowaries from the car. (The local wildlife is precisely the reason why you have to keep a low speed while driving.)
When it comes to vehicles, it is perfectly fine to drive a regular rental car/sedan all the way up to Cape Tribulation. You may, however, like to choose a car with some ground clearance, and caravans are not recommended. If, on the other hand, you plan to go even further north, a car with four-wheel drive is required. The sealed road ends a little outside Cape Tribulation, and the road ahead is both steep and winding with river crossings.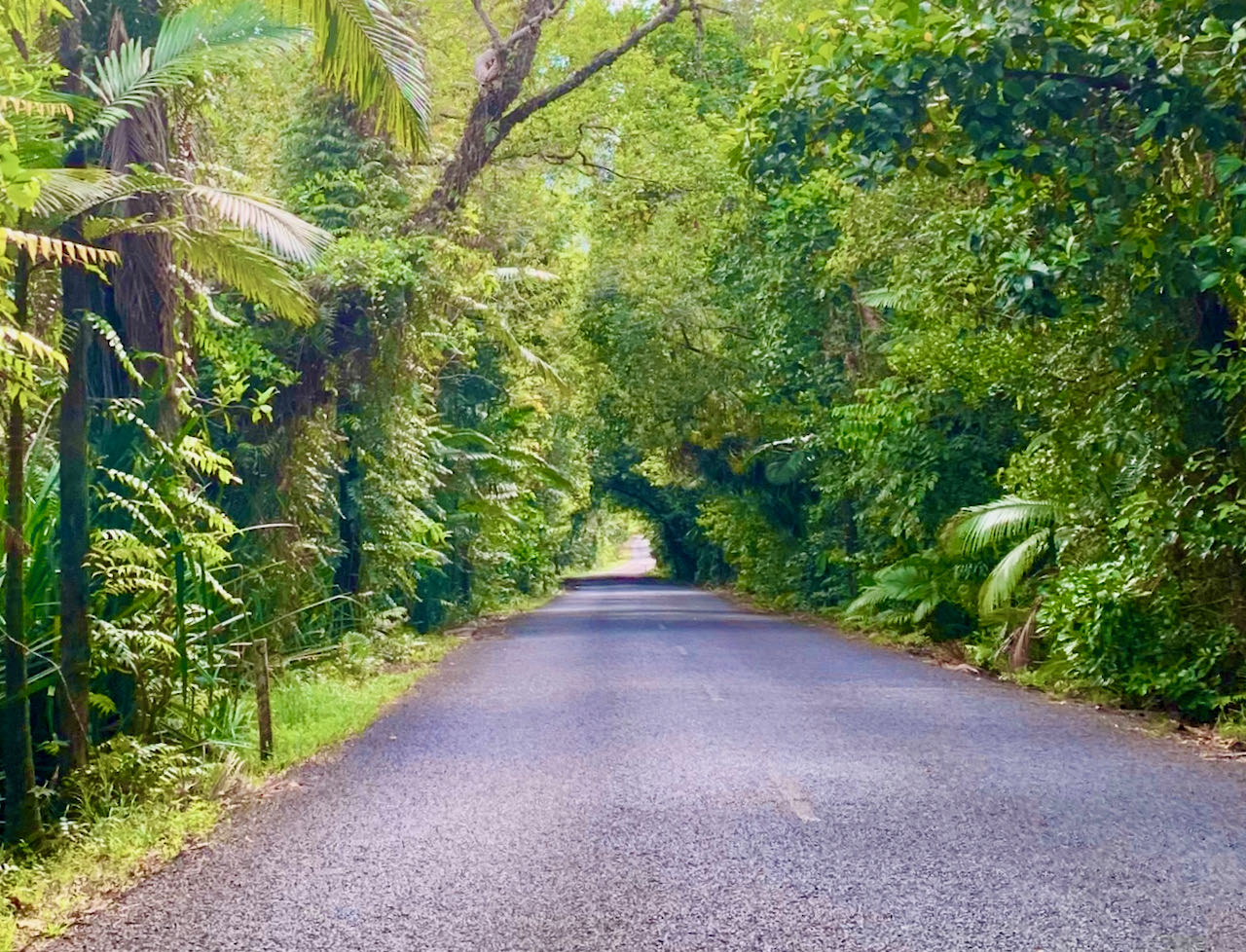 It is not only while sitting in the car that you should be aware of your surroundings. Wildlife can appear everywhere, and we saw the day's largest creature in one of the parking lots. This was a huge lizard that we didn't manage to take a picture of before it disappeared into the bush again.
You should not take lightly the signs that warn about crocodiles near beaches and rivers. During the crocodile cruise on Daintree River, we were introduced to the term "croc vise". In short, this means being on guard on beaches and near rivers and always keeping a good distance from the water's edge. If you see a crocodile, you should observe it at a safe distance and certainly not feed it.
If you are lucky enough to see a cassowary, it is important to keep a good distance from it as well. The large, ostrich-like birds can grow up to two meters tall and have long toenails that they use to defend themselves with. Cassowaries are often considered one of the most dangerous birds in the world, but attacks on humans are fortunately extremely rare.
In the rainforest, you should be careful about what you touch. There are stinging trees with heart-shaped leaves that can cause extreme pain if exposed to skin. During a hike in the rainforest at Mossman Gorge, we learned from our Aboriginal guide that the pain from the stinging tree can last for up to six months. In other words, there are many good reasons to be extra careful when moving in one of the world's oldest rainforests. Potential dangers aside, a visit to Cape Tribulation and Daintree Rainforest is an experience one should really not miss out on!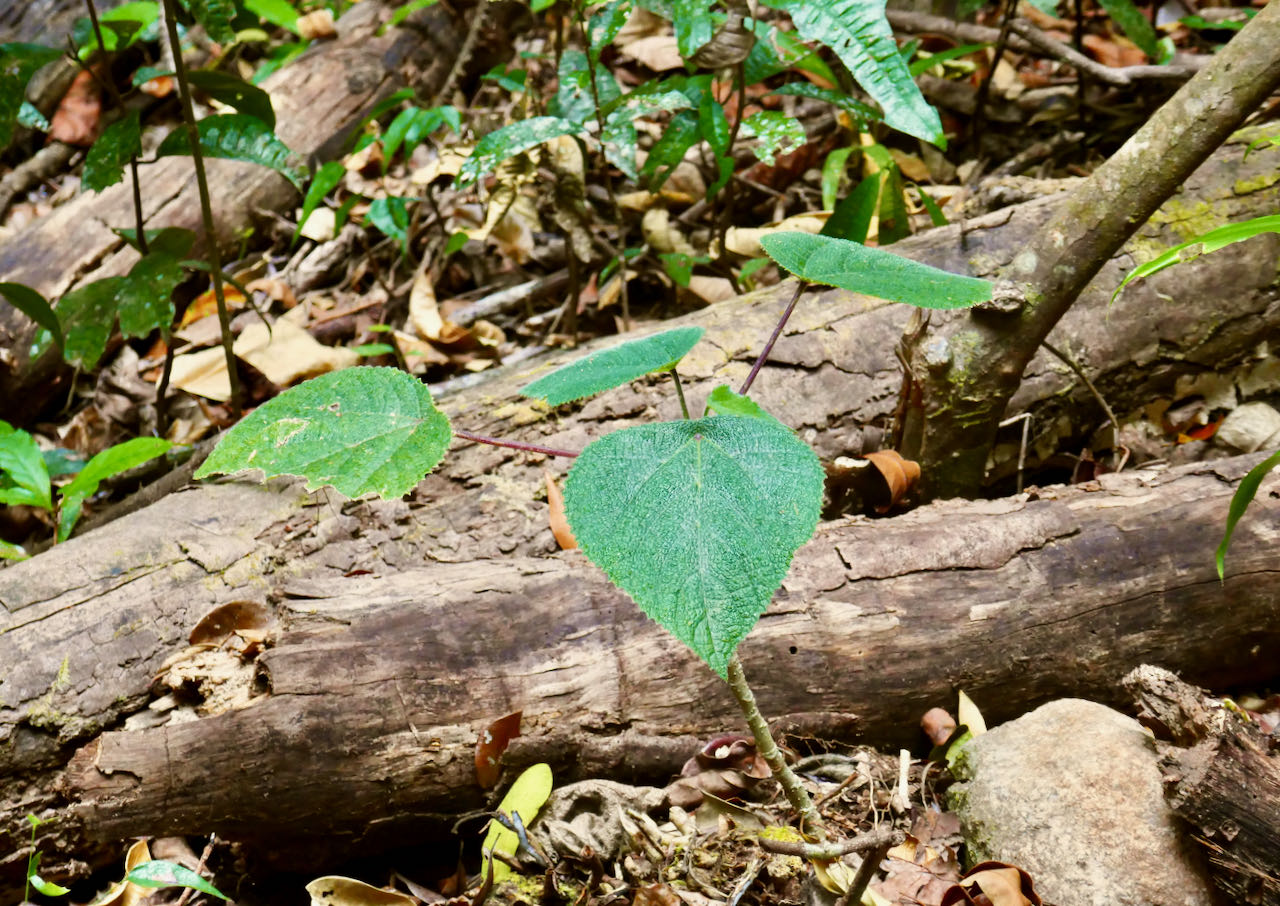 * We visited Cape Tribulation in October 2019.