Published November 2020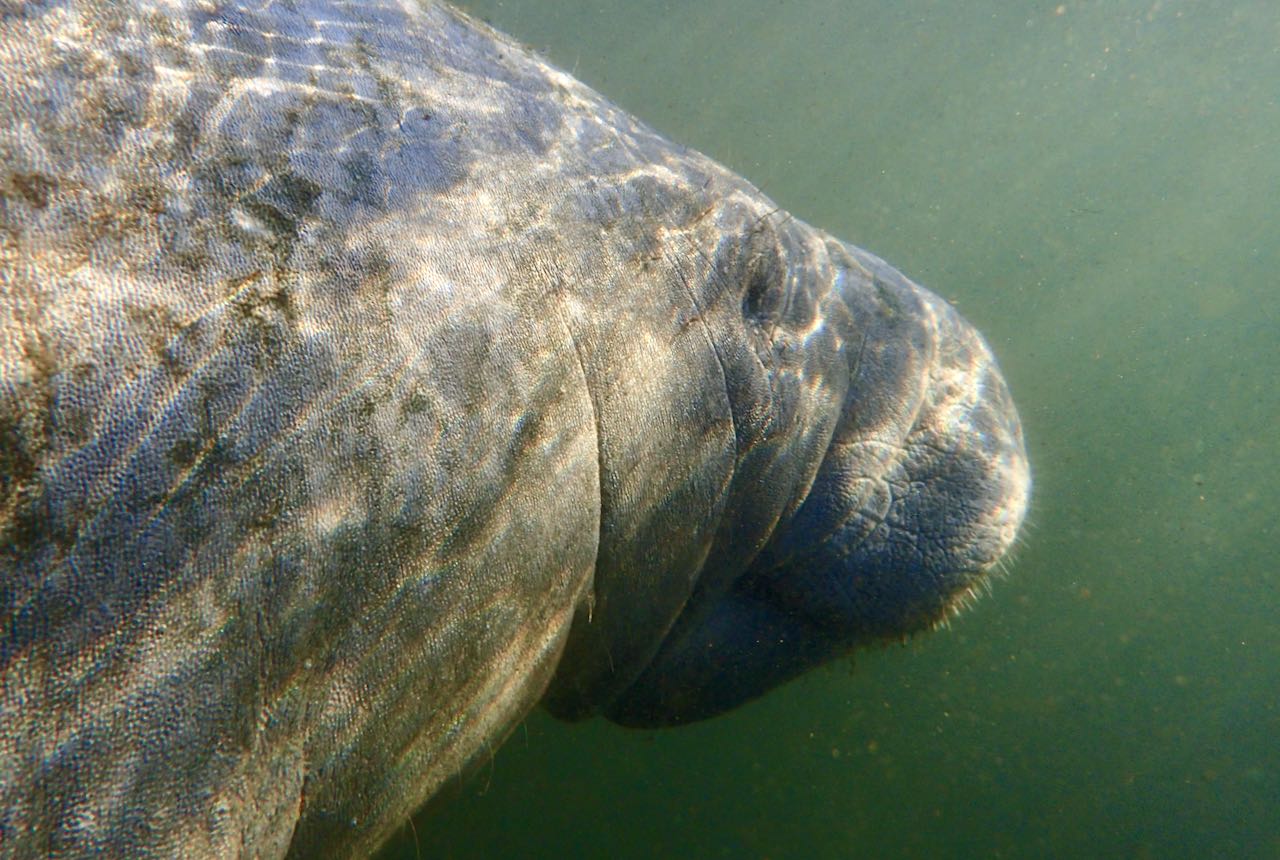 Swimming with manatees has long been a dream for us, and when we visited USA in February, we were hoping to finally make it come true.
The only places in the world where swimming with manatees is allowed are in Crystal River and in Homosassa Springs in Florida. Since Crystal River is significantly more known as a hotspot for manatees than Homosassa Springs, most tourists make the trip there. Because of this, we chose to try our luck in Homosassa Springs instead. Manatees, or sea cows as they are also called, don't like splashing, loud noises, or sudden movements, so we hoped that fewer tourists would mean a better chance of getting close to them.
After searching a bit online for someone who could take us on a tour, we found the company Mellow Mangrove Charters. Since manatees are most active early in the day, we signed up for the day's first excursion which started at 7 a.m.
It was 13 degrees Celsius (55 degrees Fahrenheit) and completely dark when we left our hotel and drove to Homosassa Springs. On the dock there, we met our guide and captain of the day, Sean Daugherty. It turned out that there was only one other participant in addition to us on that day's tour, which meant that there would only be three of us going into the water. (Later we would also find out that we were the only boat in the area so early in the morning.) After a nice introduction and distribution of wetsuits, we were ready to go.
During the 15-minute boat trip, Sean taught us about manatees and their way of life. We also watched a video called "Manatee Manners," which everyone who is going to swim with manatees is required to watch. The video thoroughly explains how one should, and should not, behave around the gentle marine mammals. It is important that all contact takes place on their own initiative and premises, and one should under no circumstances intimidate or persecute them. Captain Sean further explained to us that manatees prefer to seek contact with people who are calmest and move around the least in the water.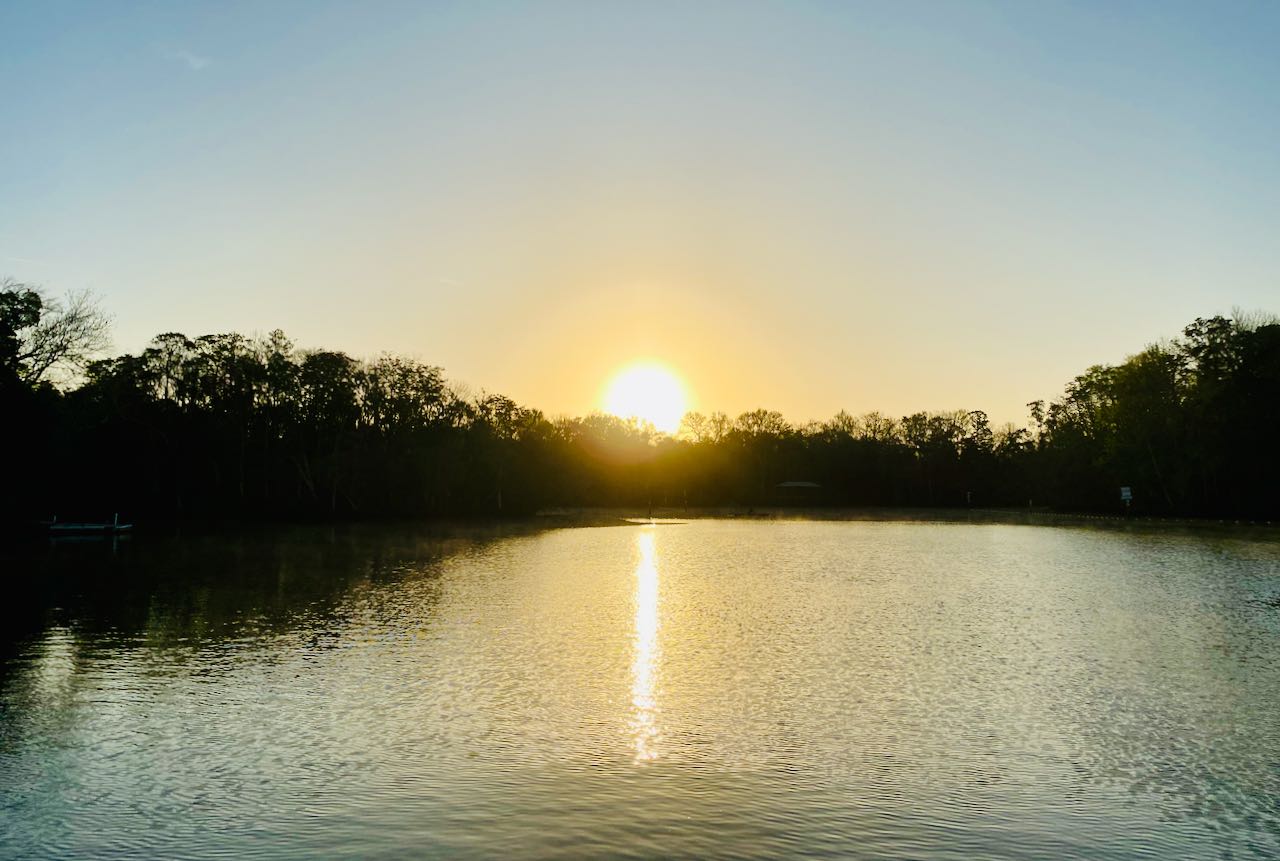 As the boat slowly but surely found its way up Homosassa Springs, we changed into our wetsuits. Despite the enclosed seating with heating on the boat, it got somewhat chilly and getting into the water didn't seem too appealing. This, however, was about to change very quickly.
Out of the blue, we were surrounded by so many manatees, we could hardly believe our own eyes. Captain Sean estimated that there were about 100 of them frolicking around the boat! With no time to waste, we put on our masks and snorkels and hurried to join them.
Sinking into the cool water knocked our breath out for a few seconds, but this was forgotten in an instant when the first manatee drifted over to greet us. We readily admit that our heart rates rose a notch when the large creature came gliding towards us in the rather murky water, but we realized very quickly that we didn't have the slightest thing to fear.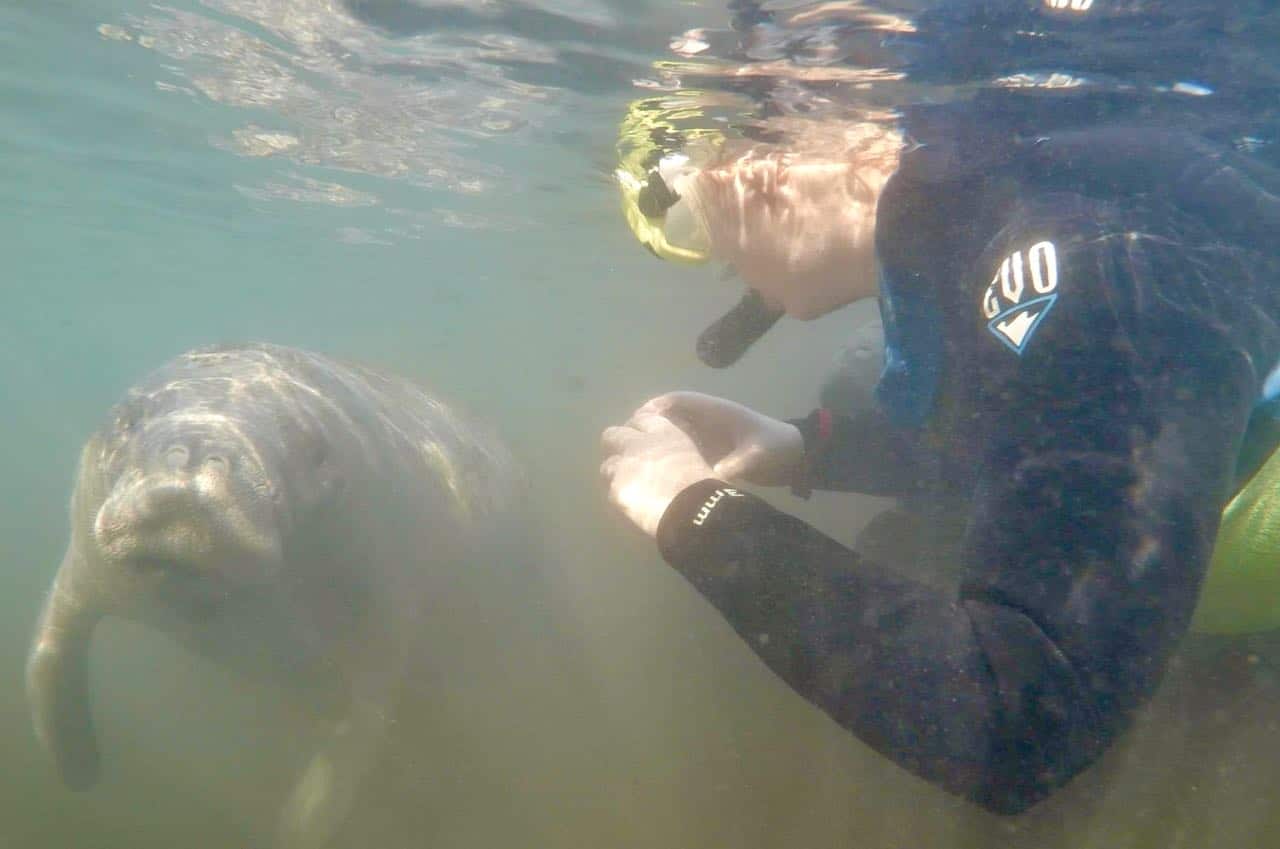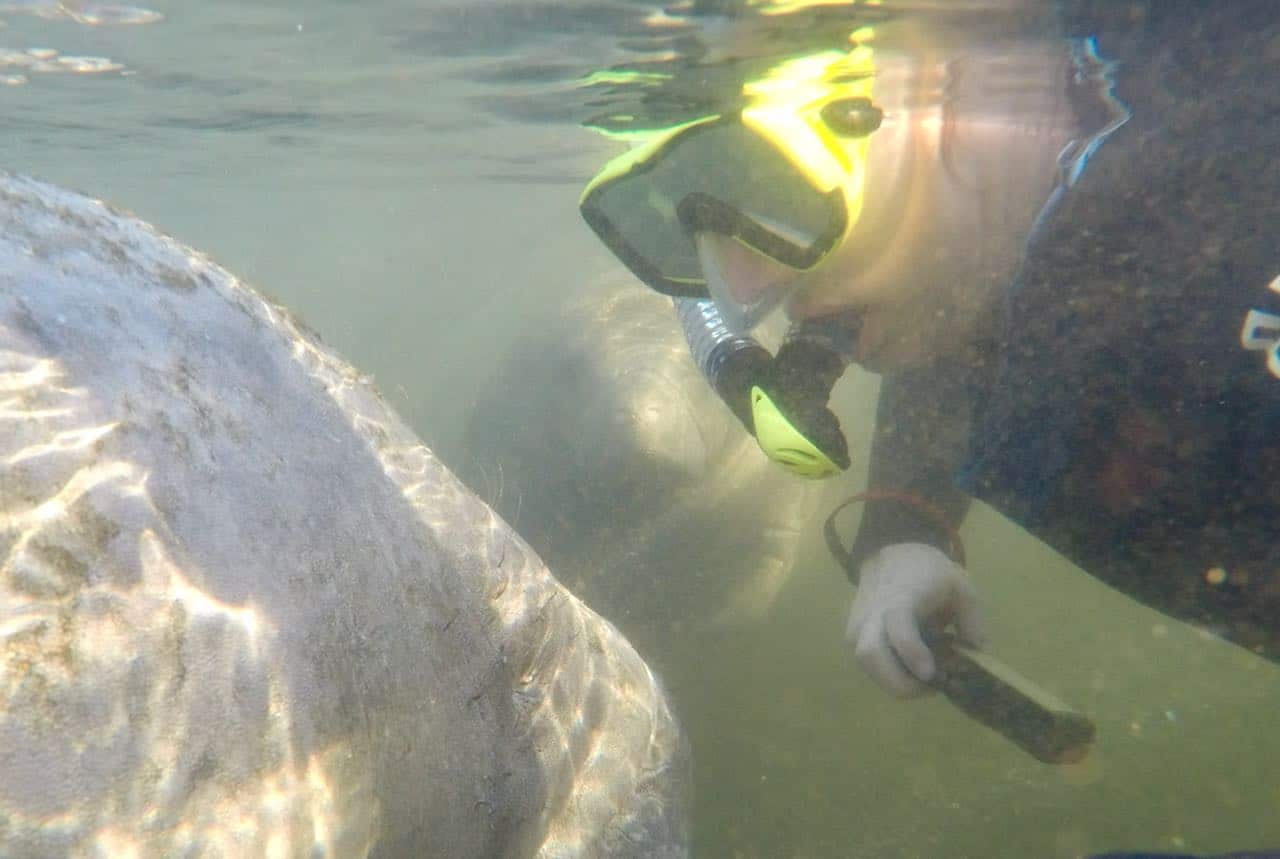 The next hour offered experiences we had never dreamed of in our wildest imagination. The manatees were literally everywhere and practically lined up to interact with us. Some chose to pull up beside us and just "hang" there completely still, while others were more assertive and put their flippers around us. At one point, one manatee hugged Marianne's arm while another hugged her leg!
As time went on, it became increasingly difficult to ignore the cold that began to penetrate our wetsuits. The constant onslaught of charm from the friendly giants, however, kept us in the water.
Finally, the cold was so intrusive that we decided to head for the boat. Along the way, one of the manatees decided to give Marianne the perfect farewell. With gentle movements, the gray charmer came right up to her face, and before she knew it, it had placed a kiss right on her diving mask 🙂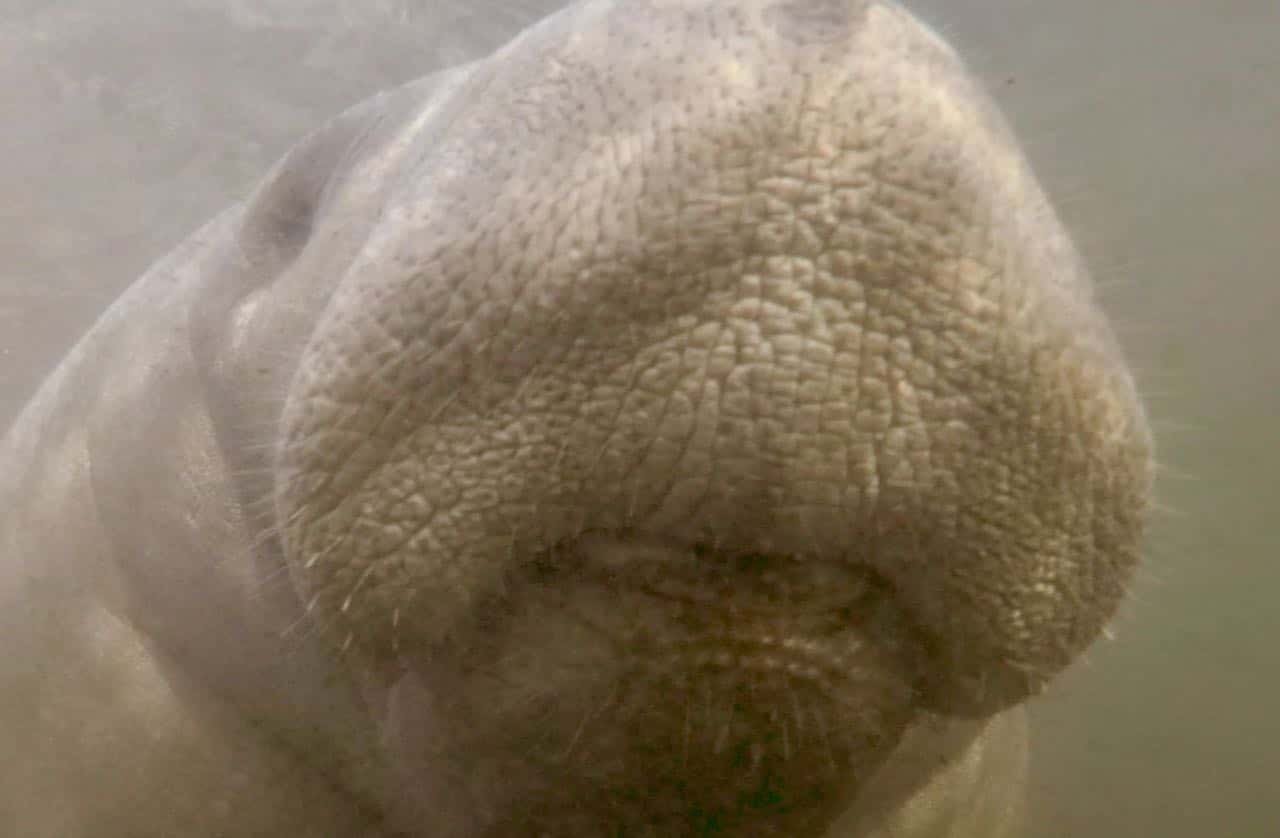 Summary
We will never forget the wonderful hour we spent with the sea cows in Homosassa Springs. The feeling of getting a hug from a wild creature of several hundred kilos (they can weigh more than a thousand pounds) is simply impossible to describe, and we feel incredibly lucky and grateful that we got to experience this.
During the tour we felt very well taken care of by Captain Sean. With his relaxing nature, he created a very pleasant atmosphere on board. He enthusiastically answered our questions and was obviously very concerned about protecting the manatees in the area. In other words, we can highly recommend going on a tour with Sean and Mellow Mangrove Charters.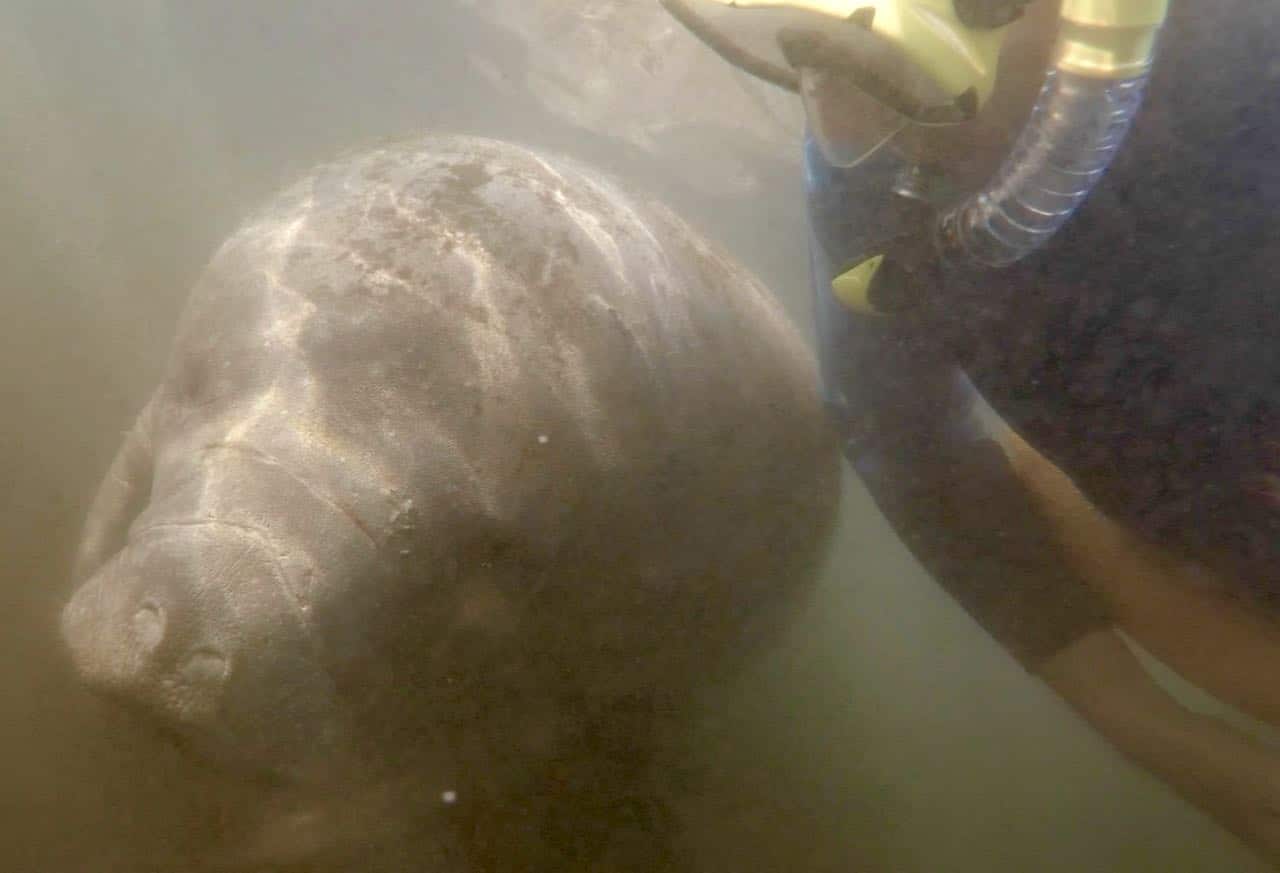 Practical information and tips:
Homosassa Springs and Crystal River are located in Citrus County, Florida, approximately 1 hour and 30 minutes west out of Orlando.
Your best chance of seeing manatees in this area is between November 15 and the end of March.
There are several different tour operators that arrange snorkeling tours with manatees in Crystal River and Homosassa Springs.
Our trip with Mellow Mangrove Charters cost 60 USD (+ tax and tips).
Mellow Mangrove Charters' tours allow for only six participants at a time, which means that it's not too crowded in the boat or in the water. Fewer people in the water at once also decreases the chance of the manatees being scared away.
It is a good idea to sign up for the day's first excursion. Manatees are most active early in the morning, and there are also fewer boats in the water than later in the day.
Link to Mellow Mangrove Charters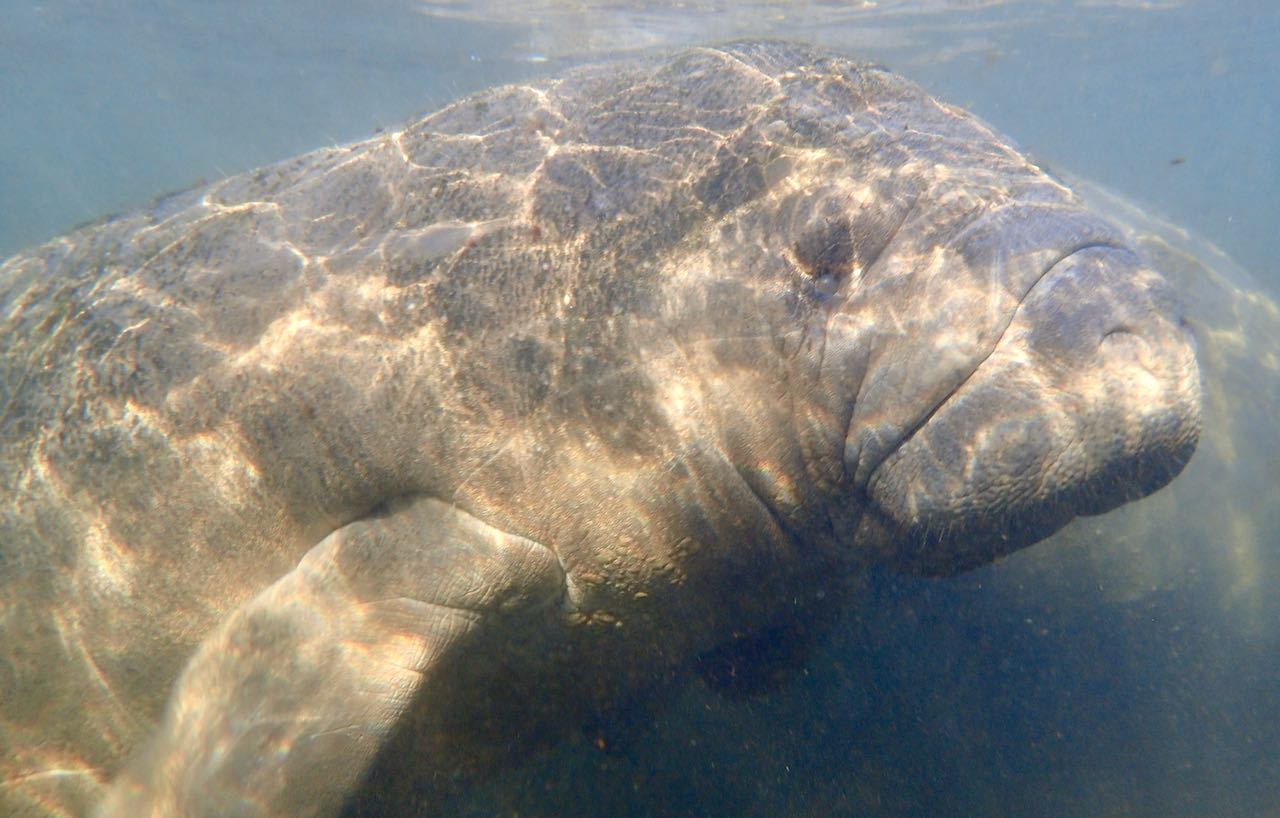 Do you want to see manatees without getting wet?
For those who don't want to or can't swim with the manatees, there are fortunately several other opportunities to see the fascinating animals from land.
Three Sisters Springs
The Three Sisters Springs are natural hot springs with crystal clear water, which serve as a refuge for the sea cows in the coldest months of the year. Here there are boardwalks along the water, thus offering opportunities to see the manatees without getting wet. The best chance of spotting them close to land is on cold days, since that's when they seek out the warm waters in the hot springs. When we were in the area in mid-February, the weather was unusually warm, so there were no manatees in the Three Sisters Springs. We still saw many of them, but at a long distance and in more murky water.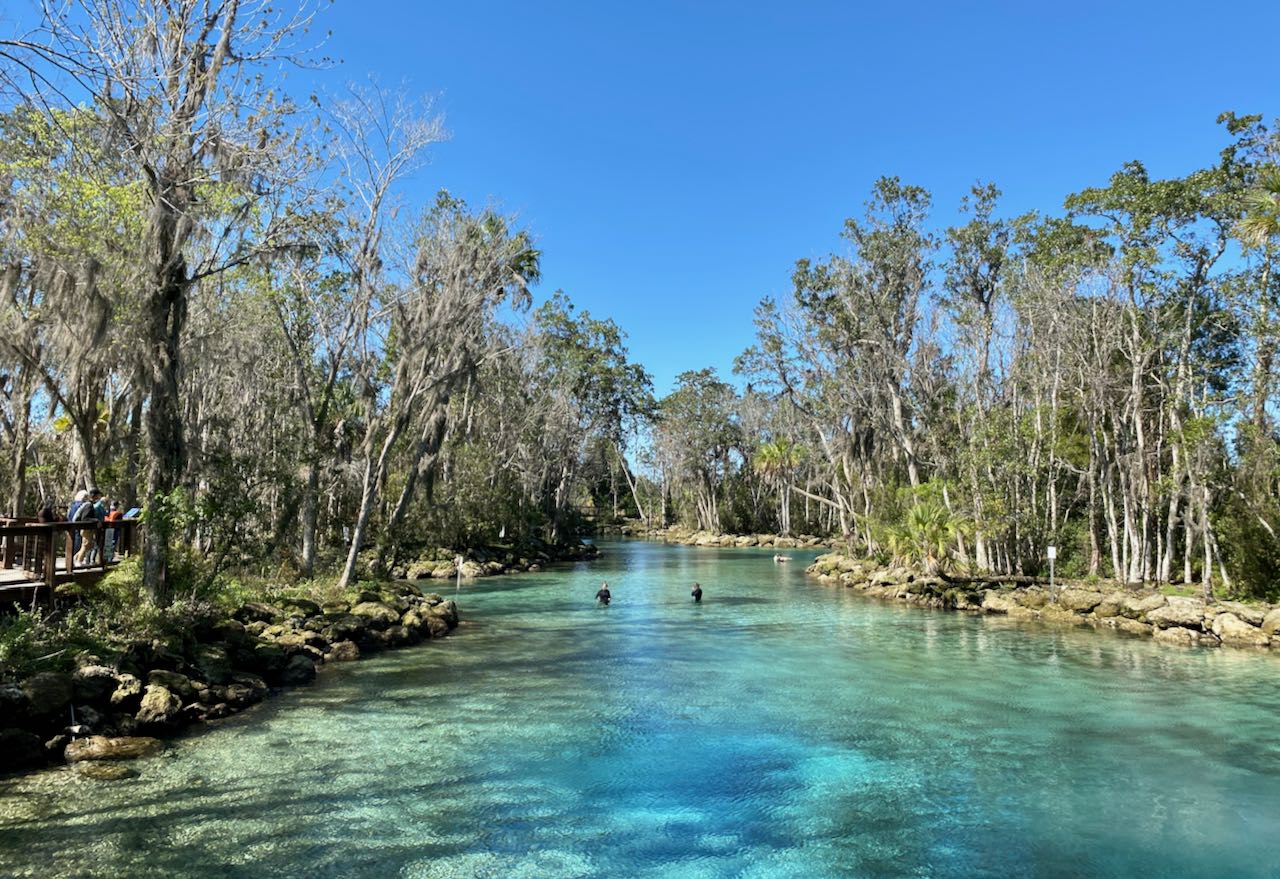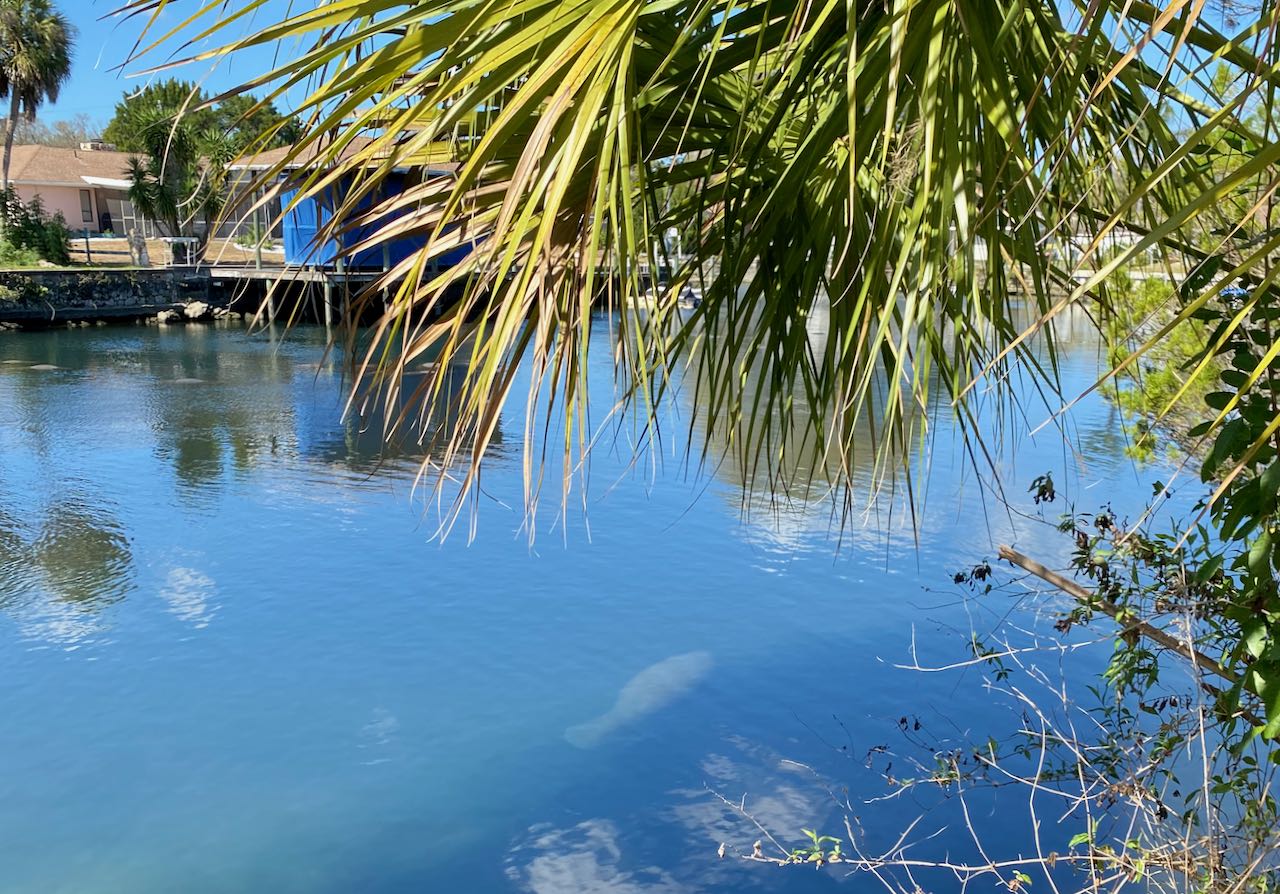 Admission to visit the Three Sisters Springs is 20 USD for adults and 7.5 USD for children between November 15 and March 31. From April 1 to November 14, the price is 12.5 USD for adults and 7.5 USD for children.
Ellie Schiller Homosassa Springs Wildlife State Park
Another option, which guarantees that you will see manatees, is to visit the Homosassa Springs Wildlife State Park. The park has manatees who live there permanently due to various disabilities, and also rehabilitation places for manatees who need temporary treatment and follow-up.
Manatee programs are offered daily. We listened to one of the talks and were enchanted by the incredibly captivating and instructive lecture. In other words, this is something not to be missed! As part of the talk, the manatees were served lettuce, and it was very fun to see them munching on the green leaves.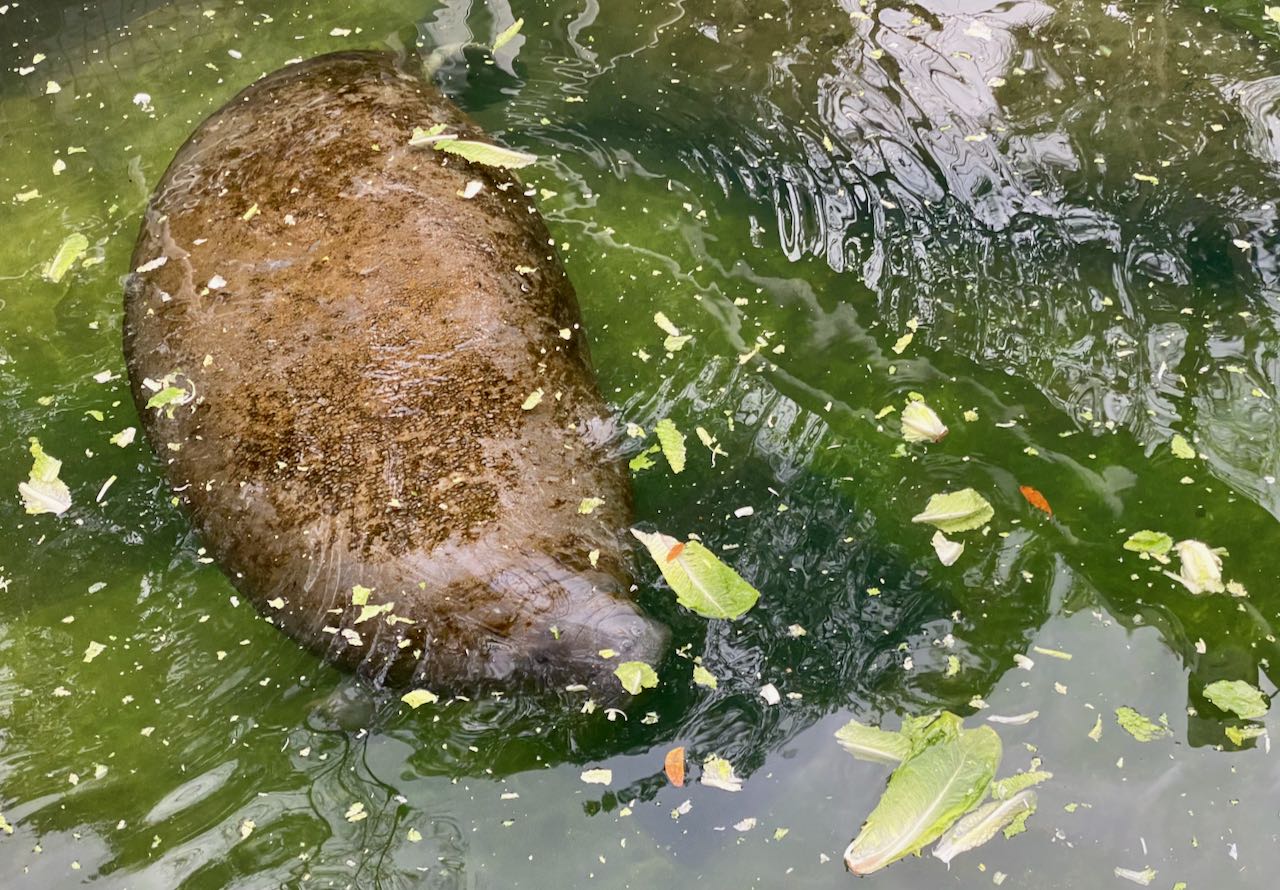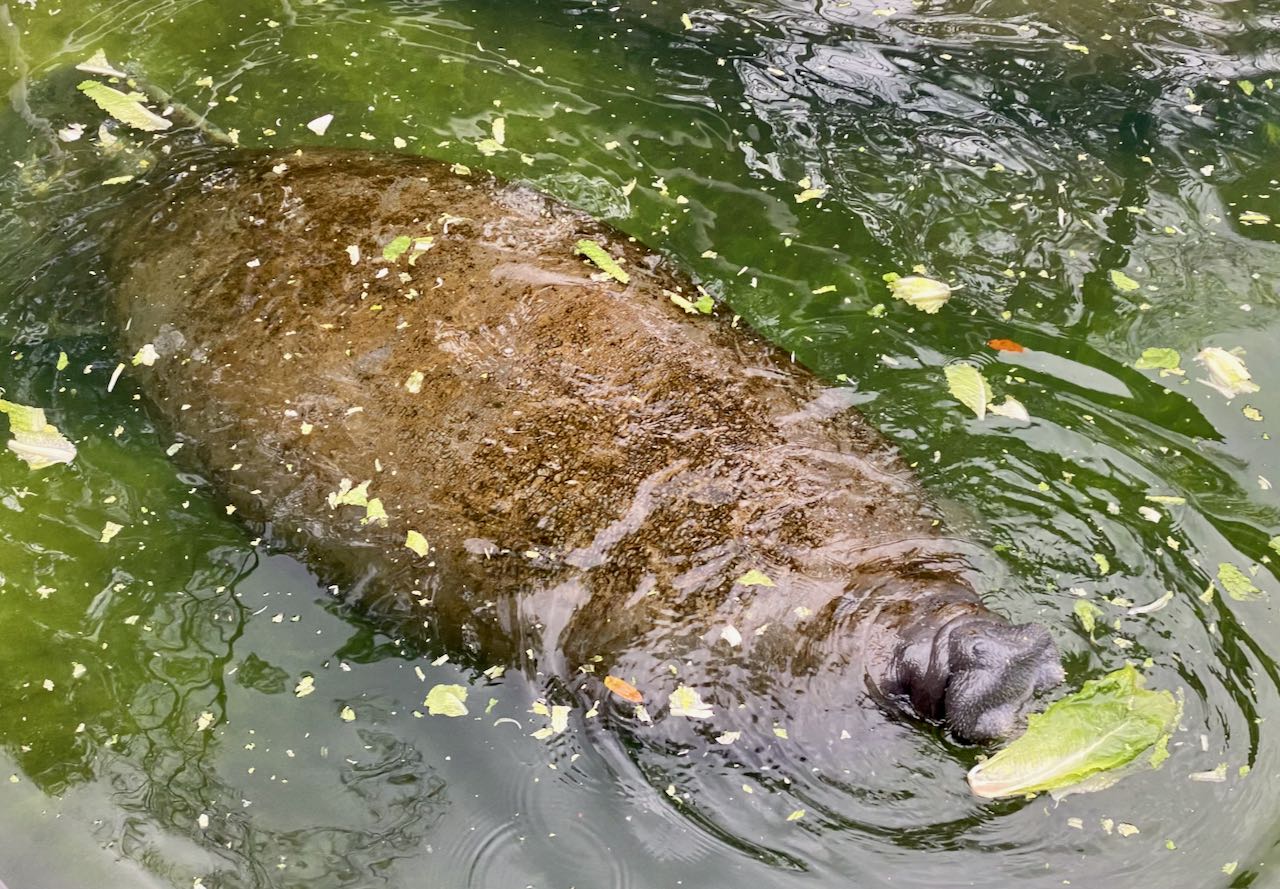 Homosassa Springs Wildlife State Park also has a number of other animals such as a hippo, alligators, black bears, wolves, and panthers. Entrance costs 13 USD for adults and 5 USD for children.
Link to Homosassa Springs Wildlife State Park
*We went on the manatee tour with Mellow Mangrove Charters in February 2020. Mellow Mangrove Charters did not know that they could be featured on our blog, and we did not receive any special discounts.