April 2019
As we step out of the tuk-tuk in front of Raffles Grand Hotel d'Angkor in Siem Reap, we are immediately welcomed by a smiling staff member dressed in a traditional costume. A few moments later we find ourselves in a comfortable sofa. Raffles Grand Hotel d'Angkor serves its afternoon tea in The Conservatory, a gorgeous colonial-style room.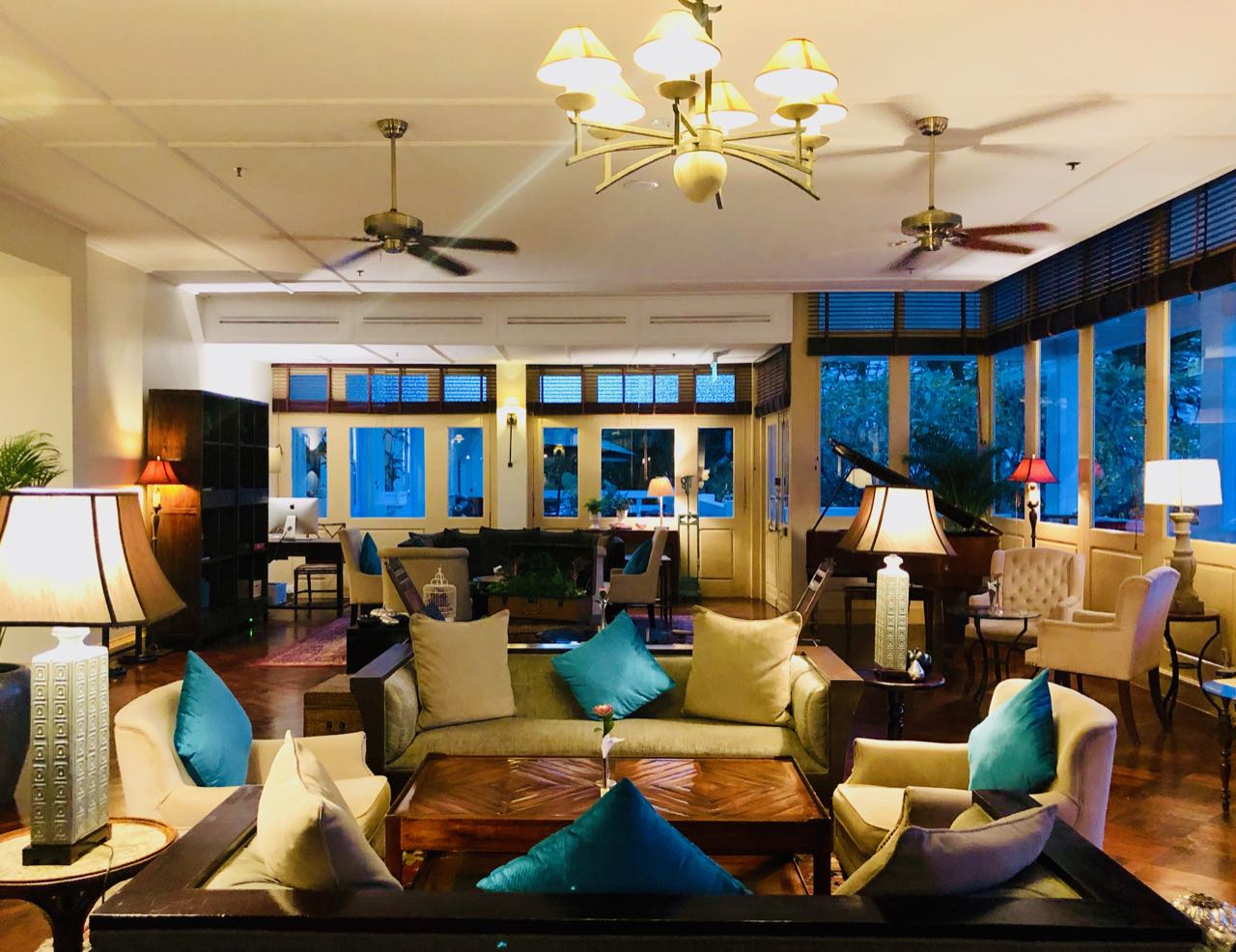 The menu tempts us with a variety of traditional and more modern offerings in three differently themed menus. The Signature High Tea consists of typical items such as cucumber sandwiches and scones, while the Wellness Tea and the Local Khmer Tea offer more exotic flavors. We decide on having a bit of both, and order one Signature High Tea and one Wellness Tea.
Within a few minutes, the table in front of us is covered with delicious looking treats. Stylish silver teapots with steaming hot tea and beautiful tableware with the hotel's own logo, cannot draw our attention away from the colorful and elaborately crafted dishes. Sandwiches, cakes and other sweets form a striking rainbow with flowers, herbs, fruits and vegetables complementing the presentation. Never have we seen a more vibrant table setting for an afternoon tea.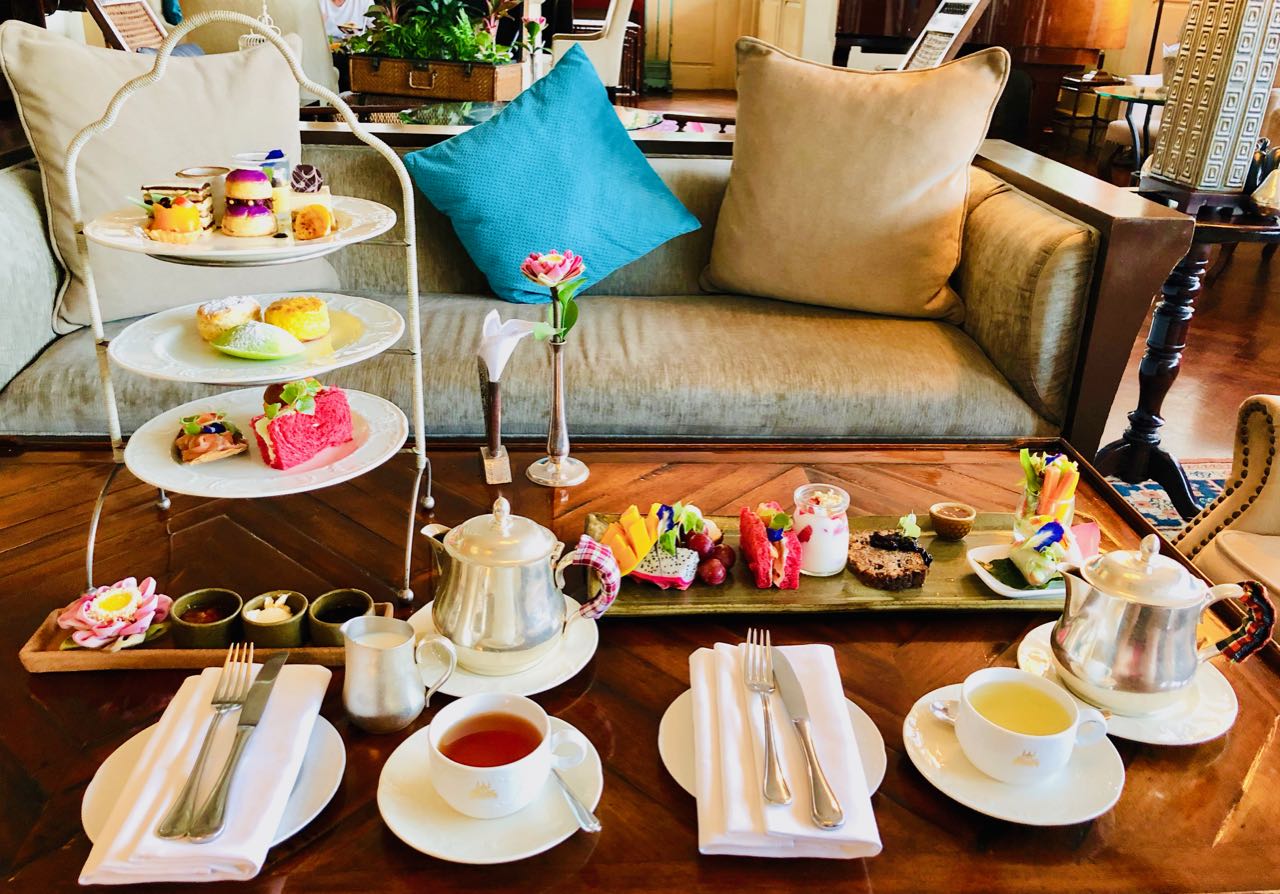 The savory part of the Signature High Tea is made up of a classic finger sandwich with cucumber and cream cheese, a mini brioche with curried egg salad and a tartine with smoked salmon. Our favorite is the pink beetroot bread with cucumber and cream cheese.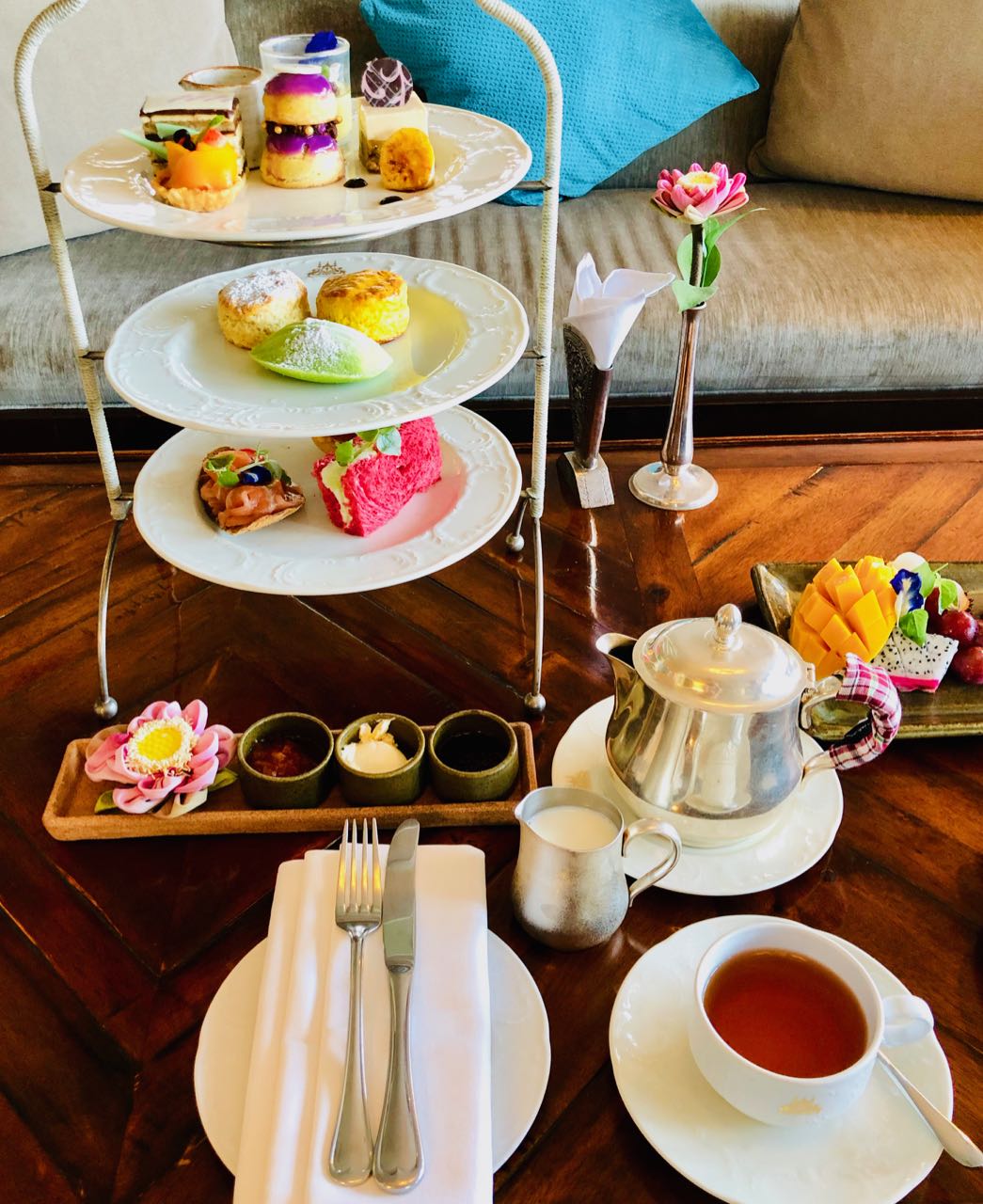 The scones are deliciously crispy, though the clotted cream has a slightly different texture to what we are used to. Further accompaniments for the scones are jams with strawberries and local papaya.
On top of the cake stand is a generous selection of petit fours and desserts. We find the opera cake and the banoffee cheesecake to be the highlight of the altogether lovely meal.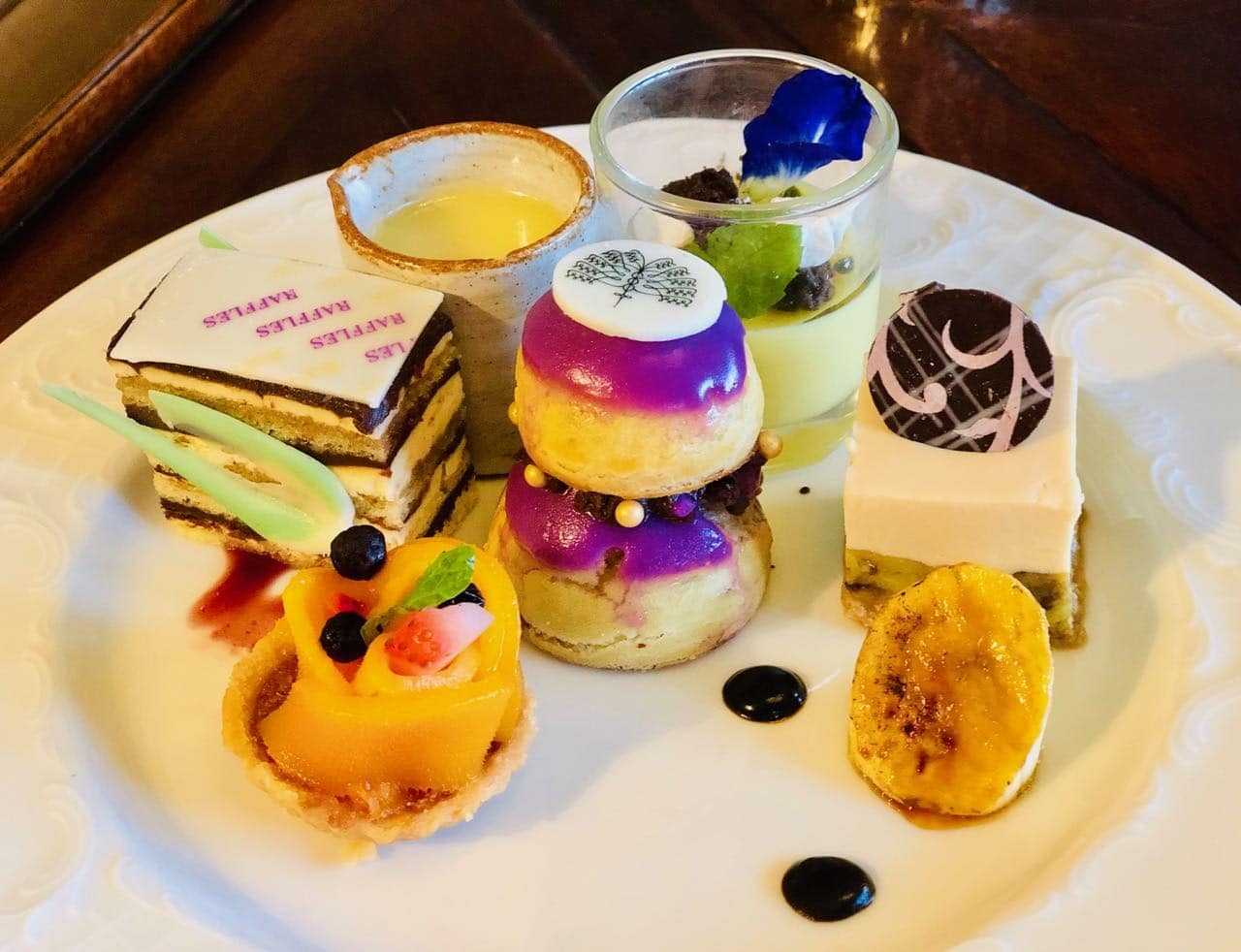 The Wellness Tea, as its name suggests, is a healthier alternative for an afternoon treat. The key focus is on fresh ingredients with lots of fruit and vegetables. We recognize the red beet bread from the signature tea, which now has a filling of cream cheese and smoked salmon. Furthermore, fresh spring rolls are an exciting element, but the dipping sauce is more of an acquired taste. The vegan nut bread, on the other hand, is absolutely delicious.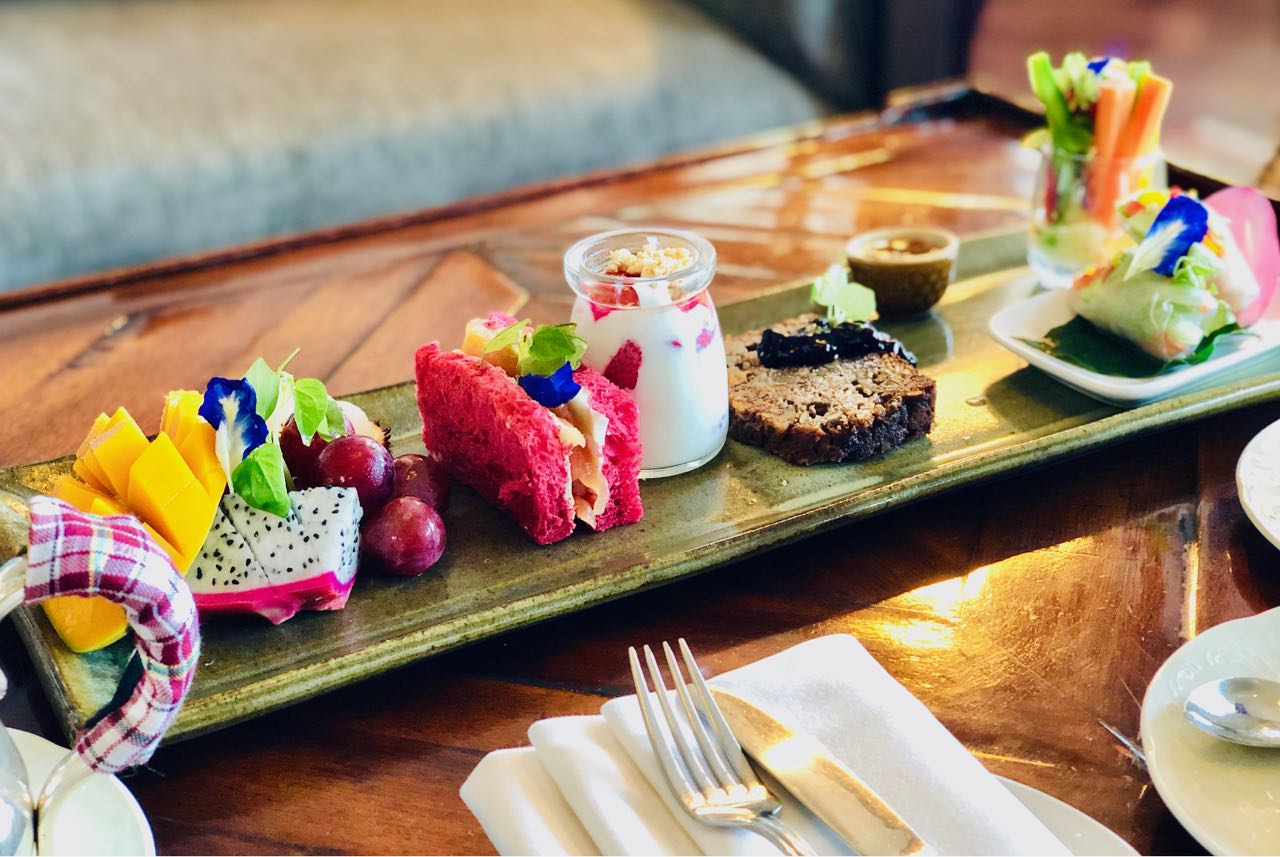 Other offerings include yogurt with fruit and granola and a smoothie with papaya and coconut. Both taste good but are not particularly memorable. A selection of fruits such as rambutan, mango, grapes and dragon fruit complements the other dishes well.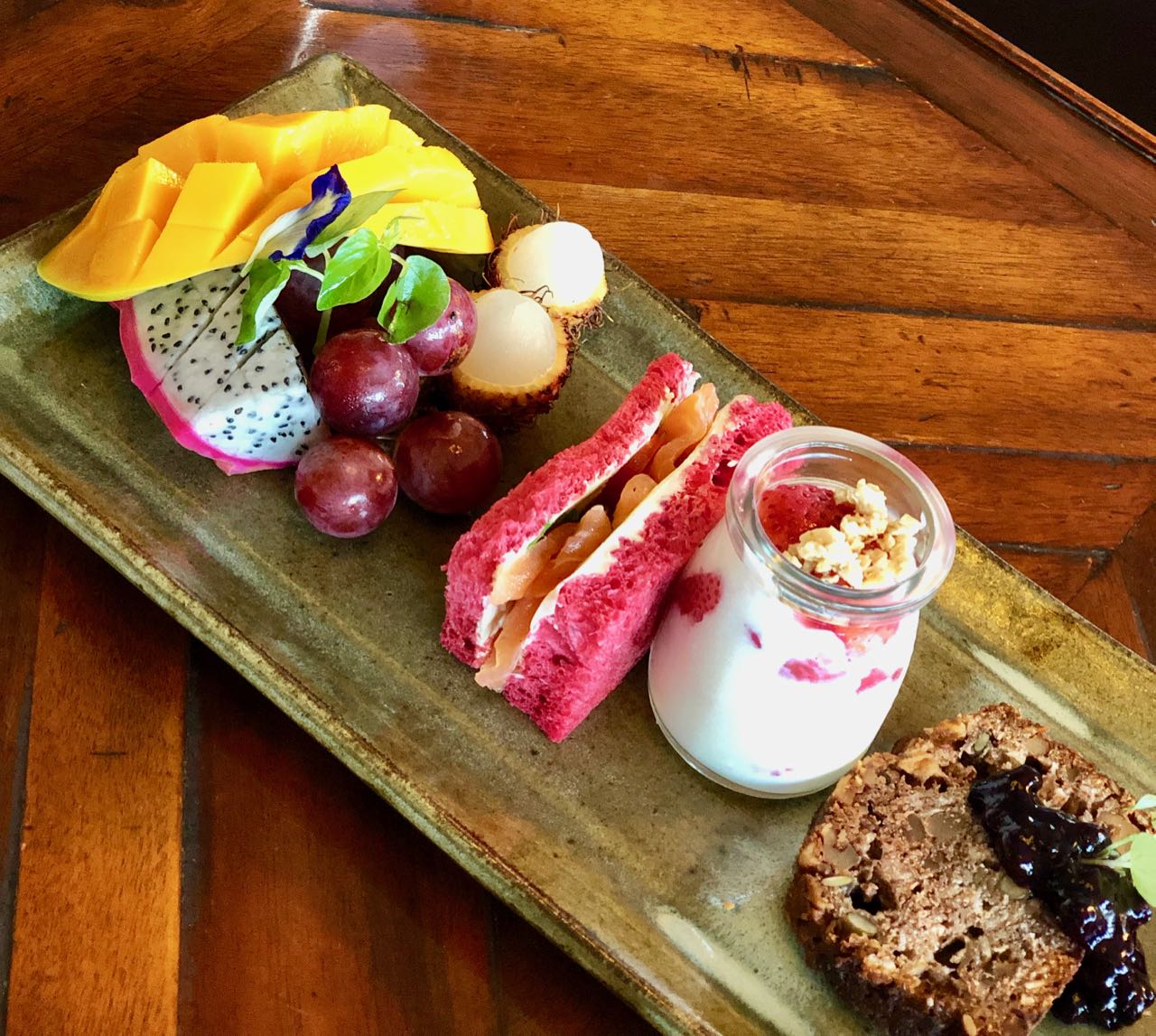 Raffles Grand Hotel d'Angkor in Siem Reap delivers two very good afternoon teas, which we would be happy to have any time. The most memorable part was undoubtedly the vivid table setting and the Signature High Tea. We finish our visit to Raffles Grand Hotel d'Angkor with a stroll around the inviting pool area.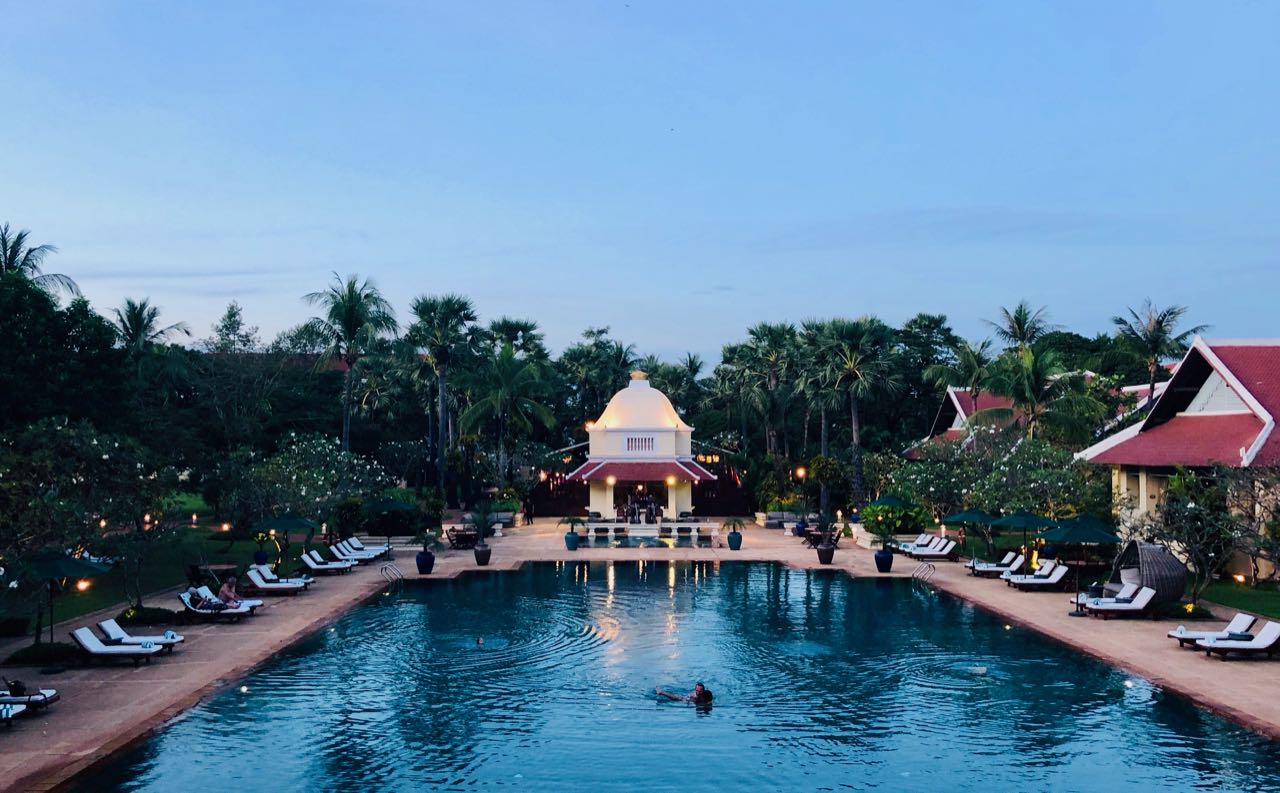 Practical information and tips:
Raffles Grand Hotel d'Angkor serves afternoon tea every day between 2.30 and 5.30 PM.
The price is 23-25 USD per person. A glass of champagne is 10 USD.
Reserving a table in advance is recommended.
Link to Raffles Grand Hotel d'Angkor
*Raffles Grand Hotel d'Angkor was not informed that we would be writing about them, and we paid all expenses ourselves.